Vince Weiguang LI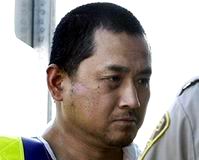 Classification: Murderer
Characteristics: Cannibalism - Beheading
Number of victims: 1
Date of murder: July 30, 2008
Date of arrest: Next day
Date of birth: April 30, 1968
Victim profile: Tim McLean, 22
Method of murder: Stabbing with knife
Location: Portage La Prairie, Manitoba, Canada
Status: Li was found to be not criminally responsible for the murder and was remanded to a high-security mental health facility on March 5, 2009
---
The murder of Tim McLean (October 3, 1985 – July 30, 2008) occurred on the evening of July 30, 2008. McLean, a 22-year-old Canadian man, was stabbed, beheaded and cannibalized while riding a Greyhound Canada bus about 18 miles (29 km) west of Portage La Prairie, Manitoba traveling the Trans Canada Highway.
On March 5, 2009, McLean's killer, 40-year-old Vince Weiguang Li (simplified Chinese: 李伟光; traditional Chinese: 李偉光; pinyin: Lǐ Wěiguāng) (born April 30, 1968), was found to be not criminally responsible for the murder and was remanded to a high-security mental health facility where he remains to this day.
Incident
The incident took place near Portage la Prairie, Manitoba, during a trip from Edmonton to McLean's hometown of Winnipeg.
At 12:01 a.m. on July 30, 2008, Tim McLean, a carnival worker, was returning home to Manitoba after working at a fair in Alberta. He departed Edmonton on board Greyhound bus 1170 to Winnipeg, via the Yellowhead Highway through Saskatchewan. He sat at the rear, one row ahead of the washroom. At 6:55 p.m., the bus departed from a stop in Erickson, Manitoba with a new passenger, Vince Weiguang Li.
Li, described as a tall man in his 40s, with a shaved head and sunglasses, originally sat near the front of the bus, but moved to sit next to McLean following a scheduled rest stop. McLean "barely acknowledged" Li, then fell asleep against the window pane, headphones covering his ears.
According to witnesses, McLean was sleeping with his headphones on when the man sitting next to him suddenly produced a large knife and began stabbing McLean in the neck and chest. The attacker then decapitated McLean and displayed his severed head to other passengers outside who had fled the bus in horror. The driver and two other men attempted to rescue McLean but were chased away by Li, who slashed wildly at them from behind the locked bus doors. Li then went back to the body and began severing other body parts and consuming some of McLean's flesh.
At 8:30 p.m., the Royal Canadian Mounted Police (RCMP) in Portage la Prairie, Manitoba received a report of a stabbing on a Greyhound bus west of the city. They arrived to find the suspect still on board the bus, being prevented from escaping by another passenger, the bus driver, and a truck driver who had provided a crowbar and a hammer as weapons. The other passengers were huddled at the roadside, some of them crying and vomiting. As the suspect had earlier attempted to escape by driving the bus away, the driver had engaged the emergency immobilizer system, rendering the vehicle inoperable. Witnesses had observed the suspect stabbing and cutting McLean's body, and carrying McLean's severed head.
By 9:00 p.m., police were in a standoff with the suspect and had summoned special negotiators and a heavily-armed tactical unit. The suspect taunted police, alternately pacing the length of the bus and cutting and defiling the corpse. Police officers then observed Li eating parts of the body. Meanwhile, the stranded passengers were transported from the scene to be interviewed at the Brandon RCMP detachment. RCMP officers reportedly heard Li say, "I have to stay on the bus forever."
On July 31, 2008, at 1:30 a.m., the suspect attempted to escape from the bus by breaking through a window. The RCMP arrested Li soon afterward. He was tasered twice, handcuffed and placed in the back of a police cruiser. Parts of the victim's body, placed in plastic bags, were retrieved from the bus, while his ear, nose and tongue were found in Li's pockets. The victim's eyes and a part of his heart were never recovered and are presumed to have been eaten by the accused.
At 10:00 a.m., Greyhound representatives took the other passengers to a local store to replace their clothes, which remained on the bus. They arrived in Winnipeg at 3:30 p.m. that day, to be reunited with family members and friends.
Witness acounts
Garnet Caton, a 26-year-old seismic driller who sat one row ahead of McLean, described hearing "a blood-curdling scream," saying, "I turned around and the guy sitting right [behind] me was standing up and stabbing another guy with a big Rambo knife.... Right in the throat. Repeatedly."
Caton added: "I got sick after I saw the head thing. Some people were puking, some people were crying, some people were shocked. [The attacker] just looked at us and dropped the head on the ground, totally calm." A police officer who was at the scene said the attacker also cut off parts of the victim's body and ate them.
Another passenger, Stephen Allison, stated that McLean fought his attacker, providing other passengers with the opportunity to get off the bus.
Vince Weiguang Li
Background
Vince Weiguang Li was born in Dandong, China on April 30, 1968. In 1992, Li graduated from University of Wuhan Institute of Technology with a Bachelor of Science in Computers. From 1994-1998, Li worked in Beijing as a computer software engineer. Li immigrated to Canada from China on June 11, 2001 (although some newspapers erroneously reported 2004) becoming a Canadian citizen on November 7, 2006. He worked in Winnipeg at menial jobs at Grant Memorial Church for six months to support his wife, Anna. Pastor Tom Castor, who employed Li, said he seemed happy to have a job and was committed to doing it well, despite a language barrier with other congregation members.
"I think he would occasionally feel frustrated with not being able to communicate or understand," Castor told CTV Winnipeg. "But we have a very patient staff and he seemed to respond well." Castor also said Li did not show any signs of anger issues or any other trouble before he quit in the spring of 2005. He worked as a forklift operator in Winnipeg while his wife worked as a waitress.
Li first moved to Edmonton in 2006, abruptly leaving his wife alone in Winnipeg until she joined him later. His jobs included service at a Wal-Mart, at a fast-food restaurant, and newspaper delivery. His delivery boss, Vincent Augert, described Li as reliable, hard-working and not showing any signs of trouble.
Four weeks before the murder, he was fired from Wal-Mart following a "disagreement" with other employees. Shortly before the incident, Li asked for time off from his delivery job to go to Winnipeg for a job interview.
July 29, 2008
At midnight July 28 In Edmonton, Li boarded a Greyhound bus bound for Winnipeg.
On July 29, around 6 p.m., Li got off the bus in Erickson, Manitoba, with at least three pieces of luggage, and stayed the night on a bench next to a grocery store. According to one witness, he was seen at 3 a.m. sitting bolt upright with eyes wide open.
On the morning of July 30, still at the bench, he sold his new laptop computer to a 15-year-old boy, Darren Beatty, for $60. The laptop was seized by the RCMP as evidence; the boy was subsequently given a new laptop for his honesty by an anonymous businessman. Shortly before 6 p.m. Li boarded the bus heading to Winnipeg, which was carrying Tim McLean and 35 other passengers.
Witness Garnet Caton said the attacker seemed oblivious to others when the stabbing occurred, adding he was struck by how calm the man was. "There was no rage or anything. He was like a robot, stabbing the guy," he said. When he appeared in a Portage La Prairie courthouse on charges of second-degree murder, the only words Li reportedly uttered were pleas for someone to kill him.
Trial
Li's trial commenced on March 3, 2009, with Li pleading not criminally responsible. This means that he accepted that the offence occurred but he claimed that he was unable to form the necessary mental element or mens rea. Despite Li having no documented history of mental illness before the killing, a testifying psychiatrist diagnosed Li as having schizophrenia. The psychiatrist said that Li performed the attack because God's voice told him McLean was a force of evil and was about to execute him.
The presiding judge accepted the diagnosis, and ruled that Li was not criminally responsible for the murder. Li was remanded to the Selkirk Mental Health Centre. Though he had not fully emerged from the psychotic phase, the psychiatrist said that Li was beginning to realize what he had done, though he cannot accept that he cannibalized McLean.
Aftermath
The week following the attack, Greyhound Canada announced it was pulling a series of nationwide ads which included the line, "There's a reason you've never heard of bus rage." The incident has led to numerous calls and petitions demanding increased security on intercity buses.
After the incident, People for the Ethical Treatment of Animals (PETA) sent an advertisement to the Portage Daily Graphic comparing the murder of Tim McLean to the killing of animals for food. The ad was rejected by the paper. PETA was harshly criticized for attempting to exploit the incident in such a manner, but refused to apologize.
The family of Tim McLean have brought a lawsuit of $150,000 against Greyhound, the Attorney General of Canada and Weiguang Li.
On June 3, 2010, Li was granted supervised outdoor walks within his mental health facility as voted by the provincial review board.
On February 16, 2011, two passengers, Debra Tucker, of Port Colborne, Ont., and Kayli Shaw, of London, Ont., filed a lawsuit against Vince Li, Greyhound, the RCMP and the Government of Canada for being exposed to the horrific beheading. They are each seeking $3 million in damages.
Wikipedia.org
---
Man pleads not guilty in bus beheading
By Chinta Puxley - TheStar.com
March 3, 2009
WINNIPEG – WARNING GRAPHIC CONTENT: A psychiatrist says a man who stabbed and beheaded a fellow passenger on a Greyhound bus believed the voice of God was telling him to do it.
The voice told Vince Li to get on the bus and sit next to Tim McLean, Dr. Stanley Yaren told Li's second-degree murder trial Tuesday.
"A voice from God told him Mr. McLean was a force of evil and was about to execute him," Yaren, a witness for the Crown, told the judge hearing the case.
Li, 40, believed he had to act quickly to protect himself, Yaren said.
"In response to that, in a state of panic and fearful for his life, he carried out the acts that he did."
But that wasn't enough.
Li , whom Yaren diagnosed as schizophrenic, believed the 22-year-old McLean was still capable of coming back to life, so he continued to mutilate the body and scattered the parts around the bus, the psychiatrist testified.
Although he admitted his guilt to officers that night last July, Li pleaded not guilty on Tuesday. His lawyers are arguing he is not criminally responsible because he is mentally ill.
Yaren concurred.
"Mr. Li did not understand he was killing an innocent bystander. He did not understand his actions were wrong."
An agreed statement of facts read out in a Winnipeg courtroom said Li, blood still smeared on his face from the attack, politely apologized to police when he was arrested and pleaded with officers to take his life.
"I'm sorry. I'm guilty. Please kill me."
Yaren said Li is still psychotic and believes it's just a matter of time before God kills him. He continues to have hallucinations and hear voices, but is on strong anti-psychotic medication.
Li is as much a victim as McLean, Yaren suggested.
"It would be in some sense easier if Mr. Li was an anti-social psychopath with a history of malicious behaviour, but he isn't that. He is, as I've come to know him, a decent person. He is as much a victim of this horrendous illness ... as Mr. McLean was a victim."
The statement said Li attacked McLean "for no apparent reason" and ignored other horrified passengers as he repeatedly stabbed the young man, who unsuccessfully fought for his life.
"Tim McLean struggled and tried to escape," Crown prosecutor Joyce Dalmyn said.
But McLean couldn't get away because Li was blocking the aisle.
When the bus pulled over near Portage la Prairie, Man., Li was engrossed with stabbing and mutilating McLean's body. Passengers fled the bus and stood outside.
It was then that Li tried numerous times to leave the bus. But he was locked inside and, according to the statement, returned to McLean's body and methodically carved it up further. Police arriving on scene asked him to drop the knife and he said he "had to stay on this bus forever."
But he eventually tried to escape out a window and was taken into custody.
Police said McLean's body parts were found throughout the bus in plastic bags, although part of his heart and both eyes were never found and were presumed eaten by Li. He has denied that, but "there is no other possible location for those items," said Dalmyn.
The victim's ear, nose and tongue were found in Li's pocket.
McLean, a carnival worker, had been returning home to Manitoba after working at a fair in Alberta. Passengers have said he was sleeping near the back of the bus and listening to music on his earphones when he was attacked.
No one who witnessed the horror was expected to testify.
McLean's family and friends, many wearing T-shirts with his picture on them, wept as the grisly details were read out in court.
His mother, Carol deDelley, has said she wants the law changed so anyone found not criminally responsible for a crime still serves time behind bars. But legal experts say the defence is rarely used and doesn't mean the criminal walks away scot-free.
The agreed facts also presented some of Li's background. He was born in China in 1968 and came to Canada in 2001. He became a citizen in 2005. He graduated from a business college, but never got a job in his field.
He didn't have many friends and was divorced in 2006. Li had "mental problems," according to those who knew him, but they had not known him to be violent
Yaren said Li was briefly hospitalized in 2003 or 2004 after he was picked up by Ontario Provincial Police, who found him walking along a highway "following the sun" as ordered to by God.
Li's former wife said he used to be gone for long periods of time, took unexplained bus trips and sometimes rambled. He was hospitalized briefly but never sought medical attention.
The statement outlines how Li got off the bus in Erickson, Man., where he spent the night on a park bench before boarding another bus July 30. It was as that bus neared Portage la Prairie that he moved to the back where McLean was sitting.
Before he left on his trip, court heard how he left his wife a note.
"I'm gone. Don't look for me. I wish you were happy."
---
Suspect in bus killing delivered newspapers, worked at McDonald's: employer
CBC.ca
August 1, 2008
The man accused of stabbing a young Winnipeg man aboard a Greyhound bus delivered newspapers for several Edmonton publications and had worked at McDonald's, according to one of his employers.
Vince Weiguang Li, 40, worked for a contractor delivering the Edmonton Journal, the National Post and the Edmonton Sun, his boss Vincent Augert told CBC News Friday.
"I'm still kind of shocked and surprised, to be honest with you. He just never came across as the type of person that could do something like that. He was a nice guy," Augert said.
"He was there every day, he did a good job, was friendly and really, we had no problems with this individual at all."
Li worked for the distribution company for about 13 months, but left in April for a short period before returning to the job in June. The Edmonton man also worked at a McDonald's restaurant, according to Augert.
RCMP announced Friday morning that they had charged Li with second-degree murder. Police said he has no previous criminal record.
Police have not confirmed the identity of the man stabbed to death, and then beheaded according to witnesses, aboard a bus late Wednesday, but court documents name him as Timothy McLean. Friends have also confirmed 22-year-old McLean was the victim, describing him as bubbly and well-loved.
Augert said last he heard from Li three weeks ago, when the man said he needed a couple of days off to attend a job interview in Winnipeg at the end of July. When Augert called Li's cellphone on Tuesday to ask why he hadn't showed up for work, Augert spoke to a woman he said he believed was Li's wife.
"[She] mentioned that he'd had an emergency, he had to go out of town, and that she wasn't sure where he went and wasn't sure if he'd be back the following morning to deliver his newspapers," Augert told CBC News.
Li appeared for a hearing Friday at the Manitoba provincial court in Portage la Prairie around 10 a.m. CT without a lawyer and refused to speak to anyone.
He shuffled into the courthouse under the weight of heavy leg shackles, with his eyes focused on the floor. His right hand was heavily bandaged and there was visible bruising on his face.
The judge asked him twice whether he had a lawyer, but the accused just stared at the ground. When the judge asked whether Li was exercising his right to remain silent, he nodded his head.
The Crown asked for a psychiatric assessment, but the judge said the accused must see legal aid about getting a lawyer before proceeding further. Li was remanded into custody until his next appearance on Tuesday.
"It's early and I think the judge just wants to respect his rights to … speak to counsel, and he's giving him that opportunity," Crown prosecutor Larry Hodgson said outside court. "I don't think it will be very long that they'll allow him to do that."
Hodgson said if Li doesn't get his own lawyer, the court could appoint one or the case could proceed anyway.
Second-degree murder, under the Criminal Code, is generally unpremeditated murder. First-degree murder refers to a killing that is planned and deliberate, but also when death is caused by sexual assault, kidnapping, forcible confinement or hijacking an airplane.
McLean 'missed dearly'
In an e-mail to CBC News, friend Jossie Kehler wrote that McLean was loved by everyone, had a bubbly personality and was a ladies' man.
"He has a lot of friends and they all are very upset he's gone, and they would like to say they miss him and he will always be in their hearts," she wrote.
"People say no one's perfect, but Tim, he was," she wrote. "He did nothing bad to anyone."
Thousands of Facebook users flocked Friday to a tribute group titled 'RIP Tim McLean' set up overnight to send their condolences to family and friends as well as express their shock at the grisly story that made international headlines.
"You are loved and you will be missed dearly!" the site description read.
Friends say McLean had taken a job with the Red River Exhibition and then went to work in Edmonton, but had decided to return home.
On McLean's MySpace page, under the name JoKAwiLd, he describes himself as five-foot-five, weighing about 125 pounds.
Witnesses initially described the attacker as a hulking man over six feet tall who appeared to weigh more than 200 pounds — but in court on Friday, Li appeared to be about five-foot-eight or -nine, with a stocky build.
Father trying to reach wife
McLean's father, Tim McLean Sr., told CBC News on Thursday night that he was in the process of trying to get confirmation from the police that his son was, in fact, the victim.
He said he was also trying to reach his wife, who is on an Alaskan cruise until next week.
The father said his son had sent him a text message around 7:30 p.m. as the bus was leaving Brandon, the last leg of its journey, to ask whether he could come home for the night.
McLean Sr. told his son that of course he could come home. That was the last contact they had.
The RCMP would not confirm reports the victim was beheaded, saying only that a stabbing took place around 8:30 p.m. CT on an eastbound Greyhound bus on the Trans-Canada Highway about 20 kilometres west of Portage la Prairie.
An autopsy was scheduled for Friday at the Winnipeg Health Sciences Centre, and police were waiting for the results before deciding, with input from the family, whether to make the victim's name public.
"The RCMP are mindful of the range of emotions being experienced by the family of the deceased over the loss of their loved one in such a horrific incident. Our thoughts are with them," the RCMP said in a statement.
Victim sleeping when attack began
Witnesses said the victim got on the bus in Edmonton, while his attacker came aboard in Brandon and sat away from the victim toward the front of the bus, they said. After a short cigarette break, however, the attacker moved his belongings and chose a seat beside the young man.
Garnet Caton, who was sitting in the seat in front of the victim, said the young man was sleeping with his headphones on when he was attacked.
Caton said he heard a "blood-curdling scream" and turned around to see the attacker holding a large hunting knife and repeatedly stabbing the victim.
"He must have stabbed him 50 times or 60 times," said Caton, who jumped out of his seat when he realized what was happening and began ushering passengers to the front of the bus.
Caton, the driver and a trucker who had stopped at the scene later boarded the vehicle to see whether the victim was still alive. At that point, Caton said, the suspect was beheading the victim.
The attacker ran at them, Caton said, and they ran out of the bus, holding the door shut as he tried to slash at the trio. When the attacker tried to drive the bus away, the driver disabled the vehicle, Caton said.
RCMP crisis negotiators communicated with the suspect for several hours while he was on the bus. Around 1:30 a.m., he attempted to jump from a bus window and was subdued and arrested, RCMP said.