Dr. Thomas Neill CREAM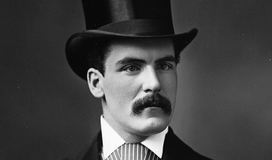 A.K.A.: "The Lambeth Poisoner"

Classification: Serial killer
Characteristics: Poisoner
Number of victims: 5 +
Date of murders: 1881 / 1891-1892
Date of arrest: July 13, 1892
Date of birth: May 27, 1850
Victims profile: Daniel Stott / Ellen "Nellie" Donworth, 19 - Matilda Clover, 27 - Alice Marsh, 21, and Emma Shrivell, 18 (prostitutes)
Method of murder: Poisoning (strychnine)
Location: Illinois, USA / United Kingdom
Status: Sentenced to life in prison in Illinois in November 1881. Released in 1891. Executed by hanging at Newgate Prison in London on November 15, 1892
---
Dr Thomas Neill Cream (May 27, 1850 – November 16, 1892) was a serial killer, who claimed his first victims in the United States and the rest in England, and possibly others in Canada and Scotland. Cream poisoned his victims and was executed after his attempts to frame others for his crimes brought him to the attention of London police.
Some sources state that his last words as he was being hanged were a confession that he was Jack the Ripper — even though he was in jail at the time of the Ripper murders.
Early life
Born in 1850 in Glasgow, Scotland, Thomas Cream was raised in Quebec, Canada, after his family moved there in 1854. He was an excellent student at school and, later, college. He attended McGill and went to study medicine in London in 1876; he had an added incentive for crossing the Atlantic, since he had just married a woman he had made pregnant, the bride's family having forced Cream to the church at gunpoint.
The honeymoon was only just over when Cream left in the night for England, leaving a note for his wife. He returned to Canada long enough for his wife to die of a mysterious illness, a death for which he would later be blamed. He went to Edinburgh to practise medicine, but when a woman with whom he was alleged to have had an affair was found dead, pregnant and poisoned by chloroform in an alleyway, in August 1879, Cream fled to the United States.
Chicago conviction
Cream went to Chicago and set up a medical practice not far from the red-light district, offering illegal abortions to prostitutes. He was investigated after a woman he had allegedly operated on died, but he escaped prosecution through lack of evidence.
On July 14, 1881, a man named Mr Stott died of strychnine poisoning. Cream was arrested, along with Mrs Stott, who had obtained poison from Dr Cream to do away with her husband, whom she suspected of cheating on her. Mrs Stott turned state's evidence to avoid jail, which left Cream to face a murder conviction on his own. He was sentenced to life imprisonment in Joliet Prison.
Cream was undoubtedly a psychopath who disliked women, and the treachery of Mrs Stott no doubt increased his misogyny. He was released 10 years later after his brother pleaded for leniency, allegedly also bribing the authorities.
Gaslit streets of London
Using money from his recently deceased father's inheritance, Cream, then aged 41, went to Britain, arriving in Liverpool on October 1, 1891. He went to London and settled down in Lambeth. Victorian England was the centre of the vast and wealthy British Empire, but in places such as Lambeth there was poverty, petty crime and prostitution.
On October 13 that year, Ellen "Nellie" Donworth, a 19-year-old prostitute, went out for a few drinks with Cream. She was severely ill the next day and died on October 16 from strychnine poisoning.
On October 20, Cream dated a 27-year-old prostitute named Matilda Clover. She was ill following that evening and died the next morning; her death was at first recorded as related to her alcoholism.
On April 2, 1892, after a vacation in his home country of Canada, Cream was back in London where he attempted to poison a woman who, finding him suspicious, refused to consume the drinks he was trying to give her.
On April 11 Cream met two prostitutes, Alice Marsh, 21, and Emma Shrivell, 18, and talked his way into their flat where he offered them bottles of Guinness. Cream was long gone by the time the strychnine he had added to the drinks took effect. Both women died in agony.
Capture
Cream's downfall came through an attempt to frame two respectable and innocent doctors. He wrote to the police accusing these fellow doctors of killing several women, including Matilda Clover. Not only did the police manage to quickly determine the innocence of those accused, but they also realised that there was something significant within the accusations made by the anonymous letter-writer. He had referred to the murder of Matilda Clover. In fact, Clover's death had been noted as natural causes, related to her drinking. The police knew that the false accuser who had written the letter was the serial killer now referred to in the newspapers as the Lambeth Poisoner.
Not long afterwards, Cream met a policeman from New York City who was visiting London. The policeman had heard of the Lambeth Poisoner, and Cream was considerate enough to give him a brief tour of where the various victims had lived. The American policeman happened to mention it to a British policeman who, understandably, found Cream's knowledge and interest in the case suspicious.
The police at Scotland Yard put Cream under surveillance, soon discovering his habit of visiting prostitutes. They also liaised with the police in the United States and learned of their suspect's conviction for a murder by poison in 1881.
On July 13, 1892, Cream was charged with the murder of Matilda Clover. His trial lasted from 17 to 21 October that year. He was convicted and sentenced to death.
The death penalty was a quick process in Victorian England. Less than a month after his conviction, on November 16, Dr Thomas Neill Cream was hanged at Newgate Prison.
"I am Jack..."
According to some sources, his last words were "I am Jack..." This was interpreted to mean Jack the Ripper, but the words were muffled by a hood. Experts note that this whole incident may be nothing more than a story invented later, as police officials and others who attended the execution made no mention of it. Records show he was still in prison at the time of the murders in 1888, but some authors have suggested that he could have bribed officials and left the prison before his official release, or that he left a lookalike to serve the prison term in his place. Neither notion is seen as very likely by most scholars.
Wikipedia.org
---
Doctor death
By Mara Bovsun - NYDailyNews.com
Sunday, August 26th 2007
As homicidal Victorian ghouls go, Jack the Ripper had nothing on Dr. Thomas Neill Cream.
In fact, to this day there are those who will swear that the mysterious sex-slayer and the Canadian-trained physician were one and the same. Perhaps it had something to do with the principal target - London's streetwalkers.
Or perhaps it had something to do with Cream's last words, which, legend has it, were uttered as the gallows trapdoor opened and sent him plunging into the hereafter.
"I am Jack ...."
The noose choked off the end of the sentence and sparked more than a century of speculation.
Born in Scotland in 1850, Cream was a young boy when his family moved to Canada.
After studying medicine at McGill University, he married, and then set up a practice in London, Ontario. The marriage did not last long. Within a year, his young wife succumbed to a mysterious illness.
Cream ended up in Chicago, where he established an unsavory specialty - ending unwanted pregnancies for prostitutes. In 1880 he had his first serious brush with the law when one of his patients died.
Fingered but freed
Cream was tried for murder, and the principal witness against him was a black midwife who sometimes assisted him. The jury gave little weight to the midwife, and Cream went free.
A year later he was in trouble again. This time the victim was an elderly epileptic, Daniel Stott, who had become a regular patient after medicine Cream prescribed eased his fits.
Sometimes Stott's beautiful wife, Julia, would come to pick up the medicine. Romance soon erupted between Julia, who was three decades younger than her husband, and the doctor.
In June 1881, Julia came to Cream's office, as usual, for her husband's medicines. Cream wrote two prescriptions. One was for calomel, a mercury-based compound, used in the mid-19th century as a laxative. The other was for capsules filled with herbs and a smidge of strychnine, which was often used in those days as a stimulant.
Cream insisted that Julia go out of her way to Buck & Rayners, clear across town. Then, instead of heading home to her invalid husband, she returned to Cream's office, where he enhanced the formulas.
A few days later, Daniel Stott took his medicine and was dead within a half hour.
Stott was buried, and the matter forgotten, until a telegram arrived at the coroner's office.
"I want you to have a postmortem examination made of the body of Dan Stott .... Have stomach examined. Suspect foul play."
A day later, another telegram arrived. After a third, the coroner contacted the writer. It was Dr. Cream.
The doctor said a fortune-teller had told him that Stott had been poisoned, and that the druggist was at fault. He suggested giving some of Stott's leftover medicine to a dog.
When the dog died, Stott's body was exhumed. His stomach contained enough strychnine to kill six grown men.
Cream tried to pin Stott's death on the pharmacy, but was soon on trial for murder and was convicted and given life.
After a decade in jail, Cream's father died and left him a sizable inheritance - enough to convince a prison official the convict had been redeemed.
In the summer of 1891 Cream was declared worthy of clemency. He visited his family in Canada, and then vanished.
Déjà Slew
In October, a Dr. Thomas Neill popped up in a London that was reeling from the horrific unsolved Jack the Ripper slayings of three years earlier. Weeks after the newcomer's arrival, prostitutes started to die again.
On Oct. 13, Ellen Donworth fell in a fit of violent convulsions on Waterloo Road. She told a police officer that she had received a note instructing her to meet a prospective client on the street. When she arrived, she met a tall, cross-eyed man with gold spectacles and a mustache. He offered her a drink from a bottle of white liquid.
Donworth died on the way to the hospital, poisoned by strychnine.
A week later, another prostitute, Matilda Clover, was found writhing in her bed, raving that one of her clients, a tall man with a mustache, had given her pills.
Police had not connected these deaths to the odd stranger who had moved into a flat on Lambeth Place Road.
Meanwhile, odd letters started showing up around town. One was a blackmail note to Frederick Smith, son of a wealthy businessman. The letter threatened to expose Smith as Donworth's killer. To avoid exposure, Smith was to paste a sign on his office window, saying: "Mr. Fred Smith wishes to see Mr. Bayne, the barrister, at once."
Smith turned the letter over to the police, who filed it along with some other odd communications, mostly blackmail threats to wealthy men.
The murders stopped when Cream took a trip home to visit his brother in Canada in January. He arrived back in London the following spring.
On April 11, a roominghouse landlady was awakened by shrieks in the middle of the night. She found one of her tenants, Alice Marsh, in agony on the floor in the hallway. In a room upstairs, another boarder, Emma Shrivell, was in the same condition. Marsh lived long enough to tell police that she and Shrivell had gone out with a tall, cross-eyed man who had given them each three "long pills."
Mystery letter
Days later, a doctor, Joseph Harper, received a letter. The author said that he had "indisputable evidence" that Harper's son had killed Marsh and Shrivell. "I am willing to give you said evidence [so you can suppress it] for the sum of 1,500 pounds sterling."
Harper handed the letter over to Scotland Yard. More tips poured in, but Neill did not become a suspect until he attended a party where he met Sgt. Patrick McIntyre, and launched into an attack on the police. McIntyre, impressed by the man's detailed knowledge of the case, as well as the striking resemblance he bore to the descriptions given by the victims, checked into Neill's background and discovered the name Thomas Neill Cream.
The doctor was soon under police scrutiny, then under arrest, charged with the murders of four women.
His trial, only for the murder of Clover, opened on Oct. 17, 1892. Most damning were the doctor's own words. Police did not think Clover had been poisoned until Cream, in his chats with McIntyre, linked her name to the girls known to have been poisoned. Only after Clover's body had been exhumed did police realize that it was not liquor, but strychnine, that had killed her.
The jury took 10 minutes to find him guilty.
Cream's hanging was a private affair, and no one knows whether he actually used his last breath to utter his odd confession.
It seems unlikely that Cream committed the Ripper slayings, since he was in jail in another country at the time. Some maintain, however, that there is evidence that Cream paid a double to serve his sentence in Chicago, and that he actually made it to London in the mid-1880s.
Wild as this notion seems, Cream still appears on lists of suspects, along with Lewis Carroll and Prince Albert Victor, and 30 or so others thought to have been Jack the Ripper.
---
The man who would be Jack the Ripper
Diane MacLean
Dr. Thomas Neil Cream was hanged for the murder of four London prostitutes in November 1892. His final words, "I am Jack" uttered before dancing the Tyburn jig, were ominous.
Ever since, Ripperologists have debated whether this was the "deathbed" confession of Jack the Ripper - who killed at least five prostitutes in Victorian London - or the ramblings of a raving egomaniac.
Cream was born in Glasgow in 1850, the eldest of eight children. The family moved to Canada when he was four, and in 1867 he enrolled at McGill College in Montreal as a medical student, graduating four years later.
His first foray into crime may have been arson, setting fire to his college room to claim the insurance but his murderous tendencies towards women had yet to manifest themselves. They would soon.
When Flora Elizabeth Brooke, the daughter of a wealthy hotel owner, fell pregnant to Cream, he performed an abortion that nearly proved fatal for Brookes. Her irate father forced them to marry but it was short-lived, as Cream fled to London soon after.
Cream sometimes passed himself off as Thomas Neil or Dr Neil. At other times he called himself Dr Cream.
Cream enrolled at medical school in London in 1876 but his social life interfered with his studies and he failed to earn his certificate. He subsequently moved to Edinburgh, where he successfully completed his studies at the Royal College of Physicians and Surgeons. Cream returned to Canada, where his killing spree is said to have begun.
He preformed abortions, illegal at that time, and the first two killings appear connected his "work". The body of Kate Gardener was found in a shed smelling of chloroform. Under questioning Cream confirmed that she had requested an abortion but persuaded the coroner that he had only tried to help. As soon as he was set free Cream moved to Chicago.
It was not long before the body of a prostitute was found in mysterious circumstances. Once more a bungled abortion was to blame. Once more Cream got off.
In his spare time he manufactured and supplied anti-epilepsy drugs. When Daniel Stott grew suspicious about the frequency of his wife Julia's visits to Cream to pick up his prescription, the good doctor added a dash of strychnine to the epilepsy medicine. The husband died in June 1881.
Cream would probably have got away with murder had it not been for his suspicious behaviour. He wrote to the coroner accusing the pharmacist of poisoning Stott with strychnine. Having drawn attention to a possible crime, the body was exhumed and the poison found. But it was Cream, not the pharmacist, who stood trial for murder. He was found guilty and sentenced to life imprisonment at Illinois State Penitentiary.
Ten years later, in 1891, a corrupt system had released him. He boarded a ship bound for London, where he was soon prowling the city's slums hunting for victims.
He met Ellen Donworth, a prostitute, in October 1891. She was seen walking with a "topper" – a gentleman in a top hat – and later found slumped in her bed, apparently drunk. Between agonising stomach spasms she told witnesses that a tall, dark cross-eyed man had given her something to drink. She died on the way to hospital, a painful death that was later shown to be from poison – strychnine.
Just two days later Cream killed again. Matilda Clover, another prostitute, had the ignominy of having her death incorrectly attributed to alcoholism and no autopsy was performed.
The following April, Cream carried out his first double murder. This time he accompanied two prostitutes to their house. Alice Marsh and Emma Shrivell both died in excruciating pain.
By now the police realised they were dealing with a murderer, but it is entirely possible that Cream would have avoided detection had his own meddling not brought him to the attention of the authorities. He wrote letters, signed under different pseudonyms, accusing a number of respectable people of murder. One of the letters mentioned Matilda Clover, who until then had not been considered a murder suspect.
Cream's final act of self-destruction was to take a friend, a New York detective, around all the spots Cream considered the murderer would have used. He described the murders in such detail that the detective was left in little doubt that he was talking to the man responsible. Scotland Yard were informed and they began to gather evidence. Cream's Canadian convictions were uncovered and a handwriting analyst confirmed that he had written the letters.
Newgate Prison in London, where Cream was hanged. Previously prisoners were hanged at the public gallows at Tyburn, hence the expression Tyburn jig.
Picture: Hulton/Getty Archive
At the trial the most damning piece of evidence came from Loo Harvey, a prostitute to whom he had given pills, but who had the foresight to throw them away.
Cream was found guilty and sentenced to hang.
He would have been remembered as a heinous enough murderer in his own right, but his final death-cry brought an extra flurry of interest.
Clearly Cream had a violent and pathological hatred for women, prostitutes in particular. It is popularly thought that the Ripper may have had a medical background - which Cream certainly did. But is there any proof that he was the Whitehall killer? The short answer is no. Most of the Ripper murders took place around 1888 when Cream was serving time in an American prison.
The most enthusiastic fans can explain this seemingly watertight alibi. One bizarre theory revolves around him having a double, who did the time, while Cream did the crime. Perhaps he escaped or even bribed his way out of jail?
Few but the most impassioned pro-Cream enthusiasts really believe him to have been the Ripper. His modus operandi was to poison, not strangle. In the end Cream was as dangerous and deadly a killer of woman as the Ripper but he probably was not Jack. It seems certain that in the late 19th century London there was more than one madman prowling the streets.
Scotsman.com
---
Dr. Thomas Neill Cream: Shades of Nightshade
by Joseph Geringer

Batty
"The mind is its own place, and in itself
Can make a Heaven of Hell, a Hell of Heaven."
-- John Milton
Thomas Neill Cream loved women. There was nothing he loved more than bright-eyed, soft-skinned, dimple-faced long-tressed, shapely dolls.
They made perfect guinea pigs.
Perfect victims.
Perfect outlets for his sexual-homicidal urges.
And he found them as easy to embrace as uncorking a bottle of strychnine pills, which he enjoyed handing to them as if it were candy to cure their assorted ills.
To know that they would die that night - an excruciating death - would help cure his ills, too, releasing an inner frustration that bottled up inside him like a volcano. Women, to Cream, were foul creatures who sinned against God, and he was their executioner, his duty to society to free the world of gilt angels.
Cream, doctor emeritus, lived in an age when the world was taking its first step into a free-form society just a toenail across the border between Victorian restraint, as tight as a corset string, and a blushing expression of la risqué, half unbuttoned, giggling and ready to burst forth its unlaced secrets. The cherubim with innocent blue eyes was slowly becoming more alluring with the nibs of devil's horns, and, it is believed, Cream loved to see if they would pop out in his presence. When they did, if they did, then he had the innate excuse he had been looking for in the first place to kill them - because, after all, they were the spawns of Lucifer, women were, and deserved to be slain.
Not to suggest that the old boy was merely a by-product of his age. Not at all. Victoriana was a fine age, a splendid time to live, a season for encouraging record-changing scientific discoveries, altering philosophies, upraising social consciousness, strengthening national economics, expediting commerce and penning a new form of literature. But, it was not an age for someone like Dr. Cream who had enough trouble living under conservative codes let alone novel ones. He could not understand, for instance, why Salomé, who danced the seductive dance of the seven veils, was no longer considered a harridan, but a heroine as glorified by Oscar Wilde.
He needed to get under those veils to see what he might find.
Cream was not an average murderer, says Angus McLaren, who wrote the finely chiseled Prescription for Murder. "His outrageous crimes were the result of an individual psychopathology wedded to a generalized misogyny or mistrust of women at a time when women were making a well-publicized bid for greater autonomy. The interest of his case accordingly lies not so much in what it can tell us about him, as in what it reveals about...the particular sexual and cultural context of late Victorian society, a society made anxious in the rise to threats of reputation, the increased number of women in public life, the apparent blight of degeneration and the erosion of gender boundaries."
From his native Canada he traveled to the world's Gamorras in search of an answer to the great, confusing, mystifying, exasperating female mystery. He was uptight, penned up and strung up, and he destroyed what he just could not understand. That was his fixation.
"His actions were probably governed by a mixture of sexual mania and Sadism," writes W. Teignmouth Shore, who wrote the preface for Trial of Neill Cream for the "Notable British Trial Series" in 1923. "He may have had a half-crazy delight in feeling that the lives of the wretched women he slew lay in his power, that he was the arbiter of their fates...Sensuality, cruelty and lust of power urged him on. We may picture him walking at night the dreary, mean streets and byways of Lambeth, seeking for prey, on some of whom to satisfy his lust, on others to exercise his lust, on others to satisfy his passion for cruelty..."
His was a Jack the Ripper mentality - some people believe he was Jack the Ripper - powered by his own eroticism and confusion.

Suspicions Early On
"No one ever suddenly became depraved."
-- Juvenal
When Thomas Neill Cream, the doctor who was to poison at least seven female patients in North America and Great Britain, graduated from Quebec's McGill University, the subject of the dean's address that year was, "The Evils of Malpractice in the Medical Profession."
Throughout college, there seemed to be no forewarning of the devil stirring under his foppish clothing and dandy manners. Fellow students noticed that Cream had a chronic interest in chloroform and other drugs that desensitized patients, but did not regard that as a portent. Chemistry Professor Louis Craik would later recall that Cream's one surface persona was as a "fast and extravagant liver". He effected a fondness for money and delightfully suffered a reputation as a starch-collared, wealthy fop.
However, a number of particular acquaintances wagered that it was Cream himself who, after graduation, set fire to his lodgings at 106 Mansfield Street in Montreal, kindling the place just enough to collect $350 insurance for charred clothing and a few personal effects that he planned to dispose of anyway. If Cream was the arsonist, it was a mere transgression compared to his crimes to come.
Born in Glasgow, Scotland, on May 27, 1850, he was the first of eight children of William Cream and Mary (neé Elder). Biographer W. Teignmouth Shore rues the fact that "as is too often when writing the life of a saint or of a sinner, the records of (Cream's) childhood are very meager. There is no evidence procurable as to the surroundings amid which he opened his eyes upon life or of the circumstances which molded his early years."
The Creams migrated to the burgeoning frontier of Wolfe's Cove, Quebec, Canada in 1854, where the father found a job with, and quickly worked his way up as manager of, one of the province's top shipbuilding and lumber firms, Gilmour & Company. Years passing, the family's male offspring followed in the squire's trade and joined him when he started an independent lumber wholesalery, which prospered. All except Thomas. The latter never displayed much interest in the business, preferring to spend his hours with his scholastic books and assorted ponderings. Rumor has it he made an excellent Sunday school teacher at the Chalmer School. In September, 1872, the oldest son left the Cream Lumber Mill to commence his studies at the well-reputed McGill University. He wanted to be a doctor.
Following graduation ceremonies in April, 1876, he was detained by a small vigilante committee comprised of angry members of the family Brooks, from Waterford, Quebec, whose teenage daughter and sister, Flora, had been seduced and abandoned by the young intern. He had paid her several visits over the last several months, residing at her father's hotel, and after his latest stay, the girl had become ill. Town physician Dr. Phelan had examined her to discover she had recently received an abortion performed by, Flora confessed, medical baccalaureate Thomas Neill Cream. At the point of the Brooks' moose-hunting shotguns, he was hustled back to Waterford for an expedient wedding ceremony.
The honeymoon was all too brief. Flora and her family awoke the morning after to find the wobbly-kneed groom vanished. But, he left a letter on the pillow beside her where his head should have been. The best that the prodigal could do for the bride, read the note, was to promise to keep in touch. It is doubtful he even took the time to leave a few kisses. Although he did keep in touch, as we shall see.
He was too busy scurrying off to London, England, to further his studies abroad. And London, he heard, would offer opportunities unheard of in the backwoods of Waterford, Canada.
In the second half of the nineteenth century, Britain claimed some of the finest medical schools in the world and expected both genius and ethics from the physicians they bred. After all, both traits were wanting. London, Glasgow, Manchester and other large cities in the United Kingdom had long been bursting across their boundaries, too fast for the country to keep up. The population blossomed and, adding to it, penniless immigrants from across Europe wandered to the little island, searching for an escape from desperate conditions to find nothing better, if not worse, in the rambling slums of Britain's largest burghs. The conditions in London's East Side, for instance, were deplorable, an abomination. Disease spread rapid-fire though sexual contact and other means; it hatched in the damp rotted floorboards of antique doss houses, and rode the wings of vermin who infested the clothing that was never washed, and flowed amid putrid masses in open sewerage. The very air carried old plagues and unventilated tenements incubated new ones. In the dimmer sides of London, such as in Spitalsfield or Bluegate Fields, police reported instances - and these weren't rare - where corpses remained unburied on their beds in cheap-houses, lying amid a dozen idlers living in a room designed for no more than five, or toddlers picking bone scraps from bins beside the curb where a carcass of a dead horse lay, fly-swarmed.
By the middle of the century, the nation realized that while the Industrial Age had been grinding away to improve living conditions, it was losing the battle to abject poverty. Social Parliament shouted, "Eradicate the slums!" but in the meantime a stoppage was needed to curb the flow of death-dealing germs. This meant a sharper corps of doctors. For years, county colleges had unleashed doctors half-trained or half-eager to combat the flush-up of disease. According to W.J. Reader, author of Life in Victorian England, "At the beginning of the century, there were only three bodies in England - the Royal College of Physicians, the Royal College of Surgeons, and the Society of Apothecaries - who could claim anything like a systematic course of medical education, attested by examination. (But), the 1858 Medical Act...raised the whole standing of the medical profession by insisting on proper qualifications." Schools dedicated to the advancement of science and medicine began to appear throughout Great Britain. Hospitals began weighing the remedial needs of cities like London and putting those needs under the microscope to shape a curriculum for their lectures and exams.
Notwithstanding, much was expected from the foreigner Cream when he registered at St. Thomas' Hospital, Lambeth, South London, in October of 1876. He required further training and an apprenticeship before he could apply as surgeon, but the experience offered at St. Thomas was an excellent start. Within it passed the likes of Thomas Lister, the antiseptic pioneer, and Florence Nightingale, who had started a nursing college for women there. After six months of attending the medical theatres, however, he did not pass the entrance requirements at the Royal College of Surgeons. Returning to St. Thomas for extended education, supplementing it with a hands-on stint as obstetrics clerk, Cream finally applied to the Royal College of Physicians and Surgeons in Edinburgh, Scotland. This time he was accepted and earned a license in midwifery.
*****
One of the reasons Cream may have gotten off to a slow professional start in London was his preoccupation with wealthy young women. As a fellow of above-average looks and a promising profession, Cream had little difficulty meeting the female sex. Feigning to be a bachelor, he spent much time courting several ladies from the Westminster (West End) society circle with elegant townhouses, glittering white carriages and many shillings accruing interest in the Bank Of England on Threadneedle Street. Instead of diving nose downward into the clinical pages of his textbooks, he whiffed the perfume tempestuous on the soft, warm throats of his favorite well-bred ladies.
Victorian London was a Lothario's paradise; it offered on plates of allure pleasure in many shapes and forms. Of London, novelist Jane Austen had jocularly written that she avoided it in fear of temptation, and her appraisal was justified. Cream, having been raised in the shadows of the pine trees and lumber mills of Western Canada, and schooled in the narrow halls of old McGill, must have found London a decadence unto itself. He no doubt marveled at ceaseless carousing available in its many music halls and vaudeville theatres; he probably got to know, at least on a nodding basis, many of the stage performers who tended to live near his residency across the Thames River in what W. Teignmouth Shore calls a "somewhat sordid and very depressing portion" of Lambeth. When not escorting one of his ladies d'elite around Hyde Park or Grosvenor Square, he succumbed to the more earthy attractions found in the halls of frivolity, drinking Bass Ale and mouthing along to the most clever and oft-naughty ditties he'd ever heard.
But, he also must have been shocked by the ease in which a gentleman in tophat and silk cape could pick up a street urchin for a night, and for so little tuppence. After nightfall, they hung along the ramparts of Waterloo Bridge in droves, selling themselves to passersby on their way in and out of Central London; the blowsy, bust-exposing illiterate shrill with the Cockney accent must have titillated the male in him but sickened the psychoses that told him these type of women are sirens luring a man to evil, no more than filth.
Judging by what he would become later - and the terrible crimes he would later commit against prostitutes -- one can only wonder about his initial reactions and responses to London's vixens. For the record, evidence points only to his relations with the ladies of gentler class who spoke like ladies, acted like ladies and dressed like ladies, posing no threat to the idyllic virtue of womanhood as upright society - and Thomas Neill Cream - wished to regard it.
As already stated, Cream's girlfriends believed him to be unwed. Before he departed for Edinburgh, he no longer needed to lie. He was single again, his wife Flora having passed away in Canada in August of 1877. Her death certificate read: Of consumption.
But, was her death natural? asks Angus McLaren in his Prescription for Murder. He quotes a memo from an Inspector Jarvis of Scotland Yard who was to investigate Cream later. After visiting Flora's attending physician, Dr. Phelan, in Waterloo, Canada, Jarvis wrote: "Subsequent to the marriage when Mrs. Cream became ill, he was scarcely able to understand her symptoms and he asked (her) if she had been taking anything, and she said she had been taking some medicine her husband sent her. (Phelan) told her not to take anything except what he himself prescribed and she promised not to do so, and the symptoms he had not understood gradually passed away. Dr. Phelan says he never saw any of the medicine Cream had sent his wife, but he strongly suspected him of foul play."
It must be understood at this point that the availability of most poisons to the masses was, before the twentieth century, very much over-the-counter in the English-speaking world. An 1850 edition of Britain's popular Punch magazine criticized this ease-of-purchase through a cartoon depicting a small child, shopping for her mother, asking a pharmacist's clerk for a bottle of laudanum and a pound and a half of arsenic. Frighteningly, the parody was not far off. While some forms of poison, such as strychnine, one of the most lethal, might produce a mild interrogation from the seller, a doctor or medical student ascribed to a medical college could buy any pharmaceutical he desired without explanation, as long as the sale was recorded in a log. It was a matter of form - respect, rather - not to question such a person.
*****
Nevertheless, Cream must have buckled down in Edinburgh and kept his mind off both poisons in pill form and wearing corsets, for he quickly completed his studies there. Whatever changed his mind in pursuing a medical career in the United Kingdom - a course he seemed in the midst of following - is not known, but he returned to Canada in late 1878 to set up practice as physician and surgeon in the bustling town of London, Ontario.
In the center of this lumbering and brewery town, he opened an office on Dundas Street, above Bennett's Clothing Store, and seemed to have done quite well before he became embroiled in scandal in May, 1879. A patient, Kate Gardener, was found dead in a woodshed behind the store, reeking of chloroform. Inquiries made, it was shown that she was pregnant at the time of death but, unmarried, had gone to the new doctor in town for an abortion. Cream admitted that, yes, she had called upon him for abortifacients, but he refused her request. Since chloroform was marketable to the public, Cream suggested suicide. An inquest didn't buy that; for one, there was no bottle of chloroform found near the body and the face of the corpse was badly scratched as if the woman had had the chloroform forcibly administered. The examining board ruled murder.
Cream avoided indictment, but his reputation was ruined. Too many turned heads and an empty waiting room signaled it was time to move on.

In Chicago
"They tell me you are wicked and I believe them, for I have seen your painted women under the gas lamps luring the farm boys..." -- Carl Sandburg
Cream found it hard to believe that the city he walked through after alighting from the train in August, 1879, had been burned to the ground only eight years earlier. Chicago was now big and brawny, headstrong with assurance, a gargantuan of iron and brick. From the sandy shores of Lake Michigan, the city sprawled westward for miles, bearing with utmost confidence its experience. The air riveted a try-to-knock-me-down-again and-see-what-happens-to-you swagger. Mean sometimes, sometimes cruel, but at other times soft and winsome, even passionate, and steadfast always, Chicago was a testimonial to the longevity of the melting pot of cultures that, united, determined to remain in place, never to budge again even if the fires came straight from hell this time.
But, Chicago's mien was much, much more than idle cockiness. Its industry boomed. The Union Stockyards just south of downtown guaranteed it the meatpacking center of the world. Its geographic position being central-continental and plunked on the edge of the Great Lakes, ensured it the commercial bulls-eye of goods traveling from the Atlantic to the western frontier, and back again. Shipping and railcars converged there, to renew, to overhaul, to unload and reload before moving westward or eastward, over track or water, over prairie or mountain, to the other half of the nation that couldn't exist without Chicago being where it was, and what it was.
"Its population was soaring from some six-hundred-thousand citizens toward the million it would achieve in 1890," explains writer Angus McLaren in Prescription for Murder. "Its reputation for municipal graft, incompetent policing and working-class radicalism had already won it the title of the 'wickedest city in the world'.(That quote comes from Mark Thomas Connelly's shocking exposé of fallen angels in the Midwest entitled The Response to Prostitution in the Progressive Era.) Cream would play his part in sustaining this reputation."
Dr. Cream's shingle appeared on Chicago's main artery, at 434 West Madison, the day after he passed the state board of health exam. His stay in the city was to be brief, but memorable, and would tragically involve members of the red-light district not far from where his office was located.
According to McLaren, Cream was not in Chicago long before he became suspected by the police as an abortionist who practiced the trade after regular office hours and strictly against the morality laws of the 1880s. He was not alone, for there was money to be made in the endeavor. Certain doctors who lived near the vice centers would visit female patients wishing an abortion at their own residence or at an out-of-the-way haven of their choice or dictated by a go-between "midwife" who took a percentage for her mediation. Many of the medics performing these operations were, unfortunately, quacks who botched their jobs, heartlessly leaving the unfortunate women to bleed to death or to contract illness from unclean instruments or home-made abortifacients. Cream was not a quack, but, from what is known of him, he felt little remorse if a patient succumbed.
His view of women had grown abnormal, and it was deepening. On one hand, he craved them sensually, sexually. He seemed immersed in their aura, yet perplexed, yet frightened, yet hateful of them. McLaren points to one source who bills himself only as "One Who Knew Him," who wrote of Cream: "He carried pornographic photographs" but spoke of such women in terms "far from agreeable". Others who shared conversations with Cream would later relate his aversion to females of low caste; he considered them little more than cattle made for butchering. Some scholars attribute his mania to the fact that, when in the company of a fast woman, he may have been unable to perform without the use of drugs; therefore, intimidated and reminded of his impotency, he manifested a loathing for anything that should have but failed to arouse him. Perhaps this was true, for the same anonymous author quoted above attests, "He was in the habit of taking pills, which, he said, were compounded of strychnine, morphia and cocaine and of which the effect, he declared, was aphrodisiac."
To present a psychological thesis of Thomas Neill Cream might require tomes, and it is this article's aim to state the facts, not to reflect on his psychosis. All testimony of Cream at this point tells of a man who was confused sexually, loved-hated women, and who cared nothing for the patients who came to him for an abortion beyond the coins they were willing to jingle for services rendered. To summarize, he most likely used his experiences in Chicago as an abortionist to mete out his feelings for the value -- or lack of value - of lives of women outside his perception of morals and a moralistic sphere of existence.
As an abortionist in the West Madison neighborhood, Cream employed a series of self-made midwives whose duty it was to arrange for the illegal operations - brokers, if you may, between doctor and patient. When summoned by a client, the midwife rented a room in a particular lodging house to where all involved parties would converge behind drawn shades for the purpose of ending the pregnancy. Early in 1880, Cream brushed with the law, narrowly escaping a jail sentence for an abortion gone wrong. After a prostitute named Mary Anne Faulkner was found dead in a tenement flat, a fast-talking lawyer with political connections convinced a jury of twelve men that Cream's presence on the scene was to save the victim, after an unschooled midwife had bungled her abortion. The doctor was found not guilty.
Cream also managed to evade justice after supplying patient Ellen Stack with anti-pregnancy pills of his own design. She died, as they were laced with strychnine. Try as they could, the suspicious police could not directly tie the drug to their suspect.
But, he finally blundered in his murder of, surprisingly, not a female but a male patient. A brief Internet biography of Dr. Cream, written by Stephen P. Ryder and John A. Piper, tells this story: "When Cream wasn't murdering women and aborting babies, he took it upon himself to market his own personal elixir to combat epilepsy, and soon acquired quite a following by a number of patients who swore by the treatment. One of them, a railway agent named Daniel Stott, made the mistake of sending his wife to Cream's office for regular doses of the drug. Julia Stott received much more from the good doctor than just medicine...and when her husband finally became suspicious of the affair, Cream decided to add a bit of strychnine to the medicine. Mr. Stott died June 14, 1881, and had it not been for a move of great stupidity by (the) killer, Cream would have gotten off 'Stott' free..."
Worried that the death might reflect back on him, Cream wrote a letter to the coroner, accusing the pharmacist who, he claimed, added strychnine to his formula. Since the pharmacist was a man of exceptional reputation, the district attorney was wary. The body was exhumed and, as Cream attested, large doses of the poison were found in the dead man's stomach - but Cream, not the druggist, was blamed. Hearing of the warrant for his arrest, he escaped to Canada.
"On July 27 the readers of the Chicago Tribune were provided with a detailed account of Pat Garrett's tracking down and shooting in New Mexico of Billy the Kid," reports Angus McLaren. "The capture of Cream the same day by the Boone County sheriff at Bell Riviére, Ontario, was a far more prosaic affair. Cream put up no struggle and, after being questioned in Windsor, was returned to Illinois to stand trial for murder."
Mrs. Stott turned state's evidence to save her own neck and, in November, 1881, the courts sent Thomas Neill Cream packing to Joliet (Illinois) State Penitentiary for life.
By crooked means, he would receive a pardon a decade later. From behind prison walls he would emerge full of hate, evermore, for womankind.
After all, one had taken ten years off his life.

Returning to London
"Evil be thou my Good."
-- John Milton
Prisoner 4374 walked through Joliet Prison's castellated gate to freedom on July 21, 1891. His early release was made possible by two things: the intervention of his brother, Daniel, who pleaded with Illinois politicians for leniency, and the corruption of the state penal system through which bribery could be obtained. According to Henri le Caron, a Joliet employee, "Money could accomplish anything, from the obtaining of luxuries in prison to the purchase of pardon...Everything connected with the prison administration was rotten to the core."
Upon release, Cream journeyed to Canada to thank his brother for his services on his behalf and to collect a sizeable inheritance ($16,000) left him by the passing of his father. Some of the money had already been greased to Senator Fuller and Governor Fifer of Illinois to hasten the doctor's liberty, but Cream still had plenty with which to start a new life abroad. He had determined to return to the intriguing atmosphere of London.
In Quebec, Daniel and his wife were taken aback when Cream appeared at their door; prison life had etched itself across his face and form and nipped his disposition. Forty, he looked much older. His once full head of hair had ebbed to the center of his dome, his skin had weathered, and he wore a chronic glower. Watery, yellow eyes and a nervous gait indicated signs of drug use. The once-trimmed mustache grew raggedy. His once agile build had drooped around the middle. He complained of throbbing headaches. When he talked, he rattled, and Daniel's wife found him irritating. Most of all, she could not abide his constant disparaging remarks about women. She could not wait for him to leave.
He departed Canadian shores in the middle of September, 1891, on the SS Teutonic arriving in Liverpool on October 1.
*****
London, despite all its misgivings, was the queen of the British Empire, and the British Empire was the queen of the world. During Victoria's reign, London was a rare moment in time, an ideal of the then-modern city, a mentor, a trophy. An artist's visualization, a statesman's pride, a decorum of bearing, London was a magnificent city. Its fog that hung about it served only to preserve it in a chalk-color of phantasmagoric majesty.
Its physical self was awesome. Michael Jenner, in London Heritage, describes the city as a "predominantly Gothic image," which left behind "a vast architectural legacy (that) coincided neatly with the accession of Queen Victoria in 1837 and became the hallmark for at least the first fifty years of her reign."
In London - A Social History, author Roy Porter alludes to a description of the city by journalist Henry Mayhew after viewing it from a balloon. Wrote Mayhew: "It was a wonderful sight to behold that vast brick mass of churches and hospitals, banks and prisons, palaces and workhouses, docks and refuges for the destitute, parks and squares, and courts and alleys, which make up London...to take, as it were, an angel's view of that huge town where, perhaps, there is more virtue and more iniquity, more wealth and more want, brought together into one dense focus than in any other part of the earth."
*****
Arriving in London, Cream stayed at Anderson's Hotel on Fleet Street, but a few days later moved his belongings to a first-floor-front apartment at 103 Lambeth Palace Road, South London, in the neighborhood he had lived during his previous stay in the city, not far from St. Thomas' Hospital. Lambeth was a triangular patch of run-down public houses, apartment buildings and meager industry bound on the north by the Thames, and across from it, Blackfriars and Lambeth roads. Connecting it to the central part of London, across the river, was the huge Waterloo Bridge. Along Albert Embankment on the Lambeth side, rose Waterloo Station, from where thousands of suburban commuters emerged each morning to make their way on foot across the bridge to their workplace in the city.
"Lambeth's streets smelled of fish shops, jam factories and hop yards - the smells of the slum," reads Prescription for Murder by Angus McLaren. "Charles Booth (the founder of the Salvation Army), who studied the area in 1890s, described its narrow streets and damp courts as harboring 'poverty, dirt and sin.' The sidewalks were clogged with swarms of 'dirty and often sore-eyed' children hovered over by mothers in filthy trailing skirts and shawls...Bread, margarine and tea had to serve the basis of most meals. Meat sold in Lambeth Walk on Sunday was not fit for sale on Monday. Milk was adulterated or, if purchased by the tin, devoid of vitamins...The parish's overall mortality rate was 27.7 per 1,000 as compared to 19.3 for the rest of the metropolis."
Unemployment was high; the only institutions inside its borders that hired sizeable staffs were the Royal Hospital for Children and St. Thomas' Hospital - and these workers were largely professional who lived elsewhere.
Gaiety never seemed to lack, however. As mentioned earlier, Lambeth proffered plenty of amusement, whether in women, spirit or song. Most popular were the Canterbury, Old Vic, or Gatti's music halls, which drew revelers from all across London to their gas-lit portals beyond Waterloo Bridge.
In London, Cream found that the headaches he had been suffering since his confinement in Joliet were worsening. He had always had slightly crossed eyes, which he never bothered to correct; but only lately did he notice that his vision had become somewhat blurred. On October 9, he paid a visit to optician James Atchison's Fleet Street shop, where Atchison diagnosed his problem as extreme hypermyopia and recommended spectacles to regulate the imbalance of his eyes and improve his sight. While his focus clarified, the headaches did not let up. He began ingesting low-grain morphine, which, when under its spell, gave his face a clenched look and his eyes a squint.
*****
Thomas Neill Cream needed an outlet and his outlet became obvious. Posing as a resident doctor from St. Thomas and signing his name "Thomas Neill, MD," Cream back in Lambeth "practically confined his activities, finding there the victims whose slaughter brought him to the scaffold," asserts W. Teignmouth Shore in the Trial of Neill Cream. Now with thick-lens spectacles and a balding head he did not look like the young devil-may-care charmer he had been more than a decade previously. That, in fact, was his aim: To take on the mien of a sagacious professor to whom women would listen - and believe - and trust.
The first unfortunate person to encounter the city's newest sage was pretty 19-year-old prostitute Ellen "Nellie" Donworth. The daughter of a laborer, Ellen had taken to the streets of Lambeth after finding her life as a capper in the Vauxhall Bottle Factory a drudgery. In 1891, she shared a room near Commercial Street with army private Ernest Linnell, who didn't seem to mind her occupation. About six o'clock on the evening of October 13, she left her abode telling charwoman Annie Clements that she was off to see a gentleman whom she had recently met.
After the sun set on London, friend Constance Linfield noticed Ellen and a "topper," the term for a well-dressed gentleman of the era, emerge arm in arm from an unlit courtyard behind the Wellington Public House, but paid them little attention. Not much later, another friend, James Styles spotted Ellen alone, barely able to stand erect, leaning on a gate on Morpeth Place. Assuming she was drunk, and perhaps might have fallen (for she seemed to be in pain), Styles braced her until they reached her lodging house. By the time he got her to her bed, she was convulsing and grabbing her abdomen and chest in torment. "That gentleman with whiskers and a tophat gave me a drink twice out of a bottle with white stuff in it!" she sobbed.
While Ellen's landlady and others, including soldier Linnell, remained with her, Styles fetched an intern named Johnson from nearby Lambeth Medical Institute; by the time Johnson arrived, Ellen's spasms were so terrible that her company could not keep her in place as she writhed across the mattress and gasped for breath. The medic recognized her symptoms immediately as system poisoning. Police arrived and, on Johnson's orders, removed her to St. Thomas Hospital. She died in the carriage on the way.
A postmortem two days later uncovered lethal doses of strychnine in her stomach. Coroner Thomas Herbert confirmed that her last several hours must have been spent in agonizing pain.
Angus McLaren's Prescription for Murder paints a horrid description of the agony effected by strychnine intake: "The most terrifying aspect...is that although the convulsions are terrible, you do not lose consciousness; in fact, the mental faculties are largely unimpaired until death ensues. You know you are dying. The first symptoms are feelings of apprehension and terror followed by muscle stiffness, twitching of the face, and finally tetanic convulsions of the entire body. The body relaxes, and then the spasms strike again. You have a sense of being suffocated. Indeed, death is actually caused by anoxia - lack of oxygen due to contraction of the lungs. All the muscles go rigid and the face and lips turn blue. Death occurs in one to three hours, the face fixed in a macabre grin..."
Cream purchased the tools of his trade - the strychnine and other forms of poison - from Priest's Chemists, 22 Parliament Street. Because he was a certified doctor attending a run of lectures at St. Thomas (or so he fabricated) he had no trouble getting what he wanted. As, by law, he was required to sign the weekly register of sales, we are able to trace each deadly order. In retrospect, he prepared well for Ellen Donworth's demise and others. During the first week of October, for example, he made a purchase of nux vomica in liquid form (containing two alkaloids, brocine and strychnine). Around Saturday the 10th, he ordered gelatin capsules which, when he picked them up on the 13th, he judged to be too large, and returned them for a box of the smaller "No. 5," or Planter's, capsules. Donworth, who died October 13, appears to have been killed by the fluid that he mixed into a drink. His next victim, streetwalker Matilda Clover, most certainly perished after taking the gelatins.
Twenty-seven-year-old Clover, brown-eyed, slightly buck-toothed and with a pleasant smile, lived at 27 Lambeth Road with her two-year-old son, landlords Mr. and Mrs. Vowles, and a servant girl, Lucy Rose. The boy's father had left Matilda, forcing her to the streets in order to make her monthly rent as well as afford an alcoholic habit. To her credit, a week before she was killed, she had begun visiting a Dr. Graham for her drink infliction. To calm her recklessness, he had prescribed a sedative, bromide of potassium.
Much of what occurred immediately before and during the night of October 20 comes from eyewitness, Lucy Rose, who gave her testimony at the inquest to come. Clover left her room after dark that evening; quite chipper, probably, Lucy figured, to meet a man named Fred - that's all she knew about him. The only reason she was privy to this piece of information was due to snooping: While dusting her room the day before she had noticed a note lying on Miss Clover's bureau that read, to the best of her recollection,
"Meet me outside the Canterbury at 7:30 if you can come clean and sober.
Do you remember the night I brought you your boots? You were so drunk that you could not speak to me. Please bring this paper and envelope with you.
Yours, Fred."
Clover returned home with a man sometime about 9 p.m.. "There was an oil lamp in the hall which did not give a very good light," Lucy remembered, but the glow was solid enough for her to ascertain a tall man in whiskers, wearing a silk hat and a frock coat with a cape. Leaving the gentleman in her room, she went out by herself for ale. Later - Lucy was unsure of the time - the man left alone.
Sometime around 3 a.m., the entire house was roused by Clover's screams. When Lucy and the Vowles couple entered her quarters, they found her naked, "all of a twitch" upon her bed. She gagged and started vomiting. Contorted in agony, grabbing the bed-posts, she was yelling that that Fred had given her pills that she knew now were poisoned.
Doctors were summoned, but could do nothing to save her. Matilda Clover died in a paroxysm of pain at approximately seven in the morning.
Unfortunately, her death was not officially recorded as murder. Her physician, Dr. Graham, diagnosed that the woman had succumbed by mixing an excessive amount of liquor - most likely brandy - with the sedative he had prescribed, a response that would have, he claimed, produced the same bodily fits she suffered. In short, he wrote her expiration off as "primarily, delirium tremens; secondly, syncope."
Had the doctor been more of a reader of newspapers he might have come across an article entitled, "The Lambeth Mystery," about Miss Donworth's strange convulsions a week previously that matched Clover's. In Donworth's case, the police had rightfully marked it as cold-blooded murder.
Why the authorities chose not to follow up Clover's dying testimony about the mysterious Fred and his poison is anyone's guess. Lucy Rose even admitted to them that Clover confessed she had met a man who promised to give her pills to prevent venereal disease, and that she now believed that man may have been Fred. But, not for six months would Matilda Clover be considered the second victim in what would be a series of similar poisonings in South London. When Clover's cheap coffin was placed in the ground at Tooting Cemetery on October 22, neither the Metropolitan Police nor Scotland Yard anticipated that they had what would be called today a "serial murderer" on their hands.
Here again, we must consider the mentality of the times - and its irony. Clover was a prostitute, and prostitutes in Victorian London died nightly by the hands of jackals they solicited; that was their life, they lived dangerously. When they were found dead, many an upright London family reading about the murders in The London Times, considered such tragedies a percentage factor. The common Londoner was not without remorse - he proved that in his sympathy for the street-women mutilated by Jack the Ripper in Whitechapel in 1888 - but he was without patience when it came to governmental hypocrisy. Statesmen condemned prostitution, but it thrived; even after the attention brought to it in the Whitechapel aberration, it thrived.
"Prostitution seems to have been a fairly flourishing trade, with clients among the most respectable," W.J. Reader tells us in Life in Victorian England. "In London...shops and more or less respectable houses in the Strand and Haymarket advertised 'beds to let' by day; in the evening, (men of all classes) might be seen entering and leaving in considerable numbers. In 1882, a select committee of the House of Lords remarked that 'juvenile prostitution, from an almost incredibly early age, is increasing to an appalling extent...especially in London.'"
But, the police found prostitutes a black mark on their beat. The London bobby "devoted decades to making the lives of such women as difficult as possible" adds Angus McLaren. "In the 1870s (constables) closed down numerous casinos and dancing rooms, driving prostitutes into the more dangerous trade on the streets. In the 1880s the police pursued them into the public thoroughfares, employing vagrancy laws to arrest those simply suspected of soliciting."
In November, 1881, a month after he slew Miss Clover, Dr. Cream -- or as London knew him, Dr. Neill -- received a telegram from his family asking him to come home for the final disbursement of his father's property. He made necessary arrangements for the trip, including establishing a relationship with refined Laura Sabbatini. He had met her on an excursion to Hertfordshire and, realizing he was no longer a young man, the strange twist of personalities that was Thomas Neill Cream decided he wanted a respectable, pretty wife whom he could show off in society. Before he left England, he insured himself a place in her heart by funding Laura's dream enterprise, as a designer of dresses for the West End crowd. Besides that, he escorted her and her near-deaf mother around London, treating them to dinner in elegant restaurants and showing them the finer landmarks.
Kissing her goodbye at the Liverpool docks, he boarded the SS Sernia on January 7, 1892. He planned to return to London soon.

A Beauty, Bane and Blackmail
"Many might go to heaven with half the labor they go to hell."
-- Ben Jonson
Cream was back in London within four months. By April 2, he had taken up a suite at Edward's Hotel in Euston Square, and a week later resumed residency at his old address of 103 Lambeth Palace Road. It was as if he'd never been away.
He made immediate contact with the Sabbatinis at their home in Berkhamstead, Hertfordshire, pouring out his love for Laura and talking her into an engagement. Celebrating, they dined out, and over a course of Sundays he even accompanied his betrothed to church services. Galante to the core, he played the upstanding, outstanding gentleman of good will and total beneficence.
That was in the grassy climes of Hertfordshire. But, in London, he was the night prowler once again. Roaming Picadilly, he spotted an especially good-looking young woman with heart-faced shape and come-hither gaze outside St. James Hall. By her plumage and manner, he recognized her as a streetwalker in search of a client. Tapping her shoulder, he introduced himself as Dr. Thomas Neill from America currently practicing at St. Thomas' Hospital. She was impressed and followed him to the Palace Hotel on Garrick Street, where they dallied until morning.
Over dinner and a bottle of burgundy at the hotel, he had learned her name was Lou Harvey, who lived below Primrose Hill at 55 Townsend Road, St. John's Wood. She lied. Her real name was Louise Harris and lived at [44] Townsend with an omnibus conductor named Charley Harvey whose surname she had adopted. A cautious woman, and brighter than the dollies with whom Cream had played with thus far, Harvey looked before she leaped, especially when it came to men like this one who said he came from far-off America; she had been with enough cads and voyeurs - and high toners, too - to distinguish the gadabouts from the earnests. Something didn't match up here, she apprised.
That intuition saved her life.
When Cream was indicted for his crimes months later, she would recall her meeting with him: "He wore gold-rimmed glasses and had very peculiar eyes. As far as I can remember, he had a dress suit on and a long mackintosh on his arm. He spoke with a foreign twang (and) asked me if I had ever been in America. I said no. He had an old-fashioned gold watch with a hair or silk fob chain and seal. Said he had been in the army."
Before they left the Palace, she agreed to meet Cream again that evening for a drink and some theatre at Oxford Music Hall. They arranged a rendezvous for 7:30 p.m. at the Charing Cross underground railway station, adjacent to the Embankment. She was surprised, however, when he told her that he would bring along some pills for her to take in his company. "You are so beautiful, but your cheeks are too pale," he said. "That's what comes from living in misty London town. These pills will bring a blush of rose back into your face, my fallen angel."
His angel had not fallen so far off the scale that she couldn't smell a rat. She met Cream at the appointed time, but determined to be careful. The evening proved quite interesting, as recollected by Harvey: "(I) walked with him to the Northumberland Public-house, had a glass of wine, and then (we) walked back to the Embankment where he gave me two capsules. But, not liking the look of the thing, I pretended to put them in my mouth...And when he happened to look away, I threw them over the Embankment. He then said he had to be at St. Thomas' Hospital, left me, and gave me 5 shillings to go to the Oxford Music Hall, promising to meet me at 11 o'clock. But, he never came."
Cream had no reason to show, for at 11 o'clock he most certainly was elsewhere toasting to what he thought was the whore Lou Harvey's last night on earth. But, she had been more than lucky; the whore had been smart. Just how smart would not become evident for some time - when the "ghost" of Lou Harvey would hang him.
No hangman leered at Cream yet, though, and he considered himself a clever individual, erasing strumpets in a way that even Jack the Ripper would have envied. Cream mused: The Ripper soiled his evening clothes in blood, but he walked away spotless. The Ripper had to hide in shadows from police lanterns after every killing, but his method allowed him to put many a footfall between himself and his victims before the initial sign of foul play. In fact, he could literally employ his tool of destruction in broad daylight in the middle of Trafalgar Square had he the mind to do so. Slip'em the pill, tell'em now they'll feel better, and too-da-loo m'gal!
But...Master Jack still bested him, for didn't he kill two doxies in a single night?. Cream calculated: What prevented him from exacting - even exceeding -- that achievement? All he needed to do was to locate two doves in a single cage idiotic enough to sample his pills for...whatever reason he could concoct. Ellen Donworth had swallowed. Matilda Clover had swallowed. And Lou Harvey had swallowed. All whores. Imagine...imagine...two trollops in one room - better than Jack the Ripper who had to leave the warmth of his own fireplace twice!
Two victims stirring at once. Coughing at once. Twitching at once. Dying at once.
Late on April 11, 1892, Cream followed Alice Marsh and Emma Shrivell, a pair he had just met loitering in St. George's Circus, off the dreary pavements of Stamford Street. Outside, a tug boat moaned as it crept down the Thames, rippling the dark waters, causing a succession of waves to slosh along the wooden pilings that paralleled Stamford. Ascending the squeaking steps of Number 118, the trio reached the landing where a hallway led to the girls' separate rooms. Key inserted, they stepped into Alice's flat, whiffing a strong surge of gas as she lit the jet beside the door. The cramped cubicle of a parlor took on a ruddy glow.
Cream grinned. Of course, they credited the bloke's good humor to his expectations of what was to come, alone with two young, nubile women - Alice was twenty-one, Emma was eighteen - in the inviting solitude of the apartment. They promised to drink with him, perhaps do more with him, then - and this was why he grinned -- maybe sample one of his cute little pills that he carried in his polished leather Gladstone bag. The pills, he told them, prevented "the disease" so rampant and feared among the girls' profession.
They watched the man as he set the bag on the divan, so pedantically, a cute topper he, soft-spoken and even a little bit shy. Alice, in particular, felt sorry for this Dr. Neill, lonely, just come from America to work at St. Thomas, and still without friends in the city. They whispered and together decided to give the poor blighter some feminine fondling tonight.
"But we haf'ta be quoy'et like mice, so's we don' wyke up the oul' biddy lan'lord' Missus Vogt downstairs," was Alice's only request. "She thinks we're actresses in town! Wouldn't she be s'rproised!" And she dropped her blouse to the floor, revealing a curved torso of white frilly puffs and laces. She tossed a let's-give-the-doc-a real-show kind of wink to her friend.
The carousing over, they invited the trooper to partake of some malt beer and canned salmon that Alice had stored in her pantry. "On one condition, that you let me reward you with a gift," he answered, unlatching his satchel. "You will find them more precious than money." He motioned to the Queen's banknotes he flung on the tabletop beside the opened, foaming brown bottles of Guinness. "Let me be your personal doctor for the evening."
"Woy not?" Emma chuckled. "You were a mite good patient of ours a few moments ago!"
Alice howled after her friend's wit and added, "Ver'ly, wasn't 'e now?"
Dr. Neill, their friend, threw open his case with the delight of an Irishman uncovering a leprechaun's pot of gold. The women marveled at the sight of little bottles tucked into little pockets inside the pouches; square bottles, rounded bottles, corked bottles, capped bottles, green bottles, and blue, and black, and white; ceramic bottles and glass bottles. Some had labels with odd words and strange equations; some were numbered with tape; others said elixir-this or elixir-that, others were bare. From one of the latter, Cream spilled six gelatin-covered white pills into his palm, handing each of the women three. "Take these before retiring," he told them. "I will give you more next time we meet."
"Are you sure these work?" Emma asked.
"Oh, you can count on it," he nodded. "Like nothing you've ever tried before."
It was the bewitching hour, about 2 a.m., when the doctor left Number 118 Stamford. Outside, he muttered a ga'evening to the local bobby, Officer Comley, who tapped his helmet in return. Each man went his separate direction along the Thames. Inside the home, all was quiet...
...Until about 2:30 a.m. The landlady, Mrs. Charlotte Vogt, awakened, half-conscious of a whimpering upstairs where her boarders lived. This was soon followed by groaning, then a terrible rhythm of screams attended by a horrendous banging noise. Mrs. Vogt stirred her husband and they both scrambled from bed and fumbled in the dark for their robes.
At the top of the stairwell the couple found Alice Marsh trembling on the hallway carpet, her body an amoeba, jerking in spasmodic gestures; her hands grappled at nothing above her open mouth as if trying to catch air in her fists to plunge down her gullet. Unable to swallow, she spat up bile. From inside Emma Shrivell's room, a banging continued. When Mr. Vogt broke in, he saw the younger girl enduring the same grotesque attacks, threshing in poses he didn't think the human body capable of. One foot slammed the wall as she, like her friend, groped for oxygen.
The Vogts fetched a policeman who, in turn, wired for an emergency wagon, but by the time it delivered the women to St. Thomas they were dead.
At first ptomaine was suspected, but that was quickly ruled out. An autopsy uncovered deadly doses of strychnine in both victims. The murders mirrored that of the "Lambeth Mystery" girl, Ellen Donworth six months earlier.
Scotland Yard took note. It believed it had a poisoner wandering the streets of Lambeth.
*****
That Thomas Neill Cream was an evil man, there is no uncertainty. Cream murdered, and he enjoyed it, thoroughly enjoyed it. And he didn't stop there. As proof that his crimes were premeditated, take his blackmailing efforts aimed at getting rich off his crimes while redirecting their blame to London's innocent. Don't forget, he had tried the same thing in Chicago when he had accused an uninvolved druggist for the poisoning of Daniel Stott.
It was to be Cream's greed that would bring about his eventual downfall. He took his machinations one step too far, and regretted it.
On the fifth of May, Deputy Coroner George Percival, in charge of the Shrivell-Marsh murder inquest, received a strange letter signed by one "William H. Murray". The handwritten piece subtly pointed to a Dr. Walter Harper of St. Thomas Hospital as being the killer of the two prostitutes on Stamford Street. At the same time, Dr. Joseph Harper of Barnstaple opened his mail to find a letter from this Murray accusing his son, Walter, of the same double murder. The author of the letter promised that for £156 he would destroy the evidence he had that conclusively linked Walter to the deaths.
The Harpers, a father and son team of surgeons who had an impeccable reputation as two of London's finest, hurriedly notified the police of the crackpot threat. The police, not in the least regarding the seriousness of both Murray letters, informed the accused Harpers not to worry, but to please notify them if the attempts at extortion continued.
Scotland Yard began wondering if this Murray might not be the same blackmailer who, under the pseudonym "A. O'Brien, detective," had written coroner Percival in October, accusing a popular Member of Parliament as the slayer of Ellen Donworth. Then, as now, the accused, Frederick Smith, also received a letter demanding a sum of money (£3,000) to stop him from taking his information to the Metropolitan Police.
Further investigation revealed that a phantom, "M. Malone," had tried, through the same form of arm-bending communication, to rouse £2,500 from two different people whom he defamed as the murderers of Martha Clover: a Dr. William Broadbent from Portland Square who practiced at St. Mary's Hospital, and a high-focus aristocrat, Lord Russell.
The only confusion the police felt was: Martha Clover wasn't murdered.
Or was she?
Because the handwriting and the tone of all the letters was curiously similar; the Yard, in re-examining them, strongly believed that they had been written by the same man. That being so, why would "M. Malone" regard Clover's death as anything but natural?
Unless...he knew better.

Strange Tales
"Just are the ways of God,
And justifiable to men."
-- John Milton
With the murder of Alice Marsh and Emma Shrivell, the Metropolitan Police Force, assisted by Scotland Yard, resurged their hunt for the Lambeth Mystery poisoner. They studied chemists' records-of-sale for names of known criminals who may have purchased poisons before and during the target period; they ransacked lodgings of degenerates with a homicidal past, chiefly those with a record of drug-taking or woman-bashing.
In the Caledonia Road apartment of William Slater, a known thug with a gnarled face and a violent record, constables found nux vomica and morphine; Slater was promptly arrested. Investigators failed to connect him with either the Donworth or Marsh/Shrivell murders but, ironically, tied him to another killing, that of a girlfriend who jilted him, one Annie Bowden.
When suspects failed to surface in London, Scotland Yard entertained another thought. Because the murders occurred six months apart - October, 1891, and April, 1892 - the general belief at the Yard was that the murderer was a sailing man who killed between ports of call - perhaps a crew member of a cargo ship that carried medicinal drugs and apparatus to and from the British Isle.
Dr. Cream probably would have gone on unsuspected had it not been for his own self-trumpeting. Studies of serial killers since that time have led to the hypothesis that many of them commit mistakes inwardly hoping to get caught. Valid or nay, Cream certainly proved to be the master of his own fate.
He had befriended a burly, good-natured former detective from New York, John Haynes, who lived over and hung about Armstead's Photographic Studio at 129 Westminster Bridge Road, where he had a profile taken in April, 1892. The talk of the town at the time was the Stamford Street murders, which had occurred only a few nights previously, and Haynes and Cream (under the pseudonym Neill) sparked dialogue on the subject. Haynes, because of his profession, had an interest in crime and had been following the strychnine murders closely, or so he thought, for he found his new friend Dr. Neill's knowledge of the subject extraordinary to his own. Over supper, the men compared notes and Haynes was very surprised to hear Cream mention details of the murders - and even the names of two victims -- that he'd never read. Of the latter, they were a Matilda Clover and Lou Harvey.
After the meal, the two men walked through darkening Lambeth, Cream halting at one point to indicate the flickering transom over the address, 27 Lambeth. "There, John, see: the front door where they entered the night of October 20, Clover's final night. Clover, she was an imbecile letting a man she hardly knew into her house, but then again women of her dirt-cheap class do not live by brainpower, do they!" Cream snickered. "While she went out to fetch some porter, the killer obviously prepared his move. He removed the foil from the gelatin pills, three of them, and put them back in his vest pocket. When she returned from the tavern, he brought them out smiling, and announced, 'Here is what I promised you!' Well, he had told her he was a pill salesman from America and would bring her some medicine to prevent sexual disease, so she didn't question the surprise. She reached for them, but he closed them tight in his fist, saying, 'After we make love, my dear. I am clean, you shan't need them with me.' So -- they cooed and spooned and, after the romancing was done, they sat down in her kitchen to enjoy the drink. 'Now, before I leave, let me watch you take these pills!' he told her. 'Don't bite them, they are bitter if you do; just swallow them whole with your beer.' He saw her gulp them down, one at a time. Then, tipping his hat, he told her he would stop by again the following evening. Of course, he knew better! Telling her to go to sleep now, he let himself out.."
"Amazing! How do you know all this?" Haynes wondered.
Cream cajoled. "All...er, surmise."
"Well, you're quite the surmiser, sir!" nodded Haynes.
"I know you detectives don't work that way - no assumptions, only facts. Please forgive the rambling."
"No, quite interesting. Don't forget, Neill, facts sprout from assumptions. Pretty much, I imagine, like a doctor's diagnoses."
"Precisely," Cream rolled a finger skyward to enunciate. "In fact, that's how I became interested in the case to begin with, by reading the victims' post-mortem reports in the British Medical Journal."
"I see. Please, go on, tell me about this - what was her name? Lois Harvey? I must have missed her story in the papers, too."
"Lou Harvey," Cream corrected. "I imagine snipped short off Louisa or Louise. Here's Waterloo Bridge, let's cross it and I will show you where he gave her the pills that killed her." He led Haynes over the span of bridge, explaining how he had met Lou Harvey - but, of course, relating it from a third-person angle. When they reached the northern shore of the Thames, he paused under a lantern beside the Embankment parapet immediately south of Charing Cross Station.
"Here they stood, right here," Cream posed, "just having finished a sip of the grapes at the Northumberland. They were supposed to be on their way to the Oxford for a respite of vaudeville that began at 8:30, but he detained her here admitting that he must leave her for a while, as rushing business called. He dropped into her small gloved hand some money for the show, where he promised to meet her by curtain call, and then two gelatins. 'For your color!' he told her. The stupid trollop believed him. And she swallowed them. Well, then he...er, I imagine he scooted after that pretty scene and left her standing there, at the threshold of hell."
Haynes had been watching Neill's eyes, glazed and transfixed by his own story-telling. "Where did she succumb?" the detective asked. "Was she taken ill at the Oxford?"
"I imagine so. She couldn't have lived but two or more hours."
"Terrible, terrible," Haynes shook his head. "Say, you've left my mouth parched with all your horror stories, Neill. Where might we imbibe?"
"The Northumberland is 'round the corner this way - come on, I will show you the booth where the murderer and his lady love sat while they had their last drink together."
Haynes followed, observing how this Neill shot from one street to another, maneuvering about the foggy, night streets of London with more agility than a native, following the poisoner's steps. As if he knew them by heart.
*****
Haynes' best friend in London, who had been trying to use his influence to get him a job where he worked, at Scotland Yard, was Inspector Patrick McIntyre. The day after his intercourse with Neill, he visited the investigator to spin his story of an eerie encounter.
"...I tell you, Paddy, he knew the places, the times, the whole commotion, even their conversations. Of course, he said he was merely conjecturing, but I watched his expression when he spoke and...well...I know this sounds dotty, but, well, I'd swear he was there! Like he'd known them poor girls intimately. I had the strongest urge to ask him what they looked like naked," he laughed, "but I was afraid that might be pushing it."
McIntyre, a huge man behind a huge desk, braced his huge chin on ten arched fingers, pursing his lips, listening, grimacing under the weight of huge thoughts. He mumbled, "Clover...Clover...Clover. And Harvey...Lou Harvey." He unloaded a cumbersome breath and sat back into his huge chair whose springs screeched as he did so. "I know the name Clover. Her name is involved with some rum-go who tried to blackmail an acquaintance of hers, saying he killed her. It seemed odd, because Clover, if it's the same one we're talking about here, is not considered a victim of foul play. Her doctor says she died of the drink."
He leaned over his desk, his chair grinding again, as he sketched a brief note to himself on a memo pad. "Matilda Clover you say?"
"Mm-hm. And Lou Harvey's the other one."
"Now her name doesn't ring a bell at all. I'll check with the coroner to see if such a person showed up in the morgue. I can tell you one thing, Johnny - where he got his information is beyond me. There is not nor has there ever been a Lou Harvey connected with our case, nor in the papers. But -" and he stretched out in that godawful noisy chair, " - I think she bears looking into. I'm really glad you came to me."
"At first I thought he was just a braggart. But, the further along we got on our personal, little tour of the murder scenes - Donworth's house, the residence of Alice Marsh and Emma Shrivell, Clover's place and then the spot where Harvey downed those pills - the more bizarre it became, Paddy. All I kept thinking is..." He paused. "Need I say it?"
McIntyre shook his head. "No, I'll say it for you, for I'm wondering the same thing: Neill might very well be the Lambeth Poisoner."
"Then you think it's possible?" Haynes asked.
"Johnny, I'm happy my supervisors didn't hear you say that. I'm trying to get you in here, but that would have killed your chance."
"Sorry," Haynes rued. "A good detective knows everything's possible." He saluted a lesson learned, and stood to leave.
"That's right," winked the other. "Oh, before you go. Do you happen to know where this Neill resides? Just in case."
"Yes, on Lambeth Palace Road. Number 118."
Inspector McIntyre leaped from his chair and this time the springs actually screamed. "Lambeth Palace Road, Number 118?"
"Yes. What's wrong?"
"Not a thing. Johnny, I think you just gave our investigation a boost. That blackmailer of which I spoke. He had also accused a fellow by the name of Harper for the killing of the two women on Stamford. Harper lives at Number 118 Lambeth Palace Road, the same lodging house."
"Then you think our man's Harper?"
"No, I think our man's Neill."

The Noose
"Be sure your sin will find you out."
-- The Bible
Without him seeing it, a net was closing in on Dr. Cream. As he had stalked prostitutes in Lambeth, he was now being tracked by London police, silently. But, the law was about to climb on his boot heels and not let go until his feet dangled. It was what Robert Anderson, head of the Central Investigation Department (C.I.D.), wanted. Exasperated by its longevity, he mandated the Lambeth Poisoner case to be solved. He wanted results. Results generated quickly.
Authorities took several important steps in the wake of John Haynes' interview with Patrick McIntyre. For one, Scotland Yard discovered through passports that the suspicious doctor's real name was not Neill, but Cream, and that he stemmed from Canada. Second, plainclothesmen commenced a round-the-clock tail on said suspect. Third, morgue records and missing person's files were dredged and local citizens interviewed for whatever information anyone could tell the police about the supposed death of someone named Lou Harvey. Next, the Home Secretary issued an exhumation order for the corpse of Matilda Clover. Finally, Scotland Yard sent one of its top investigators, Frederick Jarvis, to North America to research the personal background of suspect Thomas Neill Cream.
Officer Comley, the policeman who had exchanged good nights to a topper fitting Cream's description leaving Alice Marsh and Emma Shrivell's apartment building the night of the murders, was assigned to the plainclothes unit to follow Cream closely. He soon reported to his commander, George Harvey of L Division, that Cream spent many evenings outside the Canterbury Music Hall,'"watching women very narrowly indeed." After dark on May 12, Comley, along with Sergeant Alfred Ward, watched Cream buy the services of a prostitute near the Elephant and Castle, St. George's Road, and followed them to her home on Elliott's Row. They lingered outside until he left, but fortunately for the girl, there had been no incident of violence. Nevertheless, the police were gaining information on Cream's nocturnal activities, his routes, his habits.
Sergeant Ward sought out Lucy Rose who had worked as a chambermaid at the apartment where Matilda Clover had lived, and who remembered seeing "Fred," Clover's elusive boyfriend whom she brought home that fatal night. Her description matched that of Cream's.
As is the case with most professions, prostitutes have an internal network; they know each other, if not by name, then by appearance, location and reputation. Victorian London's prostitutes, at a time when Jack the Ripper and Dr. Cream were killing them, inherently banded together for protection. After the shocking Stamford Street slayings, Lambeth streetwalkers began freely communicating with the police.
Two women came forward with a startling piece of information. Eliza Masters and Lizzie May by names, they had acquainted Dr. Neill back on October 6 at Ludgate Circus, permitting him to buy them drinks at King Lud's Castle pub; they chatted a while, considering him a harmless, friendly chap, and impressed by his elegant clothing, manner and open pocketbook. Before they parted that evening, he promised to stop by at their lodging in Lambeth the following week to treat them to a night on the town. Several days later, as promised, he contacted Masters at the Oriental Rowhouses on Hercules Road and told her he was coming to visit. Both women primped and waited, but he never showed. However, that same afternoon they saw him in the company of another of their occupation: Matilda Clover.
"Matilda Clover's body was exhumed on May 6," writes Angus McLaren in Prescription for Murder. "Fourteen coffins had to be taken out of the paupers' grave before hers could be removed. Dr. Thomas Stevenson undertook the autopsy. The grave was dry and the body remarkably well preserved. Stevenson spent three weeks carrying out the complicated process of shredding the internal organs, dissolving them in methylated spirit, and boiling, cooling and filtering the residue. He found that six months after her death, Matilda Clover's viscera still contained about one-sixteenth of a grain of strychnine. Probably about as much again had been vomited up. The residue...appeared purple when color tested. A frog injected with the fluid found in the corpse's stomach, liver, brain and chest died within a matter of minutes in the throes of the characteristic symptoms of strychnine poisoning - tetanic convulsions. The autopsy left no doubt in Stevenson's mind that Clover had been poisoned."
Last but not least, revelations from Canada began to roll in, compliments of Inspector Jarvis. They told of a man, Thomas Neill Cream, whose wife died mysteriously after he'd sent her pills for her illness; who had been under suspicion of murder in Ontario; had most assuredly killed prostitutes in Chicago, and had, through political chicanery, been released prematurely from prison where he was serving a life sentence for murdering an intervening man in Illinois.
After obtaining samples of Dr. Cream's handwriting and comparing them with the extortion letters that followed each murder, the London constabulary arrested Cream on June 3, on suspicion of blackmail. They booked him at the Bow Street Police Station and he was forthwith charged with extortion at the Magistrate's Court. Incarcerated at Holloway Prison, North London, he refused to speak but only to exclaim his innocence. Actually the police had next to nothing to prove his guilt for either extortion or murder -- and he knew it -- but, Anderson, the C.I.D. chief, had manipulated the arrest as an excuse to detain him in the city in the hopes that the ongoing investigation would turn up something heady.
During the subsequent inquest of Martha Clover's death, pieces of damaging testimony indeed built, built until a solid and frightening picture began to materialize of Thomas Neill Cream. The inquiry commenced at Vestry Hall, in Tooting (near the site of her interment), on June 22. Throughout the two-week hearing, John Haynes detailed his all-too-vivid dialogue with Cream and the latter's mentioning of Clover as a murder victim before the police regarded her as such. Elizabeth Masters and Lizzie May told of seeing Cream in the company of Martha Clover not long before she passed away. A chemist named Kirby produced a bill of sale for strychnine, which was signed by Cream. Emily Sleaper, daughter of Cream's landlord, testified that Cream had told her that he had been following the Lambeth Murder case and had uncovered evidence to lay the blame on Lord Russell (one of his blackmail victims). Scotland Yard detective Bennett Tunbridge related his finding of an envelope in Cream's room bearing scrawled initials of each of the murder victims in Lambeth, and the dates of their deaths.
But, Cream sat through the onslaught relatively unshaken. He was a brilliant man, and he knew the law. He had written his fiancee telling her not to worry, for the police had nothing conclusive against him - much hearsay, rumors, that's all.
Then, the thunderbolt hit.
Throughout much of the inquest, Cream sat manacled before the bench, listening without comment to the proceedings. He kept as physically unmoved as his emotions remained stolid. At one point late in the hearing, however, during a break, he happened to glance toward the door of the chamber where an unusually loud bustle erupted. He saw the lady enter. He blinked. He blinked again. He whipped off his spectacles, wiped them with his 'kerchief, and placed them back on the bridge of his nose. And focused. He paled. He twitched. And his eyes bulged as she walked past him. A bailiff called her name, the name of the lady whom the police had finally found, alive and well. And eager to testify.
The presiding prosecutor turned to the woman: "Miss Lou Harvey - also known as Louisa Harris - "a man gave you two pills to take on the Charing Cross Embankment, pills that you pretended to swallow, and without his knowledge tossed into the Thames River. You suspected him of foul play -- the reason you did not take those pills. Tell us, in the name of God, is that man here in court with us today?"
"Yes, he is," she answered, and pointed in Cream's direction. "There he sits, sir, as big as life."
Doctor Cream dropped his eyes to his lap, at his two wrists bound by chains. For the first time, the tightness of the steel bracelets hurt.
*****
On July 13, the inquest concluded that Cream did indeed consciously administer strychnine poison to Matilda Clover. After being officially charged with her murder, he was removed to Newgate Prison, adjacent to Old Bailey municipal hall, where the trial would take place. In subsequent weeks, the law also charged him with premeditated homicide in the deaths of Nellie Donworth, Alice Marsh and Emma Shrivell, with attempting to murder Lou Harvey, and with extortion.
The ensuing trial of Dr. Cream took place over a five-day period, October 17-21, Justice Henry Hawkins presiding. The defendant, looking more sinister than ever in a bramble-bush of a beard he had grown in his cell at Newgate, pouted in the drab, gas-lit courtroom, weighed under the percussion of verbal darts from every angle. Despite representation by brilliant barrister Gerald Geoghegan, the crown's argument (led by Attorney General Sir Charles Russell) could not be overcome. The prosecution re-enlisted pretty much the same witnesses as it had in the Clover inquest - Lou Harvey's testimony again the climax - but the defense produced none. It's central, and only, argument being that the court could not condemn their client based on circumstantial evidence.
In the eyes of the jury, the evidence was as potent as the poison Cream fed to his victims. Ten minutes of deliberation is all it took: Guilty! they said.
In passing the death sentence, Justice Hawkins told the prisoner that his willingness to murder was "so diabolical in its character, fraught with so much cold-blooded cruelty (that it could) be expiated only by your death.
Cream went to "the drop" November 16, 1892. Relates Angus McLaren, "Public hangings had been brought to an end in 1868; hangings now took place within the prison walls witnessed only by the sheriff, surgeon, justice of the peace and close relatives.... The largest crowd to gather at an execution since they had ceased to be public waited outside in a fine drizzle...'Probably no criminal was ever executed in London,' declared a Canadian newspaper, 'who had a less pitying mob awaiting his execution.' The appearance of the black flag was greeted by hoarse cries and cheers."

A Ripping Good Yarn
"It is not every question that deserves an answer."
-- Publilius Syrus
When the trap door sprung below Dr. Cream, he was heard to shout - or some said he shouted - "I am Jack-" and then eternity muffled the rest.
The immediate question here is: Was he about to say, "I am Jack the Ripper"? And a second question follows: "If not, what was he trying to say?"
Ripperologists love the fact that those were Cream's final words before he plunged to hell, because it adds so much to the delicious mystery of their beloved Mr. Ripper. For 112 years, everyone who had lived in Victorian London, or so it seems, was at one time or another considered for candidacy for the "Could he have been the big guy himself?" award. Among the suspects was a high-ranking member of the royal family (Prince Albert Victor), a seafarer with an Oedipus complex (Frederick Deeming), a teacher (Montague Druitt), a Polish barber (Severin Klosowski) and even a female midwife and abortionist (Mary Pearcey). Two of the more ridiculous suspects include Lewis Carroll, author of Alice in Wonderland, and Francis Tumblety, an American ne'er-do-well who is also whimsically blamed for playing a cameo role in the assassination of Abraham Lincoln.
Now, about Cream. The fact that he was serving time in prison at Joliet, Illinois, thousands of miles across the Atlantic, while Jack was hacking away at poor prostitutes in Whitechapel (1888), hasn't deterred some from believing that Cream [might] be a fitting nominee to the Jack the Ripper Hall of Infamy.
For one, his supporters say his handwriting is close to that found in identified Ripper letters. But, so are some of the other suspects' handwriting. As well, they claim Cream had a double - yes, that's right, folks - a double, who sat in Joliet for him while he was able to travel to London and do his dirty deeds in the East End. (A mite more plausible explanation is that Cream may have bribed the guards at Joliet for an earlier release than was recorded. Considering the shenanigans of Illinois politics...well, maybe.)
Of the Cream-as-Jack theory, Stephen P. Ryder and John A. Piper write: "Most refute the theory on the grounds that Cream...was a poisoner, not a mutilator. It would make little sense for him to poison his (earliest) victims before 1888, then suddenly go on a murderous and vicious mutilating spree in that year, and then revert back to poisoning his women. His prison sentence adds only more fire to the arguments of the skeptics."
When dealing with the life story of a character personae the likes of Thomas Neill Cream, one needs to be careful; the deeper the psychoses of that person, the more abstract his or her life, the more that life generates fiction. There have been many doubtful "I knew Jack the Ripper" manuscripts passed off as fact; there has even been a Jack the Ripper "autobiography," which remains highly questionable. Many of these works are convincing, and some of them place Cream in the London of 1888 without referring to the hard facts that otherwise would have gotten in the way of a juicy tale.
So, was he going to say "I am Jack the Ripper?" We'll never know. Because of the ego he had - and he had a tremendous ego, judging by the fact that he laughed in the face of Scotland Yard by exposing his own knowledge of the Lambeth murders to anyone who listened - he might have simply wanted to go out with something many of us dream of: immortality. What better, albeit insidious, way than to claim he was the biggest thing to hit the annals of crime since Cain's murder of Abel?
If he was not going to say, "I am Jack the Ripper?", then let us muse a moment about other possibilities. "I am Jack in the Box"? "I am Jack Frost"? "I am Jack O'Lantern"? "I am Jack of All Trades"? Maybe he was reaching for sympathy by going the self-pity route: "I am a jackass"
Perhaps, he thought that if he proved his poetic skills, the Royal Poets' of London might whoosh in at the final moment and induct him into their society, thus saving his neck. What a thought! Couldn't you just hear him now?
"I am Jack the Ripper, I am Neill Cream,
I'm really schizophrenic...well, you know what we mean."
God have mercy, Dr. Cream.
...Oh, and on you, too, Mr. Ripper.

Bibliography
The wonderful sources from which I was able to piece together the lurid biography of Dr. Cream and his times - in Canada, Chicago and England - include:
Ford, Colin, and Harrison, Brian; A Hundred Years Ago; Cambridge, MA: Harvard University Press, 1983.
Geringer, Joseph; A Walk Through Late Victorian London; Unpublished Mss.
Jenner, Michael; London Heritage; London: Mermaid Books, 1991.
Lowe, David; Lost Chicago; New York: American Legacy Press, 1985.
McLaren, Angus; Prescription for Murder - The Victorian Serial Killings of Dr. Thomas Neill Cream; Chicago: The University of Chicago Press, 1993.
Porter, Roy; London - A Social History; Cambridge, MA: Harvard University Press, 1994.
Reader, W.J. and Peter Quennell (ed.); Life in Victorian England; NY: Capricorn
Books (in arrangement with B.T. Batsford, London), 1964.
Ryder, Stephen P. and Piper, John A. "Dr. Thomas Neill Cream" article in Casebook:
Jack the Ripper site (Internet), 2000.
Shore, W. Teignmouth (ed.) Trial of Neill Cream (Records of Dr. Thomas Neill Cream Trial); "Notable British Trial Series" London: William & Hodge & Co, Ltd., 1923.
CrimeLibrary.com