Stephen Shaun GRIFFITHS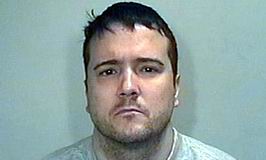 A.K.A.: "The Crossbow Cannibal"

Classification: Serial killer
Characteristics: Dismemberment
Number of victims: 3
Date of murders: 2009 - 2010
Date of arrest: May 24, 2010
Date of birth: December 24, 1969
Victims profile: Susan Rushworth, 43 / Shelley Armitage, 31 / Suzanne Blamires, 36
Method of murder: Stabbing with knife - Crossbow
Location: Bradford, England, United Kingdom
Status: Plead guilty. Sentenced to life in prison on December 21, 2010
---
The Bradford murders were three serial killings of female sex workers from the northern English city of Bradford in 2009 and 2010.
43-year-old Susan Rushworth disappeared on 22 June 2009, followed by 31-year-old Shelley Armitage on 26 April 2010 and 36-year-old Suzanne Blamires on 21 May of the same year.
Stephen Shaun Griffiths, 40, was arrested on 24 May and subsequently charged with killing the three women.
Parts of Blamires's body were found in the River Aire in Shipley, near Bradford, on 25 May. Other human tissue found in the same river was later established to belong to Armitage.
No remains of Rushworth have been found.
Conviction of Stephen Griffiths
Stephen Shaun Griffiths, born on 24 December 1969 in Dewsbury, West Yorkshire, was arrested and in May 2010 he appeared in the magistrates' court giving his name as "The Crossbow Cannibal". At a crown court appearance that afternoon he was remanded in custody until his next court appearance. He made a second appearance at crown court on 7 June via a video link from Wakefield Prison where a trial date of 16 November 2010 was set.
While in custody, Griffiths has attempted to commit suicide on four occasions.
On 21 December 2010 Griffiths was convicted of all three murders after pleading guilty. He was given a life sentence.
Post trial statements
Griffiths' criminal history included a 3-year sentence, when aged 17, for an unprovoked knife attack on a supermarket manager. Whilst in custody he stated that he saw himself becoming a murderer, and psychiatrists warned that he fantasised about becoming a serial killer. In 1991 he was diagnosed as a "schizoid psychopath" and the following year received a 2-year prison sentence for holding a knife to the throat of a girl.
Police had been watching Griffiths 2 years before he killed his victims and had already seized hunting weapons. They [the police] contacted the housing association which owns the flat in which Griffiths lived after Griffiths was observed reading books on dismemberment. The housing association shared the police's concerns and fitted a better CCTV system in anticipation of an incident. At the time of the murders, police had no evidence for an ASBO.
---
Crossbow Cannibal: 'He killed because it was easy'
Stephen Griffiths, the self-styled 'Crossbow Cannibal', knew the perfect place to find victims and escape detection. Cathy Scott-Clark and Adrian Levy visit Bradford's red-light district – a magnet for vulnerable women and violent, predatory men
By Cathy Scott-Clark and Adrian Levy - Guardian.co.uk
March 5, 2011
Donna and Louise know a thing or two about scouting for punters. Their beat on City Road, a major artery moments from Bradford city centre, is a strategic choice. "If the vice squad stops [the punters], they can say they're heading home," Donna explains. The nearby backroads, on the other hand, lead nowhere in particular – and it is there, amid condemned terraces, that the most desperate girls can be found.
According to Donna and Louise, up to 100 women tout the streets around them. "Sharon, Tessa, Tracy and Cindy…" Their list peters out. The two women have smoked the last of their crack, injected their last spoon of heroin, and they know the "rattles" of withdrawal will soon overtake their bodies. "And there's worse than the rattles," Donna says, looking increasingly desperate as the cars drive past.
Here, just moments from Centenary Square, with its opulent Venetian-style City Hall, the only rule is "don't poach trade from other girls".
"Now and again someone gets a slap," says Donna, who lost her front teeth in a row over territory and never got around to replacing them. These days there are no pimps to settle a score. "Crack is the pimp," says Louise, identifying one of the most radical changes in the oldest of businesses. The women working here are controlled by nothing other than their addictions. And there are no conditions too rough, or warnings too stark, to preclude a night working for money to buy the drugs on which they depend.
Showing us around this dark quarter of a grand old industrial city, an area dominated by the textile mills that once brought prosperity and pride to the West Riding, Donna and Louise identify another critical change. Even though Bradford is, according to West Yorkshire police, one of the most pervasively monitored cities in Britain, the women are alone and out of sight. Venom, West Yorkshire police's pioneering CCTV street surveillance and car number plate recognition system, is a network of more than 100 cameras. It was this initiative that helped catch the killers of PC Sharon Beshenivsky in November 2005. But six years on, and with a serial killer only recently removed from these streets, the red-light district is still a collective blind spot.
According to police chiefs, the situation in Bradford is not unique. A raft of new legislation has served only to shunt thousands of women like Donna and Louise out of well-lit, residential locales and into desolate, semi-industrial wastelands.
"Our foolish laws mean that while prostitution is not in itself illegal, working in a brothel is," says Max McLean, who has served in West Yorkshire CID for almost three decades and recently retired as detective chief superintendent. "This gives a clear message to those who work in prostitution: you're on your own, and out on the streets."
It is a message that has reached other quarters as well. According to criminologists and detectives who studied the case, it was this realisation that first brought self-styled "Crossbow Cannibal" Stephen Griffiths to this area of Bradford. For more than a decade he roamed Bradford's grid, befriending its sex workers, even moving to a top-floor flat in a converted Victorian textile factory on Thornton Road so he could be at the heart of the action. Noting how poorly monitored the area was, and witnessing the increasing disconnection and desperation of the women working there, he began to plot his crimes.
In June 2009, the criminology student, who was researching a PhD entitled Homicide In An Industrial City, started hunting the grid's workers with a crossbow, before dismembering them in his bath. Some parts he cooked. Others he ate raw. Fragments were bagged and dumped in the river Aire. In the winter of 2006, lorry driver Steve Wright had embarked on a similar spree in Ipswich, murdering five sex workers in an industrial dead zone. "Griffiths and Wright consciously zeroed in on these voids and the invisible women society had pushed between the cracks," says David Wilson, professor of criminology at Birmingham City University. "They knew they could do whatever they pleased. They killed because it was easy."
By the time Griffiths appeared in court last December, the body of his first victim, Susie Rushworth, had still not been located. Of his second victim, Shelley Armitage, only the shoulders, vertebrae and connective tissue had been found. Suzanne Blamires, his third victim, had also been dismembered, with police able to recover only 81 fragments of her corpse.
In both cases, it was the serial killers who became the main focus of the story. Little attention was paid to the women who had died, or to those left behind.
Today, Angela Williams is superintendent for Bradford South and the operational chief responsible for the grid. But when she first started as a PC in the vice squad in Chapeltown, Leeds, two decades ago, it was a different scene entirely. In those days, Williams recalls, the sex workers had "nice houses, nice possessions and nice clothes. They worked from 7pm to 12am, for their pimps and to put food on the table. Then they went home." In Bradford, they gathered on Lumb Lane, then the centre of the city's red-light district, where a close-knit local community afforded them some protection.
But even then, they watched their backs. A few streets away had lived Peter Sutcliffe, the Yorkshire Ripper, who had begun targeting local sex workers in 1975. By the time he was caught, five years later, he had killed 13 women and injured seven more, most of them sex workers. Searching Griffiths' flat last summer, police found material suggesting he had come to lionise Sutcliffe, and was obsessed with carrying out a similar series of killings.
By the mid-1990s, West Yorkshire police – dogged by criticism that they had failed to catch the Ripper in time, despite having interviewed him on nine occasions – were further barraged by complaints from Lumb Lane residents about the kerb crawlers and used condoms. Gradually, the sex workers were moved into industrial areas. "The same was happening all over the UK," McLean says.
The women's new beats were more remote. They attracted violent, predatory men. Among them was Kenneth Valentine, a loner who moved into Soho Mills, a converted factory on Thornton Road, and rented his bedroom to sex workers forced out of Lumb Lane, for £5 a session. Valentine secretly watched through a hole drilled in the wall, until one night in 1996, when he raped and killed Caroline Creevy, a 25-year-old sex worker who rejected his direct advances.
Unlike Sutcliffe, who during his trial was diagnosed by four psychiatrists as being a paranoid schizophrenic, Valentine, who had previously been convicted of the manslaughter of a girl he had sexually assaulted in 1991, was described by police as a "dangerous man" who killed because he had an opportunity. Creevy was also a new kind of victim. She had no pimp. She worked alone and out of sight. All she cared about was drugs.
One of the few who had been closely studying Valentine was his neighbour Stephen Griffiths, who had also moved into Soho Mills before the murder and would remain there after it was renamed Holmfield Court, to shake off the stigma of the killing. Creevy's murder was a precursor to the killing and dismemberment Griffiths would later carry out in the same building.
At the time, though, there was little impact in the grid. The street workers, including Donna, moved a few blocks north-west to City Road, Rebecca Street and Chain Street.
Then, in April 2001, Becky Hall, a 19-year-old sex worker with a heroin habit, vanished. She was found after 13 days, naked and bludgeoned behind a low wall at the back of an unlit car park in Thornton Street, her child-sized C&A clothes scattered around, along with used condoms. Donna was working nearby. "We heard Becky drowned in her own blood, and we continued to work a few paces away," she says. "Getting the rattles was too much to bear. The beating, rapes and killings increased, and we just accepted it."
They tried to judge which punters might be dangerous, Donna says. But, as Bridget Farrell recalls, Griffiths did not look like a killer. Bridget sometimes worked the City Road beat, and Griffiths had cooked her dinner, washed her clothes and let her sleep on his sofa when she had nowhere to go. "He was like a brother to me," she says. Donna knew him, too. "At the time, we thought he was just a numpty," she says. "Quite a lot of girls took advantage of him, robbing him when he offered to score for them." He never talked to them about his past: his early childhood in Dewsbury, his upbringing in Wakefield and his public school education – and certainly not the petty crimes and fits of violence that followed.
By 2008, Donna was running out of steam. Since being pushed into the grid, she was being raped at least once a month, hit weekly and threatened daily, as were most of the women working there. "We had become punchbags," she says, "but then I really got fucked over." A Toyota people carrier stopped for her, its driver negotiating the rate, while three others hid beneath seats in the back. She was gang-raped and robbed before being smashed over the head with a beer bottle and thrown out of the speeding vehicle. "Now I just couldn't go out," she says. "I started shoplifting instead, anything to get my drugs." The driver, a former Slovakian coalminer, was eventually convicted after Donna and others from the grid were persuaded by McLean's detectives to give evidence. But the three other rapists had already fled abroad.
Then, in June 2009, Susie Rushworth vanished. By now, Donna was back on the game, but had decided to move to Huddersfield. She had heard the streets were safer and, with fewer sex workers, she could charge three times as much. It was there she met Louise, a 20-year-old with dyed pink hair. Bright and outspoken, Louise had been studying for a diploma in public administration until her boyfriend nagged her into giving crack a go. Just 18, and already taking ecstasy, crack suited her too much. She dropped out of college, had a baby: "And then the father fought me for custody, using the drugs he supplied as the reason for me being unsuitable," she says.
She scored heroin to come down off the crack, but then got caught and was forced to go to a drug counsellor. After missing a session, Louise ended up in a women's jail in Wakefield. Coming out with nothing, she was homeless and stigmatised with a criminal record. Any prospect of a return to normal life was lost. She headed for the nearest street corner, where she met Donna.
Louise was young and popular with the punters, Donna experienced and savvy. They remained in Huddersfield for 18 months, splitting their takings and drugs, a decision that took them out of Griffiths' orbit. "The day I heard Shelley had gone missing," Donna says, "I said to myself I must never go back to Bradford."
Shelley Armitage, 31, was known to everyone on the grid. "She was one confident girl," Donna says. "She talked of becoming a model." Shelley had last been seen alive on Rebecca Street on the night of 26 April 2010, after discussing trade with a passing motorist. She had been addicted to heroin since she was 16. "A car would go past and I'd say, '£30 for full sex' and the punter would go round the corner to Shelley and she'd do it for £20," Donna recalls. "She stole off the punters, too, dipping their wallets when she was giving them a blow job."
Like most of the new girls on the grid, Shelley had a dependent boyfriend, reliant on her to raise money for drugs. They shared a flat in Allerton, a bleak western suburb of Bradford. Her boyfriend was so used to her unpredictable lifestyle that it was several days before he became worried enough to contact McLean's detectives. When news broke that two girls were now missing, many others wondered what to do. "But the rattles don't stop just because there's a killer on the loose," Louise says. "Believe me, you'll do anything to make it go away."
Just under a month passed and the grid seemed to quieten. No sign of Shelley. Or Susie. Shelley's best mate, Suzanne Blamires, was still on the streets, though. Suzanne, 36, was always a mess, says Donna. "She was a drunk, and stumbling around." Like Donna, she had been battered and raped by a gang. "But Suzanne was so mad she just slept it off like a hangover and went out again the next night, covered in bruises."
Suzanne had grown up with gymkhanas, church on Sunday, A-levels and a place at nursing college. But weekend raves with ecstasy in the early 1990s had turned into week-long binges on crack and heroin. Her wedding photos show a happy 20-year-old with a chic pixie crop, but by 2001 things had got so bad that Suzanne was on the street to fund her spiralling habit, her hair now fastened with an old rubber band. "Only the drugs mattered," Donna says.
Suzanne was last seen alive near Sunbridge Road in the early hours of 22 May 2010. Later that day, her boyfriend, who had not seen her for three days, finally became worried enough to call her mother in Wrose, a middle-class Bradford suburb. When Nicky Blamires said she hadn't heard a word from Suzanne in weeks, the family contacted the police.
McLean, by now head of West Yorkshire police's homicide and major enquiry team (Hmet), was at home with his family in Shipley when he got the call. "That was it. I knew we had a serial killer on our hands," he says. "And a missing prostitute always raises the stakes for West Yorkshire police."
The failed Ripper inquiry had resulted in a number of changes to the policing system, including the formation of the dedicated vice squad to which the young McLean had been assigned, and the creation of the Home Office large major enquiry system (Holmes), a computerised cross-referencing system developed between West Yorkshire police and IT experts. But while policing had been transformed, street prostitution had not. And to the annoyance of some of his contemporaries, who saw the police's job as cleaning up the streets, McLean had become determined to do what he could to improve the girls' lives. The killing of Becky Hall had brought it home to him. "She was just 19, a single mother with a three-month-old baby," he says, reflecting on how, even after he had gone on BBC's Crimewatch, very few people came forward. "No one cared about a dead prostitute."
With three more sex workers now missing, McLean's detectives got to work. Even as they searched the DNA databases and sex offenders register, another rape gang struck, this time robbing and savaging the 20-year-old daughter of missing Susie Rushworth.
Then the police got a lucky break, without which the investigation might have foundered. Peter Gee, the Holmfield Court caretaker, called on Monday at 1pm, distraught. Reviewing footage from private security cameras, he spotted something terrifying: a woman fleeing number 33 in the early hours of 22 May, followed by a man who grappled her to the ground, shot her twice at point-blank range through the back of the head with a crossbow and dragged her back into the flat.
Afterwards, knowing he had been filmed, the man approached the camera again, this time with the crossbow held high, and gave the camera the finger. Over the next few hours he was filmed again, emerging from the flat with black bin bags and holdalls. Sergeant Helen Metcalfe, head of Bradford's vice squad, identified the woman as Suzanne Blamires. Police honed in on Griffiths, who had by now lived in Holmfield Court for more than 15 years and had a history of violence towards former girlfriends. A few hours later, detectives found more video footage, this time on Griffiths' computer. It showed a naked, trussed-up woman in his bath, the words "My Sex Slave" spray-painted on her back. Metcalfe identified the woman as Shelley Armitage.
Max McLean retired last October, two months before Griffiths was convicted, receiving three life sentences. Images of the battered corpse of Becky Hall remain with him. Alongside her unsolved murder, detectives in Yorkshire have open files on at least another six murdered sex workers, including that of Michaela Hague, a 25-year-old found stabbed to death near Sheffield city centre in November 2001.
Although there are no definitive figures, the number of sex workers murdered across Britain in the past decade is thought to be anywhere between 60 and 140, with only a quarter to a third of cases ever solved. "There is no doubt in my mind that serial killers of prostitutes in England remain at large, but nobody wants to be associated with missing or dead prostitutes," McLean says. "No one wants to call the incident room and say they know anything. If you're using prostitutes, you want to keep it secret. And deep down, I think too many people don't care when they hear a prostitute has been killed."
While the overall murder rate in Britain is the lowest it has been for 20 years, street workers have never been more at risk. The Association of Chief Police Officers has called for the funding of a national database of men suspected of attacking sex workers, and its spokesman, deputy chief constable Simon Byrne, has said a debate is needed about changing the laws governing prostitution. In West Yorkshire, some senior detectives have gone further, suggesting all men convicted of kerb crawling should be placed on a DNA database.
For Professor Wilson, this conversation is long overdue. "We need a proper grown-up discussion about making victims' lives better," he says. His suggestions include managed zones where sex workers can work safely, decriminalisation, or even full legislation. Some women's groups, however, decry these measures as legitimising the abuse of women, calling instead for them to be given amnesty, while those who use sex workers receive more draconian sentences.
Wilson and these groups agree on one thing. "At present, rather than help them, we contribute to their vulnerability by having a system of policing that targets the prostitute rather than the punter," he says. Current laws, updated in the recent Policing and Crime Act 2009, state that if women are caught persistently loitering or soliciting, which translates as more than twice in a month, they can be arrested. If convicted, they can be required to attend three counselling sessions with drug or health workers. Missing a session results in a fine or, as in Louise's case, a jail sentence.
Drug counsellors in Bradford warn that, like Louise, many women leave prison still addicted and newly criminalised, having to pay off their debts by working harder on the streets. The Bridge Project, which has two-thirds of the city's estimated 2,500 heroin and crack users on its books, is frustrated by these glaring contradictions. Chief executive John Royle says: "The police's primary aim is to prevent crime. Our job is to help people with drug problems. But increasingly, the police recognise that locking them up and fining them only encourages the women to go back out on to the streets to get the money to pay the fine. They know it's a hopeless system." There is no quick fix, he says. "After years of chaotic lifestyles, drug use and sex work, these women are not going to change overnight. We need time to develop their trust, to give them respect, dignity and help."
Donna and Louise returned to work in Bradford's grid just a month before Stephen Griffiths went on trial. Trade was just too slow in Huddersfield. The beatings and rapes continue; six weeks ago, Louise was tied up and raped multiple times by a 50-year-old judo instructor. "There's no point in me complaining to police," she says. "It's normal."
Between them, they need to raise £60 a day to feed their addictions, which puts them on City Road seven nights a week. "She's a smack head and I'm a crack head," Louise offers by way of explanation. And with that, they head out into the dark; still a double act after everything they've gone through.
---
'Crossbow Cannibal' gets life term for Bradford murders
BBC News
December 21, 2010
A student who called himself the "Crossbow Cannibal" has been jailed for life for the "wicked and monstrous" murders of three women in Bradford.
The judge at Leeds Crown Court told 40-year-old Stephen Griffiths he would spend the rest of his life in prison.
Griffiths, from Bradford, had earlier admitted murdering Suzanne Blamires, 36, Shelley Armitage, 31, and 43-year-old Susan Rushworth.
After his arrest, he told West Yorkshire Police: "I've killed loads."
Griffiths, of Thornton Road, was arrested on 24 May by West Yorkshire Police after CCTV footage of him attacking Ms Blamires at his block of flats was discovered by a caretaker at the complex.
Robert Smith QC, prosecuting, said the caretaker had the job of reviewing footage taken from CCTV cameras.
On 24 May he saw footage which showed Ms Blamires running out of Griffiths' flat followed by the defendant.
The court heard Ms Blamires was later seen being dragged on the floor by her leg by Griffiths, who was seen to have something in his hand.
The woman was shot with a crossbow, the court heard, before Griffiths "gestured" by holding a finger up to the CCTV camera.
Mr Smith added that Griffiths had told the officers arresting him: "I'm Osama bin Laden."
Once in a police station he told officers: "I've killed a lot more than Suzanne Blamires - I've killed loads.
'Disturbing' recordings
"Peter Sutcliffe [the Yorkshire Ripper] came a cropper in Sheffield.
"So did I but at least I got out of the city."
Mr Smith said Griffiths told police Ms Blamires - who he knew as "Amber" - was "gone".
He said the student told officers he had "eaten some of her", adding "that's part of the magic".
The court was also told Griffiths possessed "disturbing video recordings and images", and there was evidence that Ms Armitage and Ms Rushworth had bled in his flat.
Judge Mr Justice Openshaw told the court: "The circumstances of these murders are so wicked and monstrous they leave me in no doubt the defendant should be kept in prison for the rest of his life."
Mr Justice Openshaw added that Griffiths' pleas had been entered "without any remorse at all".
The families of the three women gave their reaction after the Bradford University PhD student, who was researching murders in Bradford in the 19th Century as part of his thesis, was convicted.
Suzanne Blamires' mother, Nicky Blamires, said: "I wake up and think about my bright, articulate and much-loved daughter every day and I am serving a life sentence as a result of what this man has done."
Gill Armitage, Shelley Armitage's mother, said: "Her death will haunt us for the rest of our lives."
And Susan Rushworth's mother, Christine Thompson, appealed to Griffiths to tell their family what he had done with her "loving" daughter.
"Our lives will never be the same without her," she said.
Det Supt Sukhbir Singh, of West Yorkshire Police, described Griffiths as "heartless and controlling".
"I am extremely pleased that Griffiths has been convicted of what can only be described as a series of horrifying crimes," he added.
He said they had "no evidence at this stage" to link Griffiths to any other crimes, but they would be in contact with forces across the country to "see if anything develops".
Peter Mann, Head of Complex Casework Unit at the Crown Prosecution Service in West Yorkshire, added: "Few people in Bradford are likely to forget the horrific events which led to Griffiths being arrested and charged with these murders."
A major search and recovery operation began after Ms Blamires' remains were recovered on 25 May from the River Aire.
Police had also been investigating the disappearance of Shelley Armitage and Susan Rushworth and on 27 May Griffiths was charged with all the murders of all three women, who had worked as prostitutes in Bradford.
Griffiths admitted murdering Ms Blamires between 20 May and 25 May; murdering Ms Rushworth between 22 June, 2009, and 25 May this year, and murdering Ms Armitage between 25 April and 25 May this year.
---
'Oddball' PhD student charged with murder of three women in Bradford
Suspect arrested after year-long investigation as search continues for bodies of missing women
By Ian Cobain and Martin Wainwright - Guardian.co.uk
May 27, 2010
With his pet lizards, and the sunglasses he wore whatever the weather, Stephen Griffiths was to most of his neighbours in Bradford a strange, slightly amusing figure. "A bit of an oddball," said one. "An overgrown goth," declared another.
To police and crown prosecutors in Bradford, however, he was clearly the prime suspect in the murder of a local sex worker and the suspicious disappearance of two others. Last night they concluded they had sufficient evidence to charge him with the murders of all three women.
"I have decided that there is sufficient evidence to charge Stephen Griffiths with their murders, and that it is in the public interest to do so," said Peter Mann, head of the Crown Prosecution Service complex casework unit in the West Yorkshire. "Accordingly, I have authorised the police to charge him. He will appear at Bradford magistrates court tomorrow morning and be remanded into custody to appear at Bradford crown court tomorrow afternoon.
"The events of the last few days have understandably been very upsetting for the families and friends of Suzanne [Blamires], Shelley [Armitage] and Susan [Rushworth] as well as for the wider public in Bradford. Their families have been informed of my decision and I hope soon to be able to meet them and explain the trial process to them and answer any questions they may have."
West Yorkshire is not the only police force taking an interest in Griffiths. Several others across the north of England, with similar unsolved murders on their books, were said to be watching the investigation closely.
Bradford police had been investigating the disappearance of Susan Rushworth, 43, since last June. She had last been seen leaving her bedsit. They had also been looking for Shelley Armitage, 31, since she vanished four weeks ago.
Then on Monday they received a call from a caretaker who works at the converted mill to the north-west of the city centre where Griffiths has been living in a third-floor flat for the last 13 years. While examining CCTV footage taken over the weekend, the caretaker is understood to have seen images of another of the missing women, Suzanne Blamires, 36.
After detectives viewed the CCTV footage, armed officers descended on the building. Witnesses described how they poured up the stairs, returning about 10 minutes later with Griffiths in handcuffs.
While he was being questioned today, friends and relatives were being interviewed, scores of police were searching derelict homes and factories near his flat, and divers were continuing to search the river Aire at Shipley, four miles north of Bradford.
Tests were being carried out on a number of body parts that were retrieved from the river on Tuesday. Some have been identified as the remains of Blamires. Forensic scientists are now attempting to establish whether the haul also includes any of the remains of Armitage and Rushworth.
By the end of yesterday police had built up a detailed picture of Griffiths: aged 40, single, one of the three children of a couple from Wakefield, West Yorkshire, he had been privately educated at the local Queen Elizabeth Grammar school, which now charges £9,000 a year, before graduating from Leeds with a degree in psychology. His mother Moira, a former telephonist is said to still live in Dewsbury.
For the last six years he had been studying at Bradford University for a doctorate in criminology. His thesis was to have been about 19th-century murders.
A glance at the wishlist he had posted publicly on Amazon's website betrayed eclectic academic and leisure interests: Patterns of Vengeance: Crosscultural Homicide in the North American Fur Trade is one of the books he had been planning to read. Another was Goodbye Lizzie Borden: the Story of the Trial of America's Most Famous Murderess. The DVDs he had lined up included David Lynch's cult horror classic Eraserhead and a box set called Notorious Killers.
Griffiths' neighbours were unable to tell police or reporters much about him. He bred mice to feed to his pet lizards, apparently, and liked to walk his lizards on leads. "He said he was studying at university, people who had done murders," said Glyn Tucker, who lives in the flat below. "I just thought: 'This guy is weird.' "
More could be discovered from his many postings on the internet, particularly on the social networking site MySpace. Using the pseudonym Ven Pariah and username Ven99, Griffiths posted a number of statements. "Humanity is not merely a biological condition," he wrote. "It is also a state of mind. On that basis I am a pseudo human at best. A demon at worst."
He also quoted the Bible, Ezekiel 25:17: "The path of the righteous man is beset on all sides."
Griffiths also appears to have posted more than 160 photographs on his site. One, taken a number of years ago, is a black and white portrait showing him with his hair slicked back. A second is a topless self-portrait taken in a mirror.
In one message to a comment board, Griffiths writes of his friends in the art world in "lil' old Bradford", while in another he thanks a woman who contacted him and adds: "Thank you for that, Jacqueline, the thought and the sentiment are both truly appreciated. Hope you have a nice day as well – lots of them, in fact. Glad you could see past the scary image I generally project to the world."
Speaking outside the police headquarters in Bradford, the CPS expressed its concern about some reporting of the case. "Mr Griffiths now stands charged with three extremely serious criminal offences and has the right to a fair trial," said Mann.