Shirley WINTERS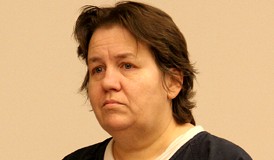 Classification: Murderer
Characteristics: Convicted arsonist
Number of victims: 2 +
Date of murders: November 21, 1980 / November 28, 2006
Date of arrest: March 2007
Date of birth: February 27, 1958
Victims profile: Her son Ronald Winters III, 5-month-old / Ryan Rivers, 2
Method of murder: Suffocation / Drowning
Location: Onandoga County/St. Lawrence County, New York, USA
Status: Pleaded guilty. A St. Lawrence County Court judge sentences her to 20 years in prison on June 16, 2008. An Onondaga County Court judge sentences her to 8 1/3 to 25 years in prison on June 17, 2008. She will serve both sentences at the same time
---
Shirley Winters (born February 27, 1958) is an upstate New York resident and convicted murderer and arsonist. Her victims included her five-month old son, Ronald Winters III, in 1980 and 23-month old Ryan Rivers in 2007. She has also been under investigation for the 1979 deaths of her two older children and the 1979 deaths of three children of a friend.
Early life
In 1966, at age eight, Winters lost three siblings (a 10-year-old brother and two sisters, ages four and 11) as a result of an apparent carbon monoxide leak in the family home.
Prior to Ronald's death, Winters lost two other children, Colleen and John Winters, ages three years and 20 months, respectively, in a 1979 fire in the family's cabin on Hyde Lake in Theresa, New York, near Watertown. The cause of the fire was determined at the time to be an electrical defect. The bodies of those children were exhumed in March 2007 along with Ronald III's; the autopsy showed that both Colleen and John suffered blunt force head injuries prior to the fire.
The previous day, there had been a fire at the home of Winters' friend in nearby Hermon, New York in which her friend's three children died. St. Lawrence County authorities also re-opened their investigation into that incident in 2007. The three children were cousins of Ryan Rivers' parents.
Winters has been in close proximity to 17 fires since the 1979 fire, nine of which have been determined to be arson. She pleaded guilty to criminal mischief in 1981 in relation to two of the fires, and in 1997 was convicted of arson in another fire, one that burned her mother's home, for which she spent eight years in prison; she was released in 2005. Her mother was killed in a car accident two months before Winters' prison sentence began.
Another of the fires, on November 12, 1989, occurred in a home in which Winters was staying in Syracuse with her three children. She rescued her four-year-old daughter and her two-year-old son, but lost track of her oldest living child, a five-year-old daughter, who rescued herself.
Murder charges
Initially, Ronald's death on November 21, 1980 in Otisco, New York was considered to be due to Sudden Infant Death Syndrome (SIDS), but after the body was exhumed during the fourth investigation of the death in March 2007, she was charged with second-degree murder on March 28, 2007.
The latest reopening of the investigation was prompted after Ryan Rivers drowned in a bathtub at his grandparents' home during a visit by Winters on November 28, 2006 in Pierrepont, New York in St. Lawrence County. Winters was indicted by a St. Lawrence County grand jury in August 2007 of second-degree murder, first-degree assault and endangering the welfare of a child in the Ryan Rivers case. Her trial for the second-degree murder of Ronald was initially scheduled to begin on March 31, 2008.
Guilty plea
On April 21, 2008, Winters pleaded guilty to manslaughter in the Ryan Rivers case. Under the terms of the plea agreement, she also agreed to plead guilty in Onondaga County Court to first-degree manslaughter in the smothering death of Ronald III in 1980. She was sentenced to approximately 20 years in the Rivers case, and up to 25 years in the Ronald III case; the sentences are to be served concurrently, and she will be eligible for parole after serving 17 years. She is incarerated at Bedford Hills Correctional Facility.
If Winters had been convicted of second degree murder on each indictment, she was facing multiple life sentences. The St. Lawrence County plea also allows her to avoid prosecution for the 1979 deaths of Colleen and John Winters.
Wikipedia.org
---
Inside the Mind of Shirley Winters
By John O'Brien - The Post Standard
October 5, 2008
Shirley Winters slipped in and out of the mental health system for 30 years.
She landed in psychiatric wards 28 times with more than a dozen illnesses.
While she was being diagnosed and released over and over since 1978, Winters became a rarity: both a serial killer and serial arsonist. She admitted this year that she killed two children -- one her own -- over the past 27 years, and she's suspected of setting fire to as many as 18 homes.
She was a suspect in the deaths of two of her other children in a 1979 fire.
Her mental health record -- more than 300 pages long -- tells the story of a problem the system could not solve. The records were filed under seal in Onondaga County Court four months ago when she was sentenced to prison for killing her 5-month-old son Ronald in 1980.
The records, obtained by The Post-Standard, describe Winters' problems since she was first placed in a mental health facility in California in 1978. They lay out the development of her mental health from an early age. Among the revelations:
In 1990, she tried to jump off a bridge in St. Lawrence County after visiting the graves of her first two children.
In 1997, she told a psychiatrist that whenever she went job-searching, she made sure the workplace had a quiet room where she could be alone so she could respond to her hallucinations.
She claimed in 1999 to have nine alter personalities, but later admitted she was just saying that to appease a psychotherapist in prison.
She claimed in 2006 that she was hearing "babies' voices," and when she turned around, there was no one there.
She feared she would die every year on the anniversary of the accidental deaths of her three siblings in 1966.
In 2006, her therapist noted that Winters felt compelled to bang her head against the wall and stab sharp objects into her legs at Strong Memorial Hospital in Rochester.
She told counselors she didn't stay on her medications because she couldn't afford them, they made her feel overweight, or she forgot.
The records list a catalog of psychological ills. Among them: dissociative disorder, bipolar disorder, borderline personality disorder, schizophrenia, psychogenic amnesia and pyromania.
At least seven times, she was readmitted within two days after she was released. She was self-medicating with alcohol and drugs, and would often be readmitted when she got drunk or high, the records show.
Winters' records detail a life of frequent contact with therapists, psychologists and psychiatrists.
The records are built mainly around Winters' own recollections and claims. There's no way to know whether she was telling the truth.
Winters, 50, declined repeated requests for interviews at Bedford Hills state prison, where she's serving up to 25 years for smothering her son in 1980 and drowning 2-year-old Ryan Rivers in 2006. She was never charged with the deaths of her first two children, Colleen, 3, and John, 1 1/2, who died in a fire in 1979.
Their grandmother, Mary Lou Winters, said she doesn't buy the claim that the crimes were the result of a mental illness.
"At first I thought it was a psychiatric problem," said Mary Lou, whose son Ronald Winters Jr., divorced Shirley in 1988. "But I think she's too calculating."
Social worker Richard Luciani suggested in court papers that the mental health system failed Winters. Luciani, who was hired by Winters' lawyer, told Judge Joseph Fahey in a sentencing memorandum that he hoped the records would help the state prison system treat Winters.
Luciani refused to comment.
He wrote in court papers that he hoped a psychotherapist in prison would see her long history and engage her in long-term psychotherapy to address her "deep-rooted issues." He believed it would be the first time she'd have a chance for meaningful psychological intervention, because over the years she moved from doctor to doctor, Luciani wrote.
But a psychiatrist who reviewed the file for The Post-Standard thinks otherwise. The system was there for Winters and she rejected it, said Dr. James Knoll. Knoll, a forensic psychiatrist at Upstate Medical University, has written medical journal articles critical of the mental health system.
In Winters' case, it didn't help that she appears to be suffering from borderline personality disorder, he said. Little is known about how to treat it, Knoll said. Someone with the disorder is considered on the border between simply being neurotic -- as many people are -- and being psychotic, he said.
"At this point in time, our treatment is not that great," Knoll said. "What we can do is kind of therapeutically hold their hands through the rough times, and hope."
It's not like a hard-core illness like schizophrenia, which is obviously based in biology, he said.
Winters appears to fall into a class of mentally ill people who are difficult to treat, Knoll said. She was functional enough that she couldn't be involuntarily treated unless she became a danger to herself or others. And she sabotaged any offers for help, he said.
Knoll said he saw something extraordinary in Winters' records. They appeared to describe someone spending her life repeating her own childhood tragedy with a severity and magnitude that he'd rarely seen.
Winters' three siblings died in 1966 when a gas furnace leaked and asphyxiated them in their beds. She was 7 and wasn't home that night. Winters had tricked her sister Joyce into letting her go that night, while Joyce stayed home, the mental health records said.
The records indicate she was obsessed with the deaths.
In an interview on the 33rd anniversary of the deaths, in 1999, Winters made this revelation to a prison psychologist:
"I have always felt each year on this day that I would die," the psychologist's report said. "It is scary. It would be fate."
Even though it was a gas leak, it was similar enough to a house fire that it appears to be a repetition, Knoll said. In psychiatry, it's a concept called the repetition compulsion, he said.
"The thinking is that it's an attempt to try to master the anxiety from that trauma and go back and undo it somehow," Knoll said.
For Winters, the deaths of her brother and sisters presented not only survivor's guilt, but the guilt of placing her sister in harm's way, Knoll said. On top of that, she told counselors that she was molested as a child, beginning shortly after the deaths of her siblings.
A year earlier, Winters had her first traumatic brush with fire, the records show. Her sister's dress had been set on fire when Shirley was 6, according to the records. Years later, she talked with therapists about the impact of that event had, the records show.
Winters' first contact with a therapist was when she was in grade school, the records show. It was a few years after her three siblings died, and her classmates were calling her "Squirrelly Shirley," the records said.
A cousin, June Gross, said Shirley had become a difficult child.
"She would bite, throw things, dig her nails into you," said Gross, of Florida.
The violence escalated. Knoll said it appears to have been an unusual response to her own trauma. Most people who suffer such tragedies direct their abuse inward, he said. It's rare to see someone respond by acting so violently against others over and over, he said.
The mental health records say Winters may have an anti-social personality disorder. That goes more toward "criminalistic-type thinking," Knoll said. It's just someone who's willing to violate social norms, he said.
Winters demonstrated plenty of evidence for that.
One of the fires Winters is suspected of setting was to her home on Willis Avenue in 1989. Winters got out with two of her children, but 5-year-old Joy was left behind. The girl later told people her mother had ordered her to stay inside, according to Joy's grandmother.
In 1997, Gross' son was staying at Winters' house in Syracuse when Winters set it on fire. He escaped. She later pleaded guilty and admitted she knew he was in the home.
Winters has had at least 18 fires in her homes or related places. Nine have been attributed to arson, and Winters was charged with arson in five of them. She was convicted once and went to prison for eight years.
A week after Winters drowned Ryan Rivers in 2006, a police officer pulled her over in her pickup truck because she was swerving. Her shirt was torn and she had deep scratches on her wrist, neck, upper chest and face.
"The evil has to stop," Winters mumbled. "The evil is trying to get out!" Winters told him she hadn't taken her medication for schizophrenia, and that she was trying to get to a psychiatric hospital in Ogdensburg but had gotten lost.
When she pleaded guilty to killing her son, Onondaga County District Attorney William Fitzpatrick said Winters was "the face of evil."
Her ex-husband initially supported her through years of setting fires. But over the past two decades, he's seen the light and has been wary of her, his mother said.
"He's always slept with one eye open," Mary Lou Winters said of her son shortly after Shirley went to prison.
---
Timeline: The life of Shirley Winters
The Post Standard
October 5, 2008
1958
Feb. 27: Shirley Baron is born. She is raised near South Onondaga.
1966
All three of her siblings, Peter, 11; Joyce, 10; and Lita, 4 are found dead in their beds. Marilyn Baron, their mother, survives. Investigators decide the children were asphyxiated by fumes from a gas furnace. An exhaust pipe, likely damaged by a dog, is suspected. Shirley Baron, 7, is at her grandmother's a quarter-mile away.
1977
Shirley Baron, 18, marries Ronald Winters Jr., 21.
1979
Sept. 12: Fire in Theresa, in Jefferson County, kills two of the couple's children. Shirley says the children were asleep in a bedroom, while she watched television in the living room. Her husband is at work. The investigation points to a piece of hot kindling left near the wood stove.
The day before the fire, three other children died in another house fire 50 miles away. The victims' mother was a friend of Shirley Winters. After the fire, Ronald and Shirley Winters separate
1980
Nov. 21: Ronald, the Winterses' 5-month-old baby, dies in a trailer in Otisco. Cause of death: sudden infant death syndrome. It is Marilyn Baron's birthday.
1981
Jan. 3: Two separate fires break out in Shirley Winters' trailer. Both are called arson.
Feb. 10: Two more fires at her trailer. Winters is charged with arson.
1982
Nov. 9: Before that case was disposed of, she has another trailer fire. She was charged with arson again.
1984
Winters has a daughter, Joy.
1985
She has a daughter, Ashley.
1986
Nov. 12: A fire in Winters' apartment building in Marcellus. Cause: Undetermined.
1987
She has a baby, Clayton Winters. She has divorced Ronald Winters and moved with her children to Syracuse.
1989
She goes on trial for another arson earlier in the year in Syracuse. The first jury is deadlocked; the second acquits Winters. As she awaits trial, fires break out at two different houses where she lives, and at her aunt's garage.
Nov. 12: An arson fire races out of control from a basement storage room where Winters lives on Willis Avenue in Syracuse. Winters says she'd smelled smoke. She takes two children to safety but loses track of Joy, who escapes on her own.
1990
Jan. 6: Arson at her house on Split Rock Road. A Family Court judge removes Joy, Ashley and Clayton from Winters and awards custody to her former husband. After that, according to her mother, Shirley admits herself to Hutchings Psychiatric Center for a few days.
April 10: Winters is indicted on arson and reckless endangerment in the Willis Avenue fire.
March 18: Winters' flat at 124 Lakeview Ave. catches fire. Winters gets out, as do her downstairs neighbors, a young couple with a 22-month-old child.
Sept. 21: Fire set in the attached garage at 3853 Griffin Road, the home of Winters' aunt.
Oct. 5: Fire set in the same garage. This time the garage and house are destroyed. The next day, Winters is charged with making harassing phone calls to a neighbor. When she's arrested, she hits a deputy and damages a patrol car.
Nov. 14: Troopers charge Winters with arson in connection with a fire at a Camillus bowling alley, her fourth arson charge.
1997
April 27: She sets fire to her mother's home in Onondaga. She pleads guilty and admits she knew her cousin was in the building at the time. She's sent to prison for eight years.
2004
Winters is released from prison on parole, then violates terms of release by having a lighter.
2005
June 14: Released from prison again.
2007
March 16: Hospitalized after suicide attempt, according to Onondaga County District Attorney William Fitzpatrick.
March 28: An Onondaga County grand jury indicts Winters on a charge of murdering her 5-month-old son Ronald Winters III in 1980 at their home in Otisco.
Sept. 19: A St. Lawrence County grand jury indicts her on a murder charge in the November 2006 drowning of 2-year-old Ryan Rivers.
2008
April 21: She pleads guilty to first-degree manslaughter in Rivers' death.
April 24: She pleads guilty to first-degree manslaughter in Ronald Winters' death, admitting she tried to seriously injure him when she smothered him.
June 16: A St. Lawrence County Court judge sentences her to 20 years in prison.
June 17: An Onondaga County Court judge sentences her to 8 1/3 to 25 years in prison. She will serve both sentences at the same time.
---
Shirley Winters pleads guilty to manslaughter
Associated Press
April 21, 2008
SYRACUSE, N.Y. -- A woman accused of drowning a toddler accepted a plea deal today with St. Lawrence County prosecutors.
Shirley Winters, 50, accepted a plea bargain of first-degree manslaughter in connection with the death of 23-month-old Ryan Rivers. She originally faced a charge of second-degree murder for allegedly drowning the toddler in a bathtub at a Pierrepont residence in 2006.
Under the plea arrangement, Winters will be sentenced to 20 years in prison and five years post-release supervision. Sentencing is scheduled for June 9.
St. Lawrence County District Attorney Nicole Duve could not be reached for comment.
Winters also is charged with the 1980 death of her own son in the Syracuse area. The plea bargain is tied to that murder charge in Onondaga County. She will plead to the same charge there and receive the same sentence, which will be served concurrently.
Onondaga County District Attorney William Fitzpatrick said he was satisfied with the agreement.
Winters was charged in March 2007 with smothering her son, Ronald Winters III -- whose death was originally attributed to sudden infant death syndrome -- after authorities exhumed the remains of the boy and two siblings killed in a suspicious 1979 fire in Jefferson County.
Investigators renewed their interest in the deaths of the Winters children after the Rivers drowning. The toddler drowned in the bathroom of his grandparents house while Winters was staying with the family.
Since 1979, Winters has been linked to 17 fires at homes where she lived or the homes of family members. She was convicted of arson in 1997 and served eight years in state prison for burning down her late mother's home. She also served time in state prison for assaulting a deputy.