Ronald Joseph RYAN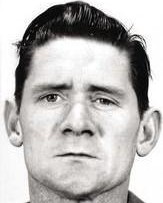 Classification: Murderer
Characteristics: Prison escape - The last man to be legally executed in Australia
Number of victims: 1
Date of murder: November 19, 1965
Date of arrest: 19 days after
Date of birth: February 21, 1925
Victim profile: George Hodson (prison officer)
Method of murder: Shooting (M1 carbine rifle)
Location: Coburg, Victoria, Australia
Status: Executed by hanging at Pentridge Prison on February 3, 1967
---
Ronald Joseph Ryan (c. 21 February 1925 - 3 February 1967) was the last man to be legally executed in Australia.
He was a forestry worker, champion cyclist and small-time criminal with no recorded history of violence. His social standing improved when he married the daughter of the Mayor of the middle class suburb of Hawthorn, with whom he had three daughters. He was sent to prison in 1964 for shop-breaking and weapons offences with a 13 year sentence.
On 19 December 1965, Ronald Ryan and fellow prisoner Peter Walker escaped from Pentridge Prison. Prison guard George Hodson was killed during the escape, after Ryan overpowered a guard and took his rifle.
Forensic evidence later indicated that the fatal bullet entered Hodson's body at such an angle, that Ryan would have had to have been 12 feet above where he was, when Hodson was shot. He was standing on the footpath outside the main gate of Pentridge, trying to stop a car in which to escape. There was, however, one guard at that angle high above on the perimeter wall. Twelve months later, the guard took his own life.
At the time, Victorian law included a felony murder rule so whether Ryan actually did or did not fire the weapon that killed the warder was legally irrelevant.
Ryan and Walker were captured in Sydney after 19 days on the run, and extradited back to Melbourne. Walker was charged with Manslaughter for the pre-meditated execution style shooting of an accomplice and Ryan was charged with the murder of Hodson. He was found guilty, convicted and sentenced to death.
Philip Opas QC, Ryan's counsel, has said that the 12-man jury may have thought that the death sentence would be commuted as had happened in the previous 36 death penalties since 1951.
According to one jury member's later account of the discussions in the jury room, not one member of the jury thought that Ryan would be executed. They were so sure that the death sentence would be commuted to life imprisonment, that they did not even discuss the manslaughter angle.
When it became apparent that Bolte intended to proceed with the execution, eleven jury members sent a letter to the governor-in-council, stating that in reaching their verdict, they had believed that capital punishment had been abolished in Victoria and requesting that the sentence be commuted.
Last legal execution in Australia
18,000 people took to the streets in protest against the death sentence and 15,000 people signed a petition against the hanging. Appeals even came from seven of the jurors regarding the severity of the sentence.
Despite this and an appeal to the Privy Council, Premier Henry Bolte (later Sir Henry) refused to commute his death sentence. Bolte's comments in public and private records show his obsession to set an example of Ryan and show that the "authority" must prevail. Bolte announced that: "There is no possibility of the decision to hang Ryan being reversed. It is quite definite and final".
Ryan was hanged at Pentridge Prison at 8 a.m. on Friday 3 February 1967. He was almost 41 years old.
The hanging produced much protest in Australia. At the time of Ryan's execution the Australian Broadcasting Corporation suspended broadcasts of Radio for two minutes in protest.
There was doubt about Ryan's guilt in Hodson's death, and shock to find that the death penalty would still be carried out. It is often claimed that the execution was used by then Premier of Victoria Henry Bolte (Liberal Party of Australia) for political gain. At the next State Election, Bolte's government was returned to power, with an increased majority, but no more death sentences were carried out.
References
The Last Man Hanged (The Documentary Film on Ronald Ryan - Guilty or Innocent?) [Bill Bennett - released 1993 by Ronin Films]

Who Hung Ronald Ryan? (A Documentary Film on The Execution of Ronald Ryan [Australian Broadcasting Corporation - released 1987]

The Last Of The Ryans (A movie based on the story of Ronald Ryan) [Richard Brennan - released 1997]

Hanging of Ronald Ryan (A Book on Capital Punishment and The Victorian Community) [Bernard and Deirdre Slattery - released 1994]

Remember Ronald Ryan (A play based on the story of Ronald Ryan) [Barry Dickins - released 1994]

Guts and Pity (The Hanging that ended Capital Punishment in Australia) [Barry Dickins - released 1996]

Odd Man Out (The Life and Death Story of Ronald Ryan) [David Lowe - released 1993]

The Hanged Man (The Life and Death of Ronald Ryan) Mike Richards, [ISBN 0908011946]
---
Ronald Joseph Ryan
Ronald Ryan was the last man to be legally executed in Australia. Ryan was convicted of the shooting death of a prison guard. Despite a total lack of scientific forensic ballistic evidence, missing pieces of vital evidence that would have cleared Ryan, and dire inconsistencies of eyewitnesses evidence, Ryan was found guilty of murder based solely on unsigned alleged verbals and confessions said to have been made by Ryan to police. Ryan had not yet exhaused all right of appeals when he executed one year later. Ryan had intentionally kept his rifle to prove his innocence, as he knew that forensic microscopic markings on the spent bullet would prove that it was not fired from his rifle. Guilt can be proven by scientific forensic tests as ballistic experts could establish the fact that the bullet was fired by a particular rifle. No scientific forensic tests were ever performed on Ryan's rifle, the fatal bullet and the spent cartridge.
Ronald Joseph Ryan was born on 21 February 1925 at the Royal Women's Hospital in Melbourne's inner suburb of Carlton, to John (aka Big Jack) and Cecilia Thompson. Cecilia already had a son with her first husband George Harry Thompson and was living with John Ryan. Cecilia and George had separated in 1915 when George left to fight in the Great War. The relationship never resumed. Cecilia met John Ryan while working as a nurse in Woods Point where he was suffering lung disease. They formed a relationship in 1924 and later married after Thompson's death in 1927 from a car accident.
In 1936 Ryan was confirmed in the Catholic Church. He took as his confirmation name Joseph, and then became known as Ronald Joseph Ryan. The family lived in dire poverty. When Jack was completely unable to work due to lung disease and with most of his invalid pension spent on alcohol, the family move to a tiny cottage in Brunswick and things became even more desperate. Severe, neglected ulceration leaves Ronald almost blind in his left eye, which causes a slight droop to his damaged eye. Finally Mrs Ryan can no longer keep the state child welfare authorities at bay.
The Ryan children are made a ward of the state after authorities declared them as "neglected". At the age of ten Ronald Ryan is sent to the Salesian Brothers' Orphanage at Sunbury, on the outskirts of Melbourne. His sisters (Irma, Violet and Gloria) were sent to the Good Shepard Convent in Collingwood.
Ryan did quite well, captaining the football and cricket teams, joining the choir, and impressing other boys as 'a natural leader'. Ryan absconded from Rupertswood in September 1939 and joined his half-brother George Thompson, working in and around Balranald, New South Wales, spare money earnt from sleeper cutting and kangaroo shooting was sent money to his mother looking after their sick alcoholic father John Ryan.
At the age of eighteen, Ryan returns to Melbourne from Balranald and picks up his three sisters from the convent and buys them new clothes. Excitedly, he tells his sisters about the wide-open space in the "outback", and his plans to move them and their mother away from the violence and bad memories of the big city. Later that year, after months of hard work to prove his ability to support his sisters, the state child welfare authorities agree to young Ronald's plans. That Christmas the family are joyfully reunited at Balranald. Ryan is now the sole breadwinner for the family. While his sisters go to school and his mother looks after the house, Ryan takes on some farm work as well as his other jobs. Ryan's father Jack, stayed in Melbourne and died after a long battle with miners' phthisis turberculosis a year later. Ryan worked to support his mother and sisters.
Aged about 23, Ryan returned to Melbourne where he was employed as a storeman. On 4 February 1950, Ryan married Dorothy Janet George at St Stephen's Anglican Church in Richmond. She was the daughter of the Mayor of the Melbourne suburb of Hawthorn - a prominent figure in local government, from an old Melbourne family. Ryan's origins are firmly working class. Ronald and Dorothy then have three daughters, Janice, Wendy, Rhonda and Robert (died a few hours after birth).
Although Ryan had no trade, he was a versatile worker, managing to support a wife and three daughters. Each summer he works as a timber-cutter for a man named Keith Johanson, a logging and pulpwood contractor in the mountains near Matlock, eighty miles from Melbourne. Gradually, Ryan worked up to a position as sub-foreman, responsible for paying and organising a number of other men. Every second weekend, Ryan hitch-hikes home to Melbourne with a cheque for his family, but the precious hours with his wife and daughters are never long enough. Early Monday morning he went back to work in the forest.
Ryan works harder than ever, earning the respect of his employers and the men under him. When his daughters begin attending school and the timber-cutting season ended, there is not enough money. Ryan, now aged 31, is too proud to ask Dorothy's parents for financial help and instead begins to gamble heavily and passing forged cheques. He is soon caught and he pleads guilty. Ryan is released on a five-year good behaviour bond. In one report a detective describes Ryan as "highly intelligent". Ryan worked in a series of straight jobs closer to home. For three years he avoided crime, instead turning to gambling as a way to give his family what he believed they deserved. However this inevitably leads Ryan to store-breaking, then stealing, then factory-breaking. Again he is caught.
Ryan's Life
Ryan was a small-time criminal, with no history of violence. Unlike many criminals, Ryan's police record did not begin until he was 31 years of age. Ryan was first sent to prison for robbery. He had overcome the temptation to fall into a criminal life during a difficult upbringing, only to stumble in maturity. Ryan's troubles began when he tried to live up to the social level of his wife's family, who were wealthy business people. In desperation Ryan turned to gambling, switched from manual work to passing bad cheques, received stolen goods, shopbreaking and burglary.
Ryan first served prison time at Bendigo Prison. His time in prison was productive and he exhibited a disciplined approach to study, completing his Leaving Certificate (year 11). Ryan was studying for his Matriculation Certificate (year 12) when he was released on parole in August 1963 He was regarded by the authorities as a model prisoner. Appearing to want to rehabilitate himself.
According to his wife Dorothy, in the documentary film The Last Man Hanged Ryan wanted to provide everything for his family and his gambling escalated. Ryan returned to crime. On 13 November 1964, Ryan received an eight-year prison sentence for breaking and entering. He was sent to Pentridge Prison.
Slightly built and 5 ft 8 ins (173 cm) tall, Ryan was a stylish-if spivvy'-dresser, who usually wore expensive, well-cut suits, silk tie and a fedora. He was always keen to impress as a man of means and consequence. He was of above-average intelligence and was described by not only the people who knew him, but also prison authorities, as a likable character with dignity and self-respect.
Prison Escape
After Ryan was sentenced to Pentridge Prison, he was placed in 'B' Division where he met a fellow prisoner Peter John Walker (who was serving a 12 year sentence for bank robbery). When Ryan was informed that his wife was getting a divorce, he made a plan to escape from prison. Walker decided to go along with him. Ryan planned to take himself and his family and flee to Brazil, where there was no extradition treaty with Australia.
At around 2:07 p.m. on Sunday 19th December 1965, Ryan and Walker put the escape plan into effect. As prison officers were taking turns attending a staff Christmas party in the officers' mess hall, Ryan and Walker scaled a five-metre prison wall with the aid of two wooden benches, a hook and blankets. Running along the top of the wall to a prison watch tower, they overpowered prison warder Helmut Lange. Ryan took his M1 carbine rifle. Ryan quickly pulled the cocking lever of the rifle and released it, forcing one round to spill onto the floor of the watch tower. (The issue of the spilled round would become a significant issue at trial). Ryan threatened Lange to pull the lever which would open the prison tower gate to freedom. Lange pulled the wrong lever. Ryan, Walker and Lange then proceeded down the steps but the gate would not open. When Ryan realised Lange had tricked him, Ryan jabbed the rifle into Lange's back and marched him back up the stairs so Lange could pulled the correct lever to open the tower gate, the two escapees exited the gate out into the prison car park.
Just in front of the duo was prison chaplain Salvation Army Brigadier James Hewitt, The escapees grabbed him and used him as a shield. Ryan armed with the rifle pointed it a Hewitt and demanded his car. Prison Officer Bennett in Tower 2 saw the prisoners, Ryan called Bennett to throw down his rifle, Bennett ducked out of sight and then got his rifle. Walker had dropped his pipe and had moved to the next door church. Prison officer Bennett had his rifle aimed at Walker and ordered Walker to halt or he would shoot. Walker took cover behind a small wall that bordered the church.
The prison alarm was raised by Warder Lange, and it began to blow loudly, indicating a prison escape. Armed prison officers (every prison officer was issued with a prison-authorized M1 Carbine rifle), including Paterson, came running out of the prison main gate, onto the street.
George Hodson who had been having lunch in the prison officers mess near the number 1 post responded to Lange's whistle. Bennett shouted to Hodson he had a prisoner, Walker, pinned down behind the low church boundary wall. Hodson headed for Walker and picked up Walker's pipe. Hodson grabbled with Walker but the escapee managed to break free so Hodson began hitting the fleeing Walker over his head with the piece of pipe. This wasn't the first time that Hodson used violence against a prisoner. The Truth Newspaper published letters from ex-prisoners claiming that Hodson was a violent heavy-weight bully who would bash prisoners with phone books, as not to leave marks on their bodies. Hodson was separated from his wife and daughter and living in a flat in the red-light center of Inkerman Street, St Kilda. The area was notoriously known for street prostitution and illegal narcotics. Walker was faster runner than Hodson, so Hodson continued to chase after Walker with the pipe still in his hand. Walker was faster runner than Hodson, so Hodson continued to chase after Walker with the pipe still in his hand. Both men ran towards the armed Ronald Ryan.
Meanwhile, confusion and noise was gaining strength around the busy intersection of Sydney Road and O'Hea Street, with armed prison guards on the street, on prison watch towers and standing on low prison walls, vehicles and trams banking up and people running between cars.
Frank and Pauline Jeziorski were traveling south on Champ Street and had slowed to give way to traffic on Sydney Road when Ryan armed with the rifle appeared in front of their car. Ryan threatened a car driver and his passenger wife to get out of their car. The driver Frank Jeziorski, turned his car off, put it in neutral then got out of his car. Ryan got in via the drivers door. Amazingly, Pauline Jeziorski refused to get out of the car. She was persuaded by Ryan to get out of the car, only to get back in the car to get her handbag. Ryan discovered he could not drive the car because Jeziorski had modified the cars gear linkages.
In frustration, Ryan with the rifle forced Mitchinson to back off, then got out the passengers side door and noticed Walker running towards him, being chased by Hodson who was holding the pipe in his hand. Walker was shouting frantically to Ryan that prison guard William Bennett, standing on the number 2 prison tower, had his rifle aimed at them. At this time, Hodson was running close behind Walker, who was near Ryan.
In scenes of noise and confusion, a loud whip-like crack of a single shot was heard, and a prison officer George Hodson fell to the ground. He had been struck by a single bullet, travelling from front to back, in a downward trajectory angle (suggesting the shot had been fired from a high angle). The bullet had exited through Hodson's back, about an inch lower than the point of entry in his right shoulder. Hodson died in the middle of Sydney Road.
Ryan and Walker ran past the fallen warder and commandeered a blue vanguard with Walker driving the car drove through the service station and drove away on Ohea Street.
(Reference: Supreme Court Trial Transcript - Queen v. Ryan & Walker, March 15-30 1966)
Extradited
Ryan, Walker were extradited back to Melbourne. They were jointly tried for the murder of George Hodson. It is alleged that Ryan made three verbal confessions to police whilst being extradited to Melbourne. According to police, Ryan admitted to them he had shot prison officer Hodson. However, these verbal allegations were not signed by Ryan and he denied making such verbal or written confessions to anyone. The only signed document by Ryan was that he would give no verbal testimony.
Walker was also tried for the shooting murder of Arthur James Henderson during the period when he and Ryan were at large.
Trial and sentencing
On 15 March 1966, the case of The Queen v. Ryan and Walker began in the Supreme Court of Victoria. Justice John Starke instructed the jury of 12-men to look at the realities of things and ignore all that they had read and heard about the case in the media.
The Crowns case
The crown's case relied heavily on eyewitnesses who were near the Pentridge Prison when Hodson was killed. The big surprise was that the rifle in Ryan's possession was never scientifically examined by forensics to prove it had fired a shot. Instead of the rifle being subject to careful storage and ballistic testing, it had been inadequately stored in the boot of a police officer's car where it was subject to contamination by dirt and dust.
Police testified that the M1 carbine rifle stolen by Ryan from Lange "looked as if" it had been fired, but there was no conclusive evidence that the rifle commandeered by Ryan had been fired at all. It was noted that neither the bullet that killed Hodson nor the spent cartridge case were ever found despite intensive search by police.
There were fourteen eyewitnesses and each had a different account of what they saw. All fourteen eyewitnesses testified they saw Ryan waving and aiming his rifle. Only four eyewitnesses testified that they saw Ryan fire a shot (a spent cartridge would have had to spill on the ground, but a spent cartridge was never found despite extensive search by police.) Two eyewitnesses testified they saw smoke coming from Ryan's rifle. Two eyewitnesses testified they saw Ryan recoil his rifle. A ballistic expert on firearms testified that type of rifle was coiless and it contained smokless cartridges.There were contradicitions also, whether Ryan was standing, walking or squatting at the time a single shot was heard, and whether Ryan was to the left or right of Hodson.
All of the fourteen eyewitnesses testified that they heard only one shot - no person heard two shots.
Prison officer Paterson testified he fired a shot, and he was also the only person to claim to heard two shots fired. At trial, Paterson was questioned about how he used his rifle when he fired a shot. Paterson replied; "I took aim, I took the first pressure that you take on the trigger, and I was beginning to squeeze the trigger when a woman got into my sights, and I could not withdraw my pressure from the trigger, so I had to let the shot go in the air, and I don't know where the woman came from she just appeared in my sights." the spent cartridge from Paterson's rifle was never found by police either.
Paterson had contradicted in several statements he made to police about what he saw, heard, and did on that day. His first statement given to Detective Sergeant Carton on 19 December 1965 Paterson said; "I did not hear a shot fired other than the one I fired." In a second statement given to Senior Detective Morrison on 12 January 1966 Paterson said; "Just as I turned into the entrance to the garden I heard a shot." In a third statement on 3 February 1966 Paterson said; "I ran back inside and asked for a gun, I went to the main gate and I received a gun and ran back outside, as I was running on to the lawn I heard the crack of a shot."
Paterson changed his story, too, about who was in the line of fire when he aimed his rifle. In his first statement Paterson said; "I sighted my rifle at Ryan and was about to fire when a woman walked into the line of fire and I lifted my rifle." In his second statement Paterson said; "I took aim at Ryan but two prison officers were in the line of fire so I dropped my rifle again." In his third statement Paterson said; "I took aim at Ryan and I found out I had to fire between two prison officers to get Ryan, so I lowered my gun again."
At trial, all prison officers testified that they did not see Hodson carrying anything, and they did not see Hodson hit Walker. However, two witnesses Keith Dobson and his passenger Louis Bailey testified that they saw Hodson carrying something like an iron-bar/baton as he was chasing after Walker. Governor Grindlay testified that he didn't see a bar near Hodson's body but he found one after Hodson's body was loaded into an ambulance.
Apart from the inconsistencies of witnesses evidence, missing pieces of vital evidence and no scientific forensic evidence, the Crown relied heavily upon testimony that Ryan had, allegedly, verbally confessed to shooting Hodson.
(Reference: Supreme Court Trial Transcript - Queen v. Ryan & Walker, March 15-30 1966)
The Defence
The defence pointed to various substantial discrepancies in The Crown's case. While some eyewitnesses testified they saw Ryan to the east of Hodson when a single shot was heard, other eyewitnesses testified Ryan was to the west of Hodson. The discrepancies in evidence were substantial and wide-ranging. Opas contended that each of the fourteen eyewitnesses evidence were so contradictory that little store could be placed on them.
Philip Opas produced and human skeleton as a visual aid to explain the trajectory of the fatal bullet, Opas argued that the ballistics evidence indicated that the fatal bullet entered Hodson's (shoulder) body in a downward trajectory. He also got a Monash University mathematics professor Terry Speed, to explain that Ryan (5 feet 8 inches (1.73 m) tall would have had to have been 8 feet 3 inches (2.55 m) tall to have fired the shot. These calculations were based on Ryan being twenty feet from Hodson and Hodson was standing perfectly upright. The bullet would enter Hodson's body 62 inches from the ground and exit 61 inches from the ground. If the shot was in a downward angle the bullet would have hit the road forty feet from where Hodson was hit, it also suggested that Hodson could have been shot from another elevated point and possibly by another prison officer. It would cast doubt that Ryan had fired the fatal shot. But the prosecution argued that Hodson (6 feel 1 inch (1.85 m) tall could have been running in a stooped position, thus accounting for the bullet's fatal downward trajectory angle of entry.
The fact that Ryan's rifle was never scientifically tested by forensic experts was of significate concern. Ryan intentionally kept his rifle to prove his innocence in the event of recapture, as he knew that forensic microscopic markings on the spent bullet would prove that it was not fired from his rifle. Opas pointed out that the the normal course of a person who has shot another is to dispose of the weapon, because it is well known that guilt can be proven by scientific forensic tests. Ballistic experts would establish the fact that the bullet was fired by a particular rifle
The fatal bullet was a vital piece of evidence that was never found. Scientific forensic tests on the fatal bullet would have provided proof of who's rifle had fired it. Although all prison-authorized rifles were the same M1 carbine type, scientific forensic testing would prove which rifle fired the fatal shot—every rifle leaves a microscopic "unique marker" on the fired bullet as it travels through the barrel of the rifle. In addition, the spent cartridge was also, a vital missing piece of evidence. The spent cartridge would be ejected to a distance of 5-10 feet—this meant that it was highly unlikely that Ryan's rifle had fired a shot.
Despite extensive search by police, neither the fatal bullet nor the spent cartridge were ever found. At the time of recapture, Ryan had no reason to assume the rifle he deliberately kept to prove his innocence, would never be scientifically tested by forensic experts. Ryan had no reason to assume the fatal bullet would never be found. Ryan had no reason to assume the spent cartridge would never be found.
All the bullets in Ryan's M1 carbine rifle would be accounted for if Ryan cocked the rifle with the safety-catch on, this faulty operation (conceded by prison officer Lange, assistant prison governor Robert Duffy, and confirmed by ballistic experts at trial) would have caused an undischarged bullet to be ejected, spilling onto the floor of the guard tower. Opas established that a person who was inexperienced in handling that type of rifle and its cocking-lever rifle, it would be easy to jam the rifle and any attempt to clear the jam would result in a live round being ejected.
On the eighth day of the trial Ryan was sworn in and took the witness stand. Ryan denied firing a shot, denied the alleged verbal (unsigned) confessions said to have been made by him, and denied ever saying to anyone that he had shot a man. According to Ryan, they were after the reward money by making false allegations. "At no time did I fire a shot. My freedom was the only objective. The rifle was taken in the first instance so that it could not be used against me".
In his final address to the jury members, Opas stated; "Long before this case came to trial there was most unusual publicity given to the exploits of the accused, in the media, on the radio and over television. It would be impossible for anyone living in a capital city in Australia to approach this trial without some pre-conceived notions based on what they had read or heard about the case. It is easy to take the view of the accused that they are convicted criminals, a perfect scapegoat a convicted person would become if he became the target for a trumped-up charge."
After a trial in the Victorian Supreme Court lasting twelve sitting days the jury found Ryan guilty of murder.
Ryan was convicted of the murder of Hodson. Justice John Starke wasted no time in passing the sentence of death. Starke asked Ryan if he had anything to say, Ryan stated; "I still maintain my innocence. I will consult with my counsel with a view to appeal. That is all I have to say!" Without further delay, without the right of plea by the defence and without the usual adjournment prior to sentencing, Starke sentenced Ryan to death; "Ronald Joseph Ryan, you have been found guilty of murder of George Henry Hodson, it is the sentence of this court that you be taken from here to the place from where you came (Pentridge Prison) and on a day and hour to be fixed, you shall be hanged by the neck until you are dead, and may God have mercy on your soul."
(Reference: Supreme Court Trial Transcript - Queen v. Ryan & Walker, March 15-30 1966)
After the trial
According to juryman Tom Gildea, the jury evidently thought that the death sentence would be commuted, as had happened in the previous 35 death penalties cases since 1951. Gildea's account of the discussions in the jury room, not one member of the jury thought that Ryan would be executed.
Of the jury, two members who thought Ryan was not guilty but were convinced by the others to bring in a guilty verdict. They were so sure that the death sentence would be commuted to life imprisonment, that they did not even discuss the issue of making a recommendation for mercy along with their guilty verdict.
Later, some of the jurors came forth and stated they would never have convicted Ryan of murder had they known that he would in fact be executed. Seven jury members signed separate petitions requesting Ryan's death sentence be commuted to life in prison.
Appeal
Opas, convinced of Ryan's innocence, decided to appeal against the murder verdict.
The first appeal was to the Victorian Court of Criminal Appeal, a bench consisting of three judges of the Supreme Court. His ground was that the verdict was against the weight of the evidence. He argued that as a matter of law that the inherent inconsistencies and improbabilities and even impossibilities in the evidence. The appeal was dismissed on June 8, 1966. In October 1966, a second appeal is rejected. Two months later after a state government cabinet meeting Premier Bolte announces that Ryan's death sentence will not be commuted. Ryan was scheduled to hang on January 9, 1966.
Ryan had a right to increased free legal assistance for expert forensics analysis, to hire expert witnesses, and to present a series of appeals and recourses that were available to those facing execution by the government. The Full Court agreed that it was unthinkable that a man should be executed before he had exhausted his ultimate right of appeals. Opas decides to apply to the Privy Council in London. The appeal is a vestigial remnant of an appeal to the sovereign in person. The Privy Council gives an opinion always ending with; "and we shall so humbly advise Her Majesty" on the decision of whether the appeal has been allowed or dismissed.
With all legal avenues yet to be exhausted, legal aid to Ryan was cut by the Bolte Government. Premier Bolte then directed the Public Solicitor to withdraw Opas' brief as the government was not going to fund the petition to the Privy Council.Premier Bolte then directed the Public Solicitor to withdraw Opas' brief as the government was not going to fund the petition to the Privy Council.
Opas, convinced of Ryan's innocence, agreed to work without pay. Opas consulted the Ethics Committee of the Bar Council to seek approval to make a public appeal for a solicitor prepared to brief him, as Opas was prepared to pay his travel, other expenses and appear without fee. The Committee said that this would be touting for business and was unethical. Opas argued that a man's life was at stake and he could not see how he would be touting when no payment was involved. Opas defied the ruling and on national radio sought an instructor. Opas was inundated with offers and accepted the first application, being from Ralph Freadman. Alleyne Kiddle was in London completing a Master's degree and she agreed to take a junior brief at a fee of two-thirds of nothing.
Opas then flew to London to present Ryan's case to the highest judges in the Commonwealth. Ryan's execution was reluctantly delayed by Premier Bolte awaiting the Privy Council's decision. However, Bolte took no chance of the possible that Her Majesty might give a decision contrary to the advice of the Judicial Committee. Bolte schedules Ryan's execution on the morning of Friday February 3, 1967. The decision of Her Majesty in the Privy Council to refuse leave to appeal was announced on February 10, 1967 (seven days after Ryan was executed).
A Political Hanging
Henry Bolte, Victoria's longest serving State Premier, was a key figure in the hanging of Ronald Ryan. Until this time, the State Government of Victoria had commuted every death sentence passed since 1951, after three people Robert Clayton, Norman Andrews and Jean Lee (the last female executed in Australia) had been executed for the tortured murder of an old man.
At the time of the Ryan sentence there were at least four State cabinet members who opposed capital punishment but Premier Bolte was determined to prevail.
Bolte wanted take the "tough on crime" stance. Justice John Starke reported that Bolte had insisted that the death sentence be carried out. Bolte's determination to hang Ryan to boost his votes is widely documented.
When it became apparent that the Premier Mr (later Sir Henry) Bolte intended to proceed with the execution, a secret eleventh-hour plea for mercy was made by four jury members who had found Ryan guilty of murder. They sent petitioning letters to the Victorian governor, stating that in reaching their verdict, they had believed that capital punishment had been abolished in Victoria and requesting that the Governor exercise the Royal Prerogative of Mercy and commute Ryan's sentence of death.
Bolte denied all requests for mercy and was determined Ryan would hang. The approaching execution of Ryan prompted widespread protests in Victoria and elsewhere around the country.
Newspapers in Melbourne, traditionally supporters of the Bolte government, deserted him on the issue and ran a campaign of spirited opposition on the grounds that the death penalty was barbaric. There is some evidence that, for premier Bolte, Ryan's execution was an opportunity for him to re-assert his political authority.
As Ryan's execution approached, his 75-year old mother made a final plea to Premier Bolte for mercy. Cecilia Ryan wrote: "I plead at this late hour you will reverse your decision to hang my son. If you cannot find it in your heart to grant this request then I pray you will grant me one last favour, that the body of my son be given into my custody after his death so that I can give him a Christian burial. I pray to God for the success of this last prayer". Premier Bolte promptly replied in a letter, saying that her son would not be spared the death penalty and that law required his body be buried within prison grounds. It would not be returned to her for a Christian burial.
Churches, universities, unions and a large number of the public and legal professions opposed the death sentence. An estimated 18,000 people participated in street protests and 15,000 signed a petition against the hanging. Melbourne newspapers The Age, The Herald and The Sun, ran campaigns opposing the hanging of Ryan. The Australian Broadcasting Commission (ABC) suspended radio broadcasts for two minutes as a protest.
Eve of Ryan's Execution
On the afternoon of the eve of Ryan's hanging, Dr opas appeared before the trial judge Justice John Starke. Opas was seeking a postponement of the execution, due to the opportunity of testing new proferred evidence. Opas pleaded with Starke, and said; "Why the indecent haste to hang this man until we have tested all possible exculpatory evidence?" But Starke rejected the application.
The Attorney-General Arthur Rylah, rejected a second plea to refer Ryan's case to the Full Court under Section 584 of the Crimes Act. A third attempt to save Ryan in the form of a petition presented at the Crown Solicitor's office pleading for clemency, was also rejected. Close secrecy surrounded all Government moves on the Ryan case.
That evening, a former Pentridge prisoner Allan John Cane, arrived in Melbourne from Brisbane in a new bid to save Ryan. An affidavit by Cane, which was presented to Cabinet, says he and seven prisoners were outside the cookhouse, when they saw and heard a prison warder fire a shot from the No. 1 guard post at Pentridge Prison, on the day Hodson was shot. Police had interviewed these prisoners but none were called on at the trial to give evidence. Cane was immediately rushed into conference with his solicitor Bernard Gaynor, who tried to contact Cabinet Ministers informing them of Can's arrival. Gaynor telephoned Government House seeking an audience with The Governor Sir Rohan Delacombe. However, Gaynor was told by a Government House spokesman that nobody would be answering calls until 9 am in the morning (one hour after Ryan's scheduled execution.) Gaynor said Cane's mission had failed.
At 11 pm, Ryan was informed that his final petition for mercy had been rejected. More than 3,000 people gathered outside Pentridge Prison in protest to the hanging. Shortly before midnight more than 200 police were at the prison to control the demonstrators. For a moment the crowd looked as if it might break through the barricades police had erected. Extra police rushed to the prison in three buses to help control the noisy demonstrators. The great majority of demonstrators were non-violent and chanted "Don't hang Ryan" sporadically between listening to impromptu anti-hanging speeches. These were greeted with enthusiastic cheering and applause and more chanting. Placards read; "Don't Hang a Man Who Could be Innocent."
Ryan's Final Hours and Last Letters
The night prior to the execution, Ryan was transferred to a cell, just a few steps away from the gallows trapdoor. Father Brosnan was with Ryan most of this time. In the eleventh-hour Ryan wrote his last letters to members of his family, his defence attorney, The Anti-Hanging Committee and Father Brosnan. The letters were handwritten on toilet paper inside his cell and neatly folded. In the documentary film The Last Man Hanged Ryan's letter to The Anti-Hanging Committee is read out loud. Ryan wrote; " ... I state most emphatically that I am not guilty of murder."
Execution
Ryan was hanged in 'D' Division at Pentridge Prison at 8:00 am on Friday 3 February, 1967.
For unknown reasons, Ryan was not given the right to make a final verbal statement to the people who had gathered to witness his execution.
Ryan refused to have any sedatives but he did have a nip of whisky, and walked calmly onto the gallows trapdoor. Ryan's last words were to the hangman; "God bless you, please make it quick." The hangman wasted no time after adjusting the noose, quickly leapt to pulled the lever. Ryan fell through the trapdoor with a loud crash.
A nationwide three-minute silence was observed at the exact time that Ryan was hanged. Thousands of people protesting outside the prison knew the moment of the execution because the pigeons on the D Division roof all took flight.
Later that day, Ryan's body was buried in an unmarked grave within the "D" Division prison facility. Three bags of quicklime was spread over the coffin. The exact location of Ryan's grave has never been released by the authorities.
A media reporter asked Bolte what he was doing at 8:00 am. Bolte replied; "One of the three S's I suppose"" when asked what he meant by that, Bolte replied; "A shit, a shave or a shower!".
While the biggest public protest ever seen in the history of Australia was not successful in averting Ryan's execution, the protest campaign to save Ryan from the gallows ensured that governments around Australia regarded it as too difficult politically to ever enforce the death penalty again.
Within twenty years, capital punishment would be abolished federally and in all state and territory jurisdictions. In 1985, Australia officially abolished capital punishment.
Today, almost all federal and state politicians from all political parties are opposed to the reintroduction of capital punishment in Australia, for all crimes. Whether these politicians are representative of their voters is less clear. In recent years, Australian politicians (both government and opposition) have made various comments that have changed Australia's opposition to the death penalty. The implications of this shift in Australian policy have not yet been fully explored or debated.
Nineteen Years Later
Nineteen years after Ryan's execution, a prison officer Doug Pascoe, confessed on-air to Channel 9 and the media, that he fired a shot during Ryan's escape bid. The former prison guard wept on Channel 7 'Day By Day' program claiming his shot may have accidentally killed his fellow prison guard, George Hodson. Pascoe said he had not been interviewed after the shooting.
On 12the June 1986, Pascoe tried to tell his story to the media because of his involvement with the church. Pascoe said he had not told anyone that he fired a shot during the escape because at that time, "I was a 23-year-old coward". Pascoe said he did not know why he fired except for the hype of the moment. News of Pascoe's claims were met with mixed reaction from lawyers, prison guards, and others directly involved in the Ryan case. His claim was rejected by authorities, including former prison warder Bill Newman who said Pascoe could not have fired a shot. The trial judge who sentenced Ryan to death declined to make a comment.
After the claims and counter-claims, Dr Opas said only a "proper enquiry" would determine the truth. Public solicitor Allan Douglas, said Ronald Ryan should not have been convicted, let alone hanged, on the evidence presented to the court. Douglas said Ryan did not get a fair hearing at trial because of adverse media reports. He added that the actions of the Bolte Government had been "pretty drastic". Senior law lecturer at Melbourne University Ian Elliott, said the claims by Pascoe might form the basis of corroborative evidence for material at Ryan's trial. A public witness at Ryan's hanging was journalist Patrick Tennison, who said it was incumbent on the Government to explore fully the circumstances of Ryan's hanging and to determine the veracity of Pascoe's claims.
Forty Years Later
Forty years after Ronald Ryan was hanged, his family members made a request to have his body exhumed and placed with his late wife Dorothy, at Portland Cemetery. Victorian Premier John Brumby, gave permission for archaeological work and exhumation of Ryan's body.
Only recently has it been revealed by undertakers John Roy V. Allison that Ryan was buried in a highly polished darkwood coffin with the best trimmings, high-quality handles, satin lining, and a crucifix attached to the coffin. In a protest against the hanging, the undertakers added the best of everything to Ryan's coffin, so that his daughters would know he had a bit of dignity.
However, the daughter of murdered prison guard, Carole Hodson-Barnes-Hodson-Price, strongly objected and claimed Ryan did not deserve to be buried in consecrated ground. She was a 13-year-old at the time of her father's death and had not lived with her father for a number of years. When visiting Ryan's unmarked grave recently, she danced and jumped on it
Carole Hodson angrily demanded to know who was funding Ryan's exhumation and made a plea to Victorian Premier John Brumby to ensure Ryan's remains not be removed from the prison grounds and not be returned to Ryan's family members. But Mr Brumby supported the views of Ryan's relatives to have his body exhumed so it could be cremated and placed with his late wife Dorothy, buried at Portland Cemetery.
Carole Hodson has been unable to bury the bitterness and get any sense of peace after so many years. She has been vocal and angry and doesn't believe Ryan deserves any consideration. Her request to the journalist for media interview has been ignored.
Carole Hodson has met Ryan's family members, where she has consistently gate-crashed various Ryan memorials and documentary film openings to loudly protest. Ryan's daughter Wendy, has told how Carole Hodson's cruel and unneccesary actions continue to add extra emotional pain for the entire innocent family members, who believe their loved one was wrongly convicted and hanged an innocent man.
The effects of the death penalty experienced by families of executed criminals are documented in two books; Hidden Victims: The Effects of the Death Penalty on Families of the Accused by Susan F. Sharp (Associate Professor of Sociology) and Capital Consequences: Families of The Condemned by Rachel King (Lawyer). The books highlight the death penalty's hidden victims - the families of executed offenders and how the execution trickles down to those closely connected to the offender. Family members and friends experience a profoundly complicated and socially isolating grief process - economic, social and psychological repercussions that shape the lives of the forgotten families of executed offenders. Post-traumatic stress disorder can also affect these innocent family members.
The family members of Ronald Ryan - the unseen and unheard innocent victims of Ryan's execution, They have been devastated and have suffered in silence without sympathy or comfort, having had a ripple effect through to the future generations. The Ryan family have kept a low-profile over the decades, but have endured public scrutiny, been subjected to harassment, have had to endure the after-math false allegations and are struggling to live with the knowledge that Ryan may have been innocent of murder when he was executed by the State of Victoria. The emotional pain of Ryan's family members tends to attract less attention and empathy from the media and the public, than that of the victim's family members.
The Case for Innocence
Australian Criminologist Professor Gordon Hawkins, at Sydney University Law School doubts the validity of the unsigned confessions of Ryan in a television film documentary, Beyond Reasonable Doubt. Although verbal confessions are not permissible in court, in the 1960s the public and therefore the jury, were much more trusting of the police. Whether as a result, an innocent man was hanged there is at least a reasonable doubt. Professor Hawkins questions why Ronald Ryan, a seasoned criminal, would suddenly feel the need to tell all to the police? Was he 'verballed' as such unsigned confessions are called? These days 'verbals' are virtually impossible as police have to record all interviews they carry out in connection with a crime, following extraordinary revelations of police corruption uncovered by various police royal commissions.
Evidence pointing to the innocence of Ronald Ryan may have been lost when prison guard Helmut Lange, committed suicide by shooting himself in the head whilst on duty at Pentridge Prison, two years after Ryan was hanged. It is alleged that a close friend of Lange (who wanted to remain anonymous) claimed Lange had been troubled since Ryan's hanging and committed suicide.
This anonymous friend of Lange, telephoned Ryan's defence attorney Dr Philip Opas QC, years after Lange's death to claim that Lange confessed to finding the missing bullet casing in the prison guard tower and told his friend he had made an official report to prison authorities at the time, attaching the missing bullet casing.
But Lange had been ordered by "someone" to make a new statement, excluding any reference to the missing bullet casing. Fearing for his job, Lange made a new statement. At trial, Lange testified that he did not see a bullet casing. Dr Opas advised the caller to inform the Police but it is unknown whether in fact the caller did. Police refused to comment.
In 1993, a former Pentridge prisoner Harold Sheehan claimed he had witnessed the shooting but had not come forward at the time. Sheehan saw Ryan on his knees when the shot rang out and therefore, Ryan could not have inflicted the wound that passed in a downward trajectory angle that killed Hodson.
All prison authorized M1 carbine rifles were issued with eight rounds of bullets, including the rifle seized by Ryan from Lange. Seven of the eight rounds were accounted for. If the eighth fell on the floor of the prison watch tower when Ryan cocked the rifle with the safety catch on, thereby ejecting a live round, then the bullet that killed Hodson must have been fired by a person other than Ryan.
In a letter, Opas on Ryan - The Innocence of Ronald Ryan written to The Victorian Bar Association and published in The Bar News in Spring 2002, Dr Opas responded to assertions made by Julian Burnside (who was reviewing Mike Richard's book The Hanged Man,) that Ryan was guilty, the verdict was correct but the punishment was wrong. In addition, the editors of The Victorian Criminal Bar Association disagreed with Julian Burnside personal assertion of Ryan's guilt.
Dr Opas vehemently disagrees with this assertion and refuses to believe that at any time did Ryan confess to anyone that he fired a shot. Burnside (a human rights advocate) has been asked on several occasions to explain how came to his assertion, but has refused to explain. Dr Opas vehemently states that there is no evidence anywhere, that Ryan ever confessed guilt to anyone, either verbally or in writing.
Ryan gave evidence and swore that he did not fire at Hodson. He denied firing a shot at all. Ryan denied the alleged verbal confessions said to have been made by him. Dr Opas says the last words Ryan said to him were; We've all got to go sometime, but I don't want to go this way for something I didn't do.
On 1 March 2004, in an interview with the Australian Coalition Against Death Penalty (ACADP) Dr Opas said; I want to put the record straight. I want the truth told about Ronald Ryan - that an innocent man went to the gallows. I want the truth to be made available to everyone, for anyone young and old, who may want to do research into Ryan's case or research on the issue of capital punishment. I will go to my grave firmly of the opinion that Ronald Ryan did not commit murder. I refuse to believe that at any time he told anyone that he did.
On 23 August 2008, Dr Philip Opas QC, OBE died after a long illness at the age of 91. Opas maintained Ryan's innocence to the end. He was posthumously awarded an AM : Australia Day Honours in February 2009.
Mr. Justice Starke the judge at Ryan's trial, and a committed abolitionist was convinced of Ryan's guilt but did not agree Ryan should hang. Until his death in 1992, Starke remained troubled about Ryan's hanging and would often ask his colleagues if they thought he did the right thing.
The Facts Supporting Innocence
Ryan's rifle was never scientifically tested by forensic experts.
There was no proof that Ryan's rifle had been fired.
The fatal bullet that passed through Hodson's body was never found despite extensive search by police.
The spent cartridge, also, was never found despite extensive search by police. If Ryan had fired a shot, a spent cartridge would have spilt on the ground.
It was never proven that the fatal bullet came from the weapon in Ryan's possession.
All fourteen witnesses testified they heard one single shot.
Paterson admitted and testified he fired one single shot.
No person heard two shots fired. If Ryan had also fired a shot, at least one person would have heard two shots. Only one shot was heard.
Ballistic evidence indicated that Hodson was shot in a downward trajectory angle.
The measurement of the entry and exit wound on Hodson's body indicated that the shot was fired from an elevated position.
Ryan (a shorter man) could not have fired at Hodson (a taller man) in such a downward trajectory angle, as both were on level ground.
Two eyewitnesses testified seeing Ryan recoil his rifle and two eyewitnesses testified seeing smoke coming from the barrel of Ryan's rifle. In fact, at trial a ballistic expert on firearms testified that type of rifle had no recoil and it contained smokeless cartridges.
<Referenced Documentaries: The Last Man Hanged, The Last of The Ryans, Beyond Reasonable Doubt, Odd Man Out.>
Prison Chaplain Convinced Ryan Was Innocent
On 26 March 2003, Father Brosnan was interviewed by The Australian Broadcasting Commission National Radio, Brosnan was often asked by ther media about Ronald Ryan -- who it was believed fired the fatal shot during the prison breakout. Just months before Brosnan died, he said on ABC National Radio; "No I won't make a hero out of him. He caused a situation, I don't know whose bullet killed who, but a friend of mine died. But I'll tell you what, he had heroic qualities."
Father John Brosnan was a Catholic priest for 57 years. For 30 years he was Pentridge Prison chaplain. He had come to know Ryan very well and accompanied Ryan to the gallows. In February 2007, The Catholic Archdiocese published a story that Father Brosnan was convinced and always believed Ryan was innocent.
Documentaries on Ronald Joseph Ryan
There are various educational documentary films/stories on Ronald Ryan. They are dramatised documentaries, based on research with a mixture of re-creating interviews with the people directly involved in the Ryan case. The documentaries include archival material depicting the life and death of Ronald Joseph Ryan, the events surrounding the shooting, the case, lack of scientific evidence, missing pieces of vital evidence, witnesses inconsistencies at trial, and the political power leading up to the hanging of Ryan. The documentaries have candid interviews with the people who knew Ryan well - his wife, lawyer, fellow escapee, trial judge, the catholic priest, politicians and journalists who witnessed Ryan's execution. These documentaries tell the true story of Ronald Joseph Ryan, a petty-thief with no police record of violence, whose botched escape from Pentridge Prison resulted in a political execution.
Film and Television Documentaries
The Last Man Hanged, historical documentary, ABC, Australia, 1993
The Last Of The Ryans, television movie, Crawford Productions, Australia, 23 April 1997 (Winner of The 1998 Award of Distinction Telefeatures, TV Drama & Mini Series)
Beyond Reasonable Doubt - The Case of Ronald Ryan, documentary series, 1977 Australian Film Commission
Odd Man Out - The Story of Ronald Ryan Three-part television mini-series
Who Hung Ronald Ryan? Australian Broadcasting Corporation Film (A Documentary Film on The Execution of Ronald Ryan - released 1987)
Wikipedia.org