Renuka Kiran SHINDE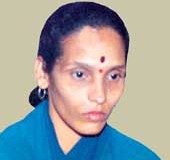 Classification: Murderer
Characteristics: Kidnapping children and force them into begging and petty thefts
Number of victims: 5 - 9
Date of murders: June 1990 - October 1996
Date of arrest: November 19, 1996
Date of birth: 1973
Victims profile: Santosh, Anjali, Shradha, Gauri and Pankaj (aged between one and five years)
Method of murder: Starvation - Smashing their heads against walls or electricity poles
Location: Pune, Kolhapur, and Nashik, Maharashtra, India
Status: Sentenced to death on June 29, 2001
---
Sinister sisters
Sisters on death row, convicted for killing 5 tots, have hardly any chance of escaping the noose
By Nikita Doval - ManoramaOnline.com
April 13, 2012
Horror wears many faces. But perhaps the most chilling of them all is the mask of ordinariness. When cruelty comes calling dressed in the robes of banality, its power to inflict pain and cause fear is enhanced. There is nothing striking about either Seema Mohan Gavit or her sister Renuka Shinde to set them apart. Here are two sisters who could have been just another face in the crowd, but their horrific past has shaped their present and left a noose-shaped question mark looming over their future. As the Pune-based human rights lawyer Aseem Saroday says, "Their ordinariness makes their actions even more horrifying."
On August 31, 2006, the Supreme Court confirmed the death sentence on Seema and her sister Renuka for killing five children, mostly toddlers in Pune, Kolhapur, and Nashik during 1990 and 1996. Ujjwal Nikam, special public prosecutor, who sought death penalty for them recalls a chilling fact. "We limited the period of killing to six years. However, this had been going on for longer than that. The women could not remember how many children they had killed."
Seema, Renuka, their mother Anjanbai, and Renuka's husband Kiran Shinde were petty thieves, who kidnapped children to be used as a cover for their activities. It started in 1990 when Renuka was caught pickpocketing at the Chatursinghi temple in Pune. Her son, Ashish, from her first marriage was with her. Renuka used him as her defence, convincing the crowd that a woman with a child couldn't possibly be a thief. On realising that a child could save them from tricky situations, the gang began kidnapping children to be used as a front. And the children would be killed if they became a problem. The mother and daughters were already charged with petty crimes when they started their killing spree.
Seema's father was a truck driver. Anjanabai's second husband, Mohan, who was Renuka's father, abandoned them and moved in with another woman. He had two daughters from his second marriage; Anjanabai and her daughters started their killing spree with Mohan's elder daughter.
Temple compounds, railway stations, fairs, bus stations… any crowded place was a hunting ground for them. And Kiran Shinde drove the getaway car, a Fiat. Most of the kidnapped children belonged to poor families. "Maybe, the parents tried to file a complaint and were turned away. Maybe, they were unable to do so. The kidnapping reports did not start coming in till very late," recalls Nikam. The first kidnapping victim was a beggar woman's one-year-old son, Santosh. They used him as a distraction. If one of them was caught pickpocketing, the other woman carrying the child would fling him to the floor. Hurt, the child would start crying and it would create a commotion and distract the crowd. Later the child would be ruthlessly killed if it became a nuisance or a burden. "Santosh was hurt when he was hurled to the floor. Denied medication, the baby's wounds festered and he was crying uncontrollably. Anjanabai shut him up by bashing his head repeatedly against an iron rod," says an investigating officer. The sisters watched their mother's gruesome act while munching on vada pav.
Seema once dropped a seven-month-old baby, Swapnil, because she could not deal with its incessant crying. In one instance, they hung a two-year-old boy upside down and slammed his head against a wall. "They chopped the body of one child and stuffed it into a gunny bag for disposal. The gang carried the bag with them and watched a movie at Alka Talkies in Kolhapur and ate bhel puri while the bag lay between their feet," says Saroday, who was associated with the case in the Supreme Court.
The sisters were caught when they visited Mohan to kidnap his second daughter in October 1996. His second wife had filed a complaint against them and their mother when her elder daughter went missing. While questioning the trio on the missing girl, the police unearthed evidence that hinted at several murders. The case was handed over to the CID.
The investigating team zoomed in on Kiran Shinde, the weakest link who turned approver and gave all details to the police. "The women denied all the charges. They insisted they were falsely implicated," says Nikam. He remembers them as unusually sharp with an uncanny ability to identify plainclothes officers during the hearing. Anjanabai died during trial. Nine murders were charged against the gang, and the sessions court found them guilty of six murders. The High Court said that prosecution could prove only five cases against them.
The sisters are now lodged in Yerwada Jail, Pune, and even today, jail officials reveal, they insist they are innocent. "Every time the jail superintendent visits they want to know about the status of their mercy petition. In their mind there is no doubt about their sentence being commuted," said a jail officical. After the Supreme Court verdict the sisters were separated and Renuka was sent to Nagpur jail. Advocate Swati Saroday, who worked with Renuka for rehabilitating her four children, recalls an irate woman quick to getting tetchy if she felt her work was not being done. "She wanted to be with her sister and would often go on hunger strikes. She was very disturbed at the separation. She also wanted her children to have access to her bank accounts but they were sealed. She would fret over what would happen to them," recalls Swati. She admits to being flummoxed by Renuka's love for her children when she had, in cold blood, killed so many others.
Last year, Renuka was transferred back to Yerwada. The sisters are lodged in separate cells and giving them company is Fehmida Sayyed, also sentenced to death by the Bombay High Court for the twin bomb blasts in Mumbai in 2003.
Renuka's children were regular visitors but now the visits are erratic. "They were in remand home. The oldest child turned 18 and was released. He insisted on taking all his siblings with him," says a source.
The Supreme Court in its judgment said that the killings demonstrated a 'depraved mind' that killed without any compulsion. Prison, it is said, causes even the most hardened nut to crack, pondering over what landed them there. The two sisters are, however, more concerned about why Fehmida gets hot water when ill, than the memory of those whose lives they cut short even before they began.
Case diary
Accused: Seema Mohan Gavit and her sister Renuka Shinde
Crime: Murder of five children—Santosh, Anjali, Shradha, Gauri and Pankaj. (Police believe they had kidnapped 13 and murdered nine)
Arrested along with their mother, Anjanabai and Renuka's husband, Kiran Shinde, in 1996
Trial court sentences them to death on June 29, 2001
High Court upholds the verdict on September 9, 2004
Supreme Court confirms death sentence on August 31, 2006
Currently lodged in Yerawada Jail, Pune.
---
For Killers, Murder Was In The Family
The first woman to be hanged in India is likely to be either Renuka Shinde or sister Seema Gavit
Shashwat Gupta Ray - Tehelka.com
September 16, 2006
When the Supreme Court upheld the death sentence awarded to two Nashik women for killing nine children, it stated that "these convicts are unlikely to be reformed". Though this is the first time that a woman will be hanged to death in the country, the story of the sisters, Renuka Shinde and Seema Gavit, reads like a crime novel come true. Their mother Anjana Gavit, the mastermind behind the killings who died during the trial, had introduced them to crime.
Shinde's husband Kiran Shinde, also involved in the killings, turned an approver and got a reprieve.
Police say Anjana Gavit took to theft early. RM Bomche, who was initially Kiran Shinde's counsel, says: "Though she got married, her stealing habits continued. Soon she developed illicit ties with a truck driver and eloped with him to Pune."
Anjana's elder daughter Seema was born in Pune. Soon after, the truck driver deserted her. Then she married retired soldier Mohan Gavit. "The second daughter, Renuka, was born to the couple. Regular police harassment became intolerable for him and he moved out with another woman named Pratibha and settled in Nashik. They had two daughters. The elder one, Kranti, was killed by the sister duo," says Bomche, who convinced Kiran Shinde to turn an approver.
With very meagre resources, Anjana and her daughters moved to Nashik for some time, hoping to reconcile with Mohan. When she found that she could not reconcile with Mohan, the three resorted to petty theft. To avoid police detection, they returned to Pune in 1990. They made Pune their second base after Nashik and began operating from here.
"The mother would instruct the sisters to move in a pair inside crowded places especially during festivals. They would then kidnap a child and use it as a shield. While one would remain with the child, the other would escape from the scene. If anyone cast a doubt, she would claim to be innocent since she was carrying a child. She would thus escape," says Nashik-based journalist Sudhakar Shinde of Marathi daily Deshdoot. "They would kidnap children from Nashik, Mumbai, Kolhapur and Pune. The child would be kept in their Pune residence. They would be eliminated if they didn't get the ransom. They kidnapped 13 children aged between one and nine. By their own admission, they killed nine kids," adds Shinde.
But the end was nigh for the three. They came to Nashik to kill Kranti, Anjana's stepdaughter. When Kranti went missing, her mother registered a complaint on October 22, 1996 against the three, accusing them of kidnapping her.
The investigating officer in the case, Inspector Mandaleshwar Madhavrao Kale, says they could not trace the girl at first. But when the three returned to kidnap Pratibha's younger daughter, they were caught, he says.
"The sisters confessed to killing Kranti in Pune under their mother's instructions. We arrested the mother and seized all the belongings to find more clues. There were many cases of missing children, which were registered during the same time between 1990 and 1996, when their operations were at their peak," says Kale. The state cid soon took over the investigations. Cases of kidnapping and murder were filed against them in late 1996 and they were sentenced to death. Their appeals in the Bombay High Court and the Supreme Court did not quash the conviction.
The prime witness against the sisters, Vidya Kulkarni, the criminals' neighbour in Nashik when they had kidnapped Kranti in 1996, says: "My apartment window opened on theirs. I could see them beating up Kranti everyday. I had many things to tell."
The maths teacher shudders thinking of the past. "My daughter used to play with Renuka's children. She even accompanied Anjana to the market several times. God was kind enough to ensure that my daughter remained unharmed. We never knew about their credentials until the news appeared in the papers. Today we don't know whom to trust," she says.
---
SC upholds death penalty to 2 sisters in Anjanabai Gavit case
Oneindia.in
August 31, 2006
New Delhi, Aug 31 (UNI) Delivering a speedy ruling in the sensational Anjanabai Gavit serial murder case, the Supreme Court today upheld the death sentence awarded to two sisters, convicted of murdering five children out of the 13 they had kidnapped and forced into petty crime.
A bench, comprising Justices K G Balakrishnan and G P Mathur, dismissed appeals by sisters -- Renuka Kiran Shinde (31) and Seema Mohan Gavit (29) against the judgement of the Nagpur bench of the Bombay High Court in September 2004 confirming the death sentence awarded by the Kolhapur sessions court in 2001, holding that there were no mitigating circumstances in favour of the two appelants.
''Going into the details of the case, we find no mitigating circumstances against them apart from the fact they are women.
Further the nature of their crime and the systematic way in which each child was kidnapped and killed amply demonstrates the depravity of the mind of the appelants. They indulged in criminal activities for a very long period and continued till they were caught by the police. They very cleverly executed plans of kidnapping the children, and the moment they were no longer useful, killed them and threw the dead body at some deserted place,'' they said.
The bench said that the sisters had ''not been committing crimes under compulsion but took it very casually and killed all these children, least bothering about their life or the agony of their parents.'' ''We do not think that these appelants are likely to reform, and will remain a menace to society. The inhabitants of the locality in which the two were living was so horrified that they could not send their children to school for the fear that they would be kidnapped or killed,'' it further noted.
The bench also vacated the stay it had granted against the execution of both, when their appeal had been admitted and directed the authorities concerned to make all arrangements for the execution of the penalty.
Renuka alias Rinku, her husband Kiran Shinde and her sister along with their mother, Anjanabai Gavit, were part of a gang that kidnapped children from Thane, Nashik and other areas between 1990 and 1996 and forced them to become beggars or commit petty thefts.
Later, when the children began to pose a problem, they were mercilessly killed by the gang members.
The gang had kidnapped over a dozen children in this period, all of whom later disappeared. The murders of the children, aged between seven months and four years, had gone undetected for nearly six years. While there were no eyewitnesses in the case, the prosecution had relied on the testimony of Renuka's husband, who had turned approver.
Facing charges for the murder of nine children, the two sisters and their mother Anjanabai were ultimately convicted of the murder of five -- identified as Santosh, Anjali, Shradha, Gauri and Pankaj.
However, Anjanabai had died in custody in 1997, a little over an year after her arrest.
---
Death for child-smash sisters
TelegraphIndia.com
August 31, 2006
Two sisters who kidnapped children and killed them by smashing their heads against walls or electricity poles could become the first women to be hanged in Independent India.
The Supreme Court today upheld the death sentences awarded to Renuka Kiran Shinde, 39, and Seema Mohan Gavit, 35, refusing leniency to the "depraved" women and saying they were unlikely to reform themselves if given a second chance at life.
The Pune-based sisters were accused of kidnapping 13 children under five between 1990 and 1996 and killing nine of them, but only five of the murders could be proved.
They would carry the children in their arms to avoid suspicion while moving about in crowded places, snatching purses. The children were murdered when they grew too old to be carried about, or if they tended to cry in public and arouse suspicion.
When one such child's cries led to a scuffle outside a temple in Kolhapur, the sisters threw him down to momentarily divert the public's attention. As they seized their chance to escape, the women somehow managed to pick the severely injured child up and take him along. Their mother Anjanabai later killed him by smashing his head against a pole, police said.
Another victim, a three-year-old who talked to passers-by about his parents, was hung upside down from the ceiling and his head was repeatedly slammed against a wall. Among the other victims were two 18-month-olds and a two-year-old.
The apex court took note of how the women killed the children "the moment they were no longer useful'', acting not "under any compulsion but very casually… least bothering about their lives or agony of their parents".
If the court — which has described the case as "rarest of the rare" — rejects the sisters' review plea, their only hope would be their mercy petition that has been lying with the President for five years.
Although many women are awarded the death sentence in India, legal experts couldn't recall any being executed after Independence. Some have had their sentences commuted — as happened with Rajiv Gandhi murder accused Nalini — and the mercy petitions of many more are pending.
Lawyers said this was probably the first case in India where two women had been sentenced to death.
Seema and Renuka were allegedly helped by Anjanabai and Renuka's husband Kiran Shinde in kidnapping the children from railway stations, bus stands and temples in Kolhapur, Thane, Mumbai and Nashik.
Anjanabai died a year after the gang's arrest in 1996 while Kiran had all charges dropped against him after he turned approver and testified against his wife and sister-in-law.
After a three-year trial, a sessions court awarded the death sentences to the sisters in 2001 and Bombay High Court upheld them in 2004.
"The nature of the crime and the systematic way in which each child was kidnapped and killed amply demonstrates the depravity of the mind of the appellants (the convicts),'' the Supreme Court bench headed by Justice K.G. Balakrishnan said today.
"We have carefully considered the whole aspect of the case and are also alive to the new trends in sentencing system in criminology. We do not think that these appellants are likely to be reformed."
---
Killer sisters nurtured by mother
TelegraphIndia.com
August 31, 2006
It started as personal vendetta and soon turned into a profession.
Renuka Shinde and Seema Gavit abducted their first victim in 1990, police said. It was the elder daughter of their father's second wife.
The sisters, whose death sentence was upheld by the Supreme Court today, went on a kidnapping spree after that. All their victims were little children, some of whom were killed, and the hand that rocked the crime cradle was their 58-year-old mother's.
Anjanabai Gavit, a resident of Kothrud in Pune, was never an average housewife. There are 125 cases lodged against her for petty thefts like picking pockets and snatching gold chains at crowded railway stations.
But the small-time criminal turned cold-blooded kidnapper when her husband Mohan left her to marry another woman named Pratima in 1990. Along with daughters Renuka and Seema and Renuka's husband Kiran Shinde, Anjanabai, then aged 58, plotted to abduct Mohan and Pratima's first daughter.
The second daughter was to be kidnapped in 1996, but police caught up with her and her family.
The six years in between saw Anjanabai mastermind the kidnappings of a dozen children in Nashik, Pune and Kolhapur.
Investigations revealed that the family would take the abducted children along to distract attention while they carried out petty crimes — and to win the police's sympathy if caught. But when the kids outgrew their utility or stood in the family's way, they were done away with.
Kiran, who turned approver in the case, gave the police an account of the torture inflicted on the children.
Santosh, barely 18 months old, began crying one evening at a bus stand. Fearing he would draw people's attention, the women banged his head against the floor and then an iron pole till he died. His body was thrown under an autorickshaw. Another 18-month-old, Bhavna, was gagged, bundled into a handbag and dumped in the ladies' toilet of a cinema.
Two-year-old Naresh was starved and beaten to death because he would wail for his mother. Three-year-old Pankaj made an even bigger mistake. He would talk to passers-by about his parents. So he was hung upside down from the ceiling and his head slammed against a wall.
The drive for personal revenge came back to haunt the family in 1996, when the sisters set out to claim their 14th victim — their second step-sister. But this time, they landed in the police net.
The Gavits and the Shindes were lodged in Yerwada prison, where Anjanabai died a year later.
The trial began in September 1998, and three years later, Kolhapur additional district and sessions judge G.L. Yedke awarded the death penalty to Renuka and Seema in a crowded courtroom.
Charges were dropped against Renuka's husband Kiran, who had testified against the women.
The couple have four children of their own. They were handed over to Kiran's Pune-based mother.
---
HC upholds death rap for killer sisters
IndiaTimes.com
September 9, 2004
MUMBAI: Justices R M S Khandeparkar and R S Mohite of the Bombay high court on Wednesday upheld the death sentence awarded to sisters Renuka Shinde and Seema Gavit, who had kidnapped 13 children and murdered five of them between June 1990 and October 1996.
The sisters had been sentenced to death by the Kolhapur sessions court. They were convicted for the murder of five of them.
The sisters, along with their late mother Anjana Gavit and Renuka's husband Kiran Shinde, would kidnap the children and force them into begging and petty thefts.
However, when the children became a liability, the women simply killed them.
---
Sisters get death penalty for killing 9 children
IndiaTimes.com
June 29, 2001
Kolhapur: In the sensational Anjanabai Gavit case, a local court on Thursday sentenced to death two sisters who killed six children.
Renuka Kiran Shinde (27) and her sister, Seema Mohan Gavit (25), who had been convicted on June 22 for kidnapping 13 children and killing nine of them, were sentenced to death by hanging. The court acquitted Kiran Shinde, Renuka's husband, who had turned approver.
Anjanabai Gavit, the principal accused and mother of the sisters, had died as an undertrial in December 1997, 14 months after she was arrested in Nasik.
Renuka and Seema did not show any emotion after the verdict was pronounced.
Renuka has four children, while Seema is unmarried.
Over 3,000 people had gathered in the court premises to hear the verdict in the murder case, which had rocked the state a decade ago.
Before pronouncing the verdict, judge G L Yedke said that the women had kidnapped innocent children who could not offer any resistance, had used them for the purpose of begging, and then killed them brutally when the children outlived their utility. These matters were taken into consideration while awarding the sentences, he said.
Describing the murders as most heinous, judge Yedge said that the two sisters seemed to have enjoyed killing the children. The judge said that special government prosecutor Ujwal Nikam, who had termed the child murders as a blot on humanity, had sought death for the convicts, and he had conceded the demand. The death sentence is subject to confirmation by the Bombay high court.
After the verdict, approver Kiran Shinde, who was acquitted, touched Nikam's feet in gratitude.
Incidentally, this is the 10th court case in which Nikam has succeeded in securing death sentences for murderers.
Anjanabai and her two daughters kidnapped 13 children from different parts of the state in the early 1990s and killed nine of them. There was insufficient evidence to link the women to three of the deaths. The victims were aged between one and five years.
Although there was not a single eye-witness to the crimes, the court relied on the deposition of the approver Kiran Shinde. During the hearing, the court examined 156 witnesses and all deposed against the accused.
---
Panch witness identifies accused Seema Gavit
IndianExpress.com
December 4, 1998
KOLHAPUR, DEC 3: Ram Murlidhar Mudhe, a panch witness in the Anjanabai Gavit abduction and murder case, today identified Seema Gavit, one of the accused whose handwriting sample had been taken by the CID at Nashik in Mudhe's presence in connection with the same case.
Deposing before the Additional Sessions Judge G L Yedke, Mudhe said he knew the lady from the time she was brought to Nashik police custody and identified herself as Seema Mohan Gavit. He said that her handwriting samples were taken in six different blank papers and signed by the panchs along with him and the CID officer Shinde.
Denying charges made by the defence lawyer Manik Mulik, Mudhe who is a tailor from Nashik, reiterated that Seema's handwriting samples were taken in presence of two witnesses including him and the panchnama prepared. He swore that the panchnama was correct and was signed by him on the direction of police.
Mudhe elaborated that when he was reached the CID office the woman in question wasn't there but was brought inafter five minutes and identified herself as Seema Mohan Gavit.
Panch witness Mudhe said that Nashik CID police had seized the visitors' register book of Parimal Lodge, Nashik, in his presence on November 6 1996, where the accused had stayed during the period when they had kidnapped Anjali alias Pinki.
He said that seized register panchnama was also signed by him. He agreed that there was some overwriting and also some figures were changed; these, he said were by the police in his presence.
Parimal lodge owner Ajit Pahade had demanded the copy of panchnama for his record and accordingly photocopies of the same were handed over to the lodge owner. However, later the police discovered some mistake in the original copy of the panchnama and while inspecting they found that the copy was overwritten, he clarified.
Meanwhile, defence lawyer Manik Mulik raised a strong objection over the public prosecutor Ujjwal Nikam's application to grant permission to Kiran Shinde, an approver in case, to met hischildren.
Earlier, advocate Nikam had, through an application before additional sessions judge G L Yedke, requested the court to allow Shinde to meet his four children, who are presently placed in a remand home here. Defence lawyer Mulik pointed out that since approver Shinde was also one of the main accused in the case it could affect the trial.