Paul Steven HAIGH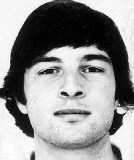 Classification: Serial killer
Characteristics: Robberies - Disputes
Number of victims: 7
Date of murder: 1978 - 1979 / 1991
Date of birth: September 5, 1957
Victim profile: Evelyn Adams, 58 / Bruno Cingolani, 45 / Wayne Keith Smith, 27 / Sheryle Gardner, 31 / Danny Mitchell, 10 / Lisa Brearley, 19 / Donald George Hatherley, 36 (inmate)
Method of murder: Shooting - Stabbing with knife
Location: Victoria, Australia
Status: Sentenced to six sentences of life imprisonment without the possibility of parole
---
Paul Steven Haigh is an Australian serial killer currently serving six sentences of life imprisonment without the possibility of parole for the murder of seven people in the late 1970s.
The crimes
1978
In 1978, in the first two weeks after being paroled for a string of armed holdups, in separate armed robberies Haigh shot dead TattsLotto agency worker Evelyn Adams, aged 58, and 45-year-old pizza shop operator, and father of two, Bruno Cingolani.
1979
In 1979, Haigh began killing people he believed knew too much about his crimes. Haigh shot dead his associate Wayne Keith Smith, aged 27, and his associate's former girlfriend Sheryle Gardner, 31. Haigh also shot dead Gardner's son Danny Mitchell, 10, who was sitting beside his mother in their car, to stop him identifying his mother's killer. Haigh's most brutal attack was committed against his girlfriend, Lisa Brearley, aged 19, whom Haigh stabbed 157 times after allowing another man to rape her at knifepoint.
1991
Haigh's last victim was sex offender Donald George Hatherley whom Haigh murdered in a jail cell at Pentridge Prison in 1991. Haigh claimed he "assisted" Hatherley to commit suicide by placing a noose around his neck, kicking a cupboard out from under him then pushing down on Hatherley's shoulders. A jury found Haigh guilty of Hatherley's murder.
Won right to appeal
On 19 April 2011, at a hearing before Victorian Court of Appeal justices Peter Buchanan, Geoffrey Nettle and Emilios Kyrou, Haigh won the right to have his sentence reviewed to determine whether he should be entitled to parole, after he appealed a 2009 Victorian Supreme Court (Trial Division) decision to deny his request to be given a minimum term. Haigh argued that the 2009 decision by Justice Betty King was flawed because it had been based on a 2005 pre-sentence report that was later withdrawn by the Victorian Parole Board and replaced in 2007.
The appeal was rejected on 13 December 2012.
Wikipedia.org
---
Serial killer's parole bid refused
By Andrea Petrie - TheAge.com.au
December 13, 2012
Serial killer Paul Steven Haigh has lost his bid for a minimum term on his life-without-parole sentence for the murders of six people, including a 10-year-old boy.
Haigh, now 55, had argued he deserved a mitigated sentence because, among other reasons, he was the "victim" of borderline personality disorder when he committed the murders in the 1970s.
But his application was dismissed by Justice David Beach in the Victorian Supreme Court on Thursday.
The judge described the murders as "unjustifiable and merited condign punishment".
Haigh fatally shot TattsLotto agency worker Evelyn Adams, 58, and 45-year-old pizza shop operator and father-of-two Bruno Cingolani in 1978, in separate armed robberies, two weeks after being paroled for a string of armed hold-ups.
Then in 1979, he killed people he believed knew too much about his crimes, including his associate Wayne Keith Smith, 27, and his associate's former girlfriend Sheryle Gardner, 31.
He also shot dead Ms Gardner's son Danny Mitchell, 10, who was a witness to his mother's death, sitting beside her in her car when she was shot.
Haigh killed his girlfriend Lisa Brearley, 19, by stabbing her 157 times after allowing another man to rape and sodomise her at knifepoint, because he believed she was sleeping with other men.
The court heard that after Ms Brearley's murder, Haigh said: "I only intended to do 20 [stab wounds], but I lost count so then I started counting out another 20. I kept making sure she was dead."
In 1991 he killed sex offender Donald George Hatherley in a jail cell at Pentridge Prison and was convicted by a jury of Hatherley's murder.
He received a life sentence with a minimum for Hatherley's murder.
In contesting the application, prosecutor Peter Rose, SC, told the court Haigh should never be released. He said Haigh's past history and conduct, as well as several prior convictions, meant the public must be protected from him, therefore the court should ensure he remain in custody.
Mr Rose also described his crimes as among the worst combination of murders ever committed in Victoria.
In his reasons for dismissing Haigh's application, Justice Beach said the six murders that were the subject of Haigh's application were "dreadful crimes".
He said while he accepted that Haigh's conduct in prison over the past several years had been considerably better than it was in the early years of his sentences, "the applicant's continued willingness to attribute blame to others; his continued use of illicit drugs in prison; the murder of Donald Hatherley; his lack of any remorse in respect of the murder of Donald Hatherley; the significant episodes of bad behaviour in prison up until the last several years and the future risk of him committing further offences of violence (as disclosed in the evidence) are matters that do not tell in favour of the granting of a non-parole period.
"While the applicant's behaviour now (and in the last several years) is significantly different from his behaviour when he was a younger man, a consideration of all of the material in this case suggests to me that he remains a person who will say and do whatever he thinks will suit the course he is currently pursuing," the judge said.
"I accept the evidence that, notwithstanding the elapse of time and significant changes in behaviour, the applicant remains (and will remain) a moderate to high risk of committing further offences of violence."
Justice Beach said after carefully considered the application, in which Haigh was self-represented, "None of it leads me to the conclusion that it is appropriate to fix a non-parole period.
"On all of the material, I am of the view that it is, in fact, inappropriate to fix a non-parole period," he said.
"The application for the fixing of a non-parole period in respect of the life sentences imposed upon him for the murders of Evelyn Abraham, Bruno Cingolani, Wayne Keith Smith, Sheryle Ann Gardner, Danny William Mitchell and Lisa Maude Brearley is refused."
---
Serial killer Paul Steven Haigh responsible for worst combination of murders, Supreme Court hears
By Paul Anderson - Herald Sun
December 5, 2012
In his final submissions during Haigh's application for a minimum term for six horrific murders he committed in the late 1970s, prosecutor Peter Rose, SC, described the shocking string of murders as pre-meditated, cold-blooded and vile.
He said they had been committed by a remorseless man who to this day blames his victims and abuses drugs in jail.
Mr Rose said Haigh's murders were not only planned but some involved "particularly degrading acts".
"These are just so horrible, that life without parole is the appropriate sentence," Mr Rose told Justice David Beach.
Haigh was convicted of murdering his girlfriend of three weeks Lisa Brearley, 19, after allowing another man to rape her.
Reciting from descriptions written by the killer himself, Mr Rose said Haigh allowed the other man to rape Ms Brearley so his DNA would be connected to the crime and therefore ensure his silence about the murder.
Haigh, who also had sexual contact with Ms Brearley knowing he was soon to kill her for fear she would talk to police about certain weapons, stabbed the young woman 157 times, later writing that "I only intended to do twenty but I lost count".
"Lisa became a loose end," Haigh wrote.
Haigh shot dead Tattslotto agency worker Evelyn Abrahams.
Mr Rose said Haigh blamed Ms Abrahams for the shooting because she provoked him and was "disobedient" by resisting, instead of allowing his armed robbery to "go its ugly way".
Haigh killed pizza shop owner Bruno Cingolani by shooting him with a sawn-off shotgun at point blank range.
Mr Rose said the motive for that planned robbery was to help finance a prisoner's escape, and that Mr Cingolani was killed because he tried to protect his takings for his family's sake.
Haigh shot dead mother Sheryle Gardner to keep her quiet, along with her ten-year-old son Danny Mitchell who was with her at the time.
Haigh wrote that while it was against the criminal code to shoot children, Ms Gardner was a bad mother for putting the boy in the "terrible situation" of being a witness.
"Danny being present complicated matters greatly," Haigh wrote.
Haigh said he "consoled" the sobbing boy before shooting him three times in the back of the head.
Haigh also shot associate Wayne Smith so that, in his words, he "wouldn't look weak" in the eyes of accomplices
During today's hearing, psychiatrist Dr Yvonne Skinner said Haigh did not have the capacity to feel empathy on an emotional level and would be a "moderate to high" risk of re-offending if he was ever released.
Dr Skinner said she believed Haigh, now 54, did not have a mental illness but suffered from a personality disorder "with multiple different features".
When asked by Mr Rose if Haigh shunned responsibility for his crimes, Dr Skinner said: "I think he deals with it by laying the blame on other people or factors."
The court heard Haigh, said to have an addictive behaviour, has been regularly using illicit drugs in jail – but had tried to seek help.
Under cross examination by Haigh, Dr Skinner said impulsive tendencies were not a major characteristic of his personality and that his actions were planned and carefully considered.
Haigh will make his final submissions in court tomorrow morning.
---
Brutal killer to appeal life term
By James Campbell - Sunday Herald Sun
April 10, 2011
ONE of Victoria's most brutal killers will make a last-ditch bid for freedom tomorrow when he fronts the Court of Appeal to say why he should not die in prison.
Paul Steven Haigh murdered six people - including a mother and her 10-year-old son - in a year-long crime spree that shocked Melbourne in the late 1970s.
He was later convicted of murder for helping his cellmate hang himself in Pentridge Prison, a killing he later described as a "growth experience".
In 2009, Supreme Court judge Betty King ruled he must die in prison after a marathon nine-day hearing held over more than a year.
The seven-time killer will appear in person before a five-judge bench of the Court of Appeal to argue his case himself after breaking off with his legal counsel.
Legal sources have told the Sunday Herald Sun Haigh's appeal is based largely on his view Justice King underestimated his remorse.
Justice King ruled that despite having had so many years in prison to reflect and consider his crimes, Haigh had failed to do so.
"You are capable of understanding and feeling remorse, but ... to a very limited degree, and I find that you have no real empathy with your fellow man," she said.
"You are able to understand the issues intellectually, but are not capable of feeling true sympathy or compassion for any person unless they are someone that you love and care about.
"You remain a callous individual."
Justice King also said that she could not be satisfied Haigh would not kill again if he were ever released.
Haigh's first two victims, Evelyn Abrahams, 58, and Bruno Cingolani, 45, were shot dead in two botched armed robberies in 1978.
His next victim, criminal associate Wayne Kevin Smith, 27, was killed in a dispute over the proceeds of crime.
But it was the three people he killed next that shocked Victorians.
Haigh had become concerned that another associate, Sheryle Ann Gardner, 31, had been talking about his crimes. So in July, 1979, he shot her dead. Haigh then killed her son, Danny Mitchell, 10, who had witnessed his mother's murder.
In 2008, Haigh told Justice King he didn't like Danny very much.
Haigh's next victim was Lisa Maude Brearley, 19, stabbed 157 times, after being forced at knife-point to have sex with another man. In 2009, Haigh described her as "a loose end that had to be gotten rid of''.
In prison, Haigh did not lose the taste for killing. In 1991, he helped convicted rapist Donald George Hatherley, 36, to hang himself.
A court was later told that, at the time, Haigh was feeling he had "gone down a peg" in the prison hierarchy because Hoddle St killer Julian Knight had one more victim than him.
"The other deaths I'd been involved in were from a criminal frame of reference - this was different, his suicide was a growth experience for me," Haigh later wrote.
The Sentencing Act says judges must set a non-parole period unless they consider the crimes so serious a minimum term would be inappropriate.
---
Cruel killer wants hope
Herald Sun
January 26, 2008
SERIAL killer Paul Steven Haigh yesterday gave a stunning personal account of his crimes in his court bid to have a minimum term set.
Haigh, 49, spoke with brutal honesty in the Supreme Court, saying his crimes were horrendous.
But he admitted he was not revolted when he murdered a young boy.
The seven-time killer said he wanted to put some "personality and life into my plea".
Haigh is serving a life term with no parole.
He said of his murders: "They were, in the context of the criminal world, understandable and appropriate.
"Overall, from a more mature perspective, I see that a clear-thinking person, a more self-respecting person and law-abiding person would not go to such a horrendous extreme.
"I was pretty much disturbed and out of control."
Of shooting dead two people in separate hold-ups in 1978, Haigh told the court: "Clearly they threatened my freedom and the last thought I had before I pulled the trigger was, 'You're not sending me back to jail'."
His most shocking crime was in 1979 when he killed Sheryle Gardner, 31, in front of her 10-year-old son. After consoling the boy for a short time he fired three shots into his head.
Haigh blamed Ms Gardner for her son's death, claiming she used him as a shield.
"He didn't need to die and were he not there it wasn't something we would have gone out of our way to do -- it was just an unforeseen circumstance," he said.
Asked if he was revolted by shooting the child, Haigh replied: "With Danny, sadly no -- I wasn't. Being self-centred at the time my desire was to save my miserable life.
"His life came second to my freedom."
The killer then gave a chilling description of the vicious murder of his girlfriend Lisa Brearley, 19, who he stabbed more than 150 times.
Haigh said he was obsessive about the number of times he wanted to stab Ms Brearley, but kept losing count and would have to start again.
He said when her front was covered in wounds he turned her over and stabbed her back.
"When I was satisfied of no chance of a miraculous recovery I stopped," he said.
"The intensity of her fight fazed me -- it wasn't like in the movies.
"It was the only one I have ever had a nightmare about."
Haigh said he felt remorseful about all the murders except that of his seventh victim, Donald Hatherley, who he "assisted" to suicide in jail in 1991.
"It was all with consent, it was something that was done with a warmth," he said.
"I have not had a skerrick of remorse about it so my heart tells me I did no wrong."
Haigh said it was cruel to leave people alive to suffer.
His psychiatrist last year told the court Haigh had trouble empathising with victims.
When asked yesterday why he was applying for a minimum term, Haigh said:
"So I have got the hope of being released.
"It is pretty bleak at the moment and I am running out of steam. I need a light at the end of the tunnel.
"I do care about my future very much."
The case has been adjourned to a date to be fixed.