Norman Afzal SIMONS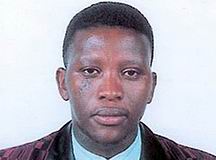 A.K.A.: "The Station Strangler"

Classification: Serial killer
Characteristics: Gay slayer of young boys
Number of victims: 1 - 22
Date of murders: 1986 - 1994
Date of arrest: 1994
Date of birth: 1956
Victims profile: Young boys aged between 9 and 13
Method of murder: Strangulation with pieces of their clothing
Location: Cape Town/Mitchells Plain, Western Cape, South Africa
Status: Sentenced to life in prison in 1998
---
Norman Afzal Simons, a former teacher, was initially arrested in connection with 12 of the Station Strangler murders, but 11 of the charges were dropped before the case reached the Supreme Court. All the victims were raped and strangled with pieces of their clothing, their hands bound behind their backs, their shoes removed and their faces pushed into the sand.
---
Norman Simons
Norman is believed to be South Africa's "Station Strangler." He is presently serving a 25-year sentence for the 1994 murder of 10-year-old Elroy van Rooyen. Since 1986 South African authorities have been stumped by the growing body count of young boys of mixed race appearing dead around Cape Town.
At one point they asked for help from the Interpol and the FBI. Robert Ressler, the retired FBI expert who coined the term serial killer was called in to develop a psychological profile of the killer. With Ressler's profile in hand authorities believe they have nabbed their killer. Police think Simons is the "Station Strangler," South Africa's most notorious serial killer, who may have killed 21 boys and a young man, all of mixed-race, during an eight-year murder spree.
The "Station Strangler" is believed to have lured his victims away from train stations. Most were found in shallow graves around Cape Town after being sodomized and strangled. One body was found with a note that read: "One more, many more in store." Elroy, his final victim, was last seen boarding a train with Simons at Cape Town's Strand train station. His body was found 10 days later with his hands tied behind his back. According to police, Simons claimed his brother, who was murdered in 1991, was living inside him. He also he heard voices ordering him to kill. Apparently the voices started after his brother sodomized him.
Mayhem.net
---
Norman Avzal Simons, also known as the "Station Strangler", is a South African rapist and serial killer who was convicted in 1995 on one count of murder and one count of kidnapping Elroy van Rooy, age 10. He was sentenced to 35 years (25 for murder and 10 for kidnapping) in prison.
Simons was an intelligent individual, playing classical music and capable of speaking seven languages including English, Afrikaans, Xhosa and French. He was employed as a Grade 5 teacher at Alpine Primary School in East Ridge, Mitchell's Plain. Simons' victims were all young boys aged between 9 and 13. Simons and his victims were all mixed race from the Cape Malays community.
Simons is believed to have started his sporadic series of murders in October 1986, culminating in his arrest eight years later in 1994. He collected his moniker after it became apparent that most of his victims were lured away from train stations (similar modus operandi to Andrei Chikatilo).
Simons raped and sodomised his victims before strangling them. Victims were found face down with their hands tied behind their backs in shallow sandy graves. The victims' underwear was occasionally found around their necks, presumably used as a garrote. Hand-written notes were also found next to some victims.
Simons' relationship with his older stepbrother seems to have a major bearing in his criminal activities. Simons alleges that his older stepbrother raped and sodomised him as a youngster. He also reports 'hearing voices' from his brother instructing him to kill. Simons' brother, an alcoholic rastafarian, was murdered in 1991.
Simons appeared before magistrates in 1995 on one charge of murder and kidnap. His trial lasted three months, leading to a conviction and life sentence. He is currently serving his sentence in Drakenstein Maximum Correctional Facility, Paarl. Simons appealed his conviction in 1998, but his conviction was upheld.
In 2005, an inquest was opened into the deaths of the remaining victims. After three years of further analysis, the victims' parents came no closer to an answer. On 9 December 2008, Regional Magistrate Marelize Rolle stated that she believed prima facie evidence showed Simons was probably responsible for the deaths of at least six of the other victims. However, due to the time lapse, she ruled out further prosecutions in the case.
Note on name: Norman Simons converted to Islam in 1993, taking on the name Avzal, but converted back to Christianity in 1994.
Wikipedia.org
---
Revisiting the Station Strangler cases
Candice Bailey - Iol.co.za
August 16, 2005
Eleven years after his conviction for the murder of just one of the 22 boys thought to have been the victims of the notorious Station Strangler, former Western Cape school teacher Norman Afzal Simons is back in court.
The Station Strangler terrorised the Cape Flats from 1986 to 1994, as 22 boys were found face down in shallow sandy graves, their hands tied behind their backs and bearing the signs of having been sodomised. The case sparked national horror.
Simons was eventually convicted of killing the last of the dead boys, nine-year-old Elroy van Rooyen.
On Tuesday, 10 years into his life sentence, Simons was back in court for the re-opening of the inquest into two of the boys, Donovan Swartz, 11, and nine-year-old Elino Sprinkle.
Simons, who is serving his sentence at the Drakenstein Maximum Correctional Centre in Paarl, was to give evidence in the inquest in the Mitchell's Plain magistrate's court.
The boys' bodies were among the last of the bodies found in early 1994.
Their bodies were all found in the same position - face down in a shallow grave with their hands tied behind their backs and their pants wound tightly around their necks.
The killer's reign of terror started in October 1986 with the discovery of the body of Jonathan Claasen, 14, near Modderdam station in Bellville South.
Nine bodies were found between 1986 and 1992.
In January 1987, Yusuf Hoffman, 14, was found in bushes near the sewerage plant in Mitchell's Plain. Altogether six bodies were found that year.
Mario Thomas of Manenberg was discovered in a field in Sarepta near Kuils River in January. In April an unidentified boy was found in bushes near Modderdam station.
In June the body of Freddie Cleaves, 12, was discovered in a ditch in Belhar and in August that of Samuel Nqaba, 15, was found in bushes off Modderdam Road in Bellville South.
In October an unidentified boy, aged about 15, was found near Modderdam station.
In 1988 only one body was found - that of Calvin Spire, nine, in a field near the University of the Western Cape in Bellville South.
Then there was a long pause.
In October 1992, the Strangler's ninth victim, Jacobus Louw, 10, of Beacon Valley, Mitchell's Plain, was found in the dunes near Mnandi Beach.
Then in January 1994 Cape Town was rocked by the discovery of 11 bodies in the Strangler's so-called killing fields on the outskirts of Mitchell's Plain.
The first was that of an unidentified man.
This was followed by Elino Sprinkle, 10, of Lentegeur and an unidentified boy in the field next to Lentegeur Shopping Centre.
Next were Jeremy Benjamin, 12, of Westridge, Donovan Swartz, 12, of Beacon Valley and Jeremy Smith of Rocklands.
Then on January 27, one single horrific day, police found six bodies - those of Fabian Wilmore, eight, Owen Hoffman, 10, Neville Samaai, 14, Marcellino Cupido, nine, Elroy van Heerden, nine, and an unidentified boy.
Elino may have been abducted by a gang of five while Donovan may have been lured away from home, police said.
Marcellino, of Eerste River, went missing on December 21, 1993 when he left his grandmother's Mitchell's Plain home for the nearby Town Centre complex.
Fabian and Owen went missing together on January 11, 1994. Their bodies were found lying together.
Cape Flats parents were terrified. Some refused to send their children to school and gathered in large groups to fine-comb bushes in Mitchell's Plain in an effort to come face to face with the mass murderer.
It became the largest hunt for a serial killer in South African criminal history.
The then minister of law and order Hernus Kriel offered an initial reward of R100 000 but subsequently increased it to R250 000 for information leading to the arrest and conviction of the killer.
Three months after Elroy's body was discovered, Simons, a Grade 5 teacher at Alpine Primary School in East Ridge was arrested for his murder.
He stood trial for only one of the killings as police lacked evidence in the other cases.
His three-month trial followed in 1995, which saw him sentenced to 25 years for murder and 10 years for kidnapping Elroy.
In 1998 the Bloemfontein High Court of Appeal rejected Simons's appeal and increased his sentence to life imprisonment.
Forensic psychologist Micki Pistorius, who did extensive work on the Station Strangler's killings in the 1990s, said at the weekend she was happy that the cases were being revisited so that justice could finally be served for the Mitchell's Plain mothers.
---
Stand in for the Strangler
Weekly Mail & Guardian
March 03, 1995
Avzal Simons is facing only one of the 11 'Station Strangler' charges. Justin Pearce reports
IT will take a lot to keep Lorraine Solomon away from the Cape Supreme Court in the next few weeks. Likewise Kathleen Samaai. Likewise Mary and Louise van Rooyen. Likewise most of the 40 or so other people who this week crammed the public gallery of the Cape Supreme Court for the trial of Avzal Simons.
Most of the people in the crowd never knew Elroy van Rooyen, the nine-year-old boy who is the only victim named on the charge-sheet in the case of State v Simons. Mary van Rooyen was Elroy's mother, Louise his grandmother. But for the others, Elroy had never been more than a name -- the last in the long list of boys who were found strangled on the Cape Flats over a period of seven years. The boys included Lorraine Solomon's grandson Marcelino Cupido, and Kathleen Samaai's son Neville.
Simons is currently on trial on charges of kidnapping, sodomy and murder, arising from Elroy's death in March last year. Late last year, police were investigating charges against Simons in connection with the other 10 murders that were attributed to the Station Strangler during 1993 and 1994.
Now, almost a year after Simons was arrested, the state has decided to proceed with charges relating to the Van Rooyen case in the absence of sufficient evidence relating to the other charges.
But for the people in the gallery, the notion of the Strangler lives on. And with no charges having been laid in connection with the other 20 "Strangler" deaths, justice for the death of someone else's son is almost as good as justice for the death of one's own
By now they are past the obvious signs of grief. One of Elroy's relatives broke down in tears as the charges were read, but for the rest of the trial so far they have responded stoically to allegations of appalling physical abuse, and descriptions of a body half eaten away by maggots.
Several of them -- including Elroy's grandmother -- cannot read or write. Yet for three days in court they leant forward in their seats so as not to let a word of legal argument go by unheeded. They are frustrated by the process. They resent the fact that someone whom they have already convicted in their own minds should be allowed to consort with agents of the law.
"Where does he go at lunchtime?" wondered one woman during the recess.
"He goes to eat with the advocate," her friend replied. "That's why he's so fat."
Simons' apparent serenity during the trial only added to their suspicions. He stood in the dock with a religious paperback in his hand, the occasional puzzled frown his only sign of discomposure. The former convert to Islam has now reverted to Christianity -- and he attributes his calmness to his "faith in the Lord".
But to the people in the gallery, he is an alien. Fouzia Hercules, the witness who claimed she had seen Simons with Elroy on the day the boy disappeared, said she remembered his face because he was a stranger, and "we all know each other in the Strand".
His face, Hercules had recalled earlier, "was like the face of a Bantu".
Simons' dark complexion may engender racist contempt as a "Bantu". But his middle-class accent, his chic suits and ties and his reputation as a scholar provoke mistrust of a different kind -- in the eyes of the crowd, he is affecting a status which he does not really deserve.
"Look at how he sits there taking notes like a businessman," remarked one woman. They believe too that Simons, a schoolteacher, abused his status to lure children to their death.
But just as an outsider is an easy scapegoat for the murders, so it was a sense of trust in scattered extended families and in the children's good behaviour that allowed the murders to go unchecked for so long.
Outside the court, Dora Kannemeyer recalled how long it had taken her family to realise something was amiss when her nephew, Jeremy Benjamin, disappeared from home.
Like most of the "Strangler" victims, Jeremy lived in Mitchells Plain. His family had first gone to his friends in Macassar, then to his father in Stellenbosch, and then to his grandmother in Eersterivier -- without the benefit of home telephones, it was days before they realised that Jeremy was not in safe company. It was six weeks before he was found
Such circumstances do not make for easy investigation. Elroy was the last of the victims of the alleged Strangler, and by the time of his disappearance the public was checking up on suspicious behaviour in a manner that bordered on fanatical.
Yet so far Hercules has been the only witness who has positively linked Simons to Elroy's disappearance, and much of the evidence led by the state so far has been
Defence counsel Koos Louw has rigorously cross- questioned Hercules and other state witnesses, challenging the reliability of information remembered from a year ago. The coming week is to see a trial- within-a-trial which will contest the admissibility of statements made by Simons to magistrates and police shortly after his arrest. During cross-examination on Wednesday, Louw bluntly accused Sergeant Andre Oliver, investigating officer in the Van Rooyen murder, of arresting Simons "without a grain of evidence" and of knowing that "if no further evidence came to light there would be serious problems".
Simons' arrest came at a time when anti-Strangler vigilante gangs had almost brought anarchy to Mitchells Plain. The impending trial-within-a-trial suggests that the eagerness by the police to secure a conviction could end up playing into the hands of the defence.
But the women in the gallery, whose sense of justice the police were so keen to satisfy, have their own way of dealing with such a scenario: "He may escape here, but not with God."
---
Station Strangler who's fooling whom
Weekly Mail & Guardian
September 09, 1994
The alleged Station Strangler has already been tried and convicted by the NP, the media and the public, writes Justin Pearce
THE man outside the magistrate's court wasn't going to wait for a verdict. With the words "Ek sal jou vrek doodmaak (I'll kill you dead)", he pronounced his own sentence on Norman Afzal Simons, who -- in the minds of the public, at least -- is also known as the Station Strangler.
Simons appeared in court in connection with the murder of nine-year-old Donovan Swartz, the second of two charges of murder that have been put to him. So far he has not been asked to plead to either charge. The first charge related to the murder of Elroy van Rooyen (10) -- a charge which itself was enough to convince a substantial sector of the public that Simons was the serial killer of 22 boys over a period of eight years.
Simons was granted R1 000 bail in the Kuils River Magistrate's Court soon after completing a 30-day period of psychiatric observation and after the court rejected evidence which formed the basis for his arrest. Forensic tests showed that semen found on Van Rooyen's body was not Simons', while the evidence of witnesses who said they had seen Simons with the boy was found inconclusive.
In a reversal of earlier police confidence that Simons was indeed the Strangler, police liaison chief Colonel Raymond Dowd admitted that police were investigating the possibility of other killers being responsible for some of the Strangler murders.
Simons was released, then rearrested in connection with Swartz's death. Appearing in the Mitchell's Plain Magistrate's Court on August 13, his bail was extended. Police announced then that they were investigating charges against Simons arising from 10 other murders in 1994 -- but also conceded that charges relating to another 10 murders between 1986 and 1992 might never be laid.
This suggested diminishing confidence in the notion of a sole killer responsible for all 22 murders. In fact, identikits issued in 1987 bear little resemblance to those issued this year.
Continual threats while he was out on bail led to Simons requesting, and being granted, protective custody -- usually only offered to witnesses at risk. This unusual move was an acknowledgement by the court of the extreme anger which has accumulated around the Strangler murders -- and the public's desperate need for a victim.
The Station Strangler notion captured public imagination early in 1987 after the bodies of a number of Cape Flats boys who had been strangled and sodomised were found over a period of months. The spate of murders began in October 1986; by February 1988 eight boys had been murdered in similar manner. Another followed in October 1992. Between January and March 1994, 12 more bodies were found -- and also attributed to the Strangler.
Frantic Cape Flats' parents formed vigilante gangs. Tensions rose. At one point, an angry crowd besieged a house where they believed the Strangler was hiding, breaking windows and trying to enter by forcing a hole in the roof.
Just before the April elections, Simons was arrested in connection with the murder of Van Rooyen, whose body had been found on March 19. Quoting "reliable sources", news reports said "police were convinced that they finally had their man".
Then there were media reports that Simons had confessed to being the Strangler. An article headlined "I slept next to the Strangler" reported that a man who shared a ward with Simons when he was in voluntary psychiatric care had said: "He smelt like the queen of England and admitted he was homosexual". Another report claimed that Simons, a trained school teacher, would pinch children on their inner thighs as punishment and that his hands shook a lot, especially when he was with boys.
People who knew Simons were incredulous, but life on the Cape Flats returned to normal. At the last National Party rally before the elections, premiership candidate Hernus Kriel cashed in on the mood of relief by boasting: "We (the NP) caught the Station Strangler".
It wasn't the first time the NP had tried making political mileage out of the case. When granting the vote to prisoners became an election issue, Simons had yet to be arrested. The NP, wooing the coloured vote, ran an advertisement in Cape newspapers with the latest identikit of the Strangler under the headline: "Can you imagine the Cape Strangler having the vote? The ANC and the DP can."
It was only after the elections, on April 30, that the validity of Simons' "confession" was called into question. The Cape Supreme Court heard that Simons had been interrogated by police while still under psychiatric observation. He claimed to have been allowed little sleep since his arrest and to have become desperate enough to admit to anything. A court order forbidding police from further interrogating Simons was issued.
For anyone to be interrogated while under psychiatric observation is "bizarre", comments associate professor Wilfred Schurf, director of the University of Cape Town's Institute of Criminology.
While Dowd denies that police were serving any political agenda, both Schurf and Simons' attorney, Nu'maan Long, note the usefulness to the NP of Simons' arrest.
Says Schurf: "I think the timing of the arrest of a Strangler suspect to coincide with the election campaign raises questions about the connection between the two, especially when the police are deeply embarrassed that their initial claims that they had the Station Strangler were not as near to the truth as they wanted them to be."
Long blames irresponsible reporting for the hysteria surrounding Simons. "Simons is finished," he adds. "He has no life outside. Where is the concept that a suspect is innocent until proven guilty?"
The police taskforce probing the case has been scaled down since Simons' arrest. Colonel Leonard Knipe, chief investigating officer, this week condemned "hysterical and unfounded reporting, which is more damaging than anything else" to the investigation.
Although he was only convicted of one murder, Simons is classified as a serial killer as he is alleged to be the notorious "station strangler" who stalked and killed 22 children on the Cape Flats in the 1980s.