Lyda TRUEBLOOD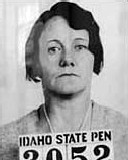 Classification: Murderer
Characteristics: Poisoner - To collect insurance money
Number of victims: 1 - 6
Date of murder: 1915 - 1920
Date of arrest: May 1921
Date of birth: October 16, 1892
Victim profile: Her fourth husband, Edward Meyer (She was suspected of killing her brother-in-law, four husbands and a daughter)
Method of murder: Poisoning (arsenic)
Location: Montana/Idaho, USA
Status: Sentenced to a term of 10 years to life in Idaho in 1921. Paroled on October 3, 1941. Died on February 5, 1958
---
Lyda Trueblood (1915-1919) killed 4 spouses, a brother-in-law, and her own child by poisoning in Pocatello, Idaho. She made it look like typhoid or influenza, until physicians examining the last victim found suspiciously high traces of arsenic.
---
Trueblood, Lydia
A classic "black widow," Lydia Trueblood would stop at nothing to collect the life insurance on her many mates. It took six years, and half a dozen victims, for detectives in a two-state killing zone to realize that sometimes arsenic -- not diamonds -- is a girl's best friend.
Lydia was born in Keytsville, sixty miles northeast of Kansas City, in the central flatlands of Missouri. Members of her family were friendly with another local clan, the Dooleys, and as time went by, young Robert Dooley fell in love with Lydia.
She seemed to share his feelings, and when Lydia moved on to Twin Falls, Idaho, her would-be suitor followed close behind. They married there in 1912, and settled down to plan their future, with a sharp eye on security. It was arranged for Robert and his brother, Edward, to secure a life insurance policy. In the event that either brother died, $1,000 would be paid to the surviving Dooley, with a like amount to Lydia.
On August 9, 1915, Edward Dooley fell suddenly ill; his death, days later, was ascribed to typhoid, and his brother sadly split two thousand dollars with the grieving Lydia. On August 10, while Edward clung to life and all around him prayed for his recovery, a second life insurance policy was written in the names of Robert Dooley and his wife. Upon the death of either, the survivor would receive $2,000.
"Typhoid fever" struck again in late September 1915, and by sundown on October 1, the widow Dooley had a decent nest egg in the making. Recently encumbered with a child, she cast about for remedies, and Providence was smiling. Barely six weeks passed before the infant "drank from a contaminated well" and died.
A mandatory period of mourning left the widow Dooley hungry for companionship. She found a viable solution in the person of William McHaffie, a waiter in her favorite Twin Falls restaurant. They wed in 1917, and he took out a $5,000 life insurance policy, with Lydia as beneficiary, before they pulled up stakes and moved to Hardin, in Montana. The marriage was a short one; "influenza" claimed McHaffie one year later, but his policy had lapsed because McHaffie failed to pay the second premium, and Lydia collected nothing for her pains.
She moved to Denver, where she married Harlan Lewis during May of 1919. They set up housekeeping at Billings, Montana, and Lewis purchased a $5,000 life insurance policy in June. Disaster struck in mid-July, a sudden case of "ptomaine poisoning" eliminating husband number three. This time, the check came through. On August 10, the three-time widow married Edward Meyer in Pocatello, Idaho.
She called herself "Anna McHaffie," but the change of name did not foreshadow any change in modus operandi. On August 11, Lydia applied for a $10,000 life insurance policy in Edward's name, but it was disapproved, for reasons never clarified. (In retrospect, perhaps the industry was waking up to Lydia's uncanny run of luck.) The Meyers settled on a ranch in the Snake River region, where Edward was taken ill on August 25.
He was transported to the hospital, where doctors praised his chances of recovery, but on September 7 he was dead. Post-mortem tests discovered arsenic, but after brief preliminary questioning, detectives set the widow Meyer free. She fled to California, seeking other prey and sanctuary while behind her, Idaho authorities were busy with petitions for the exhumation of her other victims. One by one, the test results were positive.
The Dooley brothers had been murdered, as had Lydia's own child. Montana officers began to sniff around the Lewis and McHaffie cases, curious about the lethal widow's long run of coincidence. While Twin Falls prosecutor Frank L. Stephen built a case, his quarry picked up husband number five, Paul Southard, in Los Angeles.
They married in November 1920, and she tried to sell him on the notion of a life insurance policy, but he declined. A seaman in the navy, Southard saw no need for coverage beyond the normal government provisions.
Southard had been transferred to Pearl Harbor shortly after wedding Lydia, and Honolulu officers were privileged to pick her up when warrants finally arrived from Idaho, on May 12, 1921. Returned to Boise for her trial, she drew a term of life imprisonment and subsequently died in jail.
Michael Newton - An Encyclopedia of Modern Serial Killers - Hunting Humans
---
Lyda Southard (October 16, 1892-February 5, 1958) was an American serial killer. She was suspected of killing her brother-in-law, four husbands and a daughter, but was only convicted of killing her fourth husband, Edward Meyer.
Biography
Lyda Anna Mae Trueblood was born October 16, 1892 in Keytesville, Missouri. The Trueblood family moved to Twin Falls, Idaho, in 1906.
Lyda married Robert Dooley on March 17, 1912. The couple settled with his brother Ed Dooley on a ranch in Twin Falls and had a daughter, Lorraine, in 1914. Ed Dooley died in August 1915; the cause of death was ruled ptomaine poisoning. Robert Dooley subsequently fell ill and died of typhoid fever on October 12, 1915.
She married William G. McHaffle in June 1917. Shortly afterward, Lyda's three year old daughter fell ill and died, prompting the McHaffles to move to Montana. A year later, McHaffle suddenly fell ill of what was thought to be the flu and died in Montana on October 1, 1918. The death certificate ruled the cause of death as influenza and diphtheria.
In March 1919, she married Harlen C. Lewis and settled in Billings, Montana. He fell ill and died of another "flu bug" in July 1919. Lyda married for a fourth time in Pocatello, Idaho, to Edward F. Meyer in August 1920. He mysteriously fell ill of typhoid and died on September 7, 1920.
Twin Falls chemist Earl Dooley, a relative of Lyda's first husband, began to study the deaths surrounding her. Along with a physician and another chemist, he soon discovered that Ed and Bob Dooley were murdered by arsenic poisoning. Twin Falls County Prosecutor Frank Stephan began investigation and began exhuming the bodies of three of Lyda's husbands, Lyda's 3-year-old daughter, and Lyda's brother-in-law. Stephan discovered that some of the bodies contained traces of arsenic, while others were suspected of arsenic poisoning by the how well the bodies were preserved, and found her motive in the records of the Idaho State Life Insurance company of Boise. All 4 of Lyda's husbands had held a life insurance policy where they listed her as the beneficiary. Lyda Trueblood was able to collect over $7,000 over the years from the deaths of her first three husbands.
She was found by law enforcement in Honolulu, married for the fifth time to Navy petty officer Paul Southard. Following extradition to Idaho, she was arraigned on June 11, 1921. Following a six-week trial, she was convicted of second-degree murder and sentenced to ten years to life imprisonment in the Old Idaho State Penitentiary.
She escaped from prison on May 4, 1931 and took up residence in Denver, Colorado as a housekeeper for Harry Whitlock, a man she married in March 1932 but who ultimately assisted in her arrest in Topeka, Kansas on July 31, 1932. She returned to the penitentiary in August 1932. She was released on probation in October 1941, and received a final pardon in 1942.
Marriage and children
She was married seven times:
Robert Dooley (March 17, 1912-October 12, 1915)

William G. McHaffle (June 1917-October 1, 1918)

Harlen C. Lewis (March 1919-July 1919)

Edward F. Meyer (August 1920-September 7, 1920)

Paul V. Southard (?, divorced)

Harry Whitlock (March 1932-?, divorced)

Hal Shaw (possibly divorced)
Lyda gave birth to a daughter, Lorraine Dooley, in 1914; she died in 1917.
Death and aftermath
Southard, by then known as Anna Shaw, died of a heart attack on February 5, 1958 in Salt Lake City, Utah. Her body was interred at Sunset Memorial Park in Twin Falls, Idaho.
Wikipedia.org
---
Black Widow - Lydia Trueblood
By Charles Montaldo - Crime.About.com
Lydia Trueblood was from Pocatello, Idaho and earned her seat on the list of female serial killers for poisoning five of her husbands, her brother-in-law and her baby girl.
Tragic Losses:
Lydia Trueblood was less than remarkable in appearance yet something about her seemed to capture the attention of men. At the age of 19, she married one such man, Idaho land owner, Robert C. Dooley. The happy couple had a baby girl who they named Lorraine and all seemed well until the sudden death of Lorraine. Soon after, Robert's brother Edward Dooley who was living with the couple, also died. Then tragically in October 1915, Robert also died from what was thought to have been typhoid fever.
Husband Number Two:
Within two years Lydia overcame her grief and married William G. McHaffle and moved to his home in Montana. But within a year and a half, the unlucky widow suffered another loss. On October 1, 1918 McHaffle died from what was thought to be complications of influenza and diphtheria.
Husband Number Three:
But Lydia had a way of bouncing back from her grief and at the age of 25, and twice widowed, she met yet another man. His name was Harlan C. Lewis, an automotive engineer from Billings, Montana. However, within four months, Lewis was dead from complications of gastro-enteritis.
Husband Number Four:
Lydia managed to get over her loss fairly quickly as in the past and it was not long before the 27-year-old widower three times over met and married Edward F. Meyer, a ranch foreman from Pocatello, Idaho. Edward only survived the marriage for one month, dying after contracting typhoid.
On the Run:
This time her unfortunate history with dying husbands aroused suspicion and a local chemist, Earl Dooley, decided to dig a little deeper into the death of Meyers. He collected soil on the spot where Meyers died, tested it and discovered it contained arsenic. After testing was done on the exhumed body of Meyers and large traces of arsenic was uncovered, authorities went to arrest Lydia, but she was no where to be found.
Husband Number Five:
Eventually the bodies of all her dead husbands, her baby and her brother-in-law were tested and traces of arsenic was detected in some. By the time authorities caught up with Lydia she was living in Hawaii and married to Paul Vincent. Lydia was returned to face murder charges of which she was found guilty and sentenced to ten years to life. It was determined that her motive for murder was money, since she had taken out and collected on the life insurance policies of each of her dead husbands.
Easy Prey:
Lydia was very resourceful, even behind bars, and she managed to escape from prison into the arms of David Minton, an ex-convict who had fallen in love with her before his release from prison. Once outside the prison walls, Lydia didn't stay with Minton for long, but she did leave him alive. This proved to be her demise because Minton, angered at Lydia leaving him, told police where she was living in Topeka, Kansas.
Husband Number Six:
Somehow Lydia had managed to marry yet another man, Harry Whitlock, after leaving Minton and before the police caught up to her. She was returned to prison, leaving her stunned husband, who described her as a model wife, behind.
The Warden Rudd:
Once back in prison, Lydia had one last trick up her sleeve. This time she convinced George Rudd, the prison warden, to grant her special privileges such as day trips to a local resort and special visitation to her sick mother. When an investigation into prison conditions was performed and the truth came out about her getting special treatment, Rudd was forced to resign. What happened to Lydia Trueblood afterwards is unknown.
---
Lydia Trueblood
Lydia Trueblood earned the nickname "the Black Widow" for marrying six men and killing four of them. Each husband was murdered so that Lydia could collect on the life insurance policies she had insisted they purchase.
Robert C. Dooley met Lydia in her home-state of Idaho and asked her to be his bride. She agreed, and soon after they were married they had a daughter named Lorraine. The family lived with Robert's brother, Edward, until 1915, when tragedy seemed to repeatedly strike Lydia's life. First, Lorraine passed away unexpectedly. Soon after, Edward was also found dead. Later that year, Robert died, leaving Lydia as the sole survivor of the family. Typhoid fever was thought to be the cause behind the deaths, and Lydia cashed in on her late husband's insurance policy.
Within two years, Lydia had met and married a man named William G. McHaffle. The couple moved to Montana, where they resided for a little over a year. By 1918, McHaffle had passed away, seemingly due to complications from influenza.
Tragedy appeared to plague Lydia. In 1919 she married a third man, Harlan Lewis, in Montana, and he was found dead less than three months later. Lydia moved back to Idaho, where she quickly met and married Edward Meyer. Meyer was pronounced dead from typhoid within a month of their wedding ceremony.
Suspicion about the deaths of four husbands over such a short time led to an investigation. Earl Dooley, a chemist from Idaho, discovered a deadly poison called arsenic was actually to blame for Edward Meyer's demise. Tests were then performed on the exhumed bodies of her former mates, her brother-in-law, and her daughter. Traces of arsenic were found in all of them. Police went looking for Lydia, but she had fled the state.
During the investigation, Lydia moved to California and married a fifth husband, Paul Southard. She attempted to convince him to take out a large insurance policy, but since he was covered by the US Military, he refused. The couple was transferred to Hawaii, where authorities caught up with and arrested Lydia. Before long, Lydia escaped from prison and married Harry Whitlock, her sixth and final husband. She was discovered and taken back into custody before she was able to strike again and spent the rest of her life behind bars.
CrimeMuseum.org
---
"Complete Story of Mrs. Southard's Wooings"
Sheboygen PressMay 18, 1921San Francisco, May 20.—"She swept the men of her choice off their feet—courted them so persistently that they could not escape."
That's the way V. H. Ormsby, a deputy sheriff of Twin Falls, Idaho, describes the romance of Mrs. Lydia Southard, under arrest at Honolulu on a charge of murdering Ed Myers of Twin Falls, her fourth husband.
Ormsby and his wife, who also is a deputy sheriff, are en route to Honolulu to return Mrs. Southard to Twin Falls, where she will be questioned about the mysterious deaths of three other of her five husbands, a brother-in-law and her own daughter.
Mr. Southard, now the wife of Paul Vincent Southard, petty officer on the U. S. S. Chicago, has promised not to fight extradition. Her husband offered to pay the expenses of his wife and an official to Twin Falls so that the investigation may be speeded.
Mrs. Southard denies the charges and says she can satisfactorily explain the deaths of her former husbands. She told officials she believed she was a "typhoid carrier," and that this may have been responsible for some of them.
"Take poor Ed Myers for example," says Deputy Sheriff Ormshy. "He was the woman's fourth husband. In 1920 he was running a little ranch out near Twin Falls when Lydia came home after Harlem Lewis. Husband No. 3, had died in Montana and she had collected $5,000 in insurance.
Everybody Talking
"She rigged herself out fit to kill, bought a long mink coat and a closed car. Everybody in town was talking about the way she ran around to dances.
"She courted Ed right off his feet."
"She talked around town that she wasn't in love with Ed, but she wanted a home, and she said that sometime she might learn to love him."
"Well, in August she and Ed were married after he took out a $10,000 insurance policy. In September Ed died."
"The townfolks weren't just satisfied. They started a lot of talk and the insurance company held up payment on the policy. The matter got into politics and folks wanted to know what the candidates for sheriff would do about Lydia."
She Didn't Worry
"But Lydia didn't seem to ho worrying. After she left for California the town got more dissatisfied than ever and in January I was assigned to the case."
"I've had the bodies of the men dissatisfied and examined. Three chemists each working separately, reported to me that they found arsenic. I interviewed the doctors who attended he husbands and obtained statements from them that enabled me to build a strong case against her."
"After Lydia left Twin Falls late 1920 she met Southard at a dance. Later they were married and when Southard was transferred from San Francisco to Honolulu he took his bride along, he's still loyal to his wife."
"The marital experiences of the one-time Missouri country town girl eclipses even those of fiction. Ten years ago while still in her teens she was attending Sunday school and enjoying the popularity that goes with being a village belle in the village of Keytesville, Mo. At that time she was living on the farm of her father, William Trueblood, about two miles from town.
Following the opening of new irrigated territory in Idaho, Trueblood moved his family to a section near Twin Falls. Robert Dooley, a school-day sweetheart of Lyttle, and his brother, Edward, followed soon after, and settled near the Trueblood farm.
In 1912 Robert Dooley took Lydia, then 20, into Twin Falls one day and the two were married. Edward Dooley went to live with them.
First Husband Dies
One day Edward Tooley became ill. Within a few hours he was dead. Lydia explained that he had eaten salmon from a can that had stood open for some time. Lydia and Robert Dooley accompanied the body back to Keytesville for burial and folks in the home town got their glimpse of Baby Laura Marie, daughter of Lydia.
About three weeks after Lydia and her husband returned to Twin Falls, Robert Dooley died. Lydia said he had insisted on drinking from a cistern on the farm that was close to the barn and that he had died of typhoid fever. At that time neighbors said she expressed the fear to them that their baby, too, would die of typhoid.
True to her prophesy, three weeks later Baby Laura was dead.
Mrs. Dooley collected $4,500 on insurance that had been carried by the brothers and a short time later was married to William McHaffie.
The two went to Montana to live and settled on a ranch. McHaffie took out a $500 insurance policy and made one payment on it. In a short time he died, but when Lydia went to collect the insurance she found that the policy had lapsed a few days and the company refused to pay it.
In June, 1919, Lydia married Harlem Lewis, an automobile salesman, with whom she had become acquainted in Montana. One month later, on July 6, Lewis died from when doctors said was ptomaine poisoning, and Lydia collected $5,000 in insurance.
Following the death of Lewis, Lydia returned to Twin Falls where she met and married Myers, husband No. 4.
UnknownMisandry.blogspot.com
---
Mrs. Bluebeard-She Always Got Her Man
But Her Way of Losing Him Brought On the Law
By Frank Cipriani
n 1921 at Twin Falls, Idaho, the former Lyda Trueblood was sentenced to the state prison at Boise for a term of ten years to life. She is still there, although she has served more than the minimum period of her sentence and is eligible for parole. She has not, however, applied for a parole, and she probably will spend the rest of her life within prison walls unless the state pardon board intercedes.
A caller at the prison met Lyda recently. She was quite plump and cheerful. She was doing some fancy work which she sold to visitors. This particular visitor bought a small article. He couldn't resist her appealing voice as she gave a brief sales talk. Years ago there were other men who couldn't resist that voice. Lyda is in her middle forties now, but her voice is the same.
Lyda was only 19, round and pudgy faced and plain of figure, when in March, 1912, she became the wife of Robert C Dooley, and Idaho land owner. Later a daughter, Lorraine, was born. So far as any one could see the Dooleys were a happy family until one day there occurred the first of a strange series of misfortunes. Baby Loraine died. Before the grief of this tragedy had faded Edward Dooley, Lyda's brother-in-law, who lived with them, died. Then on Oct. 12, 1915, Lyda's husband was taken by death. The physician's certificate gave typhoid fever as the cause.
Lyda was too young to remain a widow long, and in June, 1917, she was married to William G McHaffle, a Montanan. But happiness was not destined to be hers for long, for on Oct. 1, 1918, McHaffle died in Hardin, Mont. Influenza and diphtheria, said the death certificate.
Twice-widowed Lyda bore her cross not too wearily, however, for she soon responded again to the beck of romance. In March, 1919, she became Mrs. Harlan C. Lewis, wife of an automotive engineer of Billings, Mont. Four months later death, mysterious and sudden, struck again. Lewis died, and the death certificate said gastro-enteritis.
Far from being overwhelmed with grief, Lyda carried on bravely as before in the old game of hers, and fate led Edward F. Meyer, a ranch foreman, across her path. He fell in love with her. "Will you marry me?" he asked impulsively. She said yes.
In Pocatello, Idaho, on Aug. 10, 1920, Lyda, the triple widow, became a wife for the fourth time.
In Twin Falls, Idaho, on Sept. 7, 1920-less than a month later!-Lyda became a widow for the fourth time. The physician who attended Meyer gave typhoid as the cause of death in the death certificate. Friends and relatives were pretty much upset by the tragedy of Lyda's latest marriage. To them "it didn't seem right" that one woman should lose four husbands one after another, and a daughter and a brother-in-law to boot. To Earl R. Dooley, county chemist, of Twin Falls, Idaho, it not only didn't seem right, but it seemed wrong.
Sitting in his laboratory, Chemist Dooley studied the strange case of Lyda. Was it fate, he asked himself, or was it coincidence? Was it the hand of God-or the hand of Lyda?
There was no doubt, Dooley admitted, that Ed Meyer was a very sick man during his last week of life. He himself had seen Meyer standing pale and ill against the ranch house only four or five days ago. Chemist Dooley repictured this scene in his mind. Then he stood up suddenly. Fifteen minutes later he was at the ranch house.
He scraped some dry sand from the place where Meyer had stood and took it to his laboratory. He made a hurried but careful analysis. The results evoked a low whistle of surprise, then a muttered:
"Poison-arsenic!"
Dooley called in Dr. Hal G. Bieler, a physician, and Edwin F. Rodenbach, Idaho state chemist, and asked them to corroborate his findings. They made independent examinations, their results agreeing with his. Chemist Dooley listened quietly to their report. He walked to a window, looked out a minute or two, then turned and faced them.
"Gentlemen," he said, "it is my opinion that Ed Meyer was murdered."
The body of Meyer was exhumed, and a post-mortem examination showed further evidence of arsenic in the body. State's Attorney Frank I. Stephan was notified. A murder warrant against Lyda was sworn out secretly, and a deputy went to her home to arrest her.
But Lyda had flown.
Prosecutor Stephan went ahead with his investigation. He had the bodies of her three other husbands, her daughter, and her brother-in-law exhumed. Traces of arsenic were found in some. The other bodies were so well preserved that arsenic, even though not definitely found, was suspected.
If Lyda killed these people, what was here motive? Prosecutor Stephan asked. He found a motive in the records of the Idaho State Life Insurance company of Boise.
The records showed that Robert Dooley, husband No. 1, had been insured for $4,500, Lyda Dooley, beneficiary; that William McHaffle, husband No. 2, had been insured for $500, Lyda Dooley McHaffle, beneficiary; that Harlan Lewis, husband No. 3, had been insured for $5,000, Lyda Dooley McHaffle Lewis, beneficiary; and that husband No. 4 had been insured for $10,000, Lyda Dooley McHaffle Lewis Meyer, beneficiary. The first two policies were paid in full and third partially.
Prosecutor Stephan thought his case complete except for the absence of Lyda. And where was she?
On may 13, 1921, eight months after the death of her fourth husband, Lyda was caught in faraway Hawaii. Oh, yes, she had married again. Husband No. 5 was Paul Vincent Southard, a clean cut young naval petty officer. He listened incredulously to the stories hinting that his wife was a multiple murderess. "She's been a mighty good wife to me," he protested, "and I don't care if she married ten men before, and they all died. That wouldn't make her a murderess."
Lyda waved the charges away. They were silly. She'd return to Twin Falls and face them. She did. She was placed on trial on Oct. 3, 1921, in Twin Falls. Only Meyer's death was at issue. It was a draggy trial, rather technical-arsenic versus typhoid, laboratory tests versus the official death certificate. This certificate, giving typhoid as the cause of death, was more or less Lyda's sole defense.
Briefly, the state contended that Lyda fed Meyer doses of arsenic extracted from flypaper. This Lyda denied. There was some other evidence, largely circumstantial. As a whole the state's case suggested that Lyda could have-and probably did-poison her husband, that she didn't particularly love him, that she insured him, and that she fled after his death.
On Nov. 4, 1921, the jury, after twenty-three hours' deliberation, returned a verdict finding Lyda guilty of second-degree murder, and the judge sentenced her to the state penitentiary at Boise for a term of ten years to life.
This should have been the end of Lyda, but it wasn't. On May 4, 1931, she climbed a crude ladder and escaped over the walls of the prison. She had pried a bar from her cell window while her fellow prisoners sang and played phonograph music to drown the grating noise.
Of course, Lyda had outside help, and, of course, it was a moonstruck man. Her abettor was David Minton, paroled from the men's prison only three weeks before.
With Lyda gone, Warden R. E. Thomas conducted an investigation. He found that Minton had visited Lyda in the woman's ward two nights before the escape and that he had tossed many love notes to her over the wall.
The nation's police searched for Lyda and Minton. They found him in Denver, Colo., on July 2, 1932. He was bitter. Lyda had jilted him. Sure he knew where she was, and he'd gladly tell.
On Minton's information, police found Lyda in Topeka, Kan., twenty-eight days later. She didn't look quite the same. Her brown hair had been dyed black. Two front teeth and been replaced by gold ones. In spite of this attempt at disguise she said, "I expected to be caught."
She had married again. Husband No. 6 was Harry Whitlock, a widower with a small son. Whitlock was stunned on learning about Lyda. She was a model wife, he insisted. She did mention insurance, he recalled, and had urged him to take out a policy. He'd neglected to do so, however.
Lyda went back to the Boise prison. This, it would surely seem, was the end of Lyda, but it wasn't. In 1933 an exposé of prison conditions revealed that Lyda had received extraordinary favors. She had been allowed to visit her sick mother out of prison and had been left unguarded five hours. She had been given automobile rides and permitted all-day outings at a nearby resort. She had been allowed to attend picture shows in Boise.
George F. Rudd, who had succeeded Thomas as warden, admitted he had allowed Lyda certain liberties, but he insisted she had not betrayed the trust placed in her. The investigation was followed by Warden Rudd's resignation.
One way or another, Lyda got her man.