Kim de GELDER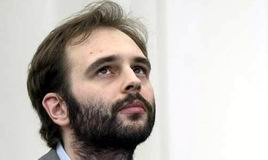 Classification: Murderer
Characteristics: Nursery rampage - Motive unknown
Number of victims: 4
Date of murders: January 16/23, 2009
Date of arrest: January 23, 2009
Date of birth: 1988
Victims profile: Elza van Raemdonck, 73 / Leon Garcia-Mannaert, a nine-month old boy / Corneel Vermeir, a six-month old boy / Marita Blindeman, 54
Method of murder: Stabbing with knife
Location: Sint-Gillis-bij-Dendermonde, Dendermonde, Belgium
Status: Sentenced to life imprisonment on March 23, 2013
---
The Dendermonde nursery attack was a stabbing attack on the Fabeltjesland daycare centre in the village of Sint-Gillis-bij-Dendermonde in Dendermonde, Belgium, at 10:00 a.m. CET (9:00 a.m. UTC) on 23 January 2009. Three people were stabbed to death, and twelve were mutilated in the attack.
The suspect has been linked to a separate murder of an elderly lady and police have suggested he was plotting more nursery attacks. The daycare centre involved in the initial attack is expected never to reopen.
Attack
Kim De Gelder, a 20 year-old Belgian from Sinaai, entered the Fabeltjesland nursery, located in Sint-Gillis-bij-Dendermonde in Dendermonde, Belgium, through an unlocked side door, claiming he had a question. He then entered one of the rooms and began attacking small children before moving up some stairs, where he continued in another room.
The man was reported to be wearing black and white makeup with his hair vividly coloured in red, similar to that of The Joker. De Gelder's attorney, Jaak Haentjens, later formally denied any link to "the Joker", attributing the claims of face paint to De Gelder's pale skin. Kim De Gelder was, in eyes of his friends and colleagues, a silent boy, who never said anything.
A total of eighteen infants under the age of three and six adults were in the nursery at the time of the attack. Two infants and one adult were killed six children, between one and three years old, were seriously injured, another four suffered minor injuries and nine escaped unscathed. The alleged perpetrator left the scene on his bike.
Victims
Leon Garcia-Mannaert, a nine-month old boy,
Corneel Vermeir, a nine-month old boy,
Marita Blindeman, a 54-year-old child minder.
Initial reports on Belgian television suggested that five people had been killed and twenty had been injured, with government officials only confirming the death of one adult and one child. This number was later increased, as another infant had died from the injuries he had sustained. It has also been reported that some of the surviving children have needed plastic surgery due to serious mutilations.
Arrest and aftermath
A massive search operation was mounted, and a man was captured by police a short while later, in the nearby town of Lebbeke. Having been wounded during his capture, the man was taken to a hospital in Aalst, Belgium. Police reported that he was carrying a list of nurseries, of which they suspect he may have been planning to attack as well.
The mayor of Dendermonde, Piet Buyse, said, "The victims are being cared for and those who were not injured have been brought to a centre where they are receiving counseling."
At a press conference on the evening of the attack, public prosecutor Christian Du Four provided the following information about the alleged offender, denying several early rumours:
"He is a 20-year-old Belgian and was not under the influence of drugs or alcoholic beverages. He acts strangely and mocks his interrogators. He is not a patient of a psychiatric institution. He has so far given five different identities"
The attacker was later identified as Kim De Gelder on 25 January 2009. De Gelder confided in his attorney, stating that he had been troubled by depression as a teenager and at one point heard voices in his head. Regardless, a psychiatrist had concluded that he did not need to be sent to a mental institution.
Some 6,000 people marched through Dendermonde on 25 January 2009, laying hundreds of bouquets and stuffed animals outside the daycare centre as the Mayor of Dendermonde, Piet Buyse, announced that the Fabeltjesland nursery would never reopen.
On 26 January 2009, Belgian officials named Kim De Gelder as the lead suspect in a further, fourth murder, where a 73-year-old woman was stabbed to death in her apartment in Beveren, near Antwerp, on 16 January. Prosecutor Christian Du Four told journalists that there were "very clear indications of links between the murders", though De Gelder denies any involvement. Police have stated that he was planning attacks on other nurseries.
On 27 January, De Gelder admitted to the attacks. The media originally reported that DeGelder was wearing make-up at the time of the attack, making him look like the Joker character from the Batman films, but police have not confirmed that depiction.
In further media reports, De Gelder reportedly watched The Dark Knight an unusually high number of times ("film obsession"), appears to have quoted the character Harvey Dent at the start of the attack, and committed the attacks on the one-year anniversary of Heath Ledger's death. Both police investigators and De Gelder's lawyer have made statements dismissing such as relevant to his motive in the attack.
On March 22, 2013 a jury declared de Gelder was fully accountable for the attack and found him guilty of four counts of murder. He was sentenced to life imprisonment the following day.
Reactions
Italian singer Luciano Ligabue dedicated a song to the victims, Quando mi vieni a prendere? (Dendermonde 23/01/09) inserted in his 2010 album, Arrivederci, Mostro!.
Wikipedia.org
---
Life in prison for Belgian creche killer Kim De Gelder
BBC.co.uk
March 22, 2013
A Belgian man has been sentenced to life in prison for killing two babies and a child minder in a knife attack at a creche near Brussels in 2009.
A jury determined Kim De Gelder, 24, could be held fully accountable for the killings in Dendermonde, despite concerns about his mental condition.
He was arrested following the nursery rampage that injured 13 others - mostly babies - and admitted responsibility.
His month-long trial focused on whether he suffered from a mental disease.
De Gelder was also convicted of stabbing a 73-year-old woman to death in her home in Beveren, not far from Dendermonde, a week before the nursery attacks.
The jurors were left in "not the least bit of doubt" that De Gelder could be held accountable for his actions, said the court in a statement.
The trial was held in Ghent, near Dendermonde and some 50km (30 miles) west of Brussels.
---
Belgium's 'creche killer' knows he did something 'inhuman' in centre where two babies and a teacher were slashed to death
By Alan Hall and David Williams - DailyMail.co.uk
January 28, 2009
The Belgian man suspected of slashing two babies and a staff member to death at a daycare centre suffered from depression and 'heard voices in his head', his lawyer said today.
Kim de Gelder, 20, understood he did something 'inhuman' but remained aloof and emotionless during a short session at court where he was remanded in custody, Jaak Haentjens added.
Even if De Gelder remained vague about the killings on Friday at the nursery in Dendermonde, he denied fatally stabbing a 73-year-old woman in a similar attack the week before, Haentjens continued.
Authorities are still investigating the motive for last week's attack, which also left ten other young children and two adults wounded.
'It remains a mystery,' Haentjens said. 'I want to know why he did it. I am looking for the truth, whatever the truth may be.'
Haentjens said that, even though his client 'obviously understands that he did something which is inhuman', he later said that De Gelder had no specific memories of what happened in the daycare centre.
Investigators say they have evidence De Gelder was planning to attack two more nurseries.
The thin and pale De Gelder, who was arrested shortly after the attack, refused to speak or eat for three days, but finally opened up before his lawyer.
So far, De Gelder faces three murder charges for the killings of a six-month-old boy, Corneel Vermeir, a nine-month-old girl, Leon Garcia, and a 54-year-old carer Marita Blindeman.
He also faces 12 attempted murder charges for the ten injured children and two workers, some of whom are still recovering from surgery needed after the attack.
Haentjens spoke of De Gelder troubled youth. 'When he was 15-16, he had an, apparently serious, depression,' he said. At 18, he was considered for 'a forced entry into psychiatry which, for reasons unclear, did not happen'.
Haentjens said an investigation had shown that 'at a certain point, he spoke of certain voices in his head'.
'We have to accept that, in our society, there can be people who can do things, driven by voices, forces, which they do not realize and which they cannot control,' he said.
Du Four said de Gelder lived some 20 miles from the scene of the crime.
De Gelder had no previous criminal record. When he was arrested he was carrying a knife, a small axe, a fake pistol and was wearing body armour. Two more knives were found at the scene.
'We don't know about his motive. He doesn't say anything... he's very passive,' said Mr Du Four, adding that the suspect would appear in court on Tuesday.
Police are still trying to establish a motive for the attack at the Fabeltjesland creche - which means in English, 'the land of fables'.
The attacker apparently tricked his way into the nursery, then ran amok stabbing children and staff before escaping by bicycle. The dead carer has been named as Marita Blindeman.
Prosecutor Christian Du Four said: 'He did not escape from a psychiatric institution. He was not under the influence of alcohol or drugs,' he said, referring to reported rumours about the suspect.
Mr Du Four said the weapon had been found, describing it as a 'large knife' about 12in long.
The deaths left Dendermonde, half an hour north west of Brussels, in shock.
Members of the Belgian royal family have gone to the town to visit the scene and speak to emergency workers.
About 18 children, some just babes in arms, were at the creche when, police say, a man knocked on the door and was let in.
He immediately produced knives and lashed out at the children - including those being held by staff at the day-care centre.
The attacker is believed to come from nearby Grembergen and to harbour a grudge against children. He had no connection to the nursery, according to officials.
At the bloodstained nursery, medics were in tears as they treated the child victims, who were all under six. Some rescuers had children at the centre.
Only nine of the 21 children in the building escaped unhurt.
Police showed digital photographs of the injured children to parents and relatives in an attempt to identify them. They put numbers on the heads of each child victim to help the process.
'There was blood everywhere and of course there was panic,' said Theo Janssens, a senior member of Dendermonde's department of social services who was on the scene within five minutes.
'It was horrible. You can't imagine it. The two who were killed were just babies. One was already dead when I got there and the other was in a very bad way.
'One of the adult staff was also already dead'.
Police said De Gelder, who was unknown at the creche, muttered: 'I have a question,' as he was let in the front door and then began lashing out with a knife.
Dendermonde's chief of police, Paul Puttemans, said the attack began when he arrived at the creche on a bicycle - wearing a bullet-proof vest.
Mr Puttemans said he was believed to be carrying several knives and possibly other weapons.
After carrying out the frenzied attack in Dendermonde near Brussels, the knifeman
made his escape on a bicycle. He was arrested shortly afterwards at a clinic where he had been receiving in-patient treatment.
He fought back against the policemen who detained him, injuring himself and two officers.
Surgeon Ignace Demeyer, who is hospital co-ordinator for emergencies in the Dendermonde region, said he hoped that the children caught up in the attack were young enough not to be scarred in later life by the memories.
Extra supplies of blood for transfusions were sent from Brussels to the local hospital where at least three of the injured children were said to be in a critical condition.
'But they will be physically scarred,' he said. 'We have 10 children, what I would call toddlers, in hospital being treated for wounds. They will all survive, as well as two adults working at the centre.'
Asked how one man had been able to attack so many in just a few moments with a knife, Mr Demeyer replied: 'The truth is that stabbing children is very easy, especially when they are very small, and some of these would have been sleeping'.
'For those who survived, this was horribly traumatic and they are already being put into post-traumatic stress programmes.'
Piet Buys, mayor of Dendermonde, said: 'The killing zone has been cordoned off and the victims are being attended to.
'Those who were not injured have been brought to a central crisis centre for care and counselling.
'They are in deep shock and need help. We are devastated by this. We do not know who the perpetrator is or his motives.'
Belgium's interior minister, Zaken Guido De Padt, promised a review of security in kindergartens across the country.
'We must ask how this assailant was able to gain access to the premises to commit this terrible crime,' he said.
De Gelder was known to local police and had been arrested on more than one occasion for drug-related offences.
He was taken to a police station in Brussels usually reserved for terrorist suspects.
---
Belgian 'admits creche murders'
BBC.co.uk
January 27, 2009
The Belgian man charged with killing two babies and a nurse at a creche near Brussels has admitted carrying out the murders, his lawyer has said.
Kim De Gelder, 20, "understands that what he did was inhuman", lawyer Jaak Haentjes said.
He was arrested following Friday's knife rampage through a nursery in the town of Dendermonde, in which 13 people were also hurt - most of them babies.
He appeared before court on Tuesday, which remanded him into custody.
Authorities say they also suspect him of killing an elderly woman.
Prosecutor Christian Du Four said he was believed to have been behind the stabbing of a 73-year-old woman in her home in Beveren, not far from Dendermonde, a week earlier.
Mr Haentjes said his client had denied all knowledge of that attack.
Motive 'a mystery'
Mr De Gelder has so far refused to talk to investigators about the rampage through the Fabeltjesland daycare centre.
But he opened up to his lawyer.
"I think that he feels regret. That's what he says, but it would be going too far to say that he repents," Mr Haentjes told the Belga news agency.
"It was a constructive discussion, about his life, but also the incident. The reason why he chose babies in a creche as his victims remains a mystery. I want to know why he did that. He too, he is ready to help in that sense," the lawyer said.
He also said that Mr De Gelder had been troubled by depression as a teenager and at one point heard voices in his head, but that a psychiatrist had concluded that he did not need to be sent to a mental institution.
The incident has shocked Belgium, and on Monday night Prime Minister Herman Van Rompuy and other government ministers joined the latest vigil outside the creche, at which the victims' parents were also present.
Mr De Gelder has been described as "immature", "shy" and a "loner", by acquaintances tracked down by the Belgian press.
The media have reported that he was wearing make-up at the time of the attack, that made him look like the Joker character from the Batman films, but police say that is not confirmed.
But police have said he was carrying a list of nurseries, and they suspect he may have been planning to launch further attacks.
---
Infants stabbed at Belgian creche
BBC.co.uk
January 23, 2009
Two pre-school children and an adult have been killed and 13 other people wounded in a knife attack at a creche in north-western Belgium.
A man who had painted his face black and white reportedly tricked his way into the nursery in Dendermonde, where he ran amok before escaping.
A suspect was arrested at a nearby shop and will appear in court later.
Parents have been asked to identify their children from photographs taken at local hospitals.
'Great brutality'
Dr Ignace Demeyer, director of a nearby hospital, told the Associated Press that 10 children had been brought in needing surgery.
"All the kids had multiple stab wounds on their legs, arms and all over their bodies," he said.
Two women - believed to be nursery workers - and another child were also hurt in the attack.
The woman who was killed was also working at the creche at the time.
Officials said the adults had been injured as they tried to put themselves between the attacker and the children.
An act of great brutality has happened here against our weakest citizens," said Dendermonde's mayor, Buyse Piet.
"The whole city is united in support for the parents who are in deep grief."
The creche was evacuated soon after the incident and local authorities put a disaster plan in place.
Town in shock
Nursery staff told journalists that the attacker was not known to them.
Officials said he rang the doorbell at the Fabeltjesland nursery at 1000 local time (0900 GMT) and told staff he needed some information.
When they opened the door, he ran in and began attacking three of the infants.
"He quickly pulled out a knife and started using it on the children," said local prosecutor Christian Du Four.
"He then went up to another floor and started doing the same thing again."
The prosecutor said the man's face had been smeared with a white colouring but his eyes had been blackened.
He escaped from the scene by bicycle but was arrested at a supermarket.
Residents told the BBC that the town was stunned.
Damien Vernon, a 43-year-old from Ireland who has lived in Dendermonde for five years, said: "It's just a sad day here, we're a small town and the crime figures are low here, we're just in shock."
The creche looks after 18 children aged three and under.
Police have been showing parents digital photographs of the youngsters taken to hospital, asking them to identify their children.
The children and staff from the nursery who escaped without injury are now receiving counselling.