Joseph Paul FRANKLIN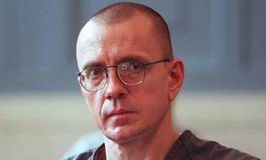 Birth name: James Clayton Vaughn, Jr.

A.K.A.: "The Racist Killer"

Classification: Serial killer
Characteristics: Former Klansman and neo-Nazi - Racially-motivated serial killer
Number of victims: 15 +
Date of murders: 1977 - 1980
Date of arrest: September 25, 1980
Date of birth: April 13, 1950
Victims profile: Men and women (most of them Jews or interracial couples)
Method of murder: Shooting
Location: Wisconsin, Missouri, Tennessee, Georgia, Virginia, Indiana, Ohio, Pennsylvania, West Virginia, Utah, USA
Status: Sentenced to death in Missouri on February 27, 1997. Executed by lethal injection in Missouri on November 20, 2013
---
Joseph Paul Franklin (April 13, 1950 – November 20, 2013) was an American serial killer. He was convicted of several murders, and given six life sentences, as well as a death sentence. He confessed to the attempted murders of two prominent men: the magazine publisher Larry Flynt in 1978 and Vernon Jordan, Jr., the civil rights activist, in 1980. Both survived their injuries, but Flynt was left permanently paralyzed from the waist down. Franklin was not convicted in either of those cases.
Because Franklin has repeatedly changed his accounts of some cases, officials cannot determine the full extent of his crimes. His claims of racial motivation have been offset by a defense expert witness who testified in 1997 that Franklin was a paranoid schizophrenic who was not fit to stand trial.
Franklin was on death row for 15 years awaiting execution in the state of Missouri for the 1977 murder of Gerald Gordon. He was executed by lethal injection on November 20, 2013.
Early life
Franklin was born James Clayton Vaughn in Mobile, Alabama, to a poor family. He suffered severe physical abuse as a child. As early as high school, he had become interested first in evangelical Christianity, then Nazism, and later held memberships in both the National Socialist White People's Party and the Ku Klux Klan.
In the 1960s, Franklin was inspired to try to start a race war after reading Adolf Hitler's political manifesto Mein Kampf. "I've never felt that way about any other book that I read," he would reflect later. "It was something weird about that book."
Crimes
For much of his life, Franklin was a drifter, roaming up and down the East Coast looking for chances to "cleanse the world" of people he considered inferior, especially blacks and Jews.
1977
July 25, 1977. At 3:17 AM, a trunk load of dynamite is detonated outside the home of Jewish pro-Israel lobbyist Morris Amitay and his family. While the home was severely damaged, all occupants escaped except for their 6 month old beagle. Franklin confessed to the crime years later while in prison. "The Many Trials of a Killer," The Mobile Register October 18, 1988
July 29, 1977: Beth Sholom synagogue in Chattanooga is firebombed. Franklin has confessed to the crime.
October 8, 1977: Franklin hid in long grass behind a telegraph pole at Brith Shalom, a synagogue in Richmond Heights, Missouri, and fired into a group of worshipers with a hunting rifle, killing Gerald Gordon and injuring two others. He confessed to this murder in 1995 and two years later was tried, convicted and sentenced to die.
1978
Franklin claimed that, on March 6, 1978, he used a .44 caliber rifle to ambush Hustler publisher Larry Flynt and his lawyer Gene Reeves in Lawrenceville, Georgia. In his confession, Franklin said this was in retaliation for an edition of Hustler displaying interracial sex.
July 29, 1978: Franklin hid near a Pizza Hut in Chattanooga, and shot and killed Bryant Tatum, a black man, with a 12-gauge shotgun; he also shot Tatum's white girlfriend, Nancy Hilton, who survived. Franklin confessed and pleaded guilty, being given a life sentence, as well as a sentence for an unrelated armed robbery in 1977.
1979
July 12, 1979: Taco Bell manager Harold McIver (27), a black man, was fatally shot through a window from 150 yards (140 m) in Doraville, Georgia. Franklin confessed but was not tried or sentenced for this crime. Franklin said that McIver was in close contact with white women, so he murdered him.
1980
May 29, 1980: Franklin said he shot and seriously wounded civil rights activist and Urban League president Vernon Jordan, Jr. after seeing him with a white woman in Fort Wayne, Indiana. Franklin initially denied any part in the crime and was acquitted, but later confessed.
June 8, 1980: Franklin confessed to killing cousins Darrell Lane (14) and Dante Evans Brown (13) in Cincinnati, Ohio. Waiting on an overpass to shoot a racially mixed couple, he shot the boys instead. He was convicted in 1998 and received two life sentences for these murders.
June 25, 1980: Franklin used a .44 Ruger pistol to kill two hitchhikers, Nancy Santomero (19) and Vicki Durian (26), in Pocahontas County, West Virginia. He confessed to the crime in 1997 to an Ohio assistant prosecutor in the course of investigation in another case; he said he picked up the white girls and decided to kill them after one said she had a black boyfriend. Jacob Beard of Florida, was convicted and imprisoned in 1993 on these charges. He was freed in 1999 and a new trial was ordered based on Franklin's confession.
August 20, 1980: Franklin killed two black men, Ted Fields and David Martin, near Liberty Park located in Salt Lake City, Utah. He was tried on federal civil rights charges as well as state first-degree murder charges.
Conviction and imprisonment
Franklin tried to escape during the judgment of the 1997 Missouri trial on charges of murdering Gerald Gordon. He was convicted of the murder charge. The psychiatrist Dorothy Otnow Lewis, who had interviewed him at length, testified for the defense that she believed that he was a paranoid schizophrenic and unfit to stand trial. She noted his delusional thinking and a childhood history of severe abuse.
In October 2013, Flynt called for clemency for Franklin asserting "that a government that forbids killing among its citizens should not be in the business of killing people itself."
Franklin was held on death row at the Potosi Correctional Center near Mineral Point, Missouri. In August 2013 the Missouri State Supreme Court announced that Franklin would be executed later that year on November 20. Missouri Attorney General Chris Koster said in a statement that by setting execution dates, the state high court "has taken an important step to see that justice is finally done for the victims and their families".
Execution
Franklin's execution was complicated as it took place during a period when various European drug manufacturers refused or objected on moral grounds to having their drugs used in a lethal injection. In response Missouri announced that it would use for Franklin's execution a new method of lethal injection, which used a single drug provided by an unnamed compounding pharmacy.
A day before his execution, U.S. District Judge Nanette Laughrey (Jefferson City) granted a stay of execution over concerns raised about the new method of execution. A second stay was granted that evening by U.S. District Judge Carol E. Jackson (St. Louis), based on Franklin's claim that he is mentally incompetent to be executed. An appeals court quickly overturned both stays, and the Supreme Court subsequently rejected final appeals.
Franklin was executed at the Eastern Reception, Diagnostic and Correctional Center in Bonne Terre, Missouri on November 20, 2013. The execution began at 6:07 AM CST and he was pronounced dead at 6:17 AM CST. His execution was the first lethal injection in Missouri to use pentobarbital alone instead of the conventional three drug cocktail.
An Associated Press news agency journalist said that Franklin swallowed hard as 5g of pentobarbital were administered. It took him 10 minutes to be pronounced dead.
Racist views 'renounced'
In an interview with the St. Louis Post-Dispatch newspaper published on Monday, November 17'th 2013, Franklin said he had renounced his racist views. He said his motivation had been "illogical" and was partly a consequence of an abusive upbringing. He said he had interacted with black people in prison, adding: "I saw they were people just like us."
Representation in other media
William L. Pierce wrote a novel, Hunter (1989), published under the pseudonym Andrew MacDonald. Pierce, founder of the National Alliance dedicated the book to Joseph Paul Franklin.
Further reading
Mel Ayton, Dark Soul of the South: The Life and Crimes of Racist Killer Joseph Paul Franklin, Potomac Press, Inc., 2011.
Wikipedia.org
---
Missouri Executes Serial Killer Who Targeted Jews, Blacks
By Jim Salter - Associated Press
November 20, 2013
Joseph Paul Franklin, a white supremacist who targeted blacks and Jews in a cross-country killing spree from 1977 to 1980, was put to death Wednesday in Missouri, the state's first execution in nearly three years.
Franklin, 63, was executed at the state prison in Bonne Terre for killing Gerald Gordon in a sniper shooting at a suburban St. Louis synagogue in 1977. He was convicted of seven other murders, but the Missouri case was the only one resulting in a death sentence. Franklin has also admitted to shooting and wounding civil rights leader Vernon Jordan and Hustler magazine publisher Larry Flynt, who has been paralyzed from the waist down since the attack in 1978.
Mike O'Connell, a spokesman for the Missouri Department of Corrections, said Franklin was pronounced dead at 6:17 a.m.
The execution began more than six hours later than intended, and it took just 10 minutes.
Franklin declined to make a final statement. Wearing black rimmed glasses with long hair tucked behind his ears, he swallowed hard as five grams of pentobarbital were administered. He breathed heavily a couple of times then simply stopped breathing.
Guards closed the curtains to the viewing area while medical personnel confirmed Franklin was dead.
"The cowardly and calculated shootings outside a St. Louis-area synagogue were part of Joseph Paul Franklin's long record of murders and other acts of extreme violence across the country, fueled by religious and racial hate." Gov. Jay Nixon said in a statement read to reporters by George Lombardi, director of the Department of Corrections, after the execution.
Franklin's lawyer had launched three separate appeals: One claiming his life should be spared because he was mentally ill; one claiming faulty jury instruction when he was given the death penalty; and one raising concerns about Missouri's first-ever use of the single drug pentobarbital for the execution.
But his fate was sealed early Wednesday when the U.S. Supreme Court upheld a federal appeals court ruling that overturned two stays granted Tuesday evening by district court judges in Missouri.
The rulings lifting the stay were issued without comment.
Franklin, a paranoid schizophrenic, was in his mid-20s when he began drifting across the country. He bombed a synagogue in Chattanooga, Tenn., in July 1977. No one was hurt, but soon, the killings began.
He arrived in the St. Louis area in October 1977 and picked out the Brith Sholom Kneseth Israel synagogue from the Yellow Pages. He fired five shots at the parking lot in Richmond Heights after a bar mitzvah on Oct. 8, 1977. One struck and killed Gerald Gordon, a 42-year-old father of three.
Franklin got away. His killing spree continued another three years.
Several of his victims were interracial couples. He also shot and killed, among others, two black children in Cincinnati, three female hitchhikers and a white 15-year-old prostitute, with whom he was angry because the girl had sex with black men.
He finally stumbled after killing two young black men in Salt Lake City in August 1980. He was arrested a month later in Kentucky, briefly escaped, and was captured for good a month after that in Florida.
Franklin was convicted of eight murders: two in Madison, Wis., two in Cincinnati, two in Salt Lake City, one in Chattanooga, Tenn., and the one in St. Louis County. Years later, in federal prison, Franklin admitted to several crimes, including the St. Louis County killing. He was sentenced to death in 1997.
In an interview with the St. Louis Post-Dispatch on Monday, Franklin insisted he no longer hates blacks or Jews. While he was held at St. Louis County Jail, he said he interacted with blacks at the jail, "and I saw they were people just like us."
He has made similar statements to other media but has denied repeated interview requests from The Associated Press. Franklin's attorney Jennifer Herndon said his reasoning exemplified his mental illness: He told her the digits of the AP's St. Louis office phone number added up to what he called an "unlucky number," so he refused to call it.
---
Joseph Franklin (1977-1981) was a 37-year old former Klansman and neo-Nazi from Madison, Wisconsin who believed that interracial couples were a sin against God. He also believed that the criminal justice system was too lenient on blacks, and he once targeted a judge he thought was too lenient.
He is thought to have bombed a synagogue in Chattanooga and was also a suspect in the shooting of Larry Flynt presumably because interracial couples were featured in Hustler magazine.
He was an excellent sniper, and in his travels around the country, he shot 15 people, mostly couples consisting of a black man and a white woman. His favorite sniping post was the rooftop of shopping malls, but he eventually began shooting mixed-race jogging couples from any rooftop or perch. He evaded prosecution several times because he was so mobile and the only evidence authorities had on him was that he was in town when the shootings happened.
A jury in Utah eventually sentenced him in 1981 to four life terms, and other states, such as Wisconsin, Oklahoma, Indiana, Ohio, and Florida followed suit in 1986 or considered their cases closed.
---
Joseph Paul Franklin
Born James Clayton Vaughn, Jr., in Mobile Alablama, Franklin was the eldest son of an alcoholic drifter who often abandoned his family for months or years at a stretch. Siblings remember that James Vaughn, Sr., would celebrate infrequent homecomings by beating his children, with James, Jr., absorbing the worst punishment. As a youth, Franklin went in for food fads and fringe religions, dropping out of high school after an accident left him with severely impaired eyesight.
The injury was a two-edged sword, exempting Franklin from military conscription, and he married in 1968, at an age when many young men were sweating out the draft lottery, fearful of the war in Vietnam. Soon after their wedding, Franklin's bride noted a change in his personality "like night and day." He began to beat her, emulating the father he hated, and on other occasions she would find him inexplicably weeping. Around the same time, their all-white neighborhood was racially integrated, and Franklin began to veer hard right, into the realm of pathological bigotry.
The next few years were marked by ugly racial incidents and sporadic arrests for carrying concealed weapons. Franklin was increasingly drawn to the American Nazi Party, lapsing into the segregationist movement full-time after mother'shis death, in 1972. Moving to Atlanta, he joined the neo-fascist National States Rights Party, simultaneously holding membership in the local Ku Klux Klan. Franklin began insulting interracial couples in public, and on Labor Day 1976, he trailed one such couple to a dead-end street in Atlanta, spraying them with chemical Mace.
Around this time, Franklin legally changed his name, shedding the last links with his "normal" life. Federal prosecutors allege -- and jurors have agreed -- that he spent the years 1977 to 1980 wandering across the South and Midwest, employing 18 pseudonyms, changing cars and weapons frequently, dying his hair so often that it came close to falling out. Along the way, he killed some thirteen persons in a frenzied, one-man war against minorities.
According to the FBI, Franklin launched his campaign in the summer of 1977, bombing a Chattanooga synagogue on July 29. Nine days later, investigators say, he shot and killed Alphonse Manning and Toni Schwenn, an interracial couple, in Madison, Wisconsin. On October 8, Gerald Gordon was killed by sniper fire as he left a bar mitzvah in the St. Louis suburb of Richmond Heights.
Harold McIver, the black manager of a fast-food restaurant in Doraville, Georgia, was working the night shift when a sniper took his life on July 22, 1979. Three months later, in Oklahoma City, another interracial couple came under attack from the itinerant gunman. Jesse Taylor was hit three times with a high-powered rifle before he expired; a single round through the chest killed Marian Bresette as she ran to the aide of her common-law husband.
Franklin struck twice in Indianapolis during January 1980, killing black men with long-distance rifle fire in two separate attacks. On May 3, he allegedly killed a young white woman, Rebecca Bergstrom, dumping her body near Tomah, in central Wisconsin. On June 8 he surfaced in Cincinnati, bagging cousins Darrell Lane and Dante Brown from his sniper's perch on a nearby railroad trestle. A week later, in Johnstown, Pennsylvania, Franklin shotgunned a black couple -- Arthur Smothers and Kathleen Mikula -- as they crossed a downtown bridge. On August 20, joggers Ted Fields and David Martin were cut down by rifle fire in Salt Lake City, Utah.
Arrested in Kentucky on September 25, 1980 (and recaptured a month later, after escaping to Florida), Franklin faced a marathon series of state and federal trials, with mixed results.
In 1982, he was acquitted of federal civil rights charges in the May 1980 shooting that left civil rights leader Vernon Jordan critically injured in Fort Wayne, Indiana. Utah juries found him guilty of murder and civil rights violations; Franklin was serving life on those counts in 1983 when he confessed the 1978 sniping that crippled Hustler magazine publisher Larry Flint in Gwinnett County, Georgia. (Franklin was indicted for that crime but never tried, since he already faced stiffer penalties in other states.)
More convictions followed: for the Chattanooga bombing; for the double murder in Wisconsin, described by prosecutors as "the closest thing to killing for sport"; for the murder of Gerald Gordon, killed leaving a Clayton, Missouri synagogue in 1977 (his first death sentence); for the June 1980 double murder in Cincinnati; for the 1978 murder of William Tatum, shot while talking to a white woman outside a Chattanooga restaurant.
Other crimes confessed by Franklin without further convictions include the 1980 murder of teenager Nancy Santomero at a peace retreat in West Virginia; the 1980 murders of an interracial couple in Pittsburgh, Pennsylvania; the 1980 murders of an interracial couplein Johnstown, Ohio; an the separate 1979 murders of a white woman and a black man in Decatur, Georgia. Overall, investigators believe Franklin is responsible for at least 18 murders and five nonfatal shootings in 11 states, plus two bombings and 16 bank robberies.
Michael Newton - An Encyclopedia of Modern Serial Killers - Hunting Humans
---
Ohio v. Joseph Paul Franklin
Franklin gets two more life sentences
By Aldina Vazao - CourtTV.com
October 22, 1999
Judge Ralph Winkler sentenced serial killer and alleged white supremacist Joseph Paul Franklin to two consecutive life sentences for the 1980 Cincinnati murder of two black teenagers. Franklin said he would appeal within 30 days.
On October 21, the jury convicted Franklin of gunning down 14-year old Darrell Lane and 13-year old Dante Evans Brown. Franklin said he killed the boys because they were black.
Immediately after Winkler sentenced him, Franklin said, "You might as well--all the other judges have." Franklin is linked to twenty other racially-motivated murders in 11 states and has racked up at least six other life sentences, as well as one death sentence in Missouri.
Franklin repeatedly taunted the judge. In response to one outburst, Winkler responded, "I'm looking at the face of evil. You're basically a Hannibal Lecter, but with a rifle." Lecter was the serial killer in the movie, Silence of the Lambs.
Winkler also disagreed with Franklin's assessment that he should get credit for confessing to the killings. "I helped these people [the prosecution] out...I didn't have to do it," said Franklin. Winkler also expressed disgust at Franklin's attitude throughout the proceedings. The first thing he heard Franklin do in court, said Winkler, was whine. Franklin had accused the county deputies of preying on him and making homosexual advances. Winkler said those and other charges were unfounded. "If there is such a thing as a motion to whine, you would have filed it," the judge said.
Franklin served as co-counsel and presented no case. Co-counsel Dale Schmidt submitted a pre-trial motion to suppress a recording of Franklin's detailed confession to assistant prosecutor Michelle Powers. The judge's denial of that motion will be the basis of Franklin's appeal, said Schmidt. Franklin will argue that Powers led him on in order to get a confession.
While no family members spoke at the hearing, written victim impact statements were submitted by Lane's sister and Brown's mother. Winkler called their words "heart wrenching."
Winkler also said that justice would be better served if the death penalty could be applied in Franklin's case. Although the death penalty is currently legal in Ohio, it was not at the time of the killings and therefore can not be applied.
Franklin received a stay of execution from Missouri in order to stand trial in Ohio. Lead prosecutor Joseph Deters asked the judge to order Franklin back to Missouri as soon as possible.
---
Franklin found guilty
By Aldina Vazao - CourtTV.com
October 21, 1999
The jury delivered a guilty verdict in the trial of serial killer and alleged white supremacist Joseph Paul Franklin. It took less than an hour.
Franklin will be sentenced on Oct 22.
Franklin was indicted on April 28 in Hamilton County, Ohio for the pre-meditated murders of 14-year old Darrell Lane and 13-year old Dante Evans Brown. The boys were gunned down in Cincinnati 18 years ago.
Franklin, who represented himself with co-counsel Dale Schmidt, called no witnesses. Furthermore, the defense made neither an opening statement nor a closing argument.
After the prosecution rested, Schmidt entered an objection to Judge Ralph Winkler's proposed jury instructions and reiterated an objection to the judge's pre-trial decision to admit Franklin's confession.
Assistant prosecutor Melissa Powers visited Franklin in a Missouri jail, where she recorded his detailed five-hour confession. The defense alleged Franklin gave her a "false" confession, an argument Franklin could use in an appeal.
In his closing argument, lead prosecutor Joseph Deters told jury members that even without Franklin's confession, the evidence of guilt was "overwhelming."
Deters said that Franklin had confessed to "the exact same type of murder," to other authorities in other venues. Also, the local police placed Franklin in Cincinnati at the time of the murder.
"Without his confession to Melissa Powers, he is guilty beyond a reasonable doubt," Deters said. And with the confession, Deters said Franklin is "guilty beyond all doubt."
Deters acknowledged that some jurors might wonder why prosecutors brought this case. Franklin is already on death row in Missouri and is serving six life sentences for other crimes.
Deters explained that the prosecution had to consider "how the community feels." The community, he said, could not forget what happened. "18 years means nothing," he said. "Justice for these two boys, for his family, for his community, that's what matters."
---
Prosecution witnesses describe horror of the crime scene
By Beth Karas - CourtTV.com
October 20, 1999
CINCINNATI, Ohio, Oct. 20 (Court TV) -- On the second day in the trial of Joseph Franklin, the prosecution called 11 of its 12 witnesses, all of whom painted a picture of the defendant as a gory murder and a racist killer.
Franklin is accused of murdering 14-year old Darrell Lane and 13-year old Dante Evans Brown with a high-powered rifle in June 1980.
The day began with emotional testimony from Linda Lane, Darrell's older sister. Lane tearily described the bloody scene she encountered 18 years ago.
After Lane testified, Priscilla Richardson, a passing motorist who had stopped at the crime scene to administer first aid, told the jury how the mortally injured Dante Evans cried out, "help me, please help me." Richardson also testified about going to get the police.
Direct testimony also came from several police officers, who spoke about the crime scene and subsequent investigation. Jim Riley, a former Kentucky officer, told the jury how Joseph Franklin was almost caught in 1980.
Riley testified that Franklin was brought to his station for questioning in another case, but the defendant somehow escaped through an open window. He did, however, leave behind a driver's license and a set of finger prints.
After the driver's license photograph ran in a Cincinnati paper, Susan Roudebush stepped forward, telling authorities that she had recently bought a guitar and a distortion unit from Franklin. Furthermore, Roudebush testified, Franklin had tried to sell her a rifle.
Officer Clarence Caesar, a Cincinnati police criminologist, testified that the finger prints on the distortion unit and an included instruction booklet matched Franklin's.
While there were few words from the defense team, Franklin did cross examine Caesar, stressing the dearth of finger prints at the crime scene.
One of the last witnesses was the much-anticipated Hamilton County assistant prosecutor Melissa Powers. Powers discussed her April 13, 1997 visit with Franklin at the Missouri prison. She described how she initiated contact with the defendant and how he quickly agreed to meet with her.
She testified that upon entering the room, Franklin told her, "You know I did it," and "I killed those dudes." Powers then played a tape of their conversation. On the tape Franklin said he was trying to kill ugly people and "blacks [are] the ugliest people in the world."
Powers concluded her testimony by holding up a photograph of the murder scene. She told jurors that when she showed Franklin the photo, he pointed to where he stood when he fired at the boys.
---
Opening statements and a field trip to the murder scene
By Beth Karas - CourtTV.com
October 20, 1999
CINCINNATI, Ohio, Oct. 20 (Court TV) -- Before the trial of Joseph Paul Franklin began, the jury went to the crime scene, so that members could see for themselves the place where cousins Darrell Lane and Dante Brown were murdered 18 years ago.
Jurors visited the motel parking lot where the cousins walked through to reach Reading Road. They saw the railroad trestle over the road and the convenience store where the boys headed to buy candy. They viewed the spot on the trestle where Franklin allegedly stood and fired his rifle at the boys. Finally, they were shown the spot where Lane and Brown went down from the sniper's bullets.
In opening statements, Prosecutor Joseph Deters passionately recounted the alleged events of June 1980.
Lane and Brown, born one year apart to the day, were spending the weekend with their grandmother. One night at 11:30 p.m., while their grandmother was sleeping, the boys snuck out to buy some candy. They invited Linda Lane, Darrell's big sister, but she declined.
Shortly after, there was a loud noise which awoke the grandmother. When she discovered the boys had broken her "no going out after dark rule" she quickly went to find them. Linda followed moments later.
Linda described what they saw as a "scene of unspeakable horror." Her 13-year-old brother Darrell was dead. Her 14-year-old cousin Dante was mortally wounded and still clutching the $1 bill he saved for candy.
Deters also described the protracted police investigation. He recounted how the murder weapon was traced back to Franklin through a newspaper advertisement, after the suspect apparently tried to get rid of it. He also spoke of similar shootings that were traced back to Franklin through his license plate number.
But authorities had no witnesses and no confession. Eventually the investigation grew cold. For the next 18 years, Deter told the jury, Franklin was charged with several racially-motivated killings, finally ending up on Missouri's death row.
Deters ended by telling the jury about Franklin's April 10, 1997 confession to prosecutor Melissa Powers. He allegedly told Powers his goal was to cleanse the world by killing blacks.
---
Compiled from a chronology prepared by the Cincinnati Police Department
August 7, 1977 Madison, Wisconsin
Shot and killed a male black and a female white after an altercation in a shopping mall parking lot. Both shot with a handgun.
Franklin admitted to these homicides February 17, 1984. He was tried, found guilty and given two life sentences in 1985.

October 8, 1977 Richmond Heights, Missouri
Shot and killed a male white and wounded two others as they were leaving a Jewish synagogue.
Shooting was with a 30.06 Remington rifle which was left at the scene.
The shots were fired from a grassy area at the top of the synagogue parking lot. Sniper type shooting.
Franklin admitted this offense and was tried, convicted and sentenced to death by lethal injection.

March 6, 1978 Gwinette County, Georgia
Shot and wounded Hustler publisher Larry Flynt and his lawyer Gene Reaves. Shooting was sniper style. Shot with a .44 caliber rifle. Flynt was shot twice and Reaves once, both survived.
Franklin was indicted but never tried.
Franklin has since admitted to these shootings.

July 29, 1978 Chattanooga, Tennessee
Shot and killed a male black and wounded a female white companion. Shooting was with a 12 gauge pump shotgun.
Shooting occurred in a Pizza Hut parking lot. Both victims were shot once with a 12 gauge pump shotgun. The shooting was sniper style from tall grass off the parking lot.
Franklin admitted this offense after contacting investigators from jail and confessed. He was indicted and pled guilty on the eve of his trial to murder.
Franklin was sentenced to two life sentences, one for the murder and one for an unrelated armed robbery offence that occurred in 1977.

July 12, 1979 Doraville, Georgia
Shot and killed a male black manager of Taco Bell. Shooting was sniper style from an area off the rear parking lot.
Weapon used was a 30.30 savage rifle. Victim shot twice.
Franklin admitted this offense to Assistant District Attorney on March 26, 1998.
Franklin has been indicted for this murder, but has not been tried.

December 5, 1979 Dekalb County, Georgia
Shot and killed a 15 year old female white prostitute Mercedes Master.
Shot with a shotgun at close range.
Franklin picked this victim up hitchhiking, and actually lived with her for sometime before the murder.
Franklin has admitted this offense to Assistant District Attorney on March 26, 1998.
Franklin has been indicted for murder, but has not been tried.

August 18, 1979 Falls Church, Virginia
Shot and killed a 27 year old male black who was seated in a Burger King restaurant.
Sniper type shooting. Victim shot with a 30.30 rifle.
Detective met with Franklin at his request on March 10, 1997.
Franklin confessed to this murder on videotape.

October 21, 1979 Oklahoma City, Oklahoma
Shot and killed a male black and a female white in a shopping center parking lot.
Shooting was sniper style from a distance of 100 yards away. The male subject was struck 3 times and the female subject once. Five shots were fired and four took affect.
The weapon used was 30.06 rifle.
Franklin has been indicted for these murders, but Oklahoma has not sought to extradite him for trial.

January 11, 1980 Indianapolis, Indiana
Shot and killed a male black 19 years old who was standing in front of a Church's Fried Chicken window.
One shot was fired sniper style, striking the victim once in the chest, the shot was fired from a distance of approximately 150 yards away.
The weapon used was a 30 caliber rifle.
Franklin has admitted to this offense and has been indicted, but Indiana has not sought to extradite him for trial.

January 16, 1980 Indianapolis, Indiana
Shot and killed a male black standing in front of a fast food convenient store with his father.
Sniper type shooting one shot to the chest of the victim.
Weapon used was the same weapon used in the January 11th shooting a .30 caliber rifle.
Shot was fired from a distance of approximately 150 yards through a plate glass window.
Franklin has been indicted for two counts of aggravated murder and is awaiting trial.

June 15, 1980 Johnstown, Pennsylvania
Shot and killed a male black and a female white walking down the street.
Sniper type shooting from a wooded area near a railroad overpass.
Male victim shot once the female was shot twice with .35 caliber rifle.
Franklin was seen driving a dark green Chevy Nova at the time of the shootings.
Franklin has admitted these homicides on April 13, 1997 and has been indicted, but the state of Pennsylvania will not extradite him.

June 25, 1980 Pocahontas County, West Virginia
Picked up two female white hitchhikers and drove to a wooded area of a park where he shot and killed them.
Murders are known as "the Rainbow Murders" locally.
Weapon used was a .44 caliber handgun.
Franklin confessed to these murders on March 1, 1984.
However there was another person charged with these offenses, and subsequently convicted (Jacob Beard).

August 20, 1980 Salt Lake City, Utah
Shot and killed two male black joggers as they were leaving a park with two female whites.
Both victims were shot multiple times, seven shots total fired.
Sniper type shooting from a distance of approximately 40 yards.
Weapon used was a 30.30 Marlin lever action rifle
Franklin's car was observed leaving the scene a 1975 brown over brown Chevy Camaro KY license BDC678.
Franklin was charged indicted and tried both by the state on murder charges and federally on civil rights violations.
He was convicted and received two life sentences. Franklin has since admitted to these offenses on at least two occasions.
---
Statistics
Total number of murders Franklin has been charged with or admitted to date (June 98): 20
Total number of seriously wounded Franklin has admitted to or been indicted for to date (June 98): 6
Total number of bank robberies Franklin has admitted to or been indicted for to date (June 98): 16
Total number of bombings Franklin has been indicted for or admitted to date (June 98): 2
---
State of Missouri v. Joseph P. Franklin
969 S.W.2d 743 (Mo.banc 1998)
Case Facts: In September of 1977, believing that Jews were "enemies of the white race," Franklin drove to Dallas, Texas after robbing a bank in Little Rock, Arkansas. In Dallas, Franklin bought a 30-06 rifle with a telescopic sight. He then drove to St. Louis, Missouri, checked into a hotel, scouted the city for synagogues, and finally chose Brith Shalom Kneseth Israel Congregation in Richmond Heights.
To prepare for the crime, Franklin bought some ten-inch nails, a guitar case and a bicycle. He tested the bicycle to assure himself that is could be used to enable him to leave the scene of the crime. He drove the nails into a telephone pole to serve as a rifle rest. Later, he ground the serial number off the rifle. He then cleaned the rifle, ammunition and guitar case of any fingerprints and, thereafter, he used gloves to handle the equipment. Lastly, he put the rifle into the guitar case and hid them both in some bushes near the synagogue.
On October 8, 1977, Franklin waited outside the synagogue for people to emerge. Shortly before 1:00 p.m., some of the guests left the synagogue and walked toward their cars. Franklin began firing on the guests. He fired five shots from approximately one hundred yards. Gerald Gordon was shot in the left side of his chest and later died from blood loss resulting from damage to his lung, stomach, spleen, and other internal organs. Steven Goldman was grazed on the shoulder. William Ash was wounded in the left hand and later lost his small finger on that hand. Having fired all his ammunition, Franklin abandoned the rifle and the guitar case. He then rode his bicycle to a nearby parking lot where his automobile was parked, hid the bicycle in some bushes and left St. Louis by car.