John Wayne GLOVER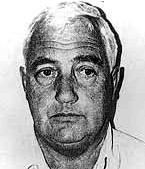 A.K.A.: "Granny Killer"

Classification: Serial killer
Characteristics: Gerontophilia
Number of victims: 6
Date of murders: 1989 - 1990
Date of arrest: March 19, 1990 (suicide attempt)
Date of birth: November 26, 1932
Victims profile: Gwendolin Louise Mitchelhill, 82; Winifred Isabelle Ashton, 82; Margaret Frances Pahud, 85; Olive Cleveland, 81; Muriel Beryl Falconer, 92; and Joan Violet Sinclair, 60
Method of murder: Bashing with a claw hammer and ritual strangulation with the victim's pantyhose
Location: Sydney, Australia
Status: Sentenced to six terms of life imprisonment, never to be released, 1991. Committed suicide by hanging himself in his cell on September 9, 2005
---
Over a year (beginning in March 1989) six elderly women (1 was 60, the rest were between 81 - 92 years old) died as a result of bashing with a claw hammer and ritual strangulation with the victim's pantyhose, tied in a bow, on the lower North Shore.
Their skirts were pulled up over their heads, legs were splayed and their shoes were placed neatly alongside their bodies. They represented both his mother and mother-in-law, though he also just hated "Mosman Matrons". He specifically blamed his mother-in-law for his actions.
All his victims were strangers, except the last one. He was also charged with attempted murder, indecent assault, robbery with wounding and assault and robbery. He had a long history of teenage delinquency, lying, stealing, "Peeping Tom" activity as well as assault, both in the UK where he grew up, then in Melbourne where he worked, before moving to Sydney. Described as the anger retaliatory-type predator and narcissast, he struck everyone as being so "normal" (most psychopaths do), he was a "hail fellow, well met" type, and was married with two daughters.
He was sentenced to six terms of life imprisonment, never to be released. His only concern was that he would not see the ocean again.
---
John Wayne Glover (26 November 1932 – 9 September 2005) was a British-born Australian serial killer convicted for the murders of six elderly women on Sydney's North Shore. Over a fourteen month period in 1989/90, Glover killed six elderly women for which he became dubbed the "granny killer". Following arrest in 1990, he admitted to the murders and was sentenced to consecutive terms of life imprisonment without the possibility of parole. He hanged himself in prison on 9 September 2005.
Background
Originally from a working class family in Wolverhampton, England, Glover was convicted of many petty crimes dating back to 1947 for stealing clothing and handbags. He was later thrown out of the British army when these were discovered. Later, he emigrated to Australia in 1956. where he first lived in Melbourne. He had a troubled relationship with older women in his life, especially his mother Freda (who had had several husbands and many boyfriends), and after 1968 his mother-in law, when he married and moved into his parent-in-law's house in Mosman, Sydney.
Before John Glover began his killings in the late 1980s, he was a volunteer at the Senior Citizens Society, and was considered among his friends a friendly, trustworthy man. He was married with two children, and lived a contented lifestyle in Mosman. Glover worked as a sales representative for Four 'n' Twenty Pies.
Prior offences (1960s)
Shortly after immigrating from England to Australia, Glover was convicted on two counts of larceny in Victoria, and a stealing charge in New South Wales. In 1962 he was convicted on two counts of assaulting women in Melbourne, two counts of indecent assault, one of assault occasioning actual bodily harm, and another four counts of larceny. For this he received a three year good behaviour bond.
These attacks were reported to be extremely severe and on each occasion certain articles of clothing had been removed. The victims were forced to the ground while he violently tore their clothing. A 25-year-old woman was on her way home from a meeting at about 10:30 pm when she was followed and chased down a dark suburban street. The attacker knocked her to the ground unconscious. Later she awoke in a garden bleeding profusely and her undergarments in a state of disarray. The attacker made a run for it when her screams alerted residents. At the time of these offences, Glover was employed as a television rigger for the ABC and lived in the Melbourne suburb of Camberwell.
Murders
There is no proof of Glover killing before 1989, when he was 56. At this stage, he had been married for 20 years and had children, and his wife had no knowledge of his previous offences. Glover admitted to the killings when confronted with the police evidence. He denied responsibility for other crimes in which he was a prime suspect, including the bashing murder of Florence Broadhurst in her Paddington home in 1977. A number of years after his conviction, Glover admitted that he never worried about who his victims were, or why he killed them. He said he wanted to stop killing, but couldn't. After each murder he apparently went about his normal life.
Pre-murder offence
On 11 January 1989, 84-year-old Margaret Todhunter was walking down Hale Road, Mosman, where she was seen by Glover. After parking his car, he walked to the victim. He punched Todhunter in the face, and stole the contents of her purse including $209. Glover then went to the Mosman RSL club where he spent Mrs Todhunter's money. Investigating police concluded the crime was a mugging and held little hope of finding the perpetrator.
Gwendoline Mitchelhill
On 1 March 1989, as he left the Mosman RSL in Military Rd, Glover saw 82 year-old Gwendoline Mitchelhill walking down the street. Glover returned to his car and put a hammer under his belt. He followed Mitchelhill to the entry foyer of her Military Road apartment building. As she went to open the front door, he hit her with the hammer on the back of her head. He then continued to strike her about the head and body; several of her ribs were broken. Glover fled the scene taking her purse containing $100. Mitchelhill was still alive when she was found by two schoolboys, but died shortly after the police and ambulance arrived. The police had no eyewitnesses or leads and there was nothing concrete to link this attack with the previous attack on Margaret Todhunter. There was no forensic evidence either, as good-intentioned neighbours, believing she had merely fallen, had washed the crime scene. The police assumed that it was another mugging gone wrong.
Lady (Winfreda) Ashton
On 9 May 1989, Glover was walking along Military Road when he saw 84 year-old Lady Ashton (the widow of the artist Sir William Ashton) walking towards him. She was on her way home to nearby Raglan Street. Glover put on a pair of gloves and followed her into the foyer of her apartment, where he attacked her with his hammer. He then threw her to the ground and dragged her into a rubbish bin alcove where he repeatedly hit her head on the pavement. Glover recalled that she had almost overpowered him, until he fell on top of her and started to hit her head on the pavement. After she was knocked unconscious, John Glover removed her pantyhose and strangled her. He placed Lady Ashton's walking stick and shoes at her feet. He then left with her purse containing $100. Glover headed for the Mosman RSL, where he commented to staff that he hoped the sirens outside weren't for another mugging.
The police found Lady Ashton lying face down diagonally across the concrete floor of the small bin alcove. There was a pool of blood around her head. The pantyhose were strung so tight around her neck that it cut through the skin. Her bare legs were crossed and her arms were placed by her sides. She had a thin trickle of blood running out of her mouth. At this point, the police concluded they were facing a serial killer. To date all three victims were wealthy elderly women, from the same suburb, and were all assaulted or killed in the same manner before being robbed of their handbags.
A post mortem was carried out and no sign of semen was found. The ligature mark around her neck measured nine centimetres. She had bruises on her nose and temple, on her neck, and both her eyelids. At some stage during the struggle she bit her lips causing damage to the inner lining of her mouth. There was a wound on her cheek, which was an open cut that had a small, semi-circular abrasion which was a few centimetres away from it. The examiner noted the victim's diamond ring was still present suggesting that she had not been killed for money.
Further offences
On 6 June 1989, Glover molested 77 year-old Marjorie Moseley at the Wesley Gardens Retirement Home in Belrose. The victim reported to hospital staff and police that a man had put his hand under her night gown, but that she could not remember what the man looked like.
On 24 June 1989, Glover visited the Caroline Chisholm Nursing Home in Lane Cove where he lifted the dress of an elderly patient and fondled her buttocks. In a neighbouring room, he slid his hand down the front of another patient's nightdress and stroked her breasts. The woman cried out for help and Glover was briefly questioned by staff at the hospital before leaving.
On 8 August 1989, Glover assaulted the elderly Effie Carnie in a back street of Lindfield, on Sydney's upper North Shore.
On 6 October, he pretended to be a doctor and ran his hand up the dress of Phyllis McNeil, a patient at the Wybenia Nursing Home in the lower North Shore suburb of Neutral Bay. Glover left when the blind McNeil called for help. At the time, Glover was apparently never suspected of, or identified as being responsible for the molestations.
On 18 October 1989, Glover followed 86-year-old widow Doris Cox along Spit Road, Mosman to her retirement village. In the secluded stairwell at the front of the house he attacked her, ramming her face into a brick wall where she fell. Amazingly she survived the assault, but she was not able to provide a clear description or recollection of events probably due to her dementia; according to her, the attacker was a young man, possibly a teenager or skateboarder. She provided police with an identikit drawing, but again the scene was washed down by neighbours before investigators arrived.
Margaret Pahud
On 2 November 1989, Glover approached 78-year-old Lane Cove resident Dorothy Benke while she was walking home in a quiet backstreet, just off Longueville Road, Lane Cove (about 10 kilometres from Mosman). Glover then engaged her in conversation, and offered to carry her groceries home for her. Benke invited him inside her house for a cup of tea. Glover declined the tea, but on the return down the laneway to the main street, he passed another old woman and then assaulted her from behind.
The victim this time was 85-year-old widow Margaret Pahud (also on her way home from grocery shopping), and the police were certain this was the work of the "granny killer". She was hit on the back of the head with a blunt instrument, and when she collapsed he struck her again on the side of the head. Glover rearranged her clothing, shoes, and walking stick, took her handbag and left. Again, nobody saw the attack but within a few minutes her body was found by a young schoolgirl who at first thought the body was a pile of clothing dumped in the laneway. Neighbours yet again washed down the crime scene. As the police and ambulance were on their way, Glover rummaged through the contents of Pahud's purse on the grounds of a nearby golf club. He then headed off to the Mosman RSL Club to again spend $300 he had stolen from Pahud.
Olive Cleveland
Within 24 hours of the Pahud murder, on 3 November, 81 year-old Olive Cleveland became the fourth woman killed by the now so-called "granny killer". Glover struck up a conversation with Cleveland while she was sitting on a bench just outside the Wesley Gardens Retirement Village where she lived in the suburb of Belrose. When Olive became uncomfortable she got up and proceeded to walk to the main building, Glover seized her from behind and forced her down a ramp into a secluded side lane. Here he hit her and repeatedly pushed her head into the concrete before he removed her pantyhose and tied them tightly around her neck. Once again Glover rearranged her clothing, shoes, and walking stick, then left taking money ($60) from her handbag. Once again, the old woman's injuries were initially attributed to a heavy fall and the crime scene was yet again washed down. There were no eyewitnesses.Shortly afterwards the state government doubled the reward to $200,000.
Muriel Falconer
On 23 November 1989, Glover was sitting in the Buena Vista Hotel in Middle Head Road, Mosman when he saw 93 year-old widow Muriel Falconer walking opposite the hotel (returning home with her shopping). Glover returned to his car (parked opposite the police station), to retrieve his hammer and gloves. He followed Falconer to the exterior of her home in Muston Street. He quietly moved up behind her while the partially deaf and blind Falconer opened her front door. He put his hand around her mouth to silence her, before repeatedly hitting her around the head and neck with his hammer. When she fell to the floor Glover began to remove Falconer's pantyhose. As he did this she began to regain consciousness and cried for help. This prompted Glover to hit her multiple times with the hammer until she finally passed out. He removed her undergarments and used them to strangle her. He searched her purse and the rest of her house for valuables before leaving with $100, again after rearranging her shoes. The following afternoon, the body was discovered by a neighbour who entered using a spare key. Fortunately for investigators, the crime scene this time was intact, and forensic evidence, such as a bloody shoeprints, was collected. Police were now starting to home in on a suspect identified by the neighbour as both middle-aged, portly, and grey-haired (i.e. someone who would fit in easily in the Mosman area). The reward is increased to $250,000 by Christmas.
Police investigation
On 11 January 1990, Glover visited the Greenwich Hospital in River Road, Greenwich, on his pie sales round. He was in his work uniform and carried a clipboard, and entered the hospital's palliative care ward where there were four elderly and ill women, including 82 year old advanced cancer patient Daisy Roberts. Glover asked if she was losing any body heat, he then pulled up her night gown and touched her in an indecent manner. Roberts panicked and called for help, upon which a hospital sister found Glover in the ward. When confronted, Glover ran from the ward and the sister was able to record his car's registration number, and notified police.
The hospital staff were able to identify and name Glover, as he was known from doing his pie rounds. A week later, the police returned with a photograph of Glover which Sister Davis and Mrs Roberts positively identified. Although this was a significant break through, the hospital assaults were not linked to the murders, nor reported to the murder task force for three weeks. Detectives from Chatswood police station contacted and confirmed Glover's name via his employers. Detectives contacted Glover and requested he attend an interview at the station the following day. When Glover failed to appear, the police rang his home and were informed by his wife that he had attempted suicide by overdose and was recovering at the Royal North Shore Hospital. Police went to the hospital to see Glover but he declined to be interviewed - although he did permit them to take a photograph. Staff at the hospital handed police a note that was written by Glover, in the middle of the page on Four 'n' Twenty Pies business paper, that contained the words "no more grannies ... grannies" and "Essie [Glover's mother-in-law] started it".
It was two weeks before the suicide note and photo were passed on to the task force (now numbering some 70 members), whereupon detectives believed immediately that Glover was the killer, although they had no evidence. The head of the detective task force said,
"If he had said to us, "I don't want to talk," we couldn't have proved a thing. Still, the photo matched the descriptions of the gray-haired suspect and in his job as a pie salesman, Glover could have been at any of the murder scenes."
Glover was interviewed over the nursing home assaults and denied all accusations. Police had limited evidence and decided not to question him over the murders, which would have let Glover know of the police suspicions. Glover was put under constant police surveillance including, at one stage, with an automatic tracking device. To make sure that he wasn't being followed, Glover would drive around the block more than once, or drive the wrong way up one way streets.
Joan Sinclair
On 19 March 1990, John Glover killed his sixth and final victim, 60-year-old divorcee Joan Sinclair, with whom he had a platonic relationship, in Beauty Point, Mosman. By this stage, police had Glover under constant surveillance and watched as Sinclair let Glover into her home at approximately 10 a.m. By 1 p.m. there was no sign of Glover or movement within the house. Police and the surveillance team, became concerned at about 5 p.m. and got permission to enter the house at 6pm. Two uniformed police knocked on the front door (ostensibly to check on barking dogs) to no answer, and saw through rear glass door a hammer lying in a pool of dry blood on a mat. Four detectives searched the house and found Sinclair's battered head wrapped in a bundle of blood-soaked towels. She was naked from the waist down and her pantyhose were tied around her neck. Her genitals were damaged but Glover would later deny raping her. After finding Sinclair's body, they then searched the house for Glover who was found unconscious in the filled bathtub.
Glover later told police he murdered Joan Sinclair and explained they had been having a relationship for some time. He said that he beat her about the head with his hammer, removed her pantyhose, and strangled her with them. Glover rolled the body onto a mat; wrapped four towels around her extensive head wounds to stem the flow of blood, then dragged her body across the room, leaving a trail of blood. He then ran the bath, swallowed a handful of Valium with a bottle of Vat 69, slashed his left wrist and lay in the tub to die. The police were relieved he had survived, as otherwise they feared ongoing speculation as to whether Glover was the murderer.
Trial
At the trial, commencing 28 March 1990, John Wayne Glover pleaded not guilty to his crimes on the grounds of diminished responsibility. A psychiatrist said Glover had built up hostility and aggression since his childhood against his mother and then against his mother-in-law, who was said to "trigger" him. When she died, he had to take out his aggression on someone else. The psychiatrist who studied the case also added that this was a very unusual case because there are very few mass murders, and most of the perpetrators are mentally ill, and/or have an organic disease of the brain. According to this psychiatrist Glover was sane at the time of the murders.
The Crown prosecutor maintained that Glover was well aware of his actions. When he killed, he was also planning what to do with the victim's money, and also took time to clean the hammer with acid. Glover was impotent and had no interest in sex. So tying the pantyhose so tightly around his victim's neck was to make sure they were dead, at the same time trying to trick the police into thinking that this was the work of a sexually-motivated killer.
Glover was addicted to poker machines, and the easiest way for him to get more money was to steal. After the guilty verdict was delivered, the presiding judge stated that he was dealing with an extremely dangerous prisoner:
"He is able to choose when to attack and when to stay his hand. He is cunning and able to cover his tracks. It is plain that he has chosen his moments carefully. Although the crimes have been opportunistic, he has not gone in where the risks were overwhelming.
The period since January 1989 has been one of intense and serious crime involving extreme violence inflicted on elderly women, accompanied by theft or robbery of their property. On any view, the prisoner has shown himself to be an exceedingly dangerous person and that view was mirrored by the opinions of the psychiatrists who gave evidence at his trial.
I have no alternative other than to impose the maximum available sentence, which means that the prisoner will be required to spend the remainder of his natural life in Jail.
It is inappropriate to express any date as to release on parole. Having regard to those life sentences, this is not a case where the prisoner may ever be released pursuant to order of this court. He is never to be released"
"Confession" sketch
Days before Glover finally committed suicide (on his third known attempt), he handed his last outside visitor a sketch. The sketch was of a park with significant changes in the sketch, pointed out by Glover was two palm trees. In the middle of the right palm tree, the number "nine" can be seen between leaves and branches. The number nine is said to represent the number of murders that Glover committed, or the number of unsolved murders still out there that he committed.
The nine additional victims (and unsolved cases) may include:
1 - Elsie Boyes, 63, Prahran (3 June 1967)
2 - Emmie May Anderson, 78, East Melbourne (19 October 1961)
3 - Irene Kiddle, 61, St Kilda (22 March 1963)
4 - Christina Yankos, 63, Albert Park (9 April 1968)
5 - Florence Broadhurst, 78, Paddington (16 October 1977)
6 - Josephine McDonald, 72, Ettalong (29 August 1984)
7 - Wanda Amundsen, 83, Umina (21 November 1986)
8 - unknown
9 - unknown
Wikipedia.org
---
John Glover
This is probably the case that started my intense interest in serial killers. I remember the front page news as each victim was found. The public in Mosman, indeed all of Sydney was in a panic as each elderly lady was found battered and posed in lewd positions.
The case was the first of modern serial killers, Sydney would see, and though police would indeed catch their man, one woman would lose her life as police stood outside her door in wait.
John Glover was a loving husband and father, his family had no inclinations that he was the man the entire nation wanted caught, yet some say it is because of his mother-in-law and his own mother that he preyed on elderly women.
On March 1, 1989 at 3.40pm in the leafy upper middle-class suburb of Mosman, Glover would kill for the first time. Camelia Gardens is an apartment block on one of the main roads, Military Road. Most of the residents were the elderly widows though there were also families and children who lived in the apartments. When two young boys left the elevator on the ground floor, they saw a sight that remains with them still. 82 year old Gwendolin Mitchelhill was attempting to crawl to the glass security doors at the front of the building. Blood dripped from the savage wounds across her head. Her stockings had been torn from her legs, her walking stick and handbag were further away, her handbag had been riffled.
The boys quickly sort help, most of the bystanders assumed she had fallen and hit her head. The neat arrangement of her personal items were not seen as significant. The blood on the path was washed away.
The elderly woman was quickly rushed to the emergency ward by Ambulance, one of the medics suddenly had a thought about the woman's bag, how it had been looked through but was placed neatly with her other items. His suspicions nagged at him, so he reported the incident to Mosman police.
Meanwhile doctors worked quickly to prevent further blood building up in Mrs Mitchelhill's brain. Yet on further examination they began to come to the conclusion that she had not simply fallen, her wounds were not consistent with a fall, as well as her head injuries she had two black eyes and several broken ribs. One of the doctors also decided to contact Mosman police.
Mrs Mitchelhill lost her battle for life later that same evening. Mosman police sent the Physical Evidence crew and homicide detectives to investigate what was possibly a murder. A check of the woman's handbag found that it did not contain her purse which she had with her earlier that day.
The post mortem conducted the next day revealed:
"severe bruising to the right eye consistent with a fist, severe bruising to the right shoulder consistent with a blunt object, two wounds to back of the skull consistent with a blunt object, seven broken ribs consistent with a fist."
The cause of death was attributed to her head and chest injures which were consistent with a vicious attack. There was no evidence to suggest sexual tampering.
The Homicide Squad from Chatswood joined the team from Mosman. Someone had attacked and murdered a defenceless old woman, and police wanted to find out quickly who it was.
On May 9, 1989, 84 year old Lady Winfreda Ashton had a busy day. She had an appointment at the Sydney eye hospital, and then popped over to the Mosman RSL, before leaving at around 2.30. She popped in to her local bank, then busied herself at the local supermarket, stopping to talk to some friends on the way. She then started her walk home, she stopped at her mailbox and then headed towards the front entrance foyer of the units where she lived.
Lady Ashton was found dead later that evening when another resident came down to the rubbish room. She was on the floor, face down. Her shoes and walking stick, like Mrs Mitchelhill were placed near by. Her handbag had been opened and her purse was missing.
Her injuries echoed the attack on Mrs Mitchelhill. Her autopsy report read: Large bruise to the head, caused by a blow, bruise to the rear of her hear consistent with her head being forced to the ground. Five left ribs were also fractured. However this time her death was not due to her injuries, this time the killer made sure he had finished the job before leaving. She had been strangled with her pantyhose. The marks had cut so deep into her skin that it left fibres imbedded in her skin. Again no sexual assault was evident.
Police knew that the similarities in the two attacks were alarming. Both women had suffered massive bodily injuries consistent with punching. The two crime scenes were in close proximity (only about 1km apart). Both women had their purse stolen. And the attacks happened at the entrance to the victim's residence. Police decided that the two murders were linked. Now the search was on before the killer struck again.
The worse problem was that robbery did not seem to be the motive, both women had little money with them. The violent attack appeared to be the reason that the killer struck. So investigators sought help in trying to provide a profile of the killer.
Police Consultant Dr Rod Milton a psychiatrist was asked to assist police in constructing a profile of the offender they sought. The information was not released to the public.
On July 9, 1989 Lady Ashton's purse was found in Ashton Park. The woman who found the purse, not realising the significance of it, popped in the mailbox of Lady Ashton as stated on the papers inside.
On October 18 1989 Mrs Doris Cox was found in the front garden of the retirement village where she lived. She was sitting down, calling for help, her face covered in blood, she had several grazes on her face and she lost a few of her teeth. The scene was also washed down before police were notified the next day. The ME who had examined the other two women's body checked Mrs Cox's injuries and came to the conclusion that they were also consistent with being attacked. her grazes were from her face hitting the ground after being hit in the head from behind. Though she survived the brutal attack, Mrs Cox was unable to help police.
The next murder happened within a month. On Thursday November 2, 1989, Mrs Margaret Pahud was found along a pathway by a young girl. Mrs Pahud had been out shopping during the day and had been returning home when she was attacked. The young girl alerted her mother and another neighbour who rushed to the scene. Mrs Pahud was lying face down with her head surrounded by a huge pool of blood. Someone went to a nearby doctors office and asked for help, when the doctors arrives they pronounced the 85 year old woman dead. And again after her body was removed the scene was washed down of blood before police could arrive. Her bag in it entirety was missing.
Again the post mortem revealed striking similarities to the others. Mrs Pahud had suffered heavy blows to the rear of her head causing a fractured skull consistent with being struck with a blunt object and lacerations to face and head. No evidence of sexual assault was found.
The bag did turn up later and was handed to police, only money was missing.
The killer struck again within a day. On November 3, 81 year old Miss Olive Cleveland was attacked from behind as she entered the nursing home where she lived. She was found lying face down across the pathway . This time however the killer added to his signature. He pulled up the woman's dress to expose her legs. Her pantyhose had been removed and where tied tightly around the elderly victim's throat. Again, like the other victims, her head was surrounded by a halo of blood. Her personal items, her bag, shoes and glasses were near her feet. A nasty calling card of the killer. Again in a hindrance to police the blood was washed away so as not to worry the other patients of the nursing home.
The post mortem again resounded the others. Bruising and lacerations around the head and body, death was due to the pantyhose ebbing tied around the neck three times.
Police were beginning to piece together even more clues about their killer. So far he always struck around 3.00 in the afternoon, and there were never any witnesses, though Mrs Pahud was out of the vicinity of the other murders they were all still in a relative close proximity.
As each day passed the police felt a sigh of relief that the killer did not strike, yet that feeling was short-lived and the worst had yet to come.
Mrs Muriel Falconer was still quite spritely for her 93 years of age. At around 5.03 on the day she was murdered she was seen walking back home after popping in to the near-by fruit shop, bank and a few other stores after collecting her 'Meals on Wheels'.
However the next day November 24, Meals on Wheels returned at 11.30am and again at 1.00pm to give Mrs Falconer her food. But she never came to the door. A neighbour who became concerned when she hadn't seen the 93 year old all day decided to go and check to make sure she was alright.
After knocking a few times, she used the spare key to let herself in. The sight that met her sent her running for police. Mrs Falconer was lying face down in the hallway. She had been stripped of her clothes from the waist down, and her dress and petticoat had been pulled up over her head- which did nothing to conceal the large pool of blood stemming from the wounds she had suffered.
Her shoes and shopping were at her feet and her purse was open.
The post-mortem revealed the same afflictions as the others in the string of murders the media dubbed the "Granny Killings". Mrs Falconer had been beaten, her head sustained severe injuries, including fractures in three places. Her face also contained several broken bones. Her pantyhose and belt from her dress were wrapped tightly around her tiny throat.
This time, the killer had murdered inside a victim's home. Therefore the scene was perfectly preserved albeit from the neighbour and a doctor checking for any sign of life of the woman.
The police did have a small break-through on this case. In the hallway the killer had stepped in the victim's blood on his exit and had left some bloody footprints. (These would later be checked against Glover and found to be a match.)
One young man became a suspect, a known psychotic he was seen in the vicinity of a few of the murders and was also picked out by witnessed in photo line-ups. The suspect was never eliminated from police enquiries.
The task force responsible for the case, decided to change tact. They requested from all near-by police stations records of any elderly women being attacked. Several were forwarded to the detectives and a common description of the unknown assailant appeared. The suspect in all recent assaults had been a White Male, aged about 50 years with grey hair.
Two reports also stuck out from the rest. 85 year old Mrs Margaret Todhunter was walking home when a man walked past her then turned an struck her in the back of the head, as she fell to the ground the "grey haired man" grabbed her bag and fled the scene. She survived with only eight stitches required to the wound. Her description of the man was quite thorough. She said he was Male, 50 years, 5'7", grey hair, well-kept, broad shoulders, thick chest, large stomach, and wore a white business shirt and cream trousers.
This description fitted Glover perfectly, it was his first attempt at an attack.
The second report that drew interest was that of 82 year old Mrs Euphemia Carnie on August 25, 1989. When returning to her residence at North Haven Retirement Village was punched in the chest and knocked to the ground. Her attacker took her handbag and drover away in a blue car. She suffered severe bruising to her ribs, chest and back of the head. Her description of her assailant matched that of Mrs Todhunter.
On January 11, 1990 another elderly patient, Mrs Daisy Roberts, at Greenwich Hospital was assaulted. Mrs Roberts said that a grey haired male entered her room and placed his hands under her night-dress and held her breasts, claiming she was losing body heat. He then walked away. When hospital authorities was contacted they informed police of the incident. One nurse said she had earlier spoken to the Four-and-twenty pie salesman who was in an area of the hospital he shouldn't have been. When challenged about the assault on Mrs Roberts, he denied the allegation and quickly left. The man was John Glover.
Police were quick to find Glover to question him about the assault on Mrs Roberts. He was asked to attend Chatswood Detectives office at 5pm pm January 13, 1990. After waiting an hour for him, police decided to call his house. His wife answered and said that her husband had attempted suicide and was now in Royal North Shire Hospital. The suicide note Glover had written included references to "no more grannies" and "Essie started it".
Due to his mental state the officers were not able to interview him that evening, and when they returned they next day he refused to make any admissions on legal advice. He did however admit to being at the Greenwich Hospital on January 11. Glover also allowed the detectives to take a Polaroid photo of him. He was identified by the women as their attacker.
From then on, Glover was the main suspect in the Granny Killings. The police decided to not question Glover anymore, in fear it may scare him off. They kept a vigil at all times, as they furthered their enquiries into his background and history.
The "Essie" referred to in the suicide letter was Veronica Rolls, Glover's mother-in-law. It appears that Mrs Rolls had lived with her daughter and son-in-law for thirteen years until she moved into a nursing home in 1988. She died on January 21, 1989 in the home.
Glover's own mother had also died recently. She passed away on October 11, 1988. The weight of these deaths seemed to have been a catalyst for the Granny murders. It appears that he had hated his mother for leaving his father and re-marrying, and he also had a deep-seeded hatred for his mother-in-law.
Glover's employment with Four-and-twenty pies meant he was responsible for the entire North Shore area. He covered the areas involved in the murders.
But now police needed the hard evidence. Surveillance was set-up and police watched as he would stop time and time again. Police decided to use a new tracking device that was currently being trailed, with permission from Four-and-twenty they had the Quiktrack device fitted to Glover's vehicle.
When police returned to ask further questions about assaults at a few of the nursing homes in connection with Glover, one receptionist interviewed stated that she was in fact John Glover's wife and he had denied all the allegations. She also said she would tell her husband that police were questioning people about him. Detectives knew then that they needed to move a little quicker now, they feared that he may now quieten down until the heat leaves.
But this was not the case. Fours days after their talk with Mrs Glover on March 19, 1990, police tracked Glover all over Mosman and Balmoral. At 10.30am he stopped his car, fixed his hair, put on a tie, gabbed a briefcase and entered a dwelling. Police first assumed that he was meeting with his solicitor, but stayed in wait.
Later in the afternoon, two boys attempted to also enter the property, when they found the gate locked, they went and got a neighbour to help them to no avail. A dog inside the premises was barking. Something was wrong.
Using the dog as a reason to investigate police went to the door to question the occupant about the dog's noise. The door was locked, so they went to the rear of the property and through a glass door could see a hammer and what looked to be blood on the carpet of the front landing.
Police then forced the front entry to investigate. The body of Joan Sinclair was found just inside the door. Near the body was a bloodstained claw-hammer. Mrs Sinclair's head was wrapped in a towel and her lower clothes had been removed. Again her pantyhose were tied around her neck.
Detectives knew they needed to still be careful, Glover must still be in the house. He was found in the bathroom. He was semi-conscious and naked in the bath. Glover was vomiting and moaning, his face was partially submerged in the water. Paramedics were called, who declared Mrs Sinclair dead and then treated Glover for alcohol and drug overdose.
Glover was moved to Royal North Shore Hospital and placed under police guard. Mrs Sinclair's post-mortem report stated she had suffered multiple head wounds from a blunt object - the claw-hammer found at the scene.
Though there were many dissimilarities between the Sinclair murder and the granny murders, there was enough evidence to suggest they were all linked.
In hospital on March 20, 1990, Glover was briefly interviewed about the murders of the six women and the attempted murder of Mrs Cox. Glover admitted to committing each murder and the attempted murder. Later that day Glover was formally charged with the murder of Mrs Sinclair and they made arrangements for further interviews on his discharge from hospital.
On March 28, 1990, Glover appeared at the Glebe Coroners Court where he was formally charged with 14 offences: 6 counts of first degree murder, 1 count of attempted murder, 1 count of robbery with wounding, 1 count of robbery, 4 counts of indecent assault and 1 count of assaulting a female.
On Friday November 29, 1990 Glover was found guilty on all accounts and sentenced to prison for the term of his natural life. Glover showed little emotion as Justice Woods passed sentence.
Case written by Korey Sifuentes
---
'Granny Killer' hangs himself
September 09, 2005
The death of 'Granny Killer' John Wayne Glover today has been described as "the end of a terrible era" both for the families of his victims and the community terrorised by his crimes.
Glover, 72, was found hanging from a shower rail in his jail cell in Lithgow, central western New South Wales, State Corrective Services said.
He was serving life without parole for the murder of six elderly women on the North Shore of Sydney between 1989 and 1990.
Glover was one of only a handful of criminals whose files were marked never to be released, reflecting the violent death of his victims.
The six women murdered by the pie salesman were either bashed or strangled, some with their pantyhose.
The killing spree left other elderly women in the city's northern suburbs living in fear they could be next.
During a 1991 court hearing, psychiatrist Rod Milton suggested that Glover fitted the pattern of a serial killer, distilling his anger and releasing it as intense rage against women.
A Corrective Services spokeswoman said Glover, who had cancer and had recently lost a lot of weight, was put on suicide watch in May.
But she would not comment on the extent of his supervision at the time of his death.
Glover, who lived in the Lower North Shore suburb of Mosman, and who murdered three of his victims in the area, was well known to residents, and his death would be a relief for many elderly people in the suburb, Mosman Mayor Shirley Jenkins said.
"I lived here at the time and I must admit that I am not a person that scares easily, but by the end of it I was starting to look over my shoulder," Cr Jenkins said.
"He was quite well known in the RSL here, and I think the problem was people sort of knew him and therefore weren't afraid of him."
But his death signalled a time for residents still reeling from Glover's killing spree to move on, Cr Jenkins said.
"It's an end of an era, the end of a terrible era ..." she said.
"Particularly for senior citizens it would be a relief."
Ken Marslew, the head of victims support group Enough Is Enough, said Glover's death could help the families of his victims to move on with their lives.
"From the perspective of the victims, they may see it as the end of something and (his impact on their lives) is now something they'll never have to confront again," Mr Marslew said.
"For others it probably doesn't make any difference at all. (It's just) that a person who has damaged their life is gone."
Because Glover was "one of the worst" violent criminals in recent memory, his death was likely to have a wider impact on the community, Mr Marslew said.
"There are many out there who will say thank goodness he's done it, he's going to save the state a lot of money," he said.
"There'll be some mixed feelings out there as to the situation and, whatever, everyone must now get on with their lives."
The NSW Opposition said Glover's death would provoke little public sympathy.
Nevertheless, it raised questions about the killer's treatment in prison, Opposition justice spokesman Andrew Humpherson said.
"The Government's systems in regards to preventing suicides are clearly ineffective," Mr Humpherson said.
"This is one of many prison suicides but, given that Glover was considered a suicide risk, the Government's competence has to be questioned."
Fiona Baker, the executive producer of a television program on Glover that aired across Australia last week, said the murder crime scene photographs she had seen were chilling.
"I think he's been living with demons for a long time in his life," Ms Baker said.
"You can't be harsh about it but I think those demons eventually got to him."
---
John Wayne Glover (1932-September 9, 2005) was a serial killer responsible for the North Shore Granny Murders in Australia. He was nicknamed "The Granny Killer" for his trademark murders that involved attacking older woman by beating them on the head with a hammer until they collapsed, then by strangling them with their underwear.
Originally from England, Glover emigrated to Australia in 1956.
Glover, who had been sexually obsessed with elderly women ever since his own mother's death, began his criminal career by molesting and robbing them at random. He was apparently able to keep his violent impulses under some measure of control until he was well into middle age, as there is no evidence of his committing murder until 1989, when he was 57. By then, he had been married for 20 years and had children.
In November 1989, Glover began his North Shore killing spree, which lasted until March 1990. His final victim was a woman he was having an affair with; he attempted suicide afterward, and was found, near death, by police officers lying near the body of his victim, Joan Violet Sinclair.
He was convicted of six murders and given a life sentence. He admitted to his crimes only when confronted with the powerful evidence of his guilt, and denied responsibility for other crimes in which he was a prime suspect.
He hanged himself in prison on September 9, 2005.
Film references
The 1994 movie J'ai pas sommeil (I Can't Sleep), by French director Claire Denis (Chocolat, No Fear No Die) was supposedly based upon Glover. In the movie, the "Granny Killer" is terrorizing Paris instead of Sydney. However, the movie may actually be based on a French serial killer, Thierry Paulin, who also preyed on old women.
The books Garden of Evil: The Granny Killer's Reign of Terror (ISBN 187547112X) by Larry Writer and The Killer Next Door: Death In An Australian Suburb (ISBN 0-09-182580-6) by Lindsay Simpson & Sandra Harvey were written about Glover.
---
Suburban Serial Killer
By Sandra Harvey and Lindsay Simpson
September 9, 2005
First published in Good Weekend in April 1994
As soon as he saw the shoes, Detective Senior Constable Paul Mayger's heart started racing. They were velvet, low-heeled pumps, and they had been placed carefully and neatly with the walking stick in a corner of the room opposite the old lady's feet. The shoes of the first victim had been put neatly by her body, too. It was some sort of macabre trademark - the killer's calling card. Same time, same area, same type of victim. What the hell were they dealing with
Detective Senior Constable Murray Byrnes sensed it, too. "What do you think?" he whispered to Mayger
"It's the same guy all right, and he's not going to stop here. I know it."Mayger looked down at the body, as scientific police continued their searching, measuring and recording. She was lying face down diagonally across the concrete floor of the small bin room. A pool of blood had formed around her head. The collar of the old lady's raincoat was pulled up about her face, hiding the pantihose knotted so tightly around her neck it had cut into her skin. Near her head was a blood-soaked gas bill receipt in her name. Her handbag and brown woollen hat lay beside her body. She had on fawn woollen gloves, and under the raincoat, she wore a blue-and-white striped dress and a slip. Her bare legs were crossed, her arms by her sides. A thin trickle of blood ran from her mouth.
The task facing the police looked to be as daunting as the first murder -Gwendoline Mitchelhill. But the next-door neighbour, Mrs Laurie Burt, turned out to be a godsend.
Mrs Burt was sharp, and despite all that had happened, had her wits about her. She helped police quickly piece together the final hours of Lady (Freda)Ashton, the second wife and widow of Sir William Ashton, one of Australia's most famous landscape painters.
Coming in after a hard day, Lady Ashton would have paused at the letterboxes, picked up any junk mail and rubbish, and taken everything to the bin room. Whoever had killed her must have followed her there. She was such a trusting soul - she'd strike up a conversation with anyone - and she had probably been talking to them as she tidied up. She would have put her keys down in the middle of the metre-high bench by the victim's rubbish bin - the only metal one. Which was precisely where the police found them.
Keys in hand, Mayger, Byrnes and two scientific police went up to Lady Ashton's unit in Sydney's Mosman. The block was clean and well-kept but hardly grand. The unit was beautifully furnished, if a little cluttered. Mayger was fairly sure now that Lady Ashton had been attacked as she arrived home, just as Mrs Mitchelhill had. As they got downstairs, Mayger noticed a group of neighbours being interviewed by local detectives. The area had been sealed off, and there were police cars everywhere - Mayger knew it wouldn't be long before the press turned up.
Within hours, radio reporters were filing for their morning bulletins. The second old woman in six weeks, and this one the widow of a famous painter. Great story.
THE HUNT BEGINS
The next morning, Detective Mike Hagan told a roomful of detectives that the murders of Gwendoline Mitchelhill and Freda Ashton were unofficially linked. There wasn't much to go on: no real clues, no fingerprints, no foreign blood at either scene. That in itself gave some impression of the killer. He was cunning.
"For one thing, the murders are a kilometre apart," he said. "The old ladies had been shopping and walked home. The killer probably lives locally -he could be a young person on foot."
What worried Hagan was that the killer had had five weeks to think about the second murder. They had no idea what was driving him to kill. Hagan scanned the faces of the men sitting around him. "It's our job to try and find out, boys."
The briefing was over.
BLOOD LUST
Lady Ashton's post-mortem had been difficult. There were so many injuries. It was Argentinian-born Dr Liliana Schwartz's first homicide as a forensic pathologist in Australia. Her experience with murder was limited. She had attended the scene at 2 am and at 10.30 began the internal examination of the body, opening up three cavities. Earlier she had checked the body's temperature - 29.7 degrees C - the extent of rigor mortis, and whether there was any semen present.
Schwartz knew strangulation often went hand in hand with rape. But as with Mitchelhill, no semen was detected. She measured the ligature mark around her neck: nine centimetres. Lady Ashton was covered in bruises. They were on her nose and her temple, her neck and both eyelids. And she had bitten the inside of her lips. Of most interest to the doctor was the wound on her cheek, an open cut with a small, semi-circular abrasion a few centimetres from it. Schwartz had learned to distance herself from her job, but she still felt sad because this old lady deserved a more dignified death, not the sort of violence to which she had been subjected. There was something else which disturbed her: the old woman's diamond ring. It looked expensive. Her attacker had obviously not killed her for money. It seemed he had killed her for the love of killing.
STALKING THE PREY
Shortly after his mother's death, John Glover's bizarre fascination with old women increased. He was no longer satisfied with merely looking at them; he had an overwhelming urge to touch them. He was both fascinated and repulsed by the nursing homes; room after room of bedridden old women, slowly dying. During his weekday work visits, he had fallen into a habit of wandering through the wards on his way to the kitchen, or the manager's office.
And now he began to look forward to the Sunday afternoon visits to his mother-in-law, Essie Rolls, because they gave him another legitimate excuse to be in a nursing home. He would sit with her for a while, then he would start to roam, looking in the rooms, searching for the oldest, most frail women he could find. If he found one alone, and if no-one was looking, he would go inside. He just had to touch them; their breasts, a thigh, or buttocks. That the women became distressed or upset was of little consequence. It added to the excitement.
But his wanderings had not gone unnoticed by the Mosman Nursing Home staff. One Sunday afternoon in December 1988, Glover left Essie and strayed off down the hall. Through one doorway he saw an elderly woman lying on her bed in a nightgown. She was obviously incapacitated and alone. He walked in. She looked up as Glover approached the bed, surprise changing to fear as Glover placed his hand under her nightie and touched her breast. Confused, she tried to call out, "What ..."
Glover shook his head. "Shhhhh," he whispered. As his hand slid down her body and groped for her underpants, the woman panicked.
"Sister | Sister |" she managed to call out. Glover backed off and quietly left, but not before a sister, Yvonne Hoskins, saw him dart away.
Glover had an overwhelming urge just to touch old women, to feel their bare flesh. He was expert at sneaking in and out of rooms at nursing homes and retirement villages. Who would believe these old women if he were caught? He was sure their stories would be treated as the ravings of an aged mind.
From Neutral Bay to Hornsby in Sydney's far-northern suburbs, Glover went in search of both legitimate business and his own perverse pleasure, which was how he found himself at the Wesley Gardens Retirement Village at Belrose at 12.30 pm on June 28.
"Are you looking for Mrs Pople?"
The voice startled him. Glover was standing near a bed in Room 26 of the nursing care section.
"Um, no," Glover replied. "I've come to see Rob in the kitchen, but I've lost a very valuable gold pen with a chain on it."
Sister Margaret Whitehead was immediately suspicious. He looked respectable enough, but she'd never seen him before and he was nowhere near the kitchen.
"Well," she said, "you go back and look in the car park and I'll put an announcement over the loudspeaker."
There was no response to the call for the pen, so Glover went back to the car park where one of the elderly patients walked each day after lunch. She had been enjoying her walk as Glover approached her from behind ...
Almost 30 minutes later, the woman appeared in the doorway of the nursing care section. She was crying and very distressed. Sister Whitehead led her to a chair. "Oh Marnie," the woman cried. "You'll never believe what just happened to me. I was up in the top car park and a man touched me on the breast .
STREET ATTACK
Some weeks later Glover stopped outside the North Haven Retirement Village at Lindfield. He walked down the driveway but could tell he was wasting his time: self-care establishments weren't usually interested in catering products. He was just about to leave when he saw an old lady walking towards the driveway from the street. Glover crossed over and walked towards her. Euphemia Carnie, 81, saw the respectable-looking man in a blue business shirt approaching and thought he was going to ask her a question, so she stopped. He was just one step away when she saw him form a fist with his right hand and before she knew it, she was lying flat on her back on the footpath.
The single punch to her right upper chest sent her flying backwards and she hit her head as she landed. As she lay on the ground still clutching her walking stick, the man grabbed her groceries and her handbag and she watched, helpless, as he walked quickly to his car and drove off. Glover dumped the bags in a nearby park after pocketing $70 from her purse.
THE NARROWEST ESCAPE
On Thursday, November 2, 1989, Glover was heading towards Kamilaroi Retirement Centre, Lane Cove, when he saw the elderly woman struggling along the footpath with several heavy shopping bags. He stopped directly in front of her.
"Can I carry your bags, madam?" he asked. "They look too heavy for you."
At first, Dorothy Beencke declined. The 78-year-old widow didn't have far to go. Her unit was in Ridgeway, just down the laneway. Still, the bags were heavy and when the man persisted, she had a good, long look at him. He certainly seemed like a gentleman: well-dressed and healthy for someone of his age, which she guessed was about 65. He had a pleasant face, and looked harmless enough.
"Very well," she said, having changed her mind. "It's nice to know there are still some gentlemen around."
"And it's nice to know there are still some ladies around," he replied with easy familiarity. "Now, where are you going?"
Mrs Beencke smiled: "I live down by Kamilaroi."
"Lead the way," Glover said, taking her groceries. He followed her off the main road and down the private laneway.
As they approached the end of the lane, Glover noticed a pool in her front yard.
"You have a nice pool there. I suppose you swim in it?" he asked.
"No, I don't use it," she replied.
When they reached the front door, Glover put down the bags. Mrs Beencke thanked him again and he left.
Glover had decided he would not harm the old woman. He simply wanted to help her. It was only after his chivalrous gesture that his mood quickly turned bloody.
NO MERCY
That same afternoon, Mrs Margaret Pahud had been doing some grocery shopping, so by the time she turned into Longueville Road, heading home, she was struggling under the weight and awkward bulk of two heavy shopping bags.
As she walked along the footpath, Glover looked up from where he sat in his car across the road. Blood throbbed dully behind his eyes as they tracked the old lady tottering along the footpath. Anger and hatred welled within him, and his pulse began pounding.
Panting slightly, the old woman turned into the laneway he'd come out of not 15 minutes before. Glover reached under the seat beside him, grabbed the hammer and stepped out of the car. He slipped the hammer into his trousers. The metal was cold against his skin.
As he stood there, staring at the entrance to the laneway, his rage gave way to a dreadful calm that shut out everything: he heard nothing but his heartbeat, saw only where the woman had disappeared. It was set.
He crossed the busy street and turned into the lane. The sun was dancing on and off her back as she walked in front of him between the shadows of the overhanging trees. He followed.
He was within arm's reach when the adrenaline began surging through him. Grabbing the hammer, he lifted it high, and with a grunt smashed it down on her head.
As she collapsed before him, sprawled face down at his feet, he was filled with a sensation of extraordinary power, of absolute control. He was invincible. He raised the hammer again, side-on - he always hit them side-on -so their skulls wouldn't shatter. That way, the blood would not spray everywhere. With all the force of his 102 kg bulk he brought the hammer down again.
Her head jolted from the blow, and her face - already grazed and cut and embedded with broken glass from her spectacles - smashed harder against the concrete footpath.
Glover was breathing hard, his face flushed. He glanced at the hammer before tucking it back down his trousers: no blood, no bits of bone. He bent over the body. He didn't want to see the face, but he had to look at the body. He pulled at her dress, exposing the left shoulder and breast. Then he saw the blood spreading out near his feet. He looked up and down the laneway, his eyes wild.
It was as if time had stood still and was now rushing back to fill the void. He felt sweat beading on his top lip. Sounds started reaching him: children's voices, lots of them; a school bell; cars, traffic. Glover fought rising panic. He looked over the fence beside him and realised that he was in full view of the retirement village. No time to go through her bags. He grabbed the old lady's handbag, tucked it under his arm and walked briskly away.
THIRD MURDER
Any doubts as to whether Mrs Pahud was a third victim of the same killer disappeared at the post-mortem that night. When he saw the wound on Mrs Pahud's shaven head, Mayger knew it was the work of the same man. Earlier, until word had come through from the hospital, he had been hoping that somehow she had died from a heart attack. Now he was upset and angry that another old woman had been murdered. The killer had claimed another life.
As Mayger drove back to the laneway from the Glebe morgue, his mind was filled with scrambled images of the three dead victims. There had to be something this time, a slip the killer had made - anything that would lead them to him.
Mayger wandered up the laneway as witnesses were being interviewed. He came across a group of reporters waiting on the other side of the police barrier tape on Longueville Road. One of the reporters struck up a conversation and before long, Mayger heard himself saying, "How many more have to die?"
About the time Mrs Pahud's body was discovered, Glover had been driving away from the scene. As he passed the Lane Cove Country Club a few minutes later, he pulled over to check his spoils. There was more than $400 in one of the old woman's wallets - money Mrs Pahud had collected to buy theatre tickets for the Legacy club the next day. There was nothing else of value in the handbag.
He got out of the car, looked around to make sure no-one was watching and then hurled the bag through the air as far as he could. It disappeared down a slope and landed near a stormwater drain on the edge of the ninth tee.
With the money in his wallet, he walked through the automatic doors of the RSL club, changing the notes for some coins to put through the pokies, carrying his awful secret with the ease of a naughty schoolboy. Then home, for the part he most enjoyed. He strode into the house, as he had so many times before, said hello to his wife Gay, and waited for her usual response: "How was your day?"
He was tempted to say: "Fine, I just killed somebody up the road a bit" -just to see her reaction. But he didn't. He said hello to the girls, then went upstairs to change his clothes, putting the trousers and shirt he was wearing in the dirty-clothes basket.
Strolling back downstairs, he felt satisfied. He had just killed an old lady: his day was fulfilled. And as he sat eating dinner with his family, he smiled to himself about his secret life: a Walter Mitty, the dark side, which even his wife of 20 years knew nothing about.
Glover was sure no-one had seen him. As he lay in the quiet darkness of his room some hours after the killing, he was too excited to sleep. He seemed to have got away with it again.
ANOTHER VICTIM
John Glover's blue Falcon was parked opposite the Mosman police station in Prince Albert Road. It was a Thursday evening, November 23, almost three weeks after the murder of Olive Cleveland (Glover's fourth victim).
He was sitting in the Buena Vista, having checked the specials at the bottle shop. His work was finished for the day. He had discarded his tie, but was still dressed in his work clothes: brown slacks, leather brogues, and shirt. He was in his favourite eyrie at the window, his eyes feasting on the passers-by, when he saw her. Muriel Falconer was on the opposite side of the street to the hotel, walking slowly. He watched her, contempt welling inside.
He left his beer on the table half-drunk and, hitching up his slacks, walked across the road to the car. There was plenty of time. He would take the hammer. He picked up the pair of cream-and-green-striped gardening gloves from the glove box, pushing one in each pocket of his slacks. His fingers closed on the solid, rounded handle under the driver's seat. He felt the reassuring weight of the hammer. Unbuttoning his shirt, he leant forward and placed it inside his shirt, the handle securely held by his belt. His tools of the trade. He felt very calm; he was in no rush.
Glover walked to the intersection where he had first seen her. Muriel Falconer was only metres away, walking down Raglan Street, the same street where he had killed Lady Ashton all those months before. He placed himself behind her, ambling, a grey-haired man in a grey-haired suburb, utterly ordinary on an utterly ordinary day. It was late afternoon - shortly before 5 pm. He would still be home at his regular hour - in time for the 6 pm television news. The timing was perfect.
She was tall, her gaunt frame draped in a pink cardigan over a shapeless, brown-striped dress as she shuffled ahead of him, her walking stick seeking out the pavement, her other hand carrying a cane shopping bag.
He was enjoying this thoroughly, the knowledge that she would soon be lying sprawled before him, that she had no say. Her death was predestined.
Glover watched his prey turn left into Muston Street. Surely she would not have too far to go now. She would not be walking if she lived much further away. His eyes were fixed upon her; cars passed in the street, everyday faraway noises, detached from him. His hands grew icy and his breathing became laboured.
She crossed the road diagonally and stopped at a black iron gate. It was an old, single-standing, Federation house, screened from the street by a 1.8 metr e-high privet hedge and a small brick wall. She opened the gate and went inside. He slowed his pace further, giving her time to get to the front door and to open it. He opened the gate and went in ...
On March 19, 1990, John Glover murdered his sixth and final victim, his lover, Joan Sinclair, in her home. After her death, he attempted suicide, drinking whisky and taking sedatives until he passed out. After staking out Mrs Sinclair's house for more than seven hours, police entered the house and found Joan Sinclair's battered body in the hallway, and Glover in the bath -near death. Glover was subsequently charged and convicted with all six Granny Killings. He is now imprisoned in Lithgow Jail, his file marked "Never to Be Released". Gay has not divorced her husband, but no member of his family has visited John Glover in almost four years.
From The Killer Next Door by Lindsay Simpson and Sandra Harvey, to be published by Random House Australia on April 29; rrp $16.95.
HOW THE AUTHORS FOUND THE REAL JOHN GLOVER
We (Lindsay Simpson and Sandra Harvey) first met while covering the Milperra Father's Day Massacre bikie court case in September 1984. Over dinner at a restaurant we agreed to write a book about this Sydney massacre in which seven people died and which we were covering for our respective news organisations. That book was Brothers in Arms.
We collaborated again on the story of Megan Kalajzich's murder in Sydney, My Husband My Killer. While researching the book, we travelled to Yugoslavia and stayed in the village on the Adriatic whence Andrew Kalajzich's family had come, and met some of his relatives. Because we write in the style of Truman Capote's classic study of a murder, In Cold Blood - from each character's point of view - our research involves getting to know how the characters think. It was a style we used in the search for The Killer Next Door.
Researching The Killer Next Door involved two years of treks to three jails where John Glover was kept after being convicted of six murders. During those visits, Glover initially refused to talk about the murders, but as we won his confidence we were able to ask him all sorts of intimate details.
The first time we interviewed Glover was at Long Bay jail, where we called in without warning. We were searched and interviewed in a small room before being allowed to see him, the authorities being obviously suspicious about our interest. Then we had a long walk down a narrow corridor to the outside visiting area where he was able to watch us as we walked towards him.
The first handshake was firm, his manner charming, as he chatted about clues for the crossword he was doing. Neither of us could take our eyes off his hands - small, freckled, but immensely powerful. Later, he even demonstrated how he would hit the elderly women: "With 16-stone coming crashing down on them, they didn't stand a chance."
When he speaks about the murders, his face changes, almost as if it is the voice of that other personality he talks about. "One side of me was all right. The other side is dark, evil," he has said.
---
John Wayne Glover: The Granny Killer
by Paul B. Kidd
The "Calling Card" Killer
Serial killers the likes of John Wayne Glover are extremely rare. In most cases of serial murder, the perpetrators very rarely leave a "calling card," a repetitive clue or injury telling investigators that it is the work of the same killer.
Some serial killers prefer to abduct their victims, have their way with them and then conceal their bodies. Others use different methods of murder from one killing to the next while others blatantly go about killing those around them, such as family members or workmates, until police finally catch up with them.
"Calling card" serial killers are the ones that keep committing identical murders time and again until they are caught – although some are never caught. "Calling card" serial killers are also the killers that get the most publicity as the public is aware of each killing as it takes place and are aware that there is a maniac on the loose, unlike when the victims are abducted and concealed and investigators can only suspect it is the work of the one killer.
As a consequence, these murderers are certainly the best known serial killers in history. The Boston Strangler, Jack the Ripper, the Yorkshire Ripper, Australia's William "the Mutilator" McDonald and New York's Son of Sam – who went one step further and taunted police with letters telling them when his next killing would be – were all calling card serial killers.
So was John Wayne Glover. Each time Glover committed serial murder, he ruthlessly bashed his victims to death with a hammer in public places in broad daylight and then throttled the last breath out of them with their own undergarments. The killings were unmistakably the work of the one person.
John Glover was "The Granny Killer", "The Monster of Mosman", a vicious and calculating serial killer who deep-etched a macabre niche for himself into the history of Australia's most despicable murderers.
Glover was the only serial killer who specialised in bashing and murdering little old ladies.
A bully, John Glover forced his defenceless victims into alcoves and alleyways with his superior strength and then set upon them with his fists and his trademark hammer, repeatedly bashing them about the head until they fell to his feet, saturated in their own blood.
Not content with bashing alone, he would then subject them to the ultimate humiliation and gaze upon their most private parts while he removed their pantyhose and then throttle his victims with them. This final indignity would become his calling card and detectives knew that the killings were unmistakably the work of the one killer.
And because Australian police – and police throughout the world, for that matter – had never experienced such a case, investigators had little or nothing to go on. There were no guidelines to steer those trying to find the elusive murderer. If there had been, then Glover might have been brought to justice earlier. In the end it was a combination of police diligence and an almost pathological urge to get caught that brought him to trial.
Towards the end of his reign of terror, Glover was leaving clues all over town. Tragically, if this vital information had reached them a lot earlier, then perhaps one life, or possibly two, may have been saved.
Not Your Average Serial Killer
But John Wayne Glover was the least likely person you would suspect to be a serial killer. He was as inconspicuous as he was evil. A big friendly man in his late 50s, he was the backbone of middle-class society and the type of guy you could leave in charge of your kids or ask to keep an eye on your house while you are away.
Married with two daughters, Glover and his loved ones lived a contented lifestyle in their comfortable family home in the fashionable harbourside Sydney suburb of Mosman on Sydney Harbour. But it was mainly in these tranquil surroundings that he would bash and kill his victims.
And as if to enhance this tragic deception of normalcy, Glover was a volunteer charity worker with the Senior Citizens Society and listed among his friends a former mayor of Mosman with whom he would often have a drink at his favourite watering hole, the Mosman Returned Serviceman's Leagues Club. But Glover's real charity was himself. He would spend the proceeds of his muggings and murders on gambling and drink.
To add to his image of the regular middle-aged man, Glover held down a job as a sales representative with the Four 'n' Twenty pie company. His warm handshake and jolly smile endeared new acquaintances to him immediately. He was a walking advertisement for his product. The type of bloke that it was nice to be around.
But beneath that jovial exterior lurked one of the most twisted serial killers in the sad history of Australian crime: a vicious murderer who preyed on frail old women.
If John Glover had been insane then the grief-stricken relatives of his victims may have found some consolation, however minuscule, in knowing that their loved ones met their cruel demise at the hands of a maniac, someone who was driven to heinous crime by an unbalanced mind. But that was not to be the case. At his trial John Glover pleaded not guilty to his ghastly crimes on the grounds of diminished responsibility but the jury could not accept this. In fact the jury didn't even think he was temporarily insane at the time of the killings.
Instead, they agreed with a prominent Sydney psychiatrist who studied the case and said: "He built up a pile of hostility and aggression from childhood against his mother and then his mother-in-law. She was the lightning conductor and when she died he had to take it out on other people. This is a very unusual case because there are very few mass murderers and most of them are mad and have an organic disease of the brain. He is not mad."
As the Crown prosecutor maintained, Glover was very aware of what he was doing. As he killed, he was at the same time planning what to do with the contents of his victim's purses. His killings weren't sexually motivated. John Glover was impotent and not the least interested in sex. The pantyhose wrapped tightly around his victims' necks was to ensure that they were dead. But at the same time, it would make police think that the crime was the work of a sex killer.
Glover knew exactly what he was doing. Only a cool, clear, sane mind would risk the possibility of being caught by lingering for that extra minute or so to remove the pantyhose and strangle his victim with them. But it was worth the chance to throw the police off the scent.
No, insanity or lust was not the cause behind these cowardly murders and muggings. Glover's actual motives were as old as crime itself… revenge and greed. Combined with cowardice, they made the fatal combination that would keep Glover killing until the law finally caught up with him.
John Glover was chronically addicted to poker machines. He would stand for hours virtually pouring money through the slot machines at the Mosman RSL Club. The easiest way for Glover to get more money was to steal it. As police would reveal later, Glover was a convicted thief and had a record of cowardly attacks on defenceless women.
A Violent Past
When he migrated to Australia from England in 1956, the 24-year-old Glover already had a criminal record dating back to 1947 for stealing clothing and handbags. Almost immediately after his arrival, he was convicted on two counts of larceny in Victoria and one of theft in New South Wales. And in 1962, he was convicted on two counts of assaulting females in Melbourne, two of indecent assault, one of assault occasioning actual bodily harm and four counts of larceny.
Incredibly, he got off with three years probation. As in the later murders and assaults, the Victorian attacks were extremely savage and violent and on each occasion articles of clothing had been forcibly removed. Fortunately, Glover had been disturbed before the assaults could develop into rape or murder. Otherwise his killing spree may have started earlier.
On each occasion, the Melbourne victims were violently and repeatedly bashed about the head and body. They were forced to the ground as the attacker frantically ripped off their clothes before their screams alerted local residents who rang the police and came to their aid.
Those first on the scene were amazed at the ferocity of the attacks. The second victim, a 25-year-old woman walking home from a meeting at 10.30 at night, was found on the front lawn of a home. Dazed and in shock, she told police that the man had followed her down the dark suburban street and chased her when she tried to run away.
She screamed as he knocked her to the ground unconscious. She awoke on the lawn to find herself bleeding profusely and with her undergarments in a state of disarray. The attacker had fled when her screams aroused the neighbourhood.
Residents reported seeing a young man running into a nearby yard and prompt police action saw the apprehension of 29-year-old Glover, then a television rigger with the Australian Broadcasting Commission and living in the quiet, tree-lined Melbourne suburb of Camberwell. Glover said that he had fought with his girlfriend and was emotionally strung out. He was charged and after spending the night in jail was released on bail the following morning.
As he was leaving the police station Glover was stopped by two other detectives who had heard of his arrest. They wanted to have a chat with him about a similar assault a couple of weeks earlier. At first Glover denied any knowledge of the incident, but under intense questioning he confessed to the previous assault and was taken back to the station and recharged. In light of Glover's previous convictions and the ferocity of the attacks, the detectives were astonished when he was let off with a good behaviour bond and three years probation.
Retribution finally caught up with John Wayne Glover in 1965, but only in a small way when he was convicted on a Peeping Tom charge of being unlawfully on the premises. He was sentenced to three months in prison but served only six weeks behind bars.
Following his release from prison, Glover seemingly changed his ways and apart from a minor shoplifting charge in 1978, he would not come to police notice again for many years, however police now agree that it would have been almost impossible for a criminal of Glover's nature to keep his hands to himself for the following 25 years.
In fact some police wonder if Glover could have helped with enquires into at least five other unsolved murders with similar modus operandi committed between 1965 and 1989.
In Melbourne in 1968, Glover married Jacqueline Gail (Gay) Rolls. They had met while Glover was working at a wine and spirits store in Melbourne's inner-city. Gay's father, John Rolls, felt that the quiet, handsome young man was a good match for their beloved daughter. At first his wife Essie Rolls agreed, but it didn't take her long to figure out that Glover may have something to hide.
Even though she was from a well-to-do middle-class Sydney background, Gay loved the gentle English migrant who had arrived in Australia in the 1950s with only thirty shillings ($3) to his name. Glover came from a very poor working-class family and told his few friends that he had come to Australia to start a new life and leave behind a traumatic and disruptive family background. With her parents' blessings, Gay and John became engaged and married shortly after.
In 1970 the happy couple moved to Sydney to live with Gay's parents in the comfortable family home at Mosman. Gay's father was very ill and he asked the newlyweds if they would move into the house to keep him company. John Glover was delighted. The poor English migrant with a record of theft and violence had done well. To move to Mosman and into a two-storey house near the harbour was more than he could ever have dreamed possible.
The Dream Shattered
Like all of the decisions in their married life it was a joint one between John and Gay to move into his in-laws' home. It was here that Glover's hatred for his mother-in-law, Essie, erupted. A separate wing was built on the house so that Gay and John and their two daughters, Kellie (born in 1971) and Marney (born in 1973) could live an almost separate existence from the demanding Essie Rolls.
Glover would say at his trial that he hated Essie, that the atmosphere was always tense and that the situation became even worse when Gay's father died in 1981. Glover told the court that Essie was a tyrant. Police had no trouble confirming this when they interviewed staff of the nursing home in Mosman where she died in 1988.
To add to Glover's domestic woes, in 1982 his mother, Freda, migrated to Australia and turned up on his door. Glover loathed her almost as much as he loathed his mother-in-law. Freda Underwood, as she was now known, had been married four times and had had numerous lovers both during and between her marriages.
When she tried to move in as a temporary companion to Essie Rolls, it was more than Glover could handle. The last thing he wanted was someone in the house who could bring him undone with tales of his unfortunate childhood. This was the type of ammunition that Essie Rolls wanted.
"It was a shock to the system," Glover would say at his trial. "Just the thought of having them both under the one roof was more than anyone could stand." At Glover's instigation, his mother moved to Gosford, 100 kilometres north of Sydney, where she died of breast cancer in 1988. Glover was diagnosed as having the same cancer, although it is extremely rare amongst men.
After a mastectomy Glover developed a prostate condition and became sexually impotent. In evidence, psychiatrist Dr Bob Strum said that he believed this to be the time when Glover's life changed. "It was almost as though his mother was reaching out from the grave and striking him again," he told the jury.
Despite the family dramas, Gay knew nothing of her husband's dark past and he never did anything to indicate that he was anything other than an adoring husband and father to their two daughters.
The 'start of it all' as Glover would refer to it later, came on 11 January 1989, when he saw 84-year-old Mrs Margaret Todhunter walking along quiet Hale Road, Mosman. He parked his car and, after he was satisfied that no one was looking, he punched the unsuspecting victim in the face with a swinging right hook and relieved her of her handbag containing $209. As he fled down the street with her bag, Mrs Todhunter called out, "You rotten bugger."
Glover went to the Mosman RSL, where he drank and played the poker machines with the stolen money. Investigating police put the incident down to a mugging and suspected that someone saw the elderly woman with the cash and waited for the right moment. In the drug-ravaged suburbs of Sydney, muggings are a daily occurrence and while the case was investigated thoroughly, little hope was given of recovering the money or finding the perpetrator of such a cowardly act.
Mrs Todhunter survived the ordeal but was badly bruised and shaken. As it eventuated, she was also extremely lucky.
The Killings Begin
Glover's next victim was not so fortunate. On 1 March, 1989, he had a few drinks at the Mosman RSL after work and mid-afternoon was heading for his car down busy Military Road when he spotted Gwendoline Mitchelhill going home from the shops at a slow pace with her walking stick.
Glover hurriedly returned to his car and tucked a hammer into his belt. Then he slowly followed the old woman to the seclusion of the entry foyer of her retirement village. As she turned the key in the lock, he brought the hammer down with a crashing blow to the back of her skull.
He then repeatedly bashed her so viciously about the head and body that he broke several ribs in her tiny jockey-weight frame. He fled the scene, taking her wallet containing $100. Incredibly, Mrs Mitchelhill was still alive when two schoolboys found her but she became the Granny Killer's first 'official' murder victim just a few minutes after the police and ambulance arrived.
As Mrs Mitchelhill drew her last breath Glover was sitting in his lounge room wondering out loud to his wife what the sirens in the distance were all about.
Again, the police were baffled. But there was nothing concrete to link the two attacks. There was a theory that they could be the work of the one person, but it was a long shot. Police finally assumed that it was yet another mugging that had gone disastrously wrong.
Ten weeks later, in the late afternoon of May 9, Glover was heading for the Mosman RSL Club in Military Road when he saw Lady Winifred Ashton walking slowly towards him in a red raincoat and with the aid of a walking stick. Lady Ashton had been playing bingo at the RSL and was heading toward her home in nearby Raglan Street. Glover pulled on a pair of gloves and followed her into the foyer of her apartment building, where he attacked her with his hammer and threw her to the ground in the rubbish-bin alcove.
Although suffering from lymph cancer, the tiny and frail Lady Ashton put up an incredible struggle and Glover later confessed: "At one stage she almost had me until I fell on top of her and repeatedly bashed her head against the concrete". Lady Winifred Ashton was 84 years old.
Lady Ashton was unconscious as John Glover removed her pantyhose and strangled her with them. Although no sexual act took place, this gruesome ritual would become Glover's calling card. And then, as if in respect for the dead woman, Glover laid her walking stick and shoes at her feet before he headed off with her purse, which contained $100.
Glover later commented to the bar staff at the Mosman RSL that he hoped that the sirens they could hear just around the corner weren't for another mugging. He said this as he calmly fed the contents of Lady Ashton's purse through the poker machines. Only now did police believe they had a maniacal killer on the loose. There were too many similarities. To date, all of the three victims were wealthy old ladies, all came from the same suburb, all were assaulted or killed in a similar manner and all were robbed of their handbags. This was no ordinary mugger.
Although it was now a strong possibility, the thought of one individual seeking out and murdering defenceless old women was almost beyond comprehension. At the time, police prayed that they were wrong but secretly they knew the truth -- they had a homicidal maniac on their hands.
But the chinks were starting to show in the maniac's armour. In a bizarre twist of events, Glover started molesting old women confined to their beds in the nursing homes he visited in the course of his rounds as a pie salesman. This was an aspect of the case that detectives and psychiatrists would later find confusing.
Glover maintained that he had no sexual interest in anyone. He never sexually attacked any of his robbery and murder victims. Yet here he was, prowling around nursing homes and assaulting bed-ridden old women.
Local police investigated, but the alarm bells didn't ring. The molestations were not connected to the murders at the time, though at a later date the incidents would play an important part in identifying Glover.
On his nursing-home rounds, Glover first molested 77-year-old Mrs Marjorie Moseley on June 6, 1989 at the Wesley Gardens, Retirement Home in Belrose, which is quite a distance from Mosman. Mrs Moseley reported the incident and said that the man put his hand under her nightie. She couldn't recall what he looked like.
Then, on June 24, Glover visited the Caroline Chisholm Nursing Home in nearby Lane Cove. He leisurely strolled upstairs, where he lifted the dress of an elderly woman and fondled her buttocks. Moving to the room next door, he slid his hand down the front of another woman's nightdress and stroked her breasts. The terrified woman cried out and Glover was questioned briefly by staff but not held as he made a hurried exit.
The incidents were investigated by local police but were not connected to the murders in Mosman. And it was a long time before it was thought that this information may be of any use to the Granny Killer task force. By the time the connection was made there had been more attacks, more bashings and more murders.
On August 8, 1989, Glover bashed elderly Effie Carnie in a quiet street in Lindfield, not far from Mosman, and stole her groceries. On October 6 he passed himself off as a doctor and ran his hand up the dress of Phylis McNeil, a patient at the Wybenia Nursing Home at Neutral Bay, the harbourside suburb next but one to Mosman. Again he eluded capture when the blind old woman called for help.
It seemed that Glover could walk in and out of hospitals as he pleased. No one suspected the pastry salesman. Not once, through that series of molestations, was he ever identified.
A Serial Killer on the Loose
On October 18 Glover struck again, and this time with a ferocity that would convince police that their worst nightmare was a reality -- that the attacks were the work of one man. But in what would later prove to be a cruel irony, this assault would start them looking for the wrong "type" of offender.
In the mid-afternoon of October 18, Glover struck up a conversation with 86-year-old Mrs Doris Cox as she slowly made her way home along Spit Road, Mosman. He walked with her into the secluded stairwell of her retirement village then he attacked her from behind using his entire body-weight to smash her face into a brick wall. She collapsed at his feet. After finding nothing that he wanted in her handbag, Glover left her for dead and went home.
Mrs Cox, an Alzheimer's victim, somehow survived the attack. But she was hazy about the description of her attacker even though she saw him while he walked with her. In her understandably confused state, she thought that her attacker was a younger man and assisted the police as best as she could in preparing an identikit drawing. At last the police believed they had a lead.
To the head of the task force, Detective Inspector Mike Hagan, the new information made sense. He suspected that the killer was a local because of the close proximity of the killings and muggings. As well, police psychological profiles suggested the killer would most likely be a teenager with a grandmother fixation. And Mrs Cox thought that she had been bashed by a young man.
Mike Hagan now concentrated the task force energies in search of a young local who may be acting strangely or had any possible relationship or connection to the victims. Tragically, this theory was only right to the extent it suggested the killer was a local. It would almost appear that some unknown force was protecting Glover as his next attack would lead police to doubt that the man they sought was even a local.
The murder of 85-year-old Mrs Margaret Pahud on November 2 was undoubtedly the work of the Granny Killer. She was bashed on the back of the head by a blunt instrument as she made her way home along a laneway off busy Longueville Road, Lane Cove.
Coronial evidence presented at the trial indicated that the attack was over in seconds and from the force of the blows taken by her massively fractured skull, the coroner concluded that it was doubtful that the poor old woman felt a thing. Glover took her handbag, and tucked it inside his shirt with the hammer and calmly left the scene.
There were no known witnesses, although Mrs Pahud's body was found within minutes by a passing schoolgirl who at first thought that it was a bundle of clothing dumped in the laneway. As the police and ambulance sirens wailed their way to the murder scene, Glover examined the contents of Mrs Pahud's purse on the grounds of a nearby golf club where he pocketed $300 and hid the bag in a drain. He then went to the Mosman RSL Club where he drank and gambled with Margaret Pahud's money.
By now police were almost frantic with frustration. This murder was committed about five kilometres from Mosman and their theory about it being a local was losing credibility.
Now they decided they were looking for a teenager who came from just about anywhere. Baffled and no closer to solving the case than they were when it had all started ten months earlier the police intensified their investigations.
Two Murders in One Day
Reinforcements were called in and Australia's biggest task force to ever search for one man was formed. Thirty-five of the state's most experienced detectives gathered at police headquarters and were told by task force chief Hagan that they must work day and night and investigate every lead, however minute, until the killer was caught. A $20,000 reward was posted by the New South Wales government. Composite pictures of the suspect were left in shops, service stations and newsagents.
Meanwhile, Hagan was becoming a nervous wreck and later said: "I've had nearly thirty years on the job and I think the worst month of my police experience was November 1989. You get so frustrated with yourself and those around you when you can't get a result and that's very stressful. You'd go home and you're on tenterhooks all night. I wasn't eating or sleeping and this cowardly killer kept murdering frail old ladies".
Hagan spent most of the day after Mrs Pahud's death at the murder scene yet, as the hours passed he had to face the grim reality that the killer had eluded them yet again without leaving so much as a trace.
Exhausted from the lack of sleep by the end of the day, Hagan called into the Pennant Hills police station on his way home to answer an urgent message on his beeper. He dialled task force headquarters. His knees sagged as he was told that they had yet another body -- another pantyhose strangling.
He later said, "I just can't explain my feelings that night. To have just come from a murder and to be told there's another one. It was terrible. We'd had two serial murders within twenty-four hours. We'd never heard of such a thing before."
The Granny Killer's fourth victim was 81-one-year-old Miss Olive Cleveland, a resident of the Wesley Gardens Retirement Village at Belrose on the upper North Shore. Glover had called there in the early afternoon and, unable to get a pie order out of catering manager Rob Murrell, he left.
On his way through the garden, he struck up a conversation with Mrs Cleveland who was sitting on a bench, reading. When she got up and walked toward the main building, Glover seized her from behind and forced her into a secluded side walkway. Here he repeatedly slammed her head to the concrete before he removed her pantyhose and knotted them tightly around her neck. Glover then made off with $60 from her handbag.
Unbelievably no one connected this murder with the attack on Mrs Moseley at the Wesley Home only six months earlier. The task force still had no knowledge of the previous offence. If they had, they may have discovered that a portly middle-aged man with grey hair was in the vicinity on both occasions.
There were no clues and the seemingly invisible murderer vanished into the afternoon. Again the task force was baffled. Surely someone must have seen something? They checked and cross-checked witnesses statements and canvassed retirement villages, joggers, cab and bus drivers and junk mail deliverers.
They even sent a history of the case to the FBI in the vain hope of a lead. No luck. Sydney's lower north shore was now under siege. People stayed off the streets and anyone with elderly neighbours or relatives was checking on them at regular intervals. Old women were being driven to and from the shops. No one was taking chances. And still police investigations continued. The checking and cross-checking went on.
A Break At Last
A week after the Olive Cleveland murder, the police got their first break as the agonisingly slow cross-checking paid off and a pattern emerged. In several of the attacks the victims recalled seeing a grey-haired, well-dressed, middle-aged man.
Now the very first victim, Mrs Margaret Todhunter, recalled a man of that description passing her just before she was attacked from behind and robbed of her purse. And Mrs Effie Carnie, who was bashed and robbed of her groceries in August, also described her assailant as a well-built, mature man with grey hair. Both victims described their attacker as an average type of person.
At last police realised that they may have been looking for the wrong man and that their killer could well slip in and out of places unnoticed because he was simply not the noticeable type. Armed with this sense of what the Granny Killer looked like, the police still had to find their "average" man.
On 23 November another body turned up, the third for the month. While purchasing whisky in Mosman, Glover spotted 92-year-old Muriel Falconer struggling down the street with a load of shopping. He returned to his car, collected his hammer and gloves and followed her to her front door.
As Mrs Falconer was partially deaf and blind, she did not notice Glover slip through the door behind her with his gloves on and his hammer raised. He silenced her by holding his hand over her mouth as he hit her repeatedly about the head and neck. As she fell to the floor, he started to remove Mrs Falconer's pantyhose, but she regained consciousness and cried out. Glover struck her again and again with the hammer and only when he was satisfied that she was unconscious, did he remove the undergarments and throttle her with them.
He closed the front door for privacy. Then he searched her purse and the rest of the house before he left quietly with $100 and his hammer and gloves in a carry bag.
It wasn't until the following afternoon, when a neighbour dropped by, that the body was discovered. Although the murder scene was chaotic, this was the first real chance the police had to obtain clues. This crime had been committed indoors and nothing had been disturbed since.
They found a perfect footprint in blood on the carpet -- their first solid clue since the investigation had begun. However, Hagan still needed to get lucky to apprehend this person who seemed to be able to come and go as he pleased without appearing in any way out of place.
The break came on January 11, 1990, when Glover slipped up badly, but it was a further three weeks before the incident reached the ears of the task force. On that January day, Glover called at the Greenwich Hospital for an appointment with its administrator, Mr. Reg Cadman.
Afterwards Glover, dressed in his blue-and-white salesman's jacket and carrying a clipboard, walked into a hospital ward where four very old and very sick women lay in their beds. He approached Mrs. Daisy Roberts who was suffering from advanced cancer, asking if she was losing any body heat, then pulled up her nightie and began to prod her in an indecent manner.
Mrs. Roberts became alarmed and rang the buzzer beside her bed. A sister at the hospital, Pauline Davis answered the call and found Glover in the ward. "Who the hell are you?" she called out and when Glover ran from the ward. She chased him and took down the registration number of his car as he hurriedly drove off.
Sister Davis called the police and later that day two young, uniformed policewomen from the local Chatswood police station arrived to investigate. The hospital staff was able to identify and name Glover as he was well known and popular from previous visits on his pastry round. When the police returned a week later with a photo of John Glover, Sister Davis positively identified him and Mrs Roberts said that it looked "most like him."
At last a breakthrough. But for some unaccountable reason, another three weeks were to pass before anyone reported the incident to the Granny Killer task force.
A Tragic Mistake
Detectives from Chatswood police station confirmed Glover's name with his employers, rang him at home and asked him to drop in for a chat about the assault at 5pm the following day. When Glover hadn't turned up by 6pm, police called his home where his wife told them that he had attempted suicide and was in Royal North Shore Hospital.
Police went to the hospital but Glover was too sick to be interviewed. Staff handed police a suicide note that included the words "no more grannies, grannies."
And still it didn't register to the constables that the middle-aged portly man with the grey hair, who was recovering from attempted suicide after assaulting an elderly patient in a nursing home, may be able to help them with their enquiries.
The police returned to interview Glover on January 18 and, with his reluctant approval picked up a polaroid photo of him to show to Sister Davis and Mrs Roberts. After the positive identification, one of the officers told Davis and Roberts: "We know who it is. We know all about him."
Incredibly, another two weeks would pass before the suicide note and the photo wound up on Mike Hagan's desk. As soon as he saw them, he knew he had his man. Proving it was a different story.
Head of the detectives in the task force, Detective Sergeant Dennis O'Toole said: "We still had no evidence. If he had said to us, "I don't want to talk, we couldn't have proved any of the murders".
Still, the photo matched the many descriptions of the mysterious greyhaired, middle-aged man and in his job as a sales representative Glover could have been at any of the murder scenes.
Detectives interviewed Glover. He denied anything to do with the alleged assault on the elderly woman at the nursing home. Police gave him the impression that they were satisfied and left him feeling confident that his luck still held. But John Wayne Glover was under around-the-clock surveillance with six detectives assigned to follow him and find out every conceivable thing about him.
Even at this stage the police didn't have a scrap of evidence that would stand up in court, but in their minds there was no question that Glover was their man.
Hagan had to make an agonising choice. Go in now and let the Granny Killer know that they were onto him and take the odds of not finding any solid evidence that would hold up in court? Or sit tight, wait for him to stalk another old woman and catch him in the act? Hagan opted for the latter. Sadly, it was a decision that would cost another life.
The police didn't let him out of their sight, but Glover didn't put a foot wrong. He occasionally stopped to look at old women but his behaviour was exemplary.
On March 19 Glover called at the home of a lady friend, Joan Sinclair, at 10am. He spruced himself up in the rear-vision mirror before he was let in at the front door. Observing police had no reason to believe that it was anything other than a social visit. Besides, the killer had only ever struck in the afternoon and only with elderly women. Still, they watched every corner of the house.
At 1pm, there was no sign of Glover or any sign of life from the house. The police surveillance became concerned. At 5pm, all was still quiet and at 6pm, deciding that all was not well, they got the okay from Hagan to go in.
Face to Face with "The Granny Killer"
Detective Sergeant Miles O'Toole and Detectives Paul Mayger and Paul Jacob noticed the pools of blood almost as soon as they crept in the door. With guns drawn, they tiptoed from room to room, covering each other but careful not to be caught in a crossfire should the madman leap at them with an axe or a shotgun.
They saw a hammer lying in a pool of drying blood on the mat. As they peered further around the doorway, they saw a pair of woman's panties and a man's shirt covered in blood. Then a woman's body came into view. Joan Sinclair's battered head was wrapped in a bundle of blood-soaked towels. She was naked from the waist down and pantyhose were tied around her neck. Her genitals were damaged but Glover would later deny sexually interfering with her.
It was unmistakably the work of the Granny Killer. But where was he? Was he waiting in ambush? Detective Mayger almost breathed a sigh of relief as he found feet sticking out of the end of the bath. An unconscious, naked, grey-haired chubby man was lying in the tub. One wrist was slashed and the air was heavy with the smell of alcohol and vomit. The relieved detectives prayed that he was still alive. Their prayers were answered.
The man in the bath was John Wayne Glover, the Granny Killer. After he recovered in hospital, Glover told police of the final chapter in the Granny Killer murders. Glover had known Joan Sinclair for some time and they were extremely fond of each other in a platonic relationship.
However, after he entered the house on March 19, Glover got his hammer out of his briefcase and bashed Mrs. Sinclair about the head with it. Glover then removed her pantyhose and strangled her with them and with others he found in her bedroom.
This sequence of events completely baffled the police. Murdering Mrs. Sinclair was in many ways out of character with the other murders and bashings.
Glover rolled Mrs. Sinclair's body over on the mat, wrapped four towels around her massive head wound to stem the flow of blood, and then dragged her body across the room, leaving a trail of blood. When he had done that he ran a bath, washed down a handful of Valium with a bottle of Vat 69, slashed his left wrist and lay in the tub to die.
But he didn't die and the police were glad of that. They felt that if the suicide had been successful then there would always be speculation as to whether Glover was the right man. Glover further brushed away their concerns by confessing to everything. Nonetheless he frustrated police and psychiatrists alike with his inability or unwillingness to set out the reasons for his acts.
The question Why? was repeatedly met with the same answer: "I don't know. I just see these ladies and it seems to trigger something. I just have to be violent towards them".
When he was charged with murdering six elderly women, his wife Gay and their two daughters, both in their late teens, were stunned. There had never been the slightest inclination that the man they loved as husband and father was the Granny Killer.
At his trial in November 1991, John Wayne Glover pleaded not guilty to six counts of murder on the grounds of diminished responsibility; in other words Glover claimed that he was temporarily insane when he carried out the murders. The jury did not agree and it took them just two and a half hours to find that Glover was both guilty and sane.
Justice Wood sentenced Glover to six life terms of imprisonment and said in part:
"The period since January 1989 has been one of intense and serious crime involving extreme violence inflicted on elderly women, accompanied by the theft or robbery of their property. On any view, the prisoner has shown himself to be an exceedingly dangerous person and that view was mirrored by the opinions of the psychiatrists who have given evidence at his trial.
"I have no alternative other than to impose the maximum available sentence, which means that the prisoner will be required to spend the remainder of his natural life in jail. "It is inappropriate to express any date as to release on parole. Having regard to those life sentences, this is not a case where the prisoner may ever be released pursuant to order of this court."
John Wayne Glover, the Granny Killer, is never to be released.
Interview with "The Granny Killer" by Steve Barrett*
Sydney's Granny Killer had a profound affect on me like no other, both professionally and personally. This vicious serial killer was a horrific criminal phenomenon that forced the sleepy but trendy north shore of Sydney into more than a year of hysteria.
Who was this lunatic who was hammer-bashing and strangling fragile women in their twilight years? They were grannies for God's sake!
Finally at the end of John Wayne Glover's killing spree, in which he murdered six elderly women over a 13-month period, myself and fellow reporter, Simon Bouda along with author Larry Writer wrote a book called Garden of Evil, The Granny Killer's Reign of Terror.
As part of that work, in early 1992 after Glover had been found guilty on six counts of murder and sentenced to never to be released, Simon and I managed to scoop an interview with him and spent several hours inside Sydney's Long Bay Jail talking to this very troubled man.
In my career with Sydney's Channel 9 as a crime reporter and now a producer with 60 Minutes, I have covered many sensational stories but the Granny Killer had a more disturbing effect on me than any of the variety of the many criminals I have encountered.
Glover was a vicious serial killer. Not of young boys, girls or adolescents. But elderly women. For homicide investigators he was unique. His modus operandi had never been seen before in this country. Maybe a long time ago with the Boston Strangler in America perhaps, but not in Australia.
Glover was, and still is today, the ultimate challenge to the forensic psychiatrists. His crimes are now case studies for law enforcement bodies around the world.
I first laid eyes on Glover when the police task force team took him on a "run around" of his crime scenes not long after his arrest. I instinctively knew that somehow I would meet him, this grey haired, portly shaped Father Christmas without the beard who was nudging 60, and probably not far off becoming a "granny" himself, although his pair of lovely daughters who attended an exclusive north shore girl's school during his reign of terror, were only teenagers.
While researching the book Garden of Evil, The Granny Killer's Reign of Terror and in the lead-up to actually meeting and speaking with Glover, it was agreed by my co-authors and myself that out of courtesy an approach would be made to his wife Gay, informing her of our project.
Although Gay Glover declined to be interviewed for the book, she was very polite and dignified, considering what she had just lived through… the horrific realisation that her husband, the man she slept next to, was in fact Sydney's Granny Killer.
When I went to see Gay Glover at her home in Mosman it was a weird sensation actually sitting in John Glover's lounge room for those 20 or so minutes delicately discussing only minor aspects of the case with her.
All the time I kept wondering if at any stage how close to danger she may have been. After all, the last woman John Glover killed was an'on the side' acquaintance, someone of Glover's own age who knew and trusted him.
As a working journalist I'd been into a number of prisons but on the day Simon Bouda and I walked into the Classification Jail at Long Bay in Sydney's south, I was feeling a sense of intense anxiety. My palms were sweaty.
Glover had been in this jail for several months now after being convicted of the six murders. He was still awaiting his classification in the NSW Corrective Services system. What jail would he end up in for his 'never to be released' life term?
In fact that's exactly how we opened our discussion when were first introduced. Sporting a green sloppy joe and green prison trousers, John Wayne Glover came into a small office situated in the bowels of the jail complex. Incredibly for a man who won't be seeing any of the things we may take for granted such as the Pacific Ocean for the rest of his life, the incarcerated Glover was in a very jovial mood.
He greeted us with a handshake and a big smile as though we were long lost acquaintances. In fact, seeing as I'd chased Glover's handy-work around Sydney as a reporter for well over a year, the thought of us being acquaintances without actually meeting wasn't all that obscene. I felt that there wasn't too much I didn't know about him.
But, as I was soon to find out, there was a great deal that I didn't know about the Granny Killer.
I had been well versed on how Long Bay Jail's celebrity inmate enjoyed playing mind games with the homicide case officers, prison psychiatrists and anyone in authority who was allowed to see him. In fact, Glover enjoyed visitors.
But there was something different about Glover's appearance that I didn't pick up on immediately. Then suddenly it hit me. Glover had grown very distinct mutton chop-like sideburns that joined a moustache. His new fashion style was identical to that of the Commander of the Granny Killer police task force, Detective Inspector Mike Hagan, who had led the hunt for Glover.
It was a perverse mind game, to mimic the look of the man who became very publicly known during the hunt for Glover because of the countless media interviews Hagan gave.
To start off with, Glover joked about how long it would be before he'd be getting out of "this place" (jail). In doing so, he gave me the impression that despite the despicable and inhumane crimes he'd committed, he still wanted to be liked. He wanted to be considered a fairly intelligent person who knew what was going on around him 24 hours a day.
He obviously picked up on my observation and briefly it caused a tense moment during our interview and I noticed the many small "drinkers veins" in his face had turned bright red.
I asked him why he had chosen to plead not guilty at his trial on the grounds of diminished responsibility; in other words that he was not mentally fit enough and could not be held responsible for his actions.
He was somewhat embarrassed, but basically shrugged off the question by indicating that he really had nothing to lose by this plea. Glover quickly changed the mood by telling me that he understood that he was being interviewed for the book and not a appearance on television.
He then reminded me that he often watched me file reports about him on the 6pm Channel 9 news when the police task force was trying to track down the Granny Killer.
I quickly changed the mood of the room when I told him, "John, lets get one thing straight. I have to tell you, we're not here to make some sort of star or hero out of you. There's no doubt you're the main character of the book, but that's it. I mean, look at what you've done".
At that point, both Simon and I sensed a blow to his ego but I had the upper hand so I continued. We chatted about some of the killings and then I asked him point blank. "But John, what was it that pushed you or compelled you to bash little old ladies on the head with a hammer?
He replied somewhat timidly. "Well that's what I can't work out. That's the part that everyone's trying to work out. Maybe you can help me. Half of me is white and half of me is black. Half of me is good and half of me is bad. But I can't understand this grey matter in the middle".
Again another mind game. Glover quickly changed the subject to how many visitors he was getting a week but my inner feelings turned to rage when I visualised one of the police forensic photos of an elderly lady naked on the morgue table with her head caved in. As part of the book research, I'd seen that heart-breaking photo only the day before.
Glover than gave us a spiel on his daily routine, telling how he worked as a sweeper, but also pointing out that he is protected from mainstream prisoners, some of whom would simply kill him. They too have grandmothers.
He was a little proud of the fact that he'd taken under his wing a young man who was also a sweeper and who had been convicted of a number of rapes south of Sydney in the coastal town of Bulli. He was dubbed the Bulli Rapist by the media.
"The Granny Killer and the Bulli Rapist. What a team," Glover joked.
Towards the end of our interview, I asked Glover if he'd received a visit from his wife, Gay. He replied he'd only seen her once, not long after he was first arrested, and indicated that he would never be seeing her again. I told him that I had met her and that the meeting took place at his Mosman home. He remained silent and looked melancholy.
Then came the most tense moment of all. I asked him had his precious daughters been to see him. The tears began to roll down his cheeks. He answered no and became a little agitated.
Simon and I were stunned into silence. John Glover indicated that he didn't want to carry on and then attempted to talk some more, mumbling that he missed his daughters. One had just done the Higher School Certificate and the other had a year of school to go.
This strange and very complex man had basically suckered us into feeling sorry for him…but not for long. He was feeling very remorseful about what he had put his family through, but on the other hand displayed a degree of cunning in not directly answering the question of why he attacked old ladies.
Simon asked him if he could continue talking and at that point he gestured to turn off our tape reorder. Within a matter of seconds, he regained his composure and nonchalantly told us it was time for him to return to his "garden gate," slang for his 12 by 8' (foot) cell. Before we left, he asked could he get an autographed copy of the book when it came out.
We then asked him would he mind if we could obtain his signature on a few copies of the book. "Not a problem. You know where to find me," he laughed.
That was the last time I laid eyes on the Granny Killer. As Simon and I were walking out of the jail, we both had a sudden and somewhat jolting realisation that we had shaken hands with John Wayne Glover, the infamous Granny Killer.
It was the same hand at which six innocent old ladies died. And as far as the police are concerned, they believe he's killed as many as another six more elderly ladies in the years between 1965 and 1989.
The files are still open.
*At the time Steve Barrett conducted this interview with John Glover, he was a crime reporter with Sydney's Channel 9. Steve is now a producer with Australia's 60 Minutes.
CrimeLibrary.com
---
Glover's victims
March 1, 1989, in Mosman: Gwendolin Louise Mitchelhill, 82,
May 9, 1989 in Mosman: Lady Winifred Isabelle Ashton, 82
November 2, 1889 in Lane Cove: Margaret Frances Pahud, 85
November 3, 1989 in Belrose: Olive Cleveland, 81
November 23, 1989 in Mosman: Muriel Beryl Falconer, 92
March 19, 1990 in Mosman: Joan Violet Sinclair, 60