John Thomas STRAFFEN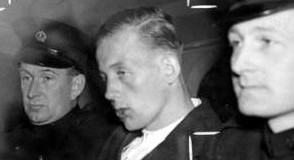 Classification: Serial killer
Characteristics: Hatred and resentment toward the police
Number of victims: 3
Date of murders: 1951 - 1952
Date of arrest: August 9, 1951
Date of birth: February 26, 1930
Victims profile: Brenda Goddard, 6 / Cicely Batstone, 9 / Linda Bowyer, 5
Method of murder: Strangulation
Location: Somerset/Berkshire, England, United Kingdom
Status: Sentenced to death on July 25, 1952. Home Secretary Sir David Maxwell-Fyfe commuted the sentence to life imprisonment because Straffen was "feeble-minded" on August 29, 1952. Died in prison on November 20, 2007
---
The summer months of 1951 brought creeping terror to the town of Bath, near Bristol, England, as an unseen killer stalked the local children, claiming three within a month.
Christine Butcher, seven years old, was the first victim, kidnapped and killed in July. Six-year-old Brenda Goddard was reported missing on July 15, her strangled corpse recovered three hours later. On August 8, 9-year-old Cecily Batstone went off to the movies and never returned; her body was found next morning, after an all-night search.
Police initially resisted drawing any common link between the murders, checking out the allegations of attacks on other local girls to no avail. They had no clues, no suspect, but on August 9 they did have 21-year-old John Straffen under lock and key on unrelated charges. Idling in his cell, the unmarried laborer called for detectives and confessed to the Batstone murder. "I sat behind her," he explained. "It only took a couple of minutes and she was dead. She was taken by surprise."
Additional charges were filed in the case of Brenda Goddard, on August 30, 1951, but Straffen never went to trial. On October 17, he was found insane and unfit to plead, the magistrate declaring that, "You might as well try a baby in arms." In lieu of a trial, Straffen was ordered detained "until his Majesty's pleasure be known" -- in effect, a life term of confinement in a British mental institution.
Michael Newton - An Encyclopedia of Modern Serial Killers - Hunting Humans
---
John Straffen (born February 26, 1930 in Hampshire) is a British serial killer and in 2005 the longest serving prisoner in the UK.
On 9 August 1951, Straffen was arrested for the murder of nine-year-old Cicely Batstone in Somerset. He confessed to the crime and also to the earlier murder of six-year-old Brenda Goddard. Both children had been strangled. That October, Straffen was declared insane and not fit to stand trial, and he was sent to Broadmoor asylum.
On April 29, 1952, Straffen managed to escape from Broadmoor and, in the 24 hours he was at liberty, killed five-year-old Linda Bowyer. As soon as he was captured, Straffen told the police "I did not kill the little girl on the bike," even though no one had in any way suggested he was responsible for the crime.
This time Straffen was declared sane and fit to stand trial. He was convicted of murdering Linda Bowyer and sentenced to death, although this was eventually commuted to life imprisonment because he had learning difficulties.
As of 2005, he is 75 and serving his life sentence in prison. With successive Home Secretaries having blocked his release from prison, he is unlikely ever to be freed
---
Straffen, John Thomas
Straffen was born in 1930. As he grew he became a thief and a noted truant from school. At the age of ten he was sent to a school for retarded children. In 1947 he assaulted a child and was committed to an institution. He was released in February 1951 and had, by August of that year, strangled two small girls in Bath. He did it, he asserted, to annoy the police. In October he appeared before Taunton Assizes, was found unfit to plead and was sent to Broadmoor.
In April 1952 he escaped from Broadmoor, and although he was recaptured later the same day, it was not before he had strangled Linda Bowyer. The body of the young girl was found the next day in a field near-by. Stratten implicated himself by telling officers 'I did not kill the little girl on the bicycle.' This was before they had asked him about the murder.
He appeared at Winchester in July 1952 and pleaded not guilty. His ability to plead was accepted and was duly found guilty and sentenced to death. A reprieve was, however, forthcoming and he was returned to Broadmoor.
---
John Thomas Straffen (27 February 1930 – 19 November 2007) was a British serial killer who was the longest-serving prisoner in British legal history. Straffen killed two young girls in the summer of 1951. He was found to be unfit to plead and committed to Broadmoor Hospital; during a brief escape in 1952 he killed again. This time he was convicted of murder. Respited due to his mental state, his sentence was commuted to life imprisonment and he remained in prison until his death more than 50 years later.
Family life
Straffen's father, John Senior, was a soldier in the army. He was the third child in the family; his older sister was regarded as a "high grade mental defective" who died in 1952.
Straffen was born at Bordon Camp in Hampshire where his father was then based, but at the age of two his father was posted abroad and the family spent six years in India. Returning to Britain in March 1938, Straffen's father took a discharge from the Army and the family settled in Bath, Somerset.
Certification as a mental defective
In October 1938 Straffen was referred to a Child Guidance Clinic for stealing and truancy. In June 1939 he first came before a Juvenile Court for stealing a purse from a girl, and was given two years' probation. His probation officer found that Straffen did not understand the difference between right and wrong, or the meaning of probation.
The family was living in crowded lodgings at the time and Straffen's mother had no time to help, so the probation officer took the boy to a psychiatrist. As a result, Straffen was certified as a mental defective under the Mental Deficiency Act 1927.
A report was compiled on him in 1940 which gave his Intelligence Quotient as 58 and placed his mental age at six. From June 1940, the local authority sent him to a residential school for mentally defective children, St Joseph's School in Sambourne.
Suspected of animal cruelty
Two years later Straffen moved to Besford Court, a senior school. He was noted as a solitary boy who took correction very badly. In one incident when Straffen was 14, he was strongly suspected of being responsible for strangling two prize geese owned by one of the officers of the school; however, no proof was found and it was not noted on his records.
At the age of 16 the school authorities undertook a review which found his I.Q. was 64 and his mental age 9 years 6 months and recommended his discharge.
Return to Bath
Accordingly Straffen returned home to Bath in March 1946 where the Medical Officer of Health examined him and found he still warranted certification under the Mental Deficiency Act. After several short term jobs he found a place as a machinist in a clothing factory. Early in 1947 Straffen began to go into unoccupied homes and steal small items to hide them; he never brought them home nor did he give them to others. Straffen had no friends, and began stealing without being enticed by others.
Arrest for burglary
On 27 July 1947 a 13-year-old girl reported to police that a boy called John had assaulted her by putting his hand over her mouth and saying "What would you do if I killed you? I have done it before." This incident was not connected to Straffen until later. Six weeks later, Straffen was found to have strangled five chickens belonging to the father of a girl with whom he had quarrelled. When arrested Straffen was also under suspicion for burglary, and in interview cheerfully confessed to it and many other incidents to which he had not been connected. He was remanded in custody and the Medical Officer of Horfield prison examined him, certifying that he was mentally retarded. On 10 October Straffen was committed to Hortham Colony in Bristol under the Mental Deficiency Act of 1913.
Hortham Colony
Hortham was an "open" colony which specialised in training mentally retarded offenders for resettlement in the community. As he had been under investigation for burglary, Straffen's certificate stated that he was "not of violent or dangerous propensities". He was well-behaved at Hortham and kept away from other inmates. As a result, in July 1949 he was transferred to a lower-security agricultural hostel in Winchester. There he did well initially but fell back into old ways when he stole a bag of walnuts, and was sent back to Hortham in February 1950. In August 1950 Straffen got in trouble with Hortham authorities when he went home without leave, and resisted the police when they went to recapture him.
Reassessment of mental state
In 1951 Straffen was examined at a Bristol hospital, where electroencephalograph readings showed that he had suffered "wide and severe damage to the cerebral cortex, probably from an attack of encephalitis in India before the age of six". By now, however, Straffen was considered sufficiently rehabilitated to be allowed a period of unescorted home leave. He used the time to get a job at a market garden, which he was allowed to keep; Hortham licensed him to the care of his mother as the family home was less overcrowded. When Straffen's 21st birthday came, under the Mental Deficiency Act he had to be reassessed by Hortham, who continued his certificate for a further five years; the family disputed the assessment and appealed.
As a result the Medical Officer of Health for Bath examined Straffen again on 10 July 1951 and found improvement in mental age to 10; he recommended that Straffen's certificate be renewed only for six months with a view to discharge at the end.
Murders
According to Letitia Fairfield in the introduction to the "Notable British Trials series" volume about Straffen, Straffen had a "smouldering hatred" and an "intense resentment" of the police, and blamed them for all his troubles from the age of eight. On the morning of Straffen's assessment, a young girl named Christine Butcher was murdered. Fairfield speculates that Straffen saw the press coverage that followed and made the connection that strangling young girls gave the maximum amount of trouble to the police.
Brenda Goddard
On 15 July 1951 Straffen went on a visit to the cinema, on his own. His route took him past 1 Camden Crescent in Bath, where five-year-old Brenda Goddard lived with her foster parents. According to Straffen's later statement to the police, he saw Brenda gathering flowers and offered to show her a better place. After lifting Brenda over a fence into a copse, he strangled her and when she did not scream, bashed her head against a stone. After killing Brenda Goddard, Straffen did not make any attempt to hide the body and simply went on to the cinema (the film was 'Shockproof') and returned home.
Although Bath police had not suspected Straffen was violent, he was considered a suspect in the murder and was seen by police on 3 August. Meanwhile the police had visited Straffen's employer to check on his movements; this resulted in Straffen being dismissed on 31 July. In a later interview with a prison psychiatrist, Straffen said that he knew he was under suspicion and wanted to annoy the police, because he hated them for shadowing him.
Cicely Batstone
On 8 August Straffen was again at the cinema when he met nine year-old Cicely Batstone. He first took Cicely to a different cinema to see another film, and then went on the bus to a meadow known as "Tumps" on the outskirts of Bath. There he strangled her to death.
The circumstances of the murder left many witnesses who had seen Straffen with the girl: the bus conductor recognised Straffen as a former workmate, a courting couple in the meadow had seen Straffen very closely, and a policeman's wife had also seen the two together. She mentioned it to her husband; when the alarm was raised the next morning, she guided police to where she had seen the two and the body of Cicely Batstone was discovered. Her description of the man was enough to immediately identify Straffen as the suspect.
Arrest and trial for Bath murders
Accordingly the police drove to Straffen's home and arrested him for the murder of Cicely Batstone on the morning of 9 August. Straffen made a statement admitting he had killed Cicely Batstone and also confessed to the murder of Brenda Goddard: "The other girl, I did her the same".
He was duly charged with murder and remanded in custody, on 31 August after a two-day hearing at Bath Magistrates' Court Straffen was committed for trial for the murder of Brenda Goddard.
At Taunton Assize Court, on 17 October 1951, Straffen stood trial for murder before Mr Justice Oliver. However, the only witness to be heard was Dr. Peter Parkes, medical officer at Horfield Prison, who testified to Straffen's medical history and stated his conclusion that Straffen was unfit to plead. Oliver commented that "In this country we do not try people who are insane. You might as well try a baby in arms. If a man cannot understand what is going on, he cannot be tried." The jury formally returned a verdict that Straffen was insane and unfit to plead.
Broadmoor escape
Straffen was removed to Broadmoor Institution in Berkshire. Broadmoor had originally been termed a criminal lunatic asylum, but by the Criminal Justice Act 1948 responsibility for it had been transferred to the Ministry of Health and those committed to it had been renamed patients. Inside Broadmoor, Straffen was given a job as a cleaner.
On 29 April 1952 Straffen went, with an attendant and another patient, to clean some outbuildings which were close by the 10ft tall external wall. In a small yard immediately adjacent to the wall was a low shed with a sloping roof which was 8½ft high at its highest point. In the yard were empty disinfectant tins. Straffen asked his supervisor if he could shake his duster and on receiving permission went into the yard. Once the other patient had gone back in, Straffen climbed on to the roof and jumped over the wall. He had already made sure he had his civilian clothes under his work clothes.
Murder of Linda Bowyer
Only 20 minutes after escaping, Straffen came up a private drive in Crowthorne and approached Mrs. Doris Spencer who was in her garden. He asked her for a drink of water, which she gave him, and then discussed the proximity of Broadmoor and the likelihood of escapes. After ten minutes he left.
An hour and a half later he reached Farley Hill and at about five o'clock Straffen came to the point where five-year-old Linda Bowyer was riding her bicycle around the village. Within half an hour Linda Bowyer was dead.
Straffen then begged a cup of tea from another householder, Mrs. Kenyon, who agreed to drive him to the bus stop. As they were drawing up to the stop, Straffen saw some men in uniform and asked whether they were police; on learning that they were, he swiftly got out of the car and ran away. Kenyon told the men (who were actually Broadmoor nurses) of the suspicious behaviour of her passenger and Straffen was recaptured a few minutes later. Driven in the car on the journey back to Broadmoor, Straffen said "I have finished with crime". The body of Linda Bowyer was found at dawn the next day.
Police investigation
The police went to Broadmoor to interview Straffen at 8 a.m., arriving before news of the disappearance and murder of a local child had reached the hospital. The police went to Straffen's room and woke him up, then asking him what he had done when he was free and whether he had got into mischief. Straffen replied "I did not kill her". The police inspector told Straffen that no-one had suggested anyone had been killed, and Straffen said "I know what you policemen are, I know I killed two little children but I did not kill the little girl." The inspector then confirmed that a girl had been killed near where Straffen was recaptured. Straffen said "I did not kill the little girl on the bicycle."
Straffen then made a long statement, which the police checked. On 1 May Straffen was charged with the murder of Linda Bowyer, and he appeared before Reading County Magistrates the following day. He was remanded in custody, and despite the fact of the order committing him to Broadmoor, the Magistrates decided that since they had failed to hold him he should be remanded to Brixton Prison.
The Ministry of Health meanwhile called for a full inquiry into how Straffen escaped; a group of local residents held a meeting on the same evening as Straffen's court appearance to call for some system of public warning of an escape. The Ministry of Health inquiry was extended to a full independent inquiry. A system of warning sirens was set up later in 1952 as a result of the inquiry recommendations.
Murder trial
When Straffen's murder trial opened on 21 July, he pleaded not guilty, and the Defence opted to leave the question of his sanity as an issue to be determined by the jury. After the prosecution case (led by the Solicitor-General, Sir Reginald Manningham-Buller) had opened and called the first witnesses to establish the facts about the murder of Linda Bowyer, they applied to call additional evidence about the two murders in Bath. This application was resisted by Straffen's defence as prejudicial, but the Judge ruled the evidence admissible.
On the second day, the judge was late into court and explained that "owing to the alleged conduct of one of your members" he was compelled to discharge them and start again with a new jury. It turned out that one of the first set of jurors had gone to a political club in Southsea in the evening and told those present that he was on the jury for the Straffen case, that Straffen was not guilty, and that one of the prosecution witnesses had murdered Linda Bowyer.
The Judge required the errant juror, William Gladwin, to remain in court throughout the trial, before calling him to apologise for his "wicked discharge of your duties as a citizen".
The first day's proceedings were repeated before the second jury, followed, as permitted, by evidence of what had happened in Bath. Straffen's defence called several of those who had seen Straffen in earlier years and gave evidence of his mental condition. The prosecution then called prison medical officers and psychiatrists to give evidence in rebuttal. Dr. Thomas Munro, who was a specialist in mental deficiency and had seen Straffen, testified that Straffen had said that to murder was wrong because it was breaking the law and because "it is one of the commandments". When Munro asked Straffen to name the other commandments, Straffen could only remember four.
Death Sentence
After a retirement of just under an hour, the jury returned with a verdict of guilty, which implicitly declared Straffen sane. Mr. Justice Cassels sentenced Straffen to death.
Straffen appealed, on the grounds that the evidence about the Bath murders was wrongly admitted, and that his statements on the morning after the murder of Linda Bowyer were wrongly admitted because they had been made before he was cautioned. Both grounds of the appeal were dismissed, and Straffen was refused leave to appeal to the House of Lords.
4 September was fixed as the date for execution of judgment of death. However, on 29 August, it was announced that the Home Secretary David Maxwell Fyfe had recommended to Queen Elizabeth II that Straffen be reprieved.
Prison
After the reprieve Straffen was moved to Wandsworth Prison. In November 1952 the Home Office denied a rumour that he was about to be moved to Rampton mental institution.
In 1956 Straffen was moved to Horfield Prison in Bristol, after officers discovered an escape attempt by Wandsworth prisoners who intended to take Straffen with them as a diversion. The news caused extreme concern in Bristol and a petition demanding his removal was organised by a local councillor and signed by 12,000 people within weeks.
In August 1958, Straffen was moved to Cardiff Prison when the regime at Horfield Prison was changed to a more liberal one. However, he was reported to have been transferred back in June 1960.
Isle of Wight
A new 28-cell high security wing at Parkhurst Prison was built and ready for opening early in 1966. The Home Office pointedly did not deny rumours that Straffen had been secretly transferred there on 31 January 1966. He was the first to arrive, and was followed by six of the Great Train robbers.
Durham
In May 1968 Straffen was moved to Durham Prison. Placed on the top security E wing, Straffen was joined by fellow child killer Ian Brady. Crime author Jonathan Goodman wrote that "the shambling lunatic [Straffen] .. is in prison only because no mental institution is secure enough to guarantee his confinement".
Many years later, a prison officer recalled seeing Straffen "circling, banging the fence every couple of minutes", and that one fellow officer described Straffen as aloof and hostile: "Never talks unless he has to ask for something. Always on his own".
Straffen was still there in January 1984 when Kenneth Barlow was released after serving 26 years for murder, at which point he became the longest serving British prisoner.
Prison term
For most of the time that Straffen was in prison, the Home Secretary had to agree to the release of any life sentence prisoner; no occupant of the office was ever willing to let Straffen out. In 1994 Michael Howard decided to set up a select list of about 20 prisoners serving life sentences who must never be released at all, and Straffen's name was said to be on it.
The whole list was published by the News of the World in December 1997 and this report confirmed that Straffen would indeed spend the rest of his life in prison.
The Sun profiled Straffen's prison life in March 2006, quoting an un-named inmate as saying "He's still lively. He works as a cleaner in the craft shop and makes tea for the officers. They treat him well, call him by his first name and often take time to chat with him." The inmate was also reported as saying that other inmates left Straffen alone but that he was instantly recognisable.
Hopes for freedom
With the 50th anniversary of Straffen's imprisonment approaching, in 2001 his solicitors called for his case to be reopened on the grounds that he had not been fit to stand trial. Investigative journalist Bob Woffinden, who examined previously confidential records, uncovered that Straffen was reprieved after a majority of doctors who examined him found that he was 'insane'.
Woffinden also doubted Straffen's guilt of the murder of Linda Bowyer, because Straffen had no fingernails with which to cause injuries seen on Linda Bowyer's body and because some local witnesses placed the time of the murder after his recapture. However, Straffen's application to the Criminal Cases Review Commission was turned down in December 2002.
In May 2002 the European Court of Human Rights decided a case brought by a life sentence prisoner which challenged the authority of the Home Secretary to refuse to release him after the Parole Board recommended he be freed. The Court decided that politicians should not interfere in life sentences and therefore current practice was unlawful. It was immediately noted that this meant an opportunity for release for Straffen, who had been in Long Lartin Prison since 2000.
Death
Straffen died at Frankland Prison in County Durham on 19 November 2007. He was 77 years old and had been in prison for a British record of 55 years. This leaves Moors Murderer Ian Brady (who has been in prison since October 1965 and is now in a mental hospital) as the longest-serving prisoner in Britain.
Wikipedia.org
---
Triple child killer who became Britain's longest serving prisoner dies in jail
DailyMail.co.uk
November 20, 2007
A notorious child-killer who was Britain's longest-serving prisoner has died in custody after more than 55 years in jail.
The Ministry of Justice said 77-year-old John Straffen died in the healthcare unit at Frankland Prison in County Durham this morning following an illness.
Straffen, then aged 22, was convicted of murdering a schoolgirl by a jury at Winchester on July 25 1952 and sentenced to death.
The sentence was commuted to life imprisonment by the then home secretary Sir David Maxwell Fyfe on the grounds that Straffen was a "feeble-minded person".
Straffen, from Bath, appeared at Somerset Assizes in October 1951 charged with murdering two other schoolgirls - nine-year-old Cicely Batstone and six-year-old Brenda Goddard - but was found unfit to stand trial and sent to Broadmoor high-security hospital.
He escaped from the unit for four hours on April 29 1952 and police found the body of five-year-old Linda Bowyer the following morning.
Six years ago, solicitors acting for Straffen called for his case to be reopened, saying that he should not have stood trial, as he had a mental age of just nine and a half.
Birmingham-based firm Hadgkiss Hughes & Beale said in 2001 that an "eminent" forensic psychiatrist, who was unnamed, had re-examined original pre-trial reports on Straffen and said he was not fit to be tried.
Straffen was declared a "mental defective" in 1947 and committed to a "colony for mental defectives", they said.
If he was unfit to plead in 1951, he could not have effectively taken part in a trial nine months later, they said.
After Straffen's escape from Broadmoor in 1952, a siren system was installed to alert local residents if an inmate was on the loose.
The alarm is tested every Monday morning, sending its distinctive howl echoing around the leafy villages of the Berkshire commuter belt.
---
Life should mean life
By Mike Sullivan - Crime Editor
TheSun.co.uk
27 Mar 2006
BRITAIN'S longest-serving prisoner John Straffen stares out of his cell window after spending 55 YEARS rotting in jail for killing three little girls.
Crazed Straffen, 76, has no chance of ever being released. For him life will MEAN life. And many people believe that ALL brutal killers should share his fate.
The exclusive picture is proof that The Sun is RIGHT to campaign for an end to the early release of such fiends.
Straffen is seen peering through the bars of his cell at Long Lartin jail in Worcestershire.
His only view for years has been the prison exercise yard. By contrast, other dangerous men have been released after serving a fraction of their life sentences. And some have killed again.
Sara Payne, whose eight-year-old daughter Sarah was murdered by paedophile Roy Whiting, said: "Life should mean life, especially when the victim was a child. When a person has taken a life, there has to be a risk that they could do the same thing again.
Releasing people after a few years or even less is just a mockery. John Straffen is a very good example of the way lifers should be dealt with."
Mental retard Straffen began killing when George VI was on the throne, and capital punishment was in force. He first struck on Sunday July 15, 1951, when he came across six-year-old Brenda Goddard picking flowers in a field at the back of her house in Bath.
Straffen led her to a nearby wood and strangled her. Police interviewed him twice but did not have evidence to charge him.
Days later, he went to a cinema in Bath, where nine-year-old Cicely Batstone had been allowed to see Tarzan and The Jungle Queen as a treat.
He persuaded her to go with him by bus to another cinema across town to see She Wore A Yellow Ribbon. But instead of going to the cinema, he took her to a field and strangled her.
Straffen was arrested next day and told police: "Is it about the little girl I took to the pictures last night?
"When I left her she was dead under the hedge."
He also confessed to Brenda's murder, saying: "She never screamed when I squeezed her neck, so I bashed her against a tree. I didn't feel sorry."
Straffen was considered mentally unfit to stand trial and in October 1951 was sent to Broadmoor.
But on April 29 the following year he escaped from the mental hospital in Berkshire while on cleaning duties.
Straffen, 21, was only at large for four hours ? but in that time he snatched five-year-old Linda Bowyer from her bike and strangled her.
He was sentenced to death. But Home Secretary Sir David Maxwell-Fyfe commuted the sentence to life imprisonment because Straffen was "feeble-minded".
Since then shaven-headed Straffen has always been held in top security prisons and has been on E-Wing at Long Lartin for six years.
An insider at Long Lartin said: "He's still lively. He works as a cleaner in the craft shop and makes tea for the officers. They treat him well, call him by his first name and often take time to chat with him.
"The other inmates generally leave him alone, which is unusual considering the type of crime he has committed. The reason for that is his age and because he only has a mental age of an average ten-year-old."
The insider added: "He's instantly recognisable because of his odd-shaped bald head and prison overalls ? which he lives in without changing for years.
"He sleeps in a chair in his overalls with a towel ? over a piece of string strung across his cell ? positioned in front of his face."
Gladys Smith, the sister of Straffen's victim Cicely Batstone, was 16 when she was murdered.
Now 70, Gladys, of Gloucester, said: "My parents are dead but they never recovered from it. She was my only sister and the pain of losing her has never gone away.
"It would have been easier for us if Straffen had been hanged.
"There would have been some closure. We could have tried to put it behind us."But at least we have had the satisfaction of knowing that he has spent his life in prison."
Four years ago Straffen tried to win his freedom under the Human Rights Act but was turned down.
Gladys added: "I think life should mean life for those who take a life. My sister didn't get a life. Straffen is in the right place."
The Home Office refuses to confirm the identity of prisoners serving whole-life tariffs. But in addition to John Straffen the following are unlikely to be released:
Moors murderer Ian Brady, jailed in 1966. Yorkshire Ripper Peter Sutcliffe, locked up in 1981 for 13 murders. DennisNilsen, jailed 1983 for 13 murders. Jeremy Bamber, jailed 1986 for shooting dead his adoptive parents, his sister and her two children. Rosemary West, jailed 1995 for ten murders. David Bieber, jailed 2004 for murdering a policeman. Mark Hobson, jailed 2005 for four murders.