John Martin SCRIPPS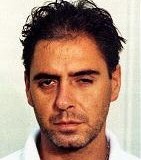 A.K.A.: "The tourist from hell"

Classification: Murderer
Characteristics: Robberies - Dismemberment
Number of victims: 3 +
Date of murders: March 8/15, 1995
Date of arrest: March 19, 1995
Date of birth: December 9, 1959
Victims profile: South African tourist, Gerard George Lowe, 32 / Canadian tourists Sheila Mae Damude, 49, and her son Darin, 22
Method of murder: Striking their heads with a hammer
Location: Singapore / Thailand
Status: Executed by hanging in Singapore on April 19, 1996
---
John Martin Scripps: Body-parts murder
By Nureza Ahmad
National Library Board Singapore
John Martin Scripps, a.k.a. John Martin, 35, was the first Westerner to be hung in Singapore for murder on 19 April 1996. He was convicted in the sensational "Body-parts" or "Black bin-bags" murder of South African tourist, Gerard George Lowe, 32, in March 1995. The police were alerted when various parts of Lowe's dismembered body were found floating in black bin-bags off Clifford Pier. Investigations led to the arrest of Martin, his eventual conviction and death sentence.
Background
Martin was born in Hertfordshire, United Kingdom, in December 1959 to Leonard and Jean Scripps. He had an elder sister, Janet. His parents moved to London when he was very young. He was close to his father, who was a lorry driver. However, when Martin was 10, his father committed suicide. Martin left school when he was 15 because of dyslexia.
Known as a mild-mannered, reserved and polite man with "no friends", Martin had spent most of his adult life behind bars for petty crimes and drug-related offences before the body-parts murder. Martin was also linked to murder cases in Thailand, Mexico, Belize and San Francisco. The only love of his life outside his family, was said to be his Mexican ex-wife, Maria Arellanos, whom he married when he was in his 20s and who divorced him while he was in prison.
Scripps' life before the "Body-parts" murder
1973 : At age 14, Scripps disappeared in France from a cadet training camp.
1974 : Convicted for burglary and theft in juvenile court
1978 : First adult conviction for indecent assault
1978-1982 : Burglaries in London, jailed in Israel for burglary
1982 : Jailed for burglary and assault in Surrey. He absconded and travelled to Southeast Asia and America
1985 : Jailed again in Surrey for burglary. He absconded again to smuggle drugs through various countries
1987: Jailed in London for heroin offences
Jun 1990 : Absconded from London jail
Nov 1990 : Jailed for heroin possession at Winchester
1993 : Acquired butchery skills in prison
31 Oct 1994 : Absconded from Mount Prison in Hertfordshire. Travelled through Holland, Belgium, Paris, Spain
Description
In mid-March 1995, Singaporeans were gripped by the news that dismembered parts of a human torso and lower limbs were found floating in black garbage bags in the waters off Clifford Pier. Fears that this was the work of a killer at large proved true. The body parts were identified as belonging to a South African tourist, Gerard George Lowe, 32, who went missing. His head and arms were never found.
Following police investigations, John Martin Scripps, was caught and charged in court to stand trial for the murder of Lowe. Martin was accused of killing Lowe, in Room 1511 which they shared in River View Hotel between noon on 8 March and 8:00 am on 9 March. Acting for the prosecution were Jennifer Marie, Noral Huda and Toh Han Li. They highlighted that Martin had a reputation of befriending tourists, killing them and then dismembers their corpses. He robs them of their wallets, credit cards, cash and passports. Martin had considerable skill as a prison butcher and Lowe's body showed signs of being dismembered professionally.
In Lowe's case, the defence mooted that Martin killed Lowe unintentionally when he rebuffed the latter's unwanted homosexual advances in their River View Hotel room. In the ensuing fight, he hit Lowe with a camping hammer. He panicked and fled when Lowe was dead. An anonymous British friend disposed of the body. Acting for the defence were Edmond Pereira and Joseph Theseira. Justice T.S. Sinnathuray found Martin was found to be a calculative killer who set out to murder and rob the unsuspecting Lowe. He was sentenced to death, by hanging.
Timeline
8 Mar 1995 : Martin arrived in Singapore on a flight from San Francisco. He met South African tourist Gerard George Lowe at Changi Airport and agreed to share a room at River View Hotel. Martin later murders Lowe and dismembers the body.
9-10 Mar 1995 : Lowe's name was removed from hotel registry at Martin's request.
9-10 Mar 1995 : Martin used Lowe's credit cards, withdrawing $8, 775 in cash and buying a $499 videocassette recorder. He attended a Singapore Symphony Orchestra performance on March 10.
11 Mar 1995 : Security guards observed Martin walking out of hotel around 6:35 a.m with a heavy suitcase. About 15 minutes later Martin returns without the suitcase. He checked out of hotel and left for Bangkok.
13, 16 Mar 1995 : Human body parts including torso, thighs and legs in black plastic bags were recovered off Clifford Pier. Positive identification of Lowe was made by his widow.
15 Mar 1995 : Martin meanwhile flew to Phuket from Bangkok. Canadian tourists Sheila Mae Damude, 49, and her son Darin, 22, were on the same flight. They were later found murdered and dismembered.
19 Mar 1995 : Martin returned to Singapore and was arrested at Changi airport. He was found to have knives, a 1.3 kg hammer, an electrical stun device, handcuffs, a can of mace, credit cards, possessions and the passports of Lowe and the Damudes with him.
21 Mar 1995 : Martin was charged for forgery. He told police he was Simon James Davis, age 29, the same named he used to check into River View Hotel with Lowe.
24 Mar 1995 : Martin -- his true identity now known - was convicted of Lowe's murder.
2 Apr 1995 : A third bin bag with body parts was found floating off Clifford Pier.
4 Apr 1995 : Martin gave statement to Singapore police, claiming that an anonymous British friend was responsible for disposing of Lowe's body.
18 Sep 1995 : Martin was formally charged for the Lowe's murder in Singapore court.
2 Oct 1995 : Martin's trial begins in Singapore high court.
10 Nov 1995 : Martin was found guilty and sentenced to hang. Defence lawyers indicated they would appeal.
4 Jan 1996 : Martin withdrew his appeal
10 Mar 1996 : Martin declined to seek pardon from President Ong Teng Cheong
19 Apr 1996 : Martin hung at Changi Prison
---
John Martin Scripps - "The tourist from hell"
Capitalpunishmentuk.org
John Martin Scripps became the first Westerner to be hanged in Singapore for murder and only the second for any offence. (Dutch born Johannes van Damme was executed for drug trafficking in 1994). He is the last British murderer to be hanged since Britain stopped executions in 1964.
Dubbed the "tourist from hell" by the British tabloids he may well have murdered three people in all.
Scripps was convicted of the murder of Gerrard George Lowe after a trial that began on October the 2nd 1995. It was to be Singapore's most sensational murder case since that of Adrian Lim, who with his wife and girlfriend, were convicted, in May 1983, of the murder of two children in 1981.
46 year old Lim, a self-styled spirit medium and the two women, Hoe Kah Hong and Tan Mui Choo who both in their early 30s, were hanged together in Changi prison in November 1988.
September 18th 1995.
In the Singaporean equivalent of Committal Proceedings Scripps appeared in court to be formally charged with the murder of 32-year-old Lowe, a South African brewery engineer who was on a shopping trip to Singapore in March 1995.
Various parts of what were believed to be Lowe's dismembered body were found floating in black bin-bags in Singapore harbour.
Scripps, who fled from Britain while on parole, was also a suspect in the murders of Canadian tourist Sheila Damude and her son, Darin, on the Thai island resort of Phuket, and has been linked to murders in San Francisco, Mexico and Belize.
When arrested at Changi airport on March 19th 1995, Scripps was carrying more than US$ 40,000 in cash and traveller's' cheques and the passports, credit cards and other belongings of Lowe and the Damudes.
He also had a stun-device, handcuffs and a can of mace as well as a hammer and knives. Swabs from the hammer matched bloodstains across the carpet of the Damudes' hotel room.
The preliminary enquiry saw written statements from as many as 77 witnesses for the prosecution supporting the murder charge and 11 other charges ranging from forgery, vandalism and cheating to possession of weapons and small quantities of controlled drugs.
Defence lawyer Joseph Theseira said "The prosecution also wanted to introduce evidence linking the killings in Thailand."
Scripps arrived in Singapore on March 8th from San Francisco and left for Phuket three days later.
The investigation into Lowe's murder began shortly afterwards when a black plastic bin-bag containing a pair of legs was fished out of the water off Singapore's Clifford Pier.
A few days later, another bag containing thighs and a naked, headless torso turned up.
The skulls, torsos and several limbs belonging to the bodies of the Damudes were found in a deserted tin mine on Phuket between March 19th and 25th.
The Damudes are reported to have travelled on the same plane to Phuket as Scripps and checked into a room close to his in the same hotel.
Douglas Herda, a spokesman for the Royal Canadian Mounted Police, which is helping co-ordinate the Singapore and Thai murder investigations, said Thai authorities were waiting for the forensic evidence before deciding whether to file charges.
October 2nd 1995 - The trial.
The trial began with Scripps entering no plea but "claiming trial" which, under Singapore law, means he was contesting the charges. Singapore does not have jury trials.
Evidence of how Lowe's body was skilfully cut up and wrapped in black plastic bin bags before being thrown into the Singapore harbour was presented to the court.
On Tuesday the 3rd, James Quigley, a Prison Officer at Albany Prison on the Isle of Wight, told the court he had taught Scripps how to dismember and bone slaughtered animals.
"He was instructed in butchery over a six-week period in March and April 1993. He was trained to bone out fore quarters and hind quarters of beef, sides of bacon, carcasses of pork, and how to portion chicken". Quigley said that Scripps, who was serving a 13-year jail term for drug-related offences, had been a quick learner.
Chao Tzee Cheng, a government pathologist, testified that the manner in which Lowe's body was cut up indicated that only a doctor, a veterinarian or a butcher could have dismembered it.
Chao told the police, "Look, you are dealing with a serial killer."
Security was heavy throughout the court session, with Scripps sitting between two uniformed armed police officers in a glass and metal cage, his legs in irons.
He was allowed to speak briefly to his mother and sister before and after the proceedings.
The prosecution alleged that Scripps, using a false name, had checked into the same Singapore hotel room as Lowe on March 8th and later killed him.
Scripps flew to the Thai island resort of Phuket in Thailand on March 15th and was arrested on his return to Singapore's Changi airport on March 19th.
Police witnesses testified that when he was arrested he was wearing a money belt containing four different passports, each with different names but with his own photograph, and that one of the passports belonged to Lowe.
Police said he also had passports belonging to Canadians Sheila and Darin Damude whose dismembered and mutilated bodies were later found on Phuket island. Thai police had issued a warrant for Scripps's arrest in connection with those murders.
In a confession made public when it was admitted as evidence, Scripps told the court he met Lowe at Changi airport on March 8th and they agreed to share a hotel room. He admitted killing Lowe in the room in the after he was awakened by a half-naked Lowe, who was smiling and touching his buttocks.
"I am not a homosexual and at that time it appeared to me Mr. Lowe was a homosexual. I freaked out, I kicked out and started swearing "I had experience of such things in the past and I was very frightened."
Scripps said he used a three-pound camping hammer "to hit Lowe several times on the head until he collapsed onto the carpeted floor. "My right hand was covered with blood. Everything happened so quickly," he said.
After realising Lowe was dead, Scripps said he sought the help of a British friend, whom he refused to name. The friend disposed of the body without telling him how. Scripps denied that it was he who cut up Lowe's body, however.
The defence tried to show Scripps did not intend to kill Lowe and that the killing was an act of manslaughter, which carries a maximum penalty of life in prison.
The prosecution claimed Scripps committed premeditated murder with the intent to rob Lowe.
On the fourth day of the trial, prosecutor Jennifer Marie said Scripps had practised forging Lowe's signature, suggesting the killing was premeditated.
She showed the court items seized from Scripps's luggage, including a notebook and tracing paper filled with practice signatures of Lowe's name.
Marie also produced credit cards, passports and other documents she alleged had been tampered with.
His defence lawyer Edmond Pereira questioned two police officers, trying to show they conducted an inadequate search for blood traces next to the hotel-room bed where Scripps claimed that Lowe had fallen and bled to death.
Police witnesses said there were no traces of blood in the carpet, only in the bathroom. That, the prosecution argues, supports its contention that the killing was premeditated murder.
But Pereira implied that if police found no blood traces on the carpet, it could have been because they did not conduct enough tests, and not in the exact spot where Lowe fell.
Pereira asked for a one-day adjournment so he could consider new evidence the prosecution wanted to introduce in an attempt to link Scripps with the two murders in Thailand.
October 19th 1995.
The prosecution said that Scripps used Lowe's credit card for a shopping spree and to attend a classical music concert soon after the killing.
They alleged that this undermined his defence that he was "dazed and confused" at the time of the killing. "You were not dazed enough, to think of all this," Jennifer Marie told Scripps during her cross examination. She cited documents showing that he used Lowe's credit card to withdraw Singapore $8,400 in cash from a local bank soon after the killing.
He used the same card to buy a videocassette recorder, hi-fi stereo speakers, and running shoes on March 9th. The next day he used Lowe's card to buy a S$30 ($21) ticket to attend the Singapore Symphony Orchestra, where he heard a programme of Brahms and Tchaikovsky. The used concert ticket and symphony programme were among the items seized after his arrest. "You're not telling us the truth when you say you were walking in a dream world (after killing Lowe)," said Marie. "On the contrary, you were clear in your mind what you were doing."
Scripps said that he did not remember buying the concert ticket, and that he did not attend the performance. He told the court he went drinking with a British friend that night.
Pressed by the prosecution about his movements between March 8th and March 11th, Scripps said his memory was hopeless.
"You've got a good memory. I haven't," he said. "I'm dyslexic. I get things mixed up."
October 24th 1995.
Scripps told the court he had tried to commit suicide by slitting his wrists to escape being hanged.
"I believed I was going to be hung," the 35-year-old Scripps said on his fifth day in the witness box. "I kept thinking about Lowe and the Filipino lady that got hanged."
Jennifer Marie told the court Scripps tried to cut his wrist with a small, sharp piece of glass in police custody shortly after he was arrested. The prosecution depicted Scripps as a cool, methodical criminal who murdered tourists to steal from them.
Scripps agreed with a suggestion by Judge T.S. Sinnathuray that it would take about five minutes for a skilled butcher to dismember an animal. Asked by the prosecution whether the same skills could be used to dismember a human, he said: "The bones look similar." But asked whether he dismembered Lowe, Scripps said: "No, I don't have all the skills you mentioned." Scripps disputed the prosecution's assertion that he had ample time and opportunity to chop up Lowe's body, pack the parts in a suitcase, and throw them in the river.
October 25th 1995.
Scripps said he did not report killing Lowe because he feared he would be automatically hanged under Singapore's tough laws.
In his sixth day on the witness stand, he was asked by prosecutor Jennifer Marie why he did not immediately call a doctor or hotel staff after Lowe collapsed in their room. "Because this man died at my hands, and under Singapore law that is an automatic death sentence," he replied. "That's what I understood at the time."
Scripps had earlier alleged that a British friend staying at a hotel on the nearby resort island of Sentosa, connected to Singapore by a causeway, disposed of Lowe's body. He said he fled to the friend's hotel while the body was being disposed of. He said he had known this man for eight to 10 years and remembered that he once worked at an abattoir. He refused to name the friend, whom he described as a dangerous man, or describe the hotel in further detail because he said he feared retaliation against his family. Scripps was cautioned by the Judge that his reluctance to give basic information on the friend could harm his defence. "Here you are facing a murder charge, which carries a death penalty in this country," "I have to ask myself, at the end of the day, this question: Did the accused, John Scripps, go to a hotel on Sentosa?" Scripps still declined to describe the hotel.
Prosecutors alleged that Scripps's story of the friend was a complete fabrication. They also tried to point out discrepancies between his earlier statements to police and his testimony on the witness stand. Marie said Scripps's statement to the police on April 29th made no mention of attempted homosexual assaults he later told the court he suffered while in prison in 1978 and 1994. "I'm suggesting that this (1994) incident never occurred," said Marie. "It's yet another fabrication of yours." Scripps countered that the assault really happened, but he did not report it to the British prison authorities.
November 6th1995.
Jennifer Marie told the court in her closing arguments "The conduct of the accused after the killings suggested that he was cold, callous and calculating a far cry from the confused, dazed man walking in a dream world, the picture he gave of himself". She said Scripps was "a man very much in control of his faculties" when he embarked on a shopping spree using Lowe's credit card, buying a pair of fancy running shoes, a video cassette recorder and a ticket to a symphony orchestra concert.
"He is a man who has no qualms about lying continuously, consistently and even on the (witness) stand, in any and every matter," she said. Concluding her case, Jennifer Marie said the excuse that Scripps killed Lowe because of a homosexual advance was just one of a "string of lies" to mask a premeditated murder by a greedy serial killer "who preyed on tourists."
Lowe's widow testified that her husband, who had gone to Singapore on a shopping holiday, was not a homosexual.
In his closing statement for the defence Edmond Pereira said "we urge this court to come to a finding that the accused is not guilty of murder, but is guilty of culpable homicide not amounting to murder." "The killing occurred in a sudden fight in the heat of passion upon a sudden quarrel," he said. "He is not a man prone to violence." Pereira also urged Judge T.S. Sinnathuray to ignore information from Thailand. "There is no evidence to suggest that the accused is responsible for the deaths of the two Canadians," he said, calling the Thai information "nothing more than circumstantial" and "prejudicial."
November 7th 1995.
The trial was adjourned for the judge to consider his verdict after more than a month of evidence.
November 10th 1995.
Scripps, dressed in khaki with a prison-style crew-cut and standing in a glass cage, was said to be laughing and joking with his guards minutes before the verdict. In court, as he awaited sentence, he said: "Karma is karma. It's in God's hands now."
The judge told a packed courtroom: "I'm satisfied beyond a reasonable doubt that Scripps had intentionally killed Lowe." "After that, he dis-articulated Lowe's body into separate parts, and it was he who subsequently disposed of the body parts by throwing them into the river behind the hotel."
Having announced the guilty verdict Judge T.S. Sinnathuray sentenced Scripps to death by hanging. Scripps showed no emotion as the verdict was read.
His mother and sister, who attended the trial's early days, were not in court to hear the verdict. His mother, Jean Scripps, 58, from Sandown, Isle of Wight, said: "I brought John into this world. I am the only person who has the right to take him out of it. "I cannot believe how my boy could have changed from a kind, human being into the monster described in court."
After the verdict, defence lawyer Edmond Pereira told reporters: "Scripps has a right to an appeal, which he can exercise within 14 days and he shall be advised of that right." He declined to make any other comment. A legal source said any such plea would likely be heard by an appeals court early in1996.
The Judge said he was convinced that Scripps killed and dismembered the Damudes, but added that he decided Scripps's guilt independently of the Thai evidence. "On the evidence, I had no difficulty to find that it was Scripps who was concerned with the deaths of Sheila and Darin and for the disposal of their body parts found in different sites in Phuket,".
"The dis-articulation of the body parts of Lowe, Sheila and Darin have the hallmark signs of having been done by the same person." The judge said the Thai evidence was "materially relevant" because it rebutted Scripps's defence that he killed Lowe unintentionally during a sudden fight.
January 4th 1996.
On the 4th January 1996 Scripps withdrew his appeal which was scheduled to be heard on January 8th. His lawyer Edmond Pereira declined comment on why Scripps had decided against appealing.
"He has written with his own hand to the prison authorities that he does not wish to pursue the appeal," the lawyer said. Pereira said Scripps could still ask for clemency. "It would appear to me that it's the last avenue open, but we have no instructions (from Scripps)," he said. Prison authorities have yet to inform him of his deadline for filing a clemency plea, said Pereira. There is usually a six-to-eight-week period in which a prisoner may file. Pereira described Scripp's mood as "sad" during their last prison visit. "We were talking about his concerns for his family. I can't say he's worried, because he would have known the consequences of not pursuing the appeal."
February 14th 1996
Scripps was said to be eager to die, according to a spokeswoman from the British High Commission in Singapore. "He won't be putting in an appeal. He's eager to get it over and done with. He's just waiting for the day," she said.
His lawyer Edmond Pereira said he was surprised by the High Commission's remarks. "There are some instructions Scripps has given me, but I'm not at liberty at this stage to make any comment because the matter has not been finalised," he said. He also said that even if a prisoner refused to petition for clemency the matter still had to go before the president, but added: "If you don't request clemency, they won't exercise clemency."
Scripps was being held in solitary confinement on death row at Changi and spent most of his time watching television and reading, the High Commission spokeswoman said. A priest visited him weekly, and once a fortnight a consular representative went to check on his welfare and pass on messages from his family. "He's okay. He's generally well. He doesn't really want to see many people at all," the spokeswoman said.
March 10th 1996
Scripps declined seek a pardon from President Ong Teng Cheong, Singapore's Sunday Times newspaper reported. The newspaper quoted Edmond Pereira as saying he had received a letter from Scripps during a prison visit last month. "His instruction to us was that he did not want to petition for clemency from the President," Pereira said. "It was his wish to let the law take its course."
April 15th 1996.
It was announced that Scripps was to be hanged at dawn on Friday 19th April. His lawyer, Mr Edmond Pereira, told The Straits Times newspaper that he had been informed of the execution date by Scripp's relatives in London.
The British Foreign Office in London had also issued a similar statement to the press, adding that the British government had considered the case and had decided not to submit a plea for clemency.
The Straits Times understood that while being held on Death Row, Scripps had turned down a request from the London's Scotland Yard to interview him. British police detectives believe that he is linked to the disappearance of management consultant Timothy McDowell, 28, who went missing while holidaying in Belize in Central America. Scotland Yard suspects that Mr McDowell was possibly murdered and his body, which was never found, dumped into a crocodile-infested river by Scripps. They found a substantial amount of money transferred from Mr McDowell's bank account to Scripps's account in Britain after his arrest in Singapore. This sum of money was later moved to another account, also under Scripps's name, in the United States.
Scripps had spent his last days writing garbled love poems to his former Mexican wife - described as the one true love of his life - from his 8ft-by-6ft windowless cell, lit 24 hours with a camera monitoring him permanently. There is a hole-in-the-ground lavatory and straw roll-mat to sleep on.
April 19th 1996 - The execution.
His sister Janet and mother Jean said goodbye to him 12 hours before his execution. Under Singaporean law they would not have been allowed to be present at the hanging. Janet said: "How do you say goodbye to your own brother like that? We didn't actually say the word. I just couldn't."
In accordance with Singapore's execution rules hangings are carried out in private on Friday mornings on a large gallows within the prison that can accommodate up to seven prisoners. The measured drop method of hanging is used. It is normal practice in Singapore to hang several prisoners simultaneously although no details of the executions are released to the media.
For his last meal, he asked for a pizza and a cup of hot chocolate.
He would have been woken by guards at about 3.30am and escorted to a waiting room where he and the other two prisoners (two Singaporean drug traffickers) were prepared. He would have been allowed to speak to a priest and a prison chaplain before the execution.
It is thought that the three men were led to the gallows at around 6.00 am local time with black hoods covering their heads. After being left to hang for an hour the bodies were taken down and released to the families during the morning.
At about 10.30 am, his body, wrapped in a white sheet, was taken in an undertaker's van to a funeral parlour for cremation prior to his mother and sister taking his ashes back to Britain.
Scripps left a final, rambling semi-literate note which read: "One day poor. One day reach. Money filds the pane of huger but what will fill the emteness inside? "I know that love is beyond me. So do I give myself to god. The god that has betrad me. "You may take my life for what it is worth but grant those I love peace and happiness. Can I be a person again. Only time will tell me."
What really upset him, he wrote in prison, was "when you are told every day that you are not a member of the uman rase (sic)".
One of the stories he wrote on whilst death row graphically described a fantasy suicide hanging, but the hanging of which he dreamt was very different from the cold meticulous execution he experienced. In his fantasies he contemplated suicide at the end of a rope but he survived. He wrote "I tied the rope around my little neck before I got up on the old creaky chair. I reached down and picked up a handful of earth and put in my mouth. Then I crawled up to the old creaky chair and pulled the rope tighter and tighter still. I was tiptoe, just one more pull, then my feet left the chair knocking it over and darkness embraced me as the heavens opened. "I woke up in darkness and felt a heavy weight on my chest. I cried out 'Mummy, I am here.'
His former wife, Mexican, Maria Arellanos, learnt for the first time that the death sentence had been carried out, on the Friday he was executed. She had married Scripps at 16 and the couple separated in 1988, but they remained emotionally attached. She said: "I knew this would happen to John but I didn't know it would hurt so much. The last memory I have of him is a message he sent promising we would meet in the next life and that he would never let me go again."
She said Scripps was a deeply religious man who had become a devotee of the Virgin of Guadaloupe, Mexico's patron saint. Although their relationship ended in recrimination over his criminal ways and his womanising, he was never violent towards her and she remained in love with him.
Background.
Scripps was born in Hertford in December 1959 and his parents moved to London when he was young. His father, a lorry driver, committed suicide. At 14 he disappeared in France from a cadet training camp. A year later he was in juvenile court for burglary and theft.
His first adult conviction was for indecent assault in 1978 and he was fined £40 at Hendon. Thereafter it was a grim catalogue - burglaries in London followed by jail in Israel for stealing from a fellow kibbutz worker; jailed again in 1982 for burglary and assault in Surrey where he absconded to embark on criminal trips through South East Asia and America. In 1985 he was jailed again in Surrey for burglary (he absconded again to smuggle drugs through various countries). 1987 - jailed in London for heroin offences (absconded June 1990). August 1990 - detained carrying heroin at Heathrow. November 1990 - arrested again, carrying heroin and jailed at Winchester - absconding from Mount prison in October 1994, then travelling via Holland, Belgium, Paris and Spain to reach Mexico in November
His ultimate journey began on October 28th 1994 when he failed to return to the Mount Prison in Hemel Hempstead, Herts, after four days' leave. The Mount governor, Ms Margaret Donnelly, said: "He was no longer considered a risk. He had no history of violence. He was quiet and reserved." However, his mother says the authorities should have realised the risk because he had been selling his possessions openly to raise money.
Comment.
One wonders whether Scripps actually wanted to die for his crimes - few other countries nowadays would have obliged him in this relatively short time scale. It was clear from his own evidence that he knew the penalty for murder in Singapore. One wonders why he chose to commit one of the murders there and then return a few days later.
I am less surprised that he withdrew his appeal and decided not to ask for clemency - he knew that he would lose and that he would just be delaying the inevitable and living in miserable conditions on death row for many more months or even years to come.
Singapore hanged over 260 people (including several women) between 1975 and 1996 for drug trafficking and murder and reprieves are extremely rare.
It is also interesting to note that the British government declined to get involved in Scripp's case - possibly they felt that Singapore had done the rest of the world a favour. They are normally resolutely anti death penalty.
But what made a non violent criminal suddenly turn into a serial killer? A question to which we will never know the answer now but still a very interesting question none the less. Unusually for a serial killer there appears to be no sexual motive behind the murders but merely a greed motive and perhaps an enjoyment of killing.
---
John Martin (born John Martin Scripps, December 9, 1959 – April 19, 1996) was a British serial killer who murdered three tourists — Gerard Lowe in Singapore, and Sheila and Darin Damude in Thailand — with another three unconfirmed victims.
He posed as a tourist himself when committing the murders, which made British tabloids nickname him "the tourist from Hell". He cut up all his victims' bodies, using butchery skills he learned in prison, before disposing of them.
Martin was arrested in Singapore when he returned there after murdering the Damudes. Photographs of decomposed body parts were shown as evidence during his trial, making it "one of the most grisly" ever heard in Singapore. He defended himself by saying that the death of Lowe had been an accident and that a friend of his had killed the Damudes. The judge did not believe Martin's account of events and sentenced him to death by hanging, making him the first Briton in Singapore to be given the death penalty.
Early life
John Martin Scripps was born in Letchworth, Hertfordshire, to Leonard and Jean Scripps, who were an East End lorry driver and a Fleet Street barmaid respectively. He traveled often in childhood, occasionally accompanied by his father, Leonard, to whom he was very close. Leonard Scripps committed suicide by gassing when his son was nine.
After his father's death, Scripps developed problems with reading and writing, which led to him leaving school at the age of 15. After dropping out of school he continued to travel, raising money for his trips by doing odd jobs and selling antiques.
Scripps committed his first crime in May 1974, when he was sentenced to a 12-month conditional discharge and fined £10 by the Highgate Juvenile Court for burglary. The punishment did nothing to deter him from stealing, and by August 1976 he had stolen again three times. In June 1978, he was fined £40 for indecent assault.
Criminal career
In 1980, Scripps married Maria Pilar Arellanos from Cancún, Mexico whom he had met on a trip to her country. They traveled together for two years until in 1982, he was jailed three years for theft, burglary, and resisting arrest. His imprisonment upset Maria, and their relationship was further soured when he ran away from jail during home leave in June 1985 — just months short of completing his term — and burgled again. He was sentenced to another three years' imprisonment, during which she filed for divorce and married Police Constable Ken Cold, an officer in the Royal Protection Squad.
This angered Scripps, who stole some of Cold's clothing while released on home leave in an act of revenge. He was appeased only when Maria divorced her new lover and returned to her hometown. After he was released, he legally changed his name to John Martin.
He soon started trafficking in drugs. Being an experienced traveler, he carried heroin between Asia and Europe for a syndicate. Singapore authorities first encountered his name in 1987, when he was arrested at Heathrow Airport for possessing drugs. Police found on him a key that belonged to a safe deposit box in a bank in Orchard Road. Officers from Singapore's Central Narcotics Bureau seized 1.5 kilograms (3.3 lb) of heroin worth about US$1 million from the box.
For this and another drug offence, the Southwark Crown Court in January 1988 sentenced him to seven years in jail; he escaped while on home leave but was later re-arrested. In July 1992 the Winchester Crown Court added another six years to the original sentence, which would have kept him behind bars until 2001 had he not escaped again.
He was incarcerated at Albany Prison on the Isle of Wight from February 1992 to August 1993. He was a model prisoner; initially he did menial jobs such as dishwashing and general cleaning but was later promoted to be a butcher. He was trained by James Quigley, a prison caterer with more than 20 years' experience, and another inmate only identified as "Ginger" who was a professional butcher. They taught him how to dismember and remove the bone from animals after slaughtering them. Martin performed his duties with such efficiency that he once told Quigley he wished to open a butcher shop after his release.
On August 20, 1993, Martin was transferred from Albany Prison to Mount Prison in Hemel Hempstead, Hertfordshire due to a change in his security categorisation. In October 1994 he escaped, again while on home leave. His home leave had been granted only two days after he had been refused parole.
Even before he was granted leave, there were signs that doing so would be a mistake; according to his mother, he had sold all his belongings to fellow inmates while in prison, a clear notice of his intention to escape. She asked prison authorities not to release him. After Martin was sentenced to death, she reiterated:
The Home Office have buried their head in the sand over this. They know full well that if they had done what I told them, none of this would have ever happened. I begged them not to let him go.
However, she did give him £200 to go overseas after his arrest. To avoid recapture, he used the birth certificate of another inmate, Simon James Davis, to get a passport in Davis' name. Within a month of his escape, he turned up in Mexico as John Martin. He reported to the British Embassy there that he had lost his passport, and managed to get a replacement. Martin arrived in Singapore from San Francisco at about 2 a.m. SST on March 8, 1995 (6 p.m. UTC the previous day).
Family
Martin and Maria remained emotionally close after separating in 1988. Maria had a daughter, Lara, whom she told Martin he had fathered, although he initially believed otherwise. After he escaped from Mount Prison, he went to Mexico to look for them. He was determined to regain Maria's love and even persuaded her to move into a flat in Mexico City he had rented. In a statement made to Singapore police, Martin said:
"I met Maria there [in Mexico] and she told me that her daughter was actually mine and not the British police officer's. I believed her as she was the only woman I had ever loved."
Murder of tourists
John Martin killed at least three people in Singapore and Thailand, and may have killed others in Belize, Mexico and the United States. His modus operandi was to pose as a tourist and converse with another randomly-chosen Caucasian, either aboard their flights or while waiting at airports. He would stay in the same hotels as his victims in a room near theirs.
Once he had an excuse to be in their rooms, he would use an electroshock weapon to immobilise them before killing them by striking their heads with a hammer and cutting them up in their bathrooms. He chose Caucasians as his victims because they were vacationing far away from their home countries, which made him less likely to be discovered. His motive evidently was money; large amounts were withdrawn using the credit cards of Gerard Lowe and Timothy MacDowall.
Gerard Lowe
Gerard George Lowe came from Johannesburg, South Africa. He was a chemical engineer with South African Breweries. He had gone to Singapore to shop for electrical and electronic goods. Before he left Johannesburg on March 7, 1995, he told his wife Vanessa, a local airlines employee, his exact schedule, saying: "I will call you the moment I check into the hotel to give you the contact number. If you do not hear from me on March 10, it would mean that I would have a seat on the plane to return to South Africa and would arrive home on March 11. But if I do call you on March 10, that would mean that I have not managed to get a seat and would return on March 12."
When Lowe arrived at Singapore Changi Airport on the morning of March 8, he was accosted by Martin (under the assumed name of Simon Davis), who struck up a conversation with him and suggested that they share a room, to which Lowe agreed. They managed to book Room 1511 in the River View Hotel off Havelock Road. The next morning, Martin asked a hotel receptionist to delete Lowe's name from the room registration system, saying that he had kicked Lowe out the previous night for being a homosexual. Martin checked out on March 11 and flew to Bangkok the same day.
On March 13, 1995, a pair of legs, severed at the knees, was found in a plastic bag floating off Clifford Pier. Three days later, a pair of thighs and a torso were found in the same area, also in a plastic bag. Initially, Singapore police could only determine that the body parts had belonged to a Caucasian, but they had a possible name after receiving a missing person report for Lowe from the South African High Commission.
Vanessa Lowe had filed the report because she was distressed that her husband, who used to make daily contact with his family when overseas, had not called home or returned to South Africa by March 12. Lowe's peers at work had also tried to locate his whereabouts through personal contacts in Singapore. On April 1, she confirmed that the body parts were her husband's through visual identification. However, his arms and head were never found.
Sheila and Darin Damude
Sheila Mae Damude and her son Darin Jon Damude came from Saanich, British Columbia. Sheila was an administrator at the Pacific Christian School in Victoria, while Darin was a college student. They had come to Thailand on holiday, with Darin flying to Asia first before Sheila met him in Bangkok during spring break.
They flew to Phuket on March 15 with Martin (still using his assumed name) happening to sit in the same row as them. He befriended the two and they checked into Nilly's Marina Inn facing Patong Beach. Martin was given Room 48 and the Damudes were given the adjacent Room 43. The Damudes were not seen again after they ate breakfast the next morning; at about 11 a.m. THA (5 a.m. UTC), Martin asked the inn's receptionist to switch his room to Room 43, saying that the Damudes had left and that he would pay their bill.
Martin checked out and returned to Singapore on March 19. On that day the skulls of the Damudes were found in a disused tin mine in Kathu district. A torso and a pair each of arms and legs were found along Bahn Nai Trang Road, 9.7 kilometres (6 mi) away, five days later.
The body parts were so badly decomposed that visual identification was impossible; Royal Thai Police used dental records to identify the skulls and forensic analysis concluded that the torso, arms, and legs were likely to be Sheila's. The other parts of Darin's body were never found.
Unconfirmed victims
Scotland Yard suspected Martin of having separately killed two men from south London, financial adviser Timothy MacDowall and accountant William Shackel. In Mexico, Martin had discussed with his wife about going scuba diving with MacDowall, who was taking scuba lessons while on holiday on an island off Belize.
MacDowall disappeared in Belize in early 1995 but police could not conclusively match him to body parts later found in that country; the only suspicious activity they uncovered was the transfer of £21,000 from MacDowall's bank account to an account in San Francisco, California under Martin's name. MacDowall is believed to have been murdered as he slept and his remains thrown into a crocodile-infested river. Martin refused to be interviewed by Scotland Yard while he was on death row in Changi Prison, thus whether he killed MacDowall remains unconfirmed.
Shackel was reported missing while on holiday in Cancún, Mexico. Police reports said that Martin was in Cancún the day Shackel cashed traveler's cheques worth £4,000, after which he disappeared.
Martin was also wanted in San Francisco in the United States for the murder of homosexual prostitute Tom Wenger on March 28, 1994. Wenger's body was chopped up and drained of blood; it was found in a garbage skip in Myrte Alley, in the Polk Street district. Although Martin was supposed to be in jail in the United Kingdom at the time, his photograph matched a facial composite picture made by San Francisco police.
Arrest and remand
Martin was arrested when he arrived at Changi Airport on the evening of March 19, 1995 and produced a passport with his assumed name, Simon Davis. Police had put the name on their wanted list on March 14 after they determined that Lowe had checked in to River View Hotel with someone by that name.
In a police interview room in the airport, Martin smashed a glass panel and cut his wrist with a shard of glass in a suicide attempt, fearing that he would be hanged like Flor Contemplacion, a Filipino who had been hanged two days before for a double murder. He was taken to Alexandra Hospital for treatment.
The police found five passports on Martin in addition to his own—two British passports issued to Simon Davis, two Canadian passports issued to Sheila and Darin Damude, and a South African passport issued to Gerard Lowe—each with Martin's photograph affixed. They also found credit cards belonging to Sheila Damude and Gerard Lowe.
In addition, police found Simon Davis' birth certificate, and items that Martin had used to immobilise and kill: a hammer weighing 1.5 kilograms (3.3 lb), a battery-operated Z-Force III electroshock weapon, a can of mace, two pairs of handcuffs, a pair of thumbcuffs, two Police brand foldable knives, an oilstone, and two Swiss army knives.
On March 21, 1995, Martin was taken to court on an initial charge, naming him as Simon James Davis and accusing him of forging Lowe's signature on a DBS Bank credit card transaction slip to obtain S$6,000 in cash on March 9. Three days later, he was charged under his real name for the murder of Gerard Lowe in a River View Hotel room some time between March 8 and 9.
In subsequent hearings, he was slapped with additional charges of forgery (forging Lowe's signature five more times to obtain cash and goods worth S$3,200), vandalism (smashing the glass panel), possession of an offensive weapon (the electroshock weapon), and possession of a controlled drug (he had 24 sticks of cannabis at the time of his arrest).
On September 18, a preliminary enquiry in a district court was held to determine whether there was sufficient evidence for a trial to proceed. The magistrate overseeing the enquiry ordered Martin to stand trial for Gerard Lowe's murder on October 2 after hearing statements from 39 witnesses, and looking at more than 100 exhibits and 100 photographs that the prosecution had prepared as evidence.
Trial
Before the trial, Martin made a statement explaining that he killed Lowe in self-defence. He said he had fallen asleep after checking in, but woke up after someone touched his buttocks; it was Lowe, who was clad only in his underwear and smiling at him. To him, this behaviour made Lowe appear to be a homosexual, so he kicked Lowe away. This angered Lowe, who threw Martin's hammer at his stomach. Martin then grabbed the hammer and "hit [Lowe] several times on the head until he collapsed onto the carpeted floor."
A friend later helped him to dispose of Lowe's body by throwing it into the Singapore River. Martin continued, "I am not sure what was the next thing I did… everything was such a blur to me after this incident that I was walking around in a dream world for the next few days." He refused to identify his friend, saying, "I cannot tell you his identity because if he knew he would harm my family back in Britain."
On March 15, he flew to Phuket, where he met his friend again. His friend gave him the passports and other items belonging to the Damudes, whom he never met.
In court, Martin argued that he was by nature not a violent person. "I may have worked in the (prison) butchery, but cutting up a human body is another thing. When I saw the photographs (of Lowe's body parts), it made me feel sick."
He maintained that he had killed Lowe after the latter made homosexual advances that caused him to "freak out"; he had previously fended off homosexual attacks twice while imprisoned: in Israel in 1978, and in England in 1994.
When Deputy Public Prosecutor Jennifer Marie asked him what he did after killing Lowe, he said that he could not remember anything because he had drank heavily and consumed Valium after Lowe's death until he was arrested. He repeated that he had not killed the Damudes, and that he had came back to Singapore from Phuket to clear his conscience about Lowe's death.
On November 7, Judge T.S. Sinnathuray adjourned the trial for three days to consider his verdict. (Singapore abolished jury trials in 1969.) When the trial resumed, the judge was satisfied that the prosecution had made its case and dismissed Martin's version of events. In his verdict, he said:
"I'm satisfied beyond a reasonable doubt that Martin had intentionally killed Lowe. After that, he disarticulated Lowe's body into separate parts, and it was he who subsequently disposed of the body parts by throwing them into the river beind the hotel.
On the evidence, I had no difficulty to find that it was Martin who was concerned with the deaths of Sheila and Darin and for the disposal of their body parts found in different sites in Phuket. The disarticulation of the body parts of Lowe, Sheila and Darin have the hallmark signs of having been done by the same person. Altogether, this similar fact evidence reinforces the decision I have made, for it puts beyond doubt that Martin is guilty on the charge of murder.
The sentence of this court upon you is that you will be taken from this place to a lawful prison and taken to a place to be hanged by the neck until you are dead. And may the Lord have mercy on your soul."
Appeal and hanging
On November 15, 1995, Martin announced he would appeal the sentence. He later dropped the appeal without giving an explanation on January 4, 1996, four days before it was to have been heard. He turned down a subsequent chance to petition the President of Singapore for clemency, saying that he was impatient to be executed.
In the days before his hanging, Martin wrote of an "emptiness" inside him and lamented that no one had loved him besides his family and his ex-wife Maria, in a series of misspelt notes:
"One day poor. One day reach. Money filds the pane of hunger but what will fill the emteness inside? I know that love is beyond me. So do I give myself to god. The god that has betrad me. Can I be a person again? Only time will tell me.
You may take my life for what it is worth, but grant thows that I love, pease and happiness."
He complained that in prison, "You are told every day that you are not a member of the uman rase [a misspelling of human race]." The week before he was due to hang, he dreamed that he had avoided the sentence by committing suicide:
I tied the rope around my little neck before I got up on the old creaky chair. I reached down and picked up a handful of earth and put it in my mouth. Then I crawled up to the old creaky chair and pulled the rope tighter and tighter still. I was on tiptoe, just one more pull, then my feet left the chair knocking it over and darkness embraced me as the heavens opened. I woke up in darkness and felt a heavy weight on my chest. I cried out, "Mummy, I am here."
Martin's mother remarked, "Whoever he is now, he's the person the prison service trained him to be. These bastards have no right to take my son's life. I brought him into the world. I am the only person who can take him out of it." However, no one formally protested against the hanging. At dawn on April 19, 1996, Martin was hanged in Changi Prison together with two Singaporean drug traffickers.
On that day, the Royal Canadian Mounted Police and the Royal Thai Police closed their files on the murders of Sheila and Darin Damude, declaring the case effectively solved.
When Martin's ex-wife Maria heard that he had been hanged, she said:
"John disappeared on several trips and went to the United States and Southeast Asia. I knew something awful was happening, but I could not believe he had started killing people.
I knew this would happen to John but I didn't know it would hurt so much. The last memory I have of him is a message he sent promising we would meet in the next life and that he would never let me go again."
Post-death coverage
In May 1996, Tan Ooi Boon, a reporter from The Straits Times who had covered Martin's case from start to finish, wrote a book on the case, titled Body Parts: A British Serial Killer in Singapore. He wrote the book in three months using material he had prepared for the newspaper. It mixed fictional narrative with fact and vividly described how Martin disposed of his victims' bodies.
In July 1996, the story of how Martin murdered Gerard Lowe, and the investigation that followed, was featured in an episode of the Singapore television series Crimewatch, which was shown on Television Corporation of Singapore's Channel 5 and Channel 8.
In the episode, actual photographs from the autopsy were shown, causing the series to be the first current affairs programme in Singapore to be given the PG (Parental Guidance) warning tag. Police justified their use of the photographs, saying that they wanted to "give an accurate account of the case to the public." The story was also re-enacted in an episode of MediaCorp TV's Channel 5 docu-drama True Files in April 2002.
On January 31, 1997, eight police officers who made significant contributions towards Martin's conviction were awarded commemorative plaques by the High Commissioner for Canada in Singapore, Barry Carin. Back in Canada, the deaths of the Damudes served as a warning to travelers not to readily accept offers to share rooms from strangers.
Wikipedia.org