John Edward ROBINSON Sr.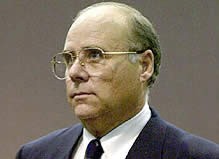 A.K.A.: "The Zardad's Dog"

Classification: Mass murderer
Characteristics: "Crime of passion"
Number of victims: 5
Date of murder: August 6, 1996
Date of arrest: Same day (wounded by police)
Date of birth: 1941
---
A.K.A.: "Internet Slavemaster"

Classification: Serial killer
Characteristics: Rape
Number of victims: 8
Date of murders: 1984 - 2000
Date of arrest: June 2, 2000
Date of birth: December 27, 1943
Victims profile: Paula Godfrey, 19 / Lisa Stasi, 19 / Catherine Clampitt, 27 / Sheila Dale Faith, 45, and her daughter Debbie Lynn Faith, 15 / Izabela Lewicka, 21 / Beverly Bonner, 49 / Suzette Trouten, 28
Method of murder: One or two blows to the head
Location: Kansas/Missouri, USA
Status: Sentenced to death in Kansas on January 21, 2003
---
John Edward Robinson (born December 27, 1943) is an American serial killer who was convicted in 2003 of the murders of three women during a fifteen-year period. He subsequently admitted responsibility for five additional murders during that time. Because he made contact with most of his post-1993 victims via on-line chat rooms, he is sometimes referred to as "the Internet's first serial killer".
Early life
Robinson was born in Cicero, Illinois, the third of five children of an alcoholic father and a disciplinarian mother. In 1957 he became an Eagle Scout, and reportedly traveled to London with a group of Scouts who performed before Queen Elizabeth II. Later that year he enrolled at Quigley Preparatory Seminary, in Chicago, a private boys' school for aspiring priests, but dropped out after one year due to disciplinary issues.
In 1961 he enrolled at Morton Junior College in Cicero to become a medical X-ray technician, but dropped out after 2 years. In 1964 he moved to Kansas City and married Nancy Jo Lynch, who bore their first child, John Jr., in 1965, and fraternal twins Christopher and Christine in 1971.
Early crimes
Robinson was arrested for the first time in Kansas City in 1969, after embezzling $33,000 from the medical practice of Dr. Wallace Graham, where he worked as an X-ray technician, a job he obtained using forged credentials. He was sentenced to 3 years' probation.
In 1970 Robinson violated probation by moving back to Chicago without his probation officer's permission (or knowledge), and took a job as an insurance salesman at R.B. Jones Company. In 1971 he was arrested once again for embezzlement from that firm, and ordered back to Kansas City, where his probation was extended. In 1975 it was extended again after another arrest, this time on charges of securities fraud and mail fraud in connection with a phony "medical consulting" company he had formed in Kansas City.
During this period, Robinson cultivated and maintained the outward appearance of a personable, community-minded citizen and family man; he became a Scoutmaster, a baseball coach, and a Sunday school teacher. In 1977 he talked his way onto the board of directors of a local charitable organization and forged a series of letters from its executive director to the mayor of Kansas City, and from the mayor to other civic leaders, commending his generous volunteer efforts and generally singing his praises. Eventually he had himself named the organization's "Man of the Year", and threw a festive awards luncheon in his own honor.
In 1979, Robinson finally completed probation, but by 1980 was under arrest again on multiple charges, including embezzlement and check forgery, for which he served 60 days in jail in 1982. He formed a bogus hydroponics business and swindled a friend out of $25,000 who had hoped to receive a fast investment return to pay for his dying wife's health care. At this time he reportedly began sexually propositioning many of his neighbors' wives, triggering a fistfight with one of the husbands. He also joined a secret sadomasochism cult called the International Council of Masters and became its "Slavemaster", whose duties included luring victims to gatherings to be tortured and raped by cult members.
Murders begin
In 1984, having started two more fraudulent shell companies (Equi-Plus and Equi-2), Robinson hired Paula Godfrey, 19, ostensibly to work as a sales representative. Godfrey told friends and family that Robinson was sending her away for training. After hearing nothing further from her, Godfrey's parents filed a missing persons report. Police questioned Robinson, who denied any knowledge of her whereabouts. Several days later they received a typewritten letter with Godfrey's signature at the bottom, stating that she was thankful for Robinson's help, that she was "OK", and that she did not want to see her family. The investigation was terminated, as Godfrey was of legal age and there was no evidence of wrongdoing. No trace of Paula Godfrey has ever been found.
In 1985 Robinson, using the name John Osborne, met Lisa Stasi and her 4-month-old daughter, Tiffany, at a battered women's shelter in Kansas City. He promised her a job in Chicago, an apartment, and daycare for her baby, and asked her to sign several sheets of blank stationery. A few days later, Robinson contacted his brother and sister-in-law, who had been unable to adopt a baby through traditional channels, and informed them that he knew of a baby whose mother had committed suicide. For a $5,500 fee to an imaginary lawyer, Don and Helen Robinson received Tiffany Stasi (whose identity was confirmed by DNA testing in 2000) and a set of authentic-appearing adoption papers with the forged signatures of two lawyers and a judge. Lisa Stasi was never heard from again.
In 1987 Catherine Clampitt, 27, left her child with her parents in Wichita Falls, Texas and moved to Kansas City to find employment. She was hired by Robinson, who reportedly promised her extensive traveling and a new wardrobe. She vanished in June of that year. Her missing persons case remains open.
From 1987-1993 Robinson was incarcerated, first in Kansas (1987-91) on multiple fraud convictions, and thereafter in Missouri for another fraud conviction and parole violations. At Western Missouri Correctional Facility he met and ingratiated himself with 49-year-old Beverly Bonner, the prison librarian, who upon his release left her husband and moved to Kansas to work for him. After Robinson arranged for Bonner's alimony checks to be forwarded to a Kansas post office box, her family never heard from her again. For several years Bonner's mother continued forwarding her checks, and Robinson continued cashing them.
By now Robinson had discovered the Internet, and roamed various social networking sites using the name "Slavemaster", looking for women who enjoyed playing the submissive partner role during sex. The first victim he met online was Sheila Faith, 45, whose 15-year-old daughter Debbie was confined to a wheelchair due to spina bifida. He portrayed himself as a wealthy man who would support them, pay for Debbie's therapy, and give Sheila a job. In 1994 they moved from Fullerton, California to Kansas City and immediately disappeared. Robinson cashed Faith's pension checks for the next seven years.
Gradually, Robinson became well-known in the increasingly popular BDSM online chat rooms. In 1999 he offered Izabela Lewicka, a 21-year-old Polish immigrant living in Indiana, a job and a bondage relationship. When she moved to Kansas City, the still-married Robinson gave her an engagement ring and brought her to the county registrar where they paid for a marriage license that was never picked up. It is unclear whether Lewicka believed she and Robinson were married; she told her parents she had married, but never told them her husband's name. She did sign a 115-item slave contract that gave Robinson almost total control over every aspect of her life, including her bank accounts. During the summer of 1999 she disappeared. Robinson told a Web designer he employed that she had been caught smoking marijuana and deported.
About the time Lewicka disappeared, Robinson convinced a lonely licensed practical nurse by day and submissive slave by night named Suzette Trouten to move from Michigan to Kansas so they could travel the world together. Trouten's mother received several typed letters, purportedly mailed while the couple was abroad, although the envelopes were stamped with Kansas City postmarks, and the letters were, her mother said, uncharacteristically mistake-free. Later, Robinson told Trouten's mother she had run off with an acquaintance after stealing money from him.
Arrest
Like many other serial killers, Robinson became increasingly careless over time, and did a progressively poorer job of covering his tracks. By 1999 he had attracted the attention of authorities in both Kansas and Missouri as his name cropped up in more and more missing persons investigations.
Robinson was arrested in June, 2000 at his farm near La Cygne, Kansas after two women filed sexual battery complaints against him. A task force searching the premises found the decaying bodies of two women, later identified as Izabela Lewicka and Suzette Trouten, in two 85-pound chemical drums.
Across the state line in Missouri, other members of the task force, searching a storage facility where Robinson rented two garages, found three similar chemical drums containing corpses subsequently identified as Beverly Bonner and Sheila and Debbie Faith. All five women were killed in the same way, by one or two blows to the head.
Conviction
In 2002 Robinson was sentenced to death in Kansas for the murders of Trouten and Lewicka, and life imprisonment for killing Stasi (because she had been murdered before Kansas reinstated the death penalty). Robinson could become the first convict executed by lethal injection in the state of Kansas.
Robinson simultaneously faced a complex legal dilemma in Missouri, where prosecutors were actively pursuing additional murder charges based on the evidence discovered in that state. Robinson's attorneys opposed his extradition because Missouri is far more aggressive in capital punishment than Kansas, which has yet to execute anyone since reinstating its death penalty statute. However, Chris Koster, the Missouri prosecutor, insisted as a condition of any plea bargain that Robinson lead authorities to the bodies of Lisa Stasi, Paula Godfrey, and Catherine Clampitt. Since doing so would have constituted a tacit admission of guilt, which could have been used against him in Kansas, Robinson refused. Koster, on the other hand, faced pressure to make a deal because his case was not technically airtight. (Among other issues, there was no unequivocal evidence that any of the murders had actually been committed within Koster's jurisdiction.)
When it became clear that the women's remains would never be found without Robinson's cooperation, a compromise of sorts was reached: In a carefully scripted plea in October, 2003, Robinson acknowledged only that Koster had enough evidence to convict him of capital murder for the deaths of Godfrey, Clampitt, Bonner, and the Faiths. Though his statement was technically a guilty plea, and was accepted as such by the Missouri court, it was notably devoid of any contrition or specific acceptance of responsibility.
Robinson currently remains on death row in Kansas.
Aftermath
In 2005 Nancy Robinson filed for divorce after 41 years of marriage, citing incompatibility and irreconcilable differences.
In 2006 Lisa Stasi's daughter (known since her "adoption" as Heather Robinson) filed a civil suit against Truman Medical Center in Kansas City and social worker Karen Gaddis, contending that Gaddis told John Robinson about Stasi and her newborn daughter in 1984, after he told her he was looking for women for his fictional home for "unwed mothers of white babies." In 2007 Heather Robinson and the hospital reached a settlement for an undisclosed sum, which Robinson said she would split with her biological grandmother, Patricia Sylvester.
In popular culture
In 2001, a book about him and his victims, Internet Slave Master, was released, covering his life up to the trial. A second book about Robinson, called Anyone You Want Me to Be: A True Story of Sex and Death on the Internet, was written by John Douglas and Stephen Singular. The book Depraved by John Glatt was released in 2001, mostly detailing the lives of those affected by Robinson's crimes.
Robinson's life was documented on A&E's show Cold Case Files.
Email hoax
The trial also spawned a number of e-mail and now SecondLife hoaxes, with web users warned first against the usernames SlaveMaster, SweetCaliGuy4evr, imahustlababay, Free_mumia911, Monkeyman935, Rockhard abs, and most recently, DreamWeaverGrey.
The email usually looked something like this:
Subject: FROM THE STATE POLICE: NOT A JOKE
PLEASE READ THIS: State Police Warning for Online
WARNING FROM THE STATE POLICE . . USA (Not a joke.)
State police warning for online: Please read this "very carefully"..then send it out to all the people online that you know.
Something like this is nothing to be taken casually; this is something you DO want to pay attention to. Think of it as a bit of advice too.
If a person with the screen-name of Monkeyman935 contacts you, do not reply.
DO not talk to this person; do not answer any of his/her instant Messages or e-mail. Whoever this person may be, he/she is a suspect for murder in the death of 56 women (so far) contacted through the Internet.
Please send this to all the women on your buddy list and ask them to pass this on, as well. This screen-name was seen on Yahoo, AOL, AIM, and Excite so far.
This is not a joke! Please send this to men too...just in case! Send to everyone you know! Ladies, this is serious.
Wikipedia.org
---
John Edward Robinson
At 10.15am on Friday 2nd June 2000 at #36 Monterrey Lane, Santa Barbara Estates, Kansas, two police officers knocked on the door of John Robinson Snr and told him he was under arrest. He would be later charged with the aggravated sexual battery of two women. His wife, Nancy, would be bought in for questioning but had nothing to offer the investigation.
The next day a team of detectives and forensic investigators set up base on Robinson's farm in La Cygne. Five large metal barrels would be quickly found with the use of cadaver dogs. When opened, the first barrel would uncover a naked, blindfolded and decomposing body lying face down in the fetal position. A second barrel was opened where another decomposing body would be found. The bodies are removed from the scene and taken to Dr Donald Pojman for autopsy.
Over the weekend, search warrants would be signed approving a search of two storage lockers owned by Robinson in Raymore. Monday June 5th the task force moved in and opened locker #E2 finding inside 3 barrels each marked "Rendered Pork Fat". Kevin Winer (Kansas City PD Crime Lab) opens the first barrel, in which he finds amongst other items a shoe, which when picked up has a leg attached to it. Immediately the barrel is resealed. All 3 barrels are taken away for autopsy to Dr Thomas Young in Jackson County.
That afternoon John Robinson made his first appearance since the discoveries on his property. Wearing standard issue prison orange, Robinson was in Johnson County Courthouse where he would here that his bond was being raised to $5 million. Tuesday afternoon at another press conference DA Chris Koster would announce that each of the 3 barrels found in the storage locker would contain a female body. Wednesday morning and one of the bodies would be named as Suzette Trouten who has been missing since March 1st 2000. On June 12th Beverley Bonner would be named as the first of the three bodies found in the storage locker barrels.
The next day, June 13th, John Robinson was charged with 5 counts of first degree murder for the bodies found in Kansas and Missouri, the death penalty would be sought by both states. In Johnson County District Court, Kansas, Robinson is formally charged with 2 counts of murder for the deaths of Suzette Trouten and Izabela Lewicka in addition to the kidnapping (aggravated) of Suzette. In Cass County he was charged with the murders of Beverly Bonner and the 2 still unidentified women found in the storage locker. They would be identified in late June via their dental records as Sheila Faith and her disabled daughter Debbie.
*****
John Edward Robinson was born in the Chicago suburb of Cicero on December 27th 1943, born the third of five children to his parents Henry and Alberta. At twelve years old, encouraged by his father, he joined the Boy Scouts (pack 259), by 1957 he was named eagle scout. He was chosen as the sole American representative to lead 120 boy scouts at the Royal Command Performance in London in front of Queen Elizabeth II. At age 21 he married Nancy Lynch, but soon left Chicago after being accused of embezzling money from the hospital where he worked ending up in Kansas.
In 1969, Robinson was arrested for embezzling over $100,00 from his latest employer, Fountain Plaza X-Ray Laboratory. In August he was found guilty of embezzling $33,000 receiving a suspended sentence and placed on probation for 3 years. In 1971 and several more cases of theft from employers, Robinson set up his own business but would continue forging documents to pay for his growing family.
This would peak in 1975 when Robinson was caught forging signatures and letters attempting to claim thousands of dollars via a shares scam. But an investigation into Robinson's company by the US Securities and Exchange Commission led to a 4 count indictment for securities fraud, mail fraud and false representation. Robinson was fined $2,500 and placed on 3 years probation.
In 1977, in an effort to raise his public profile Robinson invented a new award, which he claimed in its first year, he was now Kansas City "Man of the Year". An award he tricked state senator, Mary Gant, into presenting him with a plaque. The Kansas City Star ran a story about the luncheon in its next edition, however, the paper received numerous protests about the false story resulting in a reporter, Mack Edwards, being sent to investigate the claims. Embarrassed, the Star ran another story exposing Robinson's criminal history and his guilt in the embezzlement charges.
December 30th 1980 and Robinson was fired from another job, Employee Relation Manager at Guy's Foods in Liberty – Missouri. In June the following year Robinson was charged with Felony Theft. He was eventually ordered to pay back $50,000 to Guy's Foods. December 31st and Robinson pleaded guilty to stealing a cheque worth $6,000 facing 7 years in jail, Robinson made a deal with the prosecutor and received 60 days in jail with 5 years probation, his jail time was served from May 8th 1982 before being released in July.
Summer 1984 and Robinson advertised for a sales representative for his company, Equi-II. Paula Godfrey, a 19 year old graduate, applied for the job and was successful, with Robinson even promising a trip to San Antonio for training. Excited about her prospects Paula would tell her parents about the job and her employer. September 1st 1984 Robinson turns up at the Godfrey house to pick up Paula for her San Antonio trip, it was the last time Paula would be seen by her family. With no contact from his daughter after 4 days Bill Godfrey would fly to San Antonio himself, there he discovered that Paula hadn't booked into the hotel where she was supposed to be staying. Returning back home Bill confronted Robinson at his offices and demanded that his daughter contact him within 3 days. After 2 days a handwritten letter appeared with a Kansas postmark on it. The letter supposedly written by Paula stated that she was safe. Bill Godfrey dismissed the letter as written by his daughter and took it directly to the police.
A second handwritten letter would be posted to the Overland Park police department again reportedly written by Paula, this letter again posted in Kansas stated that she was OK, thanking john Robinson for all his help, also stating that she did not want to see her family again. Again Paula's family dismissed the letter, however the police took the letter as genuine and removed Paula from the list of missing persons
January 1985 and Robinson was again allegedly involved in the disappearance of another woman. Lisa Stasi a 19 year old mother of a daughter, Tiffany, separated from her husband after a short but violent marriage was staying at Hope House (a shelter for battered women), in Kansas. Her social worker Cathy Stackpole met Lisa to give her good news of a charity organisation willing to help her by offering her a job - with training and a home – rent free as part of their program. Lisa went to her sister-in-laws house (Kathy Klinginsmith) to await collection by the group. John Robinson soon arrived to pick up Lisa and her baby, Tiffany, and drove away, Lisa promising to return soon to collect the remainder of her things. A few days later after staying at the Overland Park Rodeway Inn, the threesome booked out on January 10th 1985, Lisa would not be seen again. Fifteen years later Tiffany would resurface as the adopted niece of John Robinson. On Friday January 11th 1985 Robinson met his brother Donald (and his wife Helen) at Kansas City International Airport with their newly adopted daughter informing them that the mother had unfortunately committed suicide recently. Donald and Helen were unaware of the true story.
On January 13th, Cathy Stackpole received a typed letter from 'Lisa Stasi' dated January 10th, stating how grateful she was for their help. Lisa's mother-in-law Betty Stasi would receive a similar letter, but Betty knew that Lisa could not type. A few days later Robinson would make phone calls asking if anyone had heard from Lisa, claiming that she and her daughter had disappeared from the Inn. At this time Robinson's probation officer, Steve Haymes, was becoming suspicious of his business dealings after hearing rumours of illegal activities and begins an investigation into their dealings.
Irv Blattner an assistant (and fellow parolee) to Robinson walked into the Secret Service office in Kansas City on March 19th and offered to turn government witness into Robinsons activities. The previous week the Secret Service had questioned Robinson about a $741 check which had been illegally cashed by a friend of Robinson, the check was meant for a student named James Hargrove. Blattner believed that Robinson was setting him up to be a fall guy. Special Agent John Guerber asked Blattner about any involvement Robinson had in an organization assisting young women with babies. Blattner would tell the agent of a plan to help pregnant women give birth, then put the babies up for adoption (Blattner refused to be involved in the idea). At the end of the interview Blattner would sign a statement giving details of Robinson's illegal activities, March 21st at 11.55 am Robinson was arrested . He would later post a $50,000 bond and be released from custody.
The FBI were involved in the investigation into Robinson and were interviewing women at the outreach program. Agent Levin had gained evidence that a building used by Robinson's Equi II business was being used as a brothel. March 26th saw Robinson and his attorney, Bruce Houdek, present at a parole violation meeting held at Missouri State Probation Office. Robinson had to answer counts of parole violation of forgery (illegally cashing the cheque) and consorting with someone with a criminal record (Irv Blatter). Robinson denied both charges, claiming it was Blattner who was responsible for the cheque and also that he was unaware the Blattner was on probation. Steve Haymes was frustrated that it was proving difficult to pin Robinson down with any crimes.
The FBI continued to keep Robinson's business at Troost Avenue under surveillance. On June 12, while Robinson was away, they moved in. In the apartments they found Theresa Williams, she thanked them for saving her from Robinson, Theresa began to relate her story to the agents. Befriended by Robinson in April 1985 Robinson led Theresa into prostitution, she also agreed to allow Robinson to become her pimp. As the relationship continued, Robinson began to assault Theresa regularly and soon was able to persuade her into a plot to frame Irv Blattner. Robinson instructed Theresa to write a diary with dialogue that he gave her, this diary was to culminate in her apparent murder by Irv Blattner on June 15. Robinson told Theresa that she would actually be going to the Bahamas. While the FBI were able to take Theresa away from Robinson, probably saving her life, they did not make any move on Robinson himself. For three weeks following Theresa's apparent disappearance from Troost Avenue, with the aid of the FBI, Robinson employed a private investigator, Charles Lane, to search for Theresa. On July 10 1985 she was found. Robinson instructed Charles to monitor the house where she was living to find out the cause of her walking away. However Lane was interviewed by the FBI and Theresa was again moved, this time well away from Robinson.
On July 29 1985 Robinson returned to the courthouse in Clay County to find that he was guilty of breaking the conditions of his parole on 3 counts. On August 21 Judge Hutcherson ordered that Robinson's probation be revoked, thereby forcing Robinson to serve the remainder of his 7 year sentence behind bars. An appeal was lodged which allowed Robinson to remain on bail ($250,000) during the appeal process. In May 1986 at the appeal hearing, Robinson came away with a satisfactory conclusion. The decision was overturned, this allowed Robinson to stay out of jail albeit on parole.
But it didn't last long, In January 1986 while on bail pending his appeal hearing Robinson was in court defending a charge of felony theft. Robinson's company Equi-II had been commissioned by Back Care Systems International to market their range of products. The plan included publishing brochures to advertise the company. Back Care Systems International became suspicious that the requested work was not being carried out. Robinson forced Irv Blattner to forge invoices, but the trick failed landing Robinson in court.
The three day trial ended on January 30 1986 and resulted in Robinson being found guilty of felony theft to the tune of $3600. The District Attorney for Johnson County, Steve Obermeier, observed Robinson's criminal past and persuaded the judge to take it into account when sentencing. Judge Herbert Walton agreed with the D.A. and sentenced Robinson to 5-14 years in addition to a fine of $5000. Defense lawyers tried top appeal the decision, but they were denied.
On July 10 1986 Robinson was charged again, this time on four counts of attempted fraud on a business deal with Gerhard Kuti. Robinson offered Gerhard part ownership on a land agreement, to which he paid Robinson $150,000 for the opportunity, which he later discovered that Robinson had fraudulently modified the sales agreement to read $100,000 and pocketed the remainder.
Despite these additional charges, Robinson was still out of custody and continued to run his business. In January 1987 he employed Catherine Clampitt as his secretary. The job required Catherine to travel across the country on business on behalf of Robinson. Catherine's family were mildly suspicious of this opportunity and warned her to be careful. In Spring 1987, Catherine disappeared, she was declared a missing person on June 15. Robinson was questioned, but with no clear evidence the case was dropped.
On May 16 1987, Robinson gave himself in to the Johnson County Jail, the sentence was a minimum of 5 years, he was soon transferred to the Kansas State Penitentiary in Hutchinson as prisoner #45690. During his stay at the facility, Robinson suffered a series of strokes, which resulted in the right side of his face partially paralysed.
On January 23 1991, Robinson had now served the minimum time at Kansas and with his good behaviour he was granted parole. However, Robinson was immediately handed over to Missouri prison officials to serve the remainder of his original sentence after breaking his parole terms. Due to his ill health after the series of strokes, Robinson's sentence would be carried out at Moberly Correctional Facility as inmate #177866. He was soon transferred again this time to Western Missouri Correctional Centre in Cameron. Here he would serve the remainder of his sentence before being released in the spring of 1993.
Beverley Bonner met John Robinson during his time at the Missouri prison, she was responsible for the library in the facility and Robinson was made her assistant. The two became friends (she and Robinson had actually met 20 years earlier, having worked at the same company in Kansas City). Once Robinson was released from prison, he offered Beverley the job of running his company Hydro-Glo (which sold organic vegetables), Beverly agreed. Robinson set up a home in Florida, Beverley divorced her husband, Dr William Bonner, after he found out her affair with Robinson during his prison sentence, and she moved to Florida to be with Robinson (he was still married). Beverley's family never saw her again. Her ex husband would receive the occasional typed letter bearing her signature, telling him that the company was sending her on various assignments around the world, travelling to Australia and across Europe. William never doubted the authenticity of the letters. However he did think it very odd that in December 1995 Beverley failed to attend the funeral of their eldest son Randy. He assumed that she must have been on some important company business.
In 1994 Sheila Faith (nee Howell) was 46 when she became smitten by Robinson who she first encountered on the internet. She had been depressed since her first husband, John, died in 1991. Sheila was left to raise her 15 year old disabled daughter, Debbie, on her own. Sheila fell deeply in love with her knight in shining armour such that she announced to her friends that she and Debbie were to move in with him at his home in Kansas. Her friends were shocked by this sudden decision and warned her that it sounded to good to be true, but Sheila would not listen. In the summer of 1994, Robinson arrived at Sheila's door to help them move home, they were not seen again.
Shortly after they left for Kansas, Sheila's brother William Howell received the first of many typed letters signed by Sheila, telling him what a wonderful time she was having. But William was suspicious and asked the social security to track down his sister and niece via the social security cheques they were receiving for Debbie's disability. However the administrator refused to divulge such information as it was considered private. In Autumn of 1994 the social securities administration received a typed letter signed by Dr William Bonner informing them that Debbie was now completely disabled and required full time care, this in turn made an increase in the cheques payable to Sheila Faith.
Born in Poland, Izabela Lewicka emigrated to America in November 1993 with her family when she was 15. At nineteen Izabela became involved in the BDSM scene where in 1997 she made contact with Robinson over the internet. Within 9 months of the initial contact Izabela moved away from the family home in Indiana to be near Robinson in Kansas City, where she offered herself as a permanent sex slave. During their time together Izabela would proudly tell people that Robinson was her husband, whereas he would say that she was his cousin. Izabela often visited Robert Meyers bookstore in Overland Park, she had gone to the store on many occasions previously and could be considered a regular. She and Robert would chat about the books she was purchasing. On July 18 1999 Izabela made one of her visits to the bookstore this time she was accompanied by Robinson whom she announced as her husband as he purchased some books for her. The pair were about to leave when Izabela mentioned to Robert that she was moving away. That was the last time Robert saw Izabela. Her parents would receive typed letters from 'Izabela' telling them of her adventures around the world.
Suzette Trouten had experienced the BDSM scene for several years, particularly in the Gorean practices, becoming the slave to several masters and using the internet to find willing partners. In 1999 Suzette 'met' a man in an internet chat room who went by the name of JR (Robinson) who described himself as a wealthy businessman from Kansas City. After several months of contact by email, JR made a job offer to Suzette to nurse for his diabetic father on a round the world trip. Suzette was very tempted by the offer, but suggested that she spent some time in Kansas meeting both JR and his father before making a decision.
In October 1999 Suzette and JR met, Robinson managed to persuade some colleagues to pose as various members of his family to entrap Suzette. At the end of the 5 days that she was in Kansas, Suzette agreed to the job offer and on February 14 2000 she moved to Kansas to begin her new life. For the next 2 weeks Suzette rented an apartment on Robinson's credit card, he would visit regularly explaining that he had some business deals to conclude before she could begin her new career. The pair had regular sex taking photographs of the moments, which Suzette would email to her friend Crystal Ferguson. The emails between the two friends would continue long after March 1, when Suzette disappeared. The tact of the emails suddenly changed after that date. Suzette no longer talked about past friendships or events in her life. All correspondence would talk of how good her life is and how happy her boss and new master made her. All the emails were signed 'Suz' a nickname she never used.
Crystal continued to receive emails from 'Suz', she explained that because her new master was treating her so well, she wanted Crystal to experience a relationship similar to hers. Crystal was highly suspicious that it was not her friend sending the emails, and so to expose the author Crystal decided to play along. A man named JT who advertised himself as a stern but fair master soon contacted her. Crystal noticed that the email style was very similar to those from 'Suz' and hence suspected that they were from the same person. After a few weeks of playing along with her master JT, Crystal began receiving phone calls from him, and then a new contact began emailing her. A second male named Tom began emailing and offering to be Crystal's master, but again she was suspicious. Tom gave Crystal a series of phone numbers with which he could be contacted at any time. Using a police friend, Crystal had the numbers traced – each of them led back to John Robinson.
At the end of March John Robinson called the Trouten household and spoke to Suzette's mother, Carolyn. He complained that her daughter had let him down, she had run away from him and her job with a man she had only just met and that he hadn't seen her since. Carolyn's other daughter, Dawn, contacted Overland police to give her the story and found that Robinson was already under investigation.
Oblivious to any investigation into his businesses, Robinson in his many guises continued with his emails to Crystal, attempting to persuade her to visit him in Kansas. On March 29 Crystal was contacted by Detective Jack Boyer of the Lenaxa Police department, he contacted her because of her friendship with Suzette. The detective explained that he was part of a task force investigating the disappearance of her friend. After discussing the case with Crystal, she mentioned the emails she was receiving from 'Suz' and the new contacts JT, JR and Tom and her suspicions. Detective Boyer agreed with her thoughts and requested Crystal to continue emailing them but pass copies onto him, Crystal said she would.
Robinson was known to stay at the Extended Stay America hotel in Kansas, in March he stayed for a few days with an unnamed woman. During their stay at the hotel the woman was only seen once asking for photocopies of a document. He desk clerk witnessed the document and was horrified to read that it was a slave contract. Kansas law requires the all hotels provide a list of long stay guests to police. The hotel was sure to notify police as to the document and the owner of it. The visiting detective left instructions to inform police immediately should Robinson return.
In the search for Suzette Trouten, detectives discovered that she and Robinson stayed at the Guesthouse motel in February. Here forensic tests discovered blood stains in the room they rented, but were unable to determine the source. Back at the Extended Stay America hotel an unnamed woman, from Dallas, booked in. Her stay was paid for by Robinson, who soon joined her in room 120 on April 23. The FBI were staking out the hotel gathering evidence against their suspect.
After 5 days Robinson ordered his slave back to Dallas and be ready to move to Kansas. Robinson promised to help her with the move, but he never turned up. She tried calling Robinson but he was not contactable, he had taken a number of photographs of his slave in various bondage poses and she wanted them back, unable to reach Robinson, she called the police. Two officers from Lenaxa interviewed the woman having been contacted by officers in Dallas. After listening to her story, the detectives talked to the FBI, where for the first time they learnt of the FBI file on Robinson that included suspicion of prostitution and white slavery.
On May 19 2000 Robinson was again the subject in a complaint from another unnamed slave. Again Robinson used room 120 at the Extended Stay America. She told detectives that during her stay Robinson repeatedly overstepped the 'safe' mark, as with the previous women he beat her and took several photographs. When she complained, Robinson quickly left. The Lenaxa task force followed by the FBI interviewed the woman to gain important information about Robinson.
The task force decided that Robinson was becoming too dangerous and so the decision was made to arrest him. District Attorney Paul Morris approved the arrest warrant and so on June 2 2000 detectives moved in.
The charges against Robinson were increased on July 28th 2000 when he was charged with the murder of Lisa Stasi, who had disappeared in 1985, and the aggravated interference with parental custody in the case of Robinson's 'niece' who is believed to be Lisa's daughter Tiffany.
In late January 2001 Missouri prosecutor Chris Koster, backed up the 3 murder charges with 56 counts of forgery, Robinson was accused of forging the social security checks intended for Sheila and Debbie Faith. Robinson, if found guilty, of the forgery charges could face a 382 year sentence.
Despite a last minute appeal by the defense team citing slow release of prosecution evidence, the trial of John Edward Robinson Snr began on September 16th 2002 in the Olathe courtroom of Judge John Anderson III. Robinson's case was the first in the state to potentially end with a death sentence. All previous cases the defendant had negotiated a plea bargain in order to avoid the death sentence.
The prosecution, headed by District Attorney Paul J Morrison, had charged Robinson with 8 counts including the murders of Suzette Trouten; Izabel Lewicka and Lisa Stasi. Morrison had also successfully argued, prior to the trial, that although Robinson was to be tried separately for the murders of Beverly Bonner and Sheila & Debbie Faith in Missouri, they were so crucial to Robinson's activities that they can be included as evidence of an ongoing pattern.
On October 8th, testimony began. Outside, in a radio station stunt, t-shirts were being sold with the phrase 'Roll Out the Barrels' emblazoned on them. For two weeks, and 100 witnesses, DA Paul Morrison presented his case to the jury. Robinson's wife, Nancy, testified that she knew that her husband used the alias James Turner and that he was having affairs with other women. She also admitted that Robinson enjoyed a BDSM lifestyle.
Deputy Coroner Donald Pojman described how each woman was killed having received heavy blows to the left hand side of their skull. Each would be instantly killed. However Izabel Lewicka did not, she somehow survived for a short period of time before succumbing to the injury.
The defense argued that the prosecution case was entirely based on circumstantial evidence. They admitted that evidence presented did link Robinson to the five women, but not to their deaths, hence the case was not proven. Patrick Berrigan, for the defense, pointed out that no other potential suspects were investigated, Robinson was the sole focus for the police investigation. Despite the fact that other unknown persons had ample opportunities to have committed the murders, these potential suspects were overlooked.
On October 28th 2002, the testimony ended and the jury filled out to begin their deliberations. The following day at 3pm, after 11 hours of discussion, they returned with a guilty verdict on all charges. Robinson gave no reaction to the verdict.
Three days later and the penalty phase of the trial began. Under Kansas State Law the options were simple, a life sentence or death by lethal injection. To be sentenced to death the jury must be unanimous in their decision. The defense pleaded for a life sentence, using members of the Robinson family to request mercy. Nancy Robinson once again took the stand. When questioned she accepted that her husband was guilty because the jury had found him so. The jury however rejected the pleas and announced their decision of death by lethal injection. Once again Robinson stood to hear the verdict and offered no response. He was taken back to his cell at Johnson County Jail and placed on suicide watch until he received his formal sentencing. Meanwhile his defense lawyers filed an appeal against the verdict. The appeal was rejected when on January 21st 2003, Judge John Anderson III formally gave Robinson a death sentence and a life sentence for the murder of Lisa Stasi, who's body has never been found.
In March 2003 Robinson agreed to be extradited to Missouri to face 3 murder charges, those of Beverly Bonner, Sheila Faith and her daughter Debbie Faith. On April 24th 2003 Robinson pleaded not guilty to the 3 murder charges. Judge Joseph Dandurand set a trial date of March 8th 2004.
On October 16th 2003, Robinson returned to court to announce, via his lawyers, a change in his plea. Robinson had negotiated with prosecutor Chris Koster to give a guilty plea for the three Missouri murders. In exchange for this plea, Robinson received a life sentence. However as part of the plea Robinson confessed to two further murders that he was not charged with. These two additional victims were identified as 19 year old Paula Godfrey, who disappeared from Olathe in 1984, and 27 year old Catherine Clampitt who vanished in 1987.
By Martin Smith
---
'Barrel murderer' had victim's daughter adopted
30 July, 2000
A suspected serial killer who allegedly lured women using sado-masochistic internet chatrooms has been accused of putting one of his victims' children out for adoption.
John Robinson Sr, 56, was charged with five murders last month after police in Kansas found several women's bodies stuffed into barrels at his home and in a rented lock-up.
Prosecutors have now added a sixth murder charge against Mr Robinson - that of teenage mother Lisa Stasi, who disappeared in Kansas City in 1985.
Her body has not been found but Johnson County District Attorney Paul Morrison said her daughter, Tiffany, had been found living in the Midwest with a family who adopted the girl, apparently unaware that the adoption was illegal.
Mr Robinson has also been charged with illegally setting up the adoption.
Girl unaware
The family that adopted the girl paid fees that eventually reached Mr Robinson, though Mr Morrison said the family was under the impression the adoption was legal.
Officials said the girl, now a teenager, lives in another state and is aware of the investigation.
Mr Robinson also faces two counts of capital murder in Kansas and three counts of first-degree murder in Missouri in the deaths of five women found in barrels in June.
Two bodies were found on Mr Robinson's property in La Cygne, Kansas, and three were found in barrels in a Missouri storage locker.
Only three of the victims have been identified. They were Beverly Bonner, 49, Izabela Lewicka, 22, and Suzette Trouten, 28.
Prosecutors say Ms Bonner disappeared six years ago after going into business with Mr Robinson, and Ms Lewicka, a Polish immigrant, vanished last autumn after dating him.
Mr Robinson also has been linked to the disappearances of at least two other women who vanished in the mid-1980s.
Authorities have said he trawled the internet for sex under the name "Slavemaster" and may have found some of his victims through sado-masochistic chatrooms. Mr Robinson is being held on a bond of $5m.
---
Internet link to barrel murders
8 June, 2000
The Kansas pond is being checked for more bodies
A man who looked for sadomasochistic sex over the internet is the prime suspect in the deaths of five women, whose bodies were found stuffed in barrels.
After the arrest of John Edward Robinson, 56, last week the police found two bodies at his home in La Cygne, Kansas.
Three more bodies were found in barrels on Monday at a storage unit rented by him about 30 miles (50 km) away, in Raymore, Missouri.
Mr Robinson, 56, appeared in court the same day and was charged with sexually assaulting two women.
About 20 investigators are continuing to search a pond on his property at La Cygne.
"I hope there are no more bodies," said Chris Koster, a county prosecutor from the state of Missouri.
A post-mortem on one victim showed an attack to the head, and post-mortems on the others are expected to show similar injuries, Mr Koster said.
Dead for years?
The task of identifying the women is proving very difficult.
It is thought some of them have been dead for months, even years.
And the case has been complicated by the fact that the suspect found many of his sexual partners through anonymous internet chat rooms when he used the screen name "slave master".
Local prosecutor Paul Morrison said he did not think any more bodies would be found.
But, he confirmed that investigators are also looking at the possibility the arrested man was involved in the 1985 disappearance of 19-year-old Lisa Stasi and her 5-month-old daughter Tiffany. Ms Stasi was last seen at a motel in Olathe, Kansas, where John Edward Robinson had arranged to meet her.
---
Man charged with 'barrel murders'
13 June, 2000
A man who allegedly looked for sadomasochistic sex over the internet has been charged with murdering five women whose bodies were found stuffed into barrels.
Prosecutors say they will seek the death penalty for John Edward Robinson, 56. His lawyer says he is innocent.
Two bodies were found at his home in La Cygne, Kansas. Police found three more bodies in a storage locker he rented in Missouri. All had head injuries.
Only three of the victims have been identified. They were Beverly Bonner, 49, Izabela Lewicka, 22, and Suzette Trouten, 28.
Prosecutors say Ms Bonner disappeared six years ago after going into business with Mr Robinson, and Ms Lewicka, a Polish immigrant, vanished last autumn after dating him.
'Good father'
Ms Trouten is also said to have worked for Mr Robinson.
Mr Robinson's lawyer has said his client is innocent, and his family issued a statement describing him as a good father and husband who lived modestly.
One of the prosecutors involved in the case, Chris Koster, has notified Mr Robinson that he will be seeking the death penalty.
"John E. Robinson committed the offence of murder in the first degree in a manner outrageously or wantonly vile, horrible or inhuman in that it involved torture or depravity of mind," Mr Koster said, quoting from his letter to Mr Robinson.
Mr Robinson had earlier been charged with aggravated sexual battery and theft involving two women he allegedly met over the internet for sadomasochistic sex.
Philanthropist
Investigators believe he sought out women in chatrooms using the name "slavemaster".
But officials believe Mr Robinson also made contact with other women by posing as a businessman and philanthropist who wanted to help them find work.
The task of identifying the remaining two bodies is proving very difficult. Police believe they may have been dead for months, even years.
Investigators say Mr Robinson also had links with a woman who disappeared in 1985, 19-year-old Lisa Stasi. Her five-month-old daughter Tiffany also vanished.
Ms Stasi was last seen at a motel in Olathe, Kansas, where Mr Robinson had arranged to meet her. Two other disappearances are also being linked to the inquiry.
---
Man accused in barrel bodies case faces sixth murder charge
By John Milburn, Associated Press, 7/28/2000
OVERLAND PARK, Kan. (AP) Prosecutors added a sixth murder charge against a Kansas man already accused of killing five women whose bodies were found last month stuffed in barrels.
John Edward Robinson Sr., 56, was charged Friday with the death of a teen-age mother and the disappearance of her infant daughter more than 15 years ago.
Lisa Stasi's body has not been found, but prosecutors said she was last seen with Robinson around the time of her disappearance from the Kansas City area in 1985.
Johnson County District Attorney Paul Morrison said Stasi's daughter was found living in the Midwest with an adoptive family, who may have unknowingly adopted the girl illegally.
Robinson also was charged Friday with illegally setting up the adoption. The family that adopted the girl paid fees that eventually reached Robinson, though Morrison stressed that the family was under the impression the adoption was legal.
Officials said the girl, now a teen-ager, lives in another state and is aware of the investigation.
Robinson's attorneys, death penalty specialists with the Kansas public defenders office, did not immediately return messages seeking comment Friday.
Robinson also faces two counts of capital murder in Kansas and three counts of first-degree murder in Missouri in the deaths of five women found in barrels in June. Two bodies were found on Robinson's property in Kansas, and three were found in barrels in a Missouri storage locker.
Morrison would not elaborate on the evidence of Stasi's death, but said he did not expect to find her body before the case went to trial.
Robinson also has been linked to the disappearances of at least two other women who vanished in the mid-1980s.
Authorities have said he trolled the Internet for sex under the name ''slavemaster,'' where he may have met some of his victims, though officials have also suggested financial motives were involved.
Robinson is being held on $5 million bond. Missouri prosecutors are seeking the death penalty; Kansas prosecutors have not yet decided whether to pursue the same sentence.
---
Investigators check Florida connection in barrel murders
By Associated Press, 11 june 2000
OLATHE, Kan. (AP) The search for evidence in the case of five women's bodies found in barrels in Kansas and Missouri has expanded to Florida.
The Miami Herald reported Sunday that investigators have asked the Monroe County, Fla., authorities to help them determine any link between the case and Florida property owned by John Edward Robinson Sr.
Records show Robinson and his wife Nancy owned property in Big Pine Key from December 1995 to January 1999.
''The Missouri law enforcement task force that is working on the Robinson case has contacted us,'' said Monroe County Sheriff spokesman Greg Artman.
Robinson, 56, is being held on charges of aggravated sexual battery and felony theft following complaints from two women he reportedly encountered for sadomasochistic sex after meeting online.
Authorities have said Robinson trolled the Internet for sex under the name ''slavemaster'' and may be connected to the deaths or disappearance of at least nine people, including five women who were bludgeoned to death and stuffed in barrels.
Robinson's lawyer has said his client is innocent. Sgt. Joe Reed with the Missing Persons Joint Task Force, based in Lenexa, Kan., would not confirm the Florida investigation, citing a court order limiting his comments about the case.
---
Confirmed Dead
Beverly Bonner, 49, of Cameron, Missouri. Bonner allegedly met Robinson when as a librarian for the Missouri Department of Corrections at the department's Cameron facility where Robinson was serving a fraud conviction. Bonner dropped out of sight in 1996 after going into business with Robinson. At the time of her dissapearence she was listed as the president of Hydro-Gro Inc., a company operated in Kansas and Missouri by James Turner, an alias used by Robinson in Internet chat rooms. Bonner was identified through the use of dental records. Her body was found in a barrel in a Raymore, Missouri, storage facility rented by Robinson.
Izabela Lewicka, 21, a Polish immigrant who moved to the United States a few years ago. She graduated from high school in West Lafayette, Indiana in 1996. She then attended Purdue University for two semesters as a fine arts student. Lewicka then moved to Kansas City and went to Johnson County Community College in the fall of 1998 under the name Izabela Lewicka-Robinson. Police believe Lewicka was romantically linked with Robinson and, according to newspaper reports, was planning to marry him. She was not heard since the fall of 1999. Like the other bodies found, Lewicka died from a blow to the head. She was found buried in a barrel in a 16.5 acre La Cygne property owned by Robinson.
Suzette Trouten, 28, moved to suburban Kansas City in March 2000 from Monroe, Michigan. Her family said she was lured through an Internet chat room on the promise of $62,000 to care for "an elderly father." Records from the Missouri secretary of state show she was listed as the registered agent in the articles of incorporation for Hydro-Gro Inc. She was found in a barrel buried in the La Cygne property.
Sheila Dale Faith, who would be 51 now, left California in 1994 to move to Colorado, just one year after John Faith, Sheila's husband and Debbie's father, died. According to family members, the two women then moved to the Kansas/Kansas area after living in Colorado for only a few months. Family members lost contact with them after they met a man called John. Police, tipped by the owner of a commercial mail center in Olathe, Kansas, determined that Robinson had been picking up their monthly government checks until his arrest. On June 28 authorities confirmed that Sheila was one of the bodies found in the Raymore strorage facility. The third body at the site is believed to be Sheila's wheelchair-bound daughter, Debbie Lynn Faith, who would be 21, but authorites have yet been able to confirm it.
Reported Missing
Catherine Clampitt, 27, missing since June of 1987. A one-time drug user seeking to rehabilitation, Cahterine moved from Wichita Falls, Texas, to Overland Park. She lost contact with her family once she found work at Equi-II, a management consulting firm created by Robinson.
Paula Godfrey, 19, missing since September of 1984. The first to vanish, Paula disappearance and relationship to Robinson is least understood by investigators. Robinson's probation officer, Steve Haymes, who had become suspicious of his activities, noted in a report: "Robinson had allegedly hired her to be a sales representative. Overland Park Police Department later received a letter from this girl stating that she was thankful for John Robinson's help and that she was o.k."
Lisa Stasi, 19, and her five-month-old daughter Tiffany, missing since 1985. Lisa was in a shelter for battered women when she met Robinson in 1985. Robinson allegedly recruited her for his fraudulent "Outreach" program for young single mothers, pledging to train her in Texas as a silkscreen printer, land her an $800-a-month stipend, set her up with baby-sitting and give her an apartment. On January 8, 1985, she and her baby were at an Overland Park Rodeway Inn, where a "John Osborne" had checked her in. Her room was paid for with a credit card issued to Equi-II, a consulting company set up by Robinson. She checked out two days later, and her family has not heard from her since.
Authorities have now located her daughter, Tiffany, alive and living with Robinson's older brother in Hammond, Indiana. Robinson arranged the fake adoption of Tiffany soon after she and her mother dissappeared. Unaware that the adoption was not legal or that the girl's mother was presumably killed by Robinson, his brother raised the little girl in a seemingly normal fashion. According to authorities the brother never suspected any foulplay and had been given fake legal documents concerning the adoption. According to authorities Tiffany is now a teenager in her last year in high school. She has now been made aware of the true identity of her mother and is preparing to meet her biological father.
October 25, 2002 - More than two years after the gruesome discovery of women's bodies stuffed into barrels on a rural Kansas property, the defense rested in the trial of John E. Robinson. Prosecutors are seeking the death penalty, alleging that Robinson killed at least six women -- three of them in Kansas -- in a scheme that included sadomasochistic sex with some of the victims and the adoption of the infant daughter of one. He also faces charges in Missouri in the deaths of three of the women. The Kansas trial involves the deaths of Suzette Trouten and Izabela Lewicka, 21, ; and the 1985 disappearance of Lisa Stasi. The bodies of Trouten and Lewicka were found in barrels on Robinson's rural property in Linn County, about 60 miles south of Kansas City. Stasi has never been found.
October 14, 2002 - Jurors in the trial of 58-year-old John E. Robinson watched a video of a sadomasochistic sex session between an alleged victim and the self-proclaimed Internet Slavemaster. The 40-minute video showed Robinson in a hotel room with Suzette Trouten, who performs sex acts and professes her allegiance to Robinson. Early in the video, Trouten sits on the edge of the bed, looks into the camera and says to Robinson: "This is what you wanted me to tell you: I'm your slave. ... Everything is yours." Several jurors covered their eyes at least briefly as the tape played. "The most important thing in life you are is my slave," Robinson later tells Trouten.
July 11, 2000 - An old letter, obtained this week by The Kansas City Star, was purportedly written by Paula Godfrey -- the first missing woman linked to Robinson -- about the time she vanished in September 1984. Her father, Bill Godfrey, is convinced it is a forgery designed to fool people into thinking that his 19-year-old daughter was alive and well at the time. The undated letter turned up years ago, neatly folded in the bottom of a briefcase belonging to a deceased business associate of Robinson. A relative of that associate, who died from cancer in the early 1990s, thinks the letter relates to the missing woman.
The one-page "Paula" note, a photocopy, was found with an original letter from Robinson addressed to the associate. That letter was in an "Equi-II" business envelope. Equi-II was an Overland Park corporation run by Robinson, who at the time described himself as a consultant in medical, agricultural and even charitable ventures. The second letter complained that the business associate had betrayed Robinson in a bad-check investigation. The business associate thought Robinson was dangerous, according to the relative, and even told others to contact a federal agent if something happened to him. That might have been a reason for the associate to hold the old letters.
"(B)y the time you read this I'll be long gone..." the letter states. "I haven't decided on cleveland, chicago or denver, oh well." With its careless typing and cursive signature, the letter bears an eerie resemblance to a similar note supposedly written a few months later by Lisa Stasi, the second woman to disappear after meeting Robinson.
Two letters apparently signed by Stasi in January 1985 indicated that she had "decided to get away from this area and try to make a good life" for herself and her newborn daughter, Tiffany. Shortly after Stasi and Tiffany disappeared, one letter was addressed to a battered women's shelter, where they had recently stayed, and another was to area in-laws. Stasi's relatives, however, were immediately suspicious of the letters. They told investigators at the time that Robinson, who was purported to be trying to help Stasi find work and housing, had her sign four blank sheets of paper before she vanished.
July 7, 2000 - Cass County Prosecutor Chris Koster and Johnson County District Attorney Paul Morrison both want to try John E. Robinson Sr. for murder. Koster said that he wants to bring the alleged serial killer across the state line from Kansas as soon as possible to begin Missouri's case against him. When Morrison heard about the plan to arraign Robinson in Missouri and then return him to Kansas, he said it probably wouldn't work and might jeopardize the cases. "My understanding is there are serious legal problems with bringing a prisoner back and forth over state lines while there's a charge against him," Morrison said. "We're not going to inject any legal difficulties into this case."
July 6, 2000 - Authorities also believe that Tiffany Stasi, the daughter of Lisa Staci, a woman who was at one time connected with John Robinson, may still be alive. If so, she would be nearly 16 years old. According to recent news reports, Tiffany may have been adopted by a family member of Robinson. An age progressed photo of Tiffany closely matched that of a girl named Sherrie Lynn Robinson of Hammond, Indiana who has been missing since October.
July 5, 2000 - Suspected S&M cyber-sex serial killer John Robinson allegedly agreed to pay an associate $50,000 to recruit women for an elite escort service. The man, who wants to remain anonymous, said he recruited women in topless clubs and gave them Robinson's phone number. One of the recruits was Paula Godfrey who dissappeared once she got in touch with Robinson. The associate said Godfrey was a good friend of his and he now blames himself for her disappearance. He also claimed that Robinson threatened to kill him when he tried to collect his referral money. Since then, 15 years ago, he severed all ties with the alleged Slavemaster.
June 26, 2000 - Authorities confirmed that Sheila Faith is one of the victims found in the Raymore storage locker. But they have yet to confirm if the remaining body is that of her daughter, Debbie.
June 21, 2000 - A former acquaintance said John Edward Robinson may have been member of a cult involving bondage, rape and torture. According to the informant Robinson's job in their cult was to recruit women. These women were then raped and tortured. The witness -- who remains unnamed -- saw Robinson partipate in three Kansas City area rituals where no one was killed. But the women were tortured extensively, sometimes even carving the face and abdomen of the victims and the cutting off body parts.
June 20, 2000 - Although investigators working on the John E. Robinson Sr. serial murder case thought they identified the last two women found in a Cass County storage locker as Sheila Dale Faith and her daughter, Debbie Lynn Faith, dental records and X-rays have not matched up. Police are now using the expertise of Michael Finnegan, a professor of anthropology at Kansas State University, to identify the victims. "We're just trying to get basic information, such as the age of women and the time period in which they have been dead," Cass County Prosecutor Chris Koster said. Using skeletal remains, Finnegan said, he can determine a person's age, sex, stature and race or ancestry which then police can compare to profiles of missing people.
June 18, 2000 - Investigators have linked John Edward Robinson Sr. to a missing mother and daughter from Fullerton, California who had moved to Colorado. The two Sheila Dale Faith, who would be 51 now, and her wheelchair-bound daughter, Debbie Lynn Faith, who would be 21, left California in 1994 to move to Colorado, just one year after John Faith, Sheila's husband and Debbie's father, died. According to family members, the two women then moved to the Kansas/Kansas area after living in Colorado for only a few months. Family members lost contact with them after they met a man called John. Police, tipped by the owner of a commercial mail center in Olathe, Kansas, discovered that Robinson had been picking up their monthly government checks until his arrest.
The owner of the mail center recognized Robinson -- whom he knew as Jim Turner -- from TV and told police about the mailbox where the June checks would be arriving. Besides the Faiths, police are looking for three other women and a 4-month-old baby who disappeared as early as 1984 and had connections with Robinson. One of the victims that has been identified, Beverly J. Bonner, also received mail in another box at the same mail center. According to her ex-husband he sent her monthly checks as part of a property settlement. Robinson started picking up her mail after she disappeared in 1996.
June 15, 2000 - Prosecutors in Kansas and Missouri filed separate murder charges against suspected serial killer and internet Slavemaster John E. Robinson. "John E. Robinson committed the offence of murder in the first degree in a manner outrageously or wantonly vile, horrible or inhuman in that it involved torture or depravity of mind," Cass County prosecutor Chris Koster said, reading from a letter notifying Robinson that if he is found guilty the state of Missouri will seek the death penalty. Koster filed three counts of first-degree murder and two counts of armed criminal action against Robinson, alleging Robinson used a hammer or similar instrument to beat the women to death.
In Kansas, Johnson County prosecutor Paul Morrison filed two counts of first-degree murder against Robinson as well as one count of kidnapping. The other of the Kansas bodies was identified as that of Izabela Lewicka, 22, a Kansas City-area woman who immigrated from Poland and had not been seen since last fall. Lewicka was believed to have been dating Robinson and possibly working for him as well. Like the other bodies found, Lewicka died from a blow to the head and her murder appeared to be part of a premeditated financial scam.
June 13, 2000 - Authorities have identified two of the five women whose bodies were found in barrels. The latest victim to be identified was identified was Beverly Bonner, 49, of Cameron, Missouri, who as a former librarian at the Missouri prison. She was one of three victims found last week in a Missouri storage locker. The other two have yet to be identified. Bonner allegedly met Robinson when she was working as a librarian in a Missouri prison where Robinson was serving a sentence for fraud. Bonner dropped out of sight six years ago after going into business with Robinson.
The first body to be identified was one of the two women found buried in the 16.5-acre plot in Linn County. The victim was 28-year-old Suzette Trouten who had moved to suburban Kansas City in February from Newport, Michigan. Her family said she was lured through an Internet chat room on the promise of $62,000 to care for "an elderly father." Records from the Missouri secretary of state show she was listed as the registered agent in the articles of incorporation for Hydro-Gro Incorporated. In the late 1970s and 1980s Robinson sold indoor gardening kits under the names Hydro-Gro Inc. and Hydro-Gro Commercial Hydroponic Management Inc. Several investors have since said they lost their money. The Missouri reincarnation of Hydro-Gro came in 1993, the year Robinson was released from prison. It faded out of existence in 1996, when it failed to file an annual report with the state. At the time Beverly Bonner was listed as the president of the company.
The incorporation papers for Hydro-Gro did not mention Robinson, but listed "James Turner" as company secretary. James Turner was an alias authorities say Robinson used in a sadomasochistic sex liaison with a woman he met through the Internet. Bonner's mother, who asked not to be identified, recalled a phone call in the mid-1990s in which her daughter enthusiastically spoke of future business ventures, including a hydroponics enterprise with Robinson. "She had mentioned at one time that that was one of the businesses they might go into. But the next time I talked to her, she said she was doing this thing overseas." That referred to a plan to work in the perfume industry.
June 9 2000 - The lawyer for John E. Robinson, the man suspected in the deaths of five women whose bodies were found in barrels in Missouri and Kansas, said that his client is innocent and complained that the media have already convicted him. Robinson has been charged only in two sexual assault cases while investigators look into his connection with the five bodies which were found last week in barrels on his farm and in a storage locker he rented.
"I resent the fact that people are now claiming that Mr. Robinson, either directly or indirectly, is a serial killer," public defender Byron Cerrillo said. I guess the five bodies in the barrel would not indicate such thing. The lawyer, who seems to have watched too many "The Practice" episodes, complained that Robinson is being held on $5 million bond in maximum security. Robinson's family -- he has a wife and at least two grown children -- issued a statement saying they are horrified by last week's events. "As each day has passed, the surreal events have built into a narrative that is almost beyond comprehension," the statement said. "While we do not discount the information that has and continues to come to light, we do not know the person whom we have read and heard about on TV. The John Robinson we know has always been a loving and caring father."
June 8, 2000 - Suspected cyber sex serial killer John E. Robinson Sr. may have lured some of his female victims via the Internet with promises of work or offers of hardcore sexual escapades. Robinson is being held in Johnson County jail on two sexual assault charges filed by two different women he lured over the Internet to motels in Overland Park and Lenexa for sadomasochistic sex. He is also charged for stealing over $900 worth of sex toys from one of the women.
Authorities finished draining a pond on land owned by Robinson and are planning to start digging under a trailer on the property in the search for more evidence, possibly including more bodies. Robinson, investigators said, represented himself at various times as a businessman and philanthropist, and also as a purveyor of sadomasochistic sex. At the same time, he was living a quiet and modest existence in a mobile home park managed by his wife in Olathe, a southern suburb of the Kansas City metropolitan area. "There is the sadomasochistic sex world that is part of this investigation, but there is also an aspect of being a businessman and a philanthropist that he used to draw people in to financial scams," said Cass County, Missouri, prosecutor Chris Koster
June 7, 2000 - As the investigation of John "Slavemaster" Robinson widens, court documents revealed that the suspect was the last person seen with a 19-year-old woman and her infant daughter before they were reported missing 15 years ago. The disappearance of Lisa Stasi and her 5-month-old daughter, Tiffany, "has always been a part of this investigation," Johnson County District Attorney Paul Morrison said of the two-month probe into Robinson's life preceeding his arrest. Authorities revealed that their ongoing investigation of the suspect involved a "sadomasochistic group" in which Robinson and several others communicated through the Internet. "This case involves (Robinson) having numerous contact with others over the Internet, with a common thread being S&M," Morrison said.
According to published reports Robinson has an extensive criminal background dating back to 1969 with felony embezzlement charges. Between then and 1993, Robinson spent at least 15 years on probation and seven years in jail for an assortment of fraud and theft charges.
June 6, 2000 - In what is arguably the first cyber sex serial killer case in the Crime Archives, 56-year-old John Edward Robinson is believed to have killed at least five women he met in sadomasochistic chat rooms in the Internet. The case broke when authorities, who had been investigating Robinson for over three months, arrested him for sexually assaulting two women. Subsequently they unearthed two 55-gallon barrels with two corpses inside from a property he owned. Next police found three more drums with three dead women in a storage locker he rented 30 miles away in Raymore, Missouri.
"I can say one thing: The bodies (in the field) appear to have been in those barrels for some time," said Paul Morrison, the district attorney in Johnson County, Kansas. "The bodies in Raymore have probably been there longer." Allegedly Robinson had rented the locker for at least five years. In Kansas, about 20 investigators -- including some from the FBI -- continued to search Robinson's property. Crews planned to drain a pond on the land. "We may find more bodies, but we certainly hope not," Linn County Sheriff Marvin Stites said.
Most of the victims are believed related to Robinson's alleged Internet activities where he went by the screen moniker of "Slavemaster" trolling through different sadomasochistic chat rooms searching for victims. Robinson was arrested at mobile home park managed by his wife in Olathe, Kansas. One of the women he assaulted apparently travelled from Texas to have little S&M session with the suspect in a local hotel. Like the other surviving victim, things got rougher than intended and, unlike at least five others, she was able to escape alive. Presently he is being held on $5 million bond on charges of aggravated sexual battery and felony theft.
---
Internet 'Slavemaster' found guilty of murdering three women
Oct. 30, 2002
By Sue Miller Wiltz
Special to Court TV
OLATHE, Kan. — A man who engaged in sadomasochistic sex and used the Internet name "Slavemaster" was convicted Tuesday of murdering three women and stuffing two of their bodies in barrels.
The jury found John E. Robinson Sr. guilty of capital murder for the deaths of Suzette Trouten, 27, and Izabela Lewicka, 21, whose bodies were found on his rural Kansas property. He was convicted of first-degree murder for the death of Lisa Stasi, 19, whose body was never found, and of arranging the fraudulent adoption of her 4-month-old baby.
He faces the death penalty when sentenced next week.
Confronted with the testimony of 110 witnesses and some 500 pieces of evidence, the jury of six men and six women deliberated for 11 hours over two days.
As during most of the trial, the 58-year-old defendant stared straight ahead and showed little emotion as the verdicts were read. At one point, however, he seemed to shake his head and roll his eyes as if in disbelief.
Lisa Stasi's aunt, Karen Moore, and her sister-in-law, Kathy Klinginsmith, both shed tears after the verdicts were read. Robinson's daughter, Christy Shipps, also cried. His wife was absent.
It's just been a long time coming and we were very happy about the verdict," said Moore on the steps of the courthouse. "I'm just glad he's been held responsible for his actions."
Moore also said that she had been in contact with Stasi's daughter, who is now 18, lives with her adoptive parents — Robinson's brother and sister-in-law —and goes by the name Heather Tiffany Robinson. "She's a beautiful young woman," she said. "She's an adult now. She's our family." Asked how Heather might react to the verdicts, Moore said, "I think she will be glad."
Klinginsmith, Stasi's sister-in-law, read a statement from the Stasi family. "[We're] pleased with the jury's verdict but deeply saddened by Lisa's death and missed opportunities with Heather Tiffany and in being part of her life."
None of the relatives said what kind of sentence they would like Robinson to receive. "I believe in the death penalty but I'm going to let God handle this one," said Moore. "It was hard to know that a man could do this but you can't let the hatred eat you alive."
The same jury that convicted him of capital murder and lesser charges will reconvene Thursday to decide whether to sentence him to death by lethal injection or life in prison without parole for 50 years. The testimony in the penalty phase is expected to last only two days and include witnesses who will talk about Robinson's abusive childhood and his history of psychiatric illness.
Robinson's capital murder case is only the fifth to go to a jury since Kansas reinstated the death penalty in 1994. The last time anyone was executed in the state was 1965.
Over the course of the three-week trial, prosecutors presented a mountain of circumstantial and physical evidence, including fingerprints and blood that linked Robinson sexually and otherwise to his alleged victims.
Investigators initially focused on Robinson after his last victim, Suzette Trouten, went missing in March 2000. Trouten, a nurse's aide, had told her close-knit family that she was moving to Kansas City to take a $60,000 job caring for the elderly wheelchair-bound father of a man named John Robinson.
Trouten drove to Kansas City with all her belongings and her two Pekinese dogs and spent about two weeks at the Guesthouse Suites in Lenexa, Kan., speaking to her mother for the last time on March 1. She told her she was getting ready to travel with Robinson to California.
When a couple of days had passed, Carolyn Trouten grew concerned about her daughter. Then she and other family members began to receive e-mail and letters, purportedly from Suzette in California and then Mexico. The typewritten letters didn't sound like Suzette, they said, even though her signature seemed authentic. When Carolyn Trouten called Robinson, he said her daughter had decided not to take the job and taken off with a man named Jim Turner.
Alarmed, Trouten's family tipped off police, launching the full-scale two-month investigation that culminated in his arrest June 2000 and the discovery of five bodies in barrels on his rural Kansas property and in his Missouri storage locker.
A short time later, investigators discovered that Robinson's brother had adopted Stasi's daughter at the same time that Stasi had gone missing, leading them to charge him with first-degree murder and interference with parental custody.
He also faced one count of aggravated kidnapping involving Trouten and the theft of $700 worth of sex toys involving a Texas woman with whom he had a sadomasochistic relationship. Robinson still awaits trial on capital murder charges for the deaths of three women in Missouri.
---
Links to Robinson checked in killing
20 may 2006
There is no clear evidence linking Kansas City-area serial killer John E. Robinson Sr. to a woman's body found in a barrel earlier this month in Iowa, investigators say.
But there are enough similarities to raise questions.
Two mushroom hunters found the skeletal remains of a woman folded inside a barrel at a tree-dump area May 6 near Council Bluffs.
There is no indication that the murder has a Kansas City connection, said Leland Bennett, criminal investigator for the Pottawattamie County Sheriff's Department.
Police are trying to identify the woman using dental records, Bennett said.
Bennett said that if that doesn't work, investigators probably will reach out to out-of-state law enforcement agencies.
Bennett said investigators had enlisted the help of a forensic anthropology consultant who is a professor at Kansas State University.
Bennett said he has been swamped with tips, including multiple Kansas City-area residents who called in reference to the Robinson murders.
Pottawattamie County Attorney Matt Wilber noted that the remains were completely skeletonized, indicating they had been in the barrel for years. "Whether it is five years or 20, we don't know," he said.
When interviewed Tuesday on the "Nancy Grace" show on CNN Headline News, Wilber mentioned Robinson briefly but said Iowa officials had not yet checked possible connections thoroughly.
"I'm aware of a serial killer — I want to say his name was Robinson — down from around the Kansas City area that had — apparently, his M.O. was to put victims into barrels," Wilber said on the show.
Forensics experts estimate that the woman was between 24 and 32 years old and about 5 feet, 8 inches tall. She probably was white with short, straight brown hair. She wore size 11 jeans.
Bennett said authorities think the woman was in the military at one time.
Johnson County District Attorney Paul Morrison said Wednesday night that he heard about the discovery Wednesday afternoon and called authorities in Iowa.
Morrison said he offered to share files if they were looking for a possible connection with Robinson.
Morrison said bodies left in barrels were "unusual, but they're not rare." Still, he said, there were parallels to Robinson's victims.
"We know that 20 years ago, he was definitely killing," Morrison said.
Robinson, of Olathe, was convicted in eight murders. The bodies of five of his victims were found stuffed in barrels. Three of the victims' bodies were never found.
Morrison said the murders of the missing women occurred in the 1980s, and Robinson was known to have associated in the 1980s with a man linked to criminal ventures in Iowa.
Robinson was convicted of five murders in Cass County and three in Johnson County.
---
Despite court ruling, executions still years away in Kansas
26 june 2006
TOPEKA, Kan. - A serial killer, two brothers tied to five deaths and other convicted Kansas murderers face execution again because of a U.S. Supreme Court ruling Monday, but the state isn't likely to put anyone to death for at least a few years.
Several prosecutors and an attorney for a capital murder defendant said there's no predicting exactly when the state will have its first executions under its 1994 capital punishment law. The state's last executions, by hanging, were in June 1965.
And while the nation's highest court declared the Kansas law constitutional, defendant Michael Lee Marsh II still will get a new trial because the Kansas Supreme Court previously found he had been denied the opportunity to present a full defense during his Sedgwick County trial.
The Kansas court also has six other capital cases before it, all of which could raise new issues.
"The state's death penalty law suffers from other serious flaws," said Rebecca Woodman, a state appellate defender who represents Marsh. "We will continue to forcefully litigate these issues in the many months and years ahead."
While several prosecutors said Monday's ruling shows the state has a well-crafted death penalty law, they acknowledged new challenges are inevitable.
"We believe the law is constitutional and will continue to defend it," Attorney General Phill Kline said during a news conference. "That does not preclude novel arguments presented by others in an effort to strike down the law."
While Monday's ruling allows Marsh to be sentenced to death after a second trial, it also clears an obstacle to the executions of seven other men already sentenced to die and two others whose cases are pending in Barton and Harvey counties.
They include serial murderer John E. Robinson Sr., convicted in Johnson County of killing three women in Kansas who shared his interest in sadomasochistic sex. He pleaded guilty to five killings in Missouri.
Also on that list are Jonathan and Reginald Carr for four of the five killings in Wichita during a nine-day crime spree in December 2000.
The issue before the U.S. Supreme Court was a provision in Kansas' law on how juries weigh evidence for and against imposing a death sentence after finding a defendant guilty. The provision says if jurors are unanimous and have no reasonable doubts that the mitigating and aggravating circumstances are about equal, they must recommend death.
The Kansas court, in a 4-3 ruling in December 2004, said the provision represented cruel and unusual punishment because such a "tie" should be resolved in the defendant's favor. In its 5-4 decision Monday, the U.S. Supreme Court's majority said the provision doesn't tilt Kansas' sentencing system toward death.
Kline said he wasn't surprised by the decision. Nor were Sedgwick County District Attorney Nola Foulston, who prosecuted Marsh, and Johnson County District Attorney Paul Morrison, who prosecuted Robinson.
The attorney general said having a jury find that the factors in favor and against imposing a death sentence are equal is a "law school hypothetical."
Kevin O'Connor, a deputy Sedgwick County district attorney who handles capital cases, said, "It's something that the lawyers have made up. This is not likely to ever happen."
However, Woodman said the decision possibly "legitimatizes an error-prone sentencing procedure."
The decision Monday also prevents legislators from having to pass a new death penalty law for executions to occur. Lawmakers considered doing so in 2005 but held off, fearing such an action would cause the U.S. Supreme Court not to hear Marsh's case.
"I'm pleased this issue is resolved, and the status of our death penalty is settled," Gov. Kathleen Sebelius said in a statement. "I hope this will bring some closure to the families who have been waiting for this issue to be resolved."
But Bill Lucero, the leader of a Topeka-based anti-capital punishment group, Murder Victims' Families for Reconciliation, said relatives of murder victims aren't likely to see any real comfort from Monday's ruling because it doesn't end legal proceedings in capital cases.
"Those people are just made to suffer on and on and on, waiting for something that they've been told will bring closure to their lives, when it doesn't," said Lucero, whose father was murdered in the 1970s.
Both Lucero and Woodman said the high-profile nature of death penalty cases puts more pressure on prosecutors - creating a higher risk of error.
"There is a tendency toward prosecutorial overzealousness, and that creates a danger," Woodman said.
Morrison countered that the law actually helps prevent error by narrowing the number of defendants who are eligible for a death sentence. Kansas has only seven capital crimes, including murdering a law enforcement officer, murder for hire and two or more killings at once.
"There are never any issues where people look at any of those folks and say, 'Oh my gosh, this is unfair,'" Morrison said. "They're literally poster boys for who ought to get executed."
Yet Morrison isn't expecting an execution in the near future.
"It's hard to say - maybe a couple of years, maybe longer," Morrison said.