Johannes Christiaan DE JAGER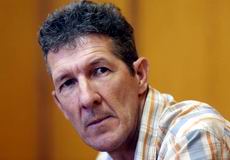 Classification: Murderer
Characteristics: Rape - Necrophilia - Dismemberment
Number of victims: 2
Date of murder: May 18, 2008 / January 11, 2013
Date of arrest: January 16, 2013
Date of birth: 1964
Victim profile: Hiltina Alexander, 18 / Charmaine Mare, 16
Method of murder: Strangulation
Location: Cape Town, Western Cape, South Africa
Status: Sentenced to life in prison on May 27, 2014
---
Rejoicing as 'brutal killer' gets life
By Jenna Etheridge - Iol.co.za
May 27, 2014
Cape Town - Sex workers rejoiced after former motor mechanic Johannes Christiaan de Jager was sentenced to life in jail for the "brutal and savage" murder of two teenagers.
Western Cape High Court acting Judge Chuma Cossie on Tuesday handed down three life sentences to run concurrently, finding there were no substantial and compelling circumstances allowing her to deviate from prescribed minimum sentences.
"This court has taken into account the personal circumstances of the accused. However, it is in agreement with the State that the accused has shown no signs of remorse during the trial and during mitigation of sentence," she said.
"It is also mindful of the fact that two young lives were violated and such lives cannot be replaced."
Outside court, members of the Sisonke sex workers' movement ululated and jumped for joy at the sentences. Some carried posters stating: "We demand justice" and "Decriminalise sex work now".
National Sisonke organiser Duduzile Dlamini shouted that she was happy that they were also regarded as human.
She said many crimes had been committed against her on the street but she had not reported them because of trouble with police and the justice system.
"I've been in the industry many years. This one (case) shows me that our voices are heard now and I'm going to motivate my colleagues to go back and review their cases."
De Jager, 49, was last month convicted of killing and raping 18-year-old sex worker Hiltina Alexander in 2008 and killing 16-year-old Charmaine Mare last year. Both crimes were committed in Cape Town.
Cossie handed down a life sentence each for the rape and murder of Alexander.
He also received a life sentence for Mare's murder.
Six years in jail were handed down for dismembering Mare's corpse and three months for stealing her cellphone.
De Jager, dressed in jeans, a checked shirt, and blue jersey, smirked as the sentence was handed down. He leaned against the dock in a relaxed manner and looked around at the people in court.
Cossie said she agreed with counsel Sakkie Maartens that his client was not a serial killer, as suggested by State witness Brigadier Gerard Labuschagne during sentencing arguments.
However, rape and murder were very serious offences and needed to be punished in a way that would satisfy the interests of society.
"This kind of brutality is regrettably too a part of life in South Africa. Courts are expected to send out a clear message that such behaviour will be met with the full force and effect of the law," she said.
"The legislature is concerned about this and so too should we be."
Cossie said she had kept in mind that alcohol consumption had played a role in Alexander's murder, as suggested by the defence.
However, this was one of many factors to consider.
"Society expects that offenders such as this one before court today should be punished for such offences and, if possible, be totally removed from the community at large," she said.
With regards to Mare's murder, it was clear he had abused the trust that the Mpumalanga resident had in him.
"Instead of helping the deceased look for work as promised and take care of her while her friend and mother were away, he used the opportunity to violate her and showed no remorse by denying that he killed her, only admitting that he violated the corpse and nothing further." - Sapa
---
De Jager refuses to admit murders
By Jenna Etheridge - Iol.co.za
May 22, 2014
Cape Town - Convicted killer Johannes Christiaan de Jager maintained his innocence on Thursday when called to convince the Western Cape High Court to give him a lesser sentence.
Prosecutor Romay van Rooyen wanted him to admit to raping and killing prostitute Hiltina Alexander, 18, in 2008 and killing 16-year-old Charmaine Mare last year.
Despite maintaining a frown, De Jager seemed calm in the dock and stuck to his version that he did not commit the crimes.
"So you can't tell the court you are sorry (about Alexander) because you are saying you did not do it?" Van Rooyen asked.
De Jager replied: "I am sorry she is dead but I did not do it."
Van Rooyen asked the same about Mare.
De Jager replied: "As I said, she is dead as a result of me but it was an accident in the house."
He added that he was not a danger to women because he had never raped anyone.
When the State concluded questioning, he stumbled out of the dock because of an injury to his leg.
In closing argument, his lawyer Sakkie Maartens said it would have been in his client's favour to admit to the crimes.
"It would have been first prize if Mr De Jager today took the stand and made a U-turn and confessed his sins and asked for mercy," he said.
"He stands by his version. In this regard, I want to submit that the court will be careful not to use the absence of remorse as an aggravating factor."
He said that the crimes against Alexander attracted a minimum sentence of life imprisonment. However, since his client was found guilty of the 2008 crimes at the same time as Mare's crimes, it could not count as a previous conviction. Thus, Mare's murder could not also attract a life sentence.
He then seemed to assist the State's argument in admitting that murder and rape were the most serious offences.
"Life is sacrosanct and no ways is Hiltina's life cheaper than the interpreter's," he said.
"Society needs to get the message that prostitutes or no prostitutes, 1/8women 3/8 must feel free to walk the streets without forever being in fear that some evil-doer might pounce on them."
He asked the court to keep in mind that De Jager was not "all evil" and had stayed out of trouble for a lengthy period of his life.
The defence lawyer also ventured a guess that the crimes were not premeditated but committed "in the heat of the moment".
"I implore the court to consider that despite his callous conduct pertaining to Charmaine's body, that there is something to save, salvage, and rehabilitate."
De Jager admitted that he cut off Mare's arms and legs and burned her torso.
Maartens reminded acting Judge Chuma Cossie that courts should never punish in anger.
The lawyer said his client had asked him to apply for observation at a psychiatric hospital despite not being aware of any mental illness.
He had decided not to argue this point as he could see no evidence that would assist him in this regard.
---
De Jager's partner stunned she never suspected him
By Fatima Schroeder - Iol.co.za
May 3, 2014
Cape Town - She paused for a moment, her eyes welling up, as she thought about whether she would ever be able to forgive him.
It was the first visible sign of emotion Carol White had shown since she first sat down and started to describe the ordeal she and her daughter endured 15 months ago.
She took a few seconds to compose herself before saying: "I will never forgive him. She didn't deserve it."
It was the first time White has spoken publicly about the inner turmoil she has experienced since the man she had lived with for four years, Johannes de Jager, 49, was arrested for murdering a girl of 16, Charmaine Mare, a friend of her daughter Kristen who had moved in with the family after relocating from Mpumalanga.
The decision to take Charmaine in was not an easy one, she said yesterday.
But when she saw the dire circumstances in which the girl was living, she wanted to try to offer her a better life, and perhaps help see the teen's artistic skills land her a job as a tattoo designer.
Charmaine moved in earlier than expected, ignoring White's advice to travel to Cape Town only after she and Kristen had returned from a pre-booked cruise.
She fitted in well with the family, secured a job interview at a local supermarket, and even became good friends with De Jager's son and the neighbour's daughter.
"She was a lovely girl," White said, smiling as she recalled their time together.
So when she and Kristen left on their cruise on January 7 last year, she didn't at all feel uneasy about leaving Charmaine behind with De Jager.
"I would never have left her alone if I knew what was going on," she said. In fact, De Jager and the teenager seemed happy when they went to the harbour to see them off.
The mother and daughter were not contactable on the boat because they did not have cellphone reception.
Four days later, when the boat docked in Table Bay harbour at 5.30am, messages Charmaine had sent them started to pour in.
In the messages, she told them she was scared, and that De Jager refused to leave her alone. They immediately dialled her number and she answered the call, scared and reluctant to speak to them because De Jager must have been with her, White said.
But by the time they arrived at home in Windsor Park, Kraaifontein, there was no sign of Charmaine.
De Jager told them she had left to buy cigarettes, and had never returned.
When they confronted him with the messages Charmaine had sent them, he denied doing anything to hurt her.
"You never expect a person to do that (kill someone) … I thought that he tried to sleep with her and that she ran away," White said.
The police were alerted and for days they searched for Charmaine.
De Jager was part of the search party and had even gone to the police to report Charmaine missing, White said.
However, Kristen was sceptical and wouldn't let him near her mother.
On January 14, 2013 Charmaine's dismembered body was discovered, her torso charred.
"I still don't believe it. It's like I'm in a nightmare and I'm waiting to wake up," she said.
White described De Jager as well-liked.
While they had the odd petty domestic squabble, he was never violent towards her, and gave her no reason to feel unsafe.
Even when, in the heat of an argument, he told her "if I can't have you no one else will", she didn't make anything of it because she didn't think that he would hurt her, she said.
Killing Charmaine was completely out of character for De Jager, she said.
White said she often blamed herself for what had happened, and wondered why she never noticed that the man she fell in love with was capable of a cold-hearted killing.
"I was so naïve, so stupid," she said angrily.
She hasn't spoken to De Jager since his arrest.
This despite the fact he has tried to make contact with her on several occasions to beg for her forgiveness.
But she refuses to accept his calls, and has left her job of 18 years to move out of the city and start afresh.
"I was like a zombie. Have you ever felt that you don't want to live?"
This week De Jager was convicted of Mare's murder as well as the 2008 murder of 18-year-old Cape Town prostitute Hiltina Alexander.
White still wonders what it was that drove him to do the unthinkable. However, she will never ask what went through his mind because she no longer trusts anything he says.
De Jager, now in Pollsmoor Prison, is expected in court for sentencing on Monday.
---
'Butcher' guilty of killing teens
By Natasha Prince - Iol.co.za
April 30, 2014
Cape Town - It is inconceivable that Johannes Christiaan de Jager could plead guilty to dismembering the corpse of 16-year-old Charmaine Mare and not have murdered the teenager, says the Western Cape High Court judge who found him guilty of her murder.
Acting Judge Chuma Cossie found that De Jager, 49, intended to kill Charmaine – evident from his efforts to burn the body and conceal the evidence.
"The court was satisfied that that the State succeeded in proving guilt of the accused beyond a reasonable doubt in the case of murder," she said on Tuesday.
Regarding the charges of violating a corpse, Acting Judge Cossie said: "It is inconceivable as to how the accused can plead guilty to this and not to murder."
For Charmaine's death, he was found guilty of murder and two counts of violating a corpse and of theft – for stealing her cellphone
Earlier in the day, he was also convicted of raping and strangling 18-year-old Cape Town prostitute Hiltina Alexander, who was found dead in May 2008.
De Jager had initially denied having anything to do with Hiltina other than picking her up one night in May 2008 for a stranger.
He claimed he last saw her when she went to bed with the stranger.
But the court rejected De Jager's version of events, finding that he could not give police a description of the stranger and he could not identify the flat where he had last seen her.
Acting Judge Cossie found him guilty of two counts of rape and of murdering Hiltina.
Charmaine was introduced to De Jager when the Mpumalanga teenager came to stay with her friend Kristen White. Kristen lived with her mother, Carol White, who was De Jager's girlfriend, and De Jager's son Nick.
Charmaine had been left alone with De Jager while the family had gone on a pre-planned cruise, from January 7 to 11 last year.
When the family returned, Charmaine was missing. The family then went to the police.
De Jager claimed that Charmaine died in an accidental fall in his bathroom, and that in a panicked and shocked state he had dismembered her body and set her torso alight.
The State argued that he had fabricated the story of the stranger and lied to the court, and accused him of raping Charmaine and strangling her to prevent her from telling anyone.
Prosecutor Romay van Rooyen claimed that De Jager had tried to destroy forensic evidence.
A pathologist's report said Charmaine had no fatal head injuries and her death was due to an unknown unnatural cause.
De Jager initially stored her body in a drain on his property but decided to remove it.
A few days later, Charmaine's torso was found on an open field. Her lower legs and arms were found in separate locations and were in a state of decomposition, but not burnt.
Acting Judge Cossie said De Jager had no regard for the young girl's body as during his testimony he referred to her body as "it".
"He showed no respect for the deceased even after her death," she said, adding that his actions were inconsistent with those of an honest person.
"The explanation that was given to the court as to why he set the body alight was that he wanted to get rid of the body. That is very gruesome, to say the least, for a person who had no intention to kill anyone."
Sentencing proceedings were provisionally set down for May 5, to determine availability of defence counsel.
On Tuesday, Carol and Kristen White also attended proceedings. They sat in court alongside friends of Charmaine's family.
Ellen du Toit and Hester "Hanti" Venter said they had raised Charmaine from the age of 3 to 10 in Kriel, Mpumalanga.
They cried as they spoke of their relief that the case was finally over. The pair had taken a bus from Kriel to attend the judgment.
Du Toit was satisfied with the judgments. "I'm relieved it's finally over… may he have a very hard life in prison," she said.
---
De Jager trial: slain prostitute hidden
By Jade Otto - Iol.co.za
November 19, 2013
Cape Town - Prostitute Hiltina Alexander's body was found lying face up, covered by leafy branches, in a secluded area near the Frankdale informal settlement off the N7.
Captain Michael Volkwyn, who was stationed at Philadelphia near Atlantis, told the Western Cape High Court he was called after a passer-by found Alexander's body.
She had been raped twice and murdered on May 18, 2008, allegedly by Ruyterwacht mechanic Johannes de Jager, who is also on trial for the murder of Charmaine Mare, 16, in Kraaifontein this year.
Volkwyn said he found forensic investigators and a police photographer already combing the bushy area close to a footpath that led to the informal settlement.
"Hiltina was clothed in camouflage pants that were partially pulled down, and… a dark-coloured sleeveless top. The body was covered entirely with dry branches. When the body was turned over, I saw blood on the back of her head and on the grass and soil," said Volkwyn, the first of at least five investigating officers who handled the case. He traced Alexander's mother to Elsies River and found her friends.
Colin Jacobs, the State's first witness, was instrumental in De Jager's arrest on June 3, 2008.
He testified that he was with Alexander, 18, shortly before she went missing and last saw her get into De Jager's white Ford bakkie. Two weeks later he saw the bakkie in Epping Avenue and called Volkwyn, who arrested De Jager.
De Jager has admitted that he picked Alexander up in his bakkie but said he dropped her at a flat in Parow for another man known only as Johan. He denies raping and murdering her.
Volkwyn had taken a warning statement from De Jager a day after his arrest. "Because Hiltina was found in an area where prostitution is a problem, I wanted to make sure if De Jager was familiar with the area. That's why I asked him specifically of the turn-off to Van Schoorsdrift Road (near Philadelphia), where he confirmed his brother stayed," Volkwyn said.
Evidence detailing the January 11 murder of Charmaine has not yet been led in court. De Jager has denied killing her but admitted that he dismembered her.
In his plea explanation, he said Charmaine must have died after she slipped on a bath mat and hit her head against the edge of the bath.
He panicked and "foolishly" hid her body in a drain outside a house in Kraaifontein and later, to get her out, cut off her limbs. Charmaine's scorched torso was found in an isolated field three days after the murder.
---
'I cut up her body, but I didn't kill her'
By Jade Otto - Iol.co.za
November 14, 2013
Cape Town - Double murder accused Johannes de Jager says his decision to dismember the body of Charmaine Mare, 16, was foolish.
While De Jager pleaded guilty to two counts of defiling a corpse, he denied murdering Charmaine on January 11.
In a plea explanation, De Jager said she must have died when she slipped on a bath mat and knocked her head against the edge of the bath.
The trial into the murders of Charmaine and sex worker Hiltina Alexander, 18, started in the Western Cape High Court on Wednesday. De Jager, 48, of Ruyterwacht, pleaded not guilty to murdering the teenagers, and raping Hiltina twice. He also denied robbing Charmaine of her BlackBerry.
The prosecution rejected his plea.
De Jager also admitted he made sexual advances towards Charmaine, who was in Kraaifontein on holiday from Kriel in Mpumalanga.
Charmaine had come to Cape Town to visit her friend, Kristen White, who lived with her mother, Carol, De Jager and his son, Nick.
Carol White, Kristen and Nick went on a cruise from January 7 to 11 while Charmaine remained in Kristen's house with De Jager.
De Jager said he was supposed to meet the family at the V&A Waterfront at 9am on January 11 and told Charmaine to get ready, but she was taking her time, which frustrated him.
De Jager reversed his bakkie out of the garage and when he returned he saw a fully dressed Charmaine sitting in the bathroom with her cellphone.
"Seeing as she was delaying me and taking unnecessarily long, I grabbed her right arm in the direction of the bathroom door.
"She lost her balance and slipped on the bathroom mat and knocked her head against the rim of the bath. She was motionless," De Jager said.
He tried unsuccessfully to revive her and then realised she had "fatally injured herself during the fall".
De Jager said he panicked and did not know what to do. "I took a foolish decision to take her body and hide it in a drain on our premises. She showed no signs of life and I believed I placed a corpse in the drain."
Two days later, De Jager removed Charmaine's body but the only way to get it out was to cut her limbs.
De Jager admitted he dumped Charmaine's torso in an open field in Kraaifontein and her legs on the N2 close to Firgrove.
The first witness to testify on Wednesday was Hiltina's friend, Colin Jacobs, who identified De Jager as the last person with whom he saw Hiltina alive.
Jacobs said that on May 18, 2008, around 10pm he, his brother, McNeil, and Hiltina had left a bar in Parow and were walking in Voortrekker Road when they spotted De Jager's white bakkie.
Hiltina whistled to get his attention and later got into the bakkie. Jacobs and his brother waited for her but she did not return.
De Jager's defence is that he met a man, known only as Johan, in a bar in Parow and they drank together. Johan wanted a sex worker, so De Jager said he knew of someone and fetched Hiltina. They went to Johan's sister's flat, also in Parow, drank alcohol and smoked dagga together.
Later, De Jager left the flat. He said he never had sex with Hiltina, despite her making advances to him.
Hiltina's body was found in the bushes on the N7 near the Frankdale informal settlement. She had been strangled to death.
---
De Jager denies rape, murder of prostitute
By Jenna Etheridge - Iol.co.za
November 13, 2013
Cape Town - Johannes Christiaan de Jager pleaded not guilty in the Western Cape High Court on Wednesday to raping and killing an 18-year-old prostitute.
His lawyer Sakkie Maartens read out a document explaining De Jager's position regarding the unlawful vaginal and anal penetration of Hiltina Alexander, and her murder.
De Jager said he met a man called Johan at a bar in Parow on the night of May 18, 2008.
They went back to Johan's sister's flat to drink and Johan said he wanted to get a prostitute. De Jager replied that he knew one.
He admitted picking up Alexander in Voortrekker road, Parow, early on May 19, 2008, and taking her back to the flat. He said Alexander fondled him while he drove.
He said both he and Johan were drunk.
"As a result, my memories about what happened further were very weak," he said in the statement, which was translated from Afrikaans.
Johan smoked dagga. De Jager did not smoke anything because he said he did not use drugs.
He said that before he passed out, Alexander approached him for sex but he pushed her away.
At one stage, he woke up and saw her and Johan sleeping in the bed.
He said he left the flat and did not make contact with the pair again.
The State alleges that De Jager picked up Alexander near Parow on May 18, 2008, raped her and killed her. Her body was found next to the N7 highway in Philadelphia, near Atlantis, the next day. A post mortem revealed she had been strangled.
De Jager has also been charged with the murder of Mpumalanga resident Charmaine Mare and the defilement of her corpse.
According to the indictment, Mare holidayed in Cape Town in January, staying with a friend in Kraaifontein. Her friend's mother was dating De Jager.
On January 7, the friend, the mother, and De Jager's son went on a cruise, leaving Mare and De Jager alone in the house.
The State alleges De Jager made repeated sexual advances, which the teenage girl rejected.
The family returned home on January 11 and could not find Mare. De Jager registered a missing person case with the police.
Her burned body was found in a nearby field. Her hands and feet had been cut off. Her hands were later found in the garage of the home and her feet next to the N2 highway near Firgrove, in Somerset West.
---
Man on trial after teenager dismembered
Iol.co.za
November 11, 2013
THE trial of Johan de Jager, accused of murdering a teenage girl in Kraaifontein in January and of strangling a sexworker five years earlier, is set to start in the Western Cape High Court today.
De Jager is accused of killing and dismembering Charmaine Maré, 18, who had been on holiday in Cape Town.
De Jager faces a number of charges relating to two murders.
The State alleges that in the first incident De Jager had picked up Hiltina Alexander, 18, a sex worker, in Parow on May 18, 2008. He then raped her.
Alexander's body was discovered the next day along the N7 in Philadelphia near Atlantis.
A post-mortem showed she had been strangled.
The State summary said Maré, of Mpumalanga, had been on holiday in Cape Town in January this year and had been staying with her friend and her friend's mother in Kraaifontein.
De Jager had also stayed there. On January 7, Maré's friend, the friend's mother and De Jager's son had gone sailing.
They were expected to return on January 11.
Maré and De Jager were left alone in the house and the State alleges De Jager made sexual advances to Maré.
She had rejected him.
When Maré's friend, the friend's mother and De Jager's son returned on January 11, they discovered that Maré was missing.
De Jager had reported this to the Kraaifontein police.
The State's summary said Maré's burnt body was found in bush in Kraaifontein.
Her hands and feet had been cut off.
Her hands were found in the garage next to her friend's mother's house, while her feet were found along the N2 near Firgrove in Somerset West.
Maré's body, identifiable only by her tongue ring and necklace, was discovered in Kraaifontein on January 14.
De Jager had been arrested two days later.
Police spokesman Frederick van Wyk said that a missing person's poster for Maré had been placed less than 100 metres from the house that she had been staying in.
In Elterman Street, where Maré had stayed, a number of residents expressed their shock at the murder and De Jager's arrest.
The residents said the violent death had left them feeling fearful.