Jeremy Allan STEINKE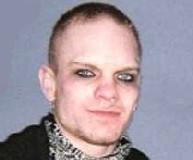 The Richardson family murders

New name: Jackson May

Classification: Murderer
Characteristics: Self described 300 year old werewolf - "Movies Make Me Murder"
Number of victims: 3
Date of murders: April 26, 2006
Date of arrest: Next day
Date of birth: January 15, 1983
Victims profile: Marc Richardson, 42, his wife Debra, 48, and their son Jacob, 8
Method of murder: Stabbing with knife
Location: Medicine Hat, Alberta, Canada
Status: Sentenced to three life sentences on December 15, 2008
---
The Richardson family murders are the murders of three members of the Richardson family in Medicine Hat, Alberta in April 2006. The murders were devised and committed by the family's 12-year-old daughter and her 23-year-old boyfriend Jeremy Steinke.
Discovery
At 1:00 pm on 23 April 2006, the bodies of husband Marc Richardson, aged 42, and wife Debra, 48, were found in the basement of their home, and the body of their son Jacob, aged 8, was discovered upstairs. Absent from the home at that time was the couple's 12-year-old daughter. For a time it was feared that she might have been a victim, but she was arrested the following day in the community of Leader, Saskatchewan, about 130 kilometres (81 mi) away, with her 23-year-old boyfriend Jeremy Allan Steinke; both were charged with the three murders.
Later, on May 3, 2006, Steinke's friend Kacy Lancaster, 19, was charged with being an accessory, for later in the day, driving them away in her pick up and for disposing of evidence.
Motive
According to friends of the daughter, the girl's parents had punished her for dating Steinke, due to the age disparity. Her friends had also criticized their relationship. Shortly after her arrest, Steinke asked her to marry him, and she agreed.
According to friends of Steinke, he told them he thought he was a 300-year-old werewolf. He allegedly told his friends that he liked the taste of blood, and wore a small vial of blood around his neck. He also had a user account at the VampireFreaks.com web site. The girl had a page at the same site, leading to speculation they met there. However, an acquaintance of Steinke later said the couple actually met at a punk rock show in early 2006. The couple were also found to be communicating at Nexopia, a popular web site for young Canadians. Various messages they sent to each were available to the public, before the accounts were removed by Nexopia staff. The daughter's user page, under the name "runawaydevil", falsely said she was 15 and ended with the text "Welcome to my tragic end".
Just hours prior to committing the murders, Steinke and some friends reportedly watched the film Natural Born Killers, a 1994 film about a young couple who commit a violent spree of killings. Steinke asserted to his friends that he and his girlfriend should go about their plans in a similar manner, but without sparing his girlfriend's young brother. Steinke said to an undercover officer: 'You ever watch the movie Natural Born Killers?... I think that's the best love story of all time...'
Legal outcome
Under the Youth Criminal Justice Act the name of the daughter could no longer be published in Canada after she became a suspect. Under the same act, twelve is the youngest possible age at which a person can be charged with a crime; convicts who were under fourteen years of age at the time they committed a crime cannot be sentenced as adults, and cannot be given more than a ten-year sentence.
On July 9, 2007, the girl was found guilty of three counts of first-degree murder in the killings. On November 8, 2007, she was sentenced to the maximum penalty of ten years imprisonment. Her sentence included credit for eighteen months already spent in custody, to be followed by four years in a psychiatric institution and four-and-a-half years under conditional supervision in the community.
On December 15, 2008, Steinke was sentenced to three life sentences on each of three counts of first-degree murder. The sentences are to be served concurrently; Steinke will be eligible for parole after serving twenty-five years.
In September 2011, the girl is now a freshman at the University of Calgary who is in the final years of her sentence. She will be free one year after graduating in 2015.
The Richardsons' daughter is believed to be the youngest person ever convicted of a multiple murder in Canada. Steinke admitted to the murder of the parents in conversation with an undercover police officer while in custody.
The accessory to murder charge against their friend Kacy Lancaster was dropped and she pleaded guilty to an obstruction charge in Medicine Hat provincial court. She received one year house arrest as part of the plea bargain. Close to three years of house arrest Lancaster has served as a condition of her release also played a part in her agreement to this plea bargain and ordered to abstain from drugs and alcohol.
---
Mass Medicine Hat killer Jeremy Steinke changes name, seeks appeal
By Kevin Martin - The Calgary Sun
January 11, 2012
CALGARY - The man behind one of Alberta's most grisly crimes — the slaughter of his 12-year-old girlfriend's family — has changed his name.
In documents filed in the Alberta Court of Appeal, Jeremy Steinke said he is now going by the name Jackson May.
May is the convicted triple-murderer's mother Jacqueline's last name.
Steinke made the revelation in a hand-written note to the province's top court a year ago stating he wished to appeal his 2008 conviction in the deaths of his child-girlfriend's parents and younger brother.
"I've recently had my name changed to Jackson May," he wrote under his given name.
In reply to his tardy appeal, Steinke was told by the Deputy Registrar of the Court of Appeal in Calgary his application was too late.
"Please be advised that your notice of appeal is out of time," the court official wrote.
"You must file a motion to extend your time to file an appeal."
Steinke has not done anything further on the case and contrary to other media reports, no court hearing has been set.
Steinke does have a meeting scheduled for May 15 with a case management officer in the Court of Appeal to determine if he intends to pursue his case further.
Despite the name change, all proceedings before the appeal court will be done under his given name unless Steinke makes a formal application to a judge to use a new moniker.
In his late notice of appeal, the convicted killer said the Dec. 5, 2008 decision by a Calgary jury "was an unreasonable verdict."
He also said his unfamiliarity with the criminal system and his inability to find a lawyer caused him to miss the 30-day deadline to appeal.
"I didn't appeal because I'm new to the system and did not know what I was doing and at the time could not find a lawyer who would take my case."
Steinke said if the court permits an appeal he will contact Legal Aid to cover the cost of a lawyer.
His trial lawyer, Alain Hepner, said he was recently contacted by Legal Aid to provide an opinion on whether an appeal would be worth pursuing.
Hepner has not yet given an opinion.
Steinke, who turns 26 on Sunday, was convicted of three counts of first-degree murder in the April 23, 2006, deaths of his then-girlfriend's parents and younger brother in their Medicine Hat home.
The girl was charged and convicted as a youth of the same three crimes.
Steinke is serving three concurrent life sentences without parole for a minimum 25 years.
---
Jasmine Richardson, Canada's Youngest Multiple Killer, Gets Glowing Reviews
Blogs.discovery.com/criminal_report
February 7, 2011
If you've followed true crime at all in the past few years, you should be familiar with the name Jasmine Richardson -- unless, of course, you live in Canada, where the media is banned from publishing her full name. In that case, you probably know her as J.R.
According to the National Post, Richardson -- a convicted killer who, along with her boyfriend, slaughtered her parents and her little brother -- has received a "glowing" sentencing review from an Alberta judge for progress she has been making while serving an open custody sentence in a Calgary group home.
Richardson has requested more freedom and said she plans to attend a university in the fall, the newspaper reported. A judge will review the case again later this year.
For those of you who don't know or who may have forgotten, Richardson was 12 years old when she became the youngest person ever charged with multiple counts of murder in Canada. It was a brutal crime that sent shock waves throughout the country and made headlines around the world. Both Richardson and her then boyfriend, 23-year-old Jeremy Steinke, were charged in the case.
The investigation into the murders began on April 23, 2006, when concerned neighbors called officers to the Richardson family home in Medicine Hat, Alberta, Canada. Inside, authorities discovered the bodies of Marc Richardson, 42, and his wife Debra, 48, sprawled out on the home's first floor. In an upstairs bedroom they discovered the lifeless body of the Richardson's son, 8-year-old Jacob, lying on a bed.
Detectives initially thought Jasmine Richardson was missing, and possibly the victim of a kidnapping. However, as the investigation progressed, evidence quickly pointed to her involvement in the murders.
On April 24, 2006, police located Richardson and Steinke, 100 miles away in the town of Leader. Both were arrested at the scene and later charged with three counts of first-degree murder.
Police alleged that Richardson and Steinke's secret relationship was the motive behind the murders. Marc and Debra had recently forbidden the two from having contact with each other, a move that had angered both young lovers.
Richardson pleaded not guilty to all three counts. However, on July 10, 2007, a jury found her guilty and she was sentenced to the maximum 10-year sentence allowed by the Youth Criminal Justice Act. Richardson was required to serve four years of her sentence in a psychiatric hospital.
During his own trial, Steinke was also found guilty of three counts of first-degree murder. However, unlike his younger counterpart, he was sentenced to life without parole for a minimum of 25 years.
Jasmine Richardson, now 17, is scheduled to have another sentence review in August. If all goes well, she could be released into the community as early as September. At that time she would still be under the supervision of the court, but not for long. Due to Canadian laws regarding juveniles, the court will be required to release Richardson once she reaches age 22. At that time, her sentence will be considered complete and her criminal record will be nullified.
---
Steinke Found Guilt of 1st Degree Murder
By Sherri Zickefoose, Canwest News Service
Friday, December 05, 2008
CALGARY – Jeremy Allen Steinke has been found guilty by a jury of three counts of first-degree murder in the gruesome deaths of an Alberta couple and their eight-year-old son.
The jury, which began deliberations Thursday afternoon following a two-and-a-half week trial, found Steinke responsible for the premeditated slaying of his then-12 year-old girlfriend's family in their Medicine Hat home in 2006.
Steinke, 25, kept his head down as the guilty verdicts were read out in court. His mother Jacqueline May, clutching a Bible, dropped her head and wept.
"I did not expect first-degree," she said afterward.
Relatives of the slain family have asked to read victim impact statements in person at Steinke's sentencing, set for Dec. 15 in Medicine Hat, 290 kilometres southeast of Calgary.
Barring appeals, the verdict brings to a close one of the most shocking and bizarre multiple murder cases in recent memory.
The killings themselves were horrifying in the extreme. The first police officers to enter the family's home in Medicine Hat, Alta., after the killings on April 23, 2006, found a crime scene awash in blood, the walls smeared with bloody handprints.
The mother died after being stabbed 12 times. The girl's father fought for his life with a screwdriver, but was stabbed two dozen times, including nine times in his back. The body of their eight-year-old son was found lying on his blood-soaked bed. His throat had been slashed open.
Norm Boucher, the mayor of Medicine Hat and the chief of police at the time of the killings, said the jury delivered the only logical verdict based on what he said was incontrovertible evidence.
He said he hopes that holding the sentencing in Medicine Hat might help the shattered town move past the traumatic experience.
Boucher, who wanted the trial to be held in Medicine Hat, said he was pleased sentencing will be held in the community Dec. 15.
"That might be the final closure the community needs. It really shook the community when it happened," he said. "To have national and international media in your community, particularly when it is a small community, is difficult."
The Crown and defence agreed on only one point: Steinke stabbed to death the girl's parents the night of after sneaking into their home, wearing a mask and dressed completely in black.
They clashed over the circumstances of the younger brother's death and the motivation for the attacks.
The Crown painted a picture of Steinke as a cold-hearted killer who wiped out his young girlfriend's family as part of a murder plan crafted in advance by the couple and documented in conversations with friends and in online messages they'd exchanged. The motivation, according to the Crown, was adolescent rage at the parents, who disapproved of their 12-year-old daughter dating the then-23-year-old Steinke, an unemployed high-school dropout.
Crown prosecutor Ramona Robins presented a recording of a conversation Steinke had with an undercover officer posing as a prisoner while he was being transported to a Calgary lockup. In it, Steinke admitted he was responsible for the deaths and gave details of the killings.
"You hear about that triple homicide?" Steinke said during the recorded conversation. "Yeah. You're looking at him. . . . Me and my old lady have become legends."
He told the officer the girl slit her brother's throat. "It didn't bother her at all, either, she didn't cry or anything. In fact, the next day when we were on the road, f-n' she was laughing about it. She's got a few screws loose, too."
Steinke described fanciful plans to marry his girlfriend in a Gothic wedding ceremony and move to a castle in Germany.
Robins also told the jury that Steinke told the undercover officer the father's dying word was, "Why?" and that Steinke replied, "Because your daughter wanted it that way."
Steinke also said that, in the hours before the killings, he was drinking a "two-four" of beer and a bottle of 'Vampire' brand red wine, and consumed a gram of cocaine.
He also claimed he was fond of drinking blood and once ate a batch of sugar cookies that a friend had made with blood.
"When they came out of the oven they were pink – that's how much blood he put in them," he said.
The Crown showed the jury transcripts of messages exchanged by Steinke and the girl a month before the killings. The girl, writing under the online alias "runawaydevil," told Steinke: "I hate them. So I have this plan, it begins with me killing them and ends with me living with you."
Steinke, writing as "Souleater," responded: "Well, I love your plan, but we need to get a little more creative with like details and stuff."
"(The girl was) the motive and Steinke was the means" to the killings, Robins said.
The Crown went after Steinke's claim that he could do nothing to stop the girl from killing her brother. Robins suggested that Steinke stood back and watched the boy die because he knew the boy could have identified him.
The Crown also claimed Steinke tried to recruit friends to help him with the murder plan. Jordan Attfield testified that Steinke asked for his help and, when he refused, threatened to implicate him and others if he was caught.
Another friend of Steinke's, James Whalley, told the jury Steinke boasted he "gutted" the girl's parents "like fish." An underage witness reported seeing Steinke and the girl smiling as they pored over newspaper coverage of the killings.
After their arrest, the couple exchanged jailhouse love letters and promised to marry.
The defence, meanwhile, presented Steinke as a damaged victim of a brutalized childhood, a lovelorn loser, too addled by drugs and alcohol to form the intent to kill.
His lawyer, Alain Hepner, claimed the attacks on the parents were "an impulsive reaction" triggered by his excessive intoxication and drug abuse that night, and by being surprised in the house by the girl's mother.
He dismissed the conversation with the undercover officer as hollow boasts intended to shore up his prison reputation, and the online exchanges as the bluster of "a young man with zero self-esteem who finally found someone to love him."
The defense put Steinke's mother on the stand. Steinke wept in his prisoner's box as Jacqueline May told court about the beatings and abuse he endured at the hands of her ex-husbands and lovers.
"He said he wished he'd never been born," said May, adding her son had been on antidepressants and medication for attention-deficit-hyperactivity disorder since his early teens.
---
Teen gets 10 years for murders
Canada's youngest convicted multiple killer is going to an Edmonton forensic hospital until she is 18 for her role in the "horrific" murders of a local family, said a judge, handing her the maximum 10-year sentence.
The Calgary Herald
November 9, 2007
Canada's youngest convicted multiple killer is going to an Edmonton forensic hospital until she is 18 for her role in the "horrific" murders of a local family, said a judge, handing her the maximum 10-year sentence.
The 14-year-old girl, who was 12 at the time of the crimes, declined comment when Justice Scott Brooker asked if she had anything to say before sentencing her to a special intensive rehabilitation youth sentence Thursday.
She received 11/2 years credit for time already served while awaiting trial, so the remaining time in her sentence is 81/2 years.
She will be 22 when her sentence is complete.
Brooker called the crimes "horrific" and described the victims as "wonderful."
Marc and Debra Richardson and their eight-year-old son were stabbed to death in their suburban home in the middle of the night on April 23, 2006. The murders were discovered when a little boy coming over to play saw blood-soaked bodies through a window.
The girl and her then-23-year-old boyfriend Jeremy Allan Steinke were both charged with three counts of first-degree murder.
"It is difficult to imagine or conceive of a more horrific crime than this -- the planned and deliberate murder of (the victims) by a 121/2-year-old," said Brooker.
The girl, who wore a long ponytail and a grey and white blouse in court, was shielded from public view as she sat in a wooden prisoner's box.
The judge called the murder of the eight-year-old son "incomprehensible."
"He is, like his parents, a completely innocent victim, although more vulnerable.
"You can never undo what you have done to (the victims). However, you can honour their memory by dedicating your life to becoming the woman (the victims) would be proud of."
The girl will first spend four years in secure custody in Alberta Hospital as part of an Intensive Rehabilitative Custody and Supervision program. She will likely begin psychotherapy starting in January.
The judge ordered a meeting Jan. 29 for an update on her transfer.
Her progress will be reviewed annually by the judge.
After time served in secure custody, the girl will serve 41/2 more years in open custody in the community. That means she will be in a group home while continuing therapy.
An RCMP officer was granted permission to take a swab of the girl's DNA for a national database.
Brooker also banned the girl from owning firearms for life.
"I'm going to keep a steady grip on this case," said Brooker, who said the entire system is working toward the same goal, to rehabilitate the girl so she will not reoffend.
Crown prosecutor Stephanie Cleary said she was satisfied with the judge's sentence.
"The sentence actually imposes the maximum period of supervision on the young person," Cleary said outside court.
Pre-sentencing reports and psychiatric evaluations described the girl as "seriously disturbed."
At her sentencing hearing Oct. 21, court heard the girl suffers from dependency issues, anxiety and depression, and is prone to immature problem-solving and wishful fantasies.
Cleary said psychiatric reports show the girl fails to show any remorse or acceptance of criminal responsibility for her role in the triple slaying.
The girl does not recognize she has committed a crime, nor does she have any insight into her condition, Cleary said during the October hearing.
Defence counsel Tim Foster and Kathryn Beyak argued keeping the girl in custody for the maximum would be too harsh, and instead asked for three years in custody followed by four years under a suspended sentence. He also said she should be given 11/2 times credit for time already served.
"The judge cut a very fine line trying to accommodate all the competing interests to make sure she's properly rehabilitated," Foster said.
He said the girl is coping well with her fate.
"My sense at the moment is my client is very anxious to engage in the therapy and rehabilitation," he said.
"If it can happen to anyone, it can happen to her.
"Her extended family continues to be supportive, there's regular visits, regular phone calls, they're certainly involved and in contact with her."
If the girl had been 11 when the crimes were committed, she could not have been held criminally responsible for her role. She was 121/2 when the family was slain.
Her 24-year-old co-accused, Steinke, made a brief court appearance earlier Thursday. He is also facing three counts of first-degree murder.
A hearing date for a change of venue application is scheduled for Feb. 21 to 22.
His defence lawyer is making an application in the wake of the girl's high-profile jury trial in Medicine Hat last summer.
Steinke, wearing a black dress shirt and slacks, uttered a single "yes" when asked if he understood. His hair was slicked back into a short ponytail, and he had a chin-strap beard.
His mother, aunt, grandmother and a young family friend sat in court for the minutes-long appearance.
Medicine Hat Mayor Norm Boucher said the end of the city's most notorious murder trial is a relief for now.
"We're going to have to relive this next year with the next trial," he said.
He said Steinke's trial, which is expected to begin next year, shares the same witnesses and evidence and should be heard in the community.
"I think the crime took place here, they were all residents of Medicine Hat and I think it should be here. To take it to another place and to think it's not going to be fair locally, I think people can understand what fairness is. and I think a lot of evidence from the first trial will likely carry over into the second trial, which gives you a good basis for the charges."
The girl, who cannot be identified, was convicted of three counts of first-degree murder July 8.
Brooker delayed sentencing the girl during her Oct. 24 to 25 sentencing hearing to review an updated report on the girl's mental condition from her defence lawyer.
If the girl is immediately admitted to the forensic unit for treatment in Alberta Hospital, then "it is very unlikely" she would appeal her conviction, her lawyer said.
During the girl's highly publicized trial last summer, there was no mention of her mental condition.
Steinke and the girl were arrested with friends in a pickup truck in Leader, Sask., the day after the killings.
During the girl's trial, it was agreed that she intentionally encouraged and persuaded Steinke to carry out the deadly plot against the Richardson family.
She had told people she hated the family and wanted her boyfriend to kill them. Friends testified they overheard the girl asking Steinke to kill the family, and that he had attempted to recruit their help.
Evidence presented to the jury included gruesome photographs of the crime scene that showed bodies, blood trails and bloodstained knives recovered from the Richardsons' home.
Debra Richardson, 48, was found lying at the foot of a staircase in the same basement room as her husband. She had suffered 12 stab wounds and was "covered with a lot of blood from head to toe." Marc Richardson, 41, had been stabbed 24 times.
The eight-year-old boy was found in his bed with his throat slashed.
Brooker denied a media request to view the reports on which he based the girl's sentence, arguing that releasing the reports could make young offenders in custody reluctant to participate in the future.