Holly Ann GRIGSBY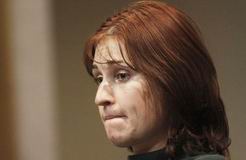 Classification: Murderer
Characteristics: Revenge - White supremacist
Number of victims: 4
Date of murders: September 26/October 3, 2011
Date of arrest: October 5, 2011
Date of birth: January 13, 1987
Victims profile: David Jones Pedersen, 56 / Leslie Mae Pedersen, 69 / Cody Faye Myers, 19 / Reginald Alan Clark, 53
Method of murder: Shooting
Location: Washington/Oregon/California, USA
Status: Sentenced to life in prison without parole on July 15, 2014
---
Woman guilty in Northwest killing spree is sentenced to life without parole
A woman who took part in a Pacific Northwest killing rampage, including the deaths of an Everett couple, was sentenced Tuesday to life in prison without parole.
By Steven Dubois - The Associated Press
July 15, 2014
PORTLAND — A woman who took part in a Pacific Northwest killing rampage fueled by white-supremacist beliefs apologized for her actions, but not her views.
Holly Grigsby, 27, was sentenced Tuesday to life in prison with no chance for release.
She apologized in federal court to friends and relatives of the victims. Grigsby said she realized any explanation for her actions, such as her drug addiction, would come across as an excuse, "or make it feel like I'm rationalizing my own insane behavior."
But Grigsby expressed no regret for white-supremacist beliefs, only the effect her crimes would have on their public perception.
"My actions have further damaged the reputation of a movement misunderstood," she said. "I deeply regret this."
Grigsby and her boyfriend — David "Joey" Pedersen — were arrested in 2011 after the deaths of four people: Pedersen's father and stepmother in Everett, an Oregon teenager and a California man.
Grigsby pleaded guilty in March to racketeering charges connected to the four killings, and the plea agreement called for a life sentence with no chance for release.
Joey Pedersen has pleaded guilty to two counts of carjacking resulting in death — one for the death of teenager Cody Myers on the Oregon coast and the other for the killing of Reginald Clark in Eureka, Calif. He will be sentenced to life in prison at an Aug. 4 hearing in federal court.
He previously pleaded guilty in Washington state court to murder in the slayings of David "Red" Pedersen and Leslie "Dee Dee" Pedersen and was sentenced to life in prison.
Dee Dee Pedersen's daughter, Lori Nemitz, told Grigsby in court that the murders were heinous and "beyond cruel," and made no sense since Grigsby had been welcomed into the home as family.
"I hugged you, for God's sake," Nemitz said.
Pedersen is the founder of a white-supremacist prison gang, and he told Grigsby about his desire to start a revolution with a killing rampage targeting Jewish leaders.
It started on Sept. 26, 2011, when Pedersen shot his father in the back of the head while the elder Pedersen was driving, authorities said. Red Pedersen moved and moaned for at least 30 minutes before dying, prosecutors said.
Pedersen and Grigsby returned to the house. Dee Dee Pedersen was bound with duct tape, cut in the neck and left to bleed to death.
"Animals are treated more humanely going to slaughter than your victims were," said Holly Perez, the daughter of Red Pedersen and sister of Joey Pedersen.
The couple then drove Red Pedersen's vehicle south into Oregon, where they shot and killed 19-year-old Myers and stole his car, authorities said. They shot Myers, who was Christian, because his name sounded Jewish, according to court documents.
Pedersen and Grigsby then headed to Northern California, where Clark, a 53-year-old black man, was shot to death.
Grigsby and Pedersen were arrested Oct. 5, 2011, outside Yuba City, Calif., when a police officer spotted them in Myers' car. Grigsby told officers they were on their way to Sacramento to "kill more Jews,'" court documents said.
Prosecutors said Grigsby has been a white supremacist since her early teens and did not fall under Pedersen's spell.
---
Holly Grigsby apologizes to victims' families, white supremacist movement; gets life sentence
By Helen Jung - Oregonian.com
July 15, 2014
Turning to face the grieving family members of those she helped kill, Holly Ann Grigsby said she wasn't going to blame abuse, drugs or a tough childhood to explain the murderous path she cut with David "Joey" Pedersen across three states in fall 2011.
Instead, "the desperation in my heart" as she relapsed back into drug addiction fueled her actions that have hurt not only the victims and their families, but her own husband and son and even the white-supremacist movement whose beliefs she continues to embrace, she said.
"My actions have further damaged the reputation of a movement misunderstood," she said. "I deeply regret this. Although I had nothing but the best of intentions, the bridge to Valhalla is not paved with good intentions" but with one's actions and heart, she said.
Grigsby words came just before Senior U.S. District Judge Ancer Haggerty sentenced the 27-year-old Portland woman to spend the rest of her life in prison. Grigsby had pleaded guilty in March to one count of racketeering in connection with the murders and related offenses.
A sentencing memorandum filed by Assistant U.S. Attorneys Jane Shoemaker and Hannah Horsley laid out the government's timeline of the killings of Pedersen's father, David "Red" Pedersen; his stepmother, Leslie "Dee Dee" Pedersen; and two strangers, Cody Myers, 19, of Lafayette and Reginald Alan Clark, 53, of Eureka, Calif.
Grigsby and Pedersen had embarked on a campaign to wage a white-supremacist "revolution" in September 2011 planning to target Jewish organizations. They traveled to Washington state, where they spent several days with Pedersen's father and stepmother before Joey Pedersen fatally shot his father while Red Pedersen drove Grigsby and his son around.
They took his car, weapons and credit cards. They returned to the house and used two knives to slash the throat of Dee Dee Pedersen before fleeing to Oregon. There, after getting assistance from friends Corey Wyatt and Kimberly Scott Wyatt, they carjacked and killed Myers, who had agreed to give Grigsby a ride as he was returning from the Newport Jazz Festival.
They continued to California, where they carjacked Clark, who similarly had agreed to give the couple a ride. The couple, who was headed to Sacramento to target Jewish organizations there, was arrested on Oct. 5, 2011, when a California Highway Patrol officer recognized the suspects and the vehicle description that police agencies had publicized.
The sentencing hearing Tuesday morning allowed the Pedersen family to unleash their pain on Grigsby, the first of the two admitted killers to be sentenced. Family members for Myers and Clark did not make a statement.
"How dare you go into my mother's home where she welcomed you as family," said Lori Nemitz, Dee Dee's daughter, recalling the days before the slayings when Grigsby had stayed with and met members of the Pedersen family.
"I hugged you, for God's sake," Nemitz said, who called the torturous slaying of her mother with the dull knives "beyond heinous, beyond cruel."
"I cannot imagine a person that would do that to an innocent woman who welcomes you as family," she said.
Catherine Hix, a spokeswoman for another daughter, told Grigsby that she was "a wicked, heartless viper. You slithered into town with only one thing in mind – murder."
And Holly Perez, the sister of Joey Pedersen, sobbed as she recounted the misery that all four victims must have felt in their final minutes.
"Separately, you and Joey are nothing but two cowards with a skewed ideology," she said. And the impact extends to Grigsby's own family, Perez noted, saying the murderer will never be able to hold her own young son in her arms ever again.
Grigsby nodded her head.
Haggerty handed down the sentence with little commentary. Because federal prison has no parole program, Grigsby will remain behind bars until she dies.
Corey Wyatt was sentenced last week for providing Pedersen, a felon, with the weapon he used to kill three of the four victims. Wyatt's wife, Kimberly Scott Wyatt, is to be sentenced at the end of the month.
Pedersen, who pleaded guilty in April to two counts of carjacking resulting in death, is to be sentenced on Aug. 4.
---
Holly Grigsby pleads not guilty in federal court in Portland on racketeering charges
By Lynne Terry - Oregonian.com
August 23, 2012
A 25-year-old Portland woman was arraigned in U.S. District Court on Thursday on federal charges linked to a 10-day crime spree last fall in Washington, Oregon and California in which four people died.
Holly Ann Grigsby, who attended Parkrose High School, pleaded not guilty through her attorney, Kathleen Correll, while her estranged husband held their 3-year-old son in the 10th floor courtroom of Magistrate Judge Paul Papak in downtown Portland.
Grigsby said nothing and had a serious look on her face as she sat between her two court-appointed attorneys, dressed in orange-and-white striped jail scrubs with her light-brown hair pulled back in a ponytail. When the hearing started, her son started to cry, forcing her estranged husband, Dannel Larson, to whisk him out of the courtroom.
Grigsby faces 14 counts of racketeering, kidnapping, carjacking and other charges related to the death of four people last September and October. David "Joey" Pedersen, 32, of Salem, is also charged in the federal indictment that was handed up by a grand jury last week.
Grigsby and Pedersen could face the death sentence on the federal charges. It will be up to Attorney General Eric Holder to make that decision.
The federal indictment accuses the couple of killing four people as part of a white-power campaign to kidnap and murder people based on their race, color, religion or perceived "degenerate" conduct. The indictment says they were trying to "purify" and "preserve" the white race.
Pedersen's father, David "Red" Pedersen, 56, and stepmother, 69-year-old Leslie "DeeDee" Pedersen, were killed Sept. 26 in Everett, Wash. On Oct. 1, Cody Faye Myers, 19, of Lafayette, was shot to death near Newport. Two days later, 53-year-old Reginald Alan Clark was killed in Eureka, Calif.
Prosecutors say Pedersen and Grigsby financed their campaign with stolen credit cars and vehicles, traveling across state lines as they searched for targets. It accuses Pedersen of researching the names and addresses of Jewish organizations in Seattle, Portland and Sacramento, Calif., to identify people to kill.
The couple was arrested in northern California in October and extradited to Washington state to stand trial on two counts each of aggravated murder in the Pedersen deaths.
In March, Joey Pedersen pleaded guilty and was sentenced to two life sentences. Grigsby was awaiting her own trial. But on Monday, Mark Roe, Snohomish County prosecuting attorney, dismissed the state charges when Grigsby agreed to be extradited to Oregon to face the federal charges.
She is currently being held in Columbia County Jail. Larson, her estranged husband, said in an interview after the hearing that he visited her twice in Snohomish County with their son. He said he can't afford to pay for transportation to Columbia County but would visit her weekly if she were being held in Portland.
He said their son was "super happy to see her" at the hearing.
Papak set a trial date for Oct. 23, which is likely to be pushed back. Next month, Pedersen is scheduled to be arraigned in U.S. District Court in Portland. He's currently incarcerated in Monroe Correctional Complex north of Seattle.
---
Bloody details emerge in West Coast crime spree
Associated Press
October 11, 2011
PORTLAND -- A boyfriend and girlfriend suspected in a string of grisly killings across the Pacific Northwest say they killed the man's father because he molested two young relatives and his wife because she knew about it and didn't stop him.
Police say David "Joey" Pedersen and his girlfriend, Holly Grigsby, who are both known to have white supremacist beliefs, then continued on a bloody crime spree that swept the region for days, eventually killing a man in Oregon they thought was Jewish, and another man in California who was black.
Joey Pedersen, 31, said in a jailhouse interview published in a California newspaper that he takes "full responsibility" for all four killings. But Grigsby, 24, has told police that one of the deaths came at her hands.
Pedersen told The Appeal Democrat in a story published Monday that his plan to kill his estranged father, David Jones "Red" Pedersen started with catching a ride to a bus station.
Red Pedersen, 56, got behind the wheel of his black Jeep Patriot. Grigsby sat up front in the passenger seat. And Joey Pedersen sat behind his father -- so he could shoot him in the back of the head as he drove.
Grigsby reached over, took control of the vehicle and brought it to a stop.
From there, Grigsby told police, the couple returned to the older Pedersen's home in Everett, Wash., where she says she killed Red Pedersen's wife, Leslie Pedersen, with a pair of knives. Grigsby claims Leslie Pedersen, 69, was aware of the molestation they accused Red Pedersen of committing, yet did nothing to put an end to it.
Everett police Sgt. Robert Goetz said officers have not yet looked into the molestation allegations but planned to do so. He said evidence collected so far indicates much of Grigsby's story could be plausible.
Attempts by The Associated Press to reach Joey Pederson and Grigsby at the Yuba County, Calif., jail were not successful Monday.
As Joey Pederson made the molestation claims against his father, he attempted to take focus away from Grigsby.
"I felt it was my responsibility to make sure it didn't happen again," Joey Pedersen told the newspaper.
He said Grigsby was involved in the slayings only under duress and shouldn't be held accountable for the deaths. Joey Pedersen said he takes "full responsibility" for all of the killings.
Pedersen and Grigsby have pleaded not guilty to charges of weapons possession and vehicle theft. They were expected in court Tuesday afternoon for an extradition hearing. They have not been charged in any of the killings.
Their appointed attorney, Donald Wahlberg, said he did not know anything about the case beyond what had been reported.
Leslie Pedersen's body was discovered on Sept. 28. Her hands were bound with duct tape, a bloody pillow was by her head.
But, authorities say, Joey Pedersen and Grigsby were by then already on the run -- and nowhere near finished.
They drove Red Pedersen's Jeep south toward Oregon, his body still inside the vehicle. Three days later, they encountered 19-year-old Cody Myers, a devout Christian, on his way to a jazz concert on the Oregon coast.
Myers was shot in the head and chest, and his body was discovered hidden in the woods.
"Cody was devoted to his family. He would've done anything for anybody to help anybody," Susan Myers, told reporters at a news conference the day his body was identified last week. "He had passion for life, for God, for his beliefs. He didn't deserve this."
According to court documents obtained by KGW-TV, Grigsby said they killed Cody because based on his last name they thought he was Jewish.
Investigators say Joey Pedersen and Grigsby ditched Red Pedersen's truck. Authorities found it days later in forest terrain so rugged it took them hours to find Red Pedersen's body inside.
The couple continued south in Myers' Plymouth Breeze and, police say, within days encountered 53-year-old Reginald Alan Clark, who was found dead with a bullet wound to the head in Eureka, Calif. Other details surrounding the death are unclear and police have not suggested a motive, but Clark is black.
Joey Pedersen and Grigsby were apprehended Wednesday when a California Highway Patrol officer spotted them in Myers' car.
Joey Pedersen has an extensive criminal history, having spent the ages of 16 to 31 behind bars, except for a one-year stretch. His convictions include assaulting a police officer and threatening a federal judge, and other disciplinary infractions included assault, extortion, disobedience, harassment and destruction of property.
He was released from prison in May.
Grigsby also spent time in prison beginning in 2006 for a variety of charges, including identity theft and unauthorized use of a vehicle. After completing probation, she served two years for identity theft. Even in prison, she got into trouble for assault and possession of contraband.
Both share an interest in white supremacist ideology. Pedersen prominently displays a white supremacy tattoo on his neck. Grigsby's white supremacist leanings were made clear to fellow inmates at Oregon's women's prison.
---
Accused killers Holly Grigsby and David Pedersen share white-supremacist philosophy
By Helen Jung - Oregonian.com
October 11, 2011
Holly Grigsby had kicked her heroin habit and devoted herself to her 2 1/2-year-old son. The 24-year-old was working a job and making a life with her husband in a Southeast Portland apartment.
But there was something about David "Joey" Pedersen, an amateur cage fighter and white-supremacist, that won her affection. In the past several weeks, she quit work, skipped check-ins with her parole officer and ultimately abandoned her son, said her husband, Dan Larson.
When the couple split up over Labor Day weekend, Larson said, Pedersen was the first person she called. "She sure painted me a really happy picture of those two lives they were going to have," he said.
But in the next four weeks, authorities say, Pedersen and Grigsby embarked on a three-state killing crusade, guided by personal revenge as well as a white supremacist philosophy they shared.
The victims included: 19-year-old Cody Myers of Lafayette, who was killed because his last name sounded Jewish to them, Grigsby told authorities; Reginald Clark, a 53-year-old African-American man found shot to death in the back seat of his pickup truck in Eureka, Calif.; and Pedersen's father and stepmother in Everett, Wash. The two were killed, Pedersen claimed, because his father had molested two relatives years ago and the stepmother supported him despite learning about his past.
The rampage was meant to continue, Grigsby told police, according to documents from the Snohomish County prosecuting attorney's office. They were headed to Sacramento to "kill more Jews" when California Highway Patrol officers caught up to them.
The chilling details of the pair's alleged killing rampage were revealed in court documents filed Monday in Washington state. The two suspects, who waived extradition on Tuesday, are facing two counts of first-degree aggravated murder charges.
Some of the information about the killings has come from the two suspects themselves.
Grigsby laid out for investigators some details about the killings and told them where to find Pedersen's father's vehicle and body during a five-hour videotaped interview, according to court documents. She also said that she had been the one to kill Pedersen's stepmother by slashing her throat with two knives.
Pedersen provided his story to a California newspaper reporter, making the claims about his father and stepmother. He also said that Grigsby participated under duress, and that she should not be held accountable for the murders.
Investigators found a note from Pedersen to Grigsby in which he appeared to lay out a plan to take the blame for the crimes, court documents said.
For Grigsby's family and friends, the allegations have left them shocked and in disbelief that a woman who seemed dedicated to her family could participate in the alleged crimes.
Grigsby, a 2005 Parkrose High School graduate who gave birth to her son while in prison, was set on meeting the requirements that authorities and the Department of Human Services placed on her to keep her son, said her mother, Erlene Onofrichuk.
Grigsby had written on her Facebook page about her devotion to "my son Danny, he's my little aryan warrior, and my husband and best friend Dan. I plan to spend the rest of my life living out the 14 words and following the path of the Gods to the best of my ability."
"This is not her," said Onofrichuk, who broke down while talking about her daughter. "She's a good person. I know no one will believe it now."
But earlier this year, when Grigsby met Pedersen through a mutual friend, she found a like-minded confidant whose multiple anti-Semitic and white-supremacist tattoos mirrored Grigsby's own leanings, as seen in a favorite quotation that she posted on her Facebook page: "every jewish lie and every jewish slander is a scar of honor on the chest of a warrior."
She even told her husband that he would like Pedersen, saying he had a deep knowledge of National Socialism and World War II, Larson said.
Hitler tattoo
Larson did eventually meet Pedersen. He attended cage-fighting matches in which both Pedersen and a friend who was Pedersen's trainer, were competing, Larson said.
Cage-fighting was a new passion for Pedersen who began the sport two months after he was released from 17 years in prison in May.
He fought in two Full Contact Fighting Federation-sanctioned bouts -- the first at the Rumble at the Roseland Theater in downtown Portland on July 16. The second was at the Caged on the Coast 5 mixed-martial arts event at the Chinook Winds Casino Resort in Lincoln City on August 27.
Both ended in the same manner: submission by a rear naked chokehold when his opponents encircled his neck from behind.
Referee Dave Hagen recalled the second bout, not because of the fighting in the cage but because of Pedersen's body art. Pedersen, fighting in the 170 pound category, had tattoos across his chest, neck, both arms and under his eye. The neck tattoo, letters invoking "Supreme White Power," a white supremacist ideology, didn't catch Hagen's eye. The swastika and the face that resembled Hitler did.
The casino crowd noticed, too, he said. "The crowd was somewhat hostile to him. There were some boos," Hagen recalled. "He had no reaction to it. He was there to compete."
His tattoos also worried others who came across Pedersen, a mostly serious and exacting man.
Clyde Baxter remembers Pedersen, who was living at a Springfield duplex where Baxter was doing maintenance work.
Baxter said that Pedersen's tattoos, especially the Hitler tattoo, shocked him. Baxter hoped Pedersen wouldn't learn of his Polish-Jewish heritage. "It kind of took the wind out of me. I didn't want to set the guy off," he said.
In a third bout, Pedersen was knocked out in just 13 seconds, resulting in a routine doctor-imposed suspension of 30 days no fighting and 14 days no sparring.
Four dead
That Sept. 16 match came just shortly before Pedersen and Grigsby would go up to Everett, Wash, to spend time with Pedersen's estranged father and stepmother, David Jones "Red" and Leslie "Dee Dee" Pedersen. On Sept. 23, the Everett couple took Pedersen and Grigsby to a shooting range where Pedersen, a convicted felon barred from handling guns, fired a gun.
Three days later, authorities believe the killing began. As the father drove the two to the bus station. Pedersen allegedly shot him, while Grigsby took the wheel. They then returned to the home, bound Dee Dee Pedersen with duct tape and slashed her throat.
They fled to Oregon, eventually crossing paths with Myers in Newport. His body, shot multiple times, was found Oct. 5, the same day a California Highway Patrol officer came across the suspects in California. Authorities had not yet discovered the body of the man believed to the couple's fourth victim.
Pedersen's mother, Linda, declined to comment about the charges when interviewed at her Salem home. "All I have to say is that I love my son," she said. "I love him unconditionally."
But Grigsby's mother is grappling with how to reconcile the daughter she loves with the woman charged with murder. "I just can't wrap my head all around this," said Onofrichuk. "And I'm terribly sorry, from the bottom of my heart and soul, I'm sorry for that mom," she said, crying as she referred to Myers' mother. "And I know nothing I say matters, but I am so so sorry for all the families."
-- Helen Jung; Kimberly A.C. Wilson; Stuart Tomlinson
Oregonian staff writers Alison Barnwell, Lynne Terry, Maxine Bernstein and researcher Lynne Palombo contributed to this report.