Gary Leon RIDGWAY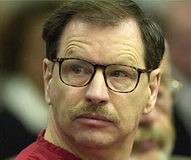 A.K.A.: "The Green River Killer"

Classification: Serial killer
Characteristics: Rape - Necrophilia
Number of victims: 49 +
Date of murders: 1982 - 1998
Date of arrest: November 30, 2001
Date of birth: February 18, 1949
Victims profile: Wendy Lee Coffield (16) / Gisele Ann Lovvorn (19) / Debra Lynn Bonner (23) / Marcia Fay Chapman (31) / Opal Charmaine Mills (16) / Terry Rene Milligan (16) / Mary Bridget Meehan (18) / Debra Lorraine Estes (15) / Linda Jane Rule (16) / Denise Darcel Bush (23) / Shawnda Leea Summers (16) / Shirley Marie Sherrill (18) / Colleen Renee Brockman (15) / Alma Ann Smith (18) / Delores LaVerne Williams (17) / Gail Lynn Mathews (23) / Andrea M. Childers (19) / Sandra Kay Gabbert (17) / Kimi-Kai Pitsor (16) / Marie M. Malvar (18) / Carol Ann Christensen (21) / Martina Theresa Authorlee (18) / Cheryl Lee Wims (18) / Yvonne Shelly Antosh (19) / Carrie A. Rois (15) / Constance Elizabeth Naon (19) / Kelly Marie Ware (22) / Tina Marie Thompson (21) / April Dawn Buttram (16) / Debbie May Abernathy (26) / Tracy Ann Winston (19) / Maureen Sue Feeney (19) / Mary Sue Bello (25) / Pammy Avent (15) / Delise Louise Plager (22) / Kimberly L. Nelson (21) / Lisa Yates (19) / Mary Exzetta West (16) / Cindy Anne Smith (17) / Patricia Michelle Barczak (19) / Roberta Joseph Hayes (21) / Marta Reeves (36) / Patricia Yellowrobe (38) / Rebecca Marrero (20) / Unidentified White Female (12-17) / Unidentified White Female (17-19) / Unidentified Black Female (18-27) / Unidentified White Female (14-18)
Method of murder: Strangulation
Location: King County, Washington, USA
Status: Sentenced to 48 consecutive life terms on December 18, 2003
---
Name: Gary Leon Ridgway
Age: DOB 2-18-1949
Address: Auburn, Wash.
Personal: Married, one son. Painter, Paccar/Kenworth Truck, Renton, Wash.
Arrested: Nov. 30, 2001
Initial charges: Dec. 5, 2001, four counts of aggravated murder in the deaths of Marcia Chapman, 32; Cynthia Hinds, 17, and Opal Mills, 16, who were discovered Aug. 15, 1982, near the Green River; and Carol Ann Christensen, 21, found May 8, 1983, in Maple Valley. Pleaded not guilty at Dec. 18, 2001, arraignment.
Second round of charges: March 27, 2003, three counts of murder in the deaths of Debra Bonner, 23, Wendy Coffield, 16, and Debra Estes, 15. Their remains were found in the 1980s. Pleaded not guilty at April 3, 2003, arraignment.
King County plea agreement: Pleaded guilty Nov. 5, 2003, to 48 counts of aggravated first-degree murder in a deal that spared him from execution and finally brought answers in the infamous and long-unsolved slayings.
Sentenced: Dec. 18, 2003, to 48 consecutive life terms
Defense attorneys: Tony Savage, Mark Prothero
Lead prosecutor: Jeffrey Baird
---
Gary Leon Ridgway
Born: 18-Feb-1949
Birthplace: Salt Lake City, UT
Gender: Male
Religion: Baptist
Race or Ethnicity: White
Sexual orientation: Straight
Occupation: Criminal
Nationality: United States
Executive summary: The Green River killer
Military service: US Navy (1970-71)
Father: Tom Ridgway (d.)
Mother: Mary Rita Ridgway (d. 15-Aug-2001, cancer)
Brother: Gregory L. (older)
Brother: Thomas Edward (known as Ed, younger)
Wife: Claudia Kraig Barrows (m. 15-Aug-1970, div. 14-Jan-1972)
Wife: Marcia Lorene Brown (m. 14-Dec-1973, div. 27-May-1981, later Marcia Winslow)
Son: Matthew (b. 1975)
Wife: Judith Lorraine Lynch (m. 12-Jun-1988, div. 5-Sep 2002)
High School: Tyee High School, SeaTac, WA (1969)
Loitering (for the purpose of prostitution) 16-Nov-2001
Murder Pled guilty to 48 counts 5-Nov-2003, life sentence
Risk Factors: Gonorrhea
---
Gary Leon Ridgway (born February 18, 1949), known as the Green River Killer, murdered numerous women in Washington during the 1980s and 1990s, earning his nickname when the first five victims were found in the Green River. He strangled them, usually with his arm but sometimes using ligatures. After strangling the women, he would dump their bodies throughout forested and overgrown areas in King County.
On November 30, 2001, as he was leaving the Renton, Washington Kenworth Truck factory where he worked, he was arrested for the murders of four women whose cases were linked to him through DNA evidence. As part of a plea bargain wherein he agreed to disclose the whereabouts of still "missing" women, he was spared the death penalty and received a sentence of life imprisonment without parole.
Early life
Ridgway was born in Salt Lake City, Utah, to Mary Rita Steinman and Thomas Newton Ridgway. He has two brothers—Gregory Leon and Thomas Edward. He was raised in the McMicken Heights neighborhood of SeaTac, Washington.
Ridgway's homelife was somewhat troubled; relatives have described his mother as domineering and have said that young Ridgway witnessed more than one violent argument between his parents. As a boy Ridgway had a habit of wetting the bed. His mother would often be the one to discover the accidents and would bathe him immediately. She would belittle him and embarrass him in front of his family. From a young age, Ridgway had conflicting feelings of sexual attraction and anger toward her.
As a young child, Ridgway was tested with an I.Q. of 82, signifying low intelligence, and his academic performance in school was so poor that at one point in high school he had to repeat a single school year twice in order to attain grades decent enough to pass. His classmates at Tyee High School describe him as congenial but largely forgettable. His teenage years, however, were troubled; when he was 16, he stabbed a six-year-old boy, who survived the attack. He had led the boy into the woods and then stabbed him through the ribs into his liver. According to the victim and Ridgway himself, Ridgway walked away laughing and saying, "I always wondered what it would be like to kill." someone
Adult life
At age 18, while in high school, Ridgway joined the Navy. After graduation, he married his high school girlfriend, Claudia Barrows, and was sent to Vietnam, where he served onboard a supply ship and saw combat. During his time in the military, Ridgway began spending a lot of time with prostitutes and contracted Gonorrhea for the second time. This angered him, but he continued to have unprotected sex with prostitutes. Meanwhile, his wife Claudia, alone and 19-years-old, began dating again, and the marriage quickly ended within a year.
Friends and family, questioned about Ridgway after his arrest, described him as friendly but strange. His first two marriages resulted in divorce because of infidelities by both partners. His second wife, Marcia Winslow, claimed that he had placed her in a chokehold. Ridgway had become fanatically religious during his second marriage, proselytizing door-to-door, reading the Bible aloud at work and at home, and insisting that Marcia follow the strict teachings of their church pastor. Ridgway would also frequently cry after sermons or reading the Bible; though Ridgway continued to solicit the services of prostitutes during this marriage and also wanted Marcia to participate in sex in public and inappropriate places, sometimes even in areas where his victims' bodies had been discovered.
According to Time Magazine writer Terry McCarthy, Ridgway had an insatiable sexual appetite. His three ex-wives and several old girlfriends reported that Ridgway demanded sex from them several times a day. Often times, he would want to have sex in a public area or in the woods. Ridgeway himself admitted to having a fixation with prostitutes, with whom he had a love-hate relationship. He frequently complained about their presence in his neighborhood, but he also took advantage of their services regularly. It's possible that Ridgway was torn between his uncontrollable lusts and his staunch religious beliefs.
In 1975 his second wife gave birth to his son, Matthew.
Murders
Throughout the 1980s and 1990s, Ridgway is believed to have murdered at least 71 women (according to Ridgway, in an interview with Sheriff Reichert 2001) near Seattle and Tacoma, Washington. His court statements later reported that he had killed so many, he lost count. A majority of the murders occurred between 1982 to 1984. The victims were believed to be either prostitutes or runaways picked up along Pacific Highway South (International Blvd. 99) whom he strangled. Most of their bodies were dumped in wooded areas around the Green River except for two confirmed and another two suspected victims found in the Portland, Oregon area. The bodies were often left in clusters, sometimes posed, usually nude. He also sometimes later would return to the victims' bodies and have intercourse with them (an act of necrophilia). Because most of the bodies were not discovered until only the skeletons remained, four victims are still unidentified. Ridgway occasionally contaminated the dump sites with gum, cigarettes, and written materials belonging to others, and he even transported a few victims' remains across state lines into Oregon to confuse the police.
Ridgway began each murder by picking up a woman, usually a prostitute. He sometimes showed the woman a picture of his son, to help her trust him. After having sex with her, Ridgway strangled her from behind. He initially strangled them manually. However, many victims inflicted wounds and bruises on his arm while trying to defend themselves. Concerned these wounds and bruises would draw attention, Ridgway began using ligatures to strangle his victims. Most victims were killed in his home, his truck, or a secluded area.
In the early 1980s, the King County Sheriff's Office formed the Green River Task Force to investigate the murders. The most notable members of the task force were Robert Keppel and Dave Reichert, who periodically interviewed incarcerated serial killer Ted Bundy from 1984. Their interviews with Bundy were of little help in the Green River investigations but elicited confessions from Bundy on unsolved cases. Also contributing was John E. Douglas, who has since written much on the subject of the Green River Killer.
Ridgway was arrested in 1982 and 2001 on charges related to prostitution. He became a suspect in 1983 in the Green River killings. In 1984, Ridgway took and passed a polygraph test, and on April 7, 1987, police took hair and saliva samples from Ridgway.
Around 1985, Ridgway began dating Judith Mawson, who became his third wife in 1988. Mawson claimed in a 2010 television interview that when she moved into his house while they were dating, there was no carpet. Detectives later told her he had probably wrapped a body in the carpet. In the same interview, she described how he would leave for work early in the morning some days, ostensibly for the overtime pay. Mawson speculated that he must have committed some of the murders while supposedly working these early morning shifts. She claimed that she had not suspected Ridgway's crimes before he was contacted by authorities in 1987, and in fact had not even heard of the Green River Killer before that time because she didn't watch the news.
Author Pennie Morehead says that when she interviewed Ridgway in prison, he said his urge to kill was reduced while he was in a relationship with Mawson, causing him to commit fewer murders than he otherwise would have, and that he truly loved her. Mawson told a local television reporter, "I feel I have saved lives ... by being his wife and making him happy."
The samples collected in 1987 were later subjected to a DNA analysis, providing the evidence for his arrest warrant. On November 30, 2001, Ridgway was at the Kenworth Truck factory, where he worked as a spray painter, when police arrived to arrest him. Ridgway was arrested on suspicion of murder of four women nearly 20 years after first being identified as a potential suspect when DNA evidence conclusively linked semen left in the victims to the saliva swab taken by the police. The four victims named in the original indictment were Marcia Chapman, Opal Mills, Cynthia Hinds, and Carol Ann Christensen. Three more victims—Wendy Coffield, Debra Bonner, and Debra Estes—were added to the indictment after a forensic scientist identified microscopic spray paint spheres as a specific brand and composition of paint used at the Kenworth factory during the specific time frame when these victims were killed.
Plea bargain, confessions, sentencing
Early in August 2003, Seattle television news reported that Ridgway had been moved from a maximum security cell at King County Jail to an undisclosed location. Other news reports stated that his lawyers, led by Anthony Savage, were closing a plea bargain that would spare him the death penalty in return for his confession to a number of the Green River murders.
On November 5, 2003, Ridgway entered a guilty plea to 48 charges of aggravated first degree murder as part of a plea bargain, agreed to in June, that would spare him execution in exchange for his cooperation in locating the remains of his victims and providing other details. In his statement accompanying his guilty plea, Ridgway explained that all of his victims had been killed inside King County, Washington, and that he had transported and dumped the remains of the two women near Portland to confuse the police.
Deputy prosecutor Jeffrey Baird noted in court that the deal contained "the names of 41 victims who would not be the subject of State v. Ridgway if it were not for the plea agreement." King County Prosecuting Attorney Norm Maleng explained his decision to make the deal:
We could have gone forward with seven counts, but that is all we could have ever hoped to solve. At the end of that trial, whatever the outcome, there would have been lingering doubts about the rest of these crimes. This agreement was the avenue to the truth. And in the end, the search for the truth is still why we have a criminal justice system ... Gary Ridgway does not deserve our mercy. He does not deserve to live. The mercy provided by today's resolution is directed not at Ridgway, but toward the families who have suffered so much...
On December 18, 2003, King County Superior Court Judge Richard Jones sentenced Ridgway to 48 life sentences with no possibility of parole and one life sentence, to be served consecutively. He was also sentenced to an additional 10 years for tampering with evidence for each of the 48 victims, adding 480 years to his 48 life sentences.
Ridgway led prosecutors to three bodies in 2003. On August 16 of that year, remains of a 16-year-old female found near Enumclaw, Washington, 40 feet from State Route 410, were pronounced as belonging to Pammy Annette Avent, who had been believed to be a victim of the Green River Killer. The remains of Marie Malvar and April Buttram were found in September. On November 23, 2005, The Associated Press reported that a weekend hiker found the skull of one of the 48 women Ridgway admitted murdering in his 2003 plea bargain with King County prosecutors. The skull of Tracy Winston, who was 19 when she disappeared from Northgate Mall on September 12, 1983, was found by a man hiking in a wooded area near Highway 18 near Issaquah, southeast of Seattle.
Ridgway confessed to more confirmed murders than any other American serial killer. Over a period of five months of police and prosecutor interviews, he confessed to 48 murders––42 of which were on the police's list of probable Green River Killer victims. On February 9, 2004, county prosecutors began to release the videotape records of Ridgway's confessions. In one taped interview, he told investigators initially that he was responsible for the deaths of 65 women, but in another taped interview with Reichert on December 31, 2003, Ridgway claimed to have murdered 71 victims and confessed to having had sex with them prior to killing them, a detail which he did not reveal until after his sentencing. In his confession, he acknowledged that he targeted prostitutes because they were "easy to pick up and that he hated most of them." He also confessed that he had sex with his victims' bodies after he murdered them, but claimed he began burying the later victims so that he could resist the urge to commit necrophilia.
Ridgway talked to and tried to make his victims comfortable before he committed the murders. In his own words, "I would talk to her... and get her mind off of the, sex, anything she was nervous about. And think, you know, she thinks, 'Oh, this guy cares'... which I didn't. I just want to, uh, get her in the vehicle and eventually kill her."
Later in a statement Ridgway said that murdering young women was his "career".
Ridgway is incarcerated at Washington State Penitentiary in Walla Walla, Washington
Victims
Before Ridgway's confession, authorities had attributed 49 murders to the Green River Killer. As mentioned above, Ridgway confessed to murdering as many as 71 victims.
Confirmed
At the time of his December 18, 2003 sentencing, authorities had been able to find 48 sets of remains, including victims not originally attributed to the Green River Killer. Ridgway was sentenced for the deaths of each of these 48 victims, with a plea agreement that he would "plead guilty to any and all future cases (in King County) where his confession could be corroborated by reliable evidence."

# Name Age Disappeared Found
1 Wendy Lee Coffield 16 July 8, 1982 July 15, 1982
2 Gisele Ann Lovvorn 19 July 17, 1982 September 25, 1982
3 Debra Lynn Bonner 23 July 25, 1982 August 12, 1982
4 Marcia Fay Chapman 31 August 1, 1982 August 15, 1982
6 Opal Charmaine Mills 16 August 12, 1982 August 15, 1982
7 Terry Rene Milligan 16 August 29, 1982 April 1, 1984
8 Mary Bridget Meehan 18 September 15, 1982 November 13, 1983
9 Debra Lorraine Estes 15 September 20, 1982 May 30, 1988
10 Linda Jane Rule 16 September 26, 1982 January 31, 1983
11 Denise Darcel Bush 23 October 8, 1982 June 1985
12 Shawnda Leea Summers 16 October 9, 1982 August 11, 1983
13 Shirley Marie Sherrill 18 between October 22, 1982 June 1985
14 Colleen Renee Brockman 15 December 24, 1982 May 26, 1984
15 Alma Ann Smith 18 March 3, 1983 April 2, 1984
16 Delores LaVerne Williams 17 March 14, 1983 March 31, 1984
17 Gail Lynn Mathews 23 April 22, 1983 September 19, 1983
18 Andrea M. Childers 19 April 14, 1983 October 11, 1989
19 Sandra Kay Gabbert 17 April 17, 1983 April 1, 1984
20 Kimi-Kai Pitsor 16 April 16, 1983 December 14, 1983
21 Marie M. Malvar 18 April 30, 1983 September 29, 2003
22 Carol Ann Christensen 21 May 4, 1983 May 8, 1983
23 Martina Theresa Authorlee 18 May 22, 1983 November 14, 1984
24 Cheryl Lee Wims 18 May 23, 1983 March 22, 1984
25 Yvonne Shelly Antosh 19 May 31, 1983 October 15, 1983
26 Carrie A. Rois 15 June 2, 1983 March 10, 1985
27 Constance Elizabeth Naon 19 June 8, 1983 October 27, 1983
28 Kelly Marie Ware 22 July 18, 1983 October 29, 1983
29 Tina Marie Thompson 21 July 25, 1983 April 20, 1984
30 April Dawn Buttram 16 August 23, 1983 August 31, 2003
31 Debbie May Abernathy 26 September 5, 1983 March 31, 1984
32 Tracy Ann Winston 19 September 12, 1983 March 27, 1986
33 Maureen Sue Feeney 19 September 28, 1983 May 2, 1986
34 Mary Sue Bello 25 October 11, 1983 October 12, 1984
35 Pammy Avent 15 October 26, 1983 August 16, 2003
36 Delise Louise Plager 22 October 30, 1983 February 14, 1984
37 Kimberly L. Nelson 21 November 1, 1983 June 14, 1986
38 Lisa Yates 19 December 23, 1983 March 13, 1984
39 Mary Exzetta West 16 February 6, 1984 September 8, 1985
40 Cindy Anne Smith 17 March 21, 1984 June 27, 1987
41 Patricia Michelle Barczak 19 October 17, 1986 February 1993
42 Roberta Joseph Hayes 21 Last seen leaving a Portland, Oregon jail on February 7, 1987 September 11, 1991
43 Marta Reeves 36 between March 5th and April 13, 1990 September 20, 1990
44 Patricia Yellowrobe 38 January 1998 August 6, 1998
45 Unidentified White Female 12-17 Died prior to May 1983 March 21, 1984
46 Unidentified White Female 17-19 Unknown April 22, 1985
47 Unidentified Black Female 18-27 Between 1982 and 1984 December 30, 1985
48 Unidentified White Female 14-18 From December 1980 to January 1984 January 2, 1986
Before Ridgway's confession, authorities had not attributed the Green River Killer with the deaths of victims Rule, Barczak, Hayes, Reeves, Yellowrobe and 'victim 49'.
Ridgway's confession and directions lead police search crews to find the bodies of Avent, Buttram, and Malvar in August and September 2003.
On Tuesday, December 21, 2010, hikers near the West Valley Highway in Auburn, WA found a skull in the vicinity of where Marie Malvar's remains were found in 2003. The skull was identified as belonging to Rebecca "Becky" Marrero, who was last seen on December 3, 1982. The King County Prosecutor confirmed that Ridgway would be formally charged with her murder on February 11, 2011. On February 18, 2011, he entered a guilty plea in the murder of Rebecca Marrero, adding a 49th life sentence to his existing 48. Ridgway confessed to murdering Marrero in his original plea bargain, but due to insufficient evidence, the charges could not be filed. Therefore, there is no change in his current incarceration status.
The remains of Tracy Winston were found, without a skull, in "Kent's Cottonwood Park" in March 1986. Winston's skull was found in November 2005 near Tiger Mountain, miles away from the discovery site of the rest of her body. Police assume someone carried it to the location.
Task force victims list
Ridgway is suspected of — but not charged with — murdering the remaining six victims of the original list attributed to the Green River Killer. Either Ridgway did not confess to the victim's death, or authorities have not been able to corroborate with reliable evidence.

Name Age Disappeared Found
Amina Agisheff 35 July 7, 1982 April 18, 1984
Kasee Ann Lee (Woods) 16 August 28, 1982 not yet found
Tammie Liles 16 June 9, 1983 April 1985
Keli Kay McGinness 18 June 28, 1983 not yet found
Angela Marie Girdner 16 July 1983 April 22, 1985
Patricia Osborn 19? October 20, 1983? not yet found
Ridgway denied killing Amina Agisheff. Agisheff does not fit the profile of any of the victims of the Green River Killer considering her age, and she was not a prostitute or a teenaged runaway.
Although he has never been charged with her murder, Gary Ridgway did confess to killing Kasee Ann Lee. During police interrogations in 2003, Ridgway stated that he strangled Lee in 1982 and left her body near a drive-in theatre off the Sea-Tac Strip. As of October 2008, law enforcement officials have been unable to locate Lee's remains at the dump site that Ridgway indicated.
Ridgway is a suspect in the death of Tammie Liles. Her body was discovered within a mile of the bodies of known victims Shirley Shirell and Denise Bush. Liles remained unidentified until 1998.
Evidence exists to suggest that Ridgway murdered Keli Kay McGinness. Shortly before her disappearance, McGinness was questioned by a Port of Seattle police officer while "dating" Ridgway near the SeaTac Strip. Furthermore, during the summer of 2003, Ridgway led authorities to the bodies of several of his victims. One of those bodies (which later turned out to be April Buttram) was initially identified by Ridgway as being that of Keli Kay McGinness. According to Ridgway, he often confused McGinness with Buttram because of their similar physiques.
Ridgway is a suspect in the death of Angela Marie Girdner. Her body was discovered within a mile of the bodies of known victims Shirley Shirell and Denise Bush. Girdner remained unidentified until October 2009.
Suspected
Ridgway has been considered a suspect in the disappearances/murders of five other women not attributed at the time to the Green River Killer. No charges have been filed.

Name Age Disappeared Found
Kristi Lynn Vorak 13 October 31, 1982 not yet found
Patricia Ann Leblanc 15 August 12, 1983 not yet found
Rose Marie Kurran 16 August 26, 1987 August 1987
Darci Warde 16 April 24, 1990 not yet found
Cora McGuirk 22 July 12, 1991 not yet found

Popular culture
In 2008, the Lifetime Movie Network aired The Capture of the Green River Killer, a TV movie loosely based on his crimes. John Pielmeier portrays Ridgway.
The movie, Green River Killer, was released in 2005.
Green River was released on May 8, 2008. This non-fiction story closely parallels events with the Green River case. Directed by Sam Taybi.
The TV series, Crimes That Shook the World, featured Gary Ridgway in a biography (starring Frank Violi) (narration by Tim Pigott-Smith) of the Green River Killer.
The Seattle grunge band Green River was named after the Green River Killer, who was, at the time, at large. Green River song "Ozzie" references the killer directly.
As well as movies, many books have been written about the Green River murders and Gary Ridgway himself. Along with these known novels, there are countless numbers of books that Green River Killings are featured in. Renown thiller novelist Ann Rule wrote, Green River, Running Red.Others include: The Riverman: Ted Bundy and I Hunt for the Green River Killer by Robert D. Keppel; Chasing the Devil by Sheriff David Reichert; Case of the Green River Killer by Diane Yancey; Defending Gary: Unraveling the Mind of the Green River Killer by Mark Prothero with help from Carlton Smith; Search for the Green River Killer by Cartlton Smith with help from Tom Guillen; Green River Serial Killer: Biography of an Unsuspecting Wife by Pennie Morehead telling the story of his third wife and her struggles with the truth; Gary Ridgway: Story of America's Most Prolific Serial Murderer, Told by Reporters who covered the case from the beginning: The Green River Killer by King County Journal Staff; Serial Killers: Issues Explored Through Green River Murders by Tomas Guillen.
The Julie Ruin song "I Wanna Know What Love Is" references the Green River Killer.
Aggrotech group Combichrist made mention of Ridgway in their song "God Bless"
The Jakprogresso song "Dumpsites" references Gary Ridgeway
The song "Deep Red Bells" by Neko Case was inspired by her growing up as a teenager in the area during the time the murders
Wikipedia.org
---
Inmate in Wash. state pleads guilty to 49th murder
Associated Press
February 19, 2011
SEATTLE -- One of the nation's most prolific killers pleaded guilty Friday to killing a 49th person.
Gary Ridgway already is serving 48 life terms at the Washington State Penitentiary in Walla Walla. He entered his plea on a murder charge at the King County Regional Justice Center in Kent, a Seattle suburb.
Ridgway, who has been dubbed the Green River Killer, confessed to killing Rebecca "Becky" Marrero in 1982 as part of a 2003 plea deal that spared him the death penalty.
Ridgway, who was a commercial truck painter, has been convicted of 48 murders and confessed to or been suspected of dozens more. Several victims were dumped in or posed along the Green River.
He preyed upon women and girls at the margins of society -- runaways, prostitutes and drug addicts strangled in a spree that terrorized Seattle and its south suburbs in the 1980s.
Marrero, a 20-year-old mother, was last seen when she left a motel in 1982.
Prosecutors originally declined to charge Ridgway in Marrero's death in 2003 because he was not able to provide conclusive evidence that he killed her. The plea deal required him to plead guilty to future King County charges based on new evidence.
Marrero's remains were discovered Dec. 21 when teenagers found a skull in a ravine at Auburn, south of Seattle. They were found 100 feet from where investigators found another of Ridgway's victims, Marie Malvar, in 2003.
Ridgway, who turned 62 on Friday, was charged with murder on Feb. 7. He was brought from the state prison for the arraignment, where he sat handcuffed and shackled around his legs.
After Ridgway entered the plea, Marrero's sister, Mary Marrero, told county Superior Court Judge Mary E. Roberts that the family had agonized for 29 years, wondering what happened to her.
"I don't agree with this plea deal to spare his pathetic life," she said in a halting voice, as Ridgway turned in his chair to face her and two other family members at a lectern. "It makes me sick to my stomach that he beat the system."
Ridgway, she said, knows where all his victims are and what he did to them. She called them "his trophies."
She told the judge, "If I had one thing to ask today, it would be to kill him."
Ridgway rose and began to apologize to the family, but was cut off by a man in the audience who shouted, "Shut your mouth."
"I'm sorry you had to wait this long for some truth and some justice," Roberts said to the family.
The judge told Ridgway that in his case, "I can find no compassion," then sentenced him to a 49th consecutive life term.
Ridgway was arrested in 2001 after advances in DNA technology enabled authorities to link a saliva sample he gave authorities in 1987 to some of the bodies. He pleaded guilty two years later, agreeing to help authorities locate as many remains as possible.
He is serving life without release in solitary confinement at the state prison, where he's allowed out of his cell one hour a day four times a week.
---
Green River killer confession: Text
Wednesday, 5 November, 2003
Excerpts from confession by US lorry driver Gary Ridgway, who has pleaded guilty to murdering 48 women in the notorious Green River killings, as read in court by prosecutor Jeff Baird. [Source: Associated Press]
I killed the 48 women listed in the state's second amended information.
In most cases when I killed these women I did not know their names.
Most of the time I killed them the first time I met them and I do not have a good memory of their faces.
I killed so many women I have a hard time keeping them straight.
I have reviewed information and discovery about each of the murders with my attorneys and I am positive that I killed each one of the women charged in the second information.
'Common scheme'
I killed them all in King County.
I killed most of them in my house near Military Road and I killed a lot of them in my truck not far from where I picked them up.
I killed some of them outside. I remember leaving each woman's body in the place where she was found.
I have discussed with my attorneys the common scheme or plan, aggravating circumstance charged in all of these murders.
I agree that each of the murders I committed was part of a common scheme or plan.
The plan was I wanted to kill as many women I thought were prostitutes as I possibly could.
I picked prostitutes as my victims because I hate most prostitutes and I did not want to pay them for sex.
'Clusters'
I also picked prostitutes as victims because they were easy to pick up without being noticed.
I knew they would not be reported missing right away and might never be reported missing.
I picked prostitutes because I thought I could kill as many of them as I wanted without getting caught.
Another part of my plan was where I put the bodies of these women.
Most of the time I took the women's jewellery and their clothes to get rid of any evidence and make them harder to identify.
I placed most of the bodies in groups which I call clusters. I did this because I wanted to keep track of all the women I killed.
I liked to drive by the clusters around the county and think about the women I placed there.
I usually used a landmark to remember a cluster and the women I placed there.
Sometimes I killed and dumped a woman intending to start a new cluster and never returned because I thought I might get caught putting more women there.
---
Green River Homicides Investigation
On July 15, 1982, the body of Wendy Lee Coffield was found in the Green River in a rural area of the City of Kent in King County, Washington. Another body was found in the river within a month and Detective Dave Reichert was assigned as the lead homicide investigator. However, within a few days Reichert was again at the banks of the river investigating more deaths. While surveying the riverbank near two bodies on August 15th, he and Detective Sue Peters discovered another body. With the murders of Debra Lynn Bonner, Marcia Faye Chapman, Opal Charmaine Mills and Cynthia Jean Hinds added to that of Coffield, it was clear that the community was not dealing with an isolated crime. Meeting in the homicide and robbery unit of the King County Sheriff's Office, a team was formed to investigate these series of seemingly linked crimes.
Thus began one of the longest and largest serial murder investigations in United States history. Eventually, the deaths of at least 48 women would be linked to the Green River killer.
By mid-November of 1982, the investigators who had worked the initial Green River cases with Reichert were re-assigned back to their duties. Detective Reichert remained the lead and only detective on these cases until March of 1983 when he was joined by Detective Fae Brooks.
In August 1983, Larry Gross, Ben Colwell, Pat Ferguson and Liz Druin were brought together to assist Reichert and Brooks in the investigation. By this time, the investigation was spanning the country, following leads and actively pursuing suspects.
On January 16, 1984, the King County Sheriff's Office formally created an enhanced Green River Task Force to investigate the deaths. Local law enforcement agencies including the Port of Seattle Police Department, Seattle Police Department, Pierce County Sheriff's Office, Washington State Patrol, the FBI and the Washington State Attorney General's Office all contributed detectives to assist. It was also at this time that Detective Tom Jensen was assigned to the case.
In addition to the traditional tasks of compiling a paper trail on suspects, detectives went to extraordinary lengths searching for any trace physical evidence. They collected birds' nests and animal feces, searched on hands and knees with magnifying glasses and tweezers. They knew that the entire case might hinge on a microscopic fragment that could be easily overlooked.
In 1987, George Johnston of the Washington State Patrol Crime Lab gathered what would become a key piece of evidence. After receiving a search warrant to collect a saliva sample from the key suspect, Johnston had the suspect bite down on a piece of gauze. Even though DNA identification techniques were not yet fully developed for criminal justice purposes, this gauze would prove invaluable.
In 1988, detectives began looking more closely at the DNA evidence in the case. They submitted evidence to multiple labs. However, the quality and quantity of the samples made identification impossible without destroying the evidence. For the ensuing years, Detective Jensen closely monitored developments in DNA analysis.
By April of 1990, there were only five detectives left on the Task Force. Detective Reichert was promoted to Sergeant and was assigned to other duties in the King County Sheriff's Office. By the end of 1990, only Detective Jensen was assigned full-time to the case with Detective Doyon assisting him in a part-time capacity. He then began a long-term process of correlating evidence and managing tips, as well as continuing the investigation.
In 1997, a key suspect's saliva sample was submitted to the State Crime Lab. In February 1998, the Sheriff's Office received a report that the sample was too degraded for the most sensitive (RFLP) profile.
In April of 2001, Dave Reichert, who was elected Sheriff of King County in 1997, brought together an evidence review team to jump-start the investigation.
In September of 2001, Detective Jensen informed Sheriff Dave Reichert that the Washington State Patrol Crime Lab had matched DNA evidence to suspect Gary Leon Ridgway. The patience of investigators succeeded in definitively tying the physical evidence to a single suspect. Had they tested and thereby destroyed the genetic samples any sooner, the case might never have reached its conclusion.
At the same time, King County Prosecuting Attorney Norm Maleng assigned Senior District Prosecutor Jeff Baird to the case. On November 30, 2001, Gary Leon Ridgway was arrested and subsequently charged with the murders of Cynthia Jean Hinds, Marcia Faye Chapman, Opal Charmaine Mills and Carol Ann Christiansen.
In December of 2001, Sheriff Reichert directed the formation of the Green River Homicides Investigation Team, comprised of one Captain, one Sergeant, twelve detectives from the King County Sheriff's Office, one detective from the Port of Seattle Police Department, one detective from the Seattle Police Department and one detective from the Bainbridge Police Department. There are two Administrative Specialists, one Evidence Specialist and one Information Technology support person. In addition to working the charged cases, the remaining cases were assigned to detectives for review.
Prosecutor Norm Maleng formed his prosecution team comprised of five deputy prosecutors, one investigator and four support staff. The Green River Homicides Team and the prosecution team (also known as the Green River Task Force) moved into their shared office space in January of 2002.
Following the formation of the Green River Homicides Team, one of the largest projects was providing discovery to the Ridgway defense. This included:
• Approximately 400,000 pages of documents.
• Approximately 15,000 photographs.
• Approximately 500 audiotapes.
• Approximately 170 videotapes.
These numbers increased as the detectives began their reviews of each of the cases.
In April of 2003, many years of tenacious investigative and scientific work paid off when the King County Prosecuting Attorney's Office charged Gary Leon Ridgway with three additional murders (Wendy Lee Coffield, Debra Lynn Bonner and Debra Estes). These charges were possible because of advances in the ability of scientists to identify paint samples on the molecular level. Once again, science and determined investigative work advanced the case.
On June 13, 2003, the King County Prosecuting Attorney's Office and Gary Leon Ridgway entered into an agreement. In exchange for the Prosecutor not seeking the death penalty, Ridgway agreed to plead guilty to all murders that he committed in King County. He agreed to provide complete, truthful and candid information concerning the crimes that he had committed in King County and answer all questions during interviews conducted by the detectives or the prosecuting attorney. Ridgway agreed to disclose the existence and precise location of all undiscovered remains of victims.
The agreement expressly required that the parties and all those working with them keep the terms of the agreement CONFIDENTIAL until the entry of a formal plea.
Over the next several months, detectives of the Green River Task Force interviewed Ridgway extensively. During each interview, members of the King County prosecution team and lawyers from the Ridgway defense team were present.
The Task Force transported Ridgway throughout King County for the purpose of identifying the key locations where he disposed of victims' remains. Ridgway directed investigators to numerous sites where he remembered placing a victim. On each of the excursions, members of the Green River Task Force, the Security Detail (comprised of King County Sheriff's Office Special Operations members and Criminal Intelligence Unit detectives) as well as representatives from the prosecution and defense teams accompanied Ridgway. Because of this investigative tactic, four sets of human remains were found and tied to three suspected victims.
On November 5, 2003 in King County Superior Court, Gary Leon Ridgway pled guilty to 48 counts of Aggravated Murder in the First Degree.