Diane ODELL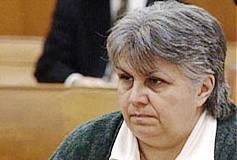 "The Babies in Boxes Murder Case"

Classification: Murderer
Characteristics: Infanticide
Number of victims: 3
Date of murders: 1982 / 1983 / 1985
Date of arrest: May 17, 2003
Date of birth: 1953
Victims profile: Three of her newborn babies
Method of murder: Traumatic asphyxia caused by suffocation
Location: Sullivan County, New York, USA
Status: Sentenced to 25 years to life in state prison on January 28, 2004
---
Odell Gets 25 to Life For Deaths of Infants
By Ted Waddell - SC-Democrat.com
January 30, 2004
MONTICELLO – Justice finally caught up with Diane Odell on Tuesday, as Sullivan County Court Judge Frank J. LaBuda sentenced the 50-year-old former resident of Kauneonga Lake to 25 years to life in state prison for killing "with depraved indifference" three of her newborn babies in 1982, 1983 and 1985.
Odell was convicted of three counts of murder in the second degree on December 16 after a jury trial that relied heavily on forensic evidence including detailed testimony related to the badly decomposed/mummified remains of the babies found in a storage shed in Safford, AZ in May 2003.
Wrapped in blankets and garbage bags stuffed into stained cardboard boxes, photos and x-rays of the tiny skeletons visibly affected many jurors during the trial, causing the media to dub the case "The Babies in Boxes Murder Trial."
Before pronouncing sentence, Judge LaBuda reflected upon the timing of the trial.
"It occurred during a time when many people throughout the world celebrated the birth of an infant who was perhaps unwanted by others . . . born in a barn and wrapped in swaddling clothes," he said.
As Odell stood before the judge, she wiped tears from her eyes and appeared to clutch a religious medal on a silver chain.
Dressed in a baggy brown jailhouse jacket over an oversize orange jail-issue jumpsuit, Odell was flanked by her legal aide attorneys, Stephen Schick and Timothy Havas.
While LaBuda said he was not unmoved by the letters he received from her children "asking this court for mercy upon you," he said the sentencing was not for punishment and retribution, but for reaffirmation of the "respect for life we Americans have – a country dedicated to life, liberty and the pursuit of happiness."
"You have violated a basic tenent, a basic principle, a basic belief that all Americans have, a right to life and liberty," he said. "It was a dark tale that you created . . . no matter how small a life."
LaBuda said the final judgement was influenced by the 1989 discovery of the remains of a baby born to Odell in 1972.
Stuffed in a suitcase found in a junked car in Max Shapiro's wrecking yard in Kauneonga Lake, under questioning by authorities Odell reportedly admitted the baby was hers, but police could not make a case.
Odell faces a maximum sentence of 75 years to life. She will be eligible for parole in 2029.
LaBuda sentenced Odell to 15 years to life for the "depraved and indifferent murder" of the 1982 baby, 20 years to life for killing "baby #2" (1983) and 25 years to life for the second degree murder of the third infant born in 1985. All sentences run concurrently.
"You allowed those babies to rot away," said LaBuda. "It is a dark tale, but one you wrote. Today is judgement day, 25 years later, a quarter of a century later."
Before LaBuda handed down the life sentence, Odell addressed the court, reading from a short handwritten statement, a statement that portrayed the convicted murderer more as a victim than a killer.
"For what I hope is the last time in my life, I will say I did not kill my children," she said softly.
"I have been in a jail of my own making for most of my life. I want to know, when does my suffering end?" she added. "I will apologize for not making conscious, educated decisions. And I hope that one day truth and justice will set me free.
"I will spend the rest of my life trying to be the person I should have been," Odell said, choking back tears.
According to Sullivan County District Attorney Stephen Lungen, after the remains of the infants were discovered last year, Odell gave authorities seven different versions of "the truth," claiming "she was kept off the witness stand by her attorney because he didn't want (facts related to) the 1972/1989 baby brought out [in court]."
"The truth is, Odell didn't testify because she knew there would be cross examination that could have exposed her," he added.
Lungen said that in a post-conviction jailhouse interview published in the press, Odell in essence blamed her deceased mother for the deaths of "the three unwanted 'bastard' children."
"In no way did she take any responsibility or show any real remorse," said Lungen. "She said her babies were the greatest gift from God and she loved them more than anything – she lived her life everyday for her children."
As the visibly moved local DA continued, he said, "It was clear from the evidence, she was only talking about the children she wanted. While she was supposedly telling the police the truth, the three babies were rotting away in a closet in her house."
The remains were later moved to the storage shed in AZ, as Odell moved around the country.
"This trial was about her unwanted children," said Lungen. "There are no illegitimate children, only illegitimate parents."
On behalf of Odell, her common-law husband Robert Sauerstein and three of the couple's five children, Jeffrey, 13; 14-year old Robert and Jonathan, 15, Odell's lead legal aide attorney asked the judge to release the remains of the three babies to the family for proper burial.
That matter is under judicial consideration.
Schick countered Lungen's contention that Odell never showed remorse in the case against her.
"My client has expressed nothing but remorse," he said. "All her children living at home tell me that she is nothing but the kindest, gentlest, most loving mother they could possibly have."
Calling his client a "haunted woman," Schick asked for the minimum sentence (15 years to life).
"She's a person who has lived a life of incredible hardship and a life of incredible abuse since she was about 9 years old, when she was first sexually and physically abused," he said.
"If there's a price to be paid by her, the price will be paid by society for her lifetime incarceration, her children and her family – children aged five to 17, as well as her adult children."
In an eloquent plea for mercy, Schick asked for "a beacon of light" for his client.
After Odell was handcuffed by Sullivan County Sheriff's Department deputies for transport to state prison, they allowed her a few moments with her husband and three of their teary-eyed children.
Afterwards, 15-year-old Jonathan Sauerstein faced the media and the shock of reality, a reality that will likely have his mother locked up for the remainder of her natural life.
His reaction to the sentence?
"I think it sucks, because I don't think she did it," he said. "She's a wonderful mother, you couldn't ask for better. She's always there."
James and Donna Feeney of Fallsburg were in the courtroom to show support for Odell and her family.
"Hopefully, the appeal will come through (the defense has filed an appeal in the case), and she'll be set free to come home to her family, because she's got a heart of gold," said James Feeney.
Donna Feeney got to know Odell while in the county lockup serving a seven-month sentence for a petty crime.
"Nobody really knows the true story, a lot of what happened was never brought out," she said.
"She's one of the most wonderful people you'll ever want to meet," added Feeney. "If she could have turned back the hands of time, I think she would have turned her mother in, she was petrified of her own mother."
Odell's mother reportedly died in 1995.
"It may sound sick to some people to carry those children (the three dead babies) around with her, but she needed them near her," said Feeney. "If she wanted to get away with it, she would have buried them in a desert in Arizona."
Not so, said Lungen post-sentencing. Lungen said in his opinion, Odell learned a lesson from the 1989 accidental discovery of the 1972 baby.
"She knew the first time she was caught (but never charged)," he said. "She wanted to keep the bastard children with her so she couldn't be tracked – she learned from the first baby how not to get caught.
"It was a coward's way out," said Lungen.
At least until the remains of the last three mummified newborns were uncovered by a man who bought the contents of Storage Shed #6 at auction last May.
The "Babies in Boxes Murder Case" against Odell could be summed up in a single snapshot from the bench, as Judge LaBuda handed down the court's decision.
Taking note of his observation that the defendant prayed and recited the rosary during the trial, Judge LaBuda closed the proceedings, "I hope you will take this opportunity to prepare for the final judgement when you will have to account for your actions.
---
Odell sentenced for killing babies
By Heather Yakin - RecordOnline.com
January 28, 2004
Monticello — "For what I hope is the last time in my life, I will say I did not kill my children," Diane Odell said yesterday at her murder sentencing in Sullivan County Court.
Odell was convicted Dec. 16 on three counts of second-degree murder in the deaths of her newborn babies in 1982, 1983 and 1985 in Kauneonga Lake.
Their mummified remains were found in May 2003, among the contents of a Safford, Ariz., storage shed Odell's family had rented while living there in 1992.
Odell, 50, wept quietly as the prosecutor called her selfish and without remorse for the deaths of four newborn babies.
She may have raised eight children, District Attorney Steve Lungen argued yesterday, but a jury found that she killed the ones she didn't want.
Judge Frank LaBuda told Odell the jury found her guilty of depraved-indifference murder, and the verdict was just.
"The sentence the court will impose upon you is a sentence that will not and cannot put those babies back in a closet," LaBuda said. "I am not unmoved by the quality of your children, by the letters I received from you children asking for mercy."
LaBuda gave Odell 25 years to life in prison. She got 15 to life for the 1982 baby, 20 to life for the second and 25 to life for the third, but the sentences are to run concurrently. She will be eligible for parole in 2029.
She faced a maximum of 75 years to life.
"You have violated a basic tenet, a basic principle, a basic belief that all Americans have: A right to life and liberty," LaBuda told Odell. "It is a dark tale. It is a tale that you wrote, and you must accept responsibility."
Lungen spent part of his argument attacking Odell's statements in an interview she gave to the Times Herald-Record while in the county jail.
In that interview, Odell said her mother was present for all the births and may have been responsible for the deaths. She said she never told police about this because she feared her mother, who she describes as overbearing and cruel, even after her mother died. Odell said she loves all of her children — and she loved and wanted the ones who ended up in the Arizona shed.
Lungen said the story Odell told in that interview was the seventh version of events since she spoke to state police about her very first child: A newborn who was born and died in 1972. That conversation happened in 1989, after the remains of that infant were found in a junked car Odell left behind in Kauneonga Lake. She has never been charged in that case.
"She didn't tell them about the three babies rotting in the closet," Lungen said.
"Nowhere does she take any responsibility or show any real remorse," Lungen argued. "The truth is what the jury found. They [the dead babies] were unwanted, and they were 'the bastard children.'"
Odell wept as her lawyer, Stephan Schick, argued that she was a good and loving mother to her eight living children, and that society would gain nothing but vengeance from any sentence over the minimum.
"The idea that my client has no remorse for the deaths of these babies has no basis in reality," Schick said. "She is a haunted woman. She is a person who has lived a life of incredible hardship and a life of incredible abuse, from the age of nine years old."
Odell stood to speak. She wore an orange jail jumpsuit and brown jail-issue jacket. Her voice shook.
"I have been in a jail of my own making for most of my life. I want to know: When does my suffering end?" she said. "I will apologize for not making conscious, educated decisions. And I hope that one day truth and justice will set me free."
Odell's common-law husband, Robert Sauerstein, and three of the couple's five children — Jeffrey, 13; Robert, 14; and Jonathan, 15 — sat in the gallery. As the sentencing ended, deputies allowed Odell to briefly hug her sons and Sauerstein. The boys' eyes reddened as they clung to her.
Then the deputies handcuffed her and led her back to the jail.
Brenda Kuhr, one of the jurors who voted to convict Odell, said she doesn't believe Odell's tale of abuse.
What she and other jurors looked at, Kuhr said in a telephone interview, were the most basic of things. Odell's stories changed. Odell didn't know if the babies were boys or girls, and she didn't name them. The babies' bodies were found packed away with old blankets.
"One juror was upset that [one baby] didn't even have a nightie on it — just naked in a garbage bag," Kuhr said. "She deserved to get it [the sentence]."
At Odell's trial, the defense rested without calling a single witness — a decision that rankles Sauerstein.
"He went against Diane's wishes to have her brother and [Diane's daughter] Lisa testify," Sauerstein said. "I'm not satisfied. There were a lot of things he could have done in there."
The defense has filed an appeal in the case. It's still unclear what will happen to the infants' bodies. Sauerstein has asked that the remains be given to him so he can give them a burial.
---
Diane Odell Faces Life in Prison
By Ted Waddell - SC-Democrat.com
December 19, 2003
MONTICELLO – After about five hours of deliberation on Tuesday, a Sullivan County jury found 50-year-old Diane Odell guilty of murdering three of her babies in "circumstances evidencing a depraved indifference to human life."
In the "Babies in Boxes" murder case, Odell was charged with six counts of murder in the second degree (two counts for each infant: intentional and depraved).
The jury tossed out the three counts of intentional murder but unanimously found her guilty of "depraved" murder in the second degree.
As a result of the Class A Felony convictions, Odell faces a maximum sentence of 75 years to life in state prison.
At sentencing scheduled for January 27, Sullivan County Judge Frank J. LaBuda can sentence Odell from a minimum of 15 years to life, up to a maximum of 25 to life on each count, if he decides to sentence her consecutively for the three murders.
As the jury announced its verdict, Odell sat between her two Legal Aid defense attorneys, silently weeping, clutching a rosary.
Lead defense attorney Stephan Schick reacted by resting his head on his hand, staring down at the defense table in apparent disbelief. To Odell's right, defense attorney Tim Havas kept his eyes fixed on the jury as he tightly gripped Odell's left hand.
As the jury of three men and nine women was polled by county court clerk Earl Lilley, Odell's common-law husband Robert Sauerstein and their five childen seemed stunned by the verdict.
Moments later, Odell was led in handcuffs out of the courtroom by Sullivan County Sheriff's Department deputies.
She turned to her family and said, "Don't cry, guys. I love you."
As the players were leaving the courtroom stage, Schick reflected on the case.
"My reaction is deep sadness," he said. "I'm sad for the three babies, whether they were born alive or they weren't, [and] I'm sad for Diane, because she's led a life of abuse since she was born until today.
"She'll probably receive the same sentence as Saddam Hussein, which is life in prison," he added. "Somehow, I don't think that's justice."
Afterwards, the dispirited Legal Aid attorney sat down in a slatted wooden chair next to the judge's raised platform and reflected on the verdict that will in all likelihood have his client spending her life behind bars.
Odell's common-law husband then faced the cameras and microphones in a mini-media blitz outside the courtroom.
"I know that the police lied, because I was there [during a phase of the initial questioning]," said Sauerstein.
He declined to provide specifics but said the verdict would be appealed.
"We're appealing, because we know she didn't do it," said Sauerstein. "She's a very good person."
Odell's paramour called into question the testimony of State Police forensic pathologist Dr. Michael Baden, a medical expert who said that while he couldn't determine if the infants were born alive (due to the passage of time and the state of mummification/decomposition), he ruled the deaths as homicides due to "traumatic asphyxia."
"He works for the State Police," said Sauerstein. "Have you ever seen him work for the defense? I haven't."
On Odell's Side
While the jury deliberated, the prosecution and defense nervously awaited the verdict.
Outside in the hallway, Jim Feeney of Swan Lake stuck up for Odell.
He said he got to know the defendant while visiting his wife Donna when she was serving seven months in the county lockup on a conviction of petty larceny.
"I'm out here for moral and spiritual support. . . . This woman has a heart of gold," he said. "I'm not a judge, I don't judge nobody, but I can't see this woman doing that. . . . She just couldn't part with them [the dead infants].
"I'm just praying for a miracle," added Feeney. "She needs somebody in her corner."
Extensive Attention
The "Babies in Boxes" murder case followed in the wake of the "Garbage Can Murder" trial of Hal Karen earlier this year.
Both murder cases were covered by the Courtroom Television Network. Court TV producers of the Odell trial were Lena K. Jakobsson and Carolyn Purcell.
According to Purcell, Court TV will air their coverage within a month.
For Stephen Lungen, Sullivan County's veteran district attorney, the "Babies in Boxes" murder case against Diane Odell started in 1989 when the remains of a mummified infant born to her in 1972 were discovered in a suitcase in a junked car.
But for the Grant County Sheriff's Department in Arizona, it began 14 years later on May 12, 2003 when the mummified and/or badly decomposed remains of the three babies (born from 1982-95 in Sullivan County) were uncovered in a storage shed in Arizona.
Two days before, Thomas Bright purchased the abandoned contents at auction. When he started opening up boxes, Bright found what he thought was a dead baby and called the cops.
As investigators examined the contents of storage shed #2, they found two more dead infants.
The trail of the murders quickly led to Odell, who was questioned by Pennsylvania State Police (and later New York State Police) after she was located in Rome, Pa. working at a Rite-Aid.
During taped interviews, Odell admitted the babies were born in NY and concealed in boxes which finally wound up in Arizona.
'A Very Difficult Case'
After the verdict, DA Lungen held an informal press conference in his office.
"I think the senior investigator [Thomas Scileppi] and I are of the same opinion: this was a very difficult case," he said. "We were the only ones talking about victims' rights for these three babies. . . . When I told the jury that, I meant it.
"I was honored and privileged to represent these babies in the courtroom. . . . Nobody in the world wanted them," said Lungen. "They needed somebody to be their advocate and tell the world what happened to them."
Lungen said that evidence pertaining to the discovery in 1989 of Odell's 1972 baby "stuffed in a suitcase in an old junked car that was bound to be crushed" played a key role in how investigators viewed the 2003 case that led to filing multiple murder charges against the defendant.
While the "1989 Baby" investigation was never presented to the jury, Lungen said it showed intent in the wake of the gruesome discovery in May of the remains of three more of Odell's infants.
Reflecting back 14 years, Lungen said, "She once again denied it was her baby until confronted a month later with all the evidence [and] once again admitted, 'Okay, it's my baby, but I didn't do anything. . . . The baby was born stillborn.'
"We could not disprove that, not knowing she had three more [dead] babies in her closet," said Lungen.
As the case against Odell was hammered out, Lungen said Judge LaBuda ruled that the potential prejudice created by admitting the circumstances surrounding the death of the baby born in 1972 (discovered in 1989) outweighed its probative value.
Lungen said he offered the defense a deal.
Odell could plead guilty to manslaughter in the "Babies in Boxes" case if she waived the five-year statute of limitations for this charge, but the defense nixed the plea bargain.
Lungen credited the diligence of investigators in three states (AZ, PA & NY) with "ultimately bringing us here."
"The defense spent a lot of time saying that Diane Odell carried these [three] babies with her because she couldn't part with them," he added. "But the reality is she carried them with her because . . . the closer she kept them . . . it was less likely she'd get caught.
"The 1989 case loomed large over both sides on the whole trial," said Lungen. "I feel sorry not for Diane Odell, but for the four babies."
"It was murder or nothing," he concluded.
---
Diane Odell Faces Court and Jury
By Ted Waddell - SC-Democrat.com
December 12, 2003
MONTICELLO — Sullivan County District Attorney Stephen F. Lungen and a long line of police investigators stretching from Arizona to Pennsylvania and New York have been laying out their case all this week against former Sullivan County resident Diane Odell.
The 50-year-old mother of eight children was indicted on June 25 by a Sullivan County Grand Jury on six counts of murder in the second degree in the wake of the May 12, 2003 discovery of the mummified and/or badly decomposed remains of three infants found in a series of stained cardboard boxes in a storage shed in Safford, Ariz.
Odell was charged with six counts of murder (one count for each baby for intentionally causing the death of a person and a depraved indifference to human life, and recklessly causing the death of the babies).
According to the indictment, "Dianne [her first name is spelled Dianne and/or Diane on various medical records], did knowingly, unlawfully and intentionally cause the infant's death by traumatic asphyxia, which prevented the infant from breathing, and then placed the infant in a box wrapped in blankets and towels, placing the infant in a closet and thereafter hidden in an outside shed."
In what is being called "The Babies in Boxes Murder Case," Sullivan County's DA said in his opening remarks to the jury on Monday before Sullivan County Judge Frank J. LaBuda, "This trial will be about a horrible story – infants, babies born alive . . . the killing of infants who were born alive and who were entitled to the full protection of the law.
"The deaths, as the births, were concealed for over 20 years until their mummified and decomposed bodies were found," he added, telling the jury of five men and seven women the trial was about "snuffing out the lives of three newborns."
"She hid the pregnancies because, in her words, they were the bastard children," said Lungen "They were born out of wedlock. They died because they were the babies she did not need nor want."
According to testimony presented in court, Odell's eight living children were born in various hospitals under medical supervision, while the three deceased babies were delivered by Odell at home on a bathroom floor.
Police Reconstruct Events
According to statements Odell reportedly made to police, the first two babies were born at her Hamilton House apartment (located on Route 17B), while the third was born at an apartment in Kauneonga Lake.
The deceased infants were reportedly born in 1982, 1983 and 1985.
On May 10, 2003, Thomas Bright bought the contents of storage shed #6 at an auction of unclaimed property in Safford, Ariz.
Documents showed the storage had been rented by Odell on July 5, 1991, but since June 1994 she had failed to pay rent.
Two days later, Bright started to examine the contents, and after opening up a stained cardboard box, Bright found what what he thought were the remains of a decomposed infant, so he called the local sheriff's department.
Diane Thomas, a detective sergeant with the Grand County Sheriff's Department (AZ), told the jury that while processing the crime scene, she discovered the remains of two more babies in boxes, wrapped in blankets. "Baby #3" was shrouded in a black plastic trash bag.
As grisly photographic images were projected on a scene, the jury sat stone-faced – while the defendant never once looked at the photos, she wept quietly while seated between her two Legal Aid attorneys, Stephan Schick and Tim Havas.
"Inside the box was a smaller box, and when I opened the plastic bag, I saw what appeared to be a mummified infant," recalled Det. Sgt. Thomas of discovering "Baby #3."
"I could see the skull and backbone structure and the legs," she added.
Schick responded, "Diane Odell has things she is accountable for, that she is responsible for. But she did not kill those babies, and she did not murder those babies. She wrapped those babies up and packed them up wherever she went because she couldn't bear to leave them behind."
As Odell moved around the country, the babies in boxes went along with her, until they found their final resting place more than 12 years ago in that Arizona shed.
When police came knocking, Odell was located working at a Rite-Aid pharmacy in Rome, Pa. on May 17, based on information discovered while authorities were examining the contents of the storage shed.
As the investigation continued, legal jurisdiction switched from Arizona to New York, when she told authorities the three babies had been born in the Empire State.
According to statements reportedly made by Odell during interviews conducted by authorities in Pa., she "blurted out, 'Okay, they are my babies, and it was more than ten years ago.'"
Prior to this, Odell maintained the pregnancies were the result of a rape and two short-term relationships, and that she hid the pregnancies and resultant births out of fear of her mother's reaction to having children out of wedlock.
Putting Form to Figure
In the second day of the murder trial, DNA expert Stephen Swinton, supervisor of DNA services at the State Police lab in Albany, showed jurors a DNA chart he said established a conclusive genetic profile indicating Odell was the mother of "Baby #2."
He said DNA tests "on various body parts" of "Baby #1" were inconclusive due to the state of decomposition, while DNA tests on "Baby #3" indicated a partial match to the defendant.
According to Dr. Michael Baden, a forensic pathologist with the State Police since 1985, one of Odell's babies was suffocated by a towel stuffed down its tiny throat, one died under her thigh after birth and another died in an unknown manner caused by traumatic asphyxia.
He said an autopsy performed on June 4, 2003 indicated one baby was a boy, while another was a girl. The gender of the third infant could not be determined.
As Lungen projected X-rays of the babies onto the screen, the deceased took on human forms, much different than the photographic images that showed badly decomposed and mummified remains.
The X-rays showed little skeletons, perfectly formed but in some cases tangled into piles of bones by the passage of time.
"The babies were basically skeletonized with some leathery tissues attached," said Dr. Baden. "There was no evidence of disease or fractures. . . . They were newborns. The bones stayed pretty much intact after the soft tissues were destroyed [by the process of decomposition]."
Dr. Baden said that, in his medical opinion, the babies were full-term, but the cause of death could not be determined due to the length of time between death and discovery.
He added that finding three dead infants under similar circumstances of concealment would be "an important factor" in establishing a probable manner of death.
According to Dr. Baden, the manner of the babies' deaths was traumatic asphyxia caused by suffocation.
The pathologist ruled the deaths as homicides but explained to the spellbound jurors this was "a medical judgment – death at the hands of another – not a legal judgment."
In response to some spirited cross-examination by Schick, Dr. Baden said, "Something unnatural happened to those babies. Autopsies are independent of police theories. . . . I'm a scientist, not a cop."
---
Mother Charged in Cross-Country Mummified Babies Case The Arizona Republic
May 21, 2003
MIDDLETOWN, N.Y. - New York state police charged a Pennsylvania woman with three counts of second-degree murder after three infants' remains were found in Safford, Ariz.
Diane O'Dell drove to New York on Monday night to be questioned by police. She was arraigned on three counts of second-degree murder and ordered held without bail in Sullivan County Jail. There was no immediate comment on the cause of death.
O'Dell admitted this weekend that she gave birth to the three children whose mummified remains were found last week in the abandoned contents of a storage locker. The children were born between 1981 and 1984, she said.
They were fine when she went to bed and dead when she woke up, O'Dell told Graham County sheriff's deputies who tracked her to a small eastern Pennsylvania town.
She took their remains - one wrapped in a bedspread, the other two wrapped in plastic - as she traveled the country, living in Utah, Arizona and Texas.
She dropped another bombshell on investigators: There was a fourth child, before the others, that she had at 16. That child also had gone to bed healthy and was dead when O'Dell woke up. That was in New York, where all the births and deaths happened, according to O'Dell, who since has had eight children.
"There are still a lot unanswered questions," said Kenny Angle, Graham County's prosecutor.
"There's a lot of answered questions, but a lot more that don't have answers, and really, we don't know what happened. Our investigation isn't over. Not at all."
Because the deaths happened in New York, the Graham County Sheriff's Department transferred the case to New York authorities. On Monday, two New York State Police detectives traveled to Waverly, N.Y., to begin investigating there after meeting with Graham County detectives.
Arizona detectives interviewed O'Dell, whose age was unavailable, and her common-law husband, Robert Sauerstein, on Saturday.
"They asked her if she knew there were three dead bodies in her storage locker," Graham County Sheriff Frank Hughes said. "She said no. But her reaction was so calm. That's when our investigators knew something was up."
O'Dell and Sauerstein both consented to giving DNA samples and to taking a polygraph test the next day.
Sauerstein showed up Sunday, but O'Dell didn't. When detectives visited her again in her South Gibson, Pa., home - not necessarily to reinterview her but to get her fingerprints, which they had forgotten to record on Saturday - she admitted the babies were hers.
Her admission filled in some holes, but tore open plenty of others.Much of the investigation will focus on why O'Dell carted the bodies of the three children around for nearly a decade.
Another part will focus on who Diane O'Dell was, and why she spent so little time in the Graham County town of Pima, eight miles west of Safford. She arrived in late 1991 and stayed only seven months, long enough for Sauerstein to be charged twice with assaults on minors.
The charges were dropped the first time, and the second time they had moved out of the state after abruptly pulling their three children out of the school just weeks before graduation.
The only details available on the charges Monday were that they involved O'Dell's children.
"No one remembers her," Pima Police Chief Ray Landry said. "We interviewed the teachers at the school, and none of them even remembered the children."
The couple lived in a ramshackle house, clapped together with a travel trailer built into the structure. It's gone, now, torn down in 2000.
No one can remember if they worked, although records in the storage locker indicate they were receiving state aid.
Leroy Smith rented O'Dell the storage locker. He doesn't remember her. She paid by check, but she didn't pay often. She disappeared in April 1992, but continued to pay the storage bill, usually late, until 1994. Smith gave it little mind. He has a lenient attitude, he said, maybe too lenient.
Now, like everyone else in this town, he wonders what happened, and he hopes it was nothing more than a young, scared mother who couldn't afford to pay the funeral expenses.
But that doesn't answer what investigators have been referring to as "the $64,000 question." Why carry the mummified remains of dead babies around? And why leave them after packing them with you for more than a decade?
Upstate New York has had other high-profile cases of women killing several children over the course of many years.
In 1987, Mary Beth Tinning of Schenectady was convicted of second-degree murder in the 1985 death of her 3 1/2 -month-old daughter Tami Lynne. Beginning in 1972, nine of Tinning's children died before age 5, some as young as 7 days old. Tinning is serving 20 years to life in prison.
In 1995, Waneta Hoyt of Newark Valley, south of Syracuse, was convicted of murdering her five young children from 1965-1971. Hoyt died in prison, serving a sentence of 75 years to life.
A landmark 1972 study cited the deaths of Hoyt's children as evidence that Sudden Infant Death Syndrome, or SIDS, ran in families.
---
People v Odell 2006 NYSlipOp 00572
February 2, 2006
Appellate Division, Third Department
Published by New York State Law Reporting Bureau pursuant to Judiciary Law § 431.
The People of the State of New York, Respondent,
v
Dianne Odell,[FN*] Appellant.
As corrected through Wednesday, April 19, 2006
Crew III, J. Appeal from a judgment of the County Court of Sullivan County (LaBuda, J.), rendered January 27, 2004, upon a verdict convicting defendant of three counts of the crime of murder in the second degree.
On May 14, 2003, Arizona authorities discovered the severely decomposed bodies of three newborn children contained in a storage unit rented by defendant. The Arizona authorities determined that defendant was a resident of Pennsylvania and, on May 17, 2003, interviewed defendant at the Pennsylvania State Police barracks in Towanda. Following several more interviews over the next three days, the last of which took place in the Village of Liberty, Sullivan County, defendant was indicted and charged with intentional and depraved indifference murder in connection with the deaths of each of the three infants. Following a jury trial, defendant was found guilty of depraved indifference murder regarding each infant and was sentenced to concurrent indeterminate terms of imprisonment of 15, 20 and 25 years to life. [*2]Defendant now appeals.
Initially, defendant contends that County Court erred in failing to suppress the statements given by her to law enforcement officials. The gravamen of defendant's contention is that defendant's husband, as well as defendant, advised the police that defendant wished to consult a lawyer before questioning and that, as a consequence, all statements made thereafter were inadmissible. We disagree.
To understand the context of the situation, a brief recitation of the facts is necessary. On May 17, 2003, the Arizona authorities arrived in Pennsylvania, and defendant was called at her place of work and asked to come to the Pennsylvania State Police barracks. She did so and, upon arrival, disavowed any knowledge of the deceased babies or how they came to be in the storage locker. Defendant then returned to work. The following day, defendant's husband was at the barracks for fingerprinting, a polygraph and the giving of DNA samples and was asked to call his wife and persuade her to come to the barracks to be fingerprinted. At that point, the husband testified, he told the police that defendant had told him she wanted to speak to an attorney before speaking with the police. In any event, the husband called defendant and she agreed to come to the barracks to be fingerprinted. While there, she conversed with Pennsylvania State Police Investigator Gerald Williams, who inquired whether she would talk with him about the deceased infants and whether she wanted an attorney. Defendant responded that she wanted to consult with a lawyer regarding the custody of one of her sons and who would care for him if she were unable to do so. Williams specifically questioned defendant about this representation to be sure it related only to her son and not the investigation regarding the deceased children. He impressed upon her that she did not have to speak with him and was free to go at any time. Finally, Williams testified that defendant expressed her willingness to talk with him about the deceased children and did not want an attorney in that regard.
Initially, we note that a defendant's right to counsel, invoked in a noncustodial setting, will not attach where such request may be seen as equivocal (see People v Glover, 87 NY2d 838, 839 [1995]). Here, assuming County Court credited Williams' testimony, which it clearly did, defendant's desire for counsel was not only equivocal, it was totally unrelated to the investigation being undertaken. However, even assuming that the desire for counsel related to the investigation at hand, it was clearly made in a noncustodial setting and could be and was withdrawn (see People v Davis, 75 NY2d 517, 522-523 [1990]). With regard to defendant's remaining contentions concerning the statements given by her, we find that they were given freely and made while defendant was not in custody and, at the point that she became a suspect in New York, she was given proper constitutional warnings, which she knowingly and intelligently waived.
Next, defendant argues that County Court impermissibly permitted cameras in the courtroom necessitating reversal. We disagree. Although we recently held that issuance of a writ of prohibition was an appropriate vehicle to prevent the use of cameras in the courtroom (see Matter of Heckstall v McGrath, 15 AD3d 824 [2005]), no such application was made here. Hence, reversal is required only if defendant demonstrates that she was deprived of a fair trial due to actual prejudice resulting from the presence of the cameras during trial (see e.g. People v Nance, 2 AD3d 1473, 1474 [2003], lv denied 2 NY3d 764 [2004]), which she failed to do.
We likewise reject defendant's contention that it was error to allow the People's forensic expert to testify as to the cause and manner of death based, in part, on defendant's statements to [*3]law enforcement personnel. It is axiomatic that expert testimony is admissible where, as here, the conclusions drawn from the facts depend upon professional knowledge not within the ken of the ordinary juror (see People v Eberle, 265 AD2d 881, 882 [1999]). Such expert may rely on facts in evidence, as well as material outside the record, so long as such material is "of a type reasonably relied upon by experts in the field in forming their professional opinions" (People v Yates, 290 AD2d 888, 889 [2002]).
We do, however, find that County Court inappropriately permitted the People's expert to opine that the infants' deaths constituted "homicides." Such characterization improperly invaded the province of the jury (see People v Langlois, 17 AD3d 772, 774 [2005]). We note, however, that the complained of testimony was not the subject of objection, and the issue is thus not preserved for our review (see People v Burdick, 266 AD2d 711, 713 [1999]). Moreover, if we were to review this error in the interest of justice, we would find it to be harmless inasmuch as the expert defined the medical definition of homicide and stated that he was not drawing a legal conclusion in that regard, nor was he making a determination regarding any culpability for the infants' deaths.
We also reject defendant's contention that County Court erred in refusing to charge the lesser offense of criminally negligent homicide. We note that after requesting such charge, defense counsel acknowledged that if such a charge constituted a waiver of defendant's protection under the statute of limitations, defendant did not want the charge. Inasmuch as a request for such charge would result in defendant's waiver of her statute of limitations defense (see People v Mills, 1 NY3d 269, 274 [2003]), County Court properly declined to so charge. We have considered defendant's remaining contentions and find them equally without merit.
Cardona, P.J., Spain, Mugglin and Lahtinen, JJ., concur. Ordered that the judgment is affirmed.
Footnotes
Footnote *: Although defendant's name is sometimes spelled "O'Dell," the proper spelling and that which appears on the indictment is "Odell."