Darbara SINGH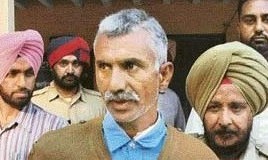 A.K.A.: "Baby killer"

Classification: Serial killer
Characteristics: Kidnapping - Rape
Number of victims: 10 -17
Date of murders: April-September 2004
Date of arrest: October 29, 2004
Date of birth: 1952
Victims profile: 15 girls and two boys
Method of murder: Cutting their throats
Location: Punjab, India
Status: Sentenced to death on January 7, 2008. Commuted to life in prison
---
Serial baby killer acquitted in one more rape, murder case
By Shilpi Dogra - Jknewspoint.com
December 10, 2010
A local court today acquitted serial baby killer Darbara Singh in one more rape and murder case. Darbara Singh had abducted a six year old girl Tajvin from the area under the jurisdiction of model town police station in the year of 2004 and after killing threw her body in the bushes near Cheheru village situated on Jalandhar-Phagwara road.
The police recovered the body of the girl on the instance of Darbara Singh from the bushes after he was arrested by the police in other cases of killing girl children after raping them. Seventeen cases of rape and killing girl children had been registered against Darbara Singh in 2004.
He was sentenced to death by a local court in one case but the sentence was converted to life imprisonment by the Punjab and Haryana High Court. Of the total 17 cases of rape and killings, Darbara Singh had been sentenced to life imprisonment in five cases. In the Tajvin case registered against Darbara Singh on Sept. 2, 2004, the court of additional sessions Judge BS Sidhu today acquitted the accused on the grounds that the prosecution had failed to prove the charges. Darbara Singh was produced in the court of the additional session judge this afternoon.
---
Death sentence for serial killer
January 8, 2008
A fast track court here sentenced to death a "serial baby killer" who allegedly had killed over 20 children, mostly migrants, after kidnapping them, a few years back.
Additional sessions judge I.S. Bajwa ordered to hang Darbara Singh till death in the case relating to the murders of two children Khursheed (5) and his cousin Ropu (6) in 2004.
While he was acquitted in three such cases, over 20 cases of murder, rape and sodomy of girls and boys are pending against him.
In a complaint to the police in October 2004, Mohammad Vakil- a resident of Darbhanga district in Bihar, now residing at Basti Mithu here, alleged his son Khursheed and niece Ropu had gone missing under mysterious circumstances.
Later their bodies were found from a sugarcane field at a village on the Kala Sanghian road. An FIR under Sections 364 and 302 of the IPC was registered in this regard. Statement of one of the prosecution witnesses Pritam Singh played vital role in convicting Darbara Singh, an ex-serviceman.
The police a few months back formed a special team headed by SP (traffic) Rakesh Kaushal, which nabbed the guilty on October 30, 2004, to pursue the cases against after his acquittal in three such cases.
Darbara Singh used to make migrants' children his victims as he felt it was because of a migrant labourer family of adjoining Kapurthala district that he had to remain in jail for a decade. According to he had already been sentenced to imprisonment for allegedly raping and attempting to murder a migrant girl but was released after 10 years without completing full term from the Ludhiana jail for his `good conduct' in the jail.
Subsequently, he came to Jalandhar where he took a room on rent in Model House locality and started working in a factory and simultaneously started making migrant children his victims.
---
'Baby killer' acquitted in 2 cases for want of evidence
ExpressIndia.com
July 12, 2007
Darbara Singh, accused of kidnapping 23 children and killing 18 of them after molestation, was today acquitted in yet another case for want of evidence. He was acquitted by the court of District Sessions Judge Gurdev Singh in the murder case of Sanju and Lakshmi. Sanju, daughter of Umesh Shastri of basti area, went missing on August 28, 2004, while Lakshmi went missing on August 15, 2004.
Darbara had confessed that he had killed both the girls and thrown their bodies in Raiya canal. But since the bodies of the girls were not recovered, Darbara got acquitted.
Known as "baby killer", Darbara Singh was yesterday, too, acquitted in the murder cases of Satish, 6, and his sister Sona, 7. Both children went missing in 2004 from their house in Model Town and later their bodies were recovered from a canal in Raiya in Amritsar district. It was alleged that Darbara Singh had kidnapped them and after molestation, had killed both siblings.
However, he is serving a life term for trying to kill another girl child, Nishu, who was kidnapped by him. He had thrown her body in the fields after cutting her neck, but some people saw her and saved the child. A fast-track court in 2006 had sentenced him to life imprisonment in the case.
In 2004, several children of migrant labourers went missing from Jalandhar under mysterious circumstances within six months. Darbara Singh used to kidnap them by alluring them with sweets and other eatables. Darbara had said in his statement that he hated migrant labourers as he had been booked long back in a case on the allegations of migrant labourers and wanted to "teach them a lesson".
---
Serial child killer gets life term again
February 9, 2006
Serial child killer Darbara Singh has been sentenced by a Punjab court to life imprisonment for the second time.
A fast-track court in Jalandhar on Wednesday sentenced the serial killer to life term for the kidnapping and murder of the minor daughter of a migrant labourer in the city in October 2004.
Darbara Singh had earlier been sentenced similarly for the rape of a migrant girl in Kapurthala in the mid-1990s. He was released from prison in December 2003 for "good conduct" before the end of the first life term.
He was accused of kidnapping, raping and sodomising 23 minor children after his release. He used to target children of migrant labourers.
Darbara Singh had earlier been dismissed from the Indian Army for attacking his senior officer while on duty at Pathankot.
The parents of the children killed and raped by him said after the verdict that a life term was too less a punishment for Darbara Singh. They demanded that he be hanged to death.
---
Devilish Darbara
Remorseless ex-armyman slit throats of 17 children and then raped them
Varinder Singh - Tribune India
November 5, 2004
HE remains unrepentant. He is in full control of his ruthless self and can even flash a broad smile. Arrest has not, in any way, made the alleged serial killer, Darbara Singh, remorseful. "I have no remorse for having killed the children of migrant labourers, as they were instrumental in sending me to jail," he says coolly
"I abducted children of migrants, and if any of these girls or boys resisted my attempts, I would slit their throats and simply dump or drown them. I also killed one Punjabi girl by mistake and I am a bit shaken by this. But I had no alternative, as she could have created problems for me. Similarly, I killed all babies to eliminate any possibility of leaving behind a proof," he confesses.
What is intriguing is that despite tightened vigil, he was never intercepted at a naka or by any police official, even as he simply walked in and out of the city on his bicycle. "Nobody ever suspected me. I thought I could carry on with my activities. Still, I have no remorse. But at the same time, I think what was done by me was wrong and I promise that I would never do it again," Darbara Singh tells The Tribune.
"I don't dread anything. I think they (migrants) did wrong to me. I celebrated almost each of the killings with liquor and good food," he adds. This is in contrast to his other statement about the use of liquor during his crimes; in this statement he had denied that he used liquor at the time of committing crimes.
Similarly, no feeling of remorse was visible when he was taken by the police to different sites, where he had dumped bodies of his small and innocent victims. "It (crimes) never shook me from inside. I still think whatever I did was right and it was the demand of the time. I also think that in future I won't do anything like this," says the alleged serial killer.
List of victims
Lacchmi, 5, d/o Ripudaman, r/0 Basti Shiekh, gone missing on August 15, 2004, status - dead
Satish, 6, s/o Gopal, H.No. 598, Model Town Jalandhar, gone missing on April 18, 2004, status - dead
Gudia, 10, sister of Satish, status - dead
Tazbin, 10, d/o Maqsood, r/o Avtaar Nagar Jalandhar, abducted on August 22, 2004, status - dead
Sanju Kumar, 5, s/o Umesh Shastri, r/o Basti Shiekh, abducted on August 24, 2004, status - dead
Poonam, 7, r/o Basti Peerdaad, d/o Puna Ram, abducted on August 6, 2004, status - dead
Rajesh Kumar, 7 and his sister Geeta, 5, children of Narbahadur of Leather Complex, abducted on August 28, 2004, status - dead
Laloo Parsaad,4, r/o Leather Complex, status - dead
Diksha, 10 and her sister Asha, daughters of Gobind of Rasta Mohalla, abducted on April 18, 2004, Diksha killed, Asha escaped and saved
Rani, 9, r/o Jallowal Colony, killed in Nakodar; Nishu, 9, r/o Urban Estate Phase II, abducted on October 22, saved and admitted to the PGI, Chandigarh; Mumtaaz, sister of Tazbin, of Avtaar Nagar, escaped
Shankar, 8, s/o Akhilesh, r/o GTB Nagar, abducted along Gudia and Satish but escaped
Amrit, 5 and his sister Karu of Leather Complex, status - abducted and killed
Ravina, 4, d/o Mohd. Aziz, r/o Shastri Nagar, abducted on June 29, 2004, saved
Patal Kumari, d/o Bharat Bhushan, r/o Basti Bawa Khel, abducted on June 29, 2004, saved lNitika, 3, d/o Bir Bahadur, r/o Basti Danishmandan, abducted on August 16, 2004, saved
Rajesh Kumar, 5, s/o Mast Lal, Basti Bawa Khel, abducted on August 16, 2004, saved
Jatinder, 9, s/o Rudra Ram, r/o Leather Complex, abducted on June 17, 2004, status - killed
Puja, 8, d/o Ram Udhar, status - killed, her brother Deepak, 4, killed.
Toffees turn out to be his nemesis
Toffees, which were used by the alleged baby killer, finally turned out to be his nemesis. This ex-serviceman-turned-serial killer used sweets, samosas and crackers to lure his victims.
Darbara Singh, resident of Jallupur Khera village of Amritsar, perhaps did not know while committing crime that one of his own sweet weapons - toffees- would have a bitter taste for him and would lead to his arrest one day. This day came on the morning of October 29, when he was intercepted by a police party led by Sadar SHO Pritam Singh and the CIA In Charge Sub Inspector Nirmal Singh. Darbara Singh was going from Leather Complex to Kapurthala on his bicycle.
He could have slipped out of the police dragnet by posing as an ex-serviceman had he not been carrying a bag containing a handful of toffees, which made policemen suspicious. As he was busy answering the questions of the police party, it was his resemblance to the sketch of the baby killer prepared by the Jalandhar police in the last week of October that aroused further suspicion.
Darbara Singh had been nurturing a grudge against the migrant labourer community for their "role" in his conviction in 1996 in a triple attempt to murder case in Kapurthala. His modus operandi was to lure his victims using toffees, samosas, sugarcane juice and sweets. Then he would take them to a secluded place.
According to investigations, in most cases, he would slit the throat of his victim and subject the bodies to attempt to rape. "I did this so that there would be no shrieks of victims," he says.
"Our officers suspected the accused the very first moment they saw him carrying a bag of toffees. Thereafter, an informer recognised him After this, he was put to sustained questioning, which yielded its results. He confessed to everything, despite his appearance of being a hard nut to crack," says Mr Gurpreet Singh Bhullar, SSP and the officer behind the cracking of the crime.
Police sources revealed an interesting story. As soon as Darbara Singh was intercepted, he started reeling out everything. "At the very first moment when he was stopped, he told the police party that they had reached the right place. Then he requested police officials not to beat him up, as he was ready to come out with minute details of the crimes committed by him. In fact, what brought success to us was the sustained study of the modus operandi adopted by this psychopath. What alarmed us was the almost similar kind of method used by him against all his victims. However, what baffled us a bit was the recovery of some bodies from different spots," said Mr Bhullar.
Though at the first instance Darbara Singh has admitted to have killed 17 of his victims (six of his victims were lucky enough to survive), the actual number of victims could be more, say police sources. "Our suspicion is based on similar abductions in Kapurthala district and recovery of two more mutilated bodies of babies in jungles of Jallupur Khera village of Amritsar district," says an official.
"What had made our task difficult was that the baby killer was not running a gang and he had no permanent address. This led to some delay in cracking the crime," said Mr Bhullar.
---
Serial killer leads to victims, and it's gross
October 30, 2004
A day after nabbing serial killer Darbara Singh, the police exhumed the bodies of two of his recent victims from a sugarcane field here.
The killer led the police to the field on the Jalandhar-Kalasanghia road where he had buried five-year-old Khurshid and six-year-old Ruku, reported missing since October 24. Both children were cousins and belonged to Darbhanga in Bihar.
Khurshid's father, Mohammad Vakeel, identified the bodies and said that Ruku was the daughter of his younger brother who lived in Himachal Pradesh. Vakeel said that Ruku had come to Jalandhar only a few days ago before she went missing along with Khurshid from Jalandhar's J.P. Nagar locality.
Of the 17 children killed by Darbara Singh, the bodies of three were recovered before his arrest yesterday. All three, Rani, Asha and Lalu Parsad, were children of migrant labourers.
Darbara Singh, who was taken by the police team led by SSP G.S. Bhullar to identify the site where he committed the crime, later said that he had killed Khurshid and Ruku by slitting their throats after sexually abusing them on October 25.
The police had a tough time locating the bodies buried in the field due to the dense crop of sugarcane. Khurshid's body was found lying on the back with his head turned slightly towards the left, while Ruku's body was recovered in a highly decomposed state as she had virtually been beheaded.
As soon as the news of the bodies being found spread in the area, a large number of people gathered at the site and watched in horror. A couple of onlookers even tried to hit the accused.
The police also recovered a bottle of rum and a glass from the field. Darbara Singh said he had consumed the rum before committing the crime. The police took the bottle and glass into custody for matching fingerprints.
Meanwhile, police teams have been despatched to Tarn Taran and Rayyia, where Darbara Singh said that he had killed most of his victims by drowning them.
Bhullar said that Nishu, an 11-year-old girl who was injured by Darbara Singh near Adampur, was undergoing treatment at PGI, Chandigarh, and had immediately identified the accused on seeing his picture in the newspapers today.
---
Serial killer leads cops to bodies of 2 victims
October 30, 2004
Even as the local police today recovered the bodies of two children, Khursheed (4) and his cousin Roku (6), who were allegedly sexually assaulted and killed by "baby killer" Darbara Singh, from a pit on the roadside near Kadianwali village, the court of Ilaqa Magistrate K.K. Kareer remanded him in 10 days' police custody.
Khursheed, a son of Mohammed Vaqil, and his cousin Roku were abducted by Darbara Singh from near their house in Basti Mithu on October 25.
Darbara Singh also identified the spot in Shah Changi village where he had dumped the body of another child, Laloo Parsad (6), after murdering him on August 16.
After his medical examination and court appearance, the police took Darbara Singh to a place near Kadianwali village, where the accused located the pit in which he had dumped the bodies of Khursheed and Roku after killing them on October 25.
The bodies, which were recovered in the presence of an Executive Magistrate, had not yet decomposed. While the body of Khursheed had clothes on, Roku's body was naked and the throat had been slit. .."Darbara Singh killed Khursheed as he feared he could identify him," said Mr Gurpreet Singh Bhullar, SSP, who lead the recovery operation. "We will also take him to the Khadoor Sahib-Rayyia area, where Darbara Singh has confessed to have dumped a large number of bodies," added Mr Bhullar.
Meanwhile, Nishu (8), who had escaped from the clutches of Darbara Singh and was found lying seriously injured in fields near Jandu Singha village last week, has identified Darbara Singh from his pictures in various newspapers, it was learnt. She is at present being treated at the PGI in Chandigarh.
---
Search for 17 children ende
October 30, 2004
The district police today claimed to have solved the mystery of 17 missing children with the arrest of a 52-year-old ex-Army personnel, who allegedly raped and killed all the kids.
District police chief G.P.S. Bhullar said the accused, Darbara Singh, has confessed to abducting at least 21 children and has said that he committed the crimes to avenge the 10 years he spent in prison.
At a press conference here, the SSP said police had prepared a computer-generated image of the ''killer'', and on a tip-off, had set a trap for him at Basti Bawa Khel from where they arrested him.
The SSP said Singh had got into trouble even during his stint in the Army. He had allegedly lobbed a hand-grenade at Major V.K. Sharma's house in Pathankot after an altercation. The Major's son and wife were injured in the explosion. Singh was arrested in the case and sent to judicial custody. But after a trial, he was acquitted and reinstated in the Army.
Bhullar said Singh started selling his quota of CSD liquor to migrant labourers during his Kapurthala posting. He also took to molesting girls in these colonies and was sentenced to 30 years in prison after some migrant labourers lodged a complaint. His sentence was later revised and he was released in December 2003.
Singh used to live in a rented accommodation at Model House near his in-laws home. He had managed to get the job of a security guard in a leather factory at Basti Bawa Khel showing his Army credentials.
---
Serial baby killer held
TribuneIndia.com
Jalandhar, October 29, 2004
A spectre of fear terryfying local residents for the past over seven months almost vanished in this morning as a cruel serial baby killer, Darbara Singh, who not only ruthlessly killed 17 innocent children of migrant labourers here but also surpassed all boundaries of cruelty by allegedly subjecting his dead victims, mostly girls, to rape attempts, was finally arrested by the local police.
Darbara Singh, an ex-serviceman, nurtured a grudge against migrant labourers, as he felt that it was because of a migrant labourer family of Kapurthala that he had to waste 10 "precious years" of his life in jail. He was sentenced to imprisonment by a Kapurthala court for 30 years for allegedly raping and attempting to murder a daughter of a migrant labourer. He was released from the Ludhiana jail on December 3 last year after having spent 10 years in jail. For his "good conduct" in the jail, his sentence was reduced from 30 to 10 years.
His hatred against migrant labourers was so intense that he asserted in front of the Jalandhar SSP, Mr Gurpreet Singh Bhullar, that he could have killed more children of migrant labourers had he not been arrested by the police "so soon".
Darbara Singh, 52, who has three children and who was shunted out of his house by his wife for his "bad habits," also admitted that he had dumped the bodies of most of his 17 innocent victims near a bridge on the Rayya-Khadoor Sahib road after subjecting them to rape or sodomy.
During the past seven months, a total of 23 children, mostly below the age of 10, had gone missing from the city. Of them six were recovered by the police. The abduction's of children began in March this year when two sisters, Asha and Diksha, were abducted from the local company bagh.
"Though he has confessed to having killed 17 children — 15 girls and two boys — we are still interrogating him to elicit more details. We had to lay a number of traps for him and I think he is India's first serial killer who has been so barbaric. He has killed 17 children. What is more stunning is his confession that in a fit of rage he even tried to rape or sodomise dead bodies of his victims," said Mr Bhullar.
Darbara Singh, originally a resident of Jallupur Khaira village near Beas in Amritsar district, allegedly lobbed a hand grenade at the house of his senior officer, Major V.K. Sharma, after having an altercation with the latter while he was posted at Air Force Station at Pathankot in 1975. The wife and teenaged son of the officer were seriously injured. He was arrested but acquitted after the trial.
He was also arrested in three cases of attempt to murder by the Kapurthala police and was subsequently sentenced by the court to undergo imprisonment for 30 years. From Kapurthala he was shifted to the Jalandhar central jail and then to the Ludhiana Central Jail where he spent five years before he was released on December 3 last year for his "good conduct" on the basis of his mercy petition.
Filled with a sense of revenge, Darbara Singh came to Jalandhar where he took a room on rent in Model House locality and started working in a factory in the Leather Complex area of the cityhouse in Urban Estate and simultaneously started targeting children of migrant labourers.
According to Mr Rajpal Sandhu, Mr Rakesh Kaushal, both SPs, Mr Rajjit Singh, Mr Rajinder Singh and Mr Charanjit Singh, all DSPs and part of the Special Investigation Team (SIT) formed by Mr Bhullar for cracking the crime, Darbara Singh, used his cycle for committing crime and enticed children by offering sweets and eatables to them in localities dominated by migrant labourers. His preferred time to perform his 'operation' was between 10 am and 12.30 pm when most of migrant labour was away to factories.
On how the serial killer was nabbed by the police, Mr Bhullar said it was possible only after the SIT studied the modus operandi adopted by the suspect in detail and a sketch was made on the basis of information gathered from diferent sources. They got information that a person resembling the sketch was going on his cycle along with a bag of toffees. SHO Pritam Singh was despatched to nab the person, who turned out to be Darbara Singh.