Coleen M. THOMPSON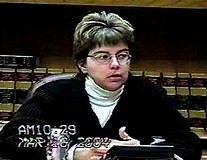 Classification: Homicide
Characteristics: Former intensive care nurse
Number of victims: 5
Date of murders: 2002 - 2003
Date of birth: 1969
Victims profile: Harry L. Hancock, 69; Geraldine Baxter, 68; Lillian Vanzandt, 83; Raymond H. McGivern, 86, and Adele Urbina, 63 (critically ill patients)
Method of murder: Intentionally failing to care
Location: Rockville, Montgomery County, Maryland, USA
Status: Pleaded guilty on March 9, 2005 to intentionally failing to care for five patients who died in the hospital's intensive care unit. Sentenced to 18 months on each count, then suspended all but 45 days on May 17, 2005
---
Md. Nurse Who Neglected Patients Gets 45 Days
By David Snyder - The Washington Post
May 18, 2005
A Montgomery County judge yesterday sentenced a former intensive care nurse at Shady Grove Adventist Hospital to 45 days in jail for intentionally failing to care for five critically ill patients in 2002 and 2003.
The sentence was far less than the minimum of five years in prison sought by prosecutors. The maximum possible sentence for the five charges is 25 years.
Coleen Thompson, 37, sobbed as she told Montgomery County Circuit Court Judge DeLawrence Beard that she was "extremely, extremely sorry for the pain and suffering that my nursing inadequacies caused" family members of the patients at the Rockville hospital. Although the patients died, prosecutors said there was no evidence to support a charge that Thompson deliberately killed them.
"I was arrogant. I will admit that," Thompson said in court. "I thought I knew what was best for my patients. . . . But it was never malicious, it was never intentional."
Beard sentenced her to 18 months on each count, then suspended all but 45 days. He also sentenced her to 18 months of supervised probation. He did not explain how he determined the length of the sentence.
Thompson pleaded guilty in March to five counts of second-degree neglect of a vulnerable adult. Montgomery Deputy State's Attorney John McCarthy said Thompson intentionally failed to provide medical care required by her job.
Second-degree neglect of a vulnerable adult, a misdemeanor, is punishable by as much as five years in prison and a $5,000 fine. As part of the March plea agreement, prosecutors agreed not to seek consecutive sentences.
Prosecutors and family members of Thompson's victims said they were disappointed by Beard's sentence.
Mary Swaim, 34, granddaughter of Lillian Van Zandt, who died March 30, 2003, while in Thompson's care, said she was "shocked and hurt."
"I can't explain it," said Swaim, who visited Van Zandt in the hospital hours before she died at age 82. "It's just disheartening."
Philip Armstrong, Thompson's attorney, stressed in court that the charges do not mean that the nurse's actions contributed to the deaths of the five patients, all of whom had been in critical condition.
Thompson "was not the world's greatest nurse, and she wouldn't claim that she is," Armstrong said. "But she didn't harm anyone, she didn't kill anyone, she didn't speed anyone's death."
---
Md. Nurse Pleads Guilty To Neglecting Patients
By Katherine Shaver - The Washington Post
March 9, 2005
A former nurse at Shady Grove Adventist Hospital in Rockville pleaded guilty yesterday to intentionally failing to care for five patients who died in the hospital's intensive care unit in 2002 and 2003.
In a deal with prosecutors, Coleen M. Thompson, 36, of Rockville pleaded guilty to five counts of second-degree neglect of a vulnerable adult, with each count punishable by as much as five years in prison and a $5,000 fine. She is to be sentenced May 17. In return, the Montgomery County state's attorney's office agreed not to recommend consecutive sentences.
State's Attorney Douglas F. Gansler said Thompson was not charged with deliberately killing the patients because authorities found no evidence on which to base such a charge. He also said prosecutors would not have been able to prove that the patients, all of whom were seriously ill, died solely because of actions Thompson took or failed to take.
However, Gansler said, his office could have proved that Thompson intentionally failed to provide medical care that her job required. Defense attorney Philip Armstrong said his client may have been negligent, but only because she was overworked in an understaffed intensive care unit -- an assertion disputed by an attorney for Shady Grove Adventist.
"This is not a mercy-killing case," Armstrong told reporters outside the courtroom. "If it was a mercy killing, she'd be charged with murder. . . . The horribly callous but inescapable fact here is that all these people were going to die anyway."
About a dozen relatives of the five patients who died looked on quietly yesterday as Deputy State's Attorney John McCarthy outlined the cases for Montgomery Circuit Court Judge DeLawrence Beard.
In one case, McCarthy said, Thompson did not notify a doctor when Adela Urbina, 63, who was hospitalized with pneumonia, experienced a sharp drop in blood pressure. In the case of 86-year-old Raymond McGivern, McCarthy said, another nurse confronted Thompson about the fact that McGivern's intravenous pump had been left repeatedly in the "standby" position. Thompson became upset that the other nurse would not turn off the pump and "allow the patient to die," McCarthy said.
He said Thompson failed to give Lillian Van Zandt, 82, medicine needed to stimulate her heart. Another nurse suspected that Thompson had turned off the IV pump attached to 69-year-old Harry Hancock before a doctor pronounced him dead, McCarthy said.
Geraldine Baxter, 69, who was hospitalized for complications from a hip replacement, died after Thompson gave her morphine that had not been ordered by a doctor, McCarthy said. He said Thompson also declared Baxter dead 13 minutes before her last heartbeats were recorded.
The Maryland medical examiner's office pinpointed the five cases in a review of 211 deaths during Thompson's 14 months as an intensive care nurse at Shady Grove Adventist, McCarthy said.
Thompson choked back a sob when she answered "yes" to the judge's question of whether she was pleading guilty because she was, indeed, guilty.
Armstrong, her attorney, told the judge that prosecutors "didn't disclose [any cases] where her actions caused, contributed to or hastened the death of a single patient."
His client was "overstressed," he said, because the hospital did not have an adequate nursing staff. Moreover, he said, some of the allegations came from another nurse, who Armstrong said was "disgruntled." He said Thompson was the victim of a "media feeding frenzy" prompted by hospital officials holding a news conference in July 2003 about some suspicious deaths.
"It resulted in tremendous pressure for someone to be blamed," Armstrong told the judge.
Sigrid Haines, an attorney for Shady Grove Adventist, said the deaths resulted from Thompson's "intentional neglect," not a staffing problem.
Van Zandt's daughters, Pauline Swaim, 61, of St. Mary's County and Ginny Householder, 59, of Berkley Springs, W.Va., said Thompson never seemed too busy to spend large amounts of time in their mother's hospital room, telling them to let her die.
"We said we wanted to see if Mom would get better, and we'd have to make that decision down the road," Householder said. "I think she just had a problem in playing God."
---
Ex-Nurse to Plead Guilty in 5 Deaths at Shady Grove
By David Snyder and Fredrick Kunkle - The Washington Post
October 28, 2004
A former intensive care nurse at Shady Grove Adventist Hospital in Rockville has agreed to plead guilty to five counts of neglect in connection with the deaths of five of her patients in 2002 and 2003, according to documents filed in Montgomery County Circuit Court.
Coleen M. Thompson, 35, is scheduled to plead guilty to second-degree abuse or neglect of a vulnerable adult, a misdemeanor, on Dec. 13, court documents show. Each count carries a maximum sentence of five years in jail, but prosecutors have agreed as part of the plea deal not to seek consecutive sentences.
The five victims listed in court documents are: Harry L. Hancock, 69; Geraldine Baxter, 68; Lillian Vanzandt, 83; Raymond H. McGivern, 86, and Adele Urbina, whose age could not be determined yesterday.
Hancock died July 5, 2003, five days short of his 70th birthday, while at Shady Grove. Hancock, the father of two children and grandfather of four, had been in the hospital for weeks after suffering a heart attack and pancreatitis, his wife, Diana, said yesterday. Doctors said her husband's chances of surviving were "not good," she said.
Court documents do not specify what actions Thompson took in Hancock's case or the others, and law enforcement officials would not detail the allegations because the case is still pending. State law defines neglect in the context of the charges against Thompson as "the intentional failure to prove necessary assistance and resources for the physical needs of a vulnerable adult."
Diana Hancock said she believes Thompson's actions led to the early death of her husband.
"She really had no right to do this, not then," Hancock said yesterday. "It wasn't her say to pull the plug. The doctor needed to be there and apparently wasn't."
Thompson's attorney, Philip H. Armstrong, did not return two phone calls to his Rockville office yesterday seeking comment.
Maryland's nursing board suspended Thompson's nursing license in July 2003, and she was fired from her job at Shady Grove several weeks later.
Elizabeth A. Robinson, 33, whose father died while in Thompson's care, said she and her family believe that Thompson purposely hastened her father's death. They filed a wrongful death suit against Thompson in July 2003.
On Oct. 22, 2002, John Lieb, a cinematographer and District native, was admitted to Shady Grove in critical condition with a bowel obstruction. Surgical complications forced doctors to put him on a respirator.
After a few days, Lieb was able to open his eyes and appeared responsive to family members at his bedside, Robinson said. His condition was critical but stable when, four days later, Thompson was assigned to care for Lieb.
More so than previous nurses, Thompson engaged family members in a personal manner and endeared herself to them, talking about her own life since returning from maternity leave recently and her two young sons, Robinson said.
"She talked about everything, nonstop," Robinson said.
On Oct. 27, Thompson told family members that Lieb's condition had taken a grave turn, and she pressed them to decide whether to remove him from the respirator and let him die.
They agreed to remove the respirator. They also agreed that he should receive morphine in gradual doses to ease his pain as he died. They expected his death to be gradual, Robinson said.
But Lieb, 58, died almost immediately after Thompson injected him with morphine in a fashion Thompson later admitted varied from the doctor's orders.
"His neck started to shrink, he turned all different colors, and he started squeezing my hand so hard it hurt," Robinson recalled.
Thompson, in a deposition for the Lieb case, admitted giving slightly more than the doctor ordered and administering the dose intravenously with a syringe in one dose, known as a "push." But she also suggested that neither step was unusual.
Thompson said in the deposition that she attended high school in the area, graduating in 1986. She received a four-year degree in hospitality management from Florida International University before returning to Montgomery County to work for the public schools for several years. She earned a two-year associate's degree in nursing at Montgomery College and became a registered nurse in 1999.
---
Lawsuit accuses Md. nurse in second death
Man's family says she gave him morphine improperly
By Ivan Penn - BaltimoreSun.com
July 31, 2003
A former nurse at Shady Grove Adventist Hospital was linked to a second death yesterday in a lawsuit alleging that a 54-year-old male patient there died because of her actions.
The three children of John Lieb of Gaithersburg allege in the suit that nurse Coleen M. Thompson injected the full contents of a "very large syringe" containing morphine into their father's arm, though the doctor's orders were to administer the medicine slowly in drops.
Thompson then told the family "that he will pass away in the next half to one hour," according to the wrongful death suit, which was filed with the state Health Claims Arbitration Office and Montgomery County Circuit Court. It names Thompson, 34, and the hospital as defendants.
"It was a violation of the standard of care," said Zev T. Gershon, a lawyer and medical doctor who is representing the Liebs. "Morphine is not allowed to be given as an IV push like that."
Thompson and her attorney, Philip H. Armstrong, did not return repeated phone calls yesterday. A spokesman for the hospital - which fired Thompson this week - said he was not aware of the lawsuit.
The state Board of Nursing suspended Thompson's nursing license July 16 in connection with the death of a 63-year-old female patient at Shady Grove whose name has not been released. The nursing board accused Thompson of failing to follow proper procedures during a five-hour period before the patient's death July 6. A hearing on the suspension is scheduled for Aug. 26.
No charges have been filed against Thompson.
The Rockville hospital and county police have been investigating her nursing practices because of allegations that she might have helped cause the death of one or more Shady Grove patients during the 14 months she worked there.
The hospital fired Thompson on Tuesday in connection with its review, spokesman Robert Jepson said yesterday. He declined to elaborate, noting laws governing employee confidentiality. Thompson had been on paid leave since another nurse complained July 9 about Thompson's care of the 63-year-old female patient.
"The decision was made consistent with our ongoing investigation," Jepson said.
He said he had not heard of any lawsuits in connection with the Thompson case. He said the hospital continues to receive calls to a hot line established to support families who might have been affected by the nurse's care. The line has gotten 339 calls.
"The hospital has deep concern for our patients and their family members, and we are committed to a high standard of care," said Jepson, noting that it would be improper to comment about pending litigation. "We are committed to a full investigation to a full resolution."
Gershon, a Baltimore lawyer who specializes in medical malpractice, said he is reviewing other cases tied to Thompson.
Thompson worked in the 26-bed Intensive Care Unit at Shady Grove during most of her employment at the hospital, which began in May of last year.
In addition to Shady Grove, she worked as a registered nurse for Washington Hospital Center from July 1999 through November 2000 and at Suburban Hospital in Bethesda from August 2000 through November of last year.
The lawsuit filed yesterday alleges that Thompson improperly administered morphine to John Lieb, who was admitted Oct. 22 through the hospital's emergency room with a bowel obstruction.
Lieb - who had a history of cancer, cirrhosis and kidney failure - also suffered breathing problems and had low blood pressure, the lawsuit says. As a result, doctors placed him on a respirator and gave him medicine to sedate him, according to the suit.
On Oct. 26 and for the subsequent two days, Lieb came under Thompson's care during her 7 p.m.-to-7 a.m. shift, the suit says.
On Oct. 28, after discussions with doctors, Lieb's children, on recommendation of his treating physician, made the decision to stop use of the respirator. Doctors then ordered morphine to be administered via a drip, according to the suit.
Lieb's three children said they watched Thompson enter their father's room and inject him with the morphine-filled syringe, according to the suit.
"Surprisingly, Mr. Lieb immediately reacted to the injection," the suit says. "Over the next several minutes, Mr. Lieb began shaking, trembling, and struggling to breath." He was declared dead early in the morning of Oct. 29.
Reached yesterday, Lieb's children declined to comment about the case.
The Liebs have not specified a dollar amount in the suit but requested "that they be compensated with a fair, adequate, and just award of compensatory damages against Health Care Providers."
Gershon, who recently won a $10 million verdict in Oregon, said the Liebs' case is particularly troubling because their father was a relatively young man.
"They wondered to themselves, `What just happened?'" Gershon said. "Frankly, the family didn't have a chance to say goodbye."
Sun staff writer Stephen Kiehl contributed to this article.
---
Md. nurse comes under scrutiny in patient death
Hospital suspends her investigations launched
By Ivan Penn, Julie Bell and Jeff Barker - BaltimoreSun.com
July 17, 2003
ROCKVILLE - The state Board of Nursing suspended the license of a Montgomery County nurse yesterday as police were investigating whether she caused the death of one or more patients in the Shady Grove Adventist Hospital's Intensive Care Unit.
The hospital also suspended Coleen M. Thompson, 34, of Rockville, with pay pending the outcome of the criminal investigation. No charges have been filed against Thompson.
Thompson was at home yesterday but declined to comment.
The case deals another blow to a hospital that was recovering from an investigation three years ago of its patient care by the state Department of Health and Mental Hygiene.
The department reviewed complaints from patients and family members and found 15 cases of patient falls, medication errors and other problems, including an 81-year-old woman with a broken right hip who received surgery on her left hip.
The hospital hired Thompson through a nurse staffing agency in May 2002. She began working as a full-time staff nurse at Shady Grove in August 2002 and was assigned to the hospital's 26-bed adult intensive care unit.
"It's devastating," said Deborah A. Yancer, a former nurse and the president of the 24-year-old hospital, during a news conference yesterday.
"As a nurse, as a human being, I am very angry that someone would violate the trust of this community ... that a nurse may have taken unilateral action to hasten the death of a critically ill patient or patients."
The investigation began after Yancer said she received a complaint from another ICU nurse about Thompson's care of a patient.
In its nine-page report on Thompson's suspension, the nursing board stated that the patient was a 63-year-old woman who was admitted to the ICU on July 1. The patient, whom officials declined to identify, was diagnosed with respiratory failure, streptococcal pneumonia, chest pain, abnormally low blood pressure and septic shock.
On July 5, the hospital assigned Thompson to the patient as her primary nurse during the 7 p.m.-to-7 a.m. shift. At the time, the patient was on a ventilator and was receiving multiple intravenous medications.
The doctor's orders stated that the patient's blood pressure should be observed and kept under control.
But when the patient's blood pressure dropped below the level specified by the doctor, Thompson repeatedly failed to take the proper medical steps to help her over an almost five-hour period beginning at 8:30 p.m., according to the board's findings.
At 1:10 a.m., the patient died.
"There's a standard of care that she should have been providing that she failed to provide," said Donna Dorsey, the nursing board's executive director and a registered nurse.
"It appears she was watching that blood pressure, and when it got dangerously low, she didn't take appropriate action."
Nelson J. Sabatini, secretary of the state Department of Health and Mental Hygiene, which oversees care at Maryland hospitals, said not rendering appropriate care is reason enough for suspension.
"At this point, there's no need to go beyond that," he said.
But the hospital and county police said they believe Thompson's actions were far more serious than simply failing to act.
During yesterday's news conference, Yancer and county Assistant Police Chief John King described Thompson's actions as willfully contributing to the patient's death - and perhaps to others.
"An immediate internal investigation revealed that this concern was credible and, if true, constituted potentially criminal behavior," said Yancer, who has been the president of the hospital for three years.
King said the department has been contacting experts across the country familiar with conducting an investigation of a health care worker accused of contributing to patients' deaths. He said the investigation will be extensive.
"This is a complex and sensitive case that will take time to complete," King said. "Since being notified, Montgomery County police have been conducting an around-the-clock investigation."
State's Attorney Douglas Gansler declined to comment about the case. The hospital informed the state's attorney office of its concerns July 10, and the office began an investigation.
Hospital hot line
Yancer has been contacting family members of patients in the ICU and said the hospital has set up a hot line from 7 a.m. to 11 p.m. to provide support for those who seek it.
The hospital has also contacted the national Joint Commission on the Accreditation of Health Care Organizations about the current case and the commission is reviewing it, said Mark Forstneger, commission spokesman.
The commission, which the federal government relies on to conduct external reviews of the vast majority of hospitals that participate in the Medicare program, placed Shady Grove on preliminary non-accreditation status three years ago, after its own review of patient care there.
The hospital was returned to full accreditation after a re-inspection that year.
Thompson has been on paid suspension since the complaint was made against her July 9. The nursing board served her with notification that it was suspending her license yesterday at her home. The board has scheduled a hearing on the suspension for July 29.
No one answered when a reporter rang the bell at Thompson's modest, two-story contemporary home, where the blinds were tightly closed, on a tree-lined street in Rockville. But moments later, a man opened the door to accept a pizza delivery from Domino's.
The well-kept front lawn and garden were surrounded by a chain link fence, and an American flag hung from a pole near the front door. Three youth-sized baseball bats were propped up against the front door.
Married, 2 children
Neighbors say Thompson and her husband live at the home with two children - one an infant and one about 5 years old.
"About a month ago, she was saying she had to find work, but she didn't say why," said Peter Schroebel, 44, who lives two doors away.
While there was no confirmation of Thompson's employment history, Schroebel said she had told his wife that she had worked at another area hospital before her employment with Shady Grove.
"She's been like any other neighbor. She comes out to say hello," said Schroebel's wife, Joan.
Sun staff writers M. William Salganik, Stephanie Desmon and Walter F. Roche Jr. contributed to this article.