Banita M. JACKS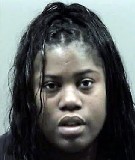 Classification: Murderer
Characteristics: Parricide - Jacks told investigators that the children were "possessed by demons"
Number of victims: 4
Date of murders: Summer 2007
Date of arrest: January 9, 2008
Date of birth: 1974
Victims profile: Her four daughters, Aja Fogle, 5, N'Kiah Fogle, 6, Tatianna Jacks, 11, and Brittany Jacks, 17
Method of murder: Strangulation - Stabbing with knife
Location: Washington, District of Columbia, USA
Status: Sentenced to 120 years in prison on December 18, 2009
---
Banita Jacks is a Washington, DC resident convicted of murdering her four daughters, who ranged in age from 5 to 17 years old. On July 29, 2009, Jacks was convicted of the felony murder of all four girls, as well as child cruelty towards all four girls and first-degree murder of the younger three girls.
The girls' bodies were discovered in Jacks' home in January 2008 by federal marshals carrying out an eviction; the girls had died in the summer of 2007. The case led to scrutiny of the Washington social service agencies that failed to prevent the deaths or discover them in the months afterward; four days after the bodies were found, the city's mayor Adrian Fenty fired six employees of Washington's Child and Family Services Agency, saying they "just didn't do their job."
Family history
As a child, Jacks attended school in Charles County, Maryland; Jacks told police that she had left school in the sixth grade, but during her trial her mother, Mamie Jacks, said Banita had dropped out in the tenth grade when she was seventeen years old and pregnant with her first child, Brittany Jacks.
After having her second child, Tatianna Jacks, Banita met Nathaniel Fogle in 2000, while she was working as a hairdresser, and subsequently gave birth to N'Kiah and Aja Fogle. In 2005, Jacks and her four daughters lived with Mamie Jacks for a short time after being evicted, but they moved out when Mamie Jacks refused to allow Fogle to stay with them. The family lived in a variety of places, including a homeless shelter, before a nonprofit organization helped them to move into the Washington, DC rowhouse in August 2006.
Neighbors and family members described Jacks as a caring and attentive mother until the period following Nathaniel Fogle's death in February 2007. Until Jacks' 2008 arrest, her mother had not seen her or the children since 2005, but said in court that she had no reason to believe the children were in danger, in spite of a 2006 call that she made to the Charles County social services department for information about the girls. Mamie Jacks testified, "I never saw her mistreat the girls, and the girls never complained about her mistreatment." However, LaShawn Ragland, a friend with whom the Jacks/Fogles had lived for several months in 2006, testified about arguments between Brittany and Banita Jacks and Banita's punishing her oldest daughter by denying her food and isolating her from the younger girls. Ragland also said that Jacks and Fogle often allowed their daughters Aja and N'Kiah, aged 3 and 4 years old at the time, to smoke marijuana while their parents laughed.
Changes in behavior following Fogle's death
After Fogle's death, Jacks grew increasingly isolated. Jacks did not attend Fogle's funeral, and family members said Jacks did not tell her daughters that Fogle had died. A neighbor testified that Jacks had taken the neighbor's daughter to McDonald's along with Jacks' own children in March 2007, and that Jacks' daughters were always "clean and their hair was always done"; when the neighbor saw Jacks again a month later, her children were wearing white t-shirts and rags on their head. Jacks told the neighbor that the family's food stamps had run out but she was reluctant to apply for more, due to the paperwork required. Fogle's mother said that after her son's funeral, she had come by the Jacks home several times to see her grandchildren, but Jacks either would not let her in or would call and tell her not to return.
Brittany Jacks's boyfriend Leepoy Kelly testified that he saw Brittany for the last time in March 2007, after Brittany had been absent from school for about a month, and that she "seemed a little sad." After their brief visit, Brittany stopped responding to Kelly's calls to her cellphone or messages to her MySpace account.
In April and May 2007, Brittany Jacks' social worker Kathleen Lopes made repeated attempts to verify Brittany's safety. At the time, Lopes was an employee of Booker T. Washington Charter School, which Brittany attended. On April 27, Lopes visited the Jacks home with a police officer and another school employee, but Banita Jacks refused to allow them inside; Lopes testified that she saw the two younger girls in the living room and that they appeared unkempt.Over the next few days, Lopes made repeated calls to CFSA as well as to the police.
As a result of Lopes' call, police sergeant James Lafranchise visited the Jacks home on April 30, 2007, and interviewed Banita Jacks in her front yard. Lafranchise did not file a report of the visit until January 9, 2008, on the day that the girls' bodies were discovered. (At the time the visit was made, such reports were not required; a rule requiring reports when checking on the welfare of a resident was instituted in the wake of the Jacks case.)
In the initial report, Lafranchise said that he had seen only the three younger girls on his visit; he filed a follow-up report on January 13 that said he "thought" he had seen Brittany as well. He reported during the homicide investigation that the girls, including Brittany, appeared "clean and well fed, healthy and playful." When questioned at Jacks' trial, Lafranchise said that he had not seen Brittany at the house; he said that he had not been told to look for a teenager and assumed he was there to check on the three younger girls, even though he spoke with Lopes on his cell phone while he was at the Jacks home. The D.C. police department said that they would be conducting an internal investigation of Lafranchise and the inconsistent reports.
On May 10, Lopes wrote a letter to the youth social service division of D.C. Superior Court, expressing her fear that Brittany Jacks was "being held hostage." Social workers did not investigate her concerns.
In May 2007, Jacks moved all the furniture from her house into the backyard and started losing weight. Jacks told another neighbor, whom she often asked for water and cigarettes, that she had cancer. During the summer, Jacks's former neighbors smelled a foul odor in the area, which some guessed was a dead rat.
The last person to see any of the children alive was a neighbor and family friend, Tywana Richardson, who delivered Social Security checks to Jacks twice a month; Richardson said that she saw the two youngest girls in the family's living room in June 2007. Richardson had not seen Brittany Jacks for several months.
Discovery of bodies and trial
On January 9, 2008, federal marshals came to Jacks' home to serve her with eviction. Jacks came to the door wearing only a white t-shirt and refused to allow them inside. The marshals forced their way past the door, and marshal Nicholas Garrett said he could immediately smell an odor of "rotting meat, like stink bait" which he thought was "rotten or spoiled food." In an upstairs bedroom, they found the bodies of the three younger girls, lined up according to age, each wearing a white t-shirt. The body of Brittany Jacks was in another upstairs bedroom, nude and lying on the floor in a pool of blood, underneath a white t-shirt.
Medical examiners who examined the bodies determined that the three younger girls had been strangled and that Brittany had been stabbed repeatedly, but due to the bodies' high level of decomposition, examiners were unable to definitively attribute these injuries as causing the girls' deaths. According to Jacks, all four of her daughters had died in their sleep, although she had made unsuccessful attempts to revive them.
Jacks' trial on twelve charges, including premeditated first-degree murder, felony murder, and cruelty to children towards each of her four daughters, began on July 15, 2009 in Superior Court of the District of Columbia. Jacks pled not guilty and rejected an insanity defense. The verdict, guilty on all charges except the first-degree murder of Brittany Jacks, was decided by the presiding judge, Frederick H. Weisberg.
On 18 December 2009, following her conviction, Jacks was sentenced by Judge Weisberg to 120 years in prison (30 years for each murder). Weisberg rejected a defense motion calling into question Jacks' earlier refusal to use an insanity defense. He also rejected the defense's suggestion that the sentences should run concurrently.
Other aftermath of incident
In April 2009, the D.C. Office of the Inspector General released a report implicating not only the CFSA, but several other local government parties for failing to meet their obligations in the Jacks case and potentially prevent the four deaths. The Washington Post reported:
The family was supposed to receive monthly visits based on its housing placement; it never did. The school system didn't follow through when the girls dropped out of school. Police didn't fully investigate when they were called to the house. And health-care providers did not follow up on things that should have been red flags, according to the report.
The report also faulted an overall lack of coordination and communication between the various agencies involved with the family.
In mid-2008, the foreclosed home where the Jacks family lived and the bodies were found was put up for sale. Assessed at a value of $220,610, the house was listed with a selling price of $163,000 in September 2008, which slid downward to $90,900 by February 2009. The home went up for bank auction in March 2009.
---
D.C. Judge Convicts Jacks of Murder in Deaths of Four Daughters
By Keith L. Alexander - The Washington Post
July 30, 2009
In the end, it wasn't forensics, witnesses or a weapon that convinced a D.C. Superior Court judge that Banita Jacks had killed her four daughters. It was the cumulative signs of a mother's despair that he said culminated in the girls' slayings.
After two days of reviewing the evidence, Judge Frederick H. Weisberg found Jacks guilty Wednesday of 11 of 12 counts of murder and child cruelty, because, combined with the other facts presented, she lived in her Southeast Washington rowhouse with her dying children for almost eight months but never called for help.
"Whether it was out of desperation or hopelessness, to take them out of their misery or some other reason known only to Banita Jacks, she intended to kill them," Weisberg said.
There were no eyewitnesses. There was no confirmed murder weapon. And medical examiners could not definitively rule on what caused the girls' deaths because their bodies were so severely decomposed.
There also was no jury, at Jacks's request. That meant that Weisberg, who has been on the bench 32 years, was the sole arbiter of her fate. He took notes during the trial, repeatedly viewed graphic crime scene photos and even interrupted attorneys during their closing arguments to ask questions.
Prosecutors spent much of the eight-day trial arguing that Jacks starved her children and isolated them for months from relatives, neighbors, friends and school officials.
"Her acts were intentional and reckless and caused each child grave injury and ultimate death," he said.
Yet major questions remain. Was Jacks insane, and did she mistakenly reject that defense when her attorneys advised her to plead not guilty by reason of insanity? Were there other explanations as to why she killed her daughters?
"I can't answer all the questions," Weisberg said.
Weisberg noted that Jacks's home life seemed to spiral downward after her live-in boyfriend of seven years, Nathaniel Fogle Jr., died of cancer in February 2007. His death, Weisberg said, caused Jacks to become "extremely depressed." By mid-2007, Weisberg said, "caring for the four girls was a huge burden on an increasingly stressed-out mother."
Weisberg mentioned the morning of Jacks's arrest, Jan. 9, 2008, when U.S. marshals arrived at her house in the 4200 block of Sixth Street SE to evict her. Marshals knocked several times before she answered the door, and when she finally answered, Weisberg said, she "stalled" by asking to see proof of the eviction and trying to block the officers from climbing the stairs to the second-floor bedrooms, where the girls' bodies were.
Weisberg said Jacks's words also influenced his verdict. During a videotaped eight-hour interrogation with detectives, Jacks said her three youngest girls died in their sleep. Although medical examiners could only speculate on exactly how they died, one thing was certain: The girls did not simply drift into death. Their bodies were positioned side by side according to age. Jacks told detectives that she did not call for help because she "didn't want to get into trouble."
Weisberg agreed with prosecutors that the three youngest girls -- Aja Fogle, 5, N'Kiah Fogle, 6, and Tatianna Jacks, 11 -- were strangled, although medical examiners could not definitively say strangulation was the cause of death because the bodies were so decomposed.
But he disagreed with prosecutors' argument that Jacks planned to kill her oldest daughter, Brittany Jacks, 16.
Medical examiners ruled that Brittany died first, about May or June 2007. Brittany's skeletonized body was found in a bedroom covered with a white T-shirt. Next to her body was a knife. Prosecutors, based on an autopsy, said Jacks fatally stabbed the teen.
But the autopsy did not definitively determine that Brittany died of the wounds, because the punctures in her abdomen were not near any vital organs. Also, there were no fingerprints or DNA traces on the knife. Prosecutors claimed that Jacks wiped the knife clean. But Weisberg agreed with Jacks's attorneys that it was not logical to think that she would wipe the knife but then place it next to the body, and he found her not guilty of premeditated murder in Brittany's death.
Still, Weisberg found Jacks guilty of a lesser murder charge in the death because Jacks did not seek medical attention for the teen. He added that Jacks's torment and torture of Brittany also led to her death.
As Weisberg spent almost an hour explaining his findings, Jacks sat largely motionless in the crowded courtroom next to her attorneys. At times, she shook her head during his remarks.
Jacks did not take the witness stand during the trial. But in her questioning by detectives, she called Brittany a Jezebel who was possessed by demons and was a bad influence on her sisters. Based on witnesses' testimony, Weisberg said he believed that Brittany might have been severely depressed or even suicidal because of her mother's treatment of her.
"I can only imagine the torture and torment on Brittany must have really done damage to her psyche," he said.
Weisberg is scheduled to sentence Jacks on Oct. 16. She faces possible life in prison without parole.
Assistant U.S. Attorney Michelle Jackson said she was "pleased with the verdict." Her co-counsel, Assistant U.S. Attorney Deborah Sines, called it a "very sad case" in which they "could not bring these lives back."
Peter Krauthamer, one of Jacks's attorneys, said he plans to appeal. But her attorneys also plan to submit psychiatric records in an attempt to show that she was insane and have it factored into her sentencing, including possibly having her committed to a mental facility. That decision is up to Weisberg.
"I feel very bad for Ms. Jacks," Krauthamer said.
Two rows of Jacks's family sat on one side of the courtroom, and several members of the Fogle family sat on the other. Family members declined to comment after the verdict. The families have filed a civil lawsuit against the District for failing to prevent the deaths of the children.
Weisberg said the case has been one of the most troubling he has heard in his decades on the bench.
"It was a very lonely assignment and one of the most challenging and difficult I've had," he said. After issuing his verdict and adjourning the court, Weisberg leaned over his bench and covered his face with his hands.
---
Mother Guilty of Killing 4 Girls Whose Bodies Decomposed in Home
By Theo Emery - The New York Times
July 29, 2009
WASHINGTON — A Washington woman was convicted on Wednesday of murdering her four daughters whose corpses decomposed in the family home for months, in a case that shocked this city and exposed a colossal failure in its social services system.
Judge Frederick H. Weisberg found the woman, Banita M. Jacks, 34, guilty on four counts of felony murder and four counts of child cruelty. Ms. Jacks was convicted on three counts of first-degree murder in the deaths of her three youngest daughters, but was acquitted of that charge in the death of her oldest daughter, Brittany Jacks, because, the judge said, prosecutors had not proven Ms. Jacks had fatally stabbed the girl.
Sentencing is scheduled for Oct. 16. Ms. Jacks faces life in prison without parole.
Judge Weisberg said that during his "very lonely" deliberations, he consulted no one — not even his clerk — as he reviewed the evidence. He described the bench trial as "one of the most challenging and difficult" assignments in his decades as a judge.
Calling what happened to Ms. Jacks's children "atrocities," the prosecutor, Michelle Jackson, an assistant United States attorney, said she was satisfied with the verdict.
Another member of the prosecution team, Deborah Sines, said the case was "very sad."
"Nobody comes out of this courthouse happy," Ms. Sines said. "You can't bring these kids back, and you can't undo what the last moments — the last months — of their lives were like."
The defense lawyer, Peter Krauthamer, expressed disappointment, saying, "We didn't get the result we wanted for our client, and so there's no relief" in the trial's outcome.
In January 2008, when federal marshals arrived to evict Ms. Jacks from her foreclosed row house in Washington Highlands, a neighborhood in Southeast Washington, they found the bodies of the four girls in two upstairs bedrooms. The three youngest — Aja Fogle, 5; N'Kiah Fogle, 6; and Tatianna Jacks, 11 — were lined up by age in one bedroom, while Brittany Jacks, 17, was naked in a second bedroom that had been sealed with duct tape, according to court statements and documents. A knife was lying near her body.
Autopsies found that the three younger girls had been strangled, and that Aja had also been bludgeoned about the head. Brittany's body had what appeared to be stab wounds. An exact date of death could not be pinpointed.
Ms. Jacks, who did not testify at the trial, told the police that she had not killed her daughters. She told investigators that demons had possessed her daughters and that they died in their sleep after she stopped feeding them. She said she did not contact emergency officials because she did not trust them.
After the bodies were discovered, Mayor Adrian M. Fenty promised a full inquiry into the deaths, including the conduct of welfare agencies and school officials, and fired six social workers with the city's Child and Family Services Agency.
Last April, a report found numerous problems and coordination failures among a spectrum of agencies and services that were to have assisted the family.
Schools of three of the girls never thoroughly checked on the children after Ms. Jacks withdrew them, and monthly home visits did not take place. Agencies were also not aware that Ms. Jacks's companion had died in 2007, according to the report.
During the trial, a police sergeant testified that he had filed a report about a home visit in which he had recalled seeing Brittany when, in fact, he had not. The Police Department has begun an investigation into the officer's conduct, according to a police spokeswoman, Traci Hughes.
Mayor Fenty said Wednesday in a statement: "The loss of these four young girls will never be forgotten. My administration will not rest until we have done everything humanly possible to prevent this type of tragedy in the future."
---
Prosecutor Tells Horror Story in Deaths of 4 D.C. Girls; Defense Denies Guilt
By Keith L. Alexander - The Washington Post
July 19, 2009
Banita Jacks had a secret in her upstairs bedrooms, a secret so terrible that she spent most of 2007 trying to convince the world that she had moved away from her Southeast Washington home, a federal prosecutor said yesterday. For months, the prosecutor told a judge, Jacks kept her blinds drawn, let mail pile up outside the house, stopped paying bills and left by the back door.
"Her secret was the rotting bodies of her daughters. And that secret unraveled when the marshals arrived on Jan. 9, 2008," Assistant U.S. Attorney Deborah Sines said in her opening statement at Jacks's murder trial in D.C. Superior Court.
When the federal marshals, who were there to serve an eviction notice, forced their way into the rented rowhouse, they found the bodies of Jacks's four daughters -- Brittany Jacks, 16, Tatianna Jacks, 11, N'Kiah Fogle, 6, and Aja Fogle, 5 -- in two upstairs bedrooms. Jacks said the girls had died in their sleep.
In the defense's 20-minute opening statement, one of her public defenders, Lloyd Nolan, said that although his client lived in the house, she was "completely innocent" of killing the girls. "This was a tragic event," Nolan said. "But Ms. Jacks was in no way responsible for the death of her children."
Nolan said the only evidence linking Jacks to the girls' deaths was that she was at home when the marshals arrived. Nolan said that no witness saw or overheard Jacks kill her children and that no scientific evidence linked her to their deaths.
Judge Frederick H. Weisberg will decide the case because Jacks has waived her right to a jury trial. She is charged with 12 counts, including premeditated first-degree murder and cruelty to children. Because of the ages of the victims, Jacks, who rejected an insanity defense, faces life in prison without parole.
The bodies were so badly decayed, Sines said, that prosecutors had to consult with four medical examiners, including one from the Department of Defense, FBI specialists and a forensic anthropologist to determine the causes of death. Eventually, authorities declared that Brittany had suffered puncture wounds to her abdomen, Aja had been strangled and beaten, and the two other girls had been strangled.
Nolan disputed the prosecution's assertions about the causes of death, saying the bodies were too badly decomposed to make a determination of cause or time.
During Sines's opening statement, Jacks, 35, dressed in a navy-blue prison jumpsuit, often shook her head and pursed her lips. But she kept her eyes forward, away from Sines. As was the case at earlier hearings, Jacks was an active participant in her defense. She wrote notes or used a yellow highlighter to communicate with her attorneys, who sometimes whispered to ask whether she had additional questions.
Sines spent most of her opening describing the girls' bodies and the home. All furniture, food and other household staples were gone, she said. In one bedroom, the bodies of the three youngest sisters, each dressed in a white T-shirt, were lined up in order of age. A "couple pairs of tiny flip-flops" were the only other things in the room, she said.
Sines said medical examiners determined that Brittany was killed first. Brittany's nude body was found in a pool of blood in another bedroom. A T-shirt had been placed over it. Sines said the decomposed body was "melting into the floor."
Sines said it appeared that Brittany had been held hostage in the room because the door was locked from outside with a key that Jacks kept on top of the door frame. A bedsheet covered a bedroom window that overlooked an alley. Feces and urine were found in the closet.
"She wouldn't even allow her own teenager out to use a bathroom," Sines said of Jacks.
The prosecutor said she plans to call as witnesses relatives, friends, the children's godparents, social workers and neighbors who will testify that Jacks verbally abused Brittany or that she withheld food from the children as punishment. Sines said one of Jacks's friends even drafted a custody agreement, hoping to take Brittany out of Jacks's home.
Authorities say they think Jacks began isolating her children from friends and family as early as April 2007, when she had Brittany's cellphone disconnected. "By April 3, no one talked to Brittany again," Sines said. Then, through the summer, neighbors saw three, then two, then one child outside with Jacks.
Before the trial began, Weisberg spent three days watching eight hours of videotape of Jacks being interrogated by D.C. detectives. During the interviews, Jacks spoke of her children as "having demons" and referred to herself as Mary Magdalene and to her dead boyfriend as Jesus Christ. Weisberg ruled that the videos could be used in the trial.
The first witness was Deputy U.S. Marshal Nicholas Garrett, who was assigned to carry out the Jan. 9 eviction. Garrett said Jacks answered the door wearing only a white T-shirt and a white head covering. She spat on the ground and wouldn't let him and the other marshals in, he said. After the marshals pushed the door open, Garrett said, he had to cover his face because of the stench.
"It smelled like rotting meat, like stink bait," he said. "I just thought it was rotten or spoiled food." After finding the bodies, the marshals ordered Jacks out of the house and handcuffed her.
---
Mother Charged With Murdering Kids Says They Were 'Possessed by Demons'
FoxNews.com
January 11, 2008
As U.S. marshals armed with eviction papers began to clear out her town house, Benita Jacks sat on the steps leading to the upstairs bedrooms, intending to block their path, authorities said.
One managed to sidestep the 33-year-old woman and spotted the bodies of three children on the floor of an unfinished bedroom, prosecutors said Thursday. He then opened the door to another bedroom and found the body of a teenager on the floor of the bare room.
Authorities estimate the four girls — ages 5 to 17 — had been dead for at least two weeks. Jacks told police they were "possessed by demons" and had died in their sleep, one by one, within a week of each other, court documents say.
Jacks was charged Thursday with four counts of first-degree murder. She said nothing during a hearing in Superior Court, where Magistrate Judge Karen Howze ordered her held without bond. Her attorneys had argued that she should be released to the custody of an adult relative pending trial.
Jacks could receive a maximum sentence of life in prison if convicted.
"I don't think anyone in the city can remember a case involving this many young people who have died in such a tragic way," Mayor Adrian M. Fenty said.
The charging documents identify the children as Brittany Jacks, 17; Tatianna Jacks, 11; N'Kiah Fogle, 6; and Aja Fogle, 5.
Although autopsies are incomplete, the medical examiner's office reported that there was evidence that Brittany had been stabbed, the charging documents state. There was evidence of binding on the necks of the Tatianna and N'Kiah, and evidence of blunt force injury to the head of Aja and binding on her neck, according to the documents.
Jacks told police the deaths occurred before a utility turned off her electricity, which prosecutors said was in September. She told investigators she had not fed her children for a substantial time before their deaths.
The three children were dressed in white T-shirts when their bodies were found Wednesday, charging documents state.
Brittany's body was naked but was partially covered by a white T-shirt. An object that appeared to be a steak knife lay nearby, and there was a dried maroon liquid around the body, according to the documents.
The Marshals Service carries out evictions for Superior Court.
Medical examiner Dr. Marie-Lydie Pierre-Louis said the bodies were in the apartment more than 15 days, "based on the insects that were found there."
City officials were scrambling to understand how four children could have been dead for at least two weeks without anyone knowing.
The mayor said officials were working to determine what other contacts city agencies had with the family.
"We are going to investigate every single contact that this family has had with the government, with people who are paid to look out for the welfare of children, and we will come back with a full report," Fenty said.
Nona Richardson, a spokeswoman for the D.C. Public Charter School Board, said Jacks' three younger daughters attended the Meridian Public Charter School in Washington consistently until March.
When they stopped showing up, the school immediately tried to contact the mother by mail and telephone, Richardson said. Officials finally went to the woman's home and were told that she wanted to withdraw the children and home-school them. They were officially withdrawn in mid-March.
The D.C. Child and Family Services agency tried last year to investigate a complaint about the family. But investigators could not make face-to-face contact with family members and believed they had moved to Maryland, agency spokeswoman Mindy Good said.
Norris West, a spokesman for the Maryland Department of Human Resources, said D.C. officials in June asked social services officials in Charles County, Md., to open a case for the family. However, county officials were not able to locate the family, and it is unclear whether they had actually moved to Charles County, West said.
Jacks had filed paternity suits against three men, two of which were successful, court records in Charles County show. Both men failed to pay required child support, the records indicated.