Artur RYNO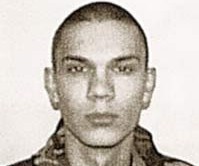 Classification: Serial killer
Characteristics: Juvenile (16) - Skinhead gang
Number of victims: 20 - 37
Date of murders: August 2006 - April 2007
Date of arrest: April 17, 2007
Date of birth: 1988
Victims profile: Men and women (mostly of people from Central Asia and Caucasians region)
Method of murder: Stabbing with knife
Location: Moscow, Russia
Status: Sentenced to 10 years in a medium-security prison in December 2008. The court handed out the maximum possible sentences allowable by law to the young men, as they were under 18 at the time of the attacks
---
Russian court sentences seven skinheads
December 15, 2008
Moscow: A Russian court today found seven youths guilty of 20 racially-motivated murders and 12 attempted murders, mostly of people from Central Asia and Caucasians region, and sentenced them for up to 20 years in prison.
The youths, aged between 15 and 25,were members of Ryno skinhead gang led by 17-year-old Artur Ryno and Pavel Skachevski. The murders of the foreigners and non-Slavic migrants were carried out between August 2006 and October 2007 in the Moscow region and underlined the growing problem of racist violence in Russia after the fall of the Soviet Union. The members of the Ryno skinhead gang video taped some of the attacks on mobile phones and posted them on the Internet.
"From my school years I have hated people from the Caucasus who come to Moscow and start to oppress Russians," Ryno told the investigation in justification of his deeds. Out of nine accused, two were acquitted by the jury, while rest were found guilty and undeserving of leniency. Two ringleaders -- Artur Ryno and Pavel Skachevski -- will each spend 10 years in a medium-security prison.
The court also ruled they pay USD 144,000 to two victims as part of a compensation claim. The court handed out the maximum possible sentences allowable by law to the young men, as they were under 18 at the time of the attacks.
Group member Roman Kuzin (20) received the longest prison term -- 20 years. And Vitaly Nikitin, who was taken into custody after the sentences were read out, jailed for 12 years.
---
Skinheads Jailed For Race Murders
Monday December 15, 2008
Seven members of a Russian skinhead gang have been jailed for between six and 20 years for a series of racist murders.
Artur Ryno and Pavel Skachevsky, seen as the ringleaders of the group, were given 10-year sentences.
They were handed the maximum term the judge could give as they were minors at the time of the crime.
One member of the gang, Roman Kuzin, was jailed for 20 years, while four others were given jail sentences of between six and 12 years.
The men appeared in court inside a glass-walled box to hear their sentences read out.
The group was deliberately set up to target migrants from the former Soviet republics in the Caucasus and Asia, prosecutors said.
They were convicted of 20 murders carried out between August 2006 and October 2007 in the Moscow area.
The group, who posted video of the crimes on the internet, were also found guilty of 12 attempted murders.
During their trial, Ryno and Skachevsky admitted their crimes and claimed they were determined to "cleanse Russian blood".
Ryno told investigators: "From my school years I have hated people from the Caucasus who come to Moscow, form ties and start to oppress Russians."
---
Two Nazi-skinhead Groups face Criminal Charges in Moscow
July 11, 2008
On July 1, 2008, the district attorney's office passed two criminal cases to the Moscow City Law Court, concerning the accusations against "the Ryno gang" and "the Ivan Kalinichenko gang".
Accused in the Ryno gang affair are Артур Рыно (Arthur Ryno) and Павел Скачевский (Pavel Skachevskiy), the organizers of the group, as well as seven of its members, including a minor adolescent. In the matter of Ivan Kalinichenko's gang, the ones facing charges are: Илья Шутко (Ilya Shutko), Сергей Полукаров (Sergey Polukarov), and a minor teenager (considered to be the organizers of the group) and ten of its members, including two minors. What is especially troubling about these groups is the very young age of their members: at the moment of the arrest, Ryno was 17 years old, and his gang included a 15-year old; the leaders of the other group were then 17, 16, and 15 respectively.
The charges against the two groups are based on Article 282, Part 2, Paragraphs 'а' and 'b' of the Russian Criminal Code (forbidding the incitement of hatred and hostility perfected with use of violence by an organized group); Article 30, Part 3; Article 105, Part 2, Paragraphs 'h', 'j', 'm'; Article 30, Part 3; Article 105, Part 2, Paragraphs 'а', 'h', 'j', 'm' (concerned with the attempted murder of two or more people by an organized group, through a hooligan impulse, and based on racial hatred and hostility); Article 105, Part 2, Paragraphs 'а', 'h', 'j', 'l' (concerned with the murder of two or more people by an organized group, through a hooligan impulse, and based on racial hatred and hostility); Article 213, Part 2 (condemning premeditated hooliganism by an organized group). In a number of instances, several of the accused are charged with crimes that fall under Article 161, Part 3, Paragraph 'а' (premeditated robbery by an organized group).
It was established that both groups follow the same pattern of committing the crimes. "Under the influence of the ideas propagated in different ways by illegal youth organizations about the exclusiveness of the Russian nationality and the inferiority of the people of non-Slavic origin, the accused gathered in organized groups to commit murders of the natives of the former Soviet Republics in Asia and the Caucasus," the Moscow district attorney's office reports.
From August to October 2007, the members of the first criminal group murdered twenty people and injured other 12, with different degrees of gravity. The second group is accused of the murder of two people, including that of the international chess champion from Yakutiya, Сергей Николаев (Sergey Nikolayev), and 9 attacks resulting in injuries with different degrees of gravity.
---
Arrests in String of Racist Murders
The Moscow Times
February 7, 2008
The Moscow Times reports that eight youths have been arrested on suspicion of involvement in at least twenty racist murders.
According to MT: "Investigators believe that the suspects, who were not named, are members of a gang of skinheads led by Artur Ryno, a student from Yekaterinburg who was detained in May and confessed to 37 murders of dark-skinned people in a bid to 'clean up the city.'"
In April 2007, two skinheads were arrested following brutal attacks on a young Tadjik and a middle-aged Armenian businessman. Teenager Artur Ryno, a student in Moscow from Ekaterinaburg, soon admitted to participation in 37 murders of non-Russians. Though he later recanted this confession, detectives noted that he had given precise addresses and accounts of the murders. Pavel Skachevskii, on the other hand, denied any wrong-doing from the outset.
After Ryno and Skachevskii's arrests, three more from their band were arrested in November. In the past two weeks, another four have been arrested on charges of murder and "fomenting inter-ethnic strife": 18-year-old Denis Lavrenenkov, 19-year-old Ivan Kitaikin, 21-year-old Svetlana Avvakumova, and 16-year-old Nikolai Dagaev.
According to the picture put together by investigators, the gang of skinheads around Ryno carried out planned "hunts" of those of non-Slavic appearance, roaming from neighborhood to neighborhood, so as to avoid detection. Groups of two to five would gather and head out to bedroom communities around Moscow in the evenings. They would either provoke a fight, or simply attack a dark-skinned person from behind. Victims have included men and women, Russian-citizens and foreigners, white-collar workers and gastarbeitery. The victims were typically stabbed more than twenty times. When Ryno was first interviewed by detectives, he claimed that there had been many witnesses, but nobody ever tried to interfere with an attack.
One of the accused, Denis Lavrenenkov, had also been detained in late 2006 after the detonation of a home-made bomb in the entryway of a young anti-fascist activist, according to KP. He was released for lack of evidence.
Ryno's gang is but one of many in a country that hosts thousands of skinheads. Another gang accused in the murder of Yakut chess-master Sergei Nikolaev heads to court soon. And just a day after the arrest of the four skinheads in Moscow, the body of a Kyrgyz man was found Wednesday evening with over thirty stab wounds. Kyrgyz officials, after the murder of five of their citizens thus far in 2008, have formally requested that Russian officials solve these crimes as soon as possible and prosecute them to the full extent of the law, should racist motives be found.
As Sean's Russia Blog noted yesterday, Putin has publicly condemned rising ethnic violence as a threat to law and order. Whether this declaration will be translated into the effective prosecution of hate crimes remains to be seen.
---
Moscow teenage race hate gangs suspected of dozens of murders
November 10, 2007 - News.rin.ru
Teenage ultra-nationalist gangs may prove to have been responsible for the murders of up to 50 people of "non-Russian appearance" in Moscow this year, Russian media reported on Friday.
The existence of the gangs was first reported by the Vremya Novostei newspaper after a group of teenagers in southwest Moscow stabbed to death Sergei Nikolayev, a well-known chess player from Russia`s Republic of Yakutia, on October 20.
The newspaper also said that the teenagers went on to attack an Uzbek street cleaner, Rustam Gulimov, seriously injuring him.
Police subsequently arrested six teenagers aged between 14-18 in connection with the assaults. One of them had video-recorded the attacks and uploaded them onto the Internet, the newspaper reported.
The detainees later told police that between 15 and 20 of them had met on October 20, drunk some beer, and dispersed all over the city, carrying out attacks on people they deemed "non-Russians". A total of 27 racially motivated attacks were registered in Moscow on that day.
On November 8, Russian media reported that two teenagers had been detained in connection with a series of 25 murders carried out between October 2006 and April 2007.
However, a spokesman for investigators, Mikhail Ionkin, said that the young people had been in custody since April. He refused to give further details of the case or to speculate on the motivation behind the alleged murders.
The arrests are widely believed to have been connected to investigations into 37 murders confessed to by a Russian student, Artur Ryno, 18, arrested after stabbing an Armenian national to death in April in Moscow.
Ryno was allegedly assisted in the murders, yet to be confirmed by police, by another student, Pavel Skachevsky, also aged 18. Skachevsky has denied any involvement, however.
Speculation continues in the Russian media as to the exact number of murders committed by the teenage gangs, with some sources saying the final total could be as high as 50 this year alone.
Russia has seen an explosion of racially-motivated attacks in recent years, and the Vremya Novostei paper expressed on Friday concern that leading politicians are remaining silent over rising xenophobic trends in Russian society, saying: "Today when `the unification of the nation` is declared a priority, it would be politically inconvenient to admit the obvious nationalistic sentiments in the country".
---
MOSCOW TEENAGER ADMITS 37 RACE-DRIVEN MURDERS, THEN RETRACTS.
Friday, June 15, 2007
Artur Ryno, 17, a student of icon-painting claimed responsibility for 37 murders in Moscow, according to law enforcement sources cited by "The Moscow Times" of May 29. Then he retracted his confession but police have so far been able to link him to 21 killings and are investigating several others, according to a June 14 article in the national daily "Vremya Novostey."
Ryno originally acknowledged that he had committed the murders out of racial hatred and he saw as his duty to "cleanse the city" of migrants.
In addition to his accused accomplice Pavel Skachevsky, 18, who has consistently denied any involvement in the killings, police now believe that other neo-Nazis took part in at least some of the murders and that Ryno was acquainted with the bombers of the Cherkizov market, a terrorist act in August 2006 that targeted non-Russian market traders and took the lives of 11 people.
His first murder allegedly took place on August 21, 2006 near the Cherkizov market in the company of some unidentified friends. "We were strolling along and I spotted a fight between five of our guys and an Asian man," Ryno reportedly confessed. "I ran to help out. I took out a knife and stabbed the non-Russian several times."
Ryno and fellow student Skachayevsky were arrested last month on suspicion of killing Armenian businessman Karen Abramyan. Abramyan, 46, was stabbed 20 times on April 16 in Moscow. Ryno and Skachayevsky were detained on a tram with their clothes covered in blood and in possession of a bloody knife. A surveillance camera captured the crime.
According to "Vremya Novostei," Ryno confessed to a string of racially motivated murders after being shown the surveillance footage. The night before Abramyan's murder, Khairullo Sadykov, 26, a street sweeper from Tajikistan, was stabbed 35 times outside an apartment building. Ryno confessed to Sadykov's murder too, the report said. Most, if not all of Ryno's and Skachevsky's victims were foreigners and were stabbed at least 20 times, presumably to delay the body identification process, the report said.
Last year, 53 people were killed and 460 injured in apparent hate crimes, according to the Sova Information-Analytical Center.
---
Russian nationalist backtracks on his confession to 37 murders
June 14, 2007 - News.rin.ru
A teenage Russian ultra-nationalist who earlier confessed to killing 37 people has withdrawn his testimony, despite substantial proof of guilt, a popular Russian daily said Thursday.
Vremya Novostei said that although Artur Ryno, aged 17, has repudiated his testimony, his involvement in more than 20 killings has been proven. Ryno was detained in mid-April on suspicion of stabbing an Armenian national to death in Moscow.
The newspaper earlier quoted Ryno telling investigators that: "since school I have hated people from the Caucasus who come to the capital and oppress Russians." The teenager "realized that the city must be cleansed."
The ultra-nationalist said he and his friend Pavel Skachevsky, aged 18, attacked and killed dark-skinned people in Moscow`s suburbs. They did not confess to murdering the Armenian national, Karen Abramyan, until a videotape from surveillance cameras installed at the entrance to the building where Abramyan lived was shown to them.
Prosecutors earlier said Ryno and Skachevsky were detained after an eyewitness called police and said the two men, who stabbed Abramyan 20 times, had escaped in a streetcar. Police stopped the streetcar and arrested the two youths, who were carrying a knife and whose clothes were covered in blood.
A police source said: "At first we doubted whether what Ryno said was true - he mentioned too many details and boasted about what he had done, and the dates and crime scenes named were not precise. But the investigations we have carried out confirm that everything he said is true." However, Ryno`s accomplice, Skachevsky has denied attacking anyone.
Vremya Novostei wrote in May that the teenagers carried out their first killing on August 21, 2006, which coincided with an explosion carried out by white extremists at Moscow`s Cherkizovsky market, where many traders from the North Caucasus region, former Central Asian Soviet republics, as well as Vietnam and China worked. The explosion left 11 people dead and at least 49 injured.
"We were strolling, I noticed a brawl between our guys, about five or six, and an Asian," Ryno said. "I flew to their assistance. I pulled out a knife and stabbed the non-Russian several times."
Ryno said that when he and his accomplice attacked the non-whites, bystanders did not interfere, preferring to leave the crime scene as quickly as possible.
Routine attacks by skinheads and young gangs on foreigners and people with non-Slavic features have been reported across Russia in recent years. But authorities have been generally reluctant to treat the attacks as race-hate crimes, portraying them instead as acts of hooliganism.
---
Future painter admits racial motivated serial murders
By Julia Hakobyan - Huliq.com
June 9, 2007
A student of icon painting school detained recently in Moscow on murder suspicion of a native Armenian has claimed a connection to more than 30 murders of non- Russians perpetrated during less than a year.
The 18 year old Artur Ryno said to investigators he committed murders on national hatred to "clean up the city" and allegedly started murders in August 21, the same day a group of skinheads detonated a bomb at Cherkizovsky market in Moscow that killed 13 people. (Cherkizovsky market is controlled by natives of Caucasus and Central Asia)
Law enforcement are checking Ryno story, while a medical examination is expected to determine if he is mentally sound.
Ryno was detained in April with his friend, a student Pavel Skachevsky, soon after they allegedly killed Armenian businessman, 46 year old Karen Abrahamyan, who was found with more than 20 stab wounds near his home. The youth, believed to be skinheads, were covered with blood when caught on a tram. Police said the murder of Abrahamyan was caught on a surveillance camera.
Abrahamyan was Ryno's only Armenian victim, but the fifth Armenian killed in Moscow from the beginning of the year. Last week another Armenian, 30 year old Aharon Tigranyan was stabbed to death near his home.
Despite the investigation has not revealed whether all murders were committed on national ground the issue of xenophobia is a matter of hot concern in Russia. People with dark skin are often attacked by skinheads and there are frequent clashes between students in Moscow universities, believed to be based on ethnic hatred.
According to the Moscow based "Sova" non governmental organization, in 2006 xenophobic attacks killed 54 persons and injured 466.
In 2007 the Bureau of Democracy, Human Rights and Labor of the State Department released its annual report criticizing the Russian authorities for tolerance to the skinheads' activity.
Sergei Minasyan, a political scientist of the Caucasus Media Institute says Armenians are protected in Moscow neither less nor more than other nationalities, and that he does not see any public condemnation of Russian society to the murders.
"Xenophobia is a problem of a state where ideology is in a crisis," he says. "We can not state either that the Russian authority backs the radical movements, or that Russia's residents (Russians) do care much for such crimes. It is not that they sympathize to what skinheads do, but the social redistribution of property that happened after the collapse of the Soviet Union, the huge flow of migration from all corners of former soviet republics apparently do not promote compassion to non Russians."
Armenian officials in Moscow though admit the zenophobia is an existing reality in Moscow but say that at least the law-enforcement bodies respond very quickly to investigation of murders.
"Sometimes Armenians claim that the murders of Armenians remain unrevealed citing some dubious mass media sources," Armen Ghevondyan, the adviser of the Armenian Embassy in Moscow told ArmeniaNow by phone.
"Meanwhile this year suspects in all murders of Armenians were detained very quickly and some in less than 24 hours," he said.
"There is nothing again Armenians. The nationality does not mean anything for the skinheads; they do not choose specifically native Armenian or Tajik. They go to the metro, see a person with dark hair or eyes and that's it, a person is an alien, so he becomes a target."
"We should not view the murders, no matter Armenians or any other nationality as the response of Russian society to non Russians. Nor should all murders be qualified as the result of xenophobia. But it should be viewed in the light of a megapolises where migration can not be stopped and where tolerance is unfortunately on a very low level."
In a related case (from PanArmenian.net): The Moscow circuit court has acquitted Roman Polusnyak, the alleged murderer of 19-year-old Armenian Artur Sardaryan. The jury, with 10 against 2 votes, found Polusnyak not guilty despite the evidence of two witnesses, who identified him.
Artur Sardaryan was killed May 25, 2006 in a Moscow-Pushkino train near Klyazma station. Two skinheads assaulted him shouting "Long live Russia" and plunged a knife into his chest for some 6 times. About two dozens of passengers were nearby, two of them identified Roman Polusnyak, RFE/RL reports.
Armenia Liberty reports that the Sardaryan's parents said they'd lost the law suit because of the lack of money. They said they needed $2,000.
---
Young Russian skinhead pleads guilty to killing 37 people
28.05.2007 - Pravda.ru
A young Russian skinhead pleaded guilty to killing 37 people. Artur Ryno, 18, was arrested in April together with his friend Pavel Skachevski, 18, for killing an Armenian. Afterwards, the teenager told the police that he and his friend had brutally killed dozens of innocent people.
When Artur Ryno, a student at Moscow icon painting school, told the police the details of his executions and cleanups they did not believe him at first. They thought that he was slandering himself.
However, the investigation confirmed some of his testimony. If the police find the evidence of other crimes the case may develop into an international scandal, because it will be possible to interpret it as massive murder of individuals representing national minorities in Russia, Vremya Novostei reports.
Ryno and Skachevski were arrested on April 17 after the killing of Karen Abramian, a businessman from Armenia. The criminals tried to flee from the scene; but witnesses saw them boarding a tram. The witness reported the tram's number to the police who then chased the tram and detained the two young men. Police officers said that the criminals' clothes were covered with blood stains.
Investigators say that Artur described many details of his crimes that he had committed. His friend Pavel Skachevski denies responsibility, saying that he has never attacked anybody.
When being questioned for the first time the two young men refused to plead guilty to the murder of the businessman from Armenia. Afterwards, investigators showed them a videotape filmed by surveillance camera installed above the door of the house where the victim lived. The faces of the criminals were clearly seen on the tape.
Artur Ryno started talking. He told the police about the murder of the Armenian man and then proceeded to another crime that he had committed shortly before that. As a result, the young man pleaded guilty to killing 37 people.
Artur explained his actions with hatred that he said he was nurturing towards people from southern regions of Russia, so-called Caucasians.
The teenagers committed the crimes in different parts of Moscow. They would go to dormitory suburbs at night time and simply wait for a victim. There were days when their waiting returned no results, although on other occasions they could attack two or more individuals. Artur said that there were witnesses in many of his crimes, although nobody tried to stop them.