Anna Margaretha ZWANZIGER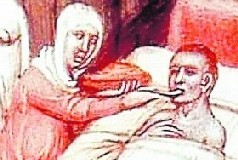 A.K.A.: "The German Brinvilliers"

Born: Anna "Nannette" Schonleben

Classification: Murderer
Characteristics: Poisoner - She would poison her employers with arsenic, and then nurse them back to health to gain their favour
Number of victims: 3 +
Date of murder: 1808 - 1809
Date of arrest: October 16, 1809
Date of birth: August 7, 1760
Victims profile: Her employers
Method of murder: Poisoning (arsenic)
Location: Bavaria, Germany
Status: Executed by a sword in Nuremberg on September 17, 1811
---
Anna Margaretha Zwanziger (7 August 1760 – 17 September 1811) was a Bavarian serial killer. She used arsenic, which she referred to as "her truest friend".
From 1801 until 1811, Zwanziger was employed as a housekeeper at the home of several judges in Bavaria. She would poison her employers with arsenic, and then nurse them back to health to gain their favour. She poisoned three people, and attempted to poison several others. She killed four people, one of whom was a baby. Four others survived.
Zwanziger was judged guilty of murder and sentenced to death. Before she was beheaded, she said it was probably a good thing she was to be executed, as she did not think she would be able to stop.
Wikipedia.org
---
Anna Zwanzinger
Anna Zwanzinger was born Anna Schonleben in August 1760. By 1765 she was an orphan and moved for the next five years between different family members. At the age of 10 she was sponsored by a wealthy guardian and received a decent education. At the age of 15 she was married to a drunken 30 year old lawyer called Zwanziger. The marriage had been arranged by her guardian. The couple had two children together, but it was far from a happy marriage. Anna became a prostitute at one point to support the family as her husband had become unable to work due to his alcoholism.
Anna however still had standards, she maintained to only have had judges and men in powerful positions as her clients and lovers. She left her husband at one stage to be with a lover but Zwanzinger persuaded her back. Zwanzinger had a hold over Anna. When they did finally divorce, they remarried the next day.
In 1796 Zwanzinger died, leaving 33 year old Anna to look after the two children alone. She attempted to open her own store by failed. She fell back into prostitution but fell pregnant and stopped. The baby was sent for adoption by died at an orphanage.
It was around this time that Anna began to show signs of wear and tear. Her mental stability began to waiver, she went into house service but would ignore the wishes of her employers. She felt she was above doing menial work, but needed the money. Over the next two decades she would continue to do housekeeping, yet the last two years of freedom saw her became an embittered woman who believe she should be the mistress of the house and not the made. She poisoned several women to try to get their husbands to marry her, little did she know she was suffering delusions and was not desirable.
Anna Zwanzinger had made herself a reputation as an expert knitter and housekeeper, when she was visited by Justice Wolfgang Glaser at her house in Pegnitz, Baireuth, Bavaria. He had asked the 50 year old woman if she would become his house keeper. Justice Glaser went on to explain that he had recently separated from his wife and needed someone to tend his home.
So on March 5, 1808 Anna became a house keeper.
However the appointment appeared short-lived when Frau Glaser returned home to her husband. Yet the reunion did not last long. Though Frau Glaser was a strong and healthy woman, she became suddenly ill on her return on July 22nd.
She was suffering violent vomiting bouts, diarrhoea, pain and nausea. Five weeks later and Frau Glaser was still writhing pain. She expired on August 26, 1808.
A month later on September 25, Anna left the Glaser's service and went to keep house for Justice Grohmann in Sanspaareil. The 38 year old man suffered poor health and spent alot of time in bed. Anna doted on the man and he soon became well, only to be stricken once more.
In Spring, 1809 Grohmann was inflicted with diarrhoea, vomiting and severe abdominal pain. The illness lasted eleven days at the end, he died on May 8, 1809. Grohmann's death was put down to natural causes due to his long-term health issues. Anna was inconsolable after the man's death.
Frau Gebhard, wife of Justice Gebhard had heard of Anna's fine skills as a house-keeper and quickly took her on after Grohmann's death. Frau Gebhard was pregnant and needed help during her confinement. On May 13, 1809, the baby was born and both mother and daughter were well. Yet three days later Frau Gebhard became extremely unwell. She began vomiting profusely and had severe loose bowel motions. She was completely bed-ridden. On May 20, 1809 Frau Gebhard died from the illness, her last words were: "Merciful Heaven! You have given me poison" to Anna. However due to Frau Gebhard's long-term ill health, no one in authority took much notice of her accusation and her death was ruled of natural causes.
By now people were beginning to suspect that it was more than mere coincidence that Anna's employer's kept expiring. However nobody talked about their suspicions. And so Anna continued her employment as a housekeeper to Bavarian Judge Gebhard.
On August 25, 1809 Justice Gebhard dined with two guests, Mr Beck and Mr Alberti. After dinner the two guests were both stricken with a similar illness to that of Gebhard's wife. A messenger who had come to the house and stayed for a glass of wine also suffered from the gastro illness.
A porter, Johnny Krause had stopped for a glass of port and only had a small sip. He noticed a white sediment and had heard the gossip about Anna and chose not to drink any more from the snifter.
Yet there had been enough poison in the small mouthful to cause him a violent reaction. Others in the household also became sick. One of the kitchen maids, Barbara Waldmann became ill after a cup of coffee made by Anna. Yet again nothing was done, and no-one had seen Anna put poison in any of the vessels. It was all still conjecture.
On September 1, 1909 Gebhard entertained five friends for an evening with games of skittles.. All of them, including Gebhard became ill after drinking beer.
At the urging of his ill guests Gebhard dismissed Anna from his service the next day. However on September 3, 1809 Anna decided to do some last minute chores before leaving her employment. She took the salt-box from the kitchen cellar and filled it with salt from the barrel in Gebhard's room. Barbara the kitchen maid saw Anna do this. The job was actually Barbara's and she found it unusual that Anna would do it.
She then gave Barbara and another maid a cup of coffee, and the five-month old Gebhard baby some milk and a cookie. All of it laced with poison.
After Anna had left all three of them became hill. The household knew for sure that Anna was reponsible and Barbara remembered the salt barrel. The police were called and the salt was tested. It contained a high amount of arsenic.
Anna was arrested shortly after. When she was searched, two more packets of arsenic were found in her possession. Police then began investigating the other deaths of Anna's employers. Frau Glaser's body was exhumed and arsenic was found in her body.
Anna confessed to the crimes, and was executed by a sword in 1811.
Bibliography:
World Famous Gaslight Murders: Colin and Damon Wilson, Magpie books
---
Anna ZWANZIGER
Born Anna Schonleben in Nuremberg, Germany in 1760, Anna Zwanziger will live in infamy as Bavaria's premiere poisoner. Described as "ugly, stunted, without attraction of face, figure, speech... this misshapen woman whom some people likened to a toad," Anna's life veered astray after an unfortunate choice for a husband. Her hubby, Zwanzinger, proved to be a drunken bully who went through her inheritance before dying of alcoholism.
By the time she was 40, after trying her hand at toymaking, she starting working as a domestic with the hope of finding the right man who would fall in love with her charms and cooking and would want her to be his wife. Her first potential husband was a judge named Glaser.
Unfortunately the man, although separated, was still married. Thoughtful Anna engineered a reconciliation between Glaser and his wife. Once the Frau was back at home, Anna started feeding her arsenic in her tea until she died. Still, the judge wouldn't propose, so Anna poisoned several of the judge's guest. Fortunately they survived.
After being fired from the Glaser household Zwanzinger found work at another judge's home. Judge Grohmann and, unbeknownst to him, was a potential future husband for his new housekeeper. Once the judge announced his engagement to another woman, he unwillingly signed his death sentence. After feeding him a bowl of special Bavarian soup, Grohmann died an agonizing death. In the meantime two other servants poisoned unsuccessfully by Anna because they annoyed her.
Her next household was of yet another judge. Judge Gebhard was married to a woman who was sickly before Anna started feeding her poison. Her condition turned from bad to worse once and she too died following horrible stomach pains. Crazed with the power of death, Anna poisoned several servants and fed the judge's infant a biscuit dipped in arsenic. The servants survived, but the baby died.
At the urging of his servants Judge Gebhard had their food analyzed. Traces of arsenic were found after Anna had already escaped. Before her getaway she filled every salt shaker and sugar container in the household with generous doses of arsenic.
On October 18, 1809 Anna was arrested after she had sent several letters to the Gebhard household extolling her love for the dead baby and saying the she was willing to forget the wrongs she had suffered and was ready to resume her duties.
After six months of questioning, Anna finally broke down confessed. She stated: "Yes, I killed them all and would have killed more if I had the chance." Then she referred to arsenic as her "truest friend." Before being beheaded in July 1811, she told her executers "It is perhaps better for the community that I should die, as it would be impossible for me to give up the practice of poisoning people."
Michael Newton - An Encyclopedia of Modern Serial Killers - Hunting Humans
---
Anna Margaretha Zwanziger
Long account of the case from the 1850 book Light and Darkness: or, The Mysteries of Life, by Catherine Crowe (London):
In the year 1809, there resided in a part of Prussia, called the Oberland, a respectable middle-aged female, who supported herself by knitting. She was a widow, who had evidently seen and suffered much. Her deportment was particularly quiet, and her manner pleasing and friendly. The fear of God and the love of her neighbour appeared to be the ruling principles of her life; and she was looked upon as a worthy, excellent person; who however, in spite of her industry, found some difficulty in keeping herself above want. She went by the name of Nannette Schonleben. She was a native of Nuremberg, and her maiden name was Steinacker. After the vicissitudes of a varied life, she had settled down to this obscure and humble mode of existence; but it was understood, that if an opportunity offered of improving her condition, she would be glad to avail herself of it. Her excellent reputation soon procured her such a situation as she desired.
In the month of March, 1808, a person of the name of Glaser, who resided at Kasendorf engaged her in the capacity of housekeeper, at the recommendation of his own son, who had some small dealings with her, and had formed a very favourable opinion of her character. Her conduct soon procured her not only the approbation but the confidence of her master; and the use she made of her influence was one that obtained her universal commendation. Glaser, a man of fifty years of age, had for several years been living apart from his wife. It was said that there was no fault on the part of the lady to justify this separation; and in spite of the injury it was likely to do herself, Nannette undertook to bring about a reconciliation. She wrote letters to the wife; she engaged the friends on both sides to aid her in this pious work; and even, though a Protestant herself, sent money to a Roman Catholic priest, with a request that he would say a mass for the success of her enterprise.
It did succeed; Frau Glaser allowed herself to be persuaded—the husband declared himself prepared to receive her with open arms; and the lady, who was at a distance, started for Kasendorf; but, as it appears, with a heavy heart and strange presentiments. In a letter, afterwards produced, which she wrote to her relations at the time, she said, "I cannot describe what I feel; there is a struggle within my heart that I am unable to account for! can it be a forewarning of evil?"
The husband went some distance on the road to meet the wife; and Nannette prepared a fete for their reception, which was not very consistent with the circumstances of the case. The whole village assembled to welcome them; the house was decorated with garlands; the bed of this second bridal was strewn with flowers, and the following couplet was appended to the hangings:—
"The widow's hand
Has wove the hand."
These ill-judged and indelicate arrange merits appear to have excited no displeasure amongst the parties concerned.
Glaser seemed disposed to treat his wife with great kindness, and the lady was becoming quite reconciled to the re-union, when, unfortunately, she was taken ill and died on the 26th of August; exactly four weeks after her arrival at Kasendorf.
Shortly after this unfortunate event, Nannette transferred herself to the service of a gentleman called Grohmann, who resided at Sanspareil. Glaser gave her the best of characters. Grohmann was a fine young man, only twenty-eight years of age; but he suffered from frequent fits of gout; and the devotion with which Nannette nursed him on these occasions, was truly admirable.
In spite of her tender care, however, the young man thought he would rather be nursed by a wife, and he accordingly made advances to a lady who accepted his proposals; and everything being arranged, the marriage was about to be solemnized, when Grohmann was taken suddenly ill. Nannette never quitted the bedside during the progress of his sufferings, which were fearful; but he died, and she was inconsolable. Her tears and cries rent the hearts of all beholders. She was, however, under the necessity of seeking another situation; and the manner in which she had conducted herself in the two former places recommended her so strongly, that a lady of the name of Gebhard, who was about to be confined, thought herself particularly fortunate in obtaining her services. Accordingly, Nannette attended her during her indisposition, and the child was happily born; but on the third day things took an ill turn; the lady was seized with vomitings, and, after enduring much pain, she died. The infant was committed to the care of Nannette, who nursed it with the greatest tenderness.
Some people were certainly silly enough to advise Mr. Gebhard not to keep in his service so unlucky a person. Doubtless, she was an excellent woman, a clever servant; but misfortune seemed to follow her footsteps. Mr. Gebhard, however, had no belief in such fatalities, and, for several months, she remained in this house, at the head of his establishment; and although certainly, there were very frequent indispositions amongst the servants, and even amongst the visitors who frequented the house, no suspicions were awakened; and Nannette remained high in the esteem and confidence of her employer, till on the 1st of September, 1809, a large party having assembled at Mr. Gebhard's, to play at bowls, the whole company were taken ill after drinking some beer which Nannette had brought from the cellar.
Strange thoughts now seemed to have found their way into the minds of the sufferers. Nobody, however, ventured to denounce Nannette; they only urged Mr. Gebhard to part with her, she was so unlucky! To oblige them, he consented to do so; but he gave her excellent testimonials, and behaved to her in the most liberal manner.
Nannette did not conceal that she was very much pained by this dismissal, and expressed extreme grief at leaving her beloved little charge; but she showed no temper. She was diligent, active, and obliging to the last moment—nay, even sportive; for it being remarked that she took the trouble of filling the salt-cellars with her own hands just before she departed, she said she did it "to bring luck to those she left behind." So kind was her master, that when the coach which was to carry her away came to the door, he invited her to take a cup of chocolate with him before she went. She took a tender leave of the child, and gave it some milk and biscuit, lamenting how much he would miss his kind nurse. This done she bade adieu to her fellow-servants, and drove away.
She had not, however, been gone a quarter of an hour, when the whole family, at least the child, and several persons who had partaken of the chocolate, were seized with violent pains and vomitings; whereupon the servants declared their suspicions of Nannette. Many circumstances were recalled that rendered it scarcely possible to doubt her guilt; but so much difficulty had Gebhard in altering his opinion of her, that though on examination a quantity of arsenic was found in the salt barrel, he allowed a month to pass before he took any measures for her apprehension.
In the meantime, quite at her ease, and with a degree of confidence that long impunity can alone account for, Nannette Schonleben pursued her journey. On the road she wrote a letter to Mr. Gebhard, expressing her conviction that the infant would be so unhappy without her, that he would be under the necessity of recalling her; and she remained for some days within such a distance as would have rendered her return easy. However, no summons reaching her, it became necessary to look for a residence elsewhere; but she now found that wherever she was known, people objected to receive her under their roof.
At length, being driven from house to house, she resolved to seek refuge with her own daughter, who was married, and inhabited a small house in Franconia. When she reached the spot she found her son-in-law gaily dressed, surrounded by a party of his friends; but, alas! there was no part in their rejoicings for her. Her daughter was in jail, and the husband, who had divorced her, was about to marry again.
It was not till October, 1809, that Mr. Gebhard made up his mind to have Nannette apprehended. It was then found that she was the widow of a notary, whose name was Zwanziger, but that she had very good reasons for dropping this appellation and assuming another. She, of course, professed to be the most innocent creature in the world; but the bodies of the persons she had murdered were disinterred, and presented ample evidence of her guilt. Innumerable circumstances were also recalled, showing that she had repeatedly administered poison in greater or less quantities to the servants and visitors of her previous employers.
Her trial commenced on the 16th April, 1810. She at first denied everything; but when she learned that poison had been found in the stomachs of her victims, she confessed to have twice administered arsenic to the deceased Frau Glaser. She had no sooner made this avowal, than she dropped to the earth as if she were shot; and fell into such violent convulsions that they were obliged to remove her from the court.
In the interval that elapsed between her trial and execution, she wrote a sketch of her own biography, from which we learn that she was at this period about fifty years of age. She declared that she had been handsome in her youth, but no remains of beauty could be traced in her meagre, cadaverous features, the expression of which, in spite of the constrained smile that sat ever upon her lips, appears to have been odious and repelling, a circumstance which renders her successful deceptions the more extraordinary.
She was born at Nuremberg, where her father kept an inn, with the inauspicious sign of the Black Cross. Her parents died when shebwas very young, and she had been twice married. Her early life had been busy and cheerful. Zwanziger seems to have been both a poor and an austere man. It was as she said, "still im hause ;" no stir,—no bustle; and "she feared her husband as the child fears the rod." In order to dissipate her melancholy, she had recourse to books. "My first book," she writes, "was 'The Sorrows of Werter.' The impression it made on me was so great, that for some time I could do nothing but weep. Had I had a pistol, I should certainly have shot myself. I next read ' Pamela and ' Emilia Galotte.'"
The fruits of these studies seem to have been a diseased sentimentality, that soon extinguished any germs of real feeling that nature had implanted in her, together with a great desire to render herself an object of interest, and to rise out of the humble situation in which fortune had placed her. At the age of twenty-one, she inherited some property that her parents had bequeathed her. On this accession of wealth, her husband seems for a time to have flung aside his moroseness. At all events, he helped her to spend the money in balls and carousals; and when they came to the end of it, their former mode of life was resumed'. He lived in the wine-houses, and she alone; but as he constantly pressed her for supplies, which she had not the means of furnishing, she seems to have found a mode of raising funds as discreditable to herself, as dishonourable to him.
Fortune, however, once more smiled upon this well-matched pair. Zwanziger obtained a prize in the lottery; and again the house resounded with the song and the dance. When this supply was exhausted, the lady eloped with an officer, but returned at the request of her husband. He, however, applied for a divorce, and obtained it, but it was no sooner published, than they were remarried; and she declared that after this they had lived very happily together, "she having remarked that Zwanziger had noble sentiments, and an affectionate heart!"
The notary died suddenly in 1796, and it is by no means clear that she did not help him out of the world before his time. From that period her fortune gradually declined, till she became a servant. She lived with a variety of people in different capacities, and, amongst the rest, as nursery-maid in some English famines.
At this degradation her pride seems to have been dreadfully wounded. She "laughed and cried in one breath; and, when her employers issued their orders, she smiled, and left their presence respectfully, but made a point of neglecting their commands." Naturally, she had soon no commands to obey.
She had next recourse to one of her former lovers. He received her for a time; but as he soon became cold and neglectful, she resolved to open a vein in her arm and die. In this project, however, she failed, at least as far as regards the dying. She only lost a cupful of blood; and the unfeeling man, instead of exhibiting any alarm, "turned away and laughed when she showed it him."
Determined to convince him of her sincerity, she next proceeded to the river to drown herself. "She took her maid-servant with her, and a volume of poems, which she read by the way. When she arrived at the fatal line:
'My life's so sad that I must end it,' she precipitated herself into the water. Two fishermen, however, who happened to be at hand, dragged her out again, and she received no damage but the wetting of her clothes. As soon as they were sufficiently dry, she sent them by the maid to her hard-hearted lover, as a convincing proof of her inexorable determination to quit a world in which she was so little appreciated. He returned them by the bearer, with a small sum of money, and a strong recommendation to quit the place without delay; and the farther she went, the better he should be pleased." To the want of compassion exhibited by this person she principally attributed her embittered and revengeful spirit. In short, it would seem as if a devil had entered into her!" When I opened the vein in my arm," she writes, "he laughed. And when I reminded him that I was not the first woman that had killed herself on his account, he laughed too! Henceforth, whenever I did anybody a mischief, I said to myself, nobody shows me mercy, and I will show none to others."
After this she entered into various services at Vienna and other places. Her last situation was in the family of a Mr. Von S ;but as the work was fatiguing and the wages low, she resolved to quit it; "but her guardian angel whispered to her not to go without insuring herself some compensation. On the same day, as one of the children was playing with his mother's jewels, he offered her a ring. It seemed as if a voice within her bade her accept it." She took the hint and departed. But this treacherous spirit having also prompted her to possess herself of the contents of an escrutoire, she was advertised, by hame, in the public journals; and her son-in-law happening to see the paragraph, turned her out of doors. Upon this she wrote to reproach Mr. Von S. for his want of delicacy in thus exposing her; and then changing her name to Schonleben, she established herself in a small town called Neumarkt, as an instructor of young females in needle-work, &c. For some time she conducted herself prudently, and might have prospered had she not admitted the visits of an antiquated military debauchee, whom she hoped to inveigle into marriage, and thus to recover her position in life, and to hear herself called " Your Excellency," before she died!
Her project failed; and having lost both her lover and her newly-acquired reputation, she was obliged again to set out upon her travels. Then it was she settled in the Oberland, where we first introduced her; and by her quiet demeanour, piety, and humility, contrived to establish herself once more in the good opinion of her neighbours. But whilst her outward bearing was that of a saint, her heart was full of hatred and revenge; and she longed to retaliate upon mankind the misery she fancied they had inflicted upon her.
She seems to have had two projects—vengeance and her own reintegration. For twenty years she had been driven about the world, subject to all sorts of insults and indignities. She was now fifty years of age; but she did not despair of repairing her fortunes by marriage. The servile condition was hateful to her. To be once more a lady, and command others as she had been commanded, was her hope and her object. But now difficult an enterprise! What road was open to her? She wanted power—and after seeking in all directions for the weapon that was to acquire it, she fixed upon poison as the means of her worldly advancement and the instrument of her hoarded vengeance.
It was with this view that she brought about the reconciliation between Glaser and his wife. The victim's path was strewn with flowers—garlands wreathed the bed of this second bridal, and paeans welcomed her to her husband's home; but the mortal poison was already in her cup.
By her assiduous attention during his fits of sickness, she hoped to win the heart of her next master, Grohman; but when she found he was about to marry another, she compensated herself for her disappointment by the gratification of her revenge.
With the same object she poisoned Gebhard's wife; she gave arsenic to the child when she quitted him, in the hope that his consequent uneasiness and cries would occasion her recall; and for the innumerable other persons to whom she administered smaller doses, slight offences, and her unmitigable hatred to mankind, were the impelling motives.
By her own confession, it is evident that she revelled in the sense of power she enjoyed from the possession of this secret and murderous weapon. From the gratification it afforded her, she grew actually to love it for its own sake. When, in prison, a parcel of arsenic was placed before her, her eyes glistened with the passionate desire to possess it; and when she was about to be executed, she avowed that her death would be a happy event for mankind, as she was sure she never could have renounced the pleasure of using it.
She took a great liking to the advocate that defended her; and exhibited her regard by requesting that, if it were permitted, she might be allowed to visit him from the other world, in order to give him demonstrative evidence of a future life.
She died without repentance; and took leave of the sheriff and executioner on the scaffold with as courteous a bow as if she were retiring from a morning visit.
[Catherine Crowe, Light and Darkness: or, The Mysteries of Life, 1850, London: Henry Colburn, pp. 64-85]
UnknownMisandry.blogspot.com