Angus Robertson SINCLAIR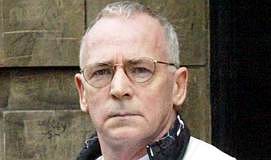 Classification: Serial killer
Characteristics: Serial rapist
Number of victims: 4 - 8
Date of murders: 1961 / 1977 / 1978
Date of birth: 1945
Victims profile: Catherine Reehill, 7 / Frances Barker, 37 / Hilda McAuley, 36 / Agnes Cooney, 23 / Anna Kenny, 20 / Christine Eadie, 17, and Helen Scott, 17 / Mary Gallacher, 17
Method of murder: Strangulation
Location: Wales, United Kingdom
Status: Sentenced to 10 years in prison in 1961. Serves six years. Pleaded guilty to rape and sexual assault of 11 children aged six to 14 in 1982. Sentenced to life in prison. Sentenced to a minimum of 37 years in prison on November 14, 2014
---
World's End murders: Angus Sinclair jailed for 37 years
By James Cook - Scotland Correspondent, BBC News
November 14, 2014
Serial killer and rapist Angus Sinclair has been jailed for a minimum of 37 years for the murders of two teenagers.
Sinclair raped and strangled 17-year-olds Helen Scott and Christine Eadie after a night out at the World's End pub on Edinburgh's Royal Mile in 1977.
The 69-year-old is the first person in Scotland to be retried for the same crime after an acquittal, following a change in the double jeopardy law.
Police believe he also killed at least six other women and girls.
The 37 year sentence - which comes 37 years after Sinclair murdered the two teenagers - is the longest ever handed out by a Scottish court, and means the killer would be aged 106 before he could apply for parole.
World's End guilty verdict
Angus Sinclair voluntarily gave a DNA sample to police in the mid-1990s - that led to convictions for the murders of three women two decades earlier.
The Sinclair trial was the first to be held in Scotland following the ending of the centuries-old double jeopardy rule.
For 37 years the families of Helen Scott and Christine Eadie have waited for justice for the teenagers who were murdered by Sinclair.
In his sentencing statement, Lord Matthews said Sinclair had shown no remorse.
Find out more background to the case in a BBC Scotland investigations special.
Judge Lord Matthews told Sinclair: "You have displayed not one ounce of remorse for these terrible deeds. The evidence in this case as well as your record, details of which have now been revealed, shows that you are a dangerous predator, who is capable of sinking to the depths of depravity."
The judge said of Sinclair's two teenage victims: "Whatever dreams they had, they turned into nightmares shortly after they left the World's End Pub, the name of which has become synonymous with these notorious murders.
"Little were they to know that they had the misfortune to be in the company of two men for whom the words evil and monster seem inadequate."
The jury at the High Court in Livingston had taken just over two hours to conclude that Sinclair carried out the murders of Miss Scott and Miss Eadie with his late brother-in-law Gordon Hamilton, who died in 1996 without facing justice.
Speaking outside the court, Helen Scott's family said: "We finally have justice for Helen and Christine".
Helen's brother, Kevin Scott, said the 37-year minimum sentence was "appropriate" as it was 37 years since the murderers took place.
Mr Scott described his sister as a "country girl" with "beautiful blue eyes and a beautiful smile, never to forget".
He said Christine Eadie was a "popular, friendly and likeable girl, who her family dearly-loved".
The teenagers were killed after they got into Sinclair's caravanette outside the city centre pub, where they had been drinking, on Saturday 15 October 1977.
They were found dead six miles apart in the East Lothian countryside the next day.
Miss Eadie's body had been dumped naked on the foreshore at Gosford Bay, while Miss Scott's was found at Coates Farm, naked from the waist down.
Both girls had been badly beaten, raped and throttled with their own underwear.
Scotland's senior prosecutor, Lord Advocate Frank Mulholland QC, told the trial that the girls had suffered "terrifying, horrific and barbaric" deaths.
"Thankfully", said the lord advocate, "justice has no sell-by date in Scotland."
Helen Scott's parents had reported their daughter missing to the police when she did not come home from her night out with Christine, something that had never happened before.
They began to fear the worst when they heard on the radio that the bodies of two girls had been found near Aberlady and Haddington.
Helen's father Morain Scott, who is now 84, said he had promised his wife Margaret on her deathbed in 1989 that he would secure justice for his daughter.
Mr Scott said he had thought about Helen every day since she died.
He said: "I wonder where she would have been today. Would she be married? Would she have children? Would I have grandchildren?
"They've stolen life from two youngsters who had their whole lives ahead of them."
Sinclair, who grew up in the St George's Cross area of Glasgow, has been in prison since 1982 and has a string of convictions for theft, rape and murder dating back to 1959.
In 1961, at the age of 16, he admitted sexually assaulting and strangling Catherine Reehill, aged seven, in Glasgow and was sentenced to 10 years in prison for culpable homicide.
The judge who heard the case, Lord Mackintosh, said Sinclair was "callous, cunning and wicked" while a psychiatrist's report warned that he would remain a "very dangerous sexual case".
The warning was prescient.
Sinclair served six years of his sentence before being set free to murder again and again.
Between June and December 1977 there is evidence that he went on a killing spree, murdering six women in just seven months, including Miss Scott and Miss Eadie.
His other suspected victims include Frances Barker, 37, Hilda McAuley, 36, Agnes Cooney, 23, and Anna Kenny, 20, all from Glasgow.
In November 1978 Sinclair struck again, strangling 17-year-old Mary Gallacher in Glasgow.
Over the next four years he raped and indecently assaulted 11 girls aged between six and 14 in the city.
In 1982 he was given a life sentence for the sexual offences but Sinclair was not convicted of murder until 2001 when a "cold case" review found DNA evidence linking him to the body of Miss Gallacher.
In 2004 three Scottish police forces came together to launch Operation Trinity, a review of the 1977 unsolved murders.
The inquiry was led by the former deputy chief constable of Lothian and Borders Police, Tom Wood, who said there was a "pretty compelling" case that Angus Sinclair had killed many times.
Forensic scientists who examined six cases for Operation Trinity concluded that Sinclair had killed Helen Scott, Christine Eadie, Frances Barker, Hilda McAuley, Agnes Cooney and Anna Kenny.
Clear pattern
All the women were found in countryside having been bound and gagged. All had gone missing after a night out at a dance hall or a pub and all appeared to have died a violent death.
The scientists from the University of Glasgow examined more than 1,000 other murders in Scotland between 1968 and 2004 and concluded that the six crimes bore a "unique signature" and that "Angus Sinclair and Gordon Hamilton are responsible for all the linked crimes".
"The circumstances of their deaths and the methods used to bind, restrain and kill them, have striking similarities, findings not matched in any other group, or indeed in any other individual" their report stated.
"There was a clear pattern" said Mr Wood.
"They were all young women who had been out for the night, they had all disappeared off the streets, they had all been transported a distance, they had all been bound in exactly the same way, or very similar ways, they had all been assaulted and murdered in very, very similar ways."
Despite those apparent similarities, prosecutors decided there was not enough evidence to charge Sinclair with the Glasgow killings.
Forensic science evidence which might have enabled them to build a case had been lost or destroyed while in the case of Ms Barker, a man was already serving a life sentence for her murder.
Thomas Ross Young died in July 2014 at the age of 79 having failed to overturn his conviction on appeal.
New evidence
In Edinburgh, by contrast, scientists working with the police had the "presence of mind" to preserve evidence in the hope that advances in science would one day "come to the rescue" and secure justice, said retired Det Supt Allan Jones who investigated the World's End murders.
Sinclair was charged and went on trial at the High Court in Edinburgh in 2007 but the case collapsed in controversial circumstances.
After hearings lasting just two weeks, the judge ruled that there was no case to answer.
The prosecutor was criticised for failing to put potentially crucial DNA evidence, suggesting that Sinclair had tied the knots on the ligatures used to bind and strangle the girls, before the jury.
The serial killer was only brought to justice after the law on double jeopardy was changed to allow retrials in certain circumstances when new evidence was discovered.
Angus Robertson Sinclair - a life of abuse, rape and murder
1959 - stole an offertory box from a Glasgow church, aged 13
1959 - housebreaking charge
1961 - committed lewd and libidinous practices on an eight-year-old girl. Sentenced to three years' probation
1961 - convicted of killing Catherine Reehill, aged seven. Sentenced to 10 years in prison. Serves six years
1970 - marries trainee nurse Sarah Hamilton (Gordon Hamilton's sister) and has a son two years later
1977 - thought to have murdered six women within seven months. Frances Barker, 37, Hilda McAuley, 36, Agnes Cooney, 23, and Anna Kenny, 20, all from Glasgow and Christine Eadie and Helen Scott from Edinburgh
1978 - murdered 17-year-old Mary Gallacher in Glasgow
1980 - illegal possession of a .22 calibre revolver
1982 - pleaded guilty to rape and sexual assault of 11 children aged six to 14. Sentenced to life in prison
2000 - cold case review of 1978 Mary Gallacher murder
2001 - convicted of the murder of Mary Gallacher
2007 - trial for murders of Christine Eadie and Helen Scott collapses
2014 - retrial finds Sinclair guilty of World's End murders
---
Serial killer Angus Sinclair, 69, jailed for life for raping and killing two teenagers in 1977 World's End Murders
Angus Sinclair found guilty of World's End Murders 37 years ago
Sinclair raped and killed Christine Eadie and Helen Scott, both 17, in 1977
He was today given a life sentence and will spend at least 37 years in jail
Sentence means 69-year-old 'dangerous predator' will die in behind bars
Girls had been at the World's End pub in Edinburgh on night of their deaths
Next day their bodies were found dumped six miles apart in East Lothian
The 17-year-olds had been bound and throttled with their own underwear
Sinclair was accused of carrying out the attacks with his brother-in-law
But Gordon Hamilton died in 1996 before he could face justice
Serial killer Sinclair killed a seven-year-old and another young woman
But police fear he may have killed a total of eight women and girls
He also abused 11 girls, some as young as six, in the 1970s and 1980s
Sentencing is the first under new 'double jeopardy' laws in Scotland
By Ollie Gillman for MailOnline
November 14, 2014
Serial killer and paedophile Angus Sinclair has been jailed for life for the murder and rape of two 17-year-olds in 1977.
Sinclair, 69, brutally killed Christine Eadie and Helen Scott, who were both 17, after a night out at Edinburgh's World's End pub 37 years ago.
Their bodies were found the following day in East Lothian. They had been bound and throttled with their own underwear.
Sinclair, who had previously murdered at least two other women, was accused of carrying out the attacks with his brother-in-law, Gordon Hamilton, who died in 1996 before he could face justice.
Sinclair was sentenced to life in prison at a trial at the High Court in Livingston today and will spend at least 37 years behind bars.
The sentence means Sinclair is likely to die in jail.
Sentencing, Judge Lord Matthews told Sinclair he was 'a dangerous predator who is capable of sinking to the depths of depravity'.
The prosecution is the first under changes to Scotland's 'double jeopardy' law, which meant he could be retried for their murders after a previous trial collapsed seven years ago.
The jury of nine women and six men took less than two-and-a-half hours to convict Sinclair unanimously of both charges.
Police fear Sinclair, who has been in prison for more than 30 years, killed at least six women and girls - as well as the two 17-year-olds.
Miss Eadie and Miss Scott got into Sinclair's camper van after a night drinking in the city centre pub.
Their bodies were found six miles apart in the East Lothian countryside less than 24 hours later.
Miss Eadie was found naked on Gosford Bay and Miss Scott was discovered on farm, exposed from the waist down.
Lord Matthews said that whatever dreams the girls had for their futures had 'turned to nightmares' that night when they left the World's End pub.
Sentencing Sinclair, he said: 'Little were they to know that they had the misfortune to be in the company of two men for whom the words evil and monster seem inadequate.
'Unless one day your conscience, if you have one, motivates you to tell the truth, no one other than you will ever know precisely what part you and Gordon Hamilton played in these awful events.
'Perhaps it does not matter. What does matter is that the girls were subjected to an ordeal beyond comprehension and then left like carrion, exposed for all to see, with no dignity, even in death.
'For them at least the nightmare is over and if they were not resting in peace before today I hope that they are now.
'The nightmare for their families and friends, on the other hand, has gone on from those first awful moments when they heard the news no one should hear until even now, 37 years later and counting. It will never end.
'No one who saw the evidence of Helen's father, sisters and boyfriend and Christine's mother could fail to have been moved by it. They are an example to us all, waiting patiently for justice while the authorities have worked tirelessly to achieve it'.
The judge added: 'The evidence in this case as well as your record, details of which have now been revealed, shows that you are a dangerous predator, who is capable of sinking to the depths of depravity.
'I do not intend to waste many words on you. You are well aware that the only sentence I can pass is one of life imprisonment.
The judge then recited the poem For The Fallen, usually reserved for paying tribute to soldiers on Remembrance Sunday.
Speaking of the girls, he said: 'They shall grow not old as we that are left grow old.
'Age shall not weary them nor the years condemn.
'At the going down of the sun and in the morning we will remember them.
'I say that because, while all of their loved ones would have wished to see them live on to a ripe old age, the memories they will have of them will always be of two happy home-loving innocent girls unbesmirched by the ravages of time.
'That is, indeed, how I think the whole of the country will remember them.'
Miss Eadie and Miss Scott had been enjoying drinks with friends at the busy Edinburgh pub on a Saturday night.
The girls were invited to a party but decided to head home because Miss Scott was tired. However as they went to leave, they began chatting to two men, Sinclair and Hamilton.
The conversation did not last longer than 25 minutes and the pair were seen outside the pub at closing time.
A police officer was on duty patrolling his patch of the city centre as usual and went to help Miss Eadie to her feet when he spotted her stumbling.
After the officer left, Sinclair offered them a lift home.
The girls debated whether they should accept his offer, but he told them he would 'take them where they needed to go' before they walked off in the same direction, the jury was told.
Sinclair is the only living person who knows what happened next.
The beginning of what was then one of Scotland's largest-ever murder investigations began when Miss Eadie's body was found the following afternoon at Gosford Bay in Aberlady, East Lothian, while Miss Scott's body was discovered a few hours later in a wheat field near Haddington.
The girls had been beaten, raped and strangled with their own underwear.
Miss Eadie's hands were tied behind her back with part of a pair of tights and her mouth had been stuffed with a pair of knickers held in place by a bra.
The other leg of the tights was tied around her neck.
Unlike her friend, Miss Scott was still wearing her top and her new coat, purchased just days before.
Her belt had been used to tie her hands behind her back. The belt from her friend's jumpsuit was around her neck. A footprint marked her face.
An extensive search was undertaken for missing items and clothing belonging to both girls, but none were found.
It was the advent of DNA profiling that jump-started the case and eventually led police in 2005 to Sinclair and Hamilton, who was now dead.
Sinclair took to the dock in 2007 charged with the murders but the case collapsed mid-trial.
The most recent trial forced their distraught parents to relive the murders in court for the second time.
Miss Scott's father Morain Scott, 84, said her mother Margaret was never the same again.
The murder marked the start of his wife's ill health and she died in 1989 having never seen her daughter's killers brought to justice.
But Mr Scott was in court today to see the murderer of his daughter and her friend jailed for life.
Speaking days after his daughter's body was found, he said: 'I can't put into words the heartbreak we have gone through.'
'My girl went off to work as happy as a lark on Saturday morning. She was going out with her chums right after work.
'I still can't believe that it's my little girl and her chum who are dead.'
Serial killer Sinclair was jailed for 10 years for culpable homicide after sexually assaulting and strangling seven-year-old Catherine Greenhill.
However, he was free to kill again after just six years, which he did in 1977 when he carried out the World's End murders.
The next year he killed yet another 17-year-old, Mary Gallacher, who he raped, stabbed and strangled near a train station in Glasgow.
Sinclair was not caught, and went on to sexually assault 11 young girls, some just six years old, between 1978 and 1982, for which he was jailed for life.
Improved DNA analysis technology eventually saw him convicted in 2001 for the murder of Miss Gallacher.
SERIAL STRANGLER: A TIMELINE OF ANGUS SINCLAIR'S SICK CRIMES
1961: Sinclair was jailed for culpable homicide after sexually assaulting and strangling seven-year-old Catherine Greenhill to death. He was sentenced to 10 years but was free to offend again after just six.
1977: Police fear Sinclair went on a murderous spree between June and December 1977, when he throttled and killed Miss Scott and Miss Eadie.
1978: Sinclair killed again in November 1978, raping, strangling and stabbing Mary Gallacher, 17, in Glasgow.
1978 - 1982: Sinclair raped and indecently assaulted 11 other young girls, some as young as six, over the next four years and was eventually handed a life sentence for his crimes.
1996: Sinclair's brother-in-law Gordon Hamilton dies, meaning he cannot be tried for any involvement in Miss Scott and Miss Eadie's deaths.
2001: It was not until 2001 that improved DNA technology linked him to the body of Miss Gallacher. He was convicted of her murder shortly afterwards.
2007: 30 years after Miss Scott and Miss Eadie were killed, a review of the World's End murders led to a trial, but it collapsed.
2014: Sinclair is jailed for life for the World's End murders.
ADVANCES IN FORENSIC SCIENCE BROUGHT ANGUS SINCLAIR TO JUSTICE
The two girls' bodies were discarded with such casual contempt that, surely, they must have held an abundance of clues.
These were not so much careful, calculating killers as shameless savages who exhibited the extent of their depravity in the state in which they left their victims.
Christine Eadie was found on her back, her wrists bound with one leg of her tights. The other leg had been used to strangle her. Her pants were stuffed into her mouth and her bra was around her head, holding the gag in place. She had been beaten, bitten and raped.
Helen was found hours later, face down, naked below the waist, her coat belt binding her hands and Christine's belt around her neck. There was a stamp mark on the side of her head with a tread pattern that matched a footprint at the site where Christine was found. She had been raped too and may well have watched her friend die before the killers turned on her.
These were brazen, sexually motivated murders which cried out for justice. And yet, for almost 40 years, none came.
In the 1970s, forensic science was a much blunter instrument in crime detection than it is today. DNA profiling would not be known for a decade or more. But there was still plenty to be gleaned from old-fashioned police work. Eyewitness accounts, for one. The World's End pub had been packed when Christine and Helen arrived there with their friends Toni Wale and Jacqueline Ingles shortly before 10pm on October 15, 1977. Someone inside must have seen the two girls after Toni and Jacqueline last did.
It turned out quite a few had. But, even in those early days of the murder inquiry, a streak of cruel luck was hampering it. Virtual doppelgangers for Christine and Helen had been in the pub just before they arrived. Many of those who gave information had seen the 'wrong' girls.
Those who really had seen Christine and Helen told of two men who had been in their company. The stockier one wore trousers with distinctive patches at each pocket. His friend had a thick, dark moustache.
Policeman John Rafferty came closest to witnessing the tragedy unfold. As the pub closed, the 50-year-old officer had seen Christine fall and had helped her to her feet. He then became aware of a man staring at him close to the door of the pub. He stepped forward and offered the girls a lift to 'wherever they wanted to go', recalled Mr Rafferty.
The policeman next saw the girls heading down St Mary Street with the same man and another. For years, speculation would run riot about the identity of these two men. Were they the killers? The truth would finally come from the unlikeliest of sources – Sinclair himself, when he made the unwise choice to take the stand and confirmed that he and his brother-in-law Gordon Hamilton had spirited the girls away that night.
Back in 1977, detectives spent a great deal of time trying to track those men down. The manpower Lothian and Borders police threw into the murder hunt was unprecedented. At its height, 60 officers were working full time on the case. They chased up numerous leads, many of which turned out to be entirely false. One witness in the pub thought one of the two men seen with the girls mentioned an army background. And one of them had an unfashionably short haircut. As a result, every squaddie in Scotland was spoken to.
Underworld figures, such as Glasgow crime boss Arthur Thompson and his son Arthur jnr were also interviewed – but that was only because their enemies had passed false information to the police just to needle the Thompsons.
There was precious little in the way of clues which might have pointed Sinclair's way. But one was the sighting of a van outside the World's End pub, and a similar one parked outside a phone box in the East Lothian village of Drem, three miles from where Helen's body was found in a field near Haddington.
Sinclair had a Toyota Hiace camper van. Could this have been the vehicle which was seen?
Then there were the knots in the ligatures. Those binding Christine were reef knots – indicative of a killer with knowledge of knot-tying. As it happened, Sinclair had made fishing nets during his first spell in prison. A much more rudimentary granny knot had been used to bind Helen, which suggested two men were involved.
There were other reasons to suspect two killers. Two would be able to control a couple of teenagers, possibly fighting for their lives, much more easily than one.
By spring 1978, the investigation was running out of steam. Mountains of files, statements, tip-offs and eye-witness accounts seemed to point nowhere in particular.
Effectively, the case remained in cold storage for a decade. Significantly, however, all the girls' clothes were scrupulously preserved.
This, police say today, was testament to the determination of everyone involved with the case to ensure whoever was responsible for such a horrifying crime would be caught.
It was as if they somehow knew that, one day, science would have much more to say about the evidential material stored in the police archives.
In 1988 a prisoner at Edinburgh's Saughton jail claimed he had heard two inmates talking about the murders in a way that suggested inside knowledge. Archy Motion and Colin Coyne were each interviewed but turned out to have alibis for the time of the murders.
The episode did prompt a fresh look at the case, however, and a very basic DNA profile from a semen stain on Helen's coat was extracted. But no match was found.
By 1996 huge advances in DNA profiling allowed a 12 band profile to be extracted from the same stain and for this to be checked against the new national DNA database set up the previous year. But again there were no matches.
Police therefore tried a different approach. They began a process of 'intelligence-led DNA swabbing' involving hundreds of potential suspects who were not on the database. Those approached for swabs were promised their DNA profiles would be checked for this case only and then destroyed. In order to rule themselves out, the vast majority were happy to comply.
It was a massive exercise which took several years but, ultimately came to nought because the DNA profile police held belonged to a man who was not on the database. Gordon Hamilton had died in 1996 and it was simply bad luck they had not managed to extract Sinclair's DNA.
But their luck was about to change. In 2000, during another cold case review, forensic scientist Lester Knibb untied the knots on the tights used to strangle the girls.
From the material which had been inside the knots a 'soup' of DNA belonging to more than one person was recovered. Nothing of use could be extracted from it at the time but this area of science was moving very quickly. In time, DNA profiles corresponding with both girls and both killers would be found in the knots.
In the meantime, a new DNA process involving the comparison of Y chromosomes, which are passed down the male line, was coming on stream. A previously untouched section of staining on Helen's coat yielded two DNA profiles, a dominant one and an underlying one.
A police source said: 'The dominant one gave sufficient material to do a low copy profile and we got a completely different DNA profile coming up. We ran it on the DNA database and it came back as Angus Robertson Sinclair. I knew of him. He was in jail for murder.'
At long last, police had a name. Not only did his DNA profile fit, his criminal profile fitted too. Any officer examining his record would have had no difficulty in believing the Glasgow-born monster was capable of committing the World's End murders.
But whose was the mystery DNA profile? A thorough trawl of Sinclair's past associates threw up the answer. Hamilton had entered Sinclair's orbit when he came to stay with his sister Sarah Hamilton in Glasgow. Sinclair, a painter and decorator, was her husband.
In the summer of 1977 the two men planned a series of weekend trips in Sinclair's van. They were supposedly fishing trips, but there was no evidence of fish having been caught when they returned home.
What were they really doing on these trips? Hamilton, dead for ten years, was in no position to tell detectives. And Sinclair, in prison since 1982, was not of a mind to do so.
Ultimately, a search of a flat in Glasgow's Dennistoun would provide the DNA match that proved Hamilton was Sinclair's accomplice. Hamilton had erected ceiling coving when he lived in the flat and had left his DNA on it. Thirty years after the atrocity, detectives finally knew who was responsible for it. The answer was a serial killer and his loner, misfit brother-in-law.
Nothing that happened in the subsequent trial of Sinclair in 2007 altered the police's view of who was behind the murders.
Instead, when the case collapsed following a motion of no case to answer from Sinclair's counsel Edgar Prais, QC, police voiced astonishment.
Sinclair had lodged a special defence of incrimination, blaming his dead brother in law for the murders. But seven years later, there was no mistake.
Angus Sinclair, a man without compassion or remorse, was the serial killer responsible for two of Scotland's most chilling murders. It had taken much too long to nail him.
HISTORIC TRIAL: FIRST CONVICTION UNDER NEW 'DOUBLE JEOPARDY' LAW
Sinclair's retrial for the brutal murders of Christine Eadie and Helen Scott was the first to take place following changes made in Scotland three years ago to the centuries-old 'double-jeopardy' principle, which prevented a person being tried twice for the same crime.
The 2011 move paved the way for prosecutors to end Sinclair's 37-year evasion of justice for the killings which shocked Scotland.
When Sinclair's first trial for the teenagers' murders collapsed in 2007 at the High Court in Edinburgh, it seemed the victims' relatives would always be denied the justice they had craved for their loved ones for so long.
Immediately after the case fell through, Miss Scott's father expressed his belief that Sinclair was involved in his daughter's death and stated: 'I am absolutely shattered - words can't explain how I feel.
'Thirty years of trying to get a conclusion ... I promised I would stick by this and get justice which, honestly, I don't think I got today.'
A number of years would pass before hopes of seeing Sinclair once again in the dock for Christine and Helen's murders looked like they could become a reality.
Towards the end of 2011, the legislation which aimed to allow the retrial of suspects who may have escaped punishment in the past came into force.
The double jeopardy principle - which stopped an acquitted suspect being tried again - was enshrined in law but exceptions were now permitted.
Under the Double Jeopardy (Scotland) Act, a suspect could face retrial for a very serious crime if 'compelling new evidence' emerged, if the original trial was tainted or where a suspect admitted the offence.
In Sinclair's case, events moved at a pace. Within months, a new investigation into the World's End murders was launched under the new double jeopardy laws and prosecutors were soon applying for him to have a retrial.
Once granted, the current Lord Advocate, Frank Mulholland QC, decided to personally take charge of prosecuting the case - a sign of how much the Crown wanted the verdict in the landmark trial to go their way.
Speaking after Sinclair's conviction and sentencing, Mr Mulholland said: 'The guilty verdict against Angus Sinclair was only made possible after the Scottish Government modernised our legal system by passing the double jeopardy law.
'I gave the relatives my personal commitment that the Crown would do everything possible to ensure they received justice.
'The introduction of the double jeopardy law meant I was able to apply for a retrial of Angus Sinclair as Scotland's first under this legislation.
'As Lord Advocate I considered it my public duty to personally prosecute such an important case.
'It was important for the families of Helen and Christine, and in the public interest, that this case was finally resolved and justice was delivered.'
---
World's End Murders
The World's End Murders is the colloquial name given to the murder of two teenage girls, Christine Eadie, 17, and Helen Scott, 17, in Edinburgh, in October 1977. The case is so named because both victims were last seen alive leaving the World's End Pub in Edinburgh's Old Town. The only living person to stand trial accused of the murders, Angus Sinclair, was acquitted in 2007 in controversial circumstances. Following the amendment of the law of double jeopardy which would have prevented his retrial, Sinclair was re-tried in October 2014 and convicted of both murders on 14 November 2014.
Sinclair has been described as Scotland's worst serial killer. He is thought to have killed four other women, in addition to Eadie and Scott, all within a seven-month period.
Background
On the night of 15 October 1977, Christine Eadie and Helen Scott were seen leaving the World's End Pub at closing time, the final stop on a Saturday night pub crawl. The following day, Christine's naked body was discovered in Gosford Bay, East Lothian, by hill walkers. Helen's body was found unclothed six miles away from Christine's, in a corn-stubble field. Both girls had been beaten, gagged, tied, raped and strangled. No attempt had been made to conceal their bodies.
In late 1977, Lothian and Borders Police conducted a high-profile criminal investigation, collating a list of over 500 suspects and taking over 13,000 statements from members of the public. Despite their efforts, they were unable to identify a culprit. The case commanded widespread attention in the Scottish media at the time, and a photo-booth picture of the two girls was used by police in their appeals for information.
At the time, the media reported that several witnesses had told police they had seen Helen Scott and Christine Eadie sitting near the public telephone in the bar, talking with two men. Neither of these men have been traced or since presented themselves to police. Speculation that the killings had been the work of two men was heightened when it was revealed that the knots used to tie the girls' hands behind their backs were of different types.
In May 1978, Lothian and Borders Police announced that they were scaling down the investigation.
Cold case review
In 1997, Lothian and Borders Police's cold case unit instructed further forensic work to be undertaken in the case, reflecting improvements in DNA profiling technology since the murders occurred. This resulted in the isolation of a DNA profile of a male, found on both girls. The DNA of the original 500 suspects was analysed and compared to the new sample, but there was no match.
On 8 October 2003, following the broadcast of a reconstruction on the BBC's Crimewatch programme, the incident team at Lothian and Borders Police received a phone call from a man who claimed he was walking near Gosford Bay on the night of the murders, and that he saw a suspicious vehicle. He said it was a works van and it was being driven erratically. The man did not come forward with this information during the initial investigation. It was revealed that immediately following the 2003 Crimewatch broadcast, police had received 130 calls from witnesses who had not previously made themselves known to the investigation.
On 15 October 2003, it was reported in the press that Lothian and Borders Police had enlisted the help of the Forensic Science Service (FSS) to try and determine the identity of the person whom the unknown DNA sample belonged to. The unknown sample partially matched over 200 profiles in the National DNA Database.
On 25 November 2004, Angus Robertson Sinclair, a man who lived in Edinburgh at the time of the murders, was detained under section 14 of the Criminal Procedure (Scotland) Act 1995 in connection with the murders. Mouth swabs were taken for analysis.
On 31 March 2005, Sinclair was arrested and charged by Lothian and Borders Police. On 1 April 2005, he appeared on petition, in private at Edinburgh Sheriff Court, charged with the murder and rape of the two girls in October 1977. He made no plea or declaration at this time and was remanded in custody.
HM Advocate V Sinclair (2007)
Trial diet
On 27 August 2007, the trial of Angus Sinclair got under way in Court 3 at the High Court of Justiciary in Edinburgh. The presiding judge was Lord Clarke. The prosecution was led by advocate depute Alan Mackay, and the defence by Edgar Prais QC.
The indictment alleged that on the night of 15–16 October 1977, Sinclair and Gordon Hamilton (Sinclair's brother-in-law who had since died) persuaded or forced the girls into a motor vehicle and held them against their will, in St Mary's Street, near the World's End pub. It was alleged that he then drove Eadie to Gosford Bay, Aberlady, and there or elsewhere attacked, stripped and gagged her with her underwear, and tied her wrists, before raping her and then killing her by restricting her breathing. He was further accused of raping and murdering Scott in the same way and driving her to a road near Haddington, and in a field there or elsewhere in Edinburgh and East Lothian attacking her.
Sinclair pleaded not guilty to rape and murder. At the commencement of the trial diet Sinclair lodged two special defences, one of consent and one of incrimination, stating that any sexual activity between him and the two girls had been consensual, and furthermore if they had come to any harm, the person responsible was Gordon Hamilton.
The jury of nine women and six men began hearing evidence on 28 August 2007. No eyewitness evidence was led; the Crown case was wholly circumstantial.
On 3 September 2007, the advocate depute led evidence from detective constable Carol Craig, who spoke to the fact that Angus Sinclair owned a Toyota Hiace caravanette at the time of the murders, that he had since had destroyed. As a result, she confirmed that police were unable to carry out forensic tests on any of the fabrics or seat upholstery inside the vehicle.
On 4 September 2007, a forensic scientist, Martin Fairley, gave evidence that semen obtained from a vaginal swab of Ms Eadie, and semen obtained from a vaginal swab of Scott shared the same DNA profile.
On 7 September 2007, another forensic scientist, Dr Jonathan Whitaker, gave evidence that semen matching swabs taken from Angus Sinclair was found mixed with cells with the same DNA profile as Scott, on a coat belonging to Scott. He also told the court how brothers and sisters of Sinclair's dead brother-in-law, Gordon Hamilton, had provided samples for DNA testing, and that the results of these tests had been compared with the semen found in the bodies of the victims. He explained that the results obtained are what he would expect, if semen found in the victims had come from a brother of the surviving Hamiltons. Whitaker was the final witness in the Crown case.
No case to answer submission
On the afternoon of 7 September 2007, senior counsel for the defence, Edgar Prais QC, made a submission under section 97 of the Criminal Procedure (Scotland) Act 1995, that Sinclair had no case to answer in respect of the charges libelled, due to an insufficiency of evidence. In particular, he contended that the Crown had failed to lead evidence that Angus Sinclair had been involved in acting with force or violence against the girls, and that the advocate depute had not led evidence to prove that any sexual encounter between the panel and the girls had not been consensual.
On 10 September 2007, following legal arguments on the matter, the trial judge Lord Clarke upheld the defence submission of no case to answer, and formally acquitted Sinclair.
Aftermath
Following the conclusion of the trial it was revealed that Angus Sinclair is a convicted murderer and serial sex offender, who is currently serving two life sentences at HMP Peterhead. In 1961, he pleaded guilty and was convicted of the culpable homicide of eight-year-old Catherine Reehill and served six years in prison. In 1982, he pled guilty to 11 charges libelling various rapes and indecent assaults committed against young boys, and was sentenced to life imprisonment. In June 2001 he was given another life sentence for the murder of 17-year-old Mary Gallagher in November 1978. The teenager had been dragged into bushes, sexually assaulted, had had her throat cut and a ligature tied round her neck. Again Sinclair failed to accept any responsibility for the crime and denied all knowledge. This despite being found guilty by a majority verdict and faced with the reality that the chances of a DNA sample matching anyone other than Sinclair, were "a billion to one." Sinclair was only caught after a cold case review by Strathclyde Police revealed the presence of new DNA evidence not uncovered during the initial investigation.
News of the verdict drew widespread comment and criticism in the Scottish press. Such was the level of public and media interest in the outcome of the case, on 13 September 2007 the Presiding Officer of the Scottish Parliament took the unusual step of allowing the then Lord Advocate, Elish Angiolini, to address parliament on the matter. The Lord Advocate read a prepared statement to the chamber setting out the narrative of the Crown case and explaining her reasoning for deciding to prosecute. She is recorded in the official transcript of her address as saying that she was 'disappointed' with the result, and that she 'was of the clear opinion that the evidence that was made available to the court was sufficient to put before the jury to allow it the opportunity to decide on the case against Sinclair'.
In response, on 26 September 2007 the then Lord Justice General, Lord Hamilton, took the unprecedented move of publicly criticising the Lord Advocate's decision to address parliament on the case. In an open letter, Lord Hamilton wrote, 'the plain implication from your statements is that you were publicly asserting that the decision of the trial judge was wrong' and explained that her actions could be seen to 'undermine public confidence in the judiciary'.
In the following weeks several eminent former Scottish judges became involved in the debate. On 28 September 2007, former Solicitor General and retired Senator of the College of Justice, Lord McCluskey, gave an interview to The Herald stating that he believed Lord Hamilton had no grounds to accuse Elish Angiolini of threatening the independence of the judiciary. He is quoted as saying, 'He's quite wrong. What he fails to see is that it is sometimes essential for a minister to comment upon a case. It happens all the time in parliament'.
Another retired Senator of the College of Justice, Lord Coulsfield, gave an interview on BBC Scotland's Sunday Live Programme, stating that 'The real issue here is whether a decision of the magnitude that Lord Clarke had to take should always be taken by a single judge'.
Legal consequences
The furore surrounding the outcome of the case led to a far-reaching and systematic review of Scottish criminal procedure. On 20 November 2007, the Cabinet Secretary for Justice, Kenny MacAskill MSP, referred several issues arising out of HMA V Sinclair to the Scottish Law Commission for investigation.
On 31 July 2008 the Scottish Law Commission published its first report, on the issue of Crown appeals. On 2 December 2008 the Commission published its second report, on the issue of double jeopardy. The commission published its final report, on the admissibility of bad character and similar fact evidence in criminal trials, in late 2012.
On 30 June 2010, the Scottish Parliament passed the Criminal Justice and Licensing (Scotland) Act 2010. Following on from the recommendations of the Scottish Law Commission, sections 73-76 of the act makes provisions for Crown rights of appeal against certain decisions taken by a trial judge sitting in solemn cases. Amongst other things, it provides a mechanism for Crown appeals against rulings on no case to answer submissions. On 28 March 2011, sections 73-76 of the Criminal Justice and Licensing (Scotland) Act 2010 came into force.
On 22 March 2011, in direct response to the Scottish Law Commissions findings on the issue of double jeopardy, the Scottish Parliament passed the Double Jeopardy (Scotland) Act 2011. The act makes various provisions for circumstances when a person convicted or acquitted of an offence can be prosecuted anew.
HM Advocate V Sinclair (2014)
On 14 March 2012, the Crown Office issued a press statement saying that the Procurator Fiscal had instructed Lothian and Borders Police to re-open the investigation into the murders of Christine Eadie and Helen Scott, following the introduction of the Double Jeopardy (Scotland) Act 2011.
Three judges set aside eight days of court time in October 2013 to hear a bid from prosecutors pressing for Sinclair to stand trial for the second time. On 15 April 2014, the Crown was granted permission to bring a new prosecution against Angus Sinclair.
The trial commenced on 13 October 2014 at the High Court of Justiciary sitting in Livingston, West Lothian. The prosecutor was Frank Mulholland, the Lord Advocate, and the judge was Hugh Matthews, Lord Matthews. At one stage the jury visited the scene of the murders in East Lothian. On 14 November 2014, Sinclair was convicted of the murders of Helen Scott and Christine Eadie on 15 October 1977. Sentenced to a minimum prison term of 37 years, Angus Sinclair would be 106 years old before being eligible for parole.
Wikipedia.org