Amanda HAMM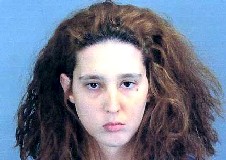 Classification: Murderer
Characteristics: The children died when the car they were in plunged off a boat ramp into Clinton Lake
Number of victims: 3
Date of murders: September 2, 2003
Date of arrest: Same day
Date of birth: 1979
Victim profile: Her three children, Christopher Hamm, 6, Austin Brown, 3, and Kyleigh Hamm, 1
Method of murder: Drowning
Location: Clinton Lake, DeWitt County, Illinois, USA
Status: Convicted of child endangerment that resulted in death but acquitted of first-degree murder charges and sentenced to 10 years in prison. Released on September 9, 2008
---
Amanda Hamm Released from Prison
Amanda Hamm Goes Home After Serving Five Years in the Deaths of Her Three Children
By Penny Clifton Pennell - Voices.yahoo.com
September 10, 2008
Amanda Hamm, the young mother imprisoned for child endangerment that resulted in death, was released from Dwight Correctional Institute on September 9, 2008. She had served five years of a 10-year sentence for the deaths of her three children, Christopher, age 6; Austin, age 3; and Kyleigh, age 23 months. The story made headlines around the globe.
The three children were buckled into their mother's vehicle in September 2003 when it rolled into Clinton Lake in Clinton, Illinois. Hamm and her then-boyfriend, Maurice LaGrone, stood on the boat ramp as the car became submerged in approximately 4 feet of water. Christopher and Austin were pronounced dead that day. Kyleigh died the next day in a Peoria-area hospital.
I assisted in the coverage of this story while working as a journalist for a newspaper in Clinton. Shockwaves were felt throughout the community, as this type of crime didn't occur in Clinton, Illinois. The media swarmed the town, with the Associated Press setting up camp in my office and MSNBC, CNN, and newspapers from miles away make Clinton their home. Clintonians were upset at the media attention, and would often drive by the courthouse yelling out their car windows for the media to pack it up and go away.
Needless to say, the small bedroom community was divided on their opinions and theories as to what happened that tragic evening. Many believed that Hamm was controlled by LaGrone, and that he manipulated her into committing the crime in order to give them the freedom they desired. Some believed that Hamm was fully aware of what she was doing and that she participated in killing the children. Many compared this tragedy to that of Susan Smith, who allowed her car to roll into lake John D. Long in South Carolina while her two young boys were buckled in the back seat.
Hamm's mother, Ann Powers, has worked for the DeWitt County State's Attorneys office for years. A special prosecutor was assigned to the case to avoid any conflict of interest. It was Powers and her husband, Lindy, who picked Hamm up from prison and she was whisked away to an undisclosed location. They refused to comment to the media.
Around the country, many protested the vast differences in the sentences received by Hamm and LaGrone. While Hamm was convicted of child endangerment that resulted in death and sentenced 10 years, LaGrone was convicted of murder and sentenced to life in prison. He is serving his time in Pontiac, Illinois. Ironically, this prison is being threatened with closure due to lack of funds. Many people believe LaGrone's sentence was much stiffer because he is black
At age 32, Hamm is still young enough to start a new life and even have more children. It is unknown where she will now make her home.
---
Clinton drownings mother out of prison
Hamm convicted of child endangerment in 2003 deaths of three children
Pjstar.com
September 9, 2008
CLINTON — A central Illinois woman convicted of watching as a car with her three children sank in Clinton Lake five years ago walked out of prison Tuesday after being released on parole.
Amanda Hamm made no comment as she left the Dwight Correctional Center with her mother and stepfather Tuesday morning. Convicted of child endangerment, Hamm spent a year and seven months in custody after spending more than three years in jail awaiting trial.
While Hamm reportedly headed to a Chicago halfway house, some people in Clinton, the small town where she and her children lived, wondered aloud why Hamm is free after serving just less than five years, while her boyfriend, Maurice LaGrone Jr., is still locked up. LaGrone is serving a life sentence after being convicted in 2006 of first-degree murder.
Others in town, though, said they wouldn't judge the 32-year-old Hamm. One, a retired Methodist minister who visited Hamm behind bars and exchanged letters with her, said she'll probably never be free.
"With a tragedy like this, I don't know that you ever really get out of that prison," said Don Ferrill, 77, who lives in Clinton, about 35 miles south of Bloomington. "It's not like there's an end to this."
Hamm declined to answer reporters' questions outside the prison Tuesday. But her mother, Ann Powers, told The (Bloomington) Pantagraph that the family has "a long road ahead of us even after Amanda is released. We just want to move forward."
Hamm was convicted of child endangerment in 2006 in the September 2003 deaths of 6-year-old Christopher Hamm, 3-year-old Austin Brown and 23-month-old Kyleigh Hamm. Prosecutors say Hamm and LaGrone plotted to drown the children in Clinton Lake because they got in the way of the couple's relationship.
LaGrone and Hamm insisted in their trials that the deaths were an accident and the car rolled down a steep boat ramp into 4 1/2 feet of water after LaGrone parked too close to the edge.
Hamm initially faced murder charges and the prospect of a death sentence, but her lead attorney, Steven Skelton of Springfield, convinced a judge to allow jurors to consider the lesser child endangerment charge alongside murder.
Jurors in McLean County acquitted Hamm of murder, choosing the lesser charge. The judge sentenced her to 10 years in prison, half of the potential maximum, something that angered the fathers of the three children and the men's families.
She'll have to undergo mental health counseling and meet with drug- and alcohol-abuse counselors, who will decide if she needs treatment, said Ken Tupy, an attorney with the state Prisoner Review Board.
Ferrill, who greeted Hamm outside the prison in Dwight - about 60 miles northeast of Bloomington - said Hamm was headed Tuesday to a halfway house in Chicago. Tupy and Department of Corrections spokesman Derek Schnapp declined to discuss Hamm's destination.
During her February 2007 sentencing, Hamm insisted she was innocent. But she told the court she regretted her relationship with LaGrone.
On Tuesday, a number of people in Clinton and a relative of one of the children wondered why Hamm and LaGrone hadn't been convicted of the same charges and why she is free while he is not.
"Her kids are dead; she's at least partly responsible for that," said Dan Senters of nearby Waynesville. He is a cousin of Shane Senters, Kyleigh Hamm's father.
But a few others were unwilling to judge Hamm or the justice system.
"That's between her and the Lord," said Jerry Watkins, who owns a downtown clock and jewelry shop. Of her release, Watkins said, "That's the way the law seen it."
Ferrill said he doesn't know Hamm's plans. Much of her family, including her mother, still lives in Clinton.
Some residents said Tuesday they couldn't imagine Hamm living among Clinton's 2,500 residents.
"I don't know how she could show her face in town," said Marilynn Blair, a mother of five.
Ferrill said he met Hamm in the DeWitt County Jail, not long after her arrest. He isn't her family's minister but said they started meeting regularly and exchanging letters while Hamm was in prison.
The minister said he found Hamm to be smart and a good writer, but someone who "didn't give a hoot" when she was younger, leading her to quit school and make a lot of bad decisions.
Ferrill said he has no idea exactly what happened when the children died or what led to their deaths.
"I don't know if she and Maurice knows what happened," he said.
---
Illinois mom sentenced to 10 years in lake drownings of 3 children in car
USAToday.com
February 1, 2007
CLINTON, Ill. (AP) — A woman convicted of letting her three young children drown in a car that sank in a lake was sentenced Thursday to 10 years in prison.
Amanda Hamm, 30, was convicted in December in the deaths of Christopher Hamm, 6, Austin Brown, 3, and Kyleigh Hamm, 1, who were trapped in the car in Clinton Lake in 2003. She was cleared of first-degree murder charges that would have sent her to prison for life.
Prosecutors allege Hamm and then-boyfriend Maurice LaGrone Jr. planned the deaths because the children were in the way of their relationship. Hamm and LaGrone, who was convicted of first-degree murder, have maintained the car accidentally rolled into the water as LaGrone tried to back up from a boat ramp.
Hamm had faced a sentence ranging from probation to 20 years.
Before her sentencing, Hamm tearfully asked the judge for mercy, saying that she never wanted to cause her children any harm and regrets forming a relationship with LaGrone.
Hamm told the judge that she loved her children and regrets forming a relationship with LaGrone. She also said she was looking to the future, noting that outlook seemed selfish because her children have none.
"I cannot change what has occurred but I can, and will, try to live my life in a way which will be pleasing to them ... ," Hamm said.
Prosecutor Ed Parkinson, who had sought a 20-year prison sentence, said he was disappointed because justice wasn't done for the children.
Hamm could be released in 14 months, with credit for more than three years she already served awaiting trial and sentencing and credit for good behavior, her attorney said.
The judge said his sentence was based in part on Hamm's potential for rehabilitation and he did not believe she'd commit a similar crime again. He said it also factored in her failure to protect the children and sends a message to deter others from such crimes.
LaGrone, 31, serving a life sentence without a chance of parole, has appealed his conviction.
---
Amanda Hamm sentenced to 10 years in prison
Time served, good time could reduce term to 14 months
By Edith Brady-Lunny - Pantagraph.com
February 1, 2007
CLINTON - Amanda Hamm was sentenced to 10 years in prison for her role in the drowning deaths of her children, but the time she's already spent in jail means she likely will be released in a little more than a year.
Reactions ranged from rage to tears of joy outside the courtroom Thursday after she was sentenced on child endangerment charges.
The Clinton mother showed no emotion as Judge Stephen Peters handed down the sentence, which could have been as long as 20 years in prison.
"I am now faced with a life that holds promise for me and my future and realize how ironic this must sound because Christopher, Austin and Kyleigh no longer have similar horizons to look forward to," Hamm told the court.
She was convicted in December of child endangerment but acquitted of first-degree murder charges in the September 2003 drowning deaths of Christopher Hamm, 6, Austin Brown, 3, and Kyleigh Hamm, 23 months, in Clinton Lake.
Hamm's former boyfriend Maurice LaGrone Jr., 31, is serving a life sentence for first-degree murder in the deaths of Hamm's children. He was convicted in April.
Defense attorney Steve Skelton said after the hearing that Hamm could spend slightly more than a year in prison after she receives credit for three years in the county jail awaiting trial and day-for-day credit available to her for good behavior in prison.
"Now Amanda is looking at a release date 14 months from today," said Skelton.
Skelton called the verdict "excellent." He said Hamm was prepared for the possibility that the judge could give her the maximum sentence of 20 years in prison.
Skelton had asked the court to consider a sentence of eight years.
Hamm's mother, Ann Powers testified at the sentencing hearing that her daughter has matured since her arrest.
"She's paid the ultimate price by losing her kids because of abuse and she's finally come to accept how she needs to change her life. She realizes she's worth more than that," Powers said.
Special prosecutor Roger Simpson asked Powers her opinion as to what justice the children deserved.
"I don't know how to answer that. I loved my grandchildren, and I love my daughter," Powers responded.
Family reaction
Greg Hamm, the father of Christopher, brushed past reporters after the hearing. When asked his reaction to the judge's decision, he yelled an obscenity on his way out of the building.
Craig Brown said the sentence minimizes the death of his son, Austin. He said Hamm's statement to the judge Thursday was the first statement she has made since her arrest.
"She came in here to try to get the least amount of sentence possible. Then she speaks up," Brown said.
Hamm was convicted by a Macon County jury of three counts of child endangerment, a lesser charge that was added as an option while she was on trial on nine counts of first-degree murder.
Special prosecutor Ed Parkinson joined family members in their disapproval of how the case concluded.
"This case is about three dead children. It's not about all the scientific crap we've heard the last three years. I'm disappointed in the verdict and sentence," Parkinson said.
Peters told the large audience in the courtroom that he took several factors into consideration in his decision to give Hamm 10 years. A prior record that included numerous traffic violations and five misdemeanor convictions was taken into account along with the potential to rehabilitate Hamm.
Peters said testimony at both trials indicated that Hamm knew her children were physically and emotionally abused by LaGrone. Hamm's boyfriend admitted he put Austin's head in the oven as a so-called prank.
"These were three children who had no means of defending themselves," Peters said.
LaGrone previously claimed it was another prank to scare the children that led him to park Hamm's car close to the water on the lake's boat ramp. The car ended up rolling into the water and sinking with the three children in the back seat.
Hamm and LaGrone said they escaped from the car but could not save the children.
The judge also noted that Hamm used illegal drugs during the year she and the children lived with LaGrone.
In arguments for a maximum sentence of 20 years, the prosecution disagreed with testimony from Hamm's mother.
"Amanda Hamm has not paid the ultimate price. Her children paid the ultimate price," Simpson said.
Simpson contended Hamm was responsible for the children's deaths because she put her boyfriend's needs over those of the children.
"This was a crime of selfishness," Simpson said.
*****
Drownings case summary
The case: Amanda Hamm and then-boyfriend Maurice LaGrone Jr. were both charged with first-degree murder in the deaths of Hamm's three children, who drowned after the family's car sank off a boat ramp at Clinton Lake on Sept. 2, 2003.
The arguments: Prosecutors alleged LaGrone plotted the killings because the children hampered his sex-and-drugs lifestyle and Hamm went along with the plan to save their troubled and sometimes abusive relationship. Hamm and LaGrone maintained the drownings were a tragic accident that occurred when the car rolled into the lake during a family outing.
The verdicts: A Macon County jury cleared Hamm of murder charges in December, but convicted her on lesser charges of child endangerment. Her attorney, Steve Skelton of Bloomington, said the verdict indicates jurors didn't believe Hamm helped plan the killings, but knew LaGrone was a threat to her children. LaGrone was convicted of murder by a McLean County jury in April. Jurors said afterward they did not believe LaGrone meant to kill the children, but should have known his actions put the youngsters in harm's way.
The sentences: Hamm was sentenced Thursday to 10 years. LaGrone is serving a life sentence without the chance of parole.
The appeals: Skelton plans to appeal her conviction, and has filed post-trial motions seeking her release, or a new trial. LaGrone's appeal is pending; he argues a judge erred when he rejected a defense bid to offer jurors a lesser charge of involuntary manslaughter.
---
Motive For Drowning Children?
CBSNews.com
December 5, 2006
A woman accused of drowning her three young sons had asked her mother to take custody of two of the children so she could move to St. Louis with her boyfriend, the mother said.
Separately, Amanda Hamm's ex-husband, Shane Senters, said Hamm had also discussed her plans with him.
"She didn't think she could take all the kids with her, but I never thought anything would happen," Senters, the father of one of the boys, told WCIA-TV of Champaign.
Hamm, 27, and her boyfriend, Maurice Lagrone Jr., 28, are charged with murder in the drowning deaths of her children, 6-year-old Christopher Hamm, 3-year-old Austin Brown and 23-month-old Kyleigh Hamm.
The children died when the car they were in plunged off a boat ramp into Clinton Lake on Sept. 2. Hamm and Lagrone were on the lakeshore when rescuers arrived. Both remain in custody on $5 million bond.
Two hours after Hamm cried as a judge read the first-degree murder charges against her, her mother, Ann Danison, said she couldn't help but wonder if she could have averted the tragedy.
"She was my only child. My only grandkids. I don't have any more," Danison said, her voice breaking. "And I'll never have them."
Danison said Hamm had asked her to care for two of her sons so she could move to St. Louis with Lagrone. But Danison told her she could take only Christopher.
Speaking to The Associated Press in her home, Danison said she "hurt for" Hamm when she saw her in court, "but at the same time I was mad, too."
Danison said she believes Hamm is guilty but that Lagrone somehow "brainwashed" her into believing she was doing the right thing.
"Amanda is not a violent person. What she did was wrong. I can't accept what happened," Danison said.
Authorities have refused to disclose a motive in the case, although they say they have one and that it doesn't involve life insurance money. The case is being handled by a special prosecutor because Danison is the office manager for the state's attorney.
It sounds awful, but parents who kill their children are not as uncommon as most people would believe. CBS News Correspondent Cynthia Bowers reports, surprisingly, 1 in 3 children under the age of 5 who are killed in this country, are murdered by their mother. And one of every 33 homicides in this country is a parent killing a child, including 450 times last year, Bowers reports.
Hamm's court-appointed attorney, Steve Skelton, said he may ask to move the trial from Clinton, a central Illinois town of about 7,500. "The massive amount of media coverage makes a fair and impartial trial in the current venue unlikely," he said.
Lagrone has not yet hired an attorney.
Danison described her daughter as a high school dropout who had been treated for alcohol abuse but who seemed to calm down after becoming a mother.
"Amanda's a very depressed person, low self-esteem, very insecure. But she'd laugh with the kids. She always had a great Christmas for them. ... She'd plan for their birthdays," Danison said.
Danison said she didn't approve of Lagrone because he couldn't hold a job and wouldn't care for the children, although he played with them.
Preliminary hearings were set for Jan. 7.
---
Family left wondering after 3 children drown
By Jim Paul - Associated Press
Athens Banner-Herald
Sunday, December 14, 2003
CLINTON, Ill. - Family photographs show a happy, loving mother, smiling broadly with her firstborn son on a vacation, and later watching as the growing boy cradles his baby brother on his lap.
A far different picture has emerged in the past week, however, since Amanda Hamm and her boyfriend were arrested on murder charges alleging they put her two sons and infant daughter in a car and then watched as it rolled into Clinton Lake, drowning the children.
Hamm's life has been complicated, says her mother and others who know her. The children were born of three different relationships, she had low self-esteem and she had been treated for alcohol abuse.
But she kept her children healthy and well-fed while she worked, mostly as a waitress, to support them, said her mother, Ann Danison.
''She took them to the park. She got them involved in swim lessons,'' Danison said. ''She loved her kids.''
By all accounts, 6-year-old Christopher Hamm, 3-year-old Austin Brown and 23-month-old Kyleigh Hamm were happy children.
Austin's father, Craig Brown, described his son as a jokester and very smart. ''He had to be to come up with some of the stories he told,'' Brown said.
Christopher loved the Chicago Cubs and basketball. Kyleigh was easygoing and quiet, Danison said.
DeWitt County Sheriff Roger Massey won't say why investigators believe Hamm and her boyfriend, Maurice Lagrone Jr., committed murder. Neither has entered a plea.
Hundreds of interviews, tests of Hamm's car and consultation with medical experts added up to justify the charges, which could bring the death penalty if they are convicted, Massey said.
He also has said that authorities have a possible motive and that the case has ''some similarities'' to 1994 case of Susan Smith, who was convicted of drowning her two young sons by rolling her car into a South Carolina lake with the boys strapped into their car seats, but he wouldn't elaborate on the connection.
''It's one of those cases where you're going to have to see the whole thing to be able to understand,'' Massey told reporters. Preliminary hearings were set for Jan. 7.
Hamm called 911 from the Clinton Lake on Sept. 2, saying a car had rolled into the water and her children were still inside. When officials arrived five minutes after the call, the rear of the car was in 41/2 feet of water. Rescuers pulled the children out but couldn't save them.
Authorities say Hamm, 27, and Lagrone, 28, told rescuers the car accidentally slipped into the water, but several people close to Hamm said they thought right away that something was amiss.
''There's no reason at all that any adult couldn't get those children out of the water,'' said Brown, who often cared for all three children.
Hamm's court-appointed attorney, Steve Skelton, was out of his Bloomington office Friday. On the day Hamm first appeared in court on the charges, Skelton said he worried about her ability to get a fair trial in such an emotionally charged case.
Hamm's upbringing certainly will be discussed at trial.
Her parents divorced when she was about four, Danison said. After Danison remarried, her new husband adopted Hamm. ''I think it hurt her that her dad would give up his rights to her,'' Danison said.
Hamm became rebellious as a teenager, skipping school and sneaking out of the house, her mother said.
''I spent a lot of hours in the middle of the night looking for her,'' Danison said in an interview with The Associated Press.
She said Hamm quit school three months before graduation and had stays at alcohol treatment centers before Danison kicked her out of her house in 1996, when she was 20.
''It broke my heart to do that,'' Danison said.
But she said her daughter eventually settled down and became a devoted mother.
Less is known about Lagrone.
Hamm's former neighbors say Lagrone liked to play with the children. But he couldn't keep a job and wouldn't baby-sit while Hamm worked, Danison said.
Lagrone, who like Hamm was being held on $5 million bail, had not yet hired an attorney.
A couple months before the drownings, Danison said, Hamm told her of plans to move with Lagrone to St. Louis. She wanted Danison to keep Christopher through the school year, and later asked if she could keep Austin, too.
But because Austin was only three, Danison said she told her daughter he'd be better off with his mother and sister.
''If she had come to me and said 'Mom, I just can't handle the kids anymore,' I'd have taken them, all three of them,'' Danison said.